This Post May Contain Affiliate Links. We earn a commission if you click this link and make a purchase at no additional cost to you.
There are very few people who will not be able to relate to the feeling of being paralyzed by a dirty house. At some point in our busy lives, we have all wondered how to clean when you have no idea where to start and that's okay! Life happens, don't beat yourself up too bad! You may have had a busy week at work or your kids activities may have taken up all of your evenings. Whatever the reason is that your house got so dirty, it doesn't really matter. Just take a step back and breathe! I promise it will be okay and you can overcome this! There is a process to get your home clean and it can be done! Here is the best way to clean when you have no idea where to start!
First, you want to forgive yourself. As much as we try, we can't always be superwoman and sometimes life gets in the way of having a perfect house. It is okay. It is normal. Don't believe me? Go drop by your friend's house unannounced. They will panic because their house isn't clean either! You are not the only one in this boat and it is okay!
Second, I want you to accept that you shouldn't try to clean up your whole entire house in one day. Yes, I am telling you that you don't have to spend all day Saturday cleaning. And you shouldn't spend all day Saturday cleaning! Saturday's are for fun, not cleaning. So take small steps to get your home clean. Create a schedule or a cleaning binder to manage when you will clean your home. Do a little each day. Don't overwhelm yourself!
Are you ready to conquer this your messy house? With this simple guide, you will find the best way to clean your house and finally feel free from the mess!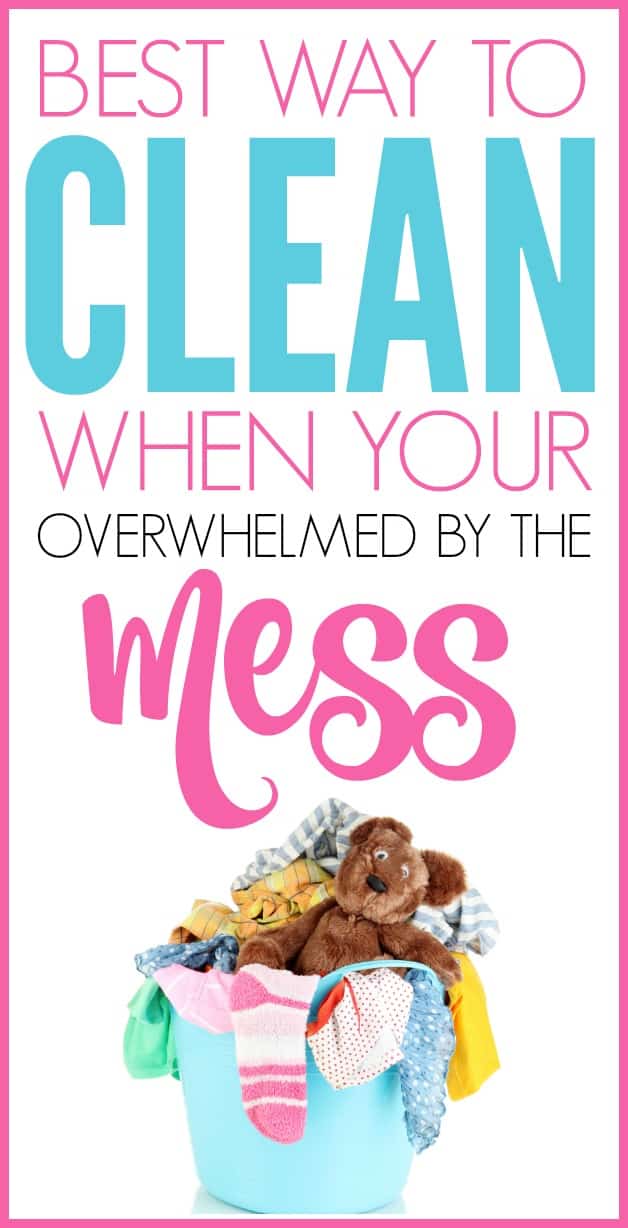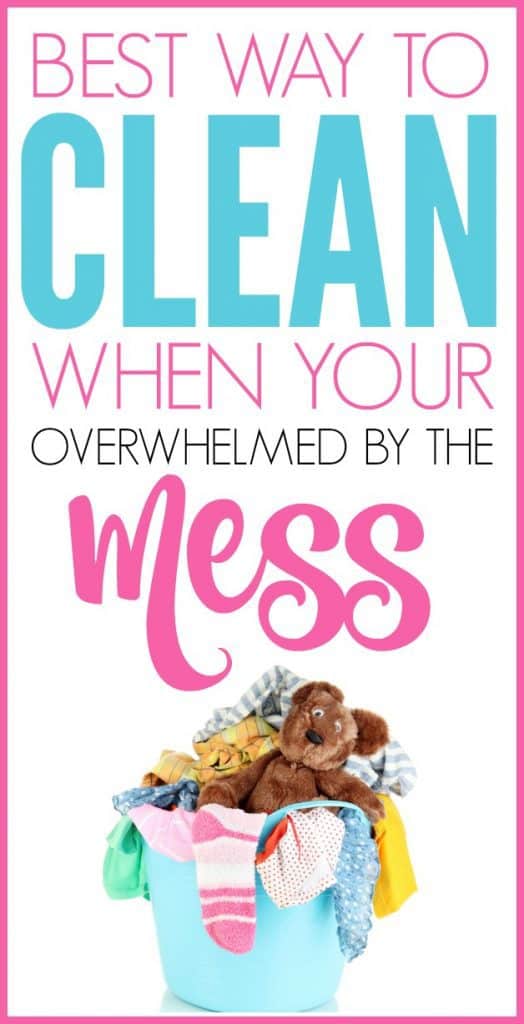 Step 1: Start With The Living Room
Your living room is where you spend most of your time. This could also mean it may be really dirty. But that's okay! The best way to clean is to start here. If the one room where you spend most of your time is clean then it is going to give you the motivation to get the rest of your house clean too!
Start by picking everything up off the floor. This may be throw pillows, blankets, toys, magazines, remotes, etc. Anything that shouldn't be on the floor, pick it up and put it away. Arrange throw pillows on the couch nice and neatly and fold blankets to look tidy. Then put away any toys. Our living room doubles as a playroom so our floors are always scattered with toys. Put the toys back in the toy bins where they belong. Next move on to any paper that you no longer need. Whether this is magazines you can throw away or books that can go back on a shelf. If an item is not in where it should be, then take it back to its home.
Once everything is off the floor move on to your surfaces. Is there anything on your coffee table or tv stand that shouldn't be there? If so then put it away. Take any dirty dishes to the kitchen. Throw away any papers you no longer need or trash that shouldn't be there. Dust off your tables and shelves and then vacuum the floor.
Lastly, if you have piles of laundry laying on your couch or on the floor, fold it and put it away. It's really that simple and it only takes a few minutes to fold a load of laundry.
Step 2: Move On To The Most Visible Room.
Once your living room is clean, move on to the room that you can see from your living room. For most, this will be your kitchen. First, start by putting away any clean dishes in your dishwasher. Then wash the dishes in your sink and the ones laying around on the counters. The dishwasher is everyone's best friend so put what you can in there! If you have a cleaning partner like your husband or your kids, have them dry the dishes and put them away while you wash the rest.
If you have all the dishes clean it is time to declutter the counters. Hopefully, they are a little cleaner just by putting away all the dishes. Look around and see what you can throw away. Receipts, old mail, expired food, etc. Anything that you can throw away, do it immediately. The more you get rid of the less clutter you will have. And as a result, your house will instantly be cleaner.
Put away anything else that is cluttering your kitchen counters and then wipe them down. I love to use Mrs. Meyers Multi-Surface Cleaner to clean and disinfect our counters because it instantly makes the room smell amazing! You get clean kitchen counters and a kitchen that smells heavenly! It's like killing two birds with one stone!
Lastly, sweep up your floors with a broom. If they need it you can also Swiffer or mop now. I use the Swiffer wet refills to quickly mop up our floors every few days. This keeps the floors clean and saves me from having to deep mop our floors all the time.
Step 3: Declutter The Dining Room
With our fast paced lives, it's rare that families actually sit down at the dining room table and eat. Most of us eat at a breakfast bar or even on the couch. Because of this lifestyle, most of the time dining room tables become a place to throw clutter and paperwork that we are not using at the moment. In my house, I am always battling the dining room clutter. We enter into our house through the dining room which means everything lands on the table. If your house is like this and your dining room table is full of clutter, its time to get rid of it!
Throw away any paperwork you don't need, move backpacks and purses to their correct home (a hall tree is great for this), and put away anything that is not supposed to be on the table.
Next, wipe down the table to clear off any dust and germs and then mop or sweep the floors!
Now, reward yourself and your family with a nice dinner and sit down together! Or maybe you do this already because you are awesome and you don't need to worry about your dining room at all!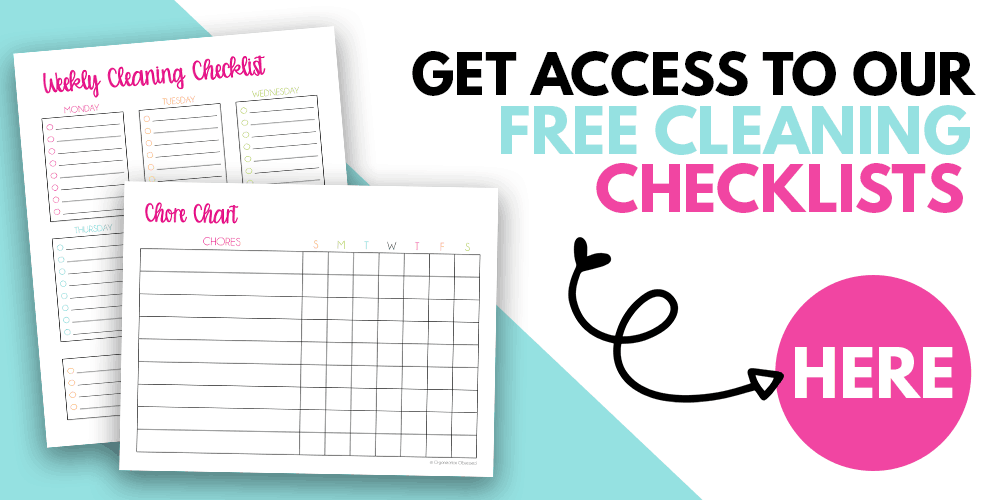 Step 4: Tackle The Bathrooms
Ugh, the bathrooms. If you haven't cleaned in a while this may be the dirtiest room in your house. The best way to clean the bathroom is to realize it's going to be gross and tackle it head on. I highly suggest grabbing a pair of gloves first. Then remove any rugs you have in your bathroom and throw them in the washer. I like to start with the shower. Wet the shower and then spray it with a foaming cleaner. I like to use Scrubbing Bubbles. While letting the cleaner do its thing, move on to the toilet.
Grab an old rag and spray the toilet seat and the toilet base with scrubbing bubbles. After a minute or so you can wipe it clean. I use scrubbing bubbles to clean every part of my toilet except the bowl. You should take the time to wipe off the whole toilet even if you are just removing dust. Then using a bleach toilet bowl cleaner, apply the cleaner and scrub the toilet bowl.
After flushing, once the water stops flowing I apply toilet cleaning gel to the side of the bowl. I was a little skeptical about these at first but they have proven to keep the toilet bowl cleaner longer and they last a long time! I apply one once a month. It does a great job to keep the toilet bowl clean and prevents stains in the bowl.
Okay, now come back to the shower. Your Scrubbing Bubbles should have done its job by now! Take a scrub brush and scrub away any remaining soap scum or water stains. Then turn on the water and rinse away all of the scum and dirt. If you have a shower curtain consider washing it. It could have mold around the bottom. It may also be a good time to replace your shower liner.
If you have glass shower doors, it may take a little extra work to get those sparkling again. Check out these 11 Ways To Keep Your Shower Doors Clean!
To finish up, you'll want to clean your vanity. This is a great time to go through your drawers and throw away any clutter. You should throw away any empty bottles, old makeup, broken hair ties, or trash that shouldn't be there. If you're like me and loose hair like crazy then sweep out your drawers while cleaning them. I sweep out my drawers using my Shark Vacuum and its crevis tool. It allows me to get the corners of the drawers clean and remove any dust and hair without much effort!
If your drawers and bathroom cabinet are unorganized and messy, this is a great time organize your bathroom with these ideas. Add baskets and bins to your drawers to organize your toiletries and then put everything back. Then wipe down the mirror and clean off the faucet. Vinegar is a great way to clean the faucet and remove all the hard water stains! Lastly, mop the floors to get rid of any dirt grime.
Related: How The Shark Vacuum Saved My Carpet
Step 5: Clean Up Your Bedroom
This step may take you a little while if you have more than one bedroom. And that's okay! If you can't get your whole home clean in one day, don't sweat it! It is better to get your home clean over a few days then to never get it clean at all, right?
The best way to clean your bedroom is to make the bed first. If that one part of your bedroom is clean it will open your eyes to all the areas that need your help. It is hard to ignore a pile of clothes in the corner and cups littering the nightstand when you have a perfectly made bed. Next move on to putting away your clothes, you know the ones piled up on that chair in the corner. We all have that chair, it is our best friend in the morning when we are rushing. But if you want a clean house you need to be able to see the chair every once in a while! So grab a bunch of hangers and start hanging up your clothes or folding them and putting them in your drawers.
If you find that you do not have enough space in your bedroom to keep it organized then check out these 10 Amazon finds that will help you get your bedroom organized. I personally love the drawer dividers and the hanging jewelry organizer. They are great to help you keep your drawers clean and extra floor space by eliminating a traditional jewelry organizer.
Once you have your bed made and all your clothes put away, clean off your surfaces. Throw away any trash on your dresser and nightstand, take any glasses and cups to the kitchen and put them in the dishwasher, and put away anything that shouldn't be there. Anything else in your bedroom that shouldn't be there needs to be taken to the right home. Put it back where it needs to go.
Next, move on to the closet. Pick up any clothes that have fallen to the floor, stack your shoes in an organized manner and straighten your hangers. Anything that is out of place should be put back in the right place. This is not the time to go through your clothes and declutter. That will just make a bigger mess. Remember, we are just cleaning up right now!
Step 6: Give Your Laundry Room Some Love
I'd be willing to bet that your laundry room doesn't get cleaned very often. I know mine doesn't. And that is simply because it is not a room we spend a lot of time in so it is simple to ignore. But it is time to stop ignoring it! Whether you have a large laundry room or just a closet laundry room, this should be your easiest room to clean! Start with some organization! These ideas are great to get your laundry room organized and make it so much easier to do laundry!
Then, pick up anything off the floor and put it away. Sweep or mop your floors and you should be done!
You're All Done!
Hopefully, that covers all major areas of your home that need to be cleaned! If not comment below so we can talk about it!
Cleaning your house should not be an 8 hour job you tackle only on the weekends. To keep your home clean all the time you need a routine and the best way to create a routine is with a cleaning binder! You need to do small and simple cleaning tasks each day to keep your home clean and easy to maintain. I promise it works! Wouldn't it be easier to clean your home an hour each day then 8 hours on Saturday?
I must admit that used to be me. During the weeks I would slack off and then when the weekend rolled around I would spend all my free time cleaning! It was stressful and I was never having any fun! This changed when I implemented a daily cleaning routine. Now I clean a little bit each day and spend my weekends enjoying my family!