This Post May Contain Affiliate Links. We earn a commission if you click this link and make a purchase at no additional cost to you.
Most of us spend a ton of time in the bathroom, which can quickly lead to it being cluttered and disorganized! Our bathrooms store so many things! Between the toiletries, makeup, hair products and accessories, towels and toilet paper, where are you supposed to put it all? What is the best way to organize it?
We have an answer for you!
We have found some of the best (and prettiest) ways to organize your bathroom! By the time you are finished, your bathroom will look like it has been organized by a professional!
Here are 12 Brilliant Ways to Organize Your Bathroom!
Plastic Bins Under the Sink
Whether your vanity is open or closed, plastic bins are a great way to store toilet paper, cleaning supplies, toiletries, etc! If you do have an open vanity, you could make your space look even more professionally organized these pretty bins or baskets!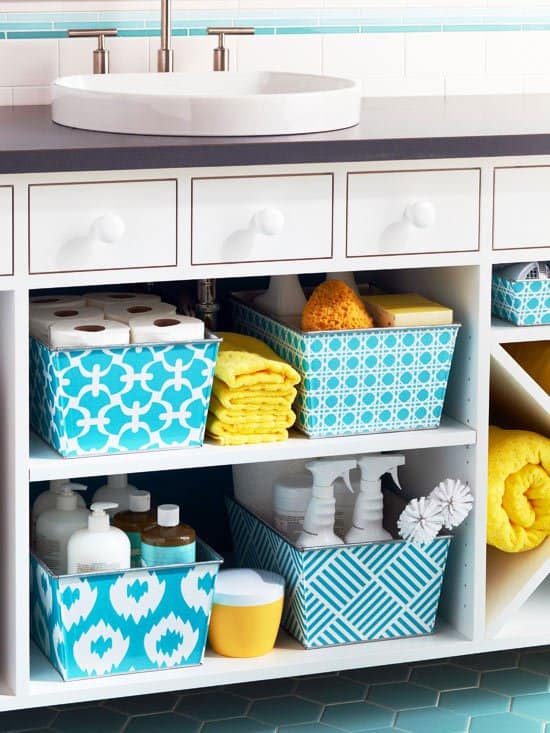 Store Curling Irons & Straighteners in a Magazine Holder
Did you know magazine holders can be used for more than just storing magazines? Using a pretty magazine holder that matches your bathroom is a great way to store your hair styling tools! Plus they are super cheap! Check out this one from Amazon!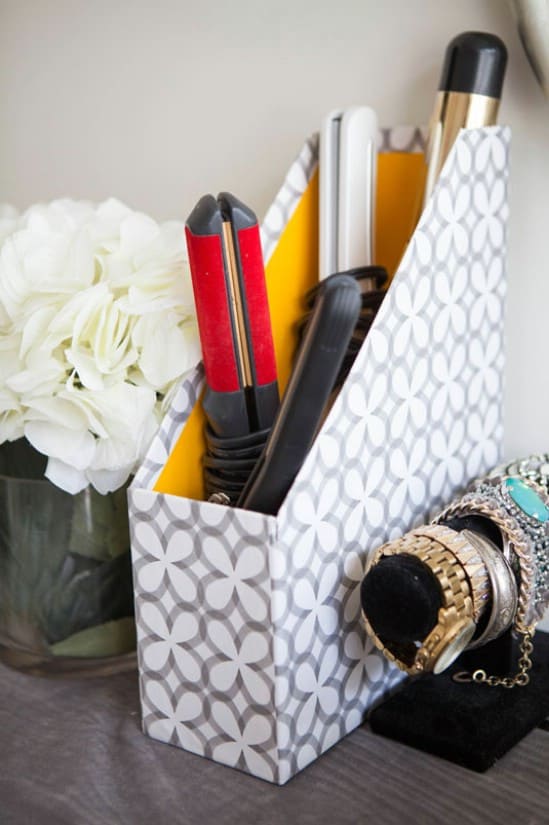 Put A Shelf Over The Door For Extra Storage
This is such a brilliant idea. If your bathroom is lacking storage space, add a shelf over the bathroom door. You can store extra towels and toilet paper on it!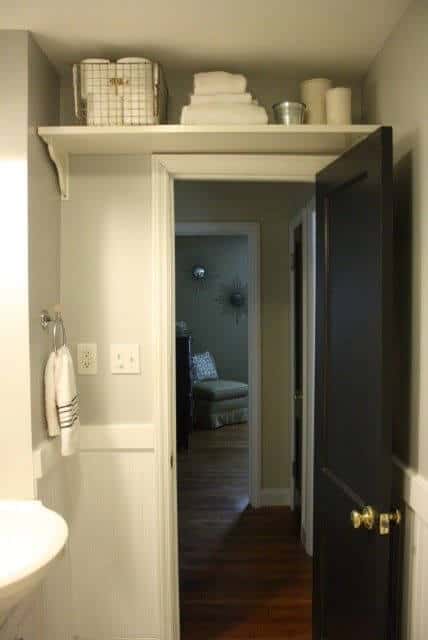 Use a Mesh Shower Organizer for Extra Storage
Is your shower lacking shelf space or storage? You can use a mesh shower organizer to hold extra shampoos, soap, hair brushes, etc!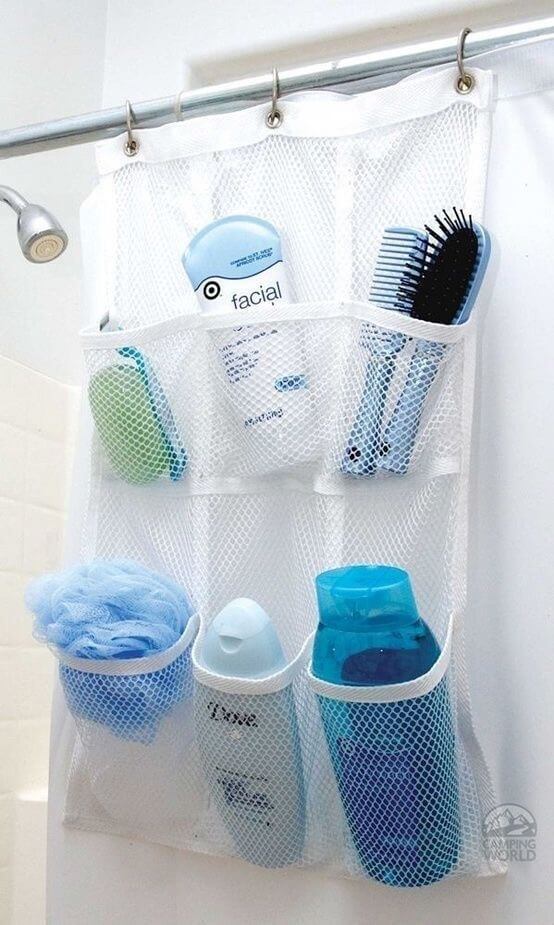 Mount Towel Holders To The Back of The Door
You can mount a towel bar on the back of your bathroom door for extra towel storage and to add a touch of decor to your bathroom. It is a great idea to gain extra storage!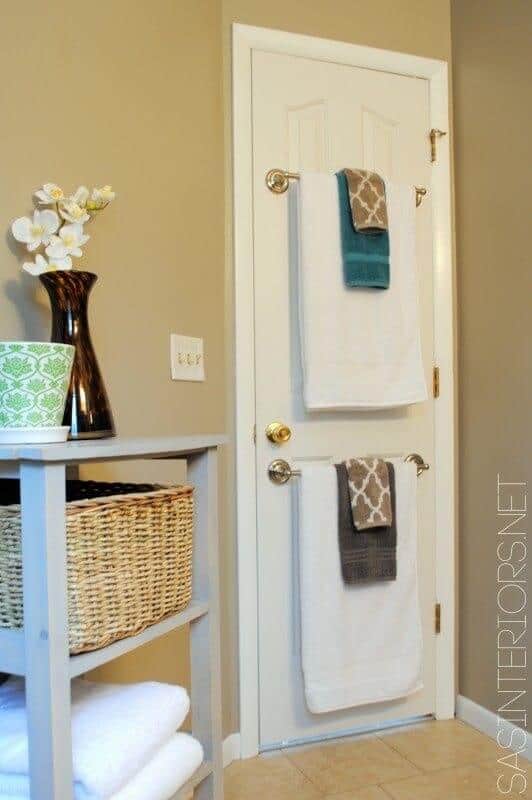 Mount Shelves for Extra Storage
Adding small shelves next to your vanity is a great way to add extra storage and to organize your makeup and accessories. These little shelves can hold your makeup brushes, lotions, decorations, etc.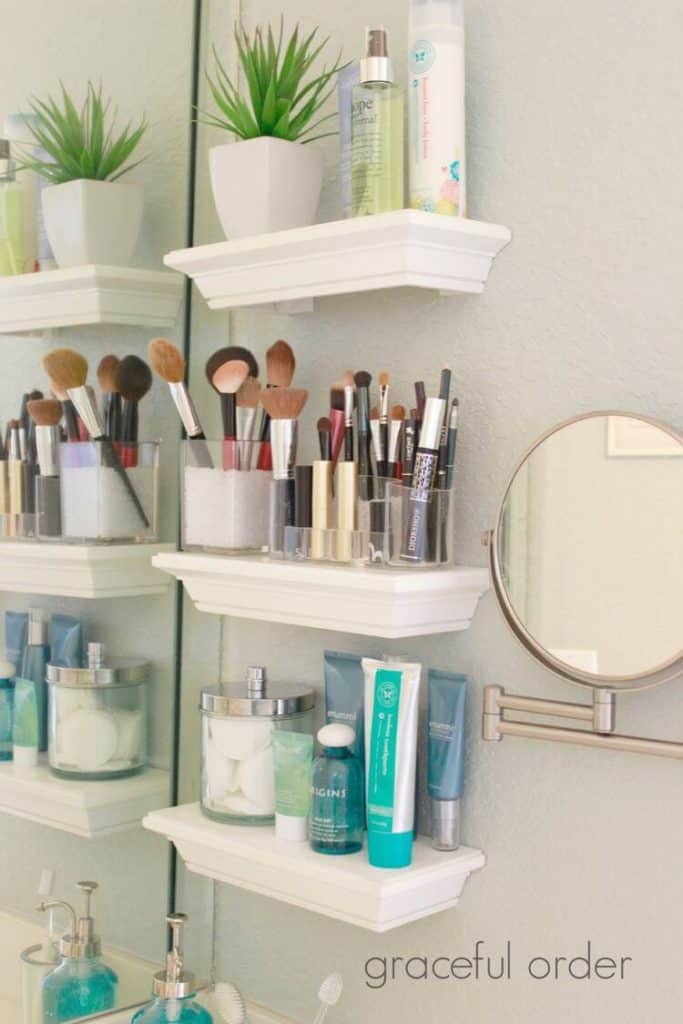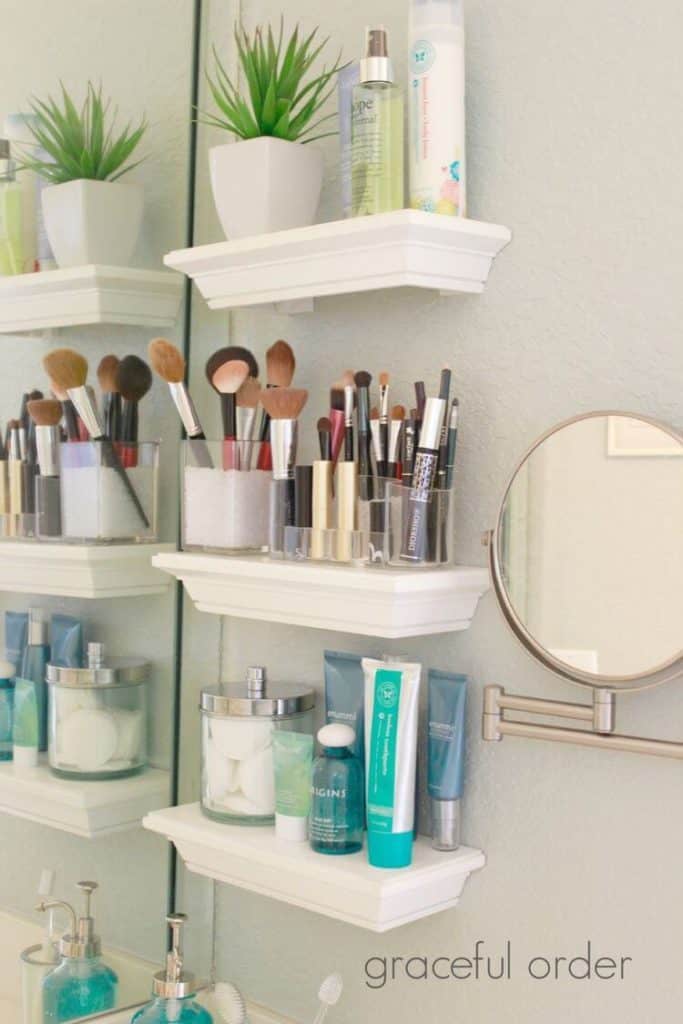 Mount Shower Caddy's to Your Vanity Door
This is such a neat idea! You can mount shower caddy's to your bathroom door for extra storage. Organize your contacts, small accessories, toothbrushes, makeup, etc. There are so many things you could store here and gives extra space to organize your bathroom! These come with suction cups but you could hang them up with command strips or use small screws.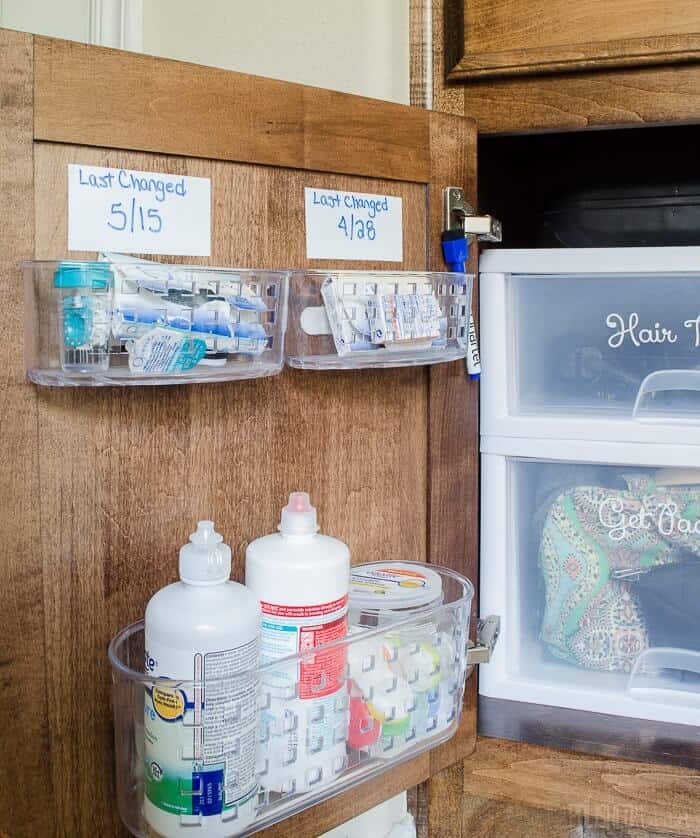 Store Nail Polish In A Candy Jar
Do you have a ton of nail polish you would love to put on display? You can organize it in a candy jar on your vanity or shelf in your bathroom. This is so colorful and pretty. It is a great way to organize your nail polish and add a touch of decor.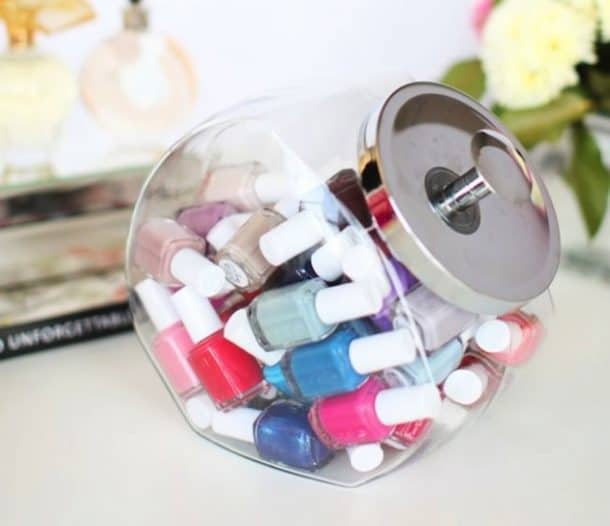 Use Dollar Store Organizers in Your Drawers
If your bathroom drawers are a mess this is a great way to organize them! You can get different size bins from the Dollars Store and arrange them in your bathroom drawers. It is a great way to keep your drawers protected and clean from spills and dirt! Plus you will look like an organizing professional!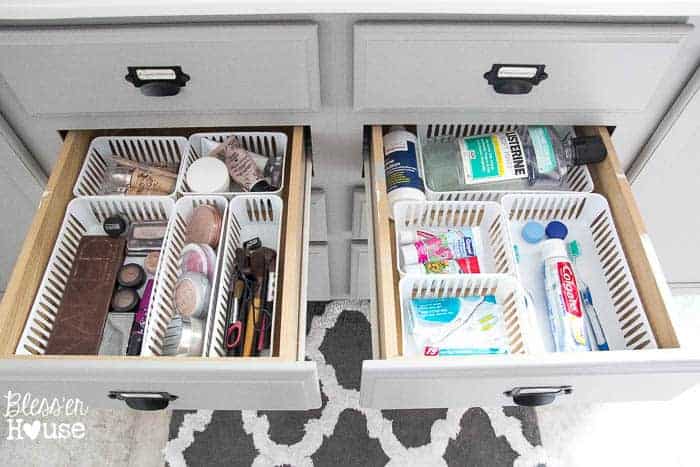 Use a Towel Holder/Wine Rack To Display Towels
Who would have ever thought a wine rack could double as a towel holder, right? But this is such a great idea! This will work whether you are lacking storage space in your vanity or linen closet for towels, or you just want to show them off! You can find one here!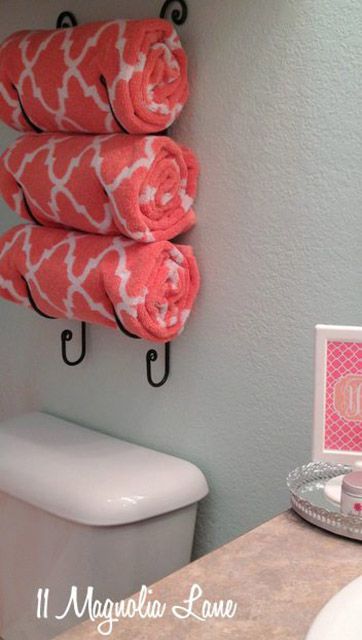 Magazine Rack to Organize Washcloths
Washcloths tend to get lost in our linen closets. They are so small that it is easy for them to get stuck to other towels or pushed to the back. Rolling them up and organizing them in a magazine rack is a great idea! Rolling them makes them smaller so you can store more and when you keep them in a magazine holder they will always be in one place!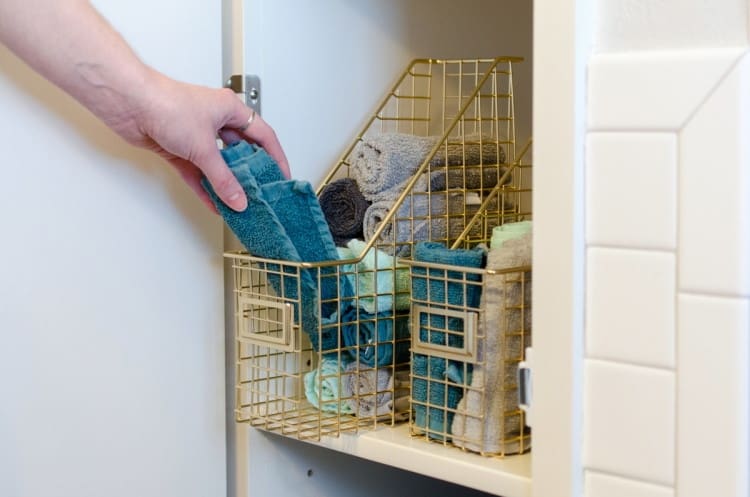 There you have it. Do you have any great ideas to organize your bathroom? Share below!
You may also like: 20 Amazing Hacks That Will Transform Your Bedroom
You may also like: 12 Creative Kitchen Organizing Hacks