This Post May Contain Affiliate Links. We earn a commission if you click this link and make a purchase at no additional cost to you.
Do you hate doing laundry? Me too! It is just one of those frustrating daily tasks that unfortunately we have to do! (No one wants to see us naked, right?) So how can we make doing laundry a little easier on ourselves? Luckily, there are some amazing products out there for the laundry room that will make doing laundry so much easier!
Here are 10 products that will make your laundry room crazy organized and make doing laundry a breeze!
Tidy Cups
Whoever created these is a genius! Dripping laundry detergents can make such a mess all over your cabinets or washer. Save the mess and cleanup by grabbing a few of theseTidy Cup Laundry Gadgets!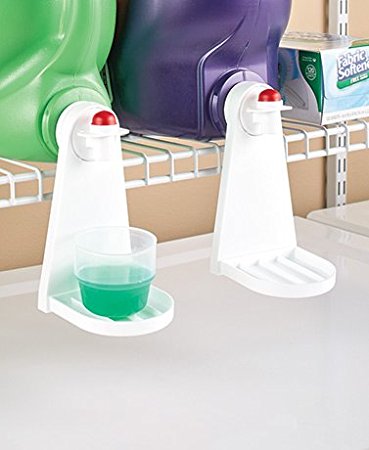 Hanger Rack
Do you hangers take up too much room on the rack or get tangled on the floor? A hanger rack is a perfect solution! We use one of these in our home and I love it! My hangers are always nicely organized and easy to find! It eliminates so much clutter and keeps my hanging bar from getting too packed and hard to maneuver clothes around. Grab one of these for the laundry room and one for your closet! You can find it here and they are super cheap!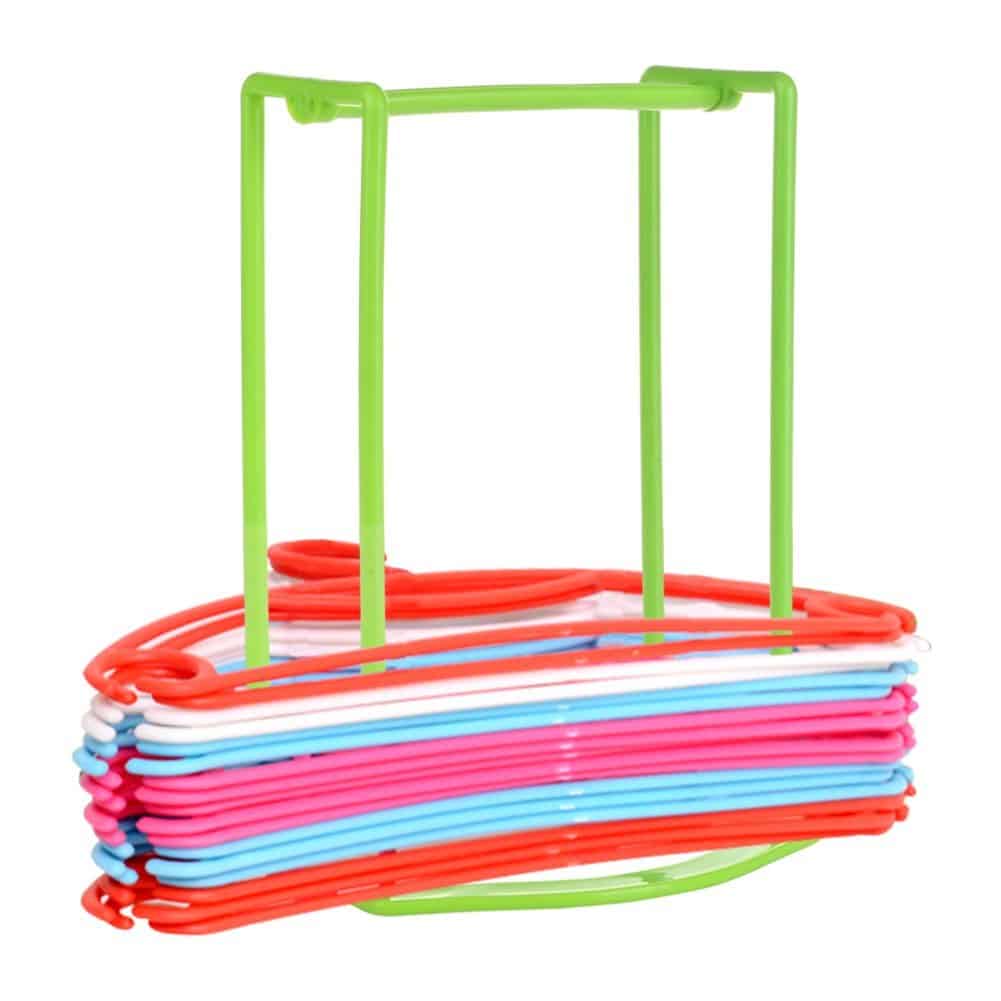 Laundry Basket Sorter
This laundry basket is brilliant! Imagine if when you went to wash a load of laundry it was already sorted! That would save so much time! That is why you need this laundry basket! Each section can hold a color of clothing (lights, darks, colors, jeans, etc!) Plus it is less than $40 dollars and heavy duty! Check it out here!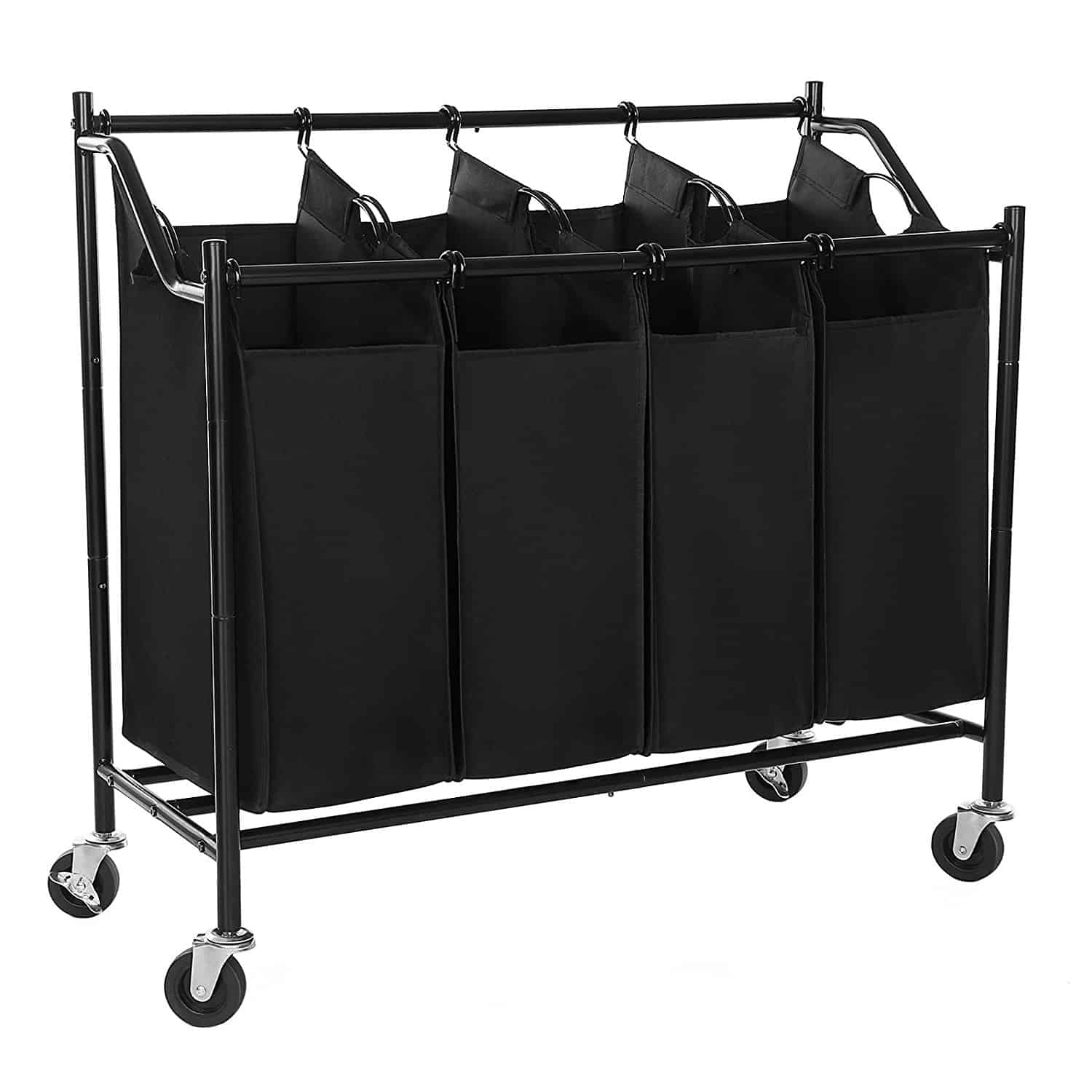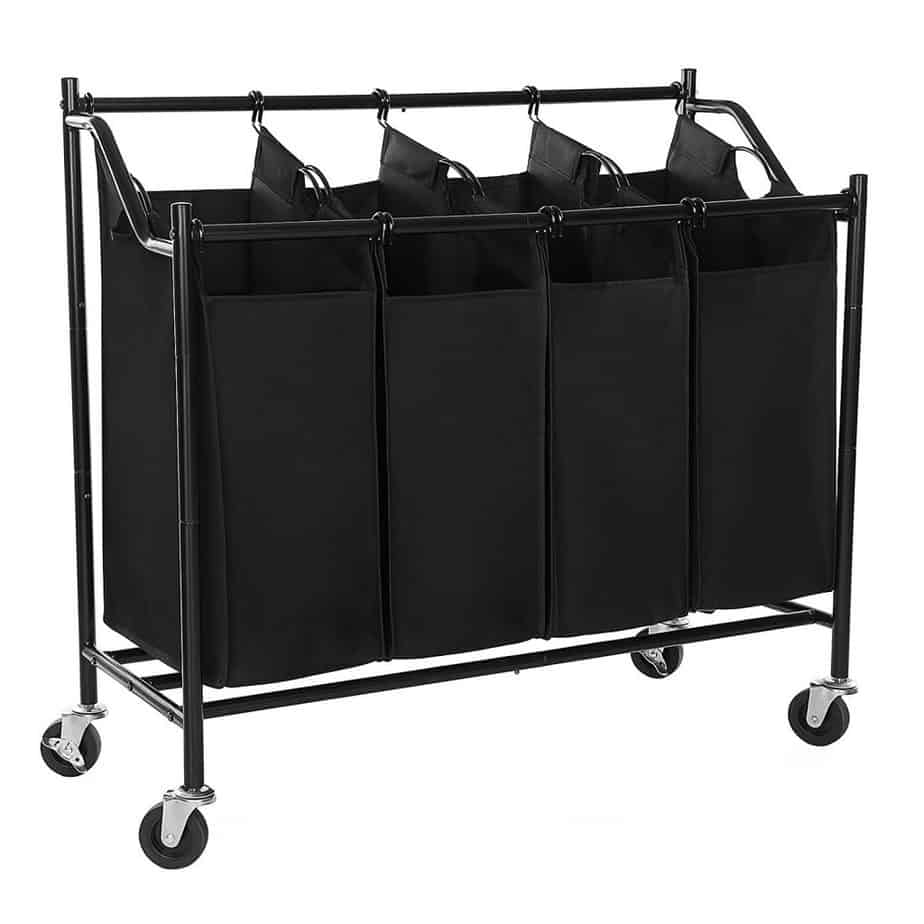 Laundry Detergent Storage
The packaging laundry detergent comes in can be bulky, ugly, and hard to store! Instead, use these storage jars for detergent powder and laundry pods! These would be so pretty sitting on a shelf in your laundry room and make your laundry room super organized! You can find this 3 piece set here for under $20 dollars!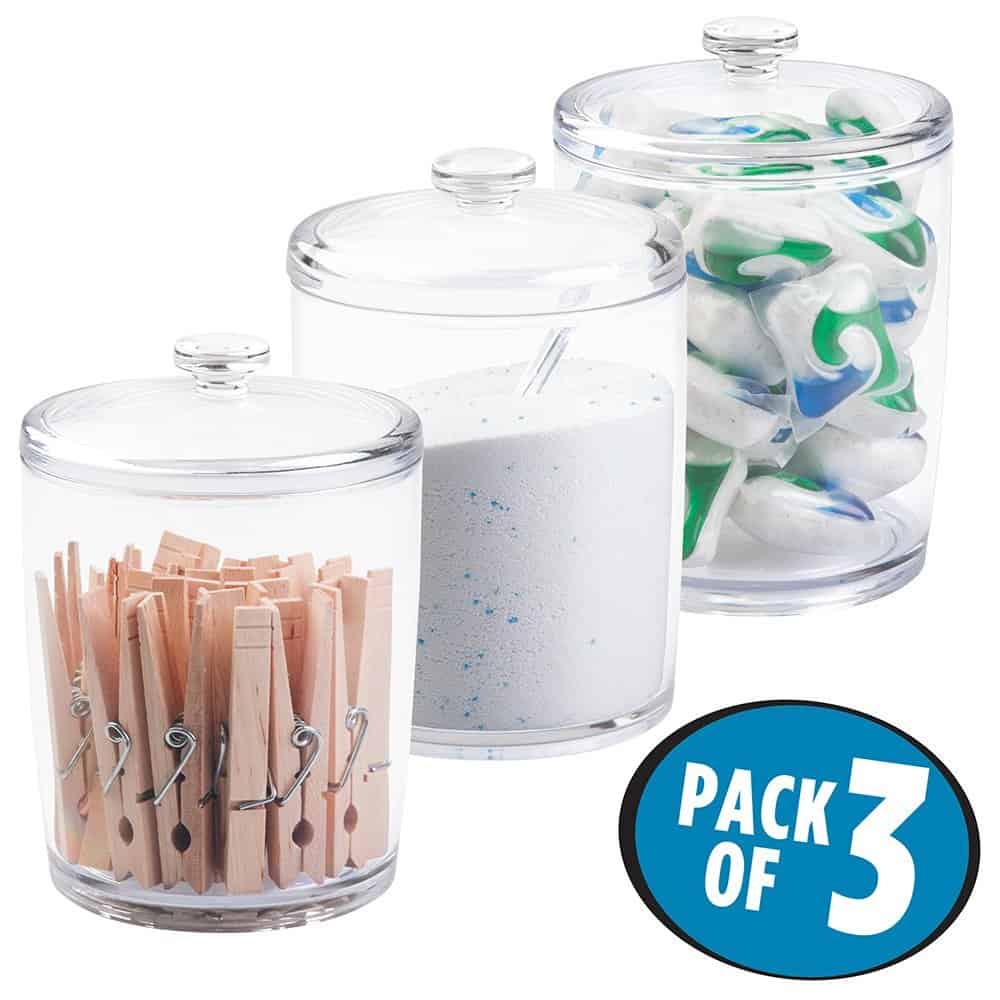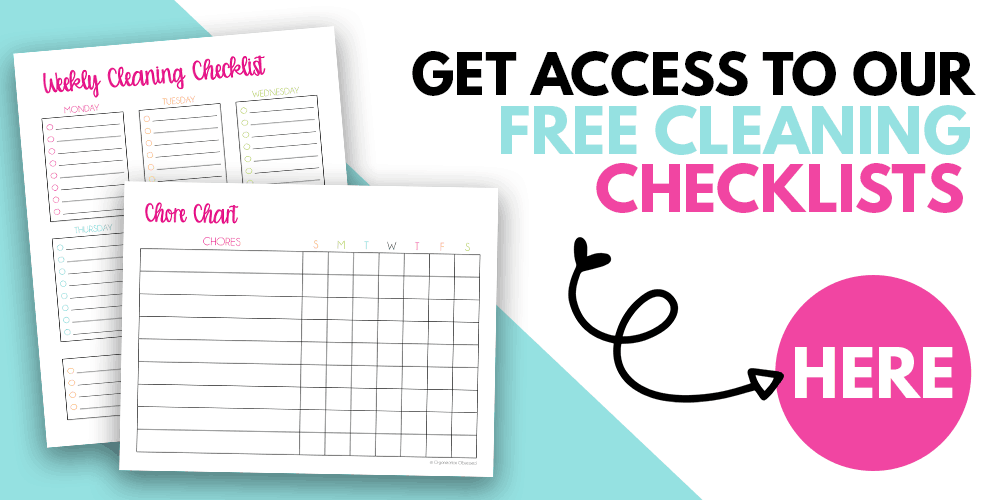 Laundry Baskets
Every laundry room need's laundry baskets! And these laundry baskets are perfect! We use them in our home and love them! They do not take up a ton of space but they hold enough clothes for a medium sized load! They are really sturdy and the handles are soft, making them easy to carry. Plus they come in a pack of 6 for less than $40 dollars which is a great deal!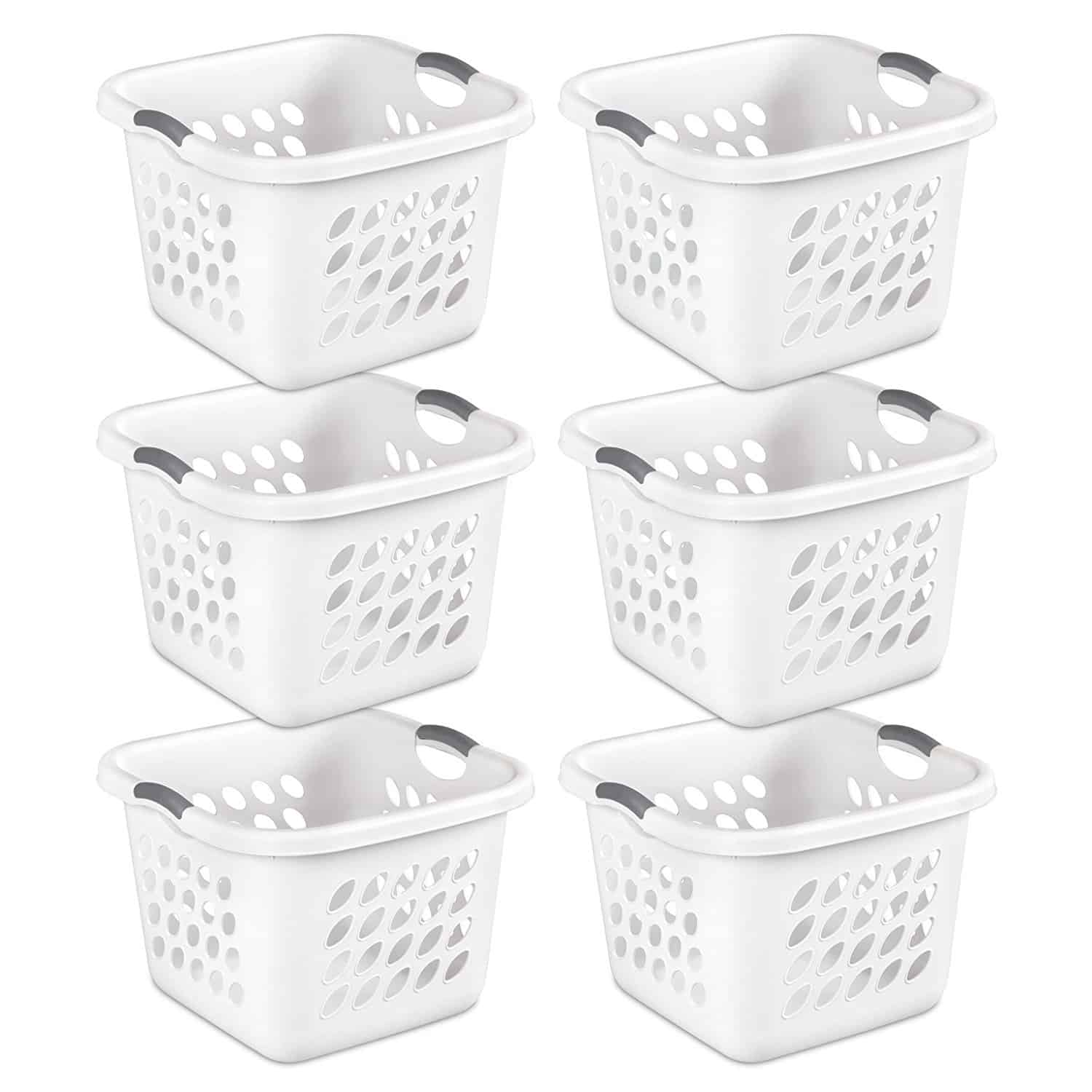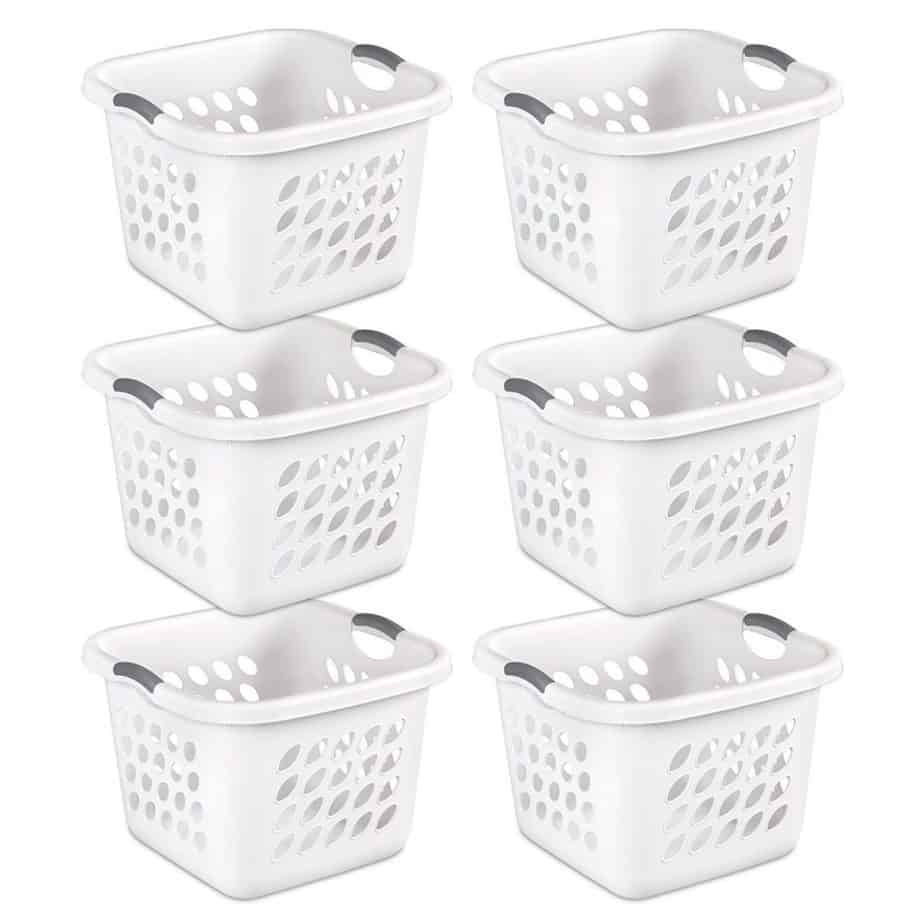 Related: Check out how to make a laundry basket organizer with these exact baskets! You can check that out here!
Collapsible Laundry Basket
Is your laundry room small and lacking storage space? Then you need these collapsible laundry baskets! They are perfect for small spaces or even for traveling! They collapse down when not in use and you can store them in a closet or on a shelf! You can find them here in multiple colors!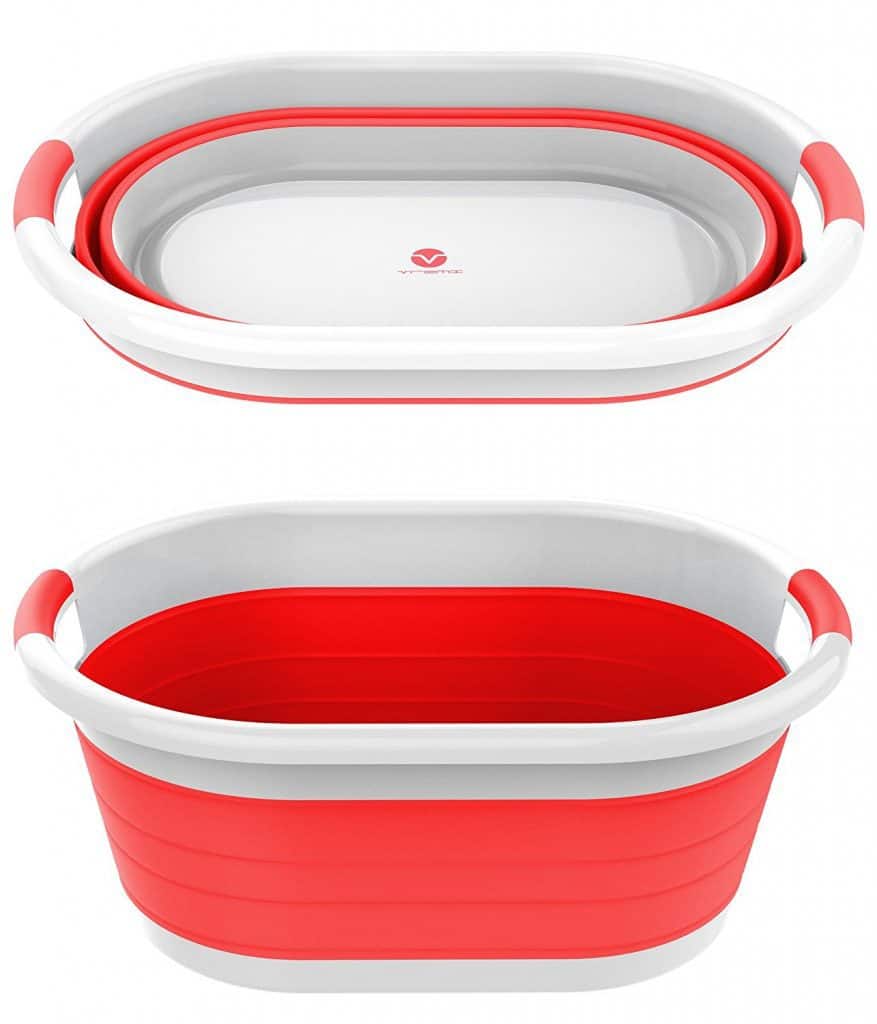 Ironing Mat
Instead of taking up space with a bulky ironing board get yourself one of these ironing mats! We have one on our dryer and I love it! It is so easy and convenient to use anytime I need to iron! Plus it is small and doesn't take up any room! You can get yours here!

Hanger Holder
Do you like to hang up clothes after you wash them but don't have room for a large hanging rack? Then this hanger holder is perfect! It mounts to the wall and holds a ton of hangers! You can hang your clothes here to dry before moving them to your closet or folding them. These come in a 2 pack and are super cheap plus have great reviews! Go check them out here!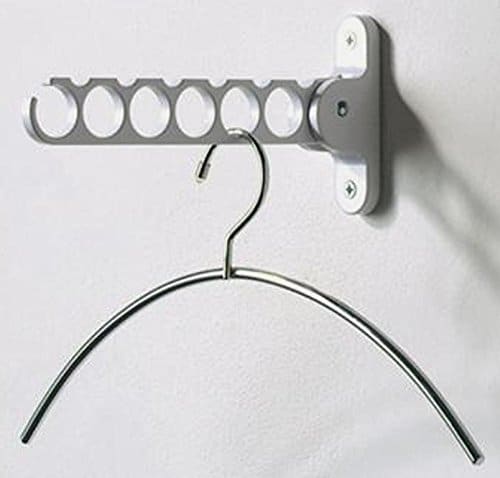 Rolling Organizer
Are you in need of the perfect place to store your detergent or other laundry room supplies? Why not a rolling cart? These fit right in between your washer and dryer and have a ton of room to store all your laundry needs! Plus they are less than $20 dollars! It is a steal for an organized laundry room! Check it out here in silver and white!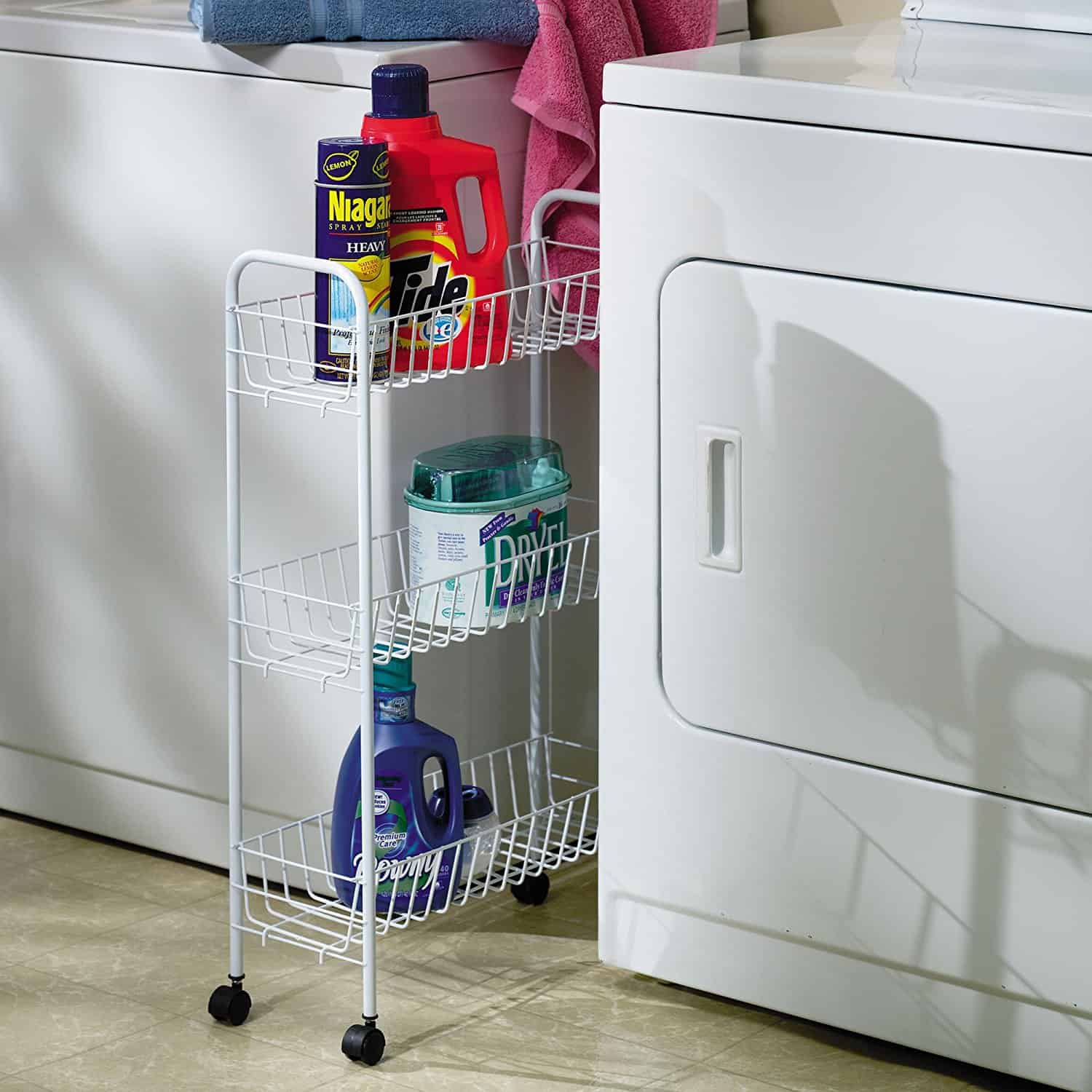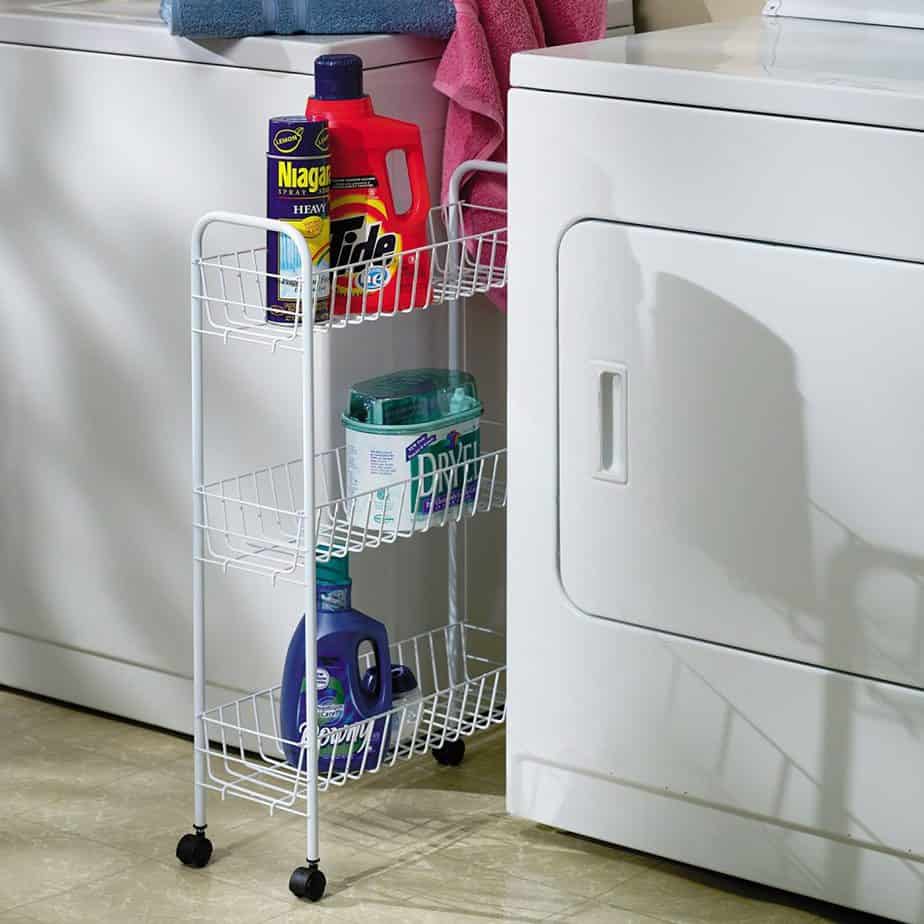 Drying Rack
Do you like to hang dry your clothes? Instead of packing them all outside to dry on a line, install a folding clothes rack in your laundry room! This rack expands to hold a ton of clothes! It is equivalent to 22 feet of a linear clothesline! Image how much you could dry on this compact rack! You can find it here!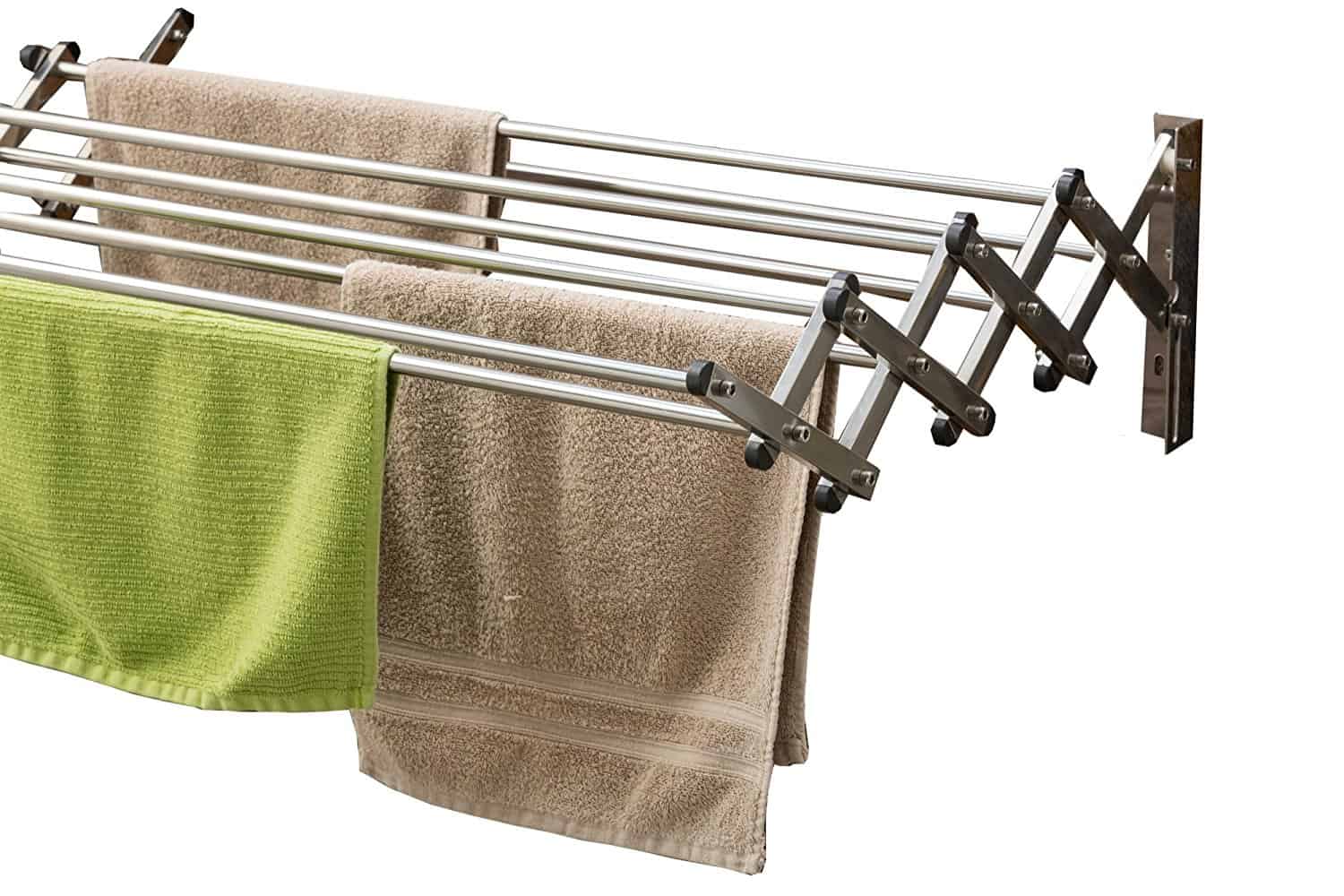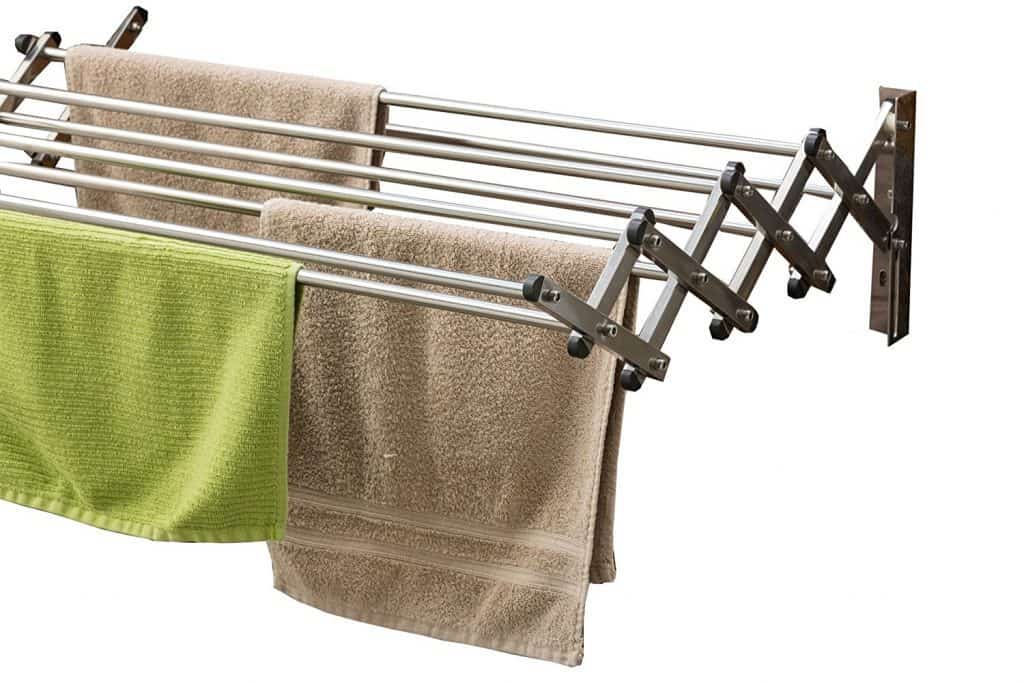 What products do you use to organize your laundry room? Comment below and let us know!
RELATED:
15 Home Hacks That Will Make You Look Like An Organization Genius
10 Storage Hacks To Make Your Home Look Professionally Organized