This Post May Contain Affiliate Links. We earn a commission if you click this link and make a purchase at no additional cost to you.
Have you ever felt like you just can't keep track of it all? Your schedules, who the kids teachers are, medical records, the last time you cleaned behind the washing machine, and what's for dinner? Let's be honest, taking care of a family and a home is HARD WORK! And homemaking leaves most of us with the question how do we keep up with it all? 
This was the question I kept asking myself and I knew there had to be a better way to keep myself and my family organized.
For a while, I had been struggling with keeping up with meal planning, cleaning schedules, my budget…you name it, I was failing at it. I've always been one that loved to write things down, but having to-do list's all over the place was not helping me get things done.
That's when I had the idea to create a Home Management Binder!  It puts all your important information and everything you need to run a household in one handy spot!
The Homemaking Planner: A Printable Home Management Binder
This Home Management Binder is for you if you…
Need a way to organize your home and daily life all in one spot.
Want a reference for your family so you all can keep track of schedules, cleaning, meals, and the budget.
Need a place to hold important information in case of an emergency.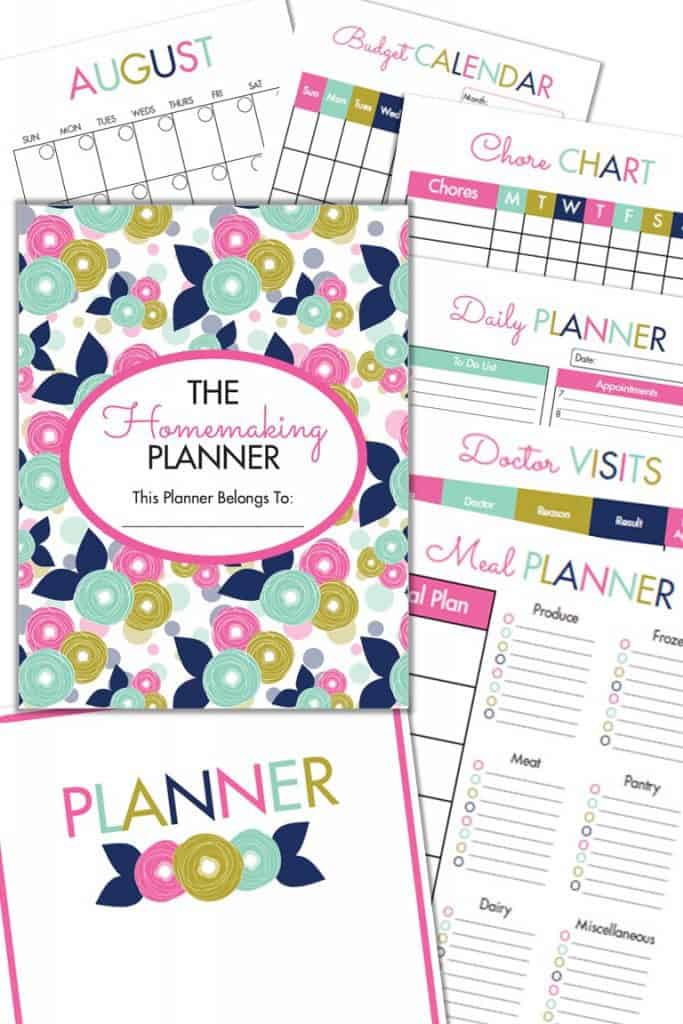 What's Included In A Home Management Planner?
The Homemaking Planner includes 82 pages to organize every part of your home and daily life. It includes a calendar, daily and weekly planning, address book, school information, household cleaning printables, meal planning, budgeting and more!
Covers
The Home Management Binder includes four covers. The floral one is my favorite, but I like to have the option of changing it up!
Calendar
Having a calendar to reference is part of all our daily lives! I know I check my calendar every day, don't you? But isn't it frustrating that you have to buy a new one every single year? That's money you could use elsewhere! With that in mind, we made the calendar pages without dates so you can fill them in and reuse the printables every year!
Planner
Plan out your days and weeks with the daily and weekly printables! You can print off as many as you like! With the daily planner, you can tackle your to-do list, keep track of appointments, track your water intake and plan out whats for dinner! Every Sunday I fill out the weekly planner and hang it up on my fridge. That way it is easy for everyone in our family to see what is on the schedule for the week.
School Schedules and Events
With this binder, you can keep track of your kids class schedule, activities, and teacher and classmate info all in one place! These printables make it easy to have everything you need on hand and be ready for all the activities your children have!
Medical Information
Use the medical printables to document your medical providers, doctors appointments, and medical information. Never wonder again when your kid's last checkup was because you'll have this handy binder to track their doctor, dental, and optometrist visits! You can also use the medication log to track their medicine intake when they're sick or use it for yourself! We have the emergency information printed out four our babysitter and like to keep track of our kid's doctor visits as well with the doctor visits printable.
Cleaning
Ready for a clean house? Keeping your home clean is so much easier when you have a plan. Create your cleaning routine with these printables designed to help you schedule out monthly cleaning, daily cleaning, cleaning per room, and more! We even included one of our best Spring Cleaning checklists to help you spring clean like a pro!
Meal Planner
To stay on budget with your groceries and make sure you have dinner on the table every night you must have a meal planner! The meal planner is my favorite part of this Home Management Binder because it gave me the tools to plan out our meals so I wouldn't overspend! The included pages gives you a place to plan out your daily meals, weekly meals, your grocery list and even keep track of your favorite recipes! I use the meal planner printable each week to plan out what we will eat and then exactly what I need to pick up from the produce section, meat section, dairy section and every other section of the grocery store.
Budgeting
Speaking of staying on budget, how well do you do keeping track of your money? I'll be honest, my bank account used to be a mess! I had no real system of keeping track of all my bill and where we were spending our extra money. And it seemed like none of the budget planners out there worked for me and I usually forgot to keep track of my budget with an excel spreadsheet.
Since I was already using a home management binder, I created a budgeting section to keep track of my budget at the same time and combined them into one planner. It was much easier to remember because everything was in one place. I keep track of due dates, what bills have been paid, and how much I have budgeted for each monthly expense.
If you're looking for a way to keep track of your budget, schedule, meals and so much more, then this home management binder is for you! It has everything you need to get organized and stay organized!
Get A Sneak Peak!