This Post May Contain Affiliate Links. We earn a commission if you click this link and make a purchase at no additional cost to you.
The days are getting warmer, the sun is shining and you are starting to get excited to clean the dirt from your windows and dust bunnies from under the couch. Because nothing is better than a clean house and warmer weather! But let's be honest, spring cleaning is often a huge undertaking. But we have just what you need to make spring cleaning easier! Here you will find some of our best spring cleaning tips plus our free spring cleaning checklist!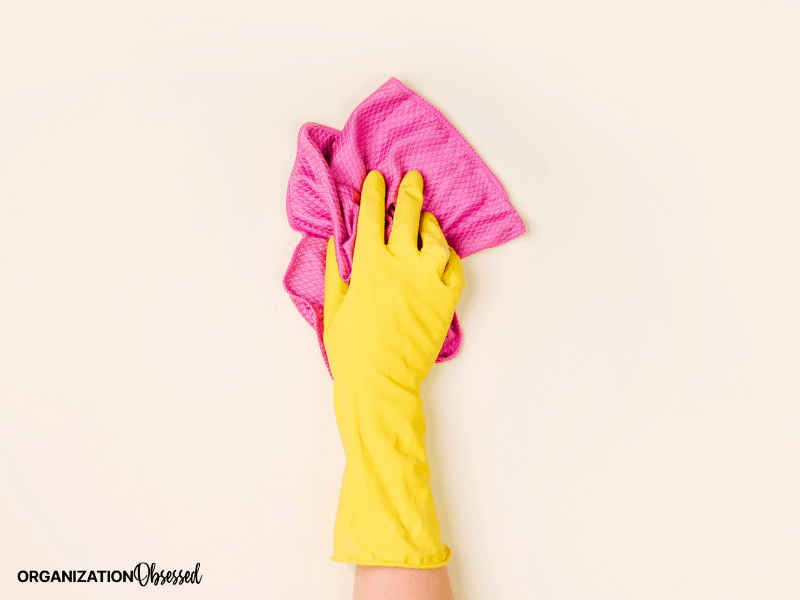 Spring Cleaning Tips For Fast Cleaning
Spring cleaning is usually a huge undertaking and takes multiple days. So we have rounded up some of our favorite spring cleaning hacks to make cleaning the hardest parts of your home almost effortless.
Check out our favorite cleaning hacks to use in your own home!
Clean One Room At A Time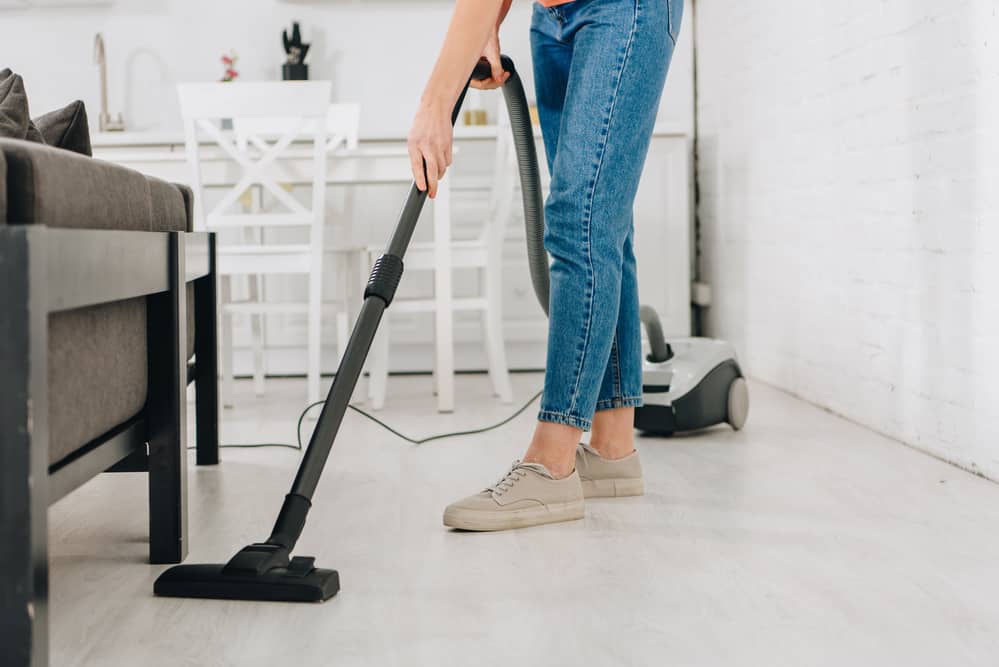 It may be tempting to dust all the rooms in your home at one time. Or do a quick pickup of all your rooms. But the fastest way to see results is to focus on one room at a time.
Start with the room you use the most, like your living room or kitchen.
Start from the top and work your way to the bottom in each room.
Dust your fans and light fixtures. Then your shelves or cabinets.
Wash your windows and vacuum your curtains.
Declutter, pickup, & reorganize.
And lastly, vacuum away all the dirt.
Once you finish one room, you will be so much more motivated to do the rest of your home! Because having one room clean, makes you want to clean the rest!
Make The Best Window Cleaner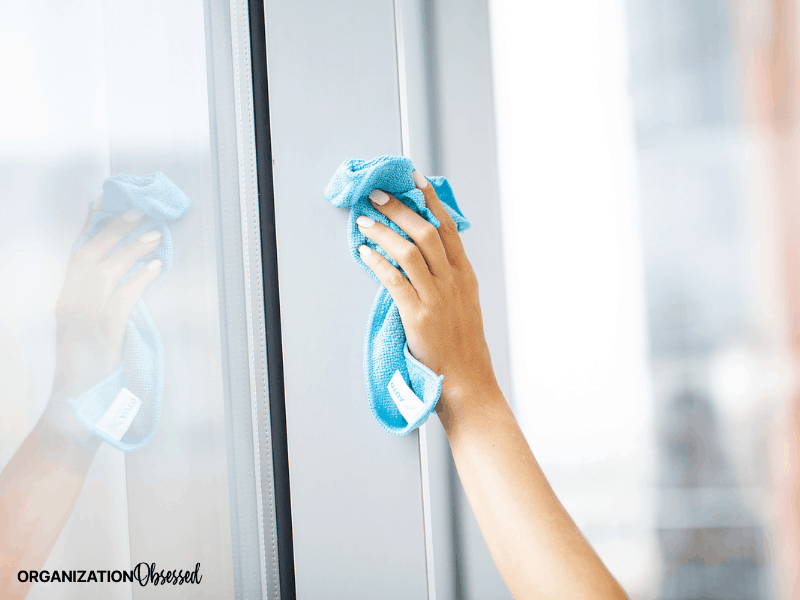 There are tons of glass cleaners out there, but the most tried and true way to clean your windows is with a 1:1 mixture of vinegar and water. Your Grandma used this homemade window cleaner, so why break tradition?
To clean our windows, we use these glass spray bottles, white vinegar, and tap water.
Mix all the ingredients together and spray on your windows evenly. Wipe clean with a microfiber cleaning cloth.
How To Clean Blinds Fast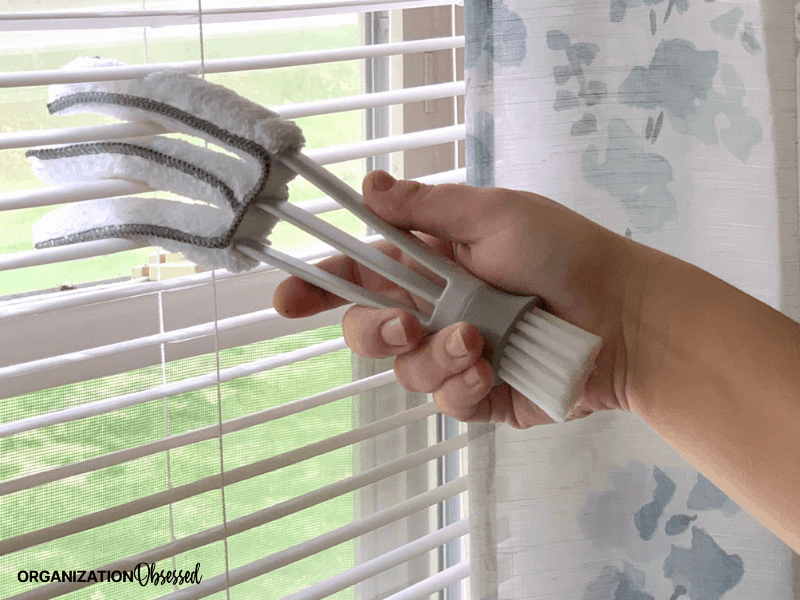 The best way to clean your blinds quickly and efficiently is with a blind duster. They make it super easy to run the cleaning cloths through the blinds and clean the top and bottom with one swipe. You can find a blind duster here!
Deep Clean Your Shower Fast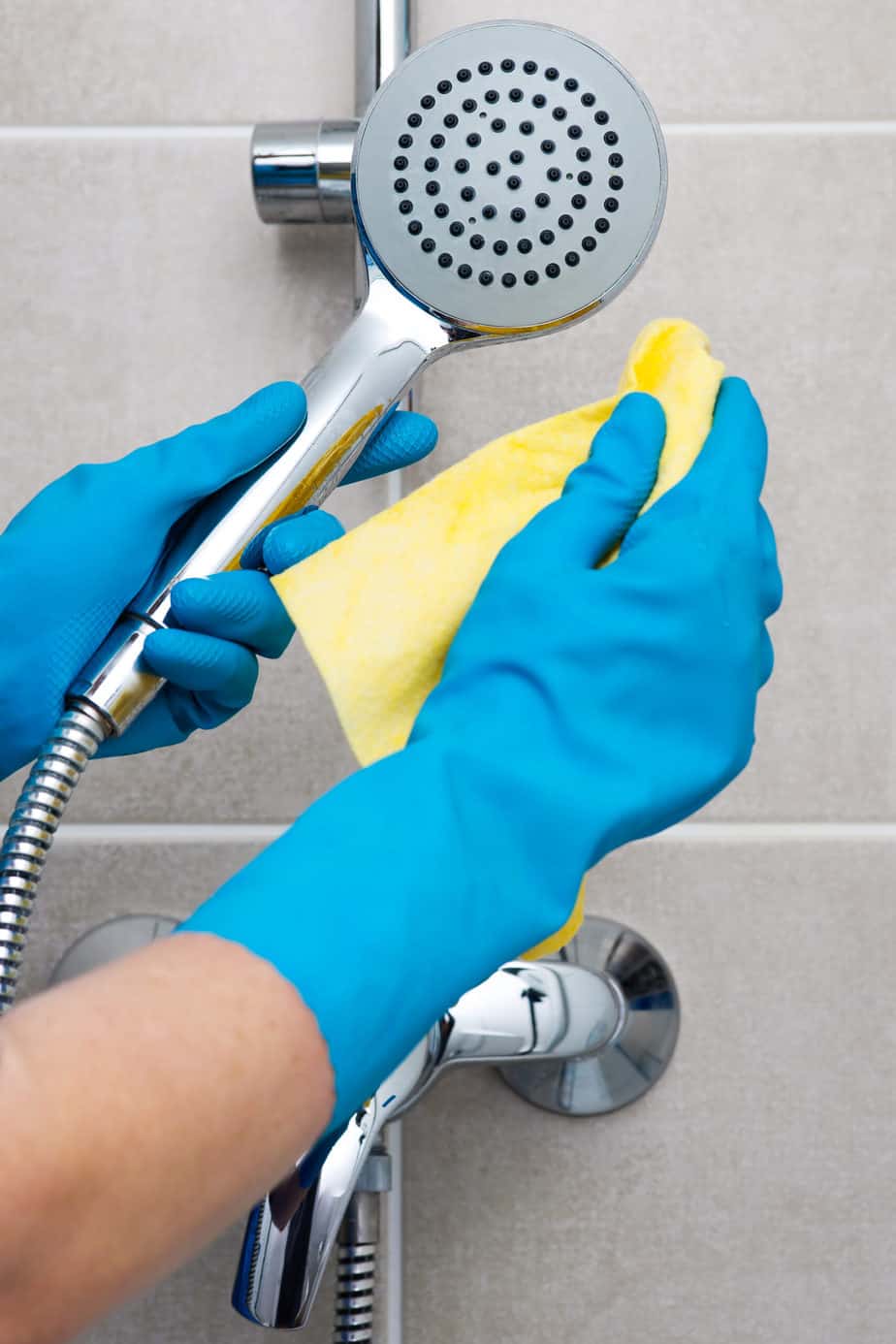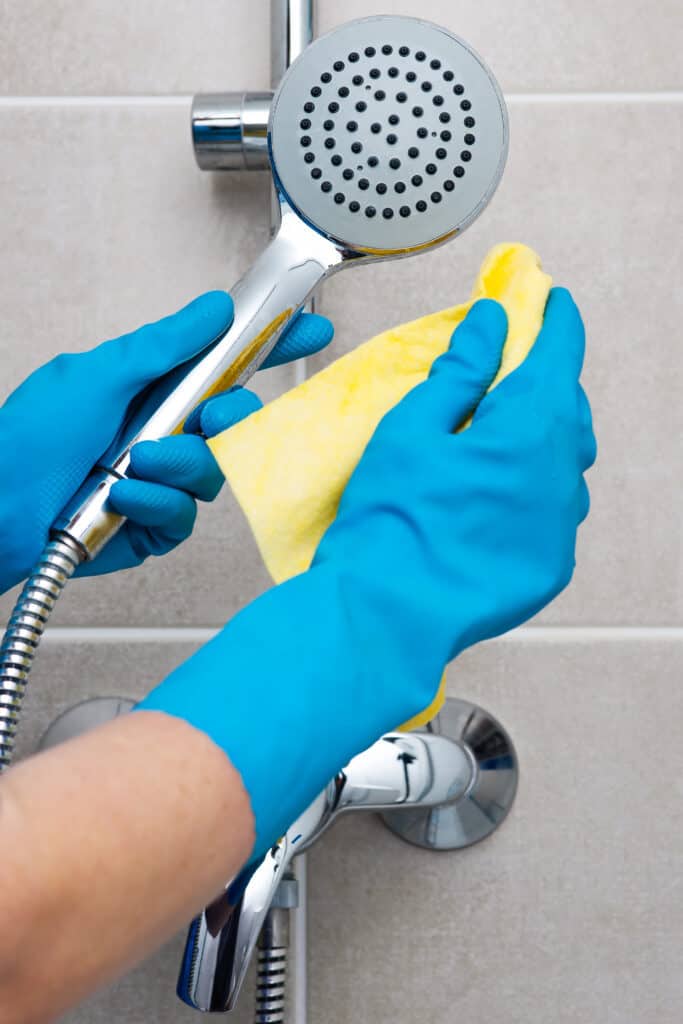 I used to hate cleaning the shower! HATE! Because scrubbing hard water stains and soap scum is no fun at all.
Until I found a DIY shower cleaner that melts the soap scum right off your shower walls!
Create your own shower cleaner with these ingredients.
Start by taking a glass spray bottle and filling it halfway full with vinegar. I recommend using a funnel to avoid any spills!
Heat the vinegar in the microwave until it is hot (1 – 2 minutes.)
Once the vinegar is heated, remove it from the microwave and then fill the glass bottle the rest of the way up with Dawn Dish Soap.
Replace the nozzle on the bottle and shake it! You may want to wear oven mitts when shaking the bottle. The glass will be hot!
Spray your shower walls and bathtub with the homemade shower cleaner and wait 10-20 minutes.
Then wash the cleaner off with hot water and watch the soap scum disappear!
Easy Faucet Cleaning Hack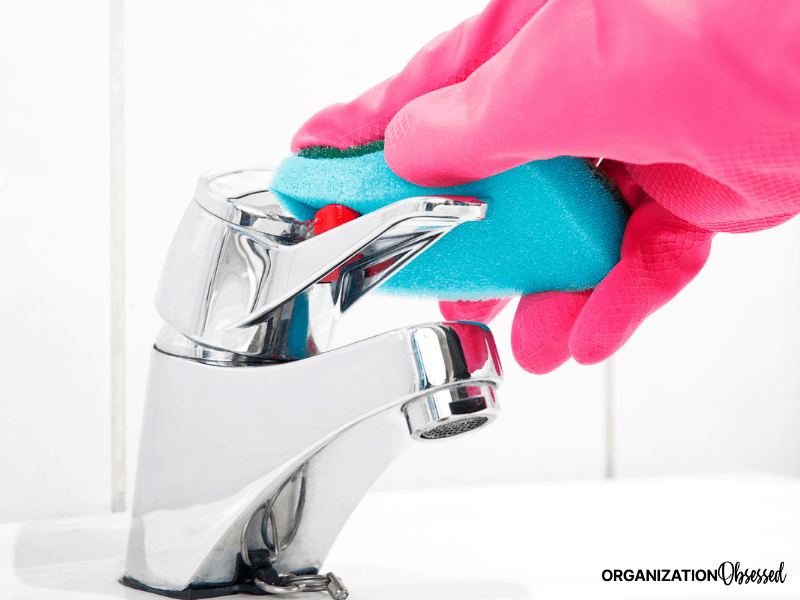 Don't waste your time scrubbing the soap scum and grime off your faucets. Instead, soak a paper towel in vinegar and wrap it around your faucet. Make sure the paper towel is on all the dirty parts of your faucet.
Leave it for 15-20 minutes and then come back and watch the grime wipe right off!
Printable Spring Cleaning Checklist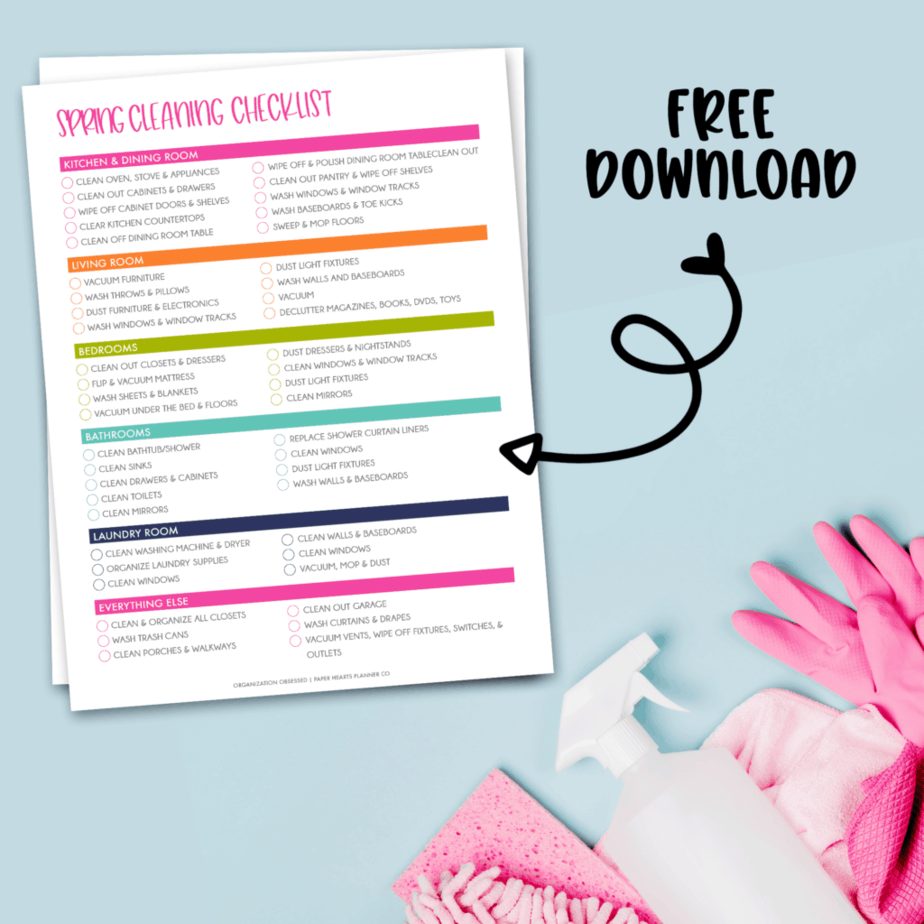 The best way to make spring cleaning so much easier is to have a checklist! And our Free Printable Spring Cleaning Checklist will help you spring clean every room in your home. This spring cleaning printable will help you declutter, organize, and clean your home quickly and efficiently. Click the button below to access our spring cleaning checklist!

Save These Spring Cleaning Tips For Later
Love these spring cleaning tips and our spring cleaning checklist? Pin them to use year after year!