This Post May Contain Affiliate Links. We earn a commission if you click this link and make a purchase at no additional cost to you.
Do you love to have your house neat and tidy? Me too! I love to clean! (yes I know that's weird.) I'm a total neat freak and try my best to keep my house clean and tidy, but there are so many parts of my house that I forget to clean on a regular basis! I was always making lists to clean this and that. Pretty soon multiple lists accumulated all over my kitchen counter and instead of actually cleaning, paper clutter would just make a bigger mess and my cleaning list would never get done. I really needed a better organization system to keep my cleaning to do list in order and keep track of yearly decluttering projects I wanted to do. From of this need became the Cleaning Binder!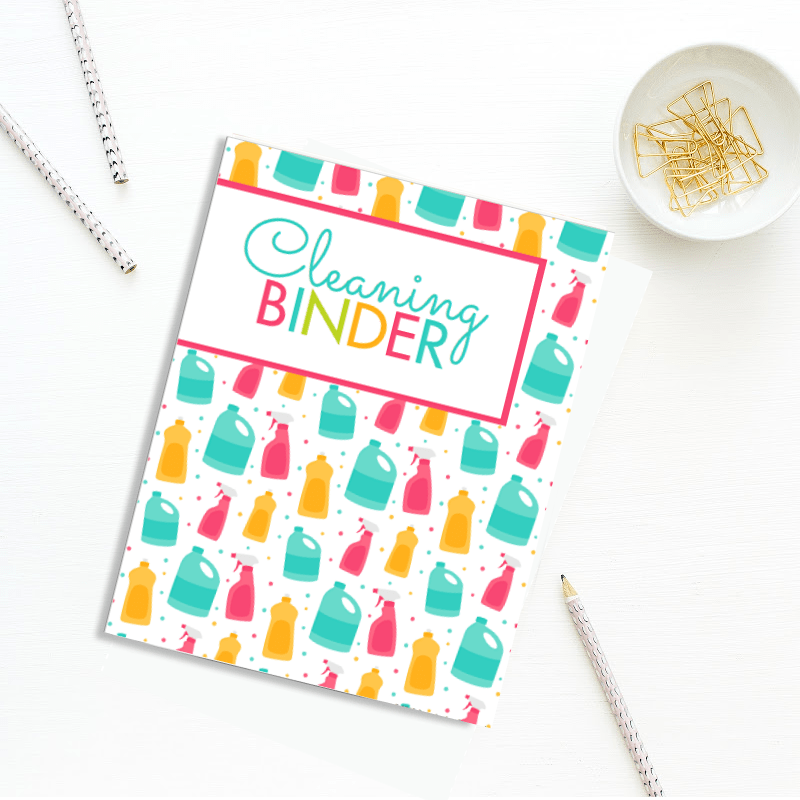 Why You Need A Cleaning Binder
The cleaning binder has completely transformed the way I clean. I never realized how much I needed a cleaning plan and routine until I finally implemented one. It has made a world of a difference.
Before I would clean just what I saw (wash dishes, vacuum every few days, try my best to keep up with laundry, etc.) Yes, my house was clean enough most days, but it was never clean enough that I could really relax and enjoy it. Do you know what I mean?
Not to mention, most Saturdays I spend the whole day catching up. My day off was spent cleaning bathrooms and catching up on laundry or cleaning random things like the microwave.
Having a cleaning binder completely changed all that for me! (No more cleaning all day Saturday, YAY!)
If you can totally relate to never having a clean house and feeling like you have no idea how to keep your house clean all the time, this cleaning binder is totally for you!
You see, there is a secret to having a clean house. Your grandma probably tried to drill it in your head growing up and you probably tried your best to ignore it. (I know I did.) The secret is having a routine! 
Okay so you're probably saying "Lindsay, that's not a secret. Everyone and their Mother tells you to have a cleaning routine." And you are totally right! Everyone does say that and gives tips on what days you should clean what. But the problem with that is, just because I think it's best to clean bathrooms on Wednesdays does not mean that's going to work for you! 
You are completely different from everyone else! Your schedule is different, your family is different, and your house is different.
You need to be able to create a cleaning routine that works best for you and the Cleaning Binder will help you do just that!
How To Use The Cleaning Binder
The cleaning binder is designed to help you plan out what areas of your home need to be cleaned on each day of the week. There are multiple ways to do this!
You can use the chore chart to list out chores that need to be done each day. Or print out a chore chart for each member of your family and designate specific tasks to them. You can also take the monthly cleaning schedule and plan out a whole month in advance what days you can clean each area of your home.
My personal favorite way to plan out my routine is to use the Monthly Cleaning Schedule.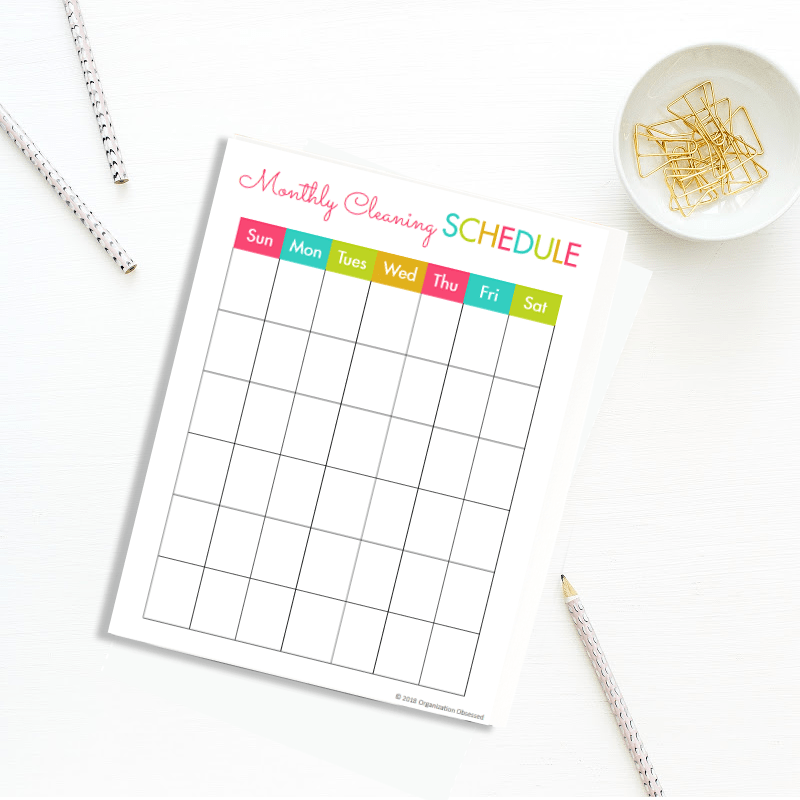 I write down tasks I must do every day. Things like dishes, wipe off counters, one load of laundry, pick up around the house. Then each day I add one more task. Monday bathrooms,  Tuesday vacuum, Wednesday clean bedrooms, Thursday dust, etc.
Each week my list will be different because my schedule may be different. Most cleaning routines don't work because they want you to do specific tasks on specific days.
When you have a busy schedule you may not always be able to clean your bathrooms on Wednesdays. Or if you are having a party this weekend it wouldn't make sense to clean your living room on Monday when you really need to clean it on Friday.
You can also use the room by room checklists. The cleaning binder includes a checklist for each room of your home. These lists are especially great for kids! Print off a list for whichever room you choose and write down what needs to be done each day. You can hang it up in the room or leave it in your binder. Then you or your kids can mark off each task as it is completed!
The cleaning binder helps you create a cleaning routine that truly works for you and being able to check off each task one by one makes it so much easier to stick to the routine you create!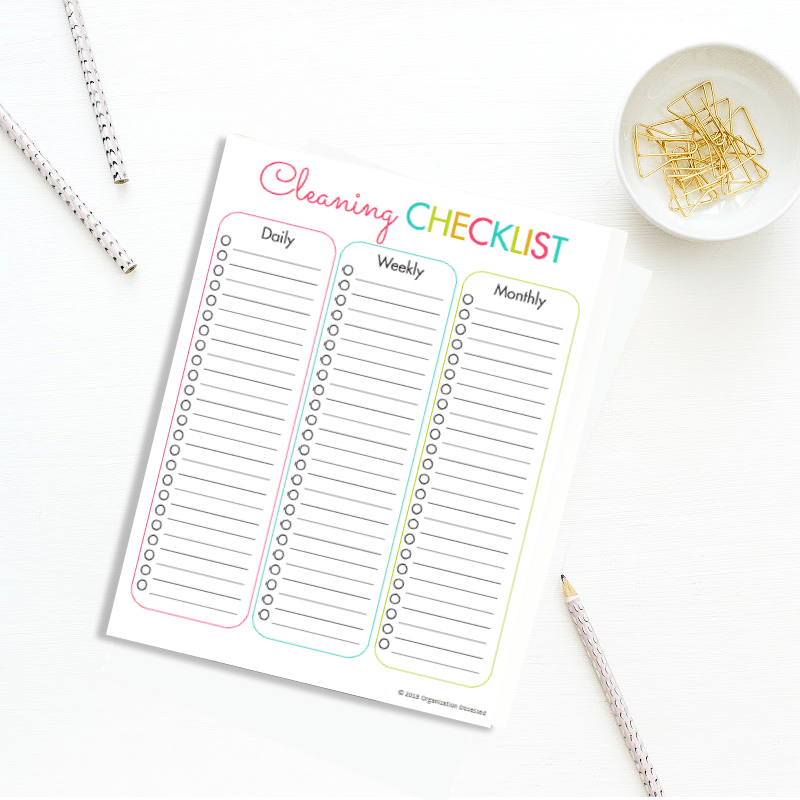 What Is Included In The Cleaning Binder?
The cleaning binder is 22 pages! It includes:
Pretty cover
Chore Charts
Monthly Cleaning Schedule
Cleaning Checklist
Kitchen Checklist
Living Room Checklist
Bathroom Checklist
Bedroom Checklist
Playroom Checklist
Office Checklist
Den Checklist
Laundry Room Checklist
Closet Checklist
Outdoor Checklist
Garage Checklist
Weekly Cleaning Checklist
Yearly Cleaning Checklist
Seasonal Cleaning Checklist
Cleaning Supplies Inventory
Cleaning Supplies Shopping List
Spring Cleaning Checklist
You can purchase the Cleaning Binder in our store and download it instantly! Plus it is yours forever. Print off as many copies as you need or give it to a friend!