This Post May Contain Affiliate Links. We earn a commission if you click this link and make a purchase at no additional cost to you.
If you have ever tried to organize your home you may know that it can get really expensive! One trip to the container store may take your whole paycheck. But if you are determined to get organized, there are simple ways you can do it without spending any money! With these DIY hacks, you can organize your home with items you throw out in the trash each week! Keep reading to find 10 Genius DIY Ways To Organize With Recycled Items.
Utensil Holder
Don't go waste your money on a utensil holder when you can make one yourself with your trash! Home-Dzine has a brilliant tutorial on how to create your own utensil holder using soup cans, paint and wood! Check out her tutorial here!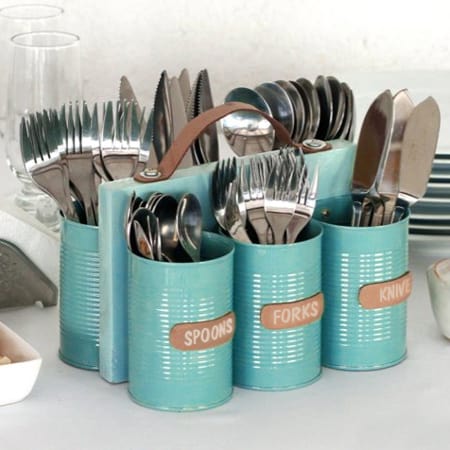 Tip & Image Credit: Home-Dzine
DIY Storage Basket
If you have ever shopped for storage baskets, you know that they can be expensive. Especially if you need more than one! But don't let that discourage you from getting organized! You can create your own storage boxes using cardboard boxes, twine, and fabric. Erin from Elizabeth Joan Designs created her own custom liner but you can also use a pillowcase! You can find boxes at any warehouse store or just use the boxes you get from Amazon!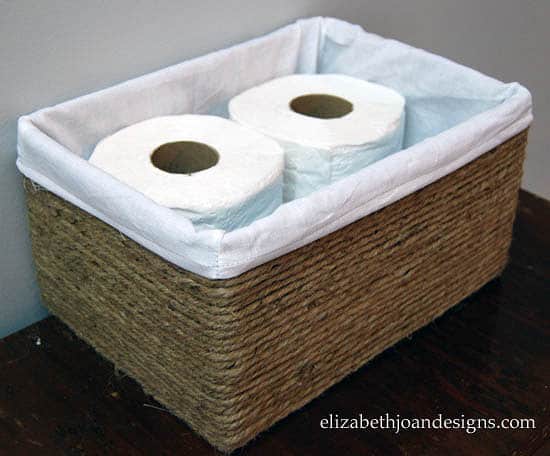 Tip & Image Credit: Elizabeth Joan Designs
DIY Drawer Dividers With Food Boxes
While I love to have drawer dividers, it can get very expensive to put them in all the drawers in our home. To save money you can create your own drawer dividers using food boxes. Jenn from I Heart Organizing has a brilliant tutorial on how to do it. She uses cereal boxes and pretty paper to create dividers that fit perfectly in her drawers! As always her ideas are brilliant and beautiful! You need to check it out!
Tip & Image Credit: I Heart Organizing
DIY Drawer Dividers with Cardboard
Using cardboard is a great way to organize your clothing like socks, underwear, or even baby clothes. The Krazy Coupon Lady has a tutorial on how to create drawer dividers using cardboard sheets. You can find it here!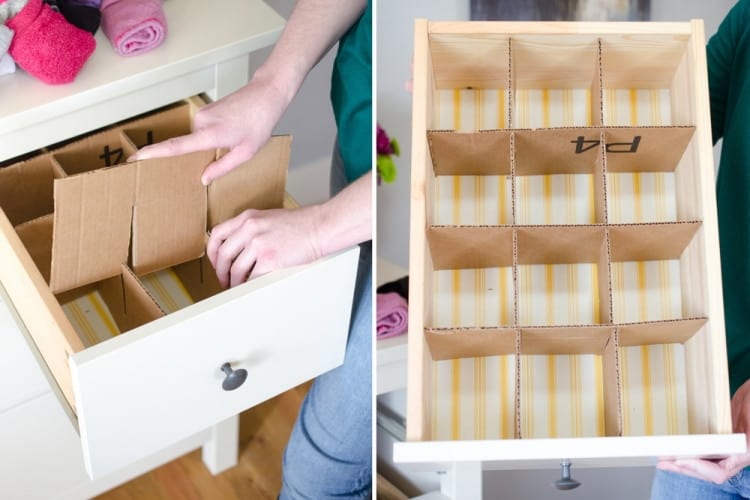 Tip & Image Credit: The Krazy Coupon Lady
Cord Storage
Organize your cords with toilet paper holders! This is a brilliant way to recycle and keep those pesky cords organized and from tangling. You can simply wrap up the cords or go all out and decorate the toilet paper holders with washi tape!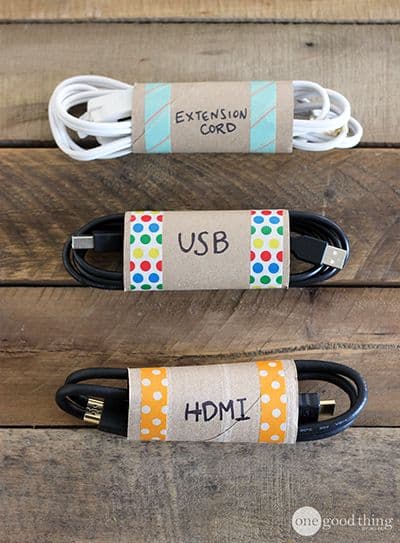 Tip & Image Credit: One Good Thing By Jillee
DIY Office Storage
Need a place to store your pens and scissors? What about using metal cans and decorating them with washi tape or craft paper! This isn't a new idea but I love how these metal tins are decorated! Erin Spain has a tutorial on exactly how she made them here!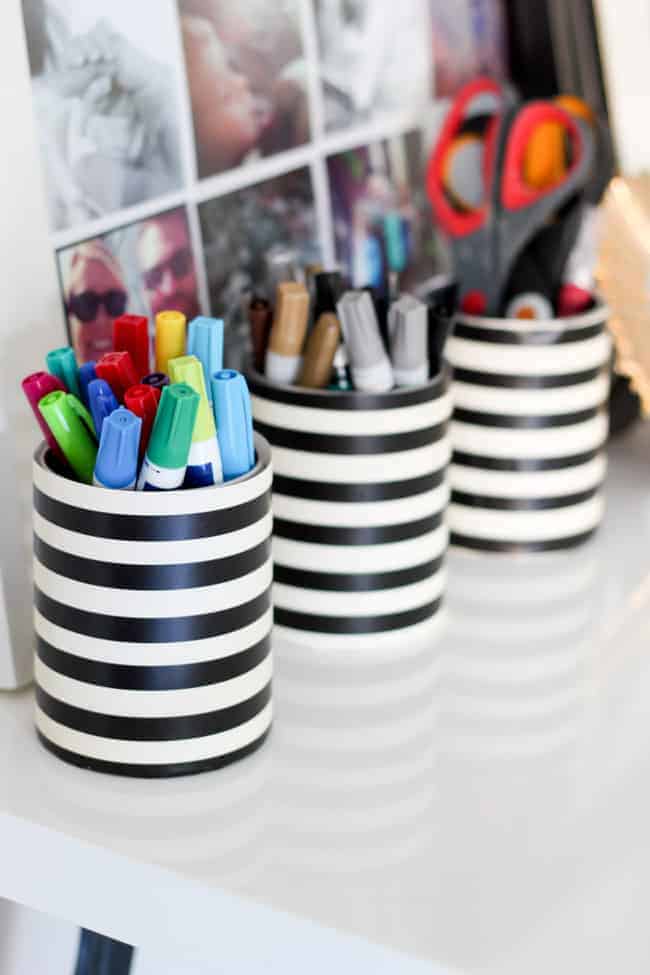 Tip & Image Credit: Erin Spain
Recycled Coffee Creamer Containers
Those coffee creamer bottles you throw out each week can be put to good use! Instead of just throwing them away use them to store food! You could store popcorn, goldfish, chocolate chips, the possibilities are endless!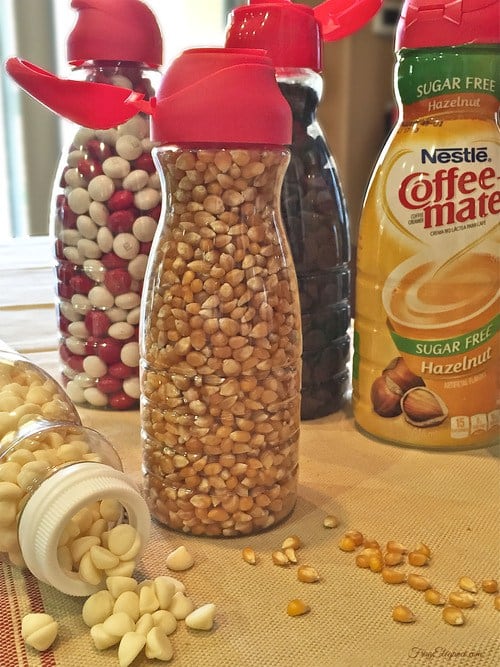 Tip & Image Credit: Frugel Elegance
DIY Decorative Baskets
I love to decorate with baskets. But they can be so expensive, even at discount stores. That is why I love this DIY way to organize! Sustain My Craft Habit created these storage boxes with Kleenex boxes, twine, and fabric! See how they did it here and then go find a beautiful fabric at Fabric.com (my favorite place to get fabric!)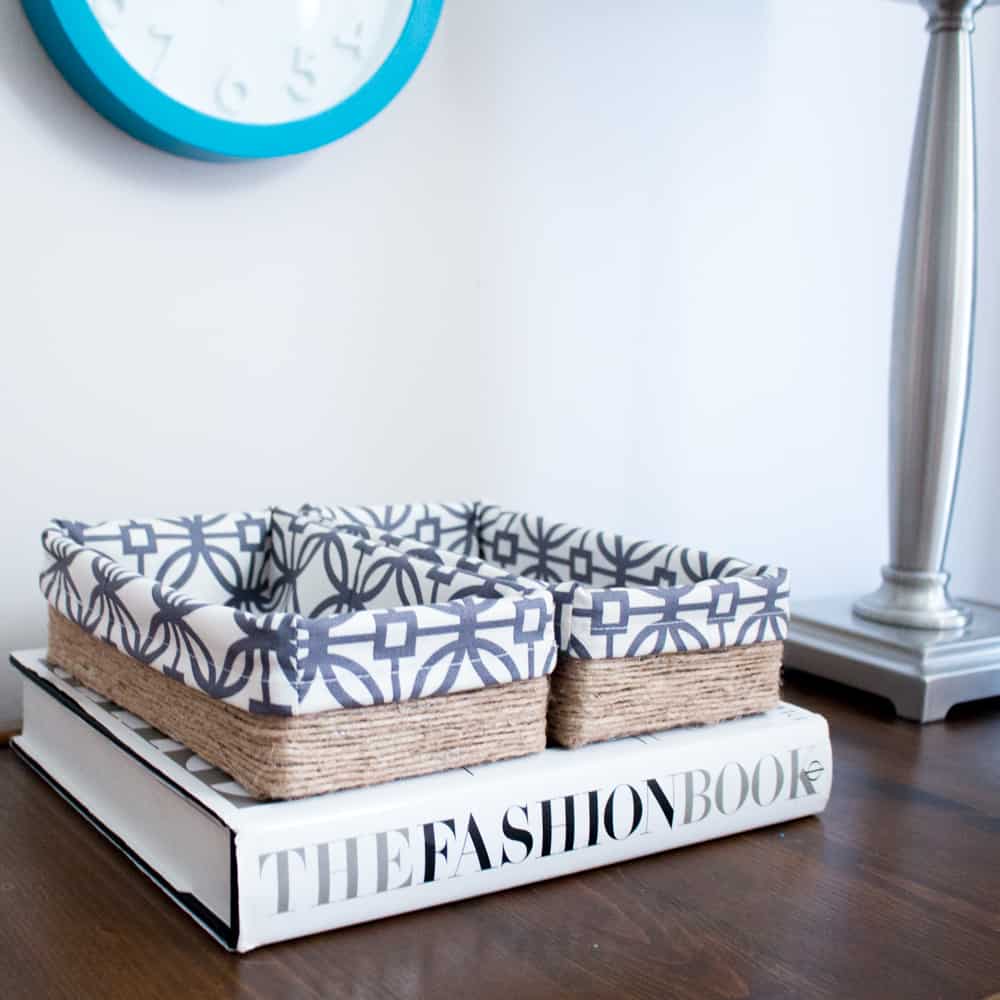 Tip & Image Credit: Sustain My Craft Habit
DIY Canister Set
Don't throw away those glass jars! You can use them to create your own canister set. You can use jelly jars, pasta jars, etc! Little House of Four took glass jars, knobs and scrapbook paper to make these gorgeous canister set. She stores office supplies in them but you could make them yourself and store whatever you needed in them! Find her tutorial here.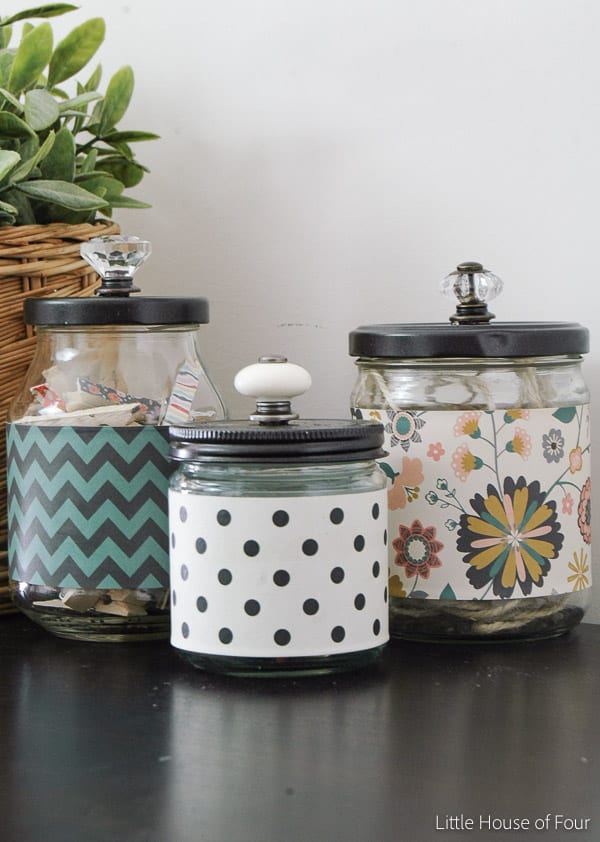 Tip & Image Credit: Little House of Four
Ribbon Storage
If you're a crafter, you know keeping your ribbon organized can be hard! Instead of stressing over the mess why not recycles your tic tac boxes to organize your ribbon? I think this is pretty brilliant (and really cute!) You can see how Pretty Prudent did it here!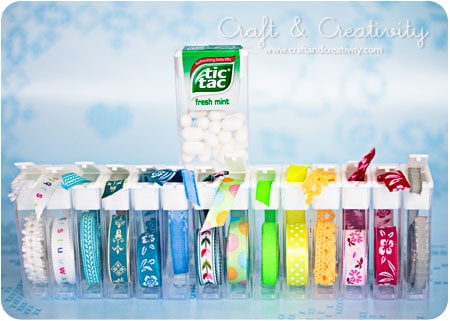 Tip & Image Credit: Pretty Prudent
How do you organize your home with recyclable items? Share your DIY ways to organize below!
You May Also Like: 15 Home Hacks That Will Make You Look Like An Organization Genius