This Post May Contain Affiliate Links. We earn a commission if you click this link and make a purchase at no additional cost to you.
Are you feeling completely overwhelmed by your home and you have no idea how to keep the house clean?
If so you are not alone!
With our busy lives it is hard to keep our homes clean all the time. We come home exhausted and just want to hit the couch. The dishes can wait till later, right? But if you are reading this you probably know putting off chores during the week means that you are going to spend your whole weekend cleaning!
Not exactly how you want to spend you want to spend Saturday, right?
So how can you stop living like this and keep the house clean every day?
Implement A Routine
Creating a routine is the key to your success.
If you don't have a cleaning routine to follow, doing the laundry will be so easy to put off that, eventually, you'll have no clean underwear! Or you'll spend all day Saturday cleaning up your house because you put it off during the week.
Sound familiar?
But this doesn't have to be your life!
By setting up a routine of quick and easy daily tasks, you can keep your home clean all the time!
How To Set Up A Daily Routine
To keep your home clean all the time there are 4 things that you must do every day!
Clear Off Counter Tops
Dishes
Wash & Fold At Least One Load Of Laundry
Pick up
Here is how I tackle these daily chores!
Laundry:
In the morning before you leave the house throw in one load of laundry. I always set a delay on my washer so that the clothes will wash an hour before I get home. If your washer doesn't have a delay setting you can start it right before you leave. Once you get home throw the clothes in the dryer. Then in the later, once you sit down to watch TV, fold the load of clothes and put them away. It only takes about 10 minutes to fold clothes and put them away. For about 15-20 minutes of work a day, you can always be caught up on laundry!
Dishes:
This may sound obvious but some of us struggle with this step. Once a dish is used, instead of just putting it in the sink, take 5 extra seconds and put it in the dishwasher. If you do not have a dishwasher then wash and dry it as soon as you use it. If you wash dishes as you go then it saves you time and from accumulating a sink full of dishes.
Also, while you are cooking, wash dishes as you go. Most of the time, when cooking a meal there is always cooking time. While you are waiting for your food to cook, wash and dry as many dishes as you can.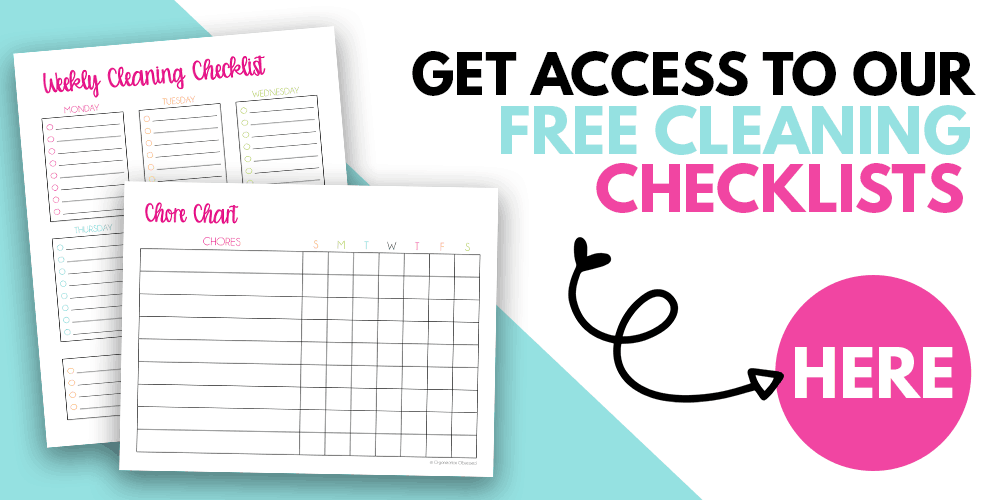 Pick Up & Clear Off Counters
This is where my family and a lot of other families struggle the most! Clearing off the daily clutter that accumulates around the house can seem overwhelming but there are a few ways that you can combat it!
First, if it takes less than a minute to put something away, then do it! Don't let something pile up for later. It will only get harder the longer you wait to put things away.
Secondly, throw away junk mail as soon as you bring it in the house. There is no reason to accumulate unuseful clutter.
Thirdly, never lay your purse or bag on the countertop. By doing this you instantly make your kitchen more cluttered. Instead, store your bags on a hall tree or a coat rack.
Lastly, right before bed every night we do a quick pickup. We fold throw blankets and arrange throw pillows. Put away toys and pick up any stray items on the floor. And put away any lingering clutter. We only spend about 5 minutes and go to bed every night with a clean living space.
That's it! Those are the 4 things you must do every day to keep your house clean and tidy!
But that's not all you need to do to keep your house clean, right? There are other chores that need to be done at least once a week.
Here's How To Manage All Your Other Chores!
The best way to keep your home clean is to have a plan! It is easy to do the basics each day but what about all the areas of your home that frequently need attention?
For example, when was the last time you cleaned behind the toilet?
If you're anything like me then you probably have no idea.
But, I bet that you'll be cleaning the toilet at the last second the next time you have company over, right?
Hey, it's okay. I have been there SO. MANY. TIMES!
So how do you change this? How do you create a plan to keep your home clean all the time?
I use this Cleaning Binder!
Why You Need A Cleaning Binder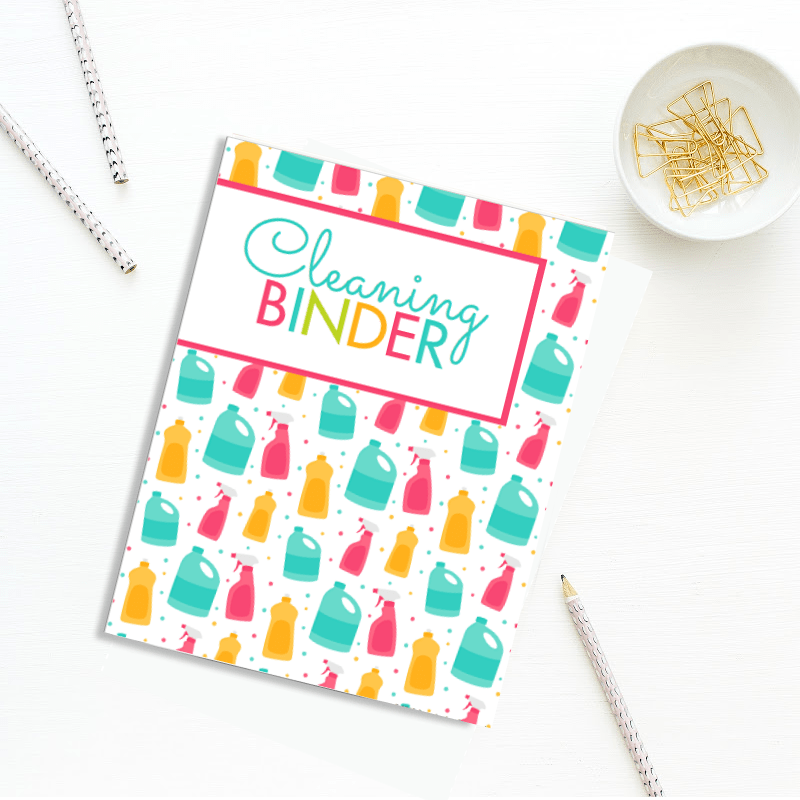 This cleaning binder gives you a place to plan out when each area of your home will be cleaned and who will be cleaning it!
It includes printable pages like chore charts, monthly cleaning schedules, a checklist for each room, and even the ability to create an inventory list of your cleaning supplies or shopping list for supplies you're out of.
Each week I will pull out the cleaning binder and plan out what needs to be done for the week. For example, I know if we are having company over on Friday then the bathrooms need to be cleaned on Thursday and I should probably vacuum that day too. Or if we are going to be out late on Monday then I write down Monday's chores for Tuesday.
Having a cleaning binder not only helps you plan out when and what needs to be cleaned, it helps you spread out cleaning throughout the week instead of spending your weekends playing catch up! Don't do that! Weekends are for fun, not cleaning!
You may be thinking this sounds silly. Why write down when you need to clean. Just do it, right?
But, is that working for you?
More often then not we put of chores off to a later time and then we get overwhelmed by a filthy house.
Planning our your cleaning schedule and writing it down makes you accountable for it as well as your family! When you put a pen to paper and write that on Wednesday you need to clean the bathroom, you are much more likely to do it! You can check that chore off your list and feel great that you accomplished it!
Or if you create chore charts for each one of your kids then they know exactly what they are supposed to help out with around the house.
Having a cleaning binder is the best way to create a cleaning schedule, implement a routine and hold yourself accountable for keeping your home clean.
Coupon Code Will Automatically Be Added To Your Cart But It is 25OFFCLEANING if you need it!