This Post May Contain Affiliate Links. We earn a commission if you click this link and make a purchase at no additional cost to you.
#oDo you wish you could have an organized kitchen but you just don't know where to start? Or do you not have a huge budget to spend on organizing your kitchen?
Guess what? You don't have to!
We have found the ultimate ways to organize your whole kitchen with items from the Dollar Store! Yes, the Dollar Store! Where you can buy really awesome bins and baskets for pennies!
So are you ready to get started?
Check out these 18 Genius Kitchen Organizing Ideas From The Dollar Store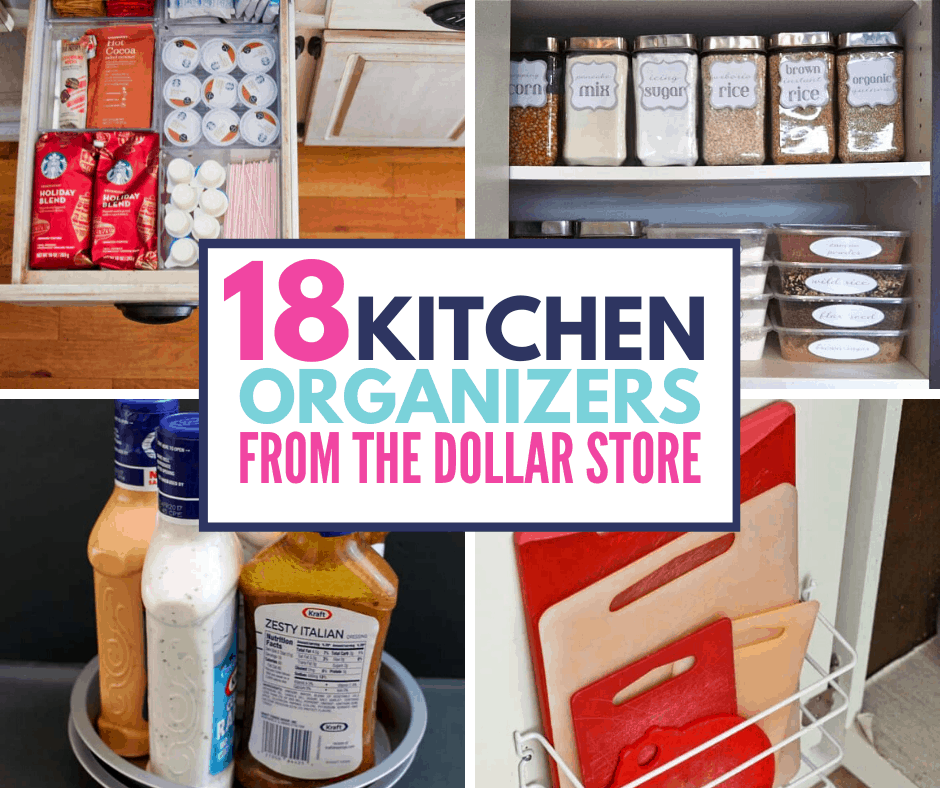 Organize Your Drawers with Plastic Drawer Organizers
Organize your coffee station or any drawer with clear bins from the Dollar Store or these storage trays! Unlikely Martha created a super cute coffee station and organized her essentials with clear bins. This is such a great idea! What can you organize in your kitchen with these bins?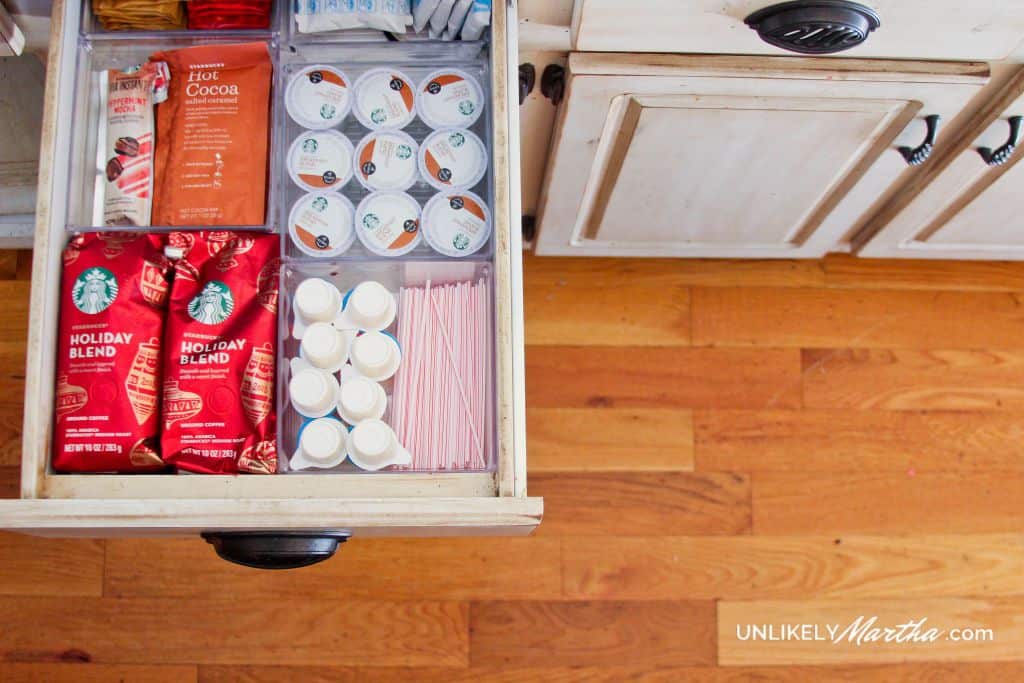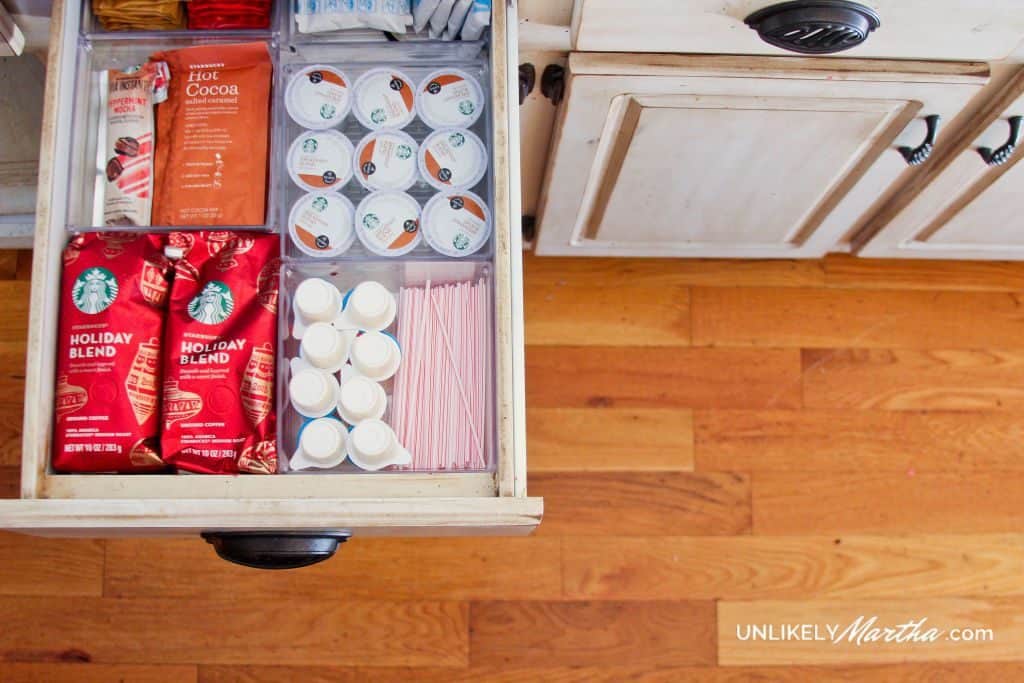 Tip & Image Credit: Unlikely Martha
Store Dry Goods in Canisters
Store your dry goods in canisters to keep everything organized! This is a great way to organize your cabinets and pantry! Get your canisters with chalkboard labels here!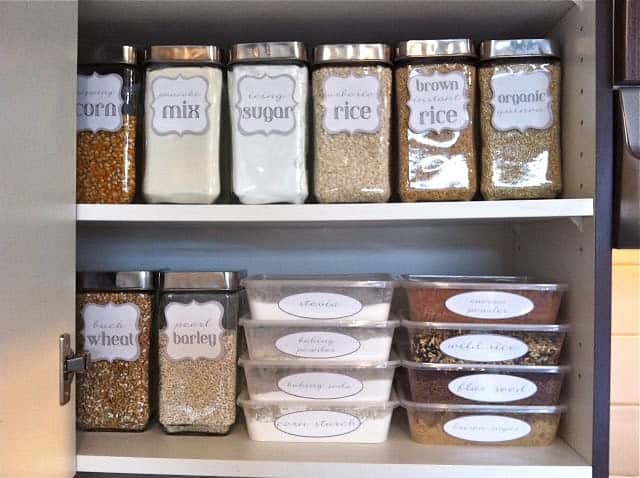 Tip & Image Credit: The Social Home
Organize Your Pantry With Bins
Is your pantry a cluttered mess? Are you unable to find the green beans because they are buried behind bags of chips? This is a problem most families have! But you can transform your pantry with a trip to the Dollar Store and a few different size bins. Check out this before and after with At Home With Nikki!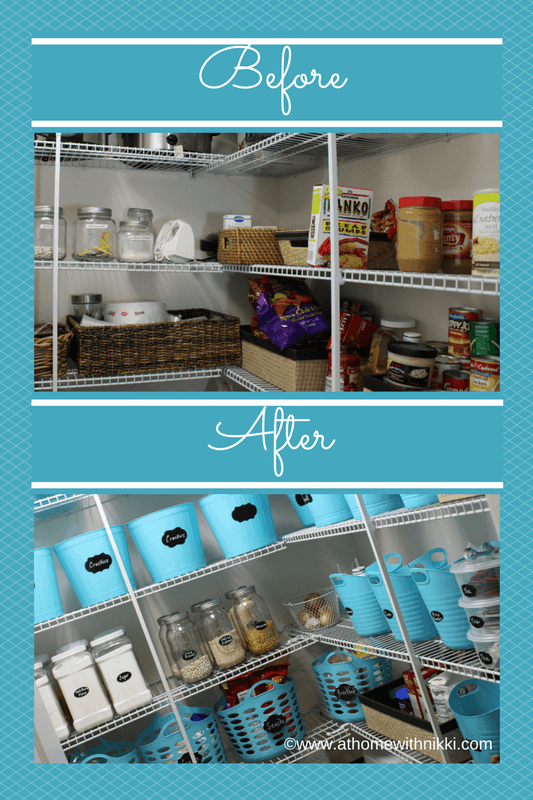 Organize Kitchen Cabinets With Stackable Bins
This is such a brilliant idea. Using stackable bins from the Dollar Store is the perfect way to store smaller items like oatmeal, chips, tea bags and packet spices. The list goes on!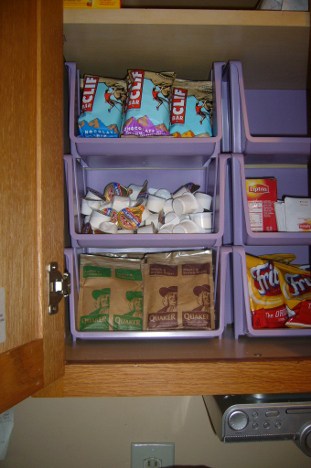 Image & Tip Credit: A Proverbs Wife
Use a Wire Organizer to Hold Cutting Boards
You can find a simple wire organizer from any dollar store and then mount it to your cabinets! This is the perfect way to store cutting boards, larger lids or even cookbooks!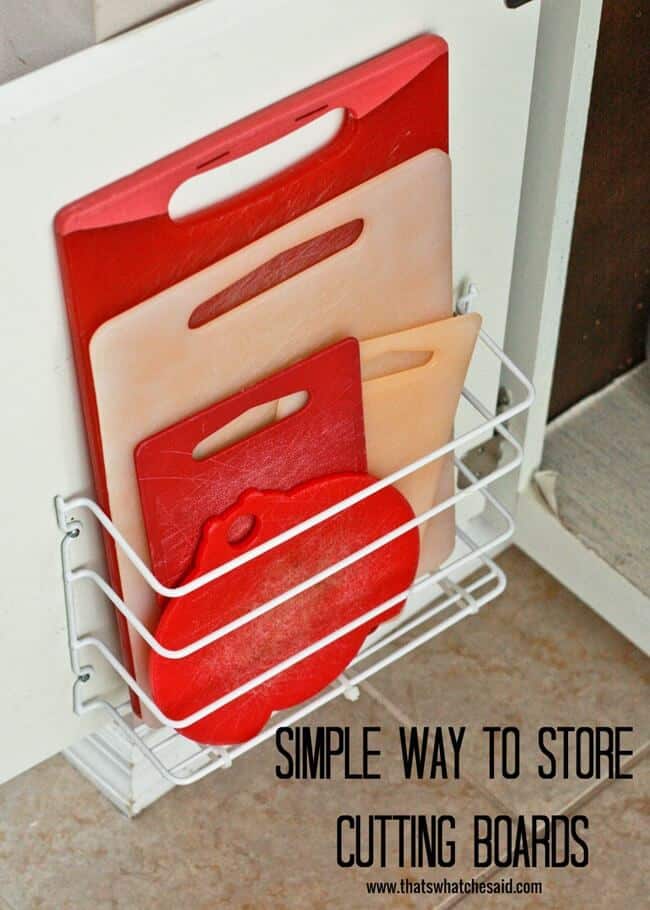 Image & Tip Credit: That's What Che Said
Create a Magnetic Spice Rack
A Cultivated Nest has come up with a genius way to store spices! Using a cookie sheet, magnetic containers, and a little bit of creativity she came up with the perfect way to store the spices that were cluttering her cabinets. You start by mounting a cookie sheet to the inside of your cabinet door. Feel free to paint it if you wish! You can mount the cookie sheet with screws or command strips. Then fill your magnetic containers with spices and attach them to your cookie sheet! And that's it! How easy right! The Cultivated Nest also offers free printables to fit the magnetic containers! Get yours here!
Tip & Image Credit: A Cultivated Nest
Make Your Own Lazy Susan
Have you ever wished you could have a Lazy Susan in your cabinets or fridge but you don't want to pay a huge sticker price. You can make your own! With 2 round cake pans and marbles, you can create a lazy susan that fits your needs for any space! This is really simple! Just fill the bottom of a cake pan with marbles and then stack the other cake pan on top! Check out The Country Chic Cottage's tutorial here!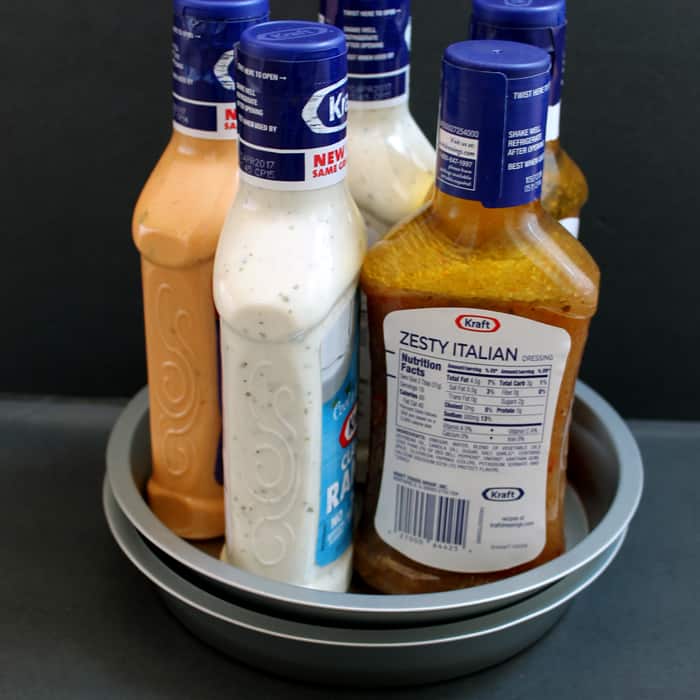 Image & Tip Credit: The Country Chic Cottage
You May Also Like:
Use Hooks To Hang Utensils
Use a Utility Hanging Rack to hang your most uses utensils, measuring cups, measuring spoons, etc!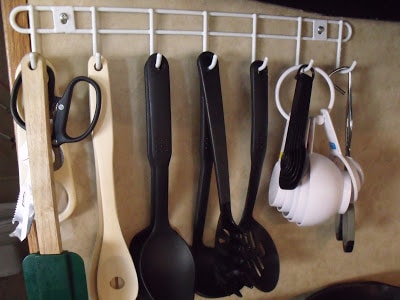 Tip & Image Credit: A Mellow Life Is a Good Life
Use Bins To Organize Your Fridge
The Dollar Store has a ton of different size and colored bins! You can organize just about anything in your fridge with them. Check out how Ginny used Fridge Bins and Linen Bins to organize her fridge. She even offers free labels!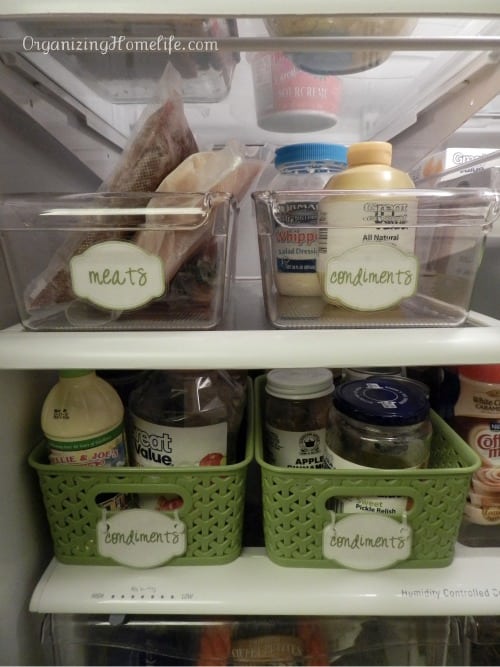 Image Tip & Credit: Organizing Home Life
Use an Over The Door Shoe Organizer for Snacks
Shoe Organizers aren't just for shoes! Store snacks or other small food items in a shoe organizer on the back of your pantry door! Find these at the Dollar Store or here!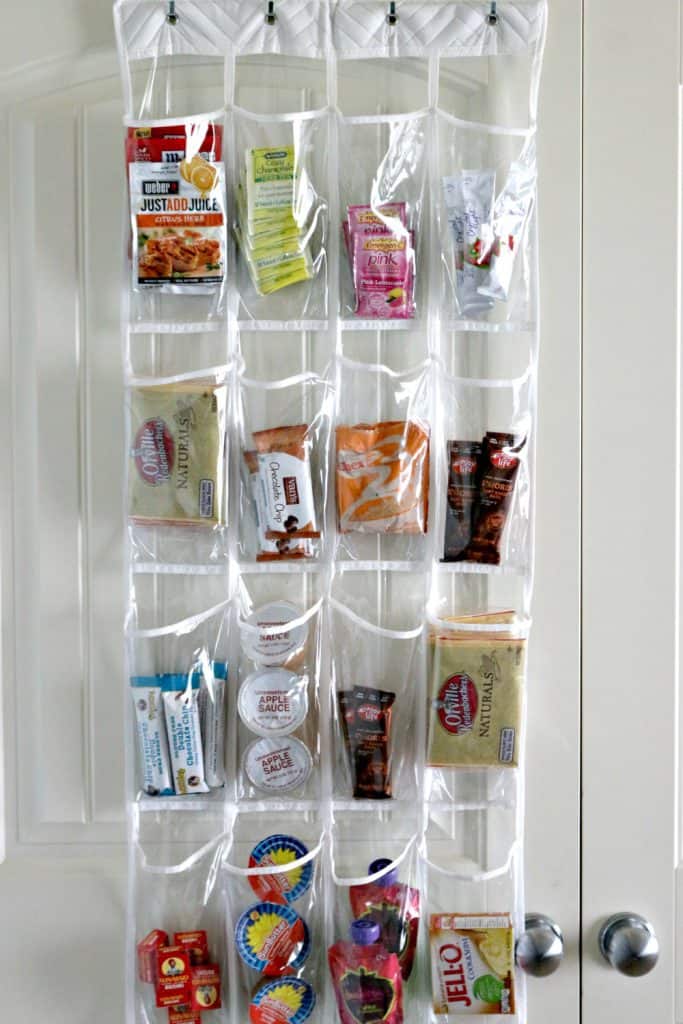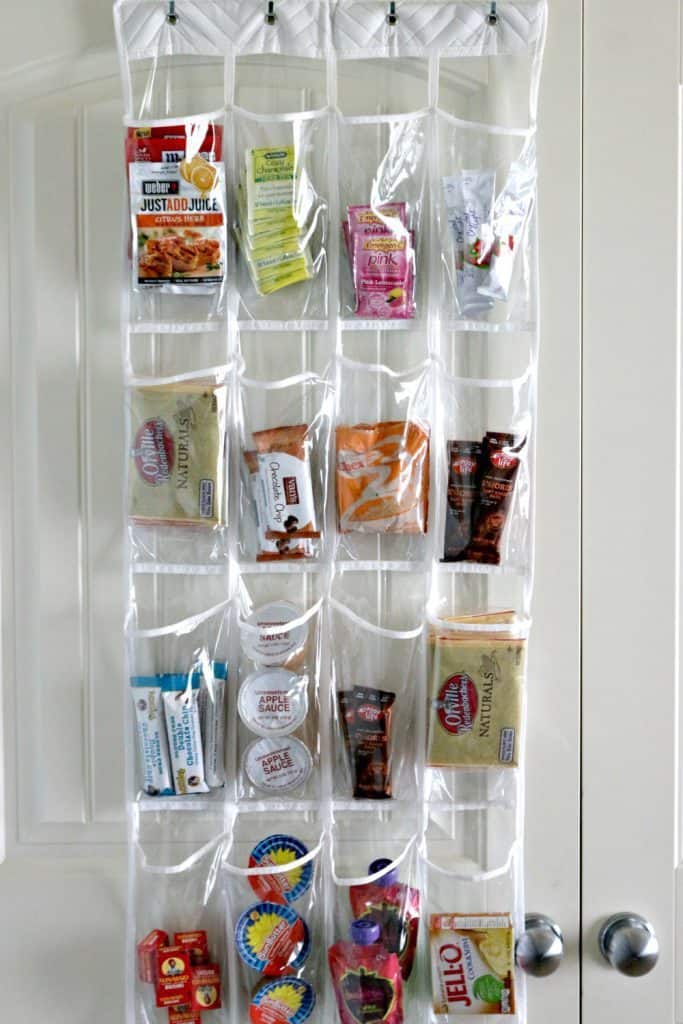 Image & Tip Credit: Money Saving Queen
Use Bins for Cleaning Essentials
Make your own cleaning caddy with bins and baskets from the Dollar Store! You can also use a tension rod to hold all your spray bottles and create extra storage space!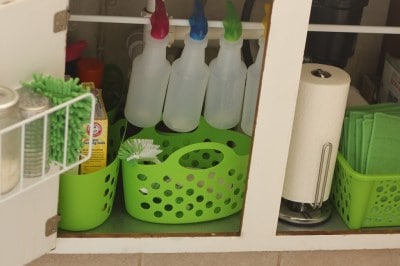 Tip & Credit: New Nostalgia
Organize Paper Plates in a Magazine Holder
If you are a paper plate user then you need this hack! Whether in your home kitchen or your RV kitchen, using a magazine holder to organize paper plates is genius. You will save so much room and your paper plates will always be nicely organized!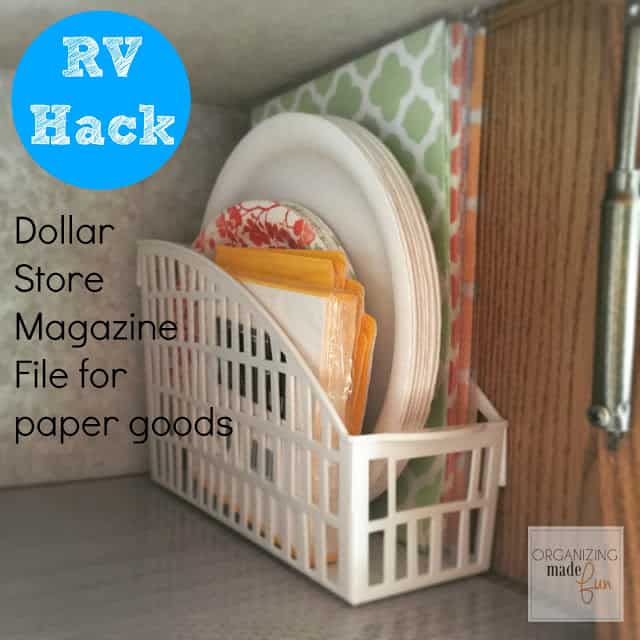 Tip & Credit: Organizing Made Fun
Use Soda Can Organizers for Canned Goods
Do your cabinets need an organizing overhaul? This is such an awesome tip! Use soda can organizers to stack canned food and save a ton of space! Get an organizer for each type of canned food you always have on hand. This will keep your cabinets organized and you will always know what you have in stock!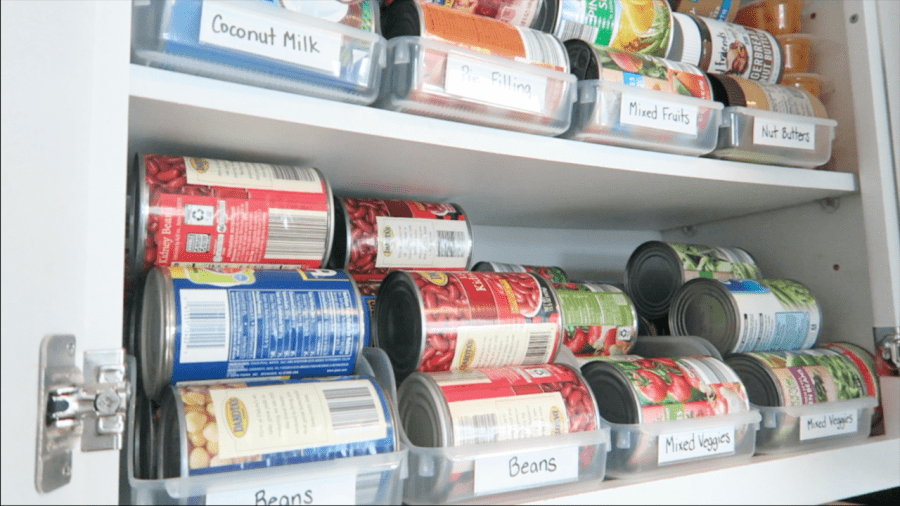 Tip & Image Credit: Thrifted Living
Use Bins in Your Freezer
Have you ever wondered how you could organize your freezer? You can use plastic bins and make them super pretty with labels and washi tape! Create a bin for each food that you typically have in your freezer and you will always know what you have on hand!
Tip & Credit: Time With Thea
Kitchen Mason Jar Storage Containers
Are you looking to bring a little character into your kitchen and love mason jars? Check out this cute storage hack! You could make these mason jars yourself with a little bit of paint and a few labels!
Tip & Credit: The Homes I Have Made
Store Cupcake Liners in a Mason Jar
This is such a great idea for the ones who love to bake! Cupcake liners tend to get buried in a cabinet never to be seen again until you have to go dig them out. Create the perfect place to store all your cupcake liners and keep them in a mason jar!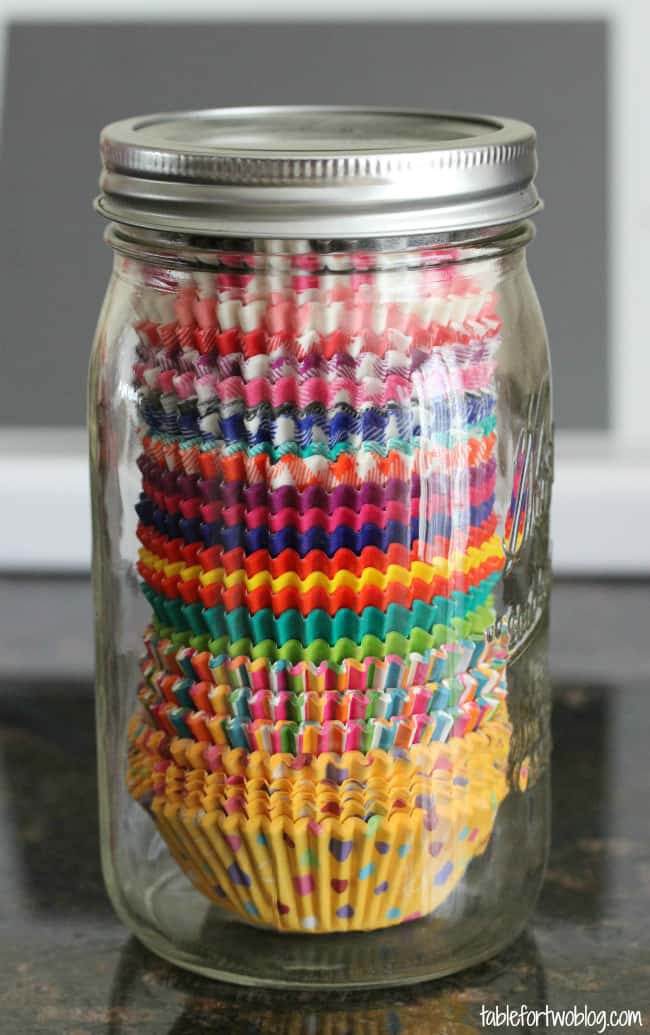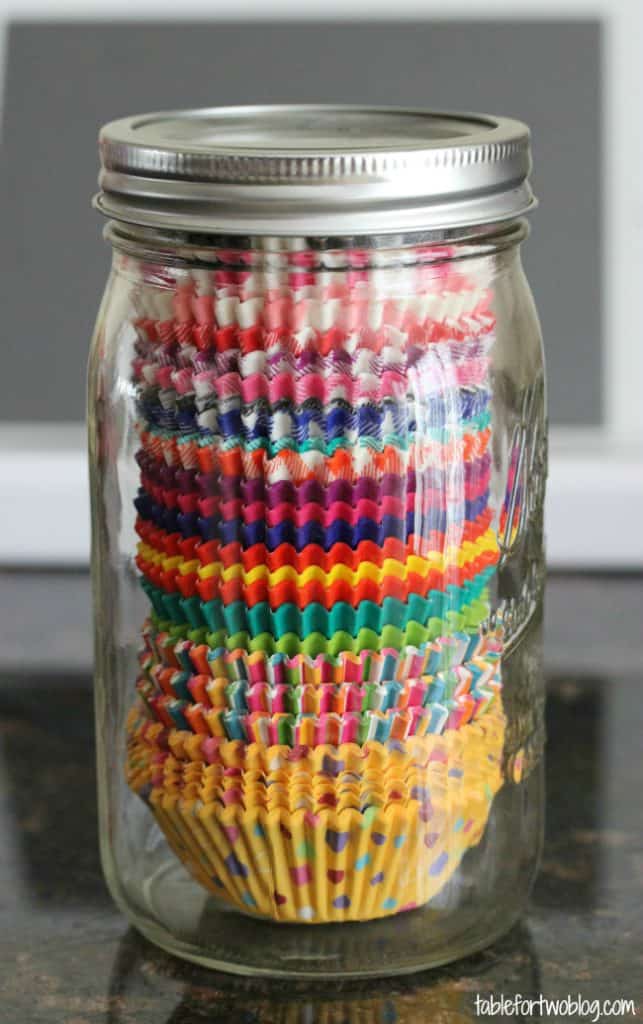 Tip & Credit: Table For Two
Use Sink Caddies for Storage
In our house, Kool Aid, Ranch Packets & Taco Seasoning tend to disappear in drawers or cabinets. And then I buy them over and over again when it is not necessary. You can use sink caddys to store all of your little packets! Use command strips to adhere them to your pantry walls or cabinet doors. No longer will you have to go searching through cabinets or buy items you already have!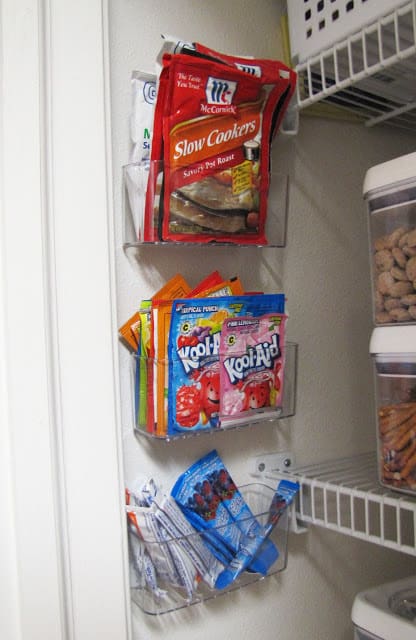 Image & Tip Credit: Make Bake Celebrate
Create Your Own Magnetic Organizer With a Cookie Sheet
You can turn a cookie sheet into a magnetic organizer! Use it on a well in your kitchen to hang up reminders, notes, family photos, etc! See how Aimee, The Crazy Craft Lady, made a beautiful Organizer!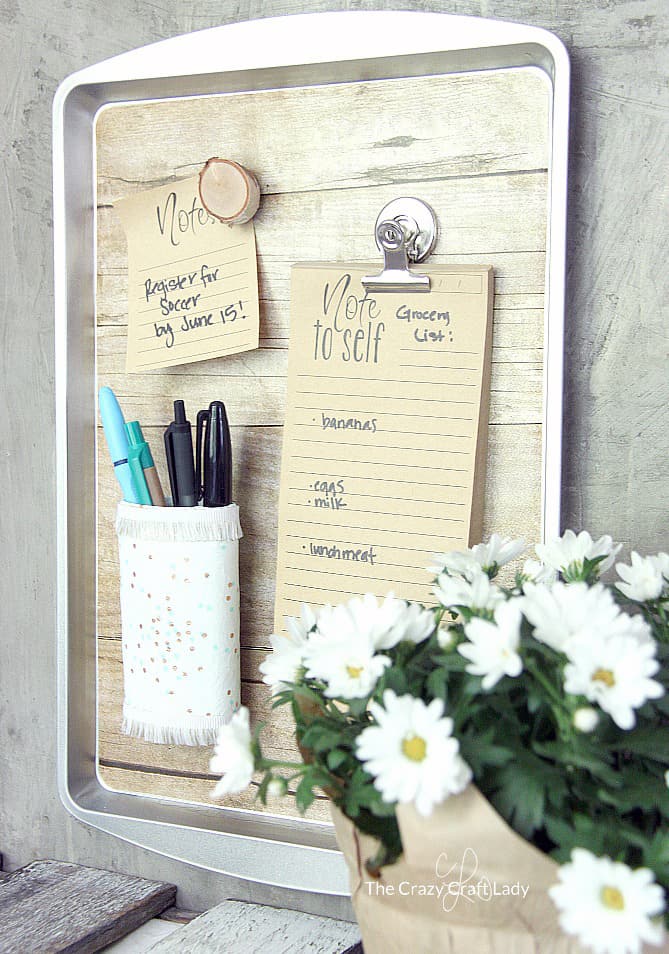 Tip & Image Credit: The Crazy Craft Lady
So did these ideas make you want to run to the Dollar Store right now and start organizing your kitchen? I hope so!
Comment below on ways you have used Dollar Store bins & baskets to organize your home!
You May Also Like:
12 Dollar Store Hacks You Must Do Right Now
12 Creative Ways To Organize Your Kitchen
18 Magic Eraser Hacks That Will Blow Your Mind