This Post May Contain Affiliate Links. We earn a commission if you click this link and make a purchase at no additional cost to you.
When my husband and I remodeled our new home I couldn't wait to organize it! It was the best part of moving into a new home. Everything had its own new place!
The kitchen was where most of my time was spent organizing. Cups went in one cabinet, plates in another. Bowls stacked just right and utensils nicely laid out in a drawer.
Fast forward to now, it can best be described as an unorganized disaster.
Sound familiar? Maybe this is what your kitchen looks like too.
Maybe we should move again and start over? I wish! But that is probably more work than just spending a few hours organizing the kitchen you have.
So where to begin?
15 Ways to Organize Your Kitchen
There are so many available tools and hacks out there to organize your kitchen. It can easily be done in a few hours if you have the right mindset and tools. By the time you are finished your kitchen will be so clean, organized and even have more space!
Mount a Grocery Bag Organizer to a Cabinet
We have this exact grocery bag holder mounted to our cabinet door under the sink. It is so convenient to store away our grocery bags while unloading groceries into the pantry & fridge. Just roll them up and push them down into the holder. Plus our grocery bags are hidden and out of the way. And when we need one they are easy to pull right out!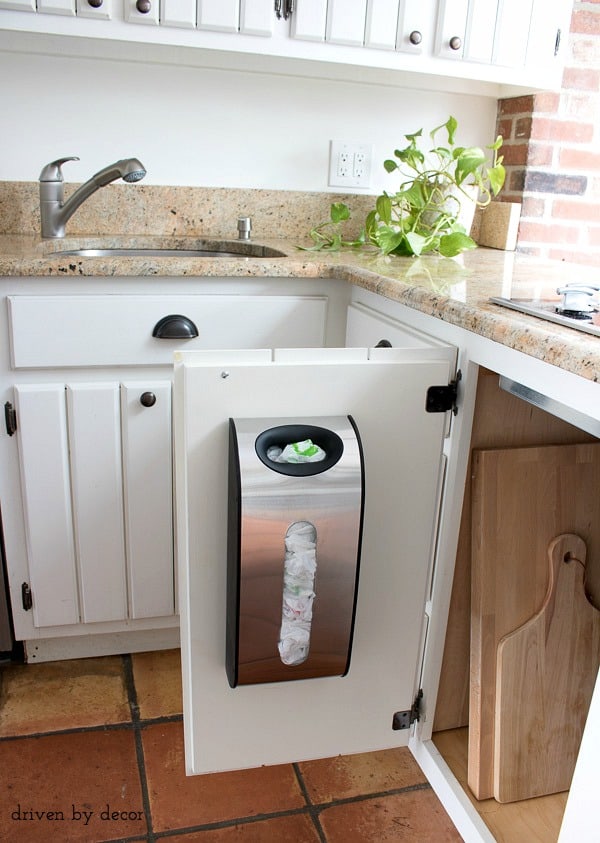 Image courtesy of Driven By Decor
Hang Up Trash Bag Rolls
Trash bags seem to always be in the way. Wouldn't it be nice to have some extra room under your sink or on a pantry shelf? You can! Simply Organized shows you an awesome way to store your trash bags under your sink, freeing up much needed space!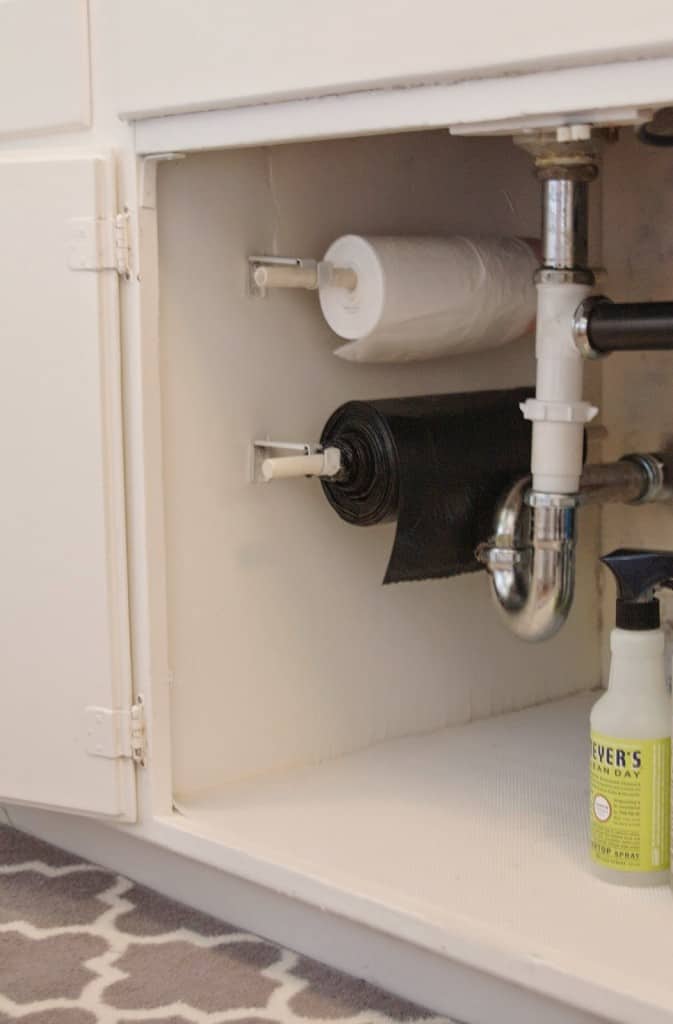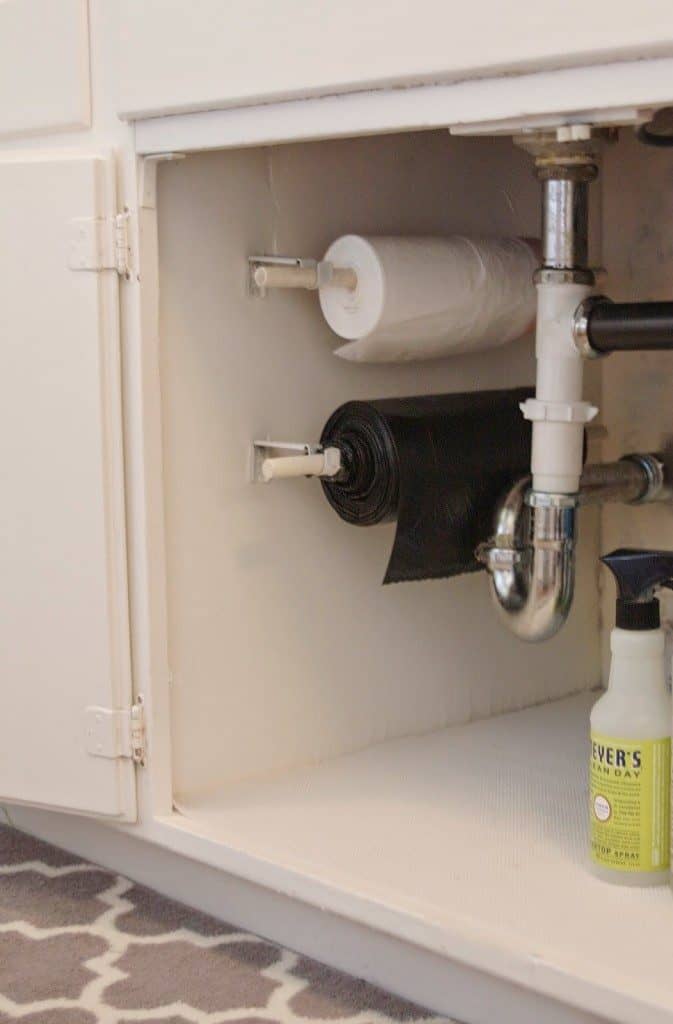 Cookie Sheet & Baking Pan Storage
Nothing frustrates me more than pulling out a cookie sheet and then the rest of them come crashing down. Most of us just store our cookie sheets & baking sheets by stacking them at the bottom of a cabinet or vertically on the side (hoping they don't fall). But I have found a better way. Remodelaholic used a metal file rack to stack her cookie sheets & baking pans vertically. Stacking your sheets vertically saves so much surface room and keeps all your plans from leaning or stacking on one another.
Bonus: You could also store your cutting boards like this too!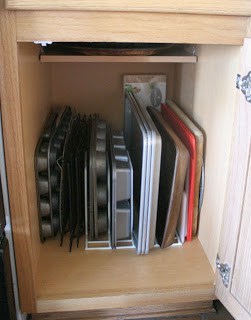 Hang Oven Mitts & Hot Pads
I must admit, my oven mitts and foil share a drawer and sometimes it gets a bit messy. I love having a ton of cute oven mitts but my drawer was getting so full that I could not store all of them. However, The Krazy Coupon Lady had the perfect solution!
You can use command hooks and hang your oven mitts on the insides of your cabinets! They take up minimal space that you are not using anyway! Using this trick frees up some much needed drawer space!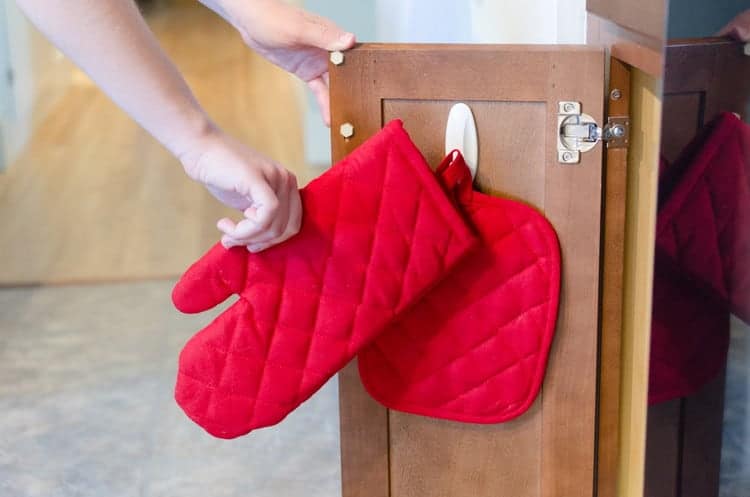 Mount File Folders Inside Your Cabinet
This tip is so genius! Mount a file holder or magazine holder to your cabinet door to store aluminum foil and saran wrap boxes! You probably have a drawer specifically for foil boxes. Think of what you could do with an extra drawer by storing foil on the doors!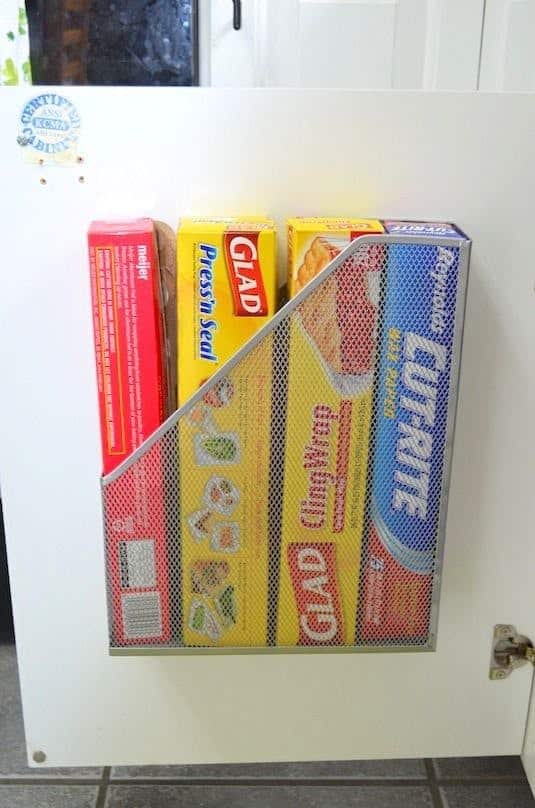 Use File Holders for Potatoes and Onions
File holders can do more than just store files and organize your foils. They can also store potatoes and onions! If you're anything like me, potatoes and onions typically stay in their bag where they get thrown to the bottom of the pantry until their forgotten about. But how cute is this storage hack!
Image courtesy of Ikea
Organize Cans with Magazine Holders
Were going magazine holder crazy over here! Next time you organize your kitchen make sure to grab a few of them! (Or hey you may even have some laying around) PB&J Stories had a stroke of genius when they were organizing their pantry! This is so smart I am going to do this myself! Cans typically take up a whole shelf in our kitchen. That is shelf space I desperately need for Reese veggies.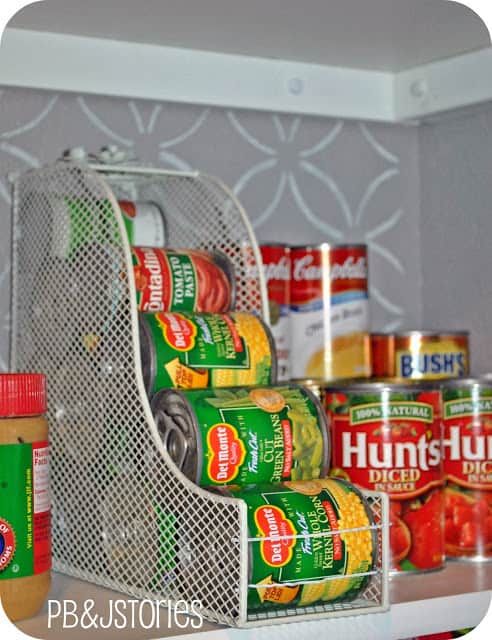 Use Sink Caddies for Storage
In our house, Kool Aid, Ranch Packets & Taco Seasoning tend to disappear in drawers or cabinets. And then I buy them over and over again when it is not necessary. You can use sink caddys to store all of your little packets! Use command strips to adhere them to your pantry walls or cabinet doors. No longer will you have to go searching through cabinets or buy items you already have!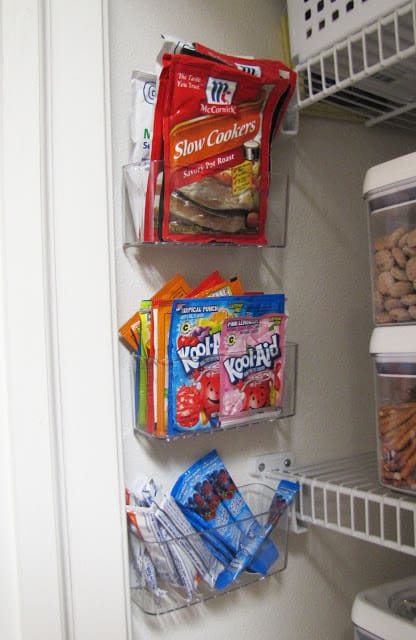 Image courtesy of Make Bake Celebrate
Stack Plates
Do your different size plates take up all your cabinet space? I have 3 different sizes in plates but only 4-6 of each of them. They take up all my cabinet surface. An easy solution for this is a cabinet shelf organizer! With these handy little shelves, you can double your storage area by adding an extra surface for plates, bowls, etc!
Stack Skillets & Pans
I picked up one of these handy dandy pan organizers at TJ Maxx but can find them on Amazon too. Since using it in our pots and pans cabinet so much room has been freed up. Our pans are now nicely organized instead of stacked on top one another. It also makes it a breeze to pull out the exact pan I am needing!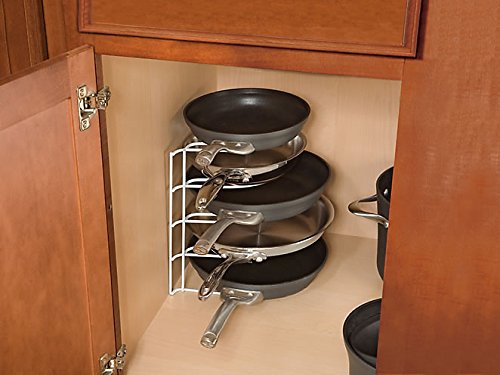 Food Storage Container
I typically only buy Rubbermaid Food Storage Containers because they store well. All the lids snap together for easy storage and the bowls will stack. However, even though the lids snap together they easily get cluttered. A compartment lid organizer is a perfect way to store each lid size in its own perfectly sized space.
Utensil Drawer Dividers
Drawer dividers were one of the first organization tools I purchased for our new kitchen. I hate having all our spatulas, spoons & measuring cups cluttered together. Wooden drawer dividers take one large drawer and divide it into sections so you can store each utensil in a different section. They are so handy!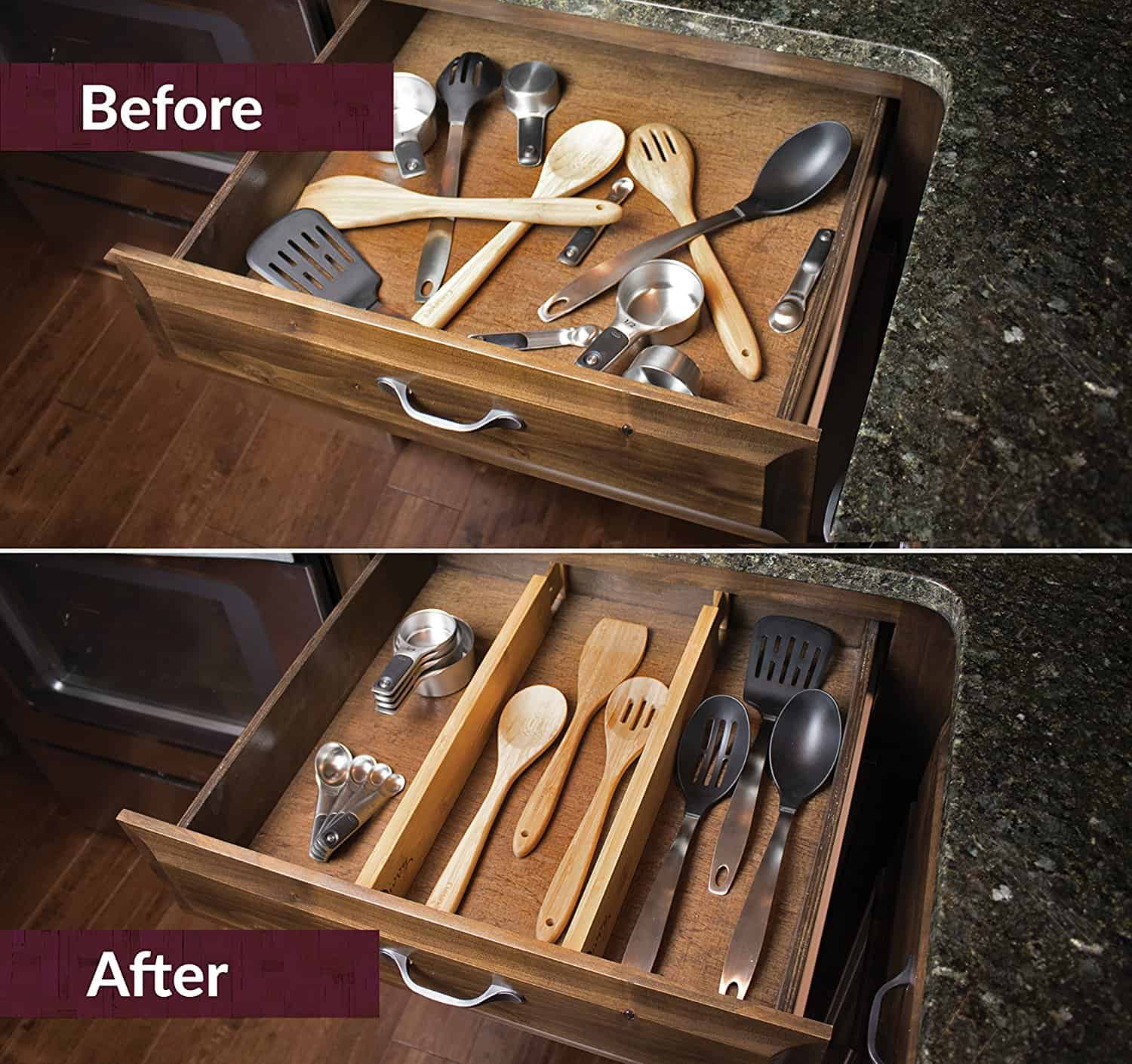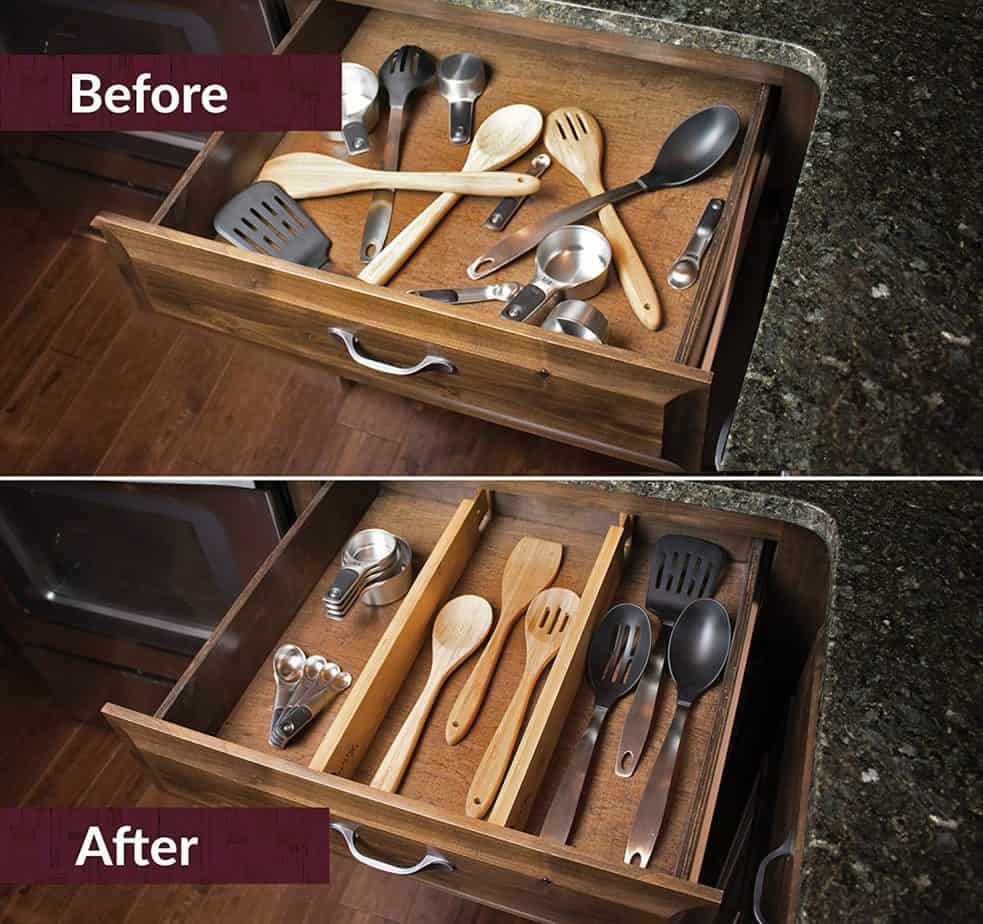 Well, there you have it! As you can see, with the right tools you can keep your kitchen clean and organized all the time!
What tools do you use to organize your kitchen? Comment below!