This Post May Contain Affiliate Links. We earn a commission if you click this link and make a purchase at no additional cost to you.
Do you have grease splatters in the kitchen, dust covering your baseboards, marker streaks on your walls? More than likely we can all answer yes to at least one of these statements. So how do we combat the dirt and grime that fills our home?
With over 100 different uses, the Magic Eraser can tackle any type of dirt, stain, or grime!
So how does the magic work?
The Magic Eraser is made of melamine foam that can be used as an abrasive cleaner.It works because the abrasive foam acts as a SUPER fine sandpaper on stains. The Magic Eraser loosens dirt and grime and then traps the dirt inside the foam. Awesome, right?
So how can you use a Magic Eraser?
Check out what we found! Below are 18 Mind Blowing Ways to Use a Magic Eraser!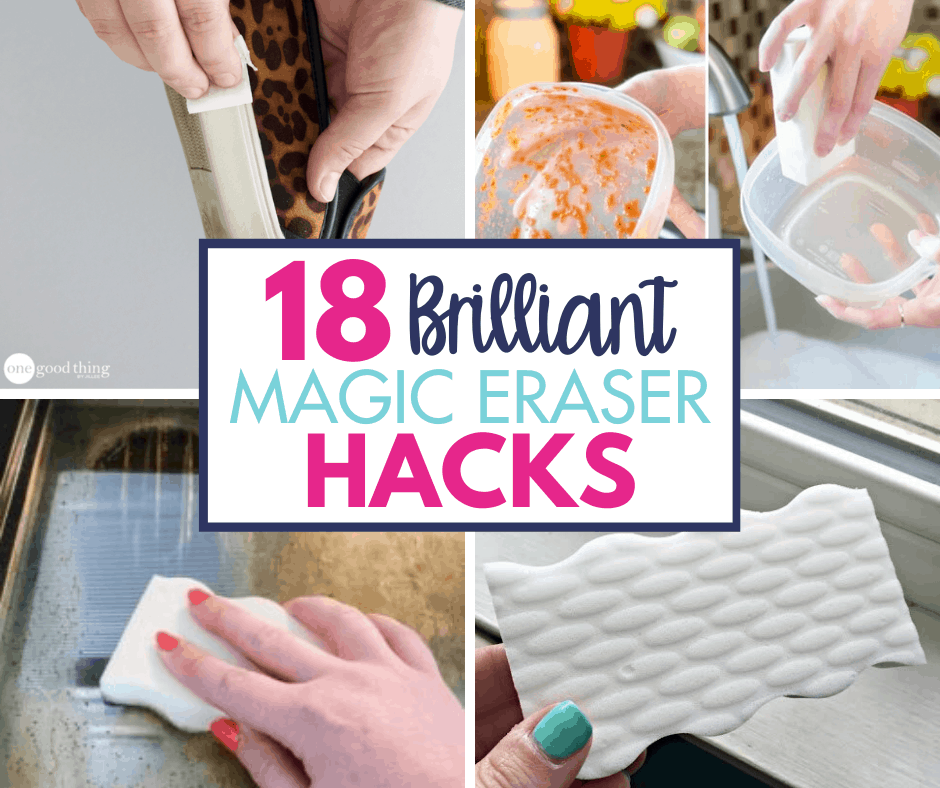 Remove Labels From Glass Bottles
Do you have a cute glass bottle you want to reuse? Or just want to get those pesky stickers off a new bottle you just bought? This magical sponge will remove glue residue on the glass and take a little bit of frustration out of your day! Kelly from A Side Of Sweet took the label off a Starbucks bottle. See how she did it here!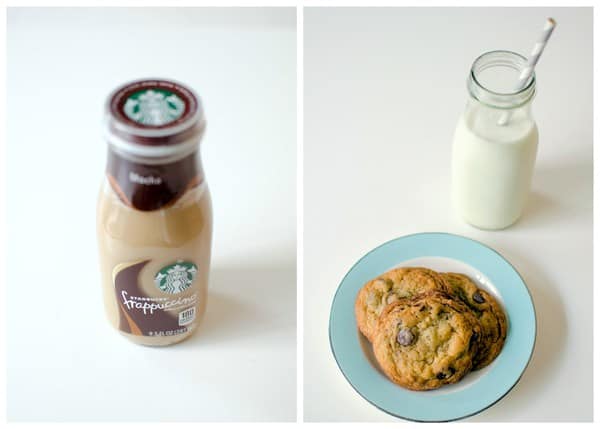 Remove Permanent Marker
Whether your kids went a little crazy with a permanent marker or you just need to erase a name from a wine glass, a Magic Eraser is the most effective way to remove permanent marker from plastic or glass.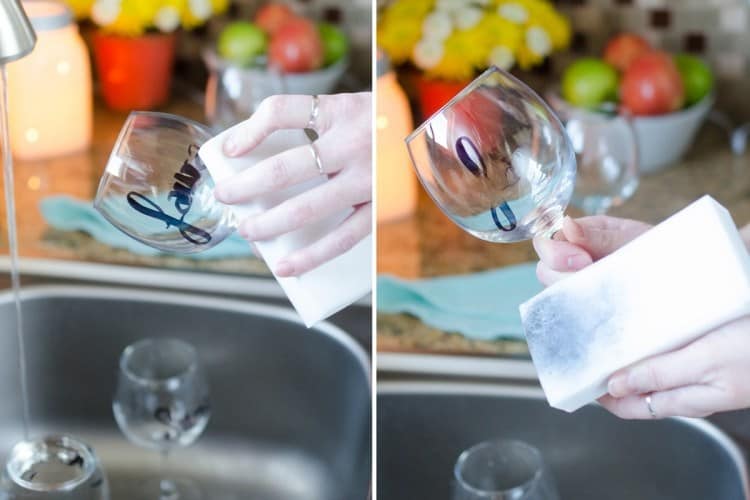 TIp From The Krazy Coupon Lady
Remove Dirt From Your Computer
Done with the keyboard? Let's move on to the outside of your laptop. Every notice how dirty it is? Use a Magic Eraser to wipe the grime away! This tip is from One Good Thing by Jillee.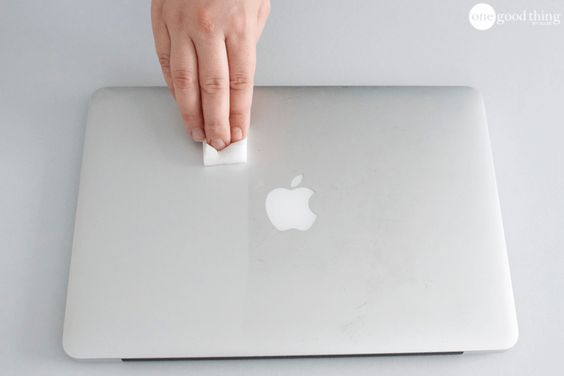 Remove The Dirt From Your Windowsills
Windowsills are known to be filled with dirt and grime, but you're probably ignoring them right? Quickly and easily clean your windowsills with a damp Magic Eraser like Censie at Building Our Story. With no elbow grease and just a little bit of work, they'll be good as new!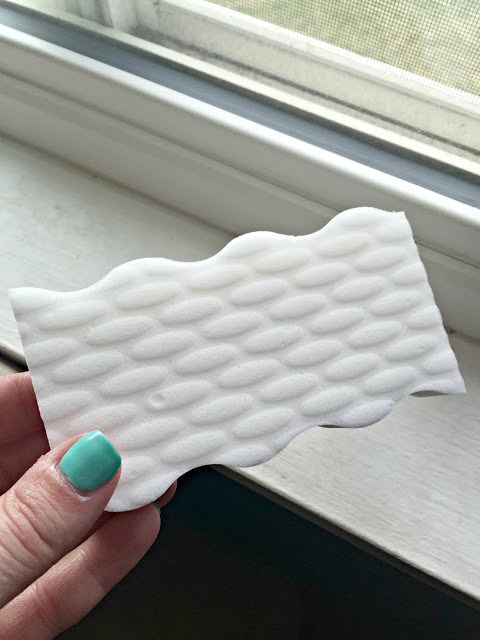 Remove Red Stains From Plasticware
Remove red sauce stains from plasticware quickly and easily with a Magic Eraser! This tip will save you from so many ruined bowls and tubs. Tip from The Krazy Koupon Lady! Check her out!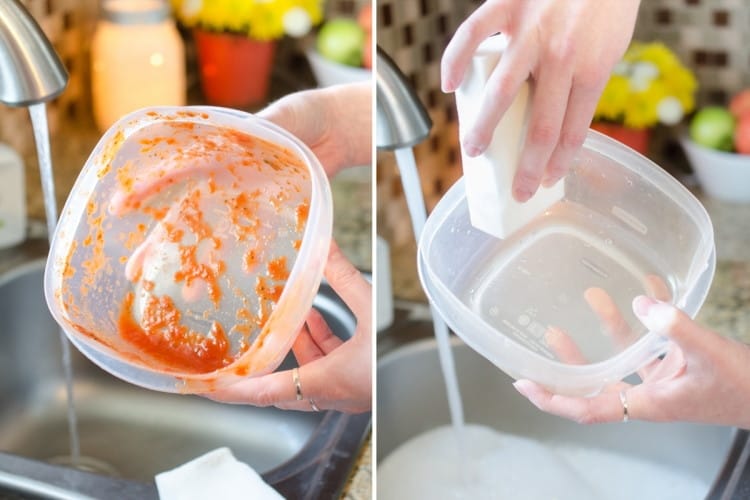 Clean Your Baseboards
The Simple Moms have a great idea for cleaning your baseboards! If you want to get your baseboards looking brand new without a lot of effort and repel future dust, clean them with a Magic Eraser first and then rub with a dryer sheet!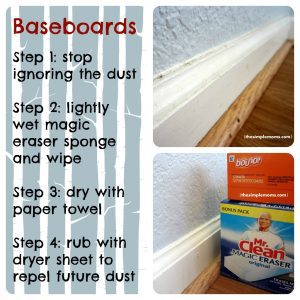 Clean Your Oven Window Like A Pro
Now that you've got your stovetop clean, let's move on to the oven door. The inside of the oven glass can be the hardest thing to clean in your kitchen, so most of us ignore it. But it turns out, you can clean that disgusting oven door with a Magic Eraser! The Polished Habitat has a great tutorial on how to clean your oven door. Alternate between a wet and dry eraser and with a little bit of elbow grease your oven will be sparkling clean!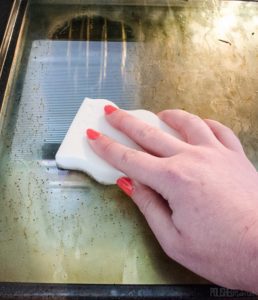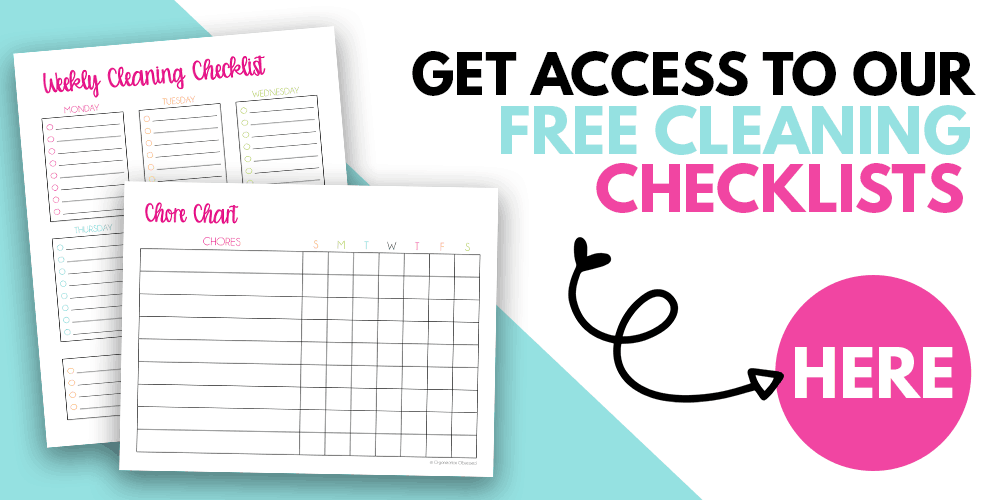 Remove Grime From Your Keyboard
Are you using a keyboard right now that is full of dirt and grime? Yuck! The Mama's Girls have a great tip! Use a Magic Eraser to wipe all the gunk away. Finish by removing the dust with an air duster and your keyboard will look brand new!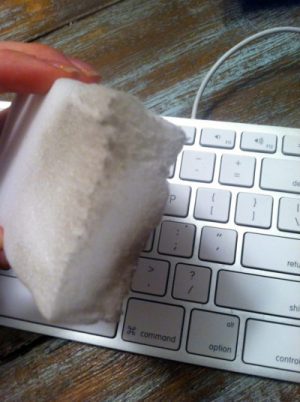 Get Rid of Hard To Remove Food From The Microwave
It is such a chore to clean cooked on food from the side of the microwave. Make it a little easier by using a Magic Eraser! See how the Krazy Coupon Lady did it here!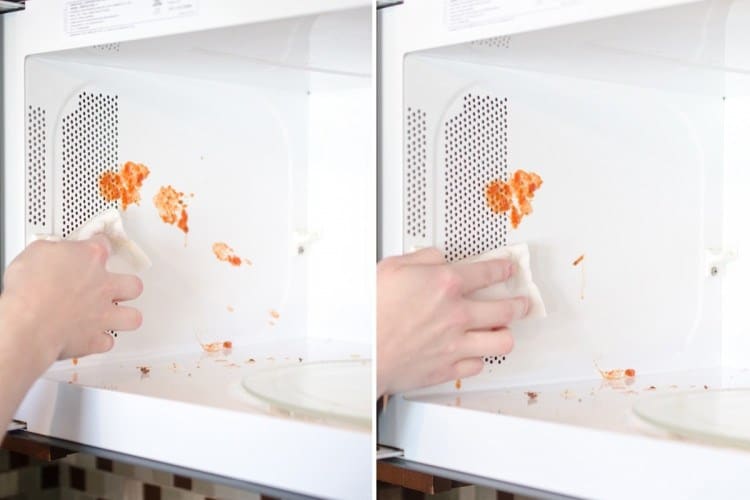 Want more tips on how to clean your microwave? Check out our post 35 Brilliant House Cleaning Tips You Need To Know Right Now
Make Silver Utensils Shine Like New
Kelly from A Side Of Sweet also brought new life into her silver! Over time silver gets tarnished and loses its shine. But it doesn't have to stay that way! Use a Magic Eraser to get your silver sparkling!
Clean Your Iron
Has your iron become dirty and grimy after years of use? Vanessa from Crafty Gemini shared this awesome hack to clean it with ease! First, slightly wet your Magic Eraser, then heat up the iron and run the soleplate over the eraser quickly. Bam! You have a clean iron!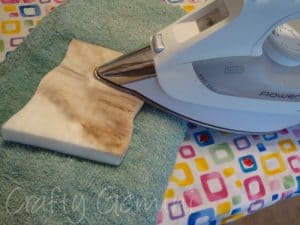 Remove Grease Stains From Your Dishes
The worst part about cooking with glass dishes is the grease stains that get left behind. No matter how long they soak, it seems like they just won't come clean. But have you tried a Magic Eraser? They work miraculously on baked on grease stains! With a little time and elbow grease, you can remove even the worse stains from your baking ware. See how Rachel from Tasteful Space removed her baked on grease.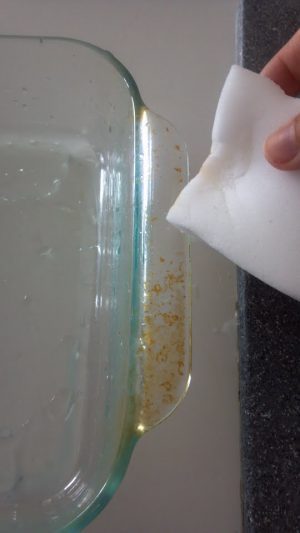 Make Your Shoes Look Brand New
Eventually, the soles of our shoes become dirty and ugly. Clean them up with a damp magic eraser! They'll be clean and ready for more use. This tip came from One Good Thing by Jillee.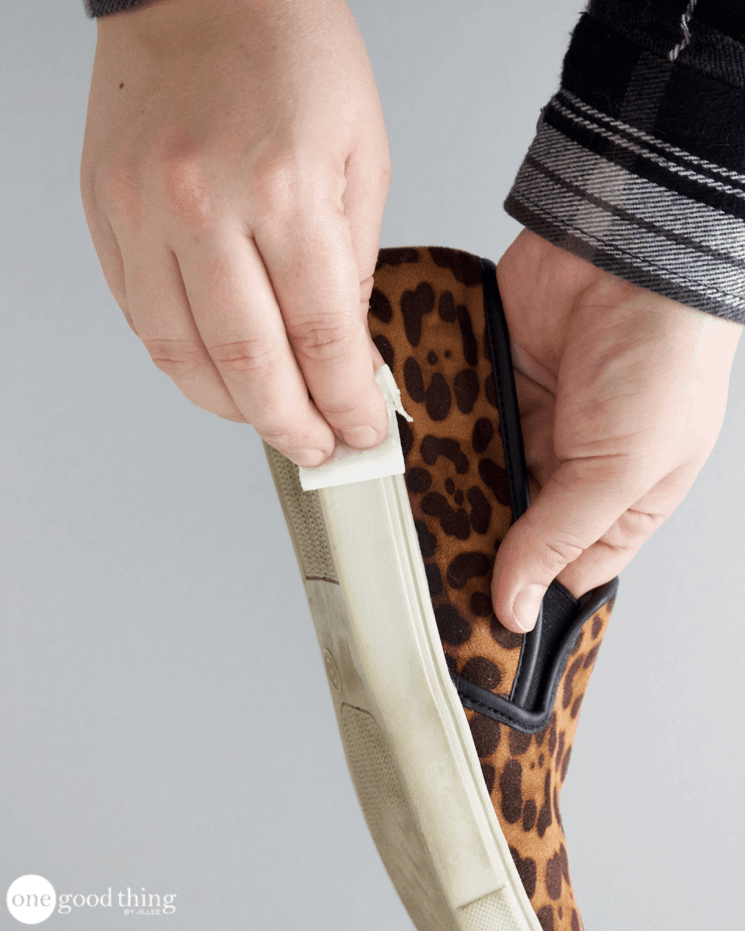 Remove Hair and Buildup From Your Flat Iron
Did I mention Magic Erasers are great for cleaning grime and build up? (Maybe a few times, right?) But this tip from The Krazy Koupon Lady is one of my favorites! If you regularly use a flat iron, it is probably in need of a deep clean. Use a Magic Eraser to clean away all the gunk!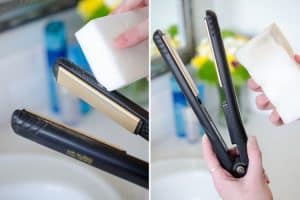 Clean Leather
Are there scuffs, pen marks or dirt on your favorite leather bag? Lollipuff has a great tutorial on how to remove them with a Magic Eraser. You can also use them to clean leather couches or luggage!

Make Fridge Handles Look Brand New
Do you neglect your fridge handles? Me too…They can get pretty disgusting pretty quickly. Jen from I Heart Organizing has a great tutorial on how to wipe away all that nasty grime and dirt with a Magic Eraser!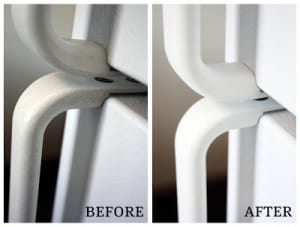 Remove Stains From Clothing
This hack blows my mind! Turns out you can remove stains from clothing with a Magic Eraser! No need to wash that delicate top you don't want to shrink or lose its color! Check out Jillee's tutorial!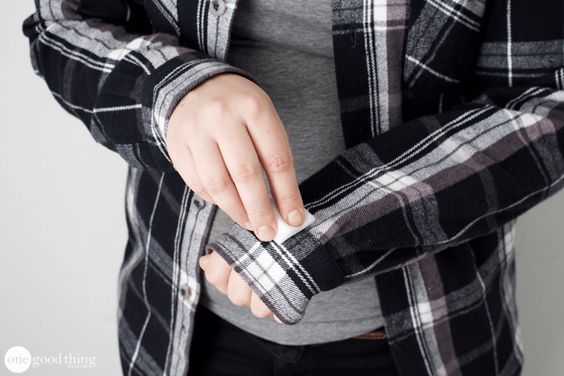 Make Your Glass Top Stove Sparkle Like New
Do you wish your stove top could look brand new again? Use a Magic Eraser, Totally Awesome Cleaning Spray and Weimans' Glass Stove Top Cleaner. First start by spraying the stove top with Totally Awesome (from the Dollar Tree), then take a Magic Eraser and scrub away all the burn marks. Wipe to stove dry, then use Weimans Glass Stove Top Cleaner. It will leave your stove top spotless!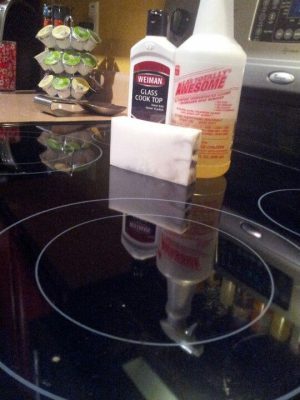 Do you love these awesome tips so much that you need a magic eraser right now? Get yours here!