This Post May Contain Affiliate Links. We earn a commission if you click this link and make a purchase at no additional cost to you.
Your kitchen is the heart of the home and is where you spend most of your time right? Then you know how frustrating it can be when your kitchen is cluttered, unorganized, and you can't find anything or don't know what you have! That is why having organized kitchen cabinets is so important to have a well functioning kitchen. And having organized kitchen cabinets is easy when you use some of these brilliant hacks! These genius ideas will show you how to organize kitchen cabinets the easy way and finally get your kitchen organized!
Get A Measurements Guide
This cute measurements guide can go on the inside of your cabinet door! Use it to help you organize your measuring cups and spoons as well as a quick guide for measurements conversions. You can get the full set here!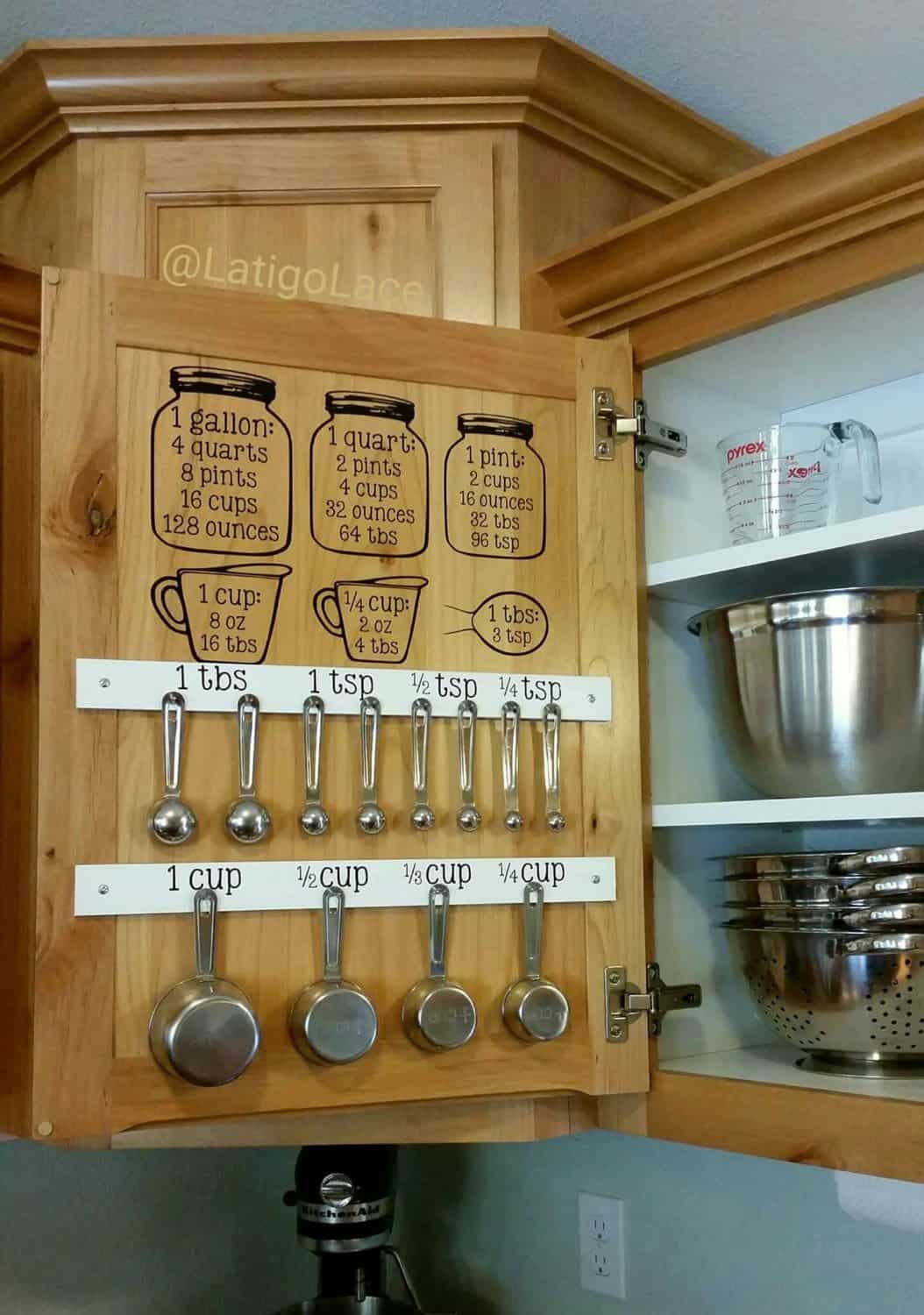 Image Credit: LatigoLace
Stack Cookie Sheets Vertically
Stacking your cookie sheets vertically is the absolute best way to keep your kitchen cabinets organized! It makes it easy to pull out the cookie sheet you need without unstacking them all and takes up less space. You can store all your cookie sheets like this as well as cooling trays, cutting boards, etc! I got this two pack of organizers for my kitchen for less than $20 dollars and it has worked out great to keep all my cookie sheets organized.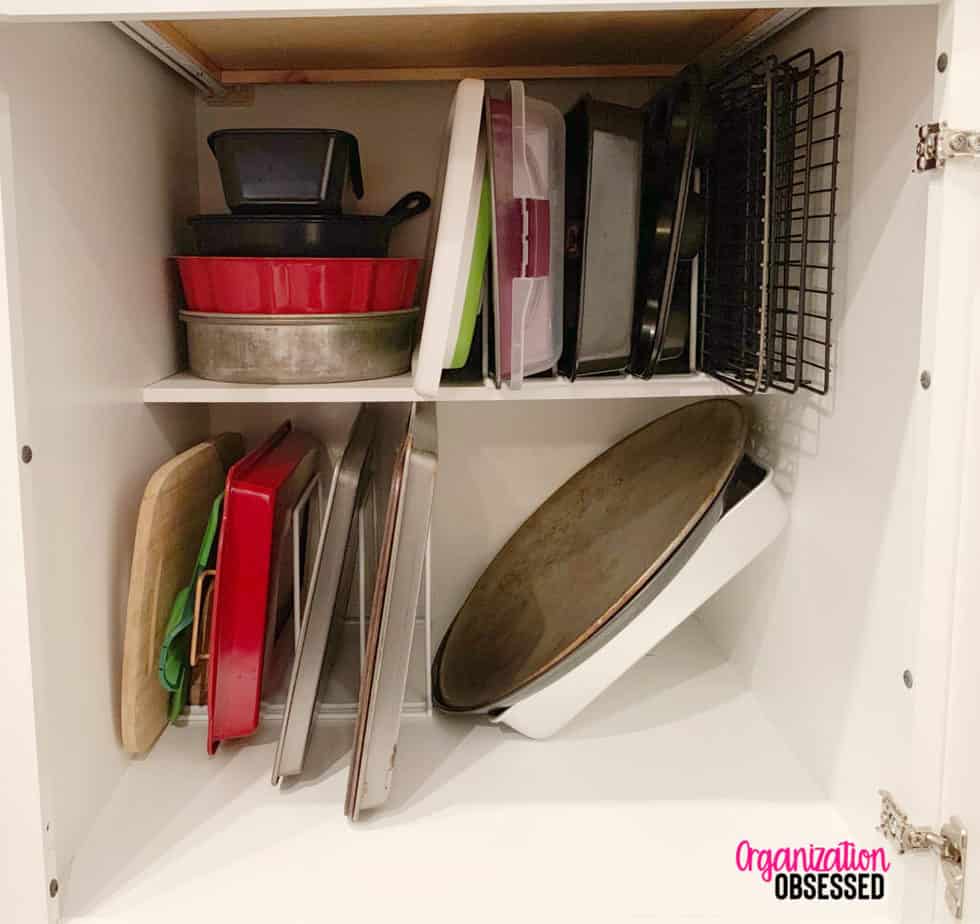 Tip & Image Credit: Organization Obsessed
Use a Bowl Rack
I'm not really sure that I would ever use this in a kitchen cabinet but I think it would be great for kitchens with open shelving or no cabinets! A bowl rack would keep your bowls organized, and from falling over when stacking lots of bowls. This bowl rack is for 6 inch bowls. You can find it here!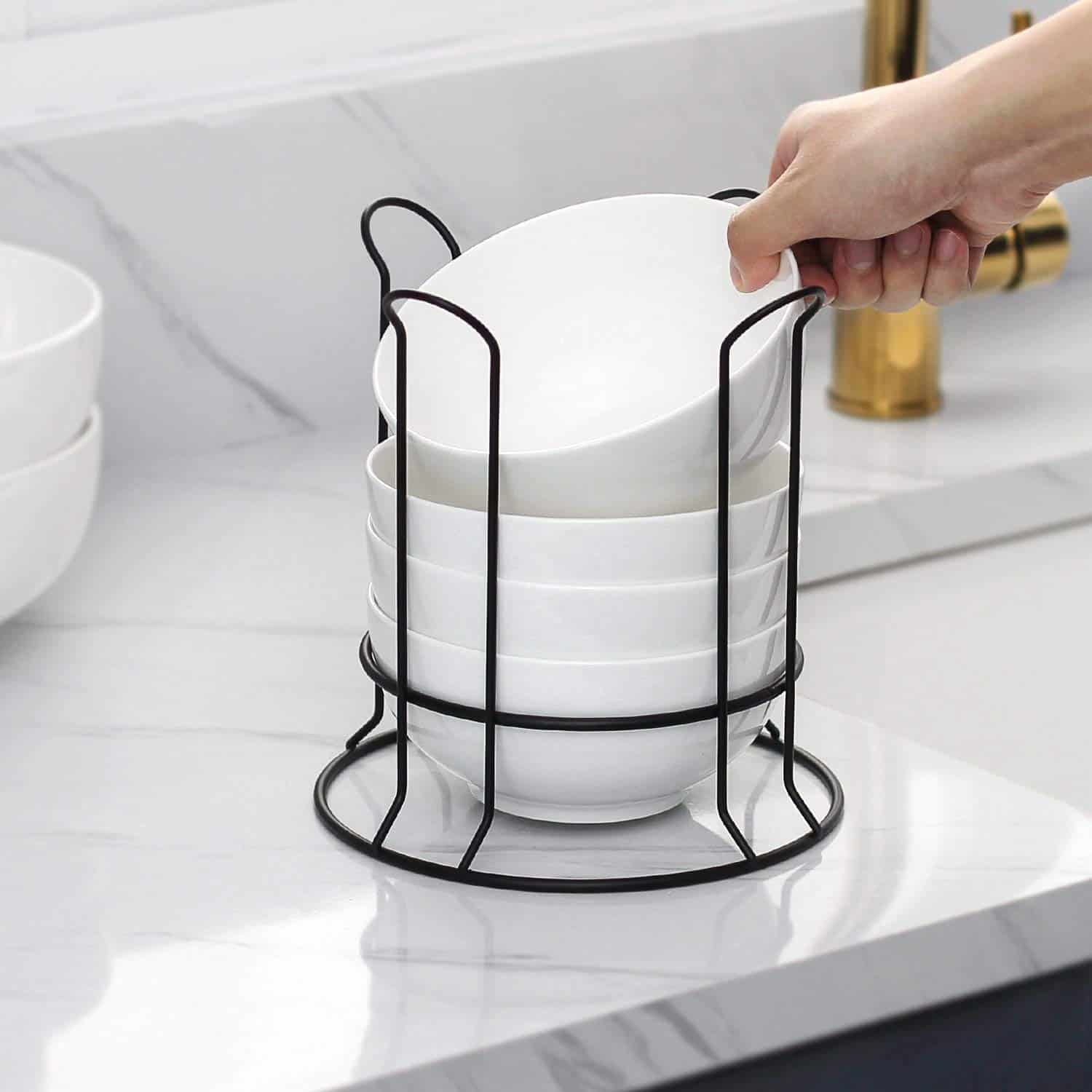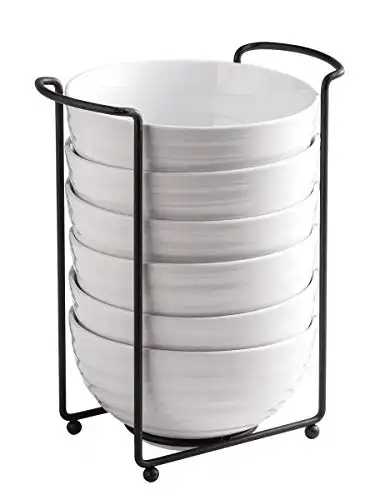 Use an Over The Door Hanger
Over the door hanging baskets are one of my favorite ways to organize kitchen cabinets. You could use an over the door hanger for cutting boards, oven mitts, plastic bags, etc! There are so many different ways you can organize with these and they are a cheap solution to add more ways to organize your kitchen. I got my over the door hanging basket at Walmart a while back, but you can find one just like it here on Amazon!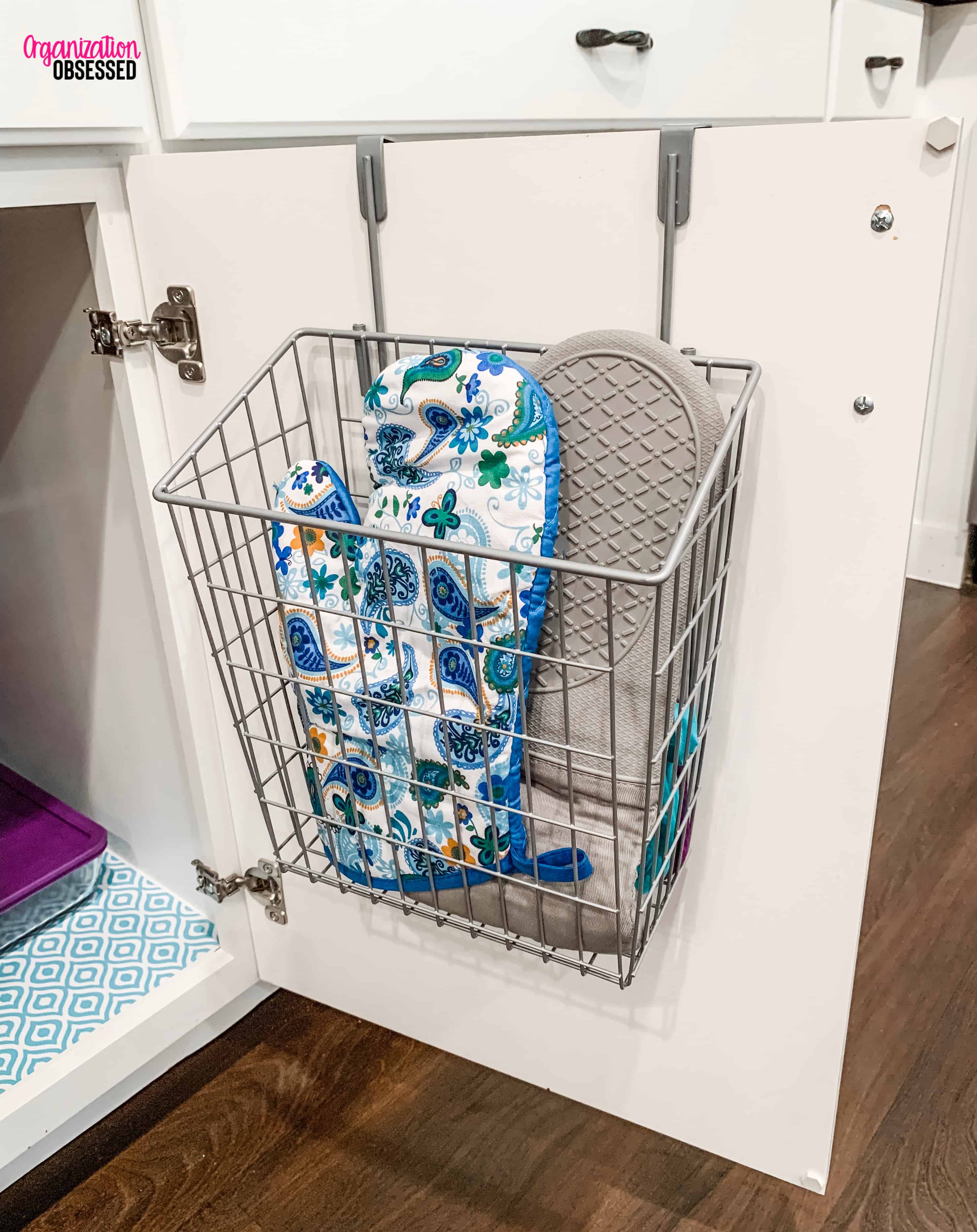 Use an Over The Door Hanger for Foil & Wax Paper
Another way to use an over the door hanging basket is to store wax paper, foil, cling wrap, or even sandwich baggies in them!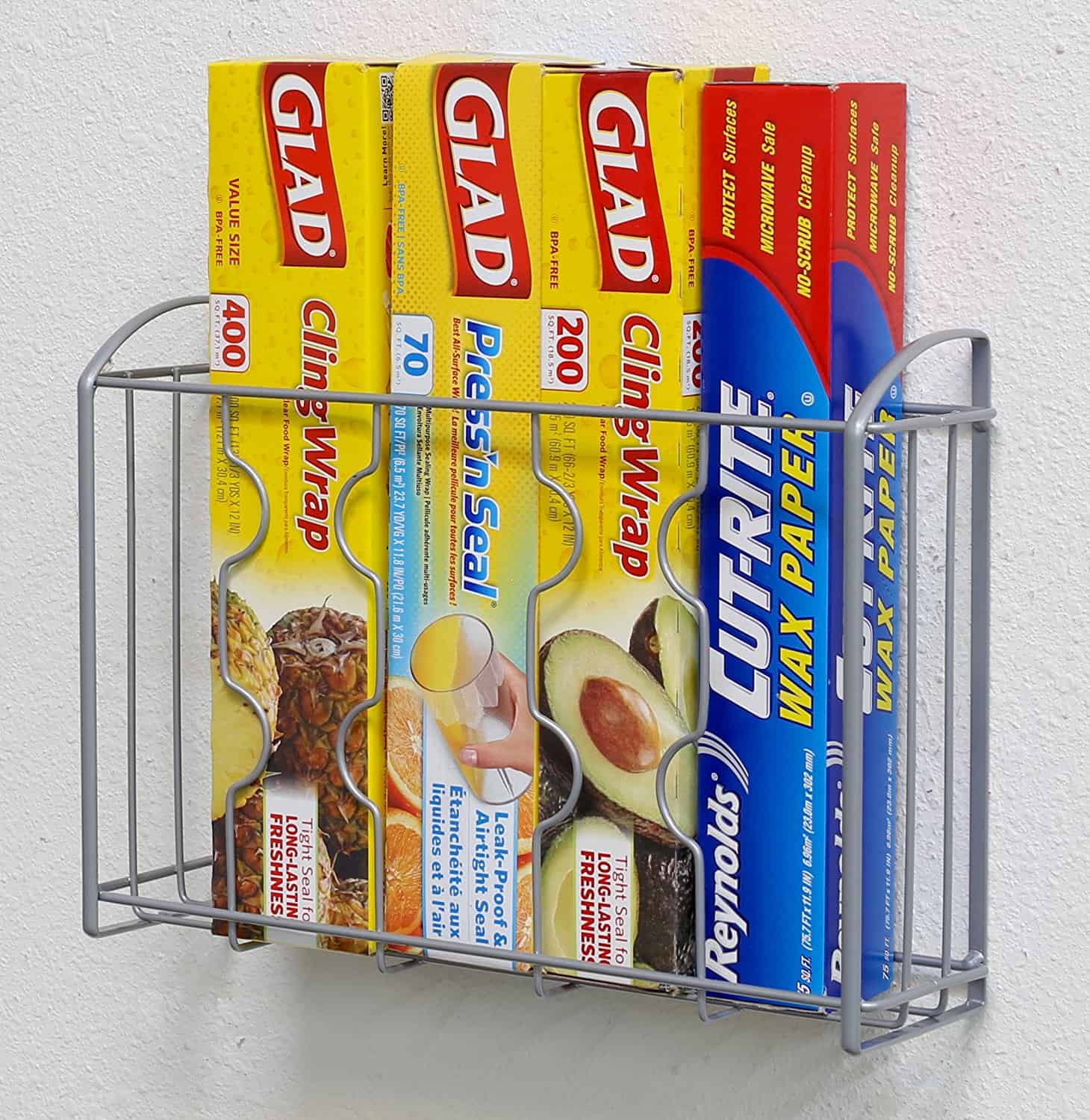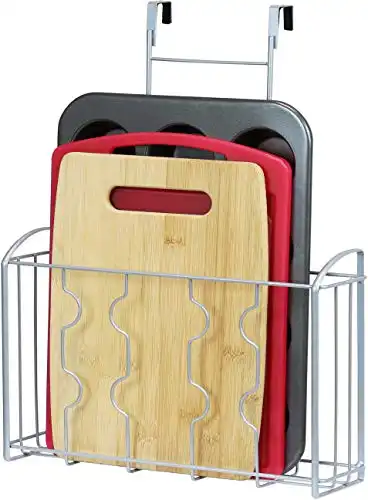 You May Also Like:
Store Dry Goods In Your Lazy Susan
We store our dry baking goods in large storage containers to keep them fresh longer, but we don't have a pantry to keep them in. So instead, we store our dry goods in our lazy susan. It is the perfect height for large airtight containers and the functionality of the lazy susan makes it easy to keep everything organized and easy to find!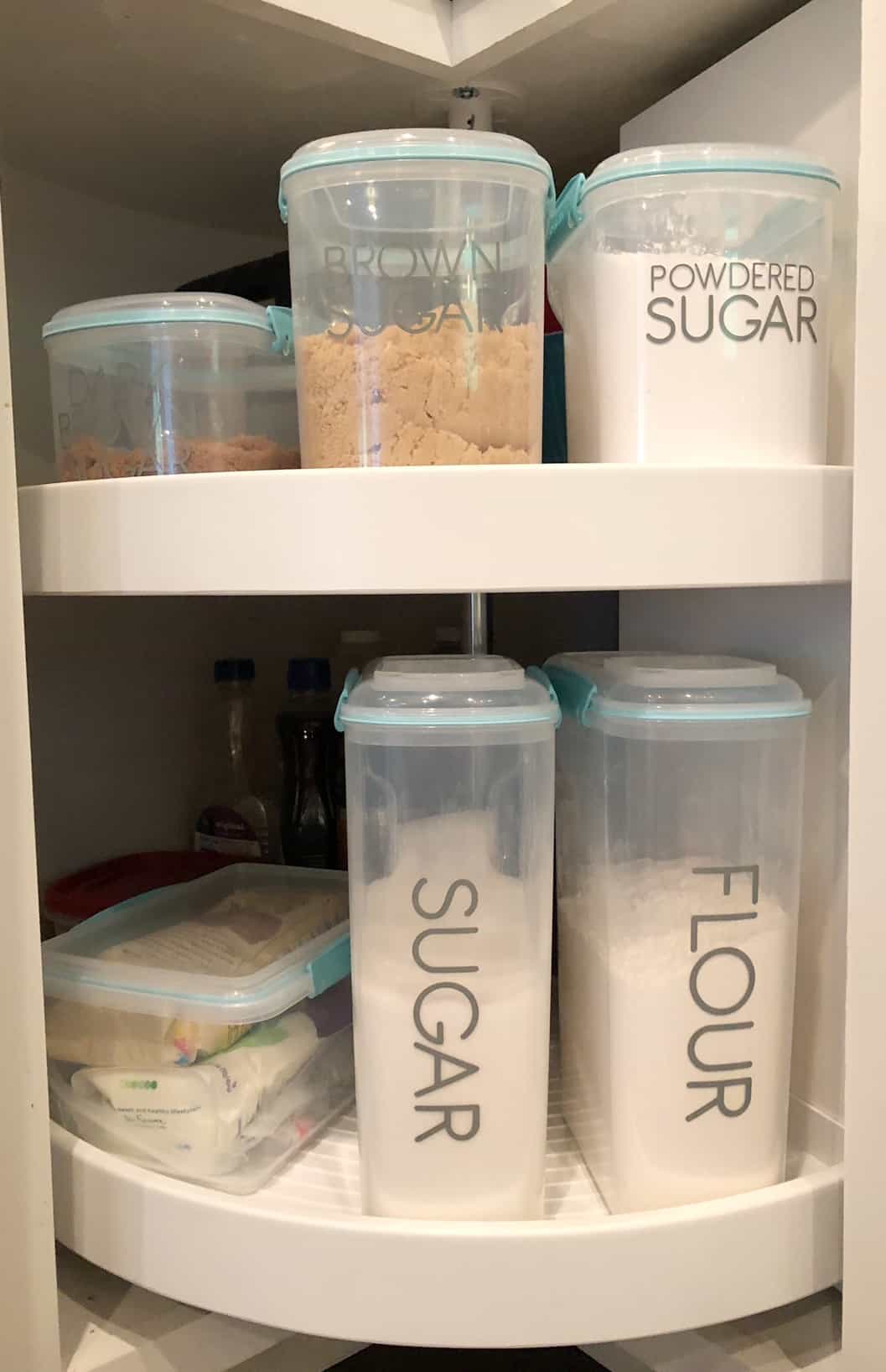 Organization Obsessed
Ditch The Knife Block
Knives are an important part of a kitchen, but knife blocks tend to take up a lot of counter space room and look chunky. Instead of storing them on your countertops, keep them stored away and organized in a drawer organizer for knives.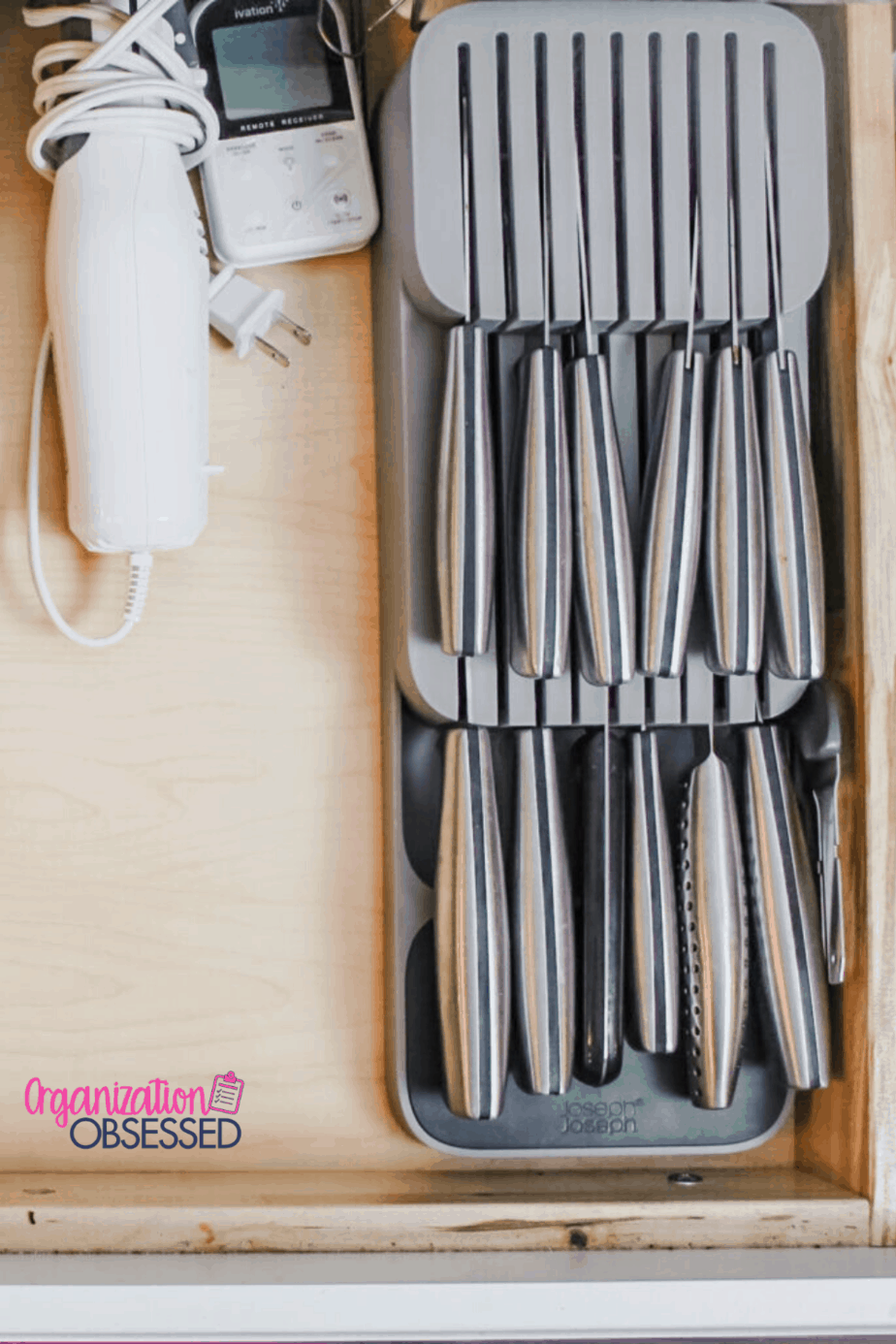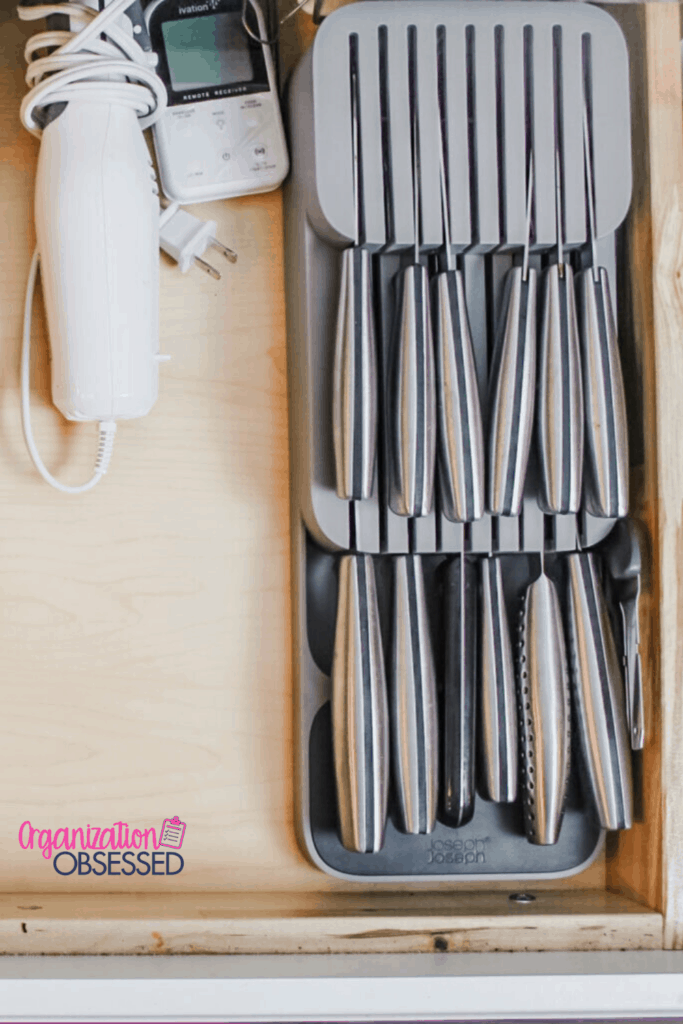 Make a DIY Can Organizer
Don't have enough room in your pantry or cabinets for all of your canned goods? No problem! Make this DIY canned good organizer and keep your kitchen organized! This is such a brilliant idea and takes up minimal space! Find out how to build it here!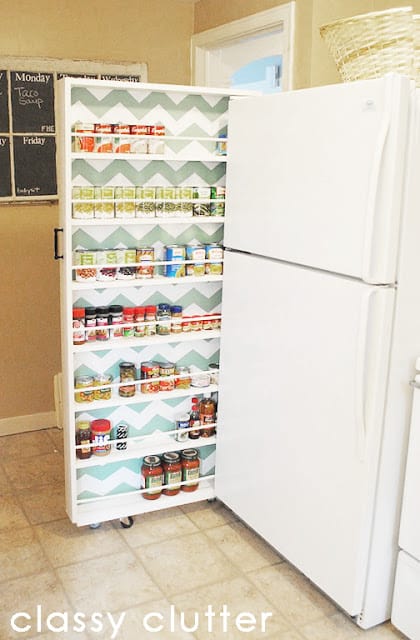 Tip & Image Credit: Classy Clutter
Organize Medicines By Family Member
If you keep your medications in your kitchen, organizing them by the person is a great way to keep your medications organized. Dividing the medications into separate baskets will make it so much easier to find what you are looking for and help you avoid a basket full of random bottles of pills.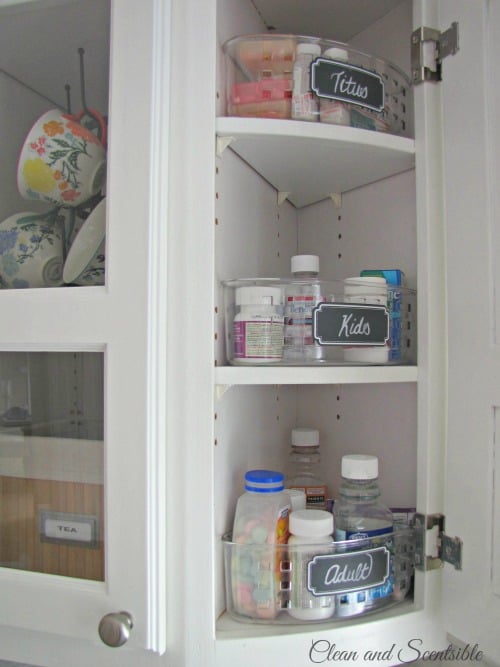 Tip & Image Credit: Clean & Scentsible
Use Pots & Pans Organizers
Pots organizers and pot lid organizers are a must have for your kitchen no matter how big or small! They can make a cluttered cabinet be organized in a matter of minutes. And it will help to keep your cabinet organized longer! You can grab the pot organizer I use here and the pot lid organizer here!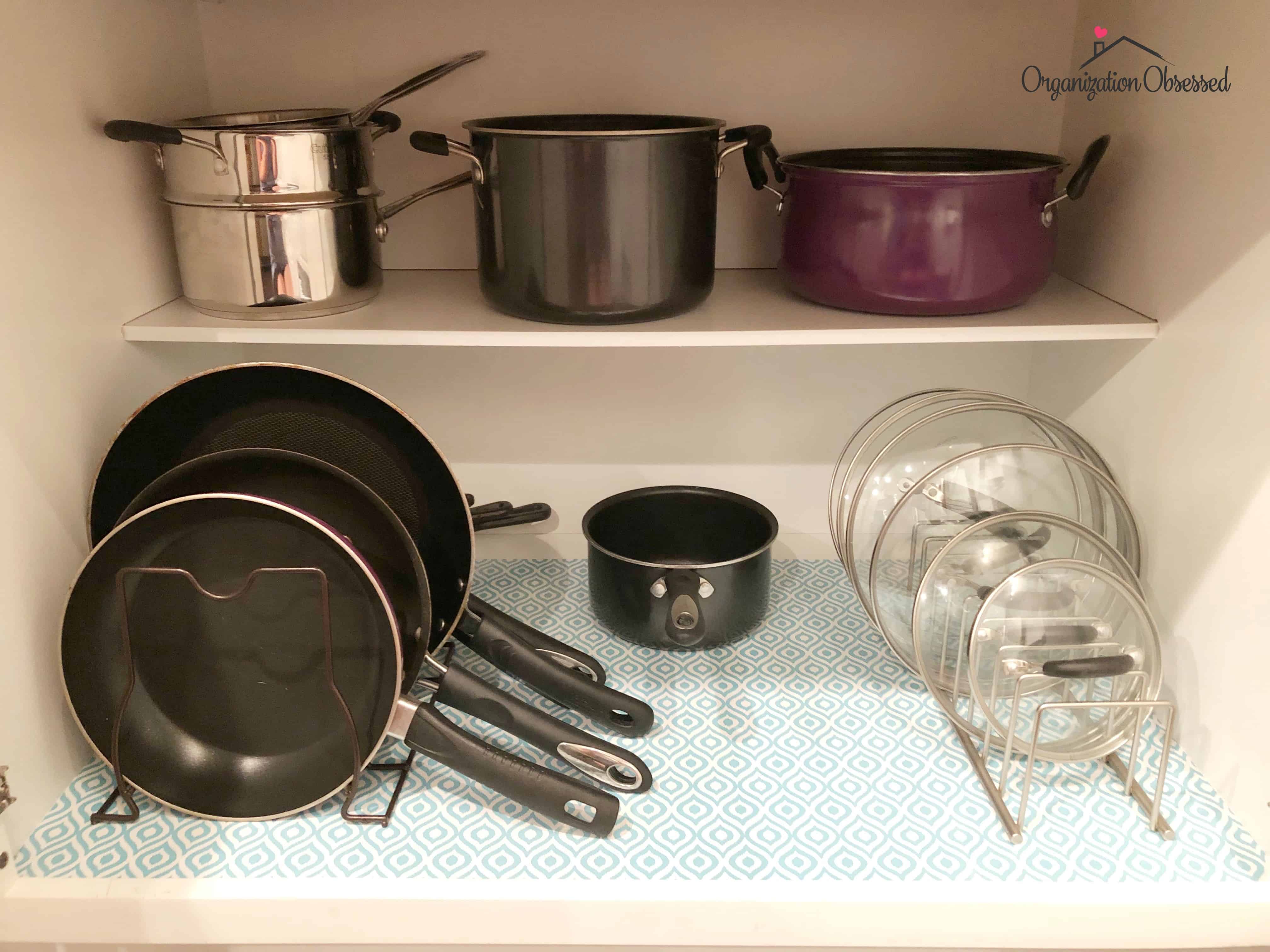 Store Garbage Bags On A Dowel Rod
This is such a good way to get rid of those clunky trash bag boxes and keep them organized! Just put a dowel through your trash bag roll and hang it on a curtain rod hook!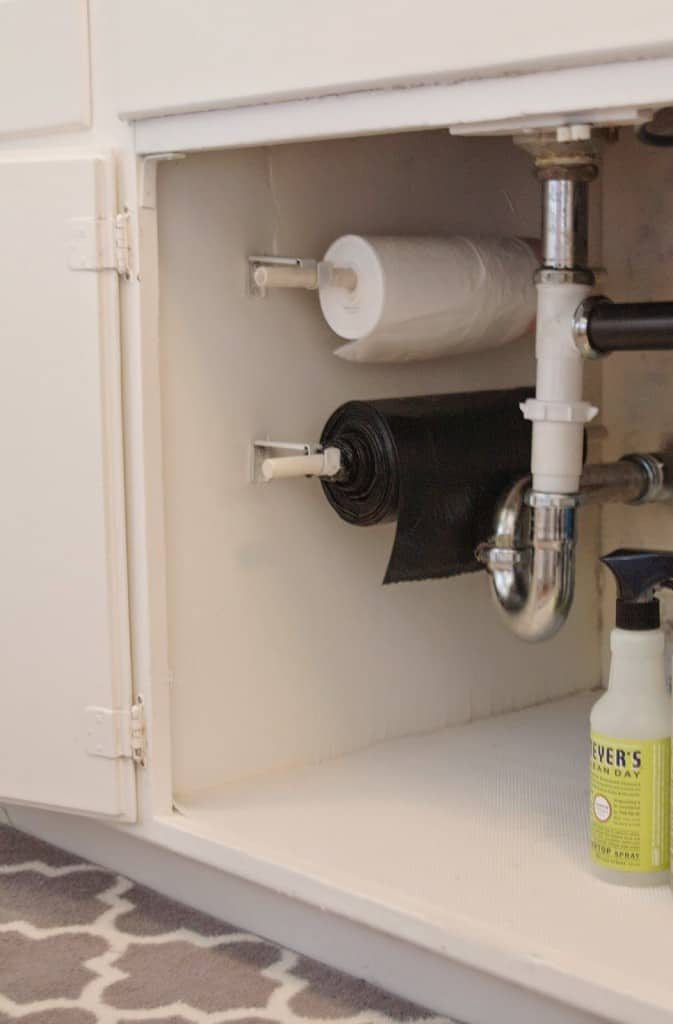 Tip & Image Credit: Simply Organized
Create More Space With Shelf Organizers
I love this tip and use it in my own kitchen to stack plates. All you need is a set of kitchen utility shelves (you can get a 2 pack here!) You can use them to gain more shelf space for cups, mugs, plates, or even canned goods!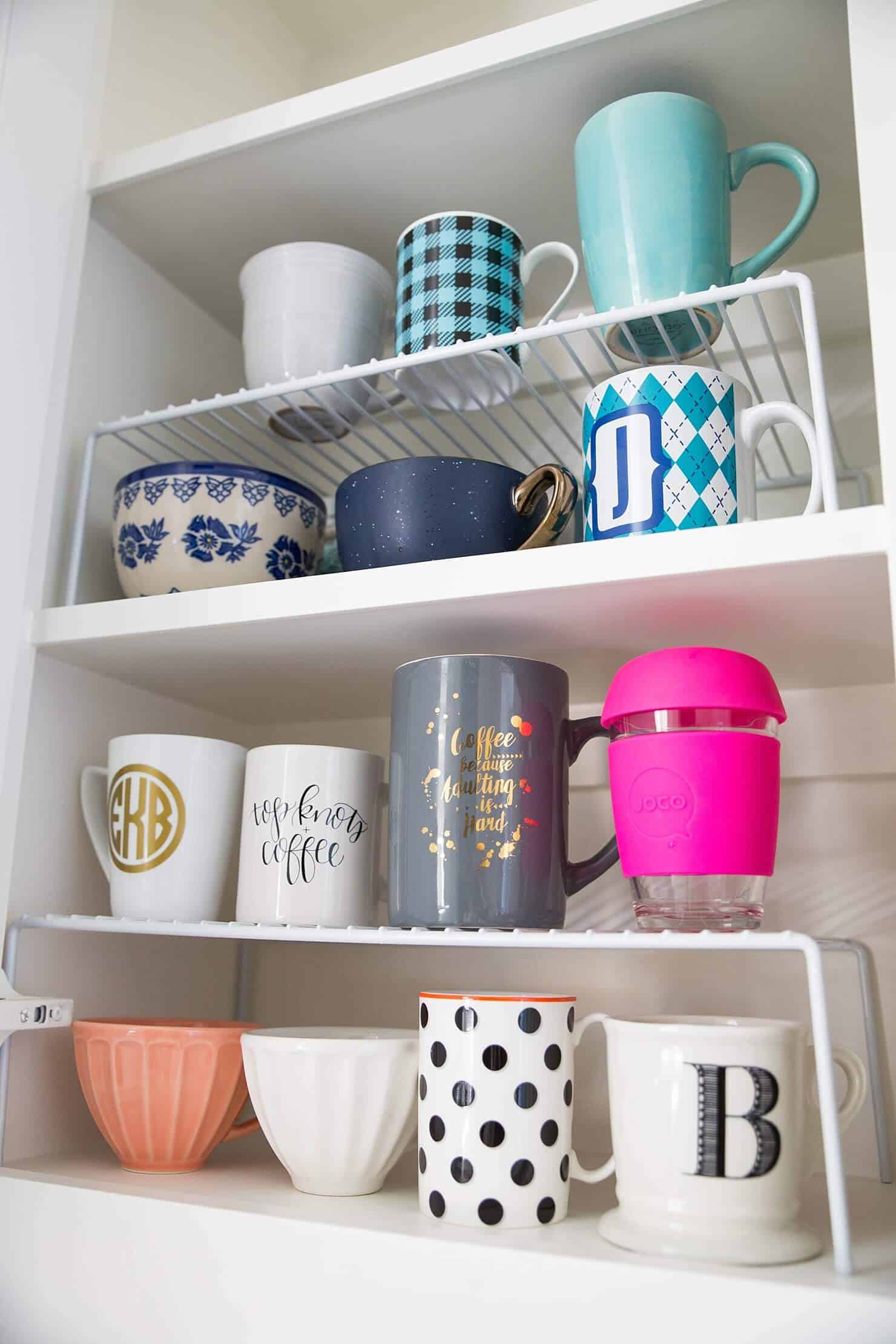 Tip & Image Credit: Brighton The Day
Add Shelves For Cook Books
Adding shelves to the end of your kitchen cabinets is a perfect way to store and organize your cookbooks! It'll free up space in your cabinets and give you a designated space to do so! Plus it is a great way to add a touch of color and decor to your kitchen! You can do this just like they did by painting the Ikea Bekvam Spice Rack or skip the paint and use these wood shelves!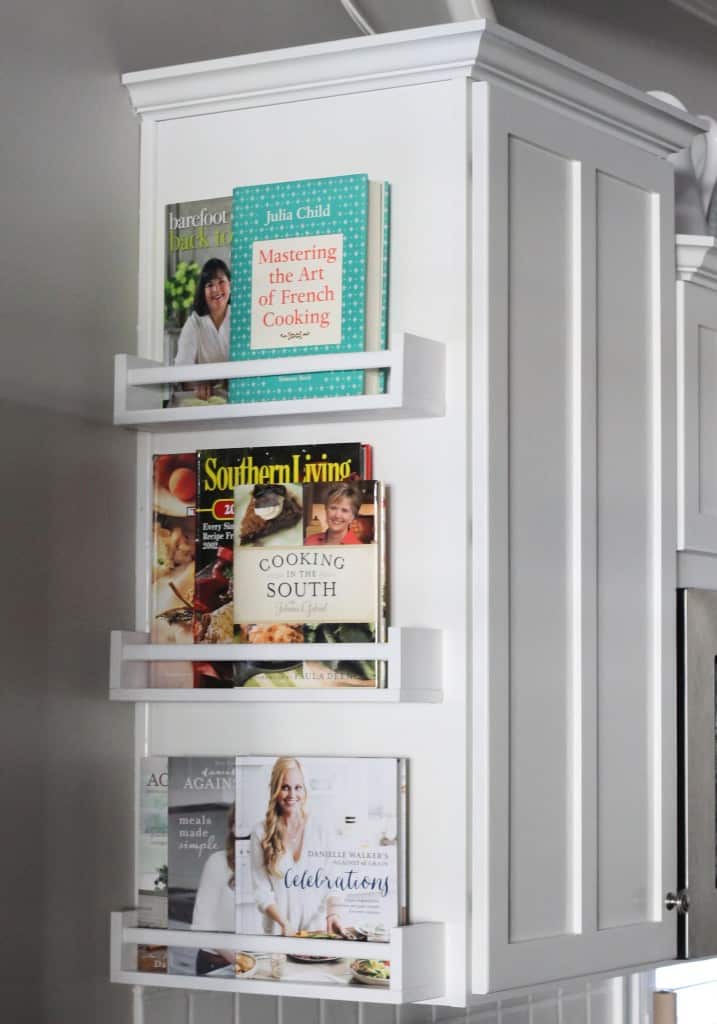 Tip & Image Credit: The 2 Seasons
Store Spices In Baskets
This is one of my favorite parts of our organized kitchen because it makes it so easy to find exactly what I need. We store our spices in baskets by how often we use them.
Our spices are stored in a small cabinet above the microwave that is hard to reach. We were often getting out our step ladder just to grab a spice and it was kind of a pain to always be climbing just to grab the chilli powder.
So instead we came up with this system of dividing our spices up into baskets. We have one for most used, sometimes used, and rarely used. By doing this, we can easily grab the basket, pull it down from the shelf and pull the spice right out of it.
If you use the same spices over and over, but also have different spices that you use every once in a while this is a great way to keep them organized and easy to reach!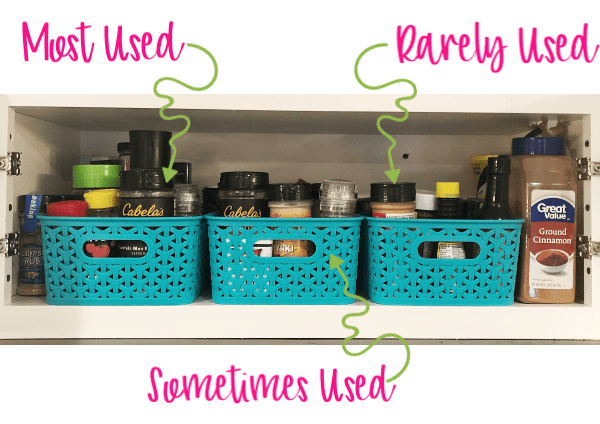 Use Hooks In Your Baking Cabinet
Isn't it frustrating that the measuring spoons seem to always be missing or you can't find your 1/4 measuring cup? Solve that problem by using a key rail to hang your measuring cups and spoons! Just mount it to the back of your cabinet and hang everything up! Such a brilliant idea to keep your baking supplies organized!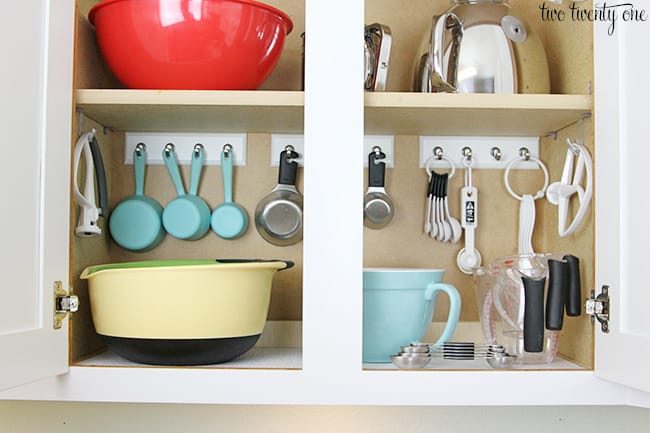 Tip & Image Credit: Two Twenty One
Add A Lazy Susan To Corner Cabinets
Corner kitchen cabinets seem to always be the catch all for junk in our kitchens. They are deep and hard to reach the items stored in the back. If you find it hard to keep your corner cabinets organized or you can't find anything in them, try using a lazy susan. Lazy susans are a brilliant way to keep your cabinets organized and make your things easier to reach. You can make one just like Jennifer did here or grab this one for less than $15!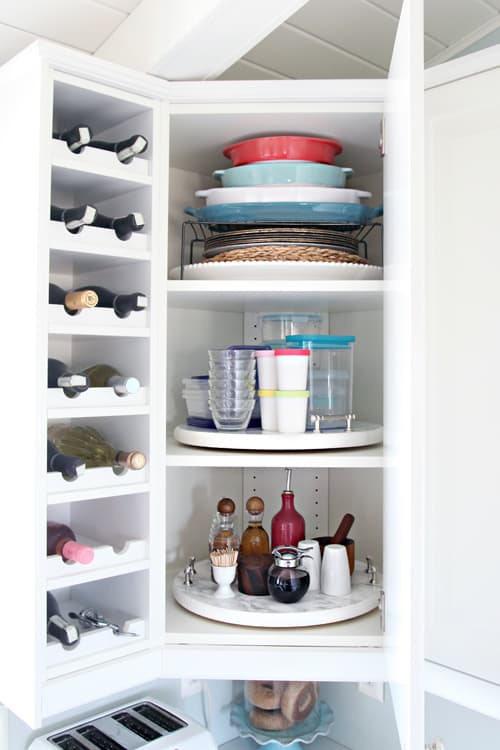 Tip & Image Credit: I Heart Organizing
How do you organize your kitchen cabinets? Comment below with your awesome tips!
You May Also Like: