This Post May Contain Affiliate Links. We earn a commission if you click this link and make a purchase at no additional cost to you.
Since moving into our home, a laundry room remodel has been a project I've been dying to do but never had time for. Our laundry room was functional, but it was ugly and I knew it could be so much better. So after searching for laundry room ideas for what seemed like months, I was able to pull together some gorgeous farmhouse laundry room ideas that I wanted to incorporate into our laundry room design.
And I finally talked my husband into the idea that it was time for a laundry room update.😆
There was just one problem.
Our huge ugly hot water tank.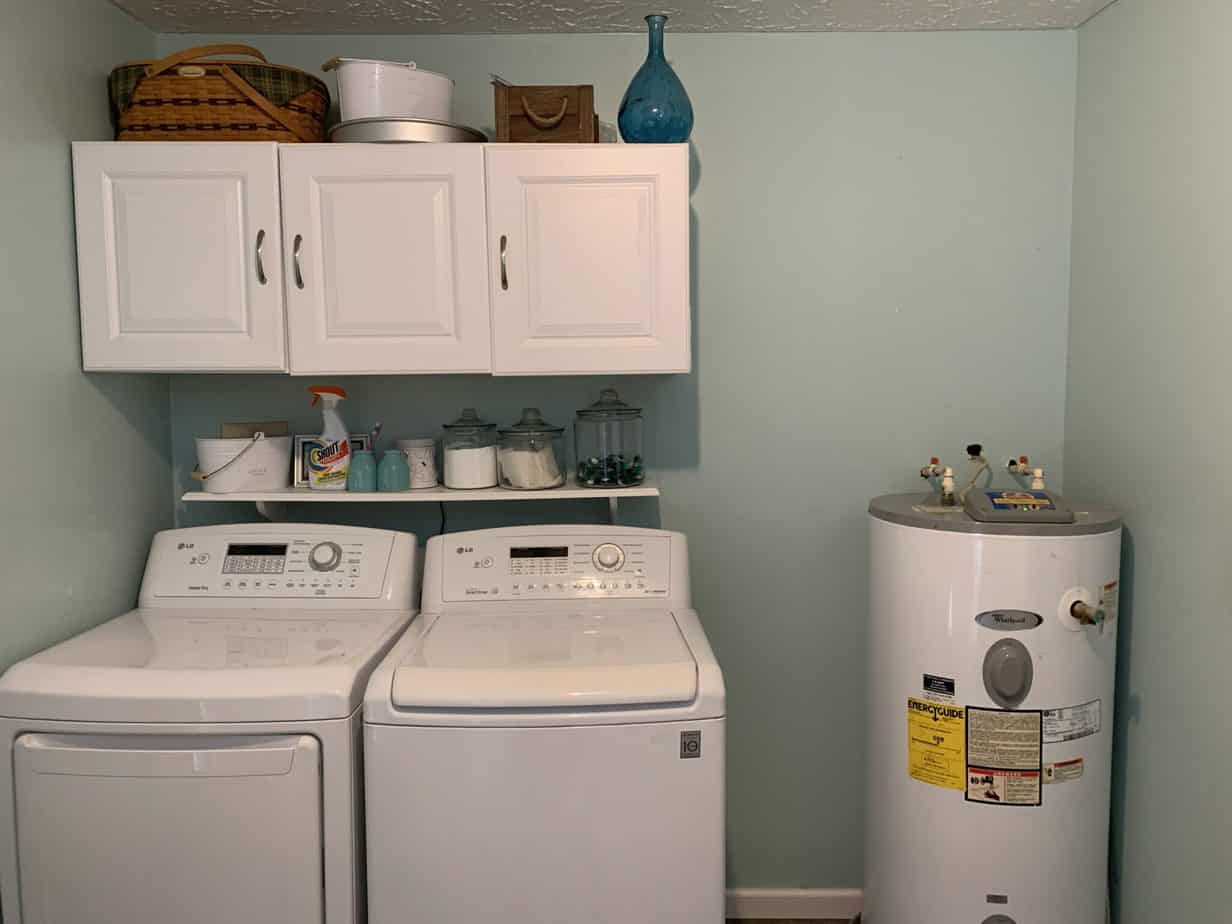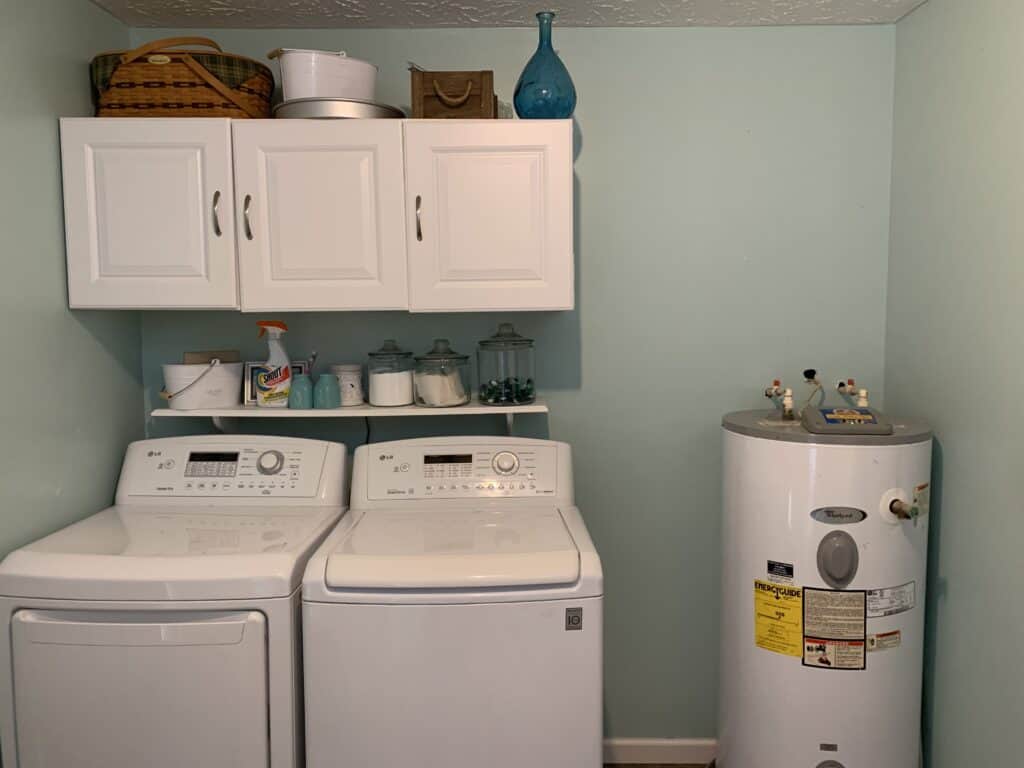 Our hot water tank is in the worst spot possible and there is no way to move it.
It took up a large part of the room and there wasn't a way for me to store anything around it. And the one thing I really needed more of in our laundry room is storage.
So after searching for lots of ways to hide a hot water tank, I came across the idea of building a closet around it. It was genius, but I wanted the look of built-ins more than a closet.
So we built a cabinet around our hot water tank!
Check out our full farmhouse laundry room remodel and how we hid our hot water tank!
Our Laundry Room Remodel Reveal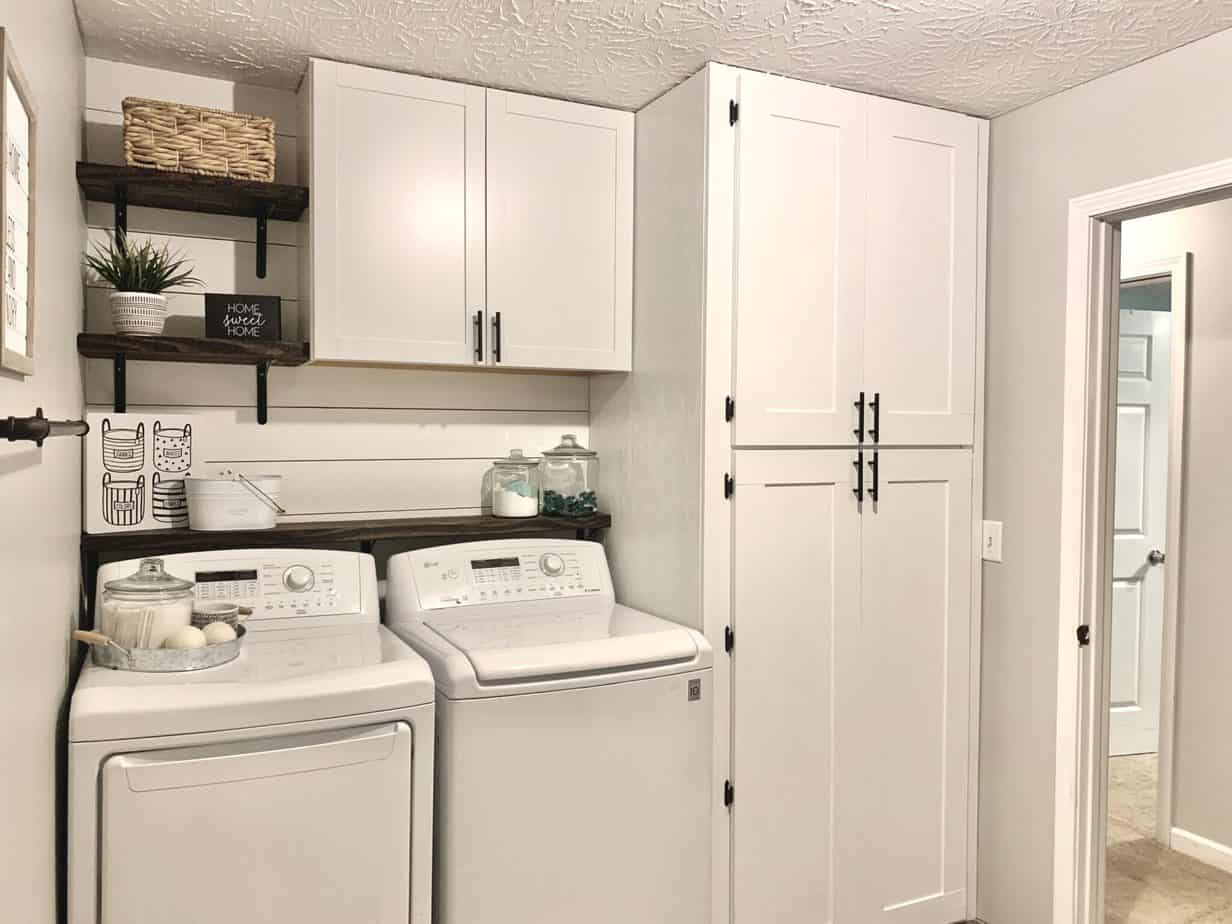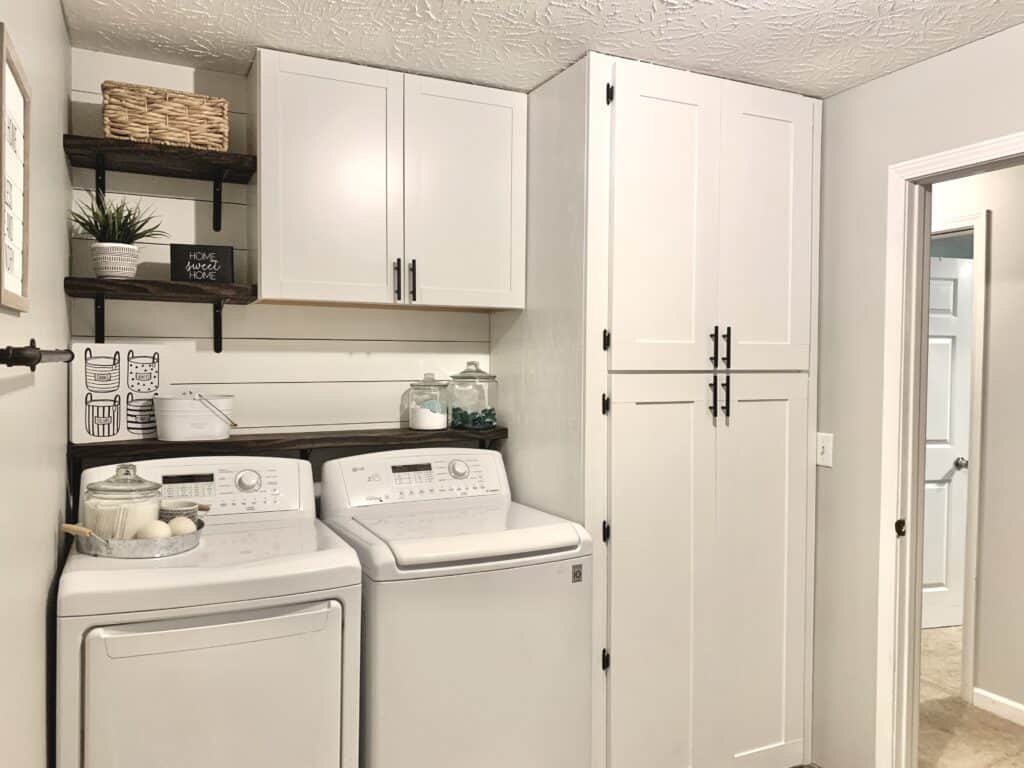 Isn't it gorgeous!
I will be honest, when people come over, I'm always like
"hey, want to see my laundry room" haha.
I am super proud of how it turned out and thankful for a hubby that turns my dreams into a reality!
Let's dive into all that we did in this laundry room remodel!
Adding Storage To Our Laundry Room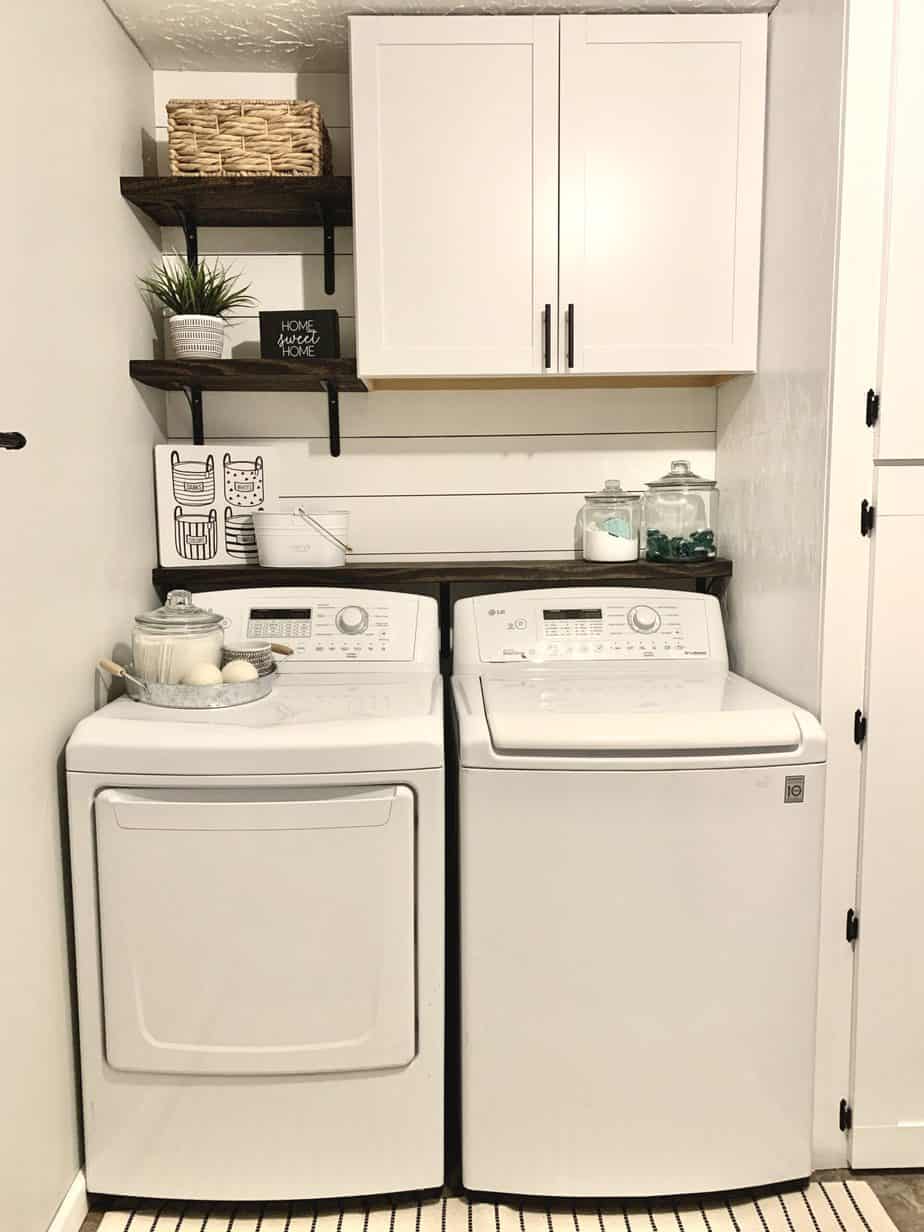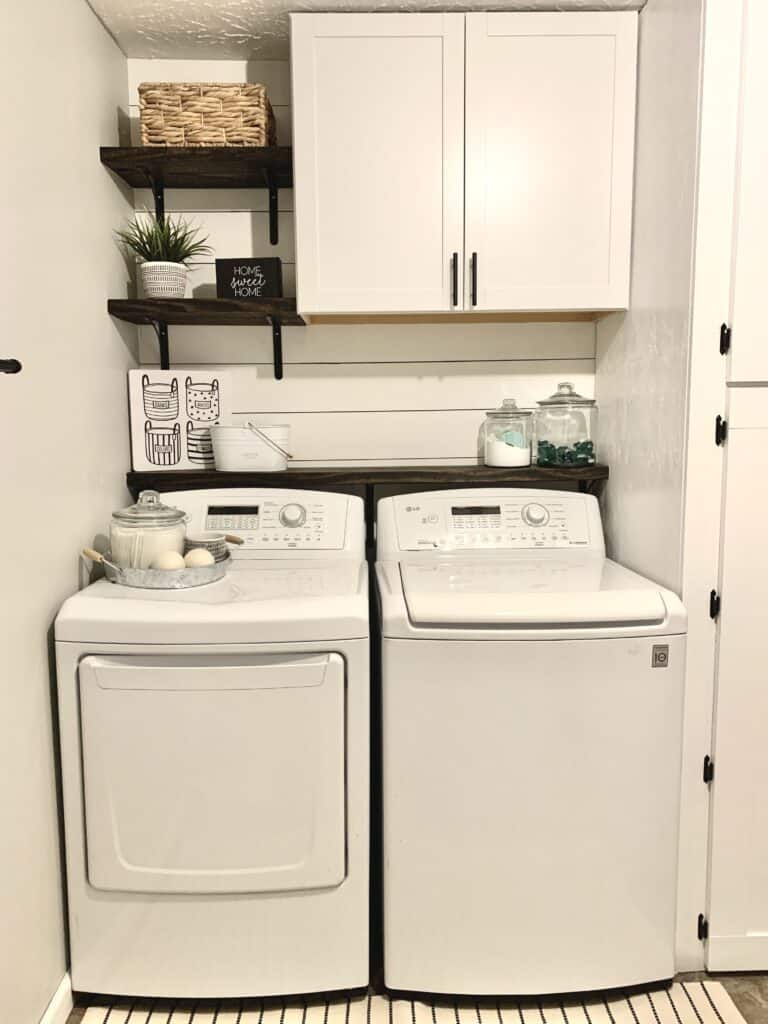 To start off, we knew we wanted to maximize all the storage space we could around our washer and dryer, but still make the space look really nice.
To get to our back porch and pool, you have to walk through our laundry room. I hate this, especially when we have guests over. So I wanted lots of places to store all the ugly things you keep in a laundry room but also have places to decorate, so it looks nice all the time.
To add storage, my husband build a closet/cabinet around our hot water tank. He framed it with 2″ x 4″s and then wrapped it in plywood. For the doors, he built cabinet doors to make it match our other cabinet and give it a built in look.
For extra storage, we also installed a cabinet from Lowes right over the washer and against the cabinet that my husband built.
The cabinet is just a regular 36″ kitchen upper cabinet.
Then we used 2″ x 12″s and large L brackets to add shelves that extend to the wall.
On the top shelf, we keep things we don't use a lot but sometimes need around the house. Things like paint supplies and drywall screws.
Then on the next shelf down, I used it just for decoration.
Then we installed an 8″ shelf right above the washer and dryer to store our laundry detergent.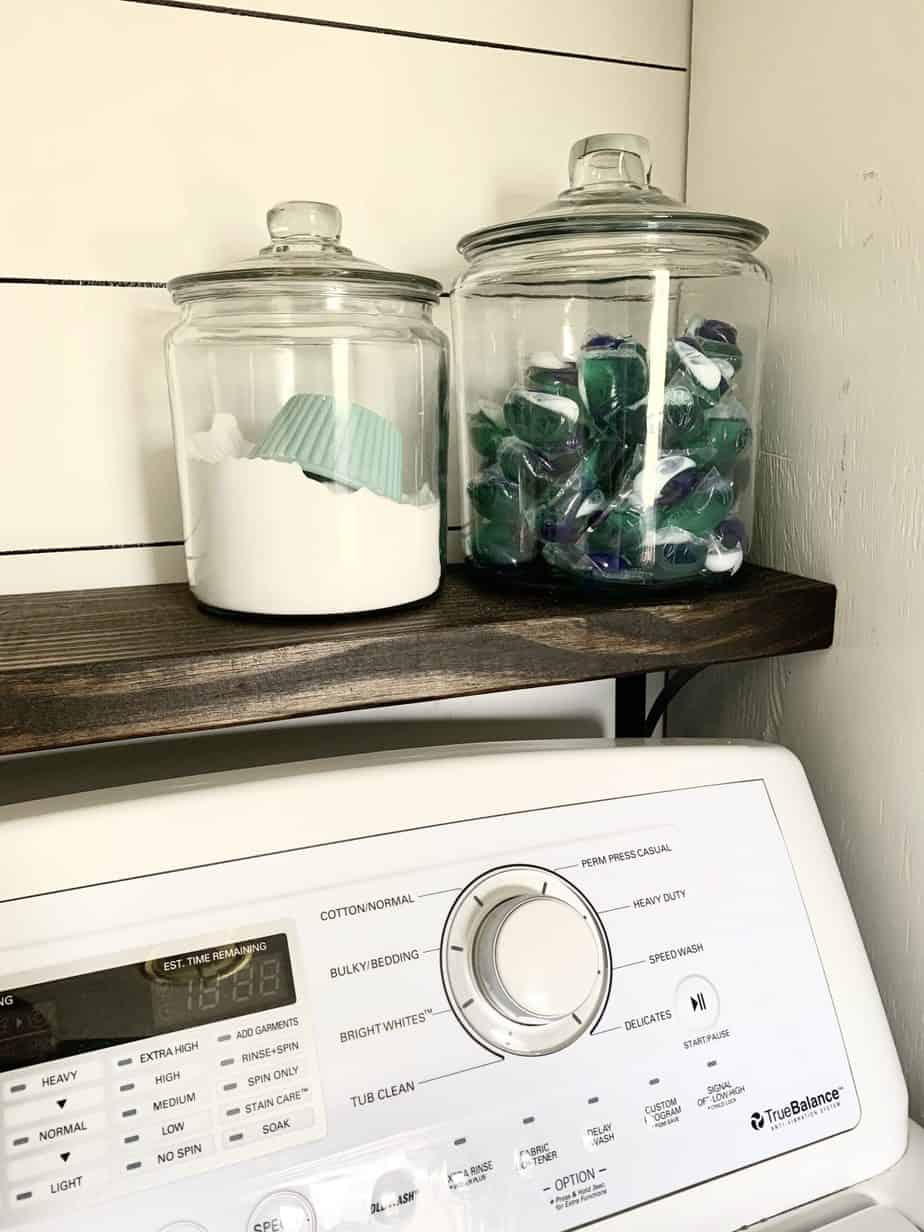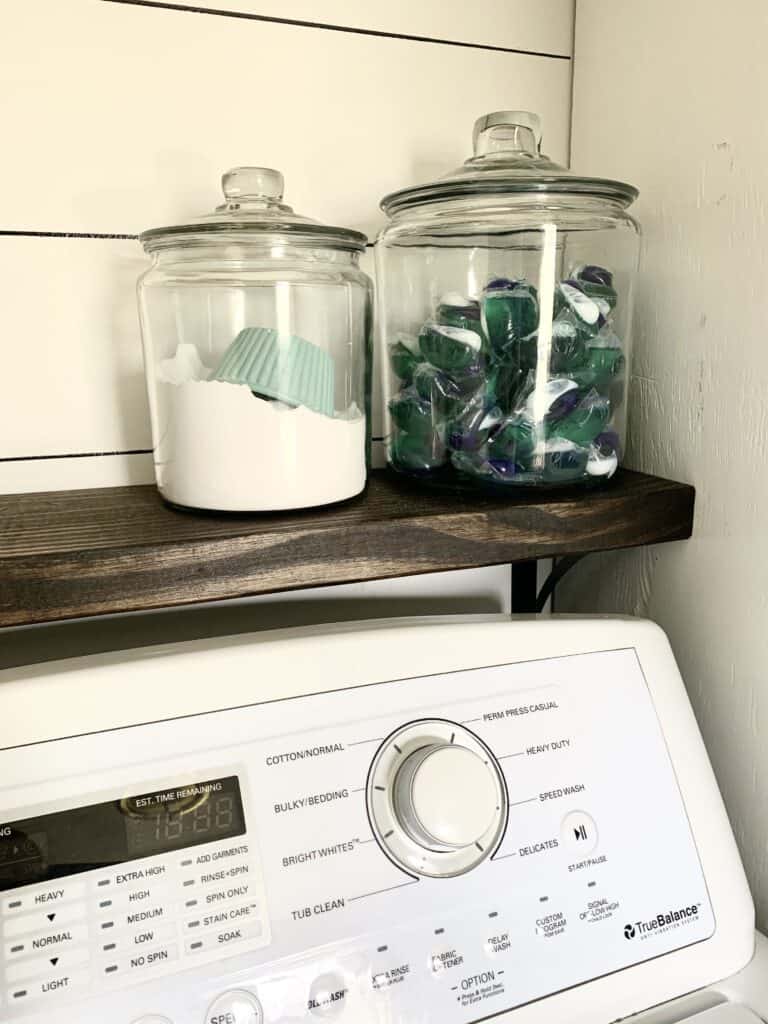 We keep our tide pods and baking soda in these glass jars right behind our washer. It makes it super easy to toss in a tide pod and start a load! Plus it looks great as well! -and no I'm not worried about my kids eating tide pods.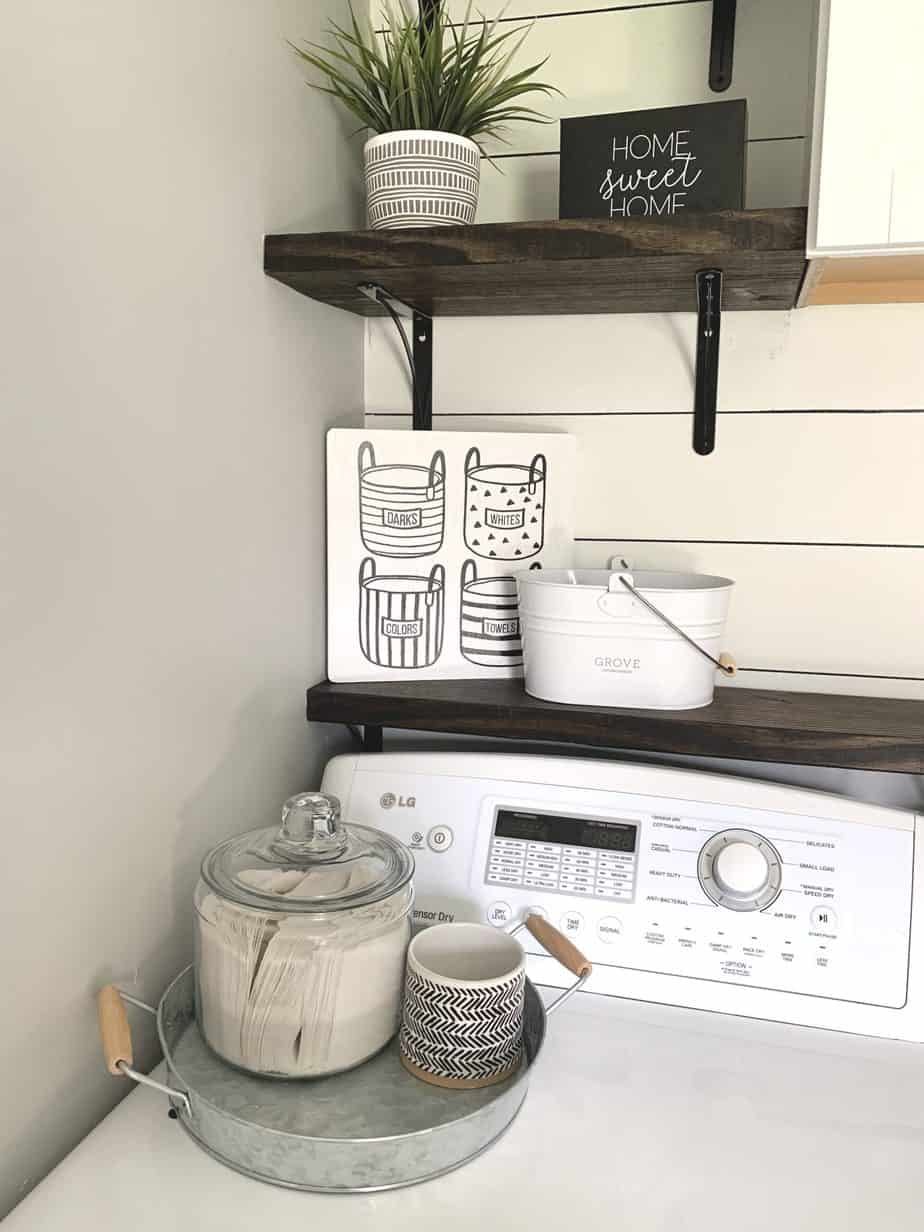 Over our dryer, we keep our dryer balls in a white caddy I got from Grove.co.
If you haven't shopped with them, they are a company that sells healthier and natural home products that I highly recommend! I order all our hand soaps and some cleaning supplies from them.
The caddy was a free gift that came with my Mrs. Meyers cleaning set. If you're interested in natural products, you can grab a free gift set here!
On the dryer, I use a galvanized tray to store our dryer sheets and change jar. We keep dryer sheets in a glass jar just like our tide pods and baking soda.
Our Laundry Room Drying Bar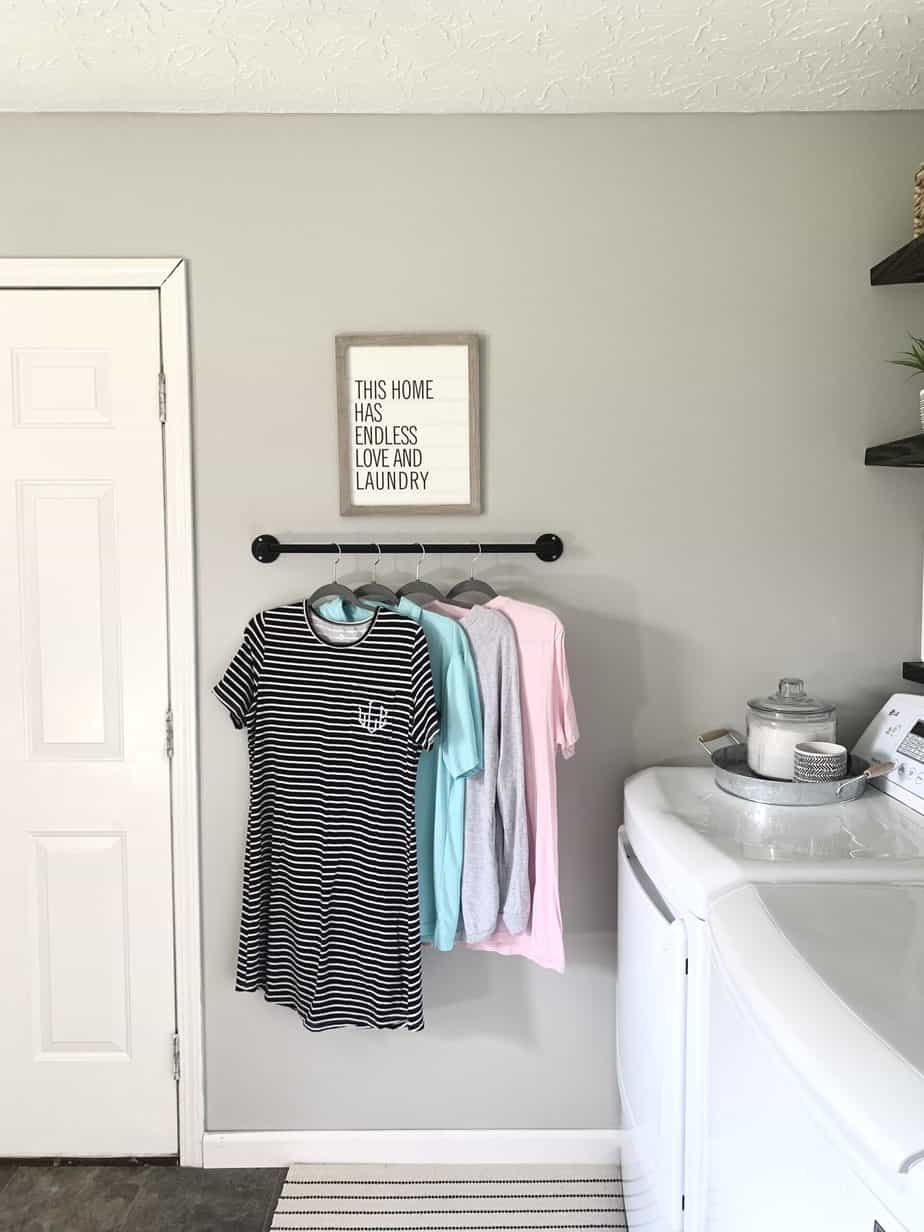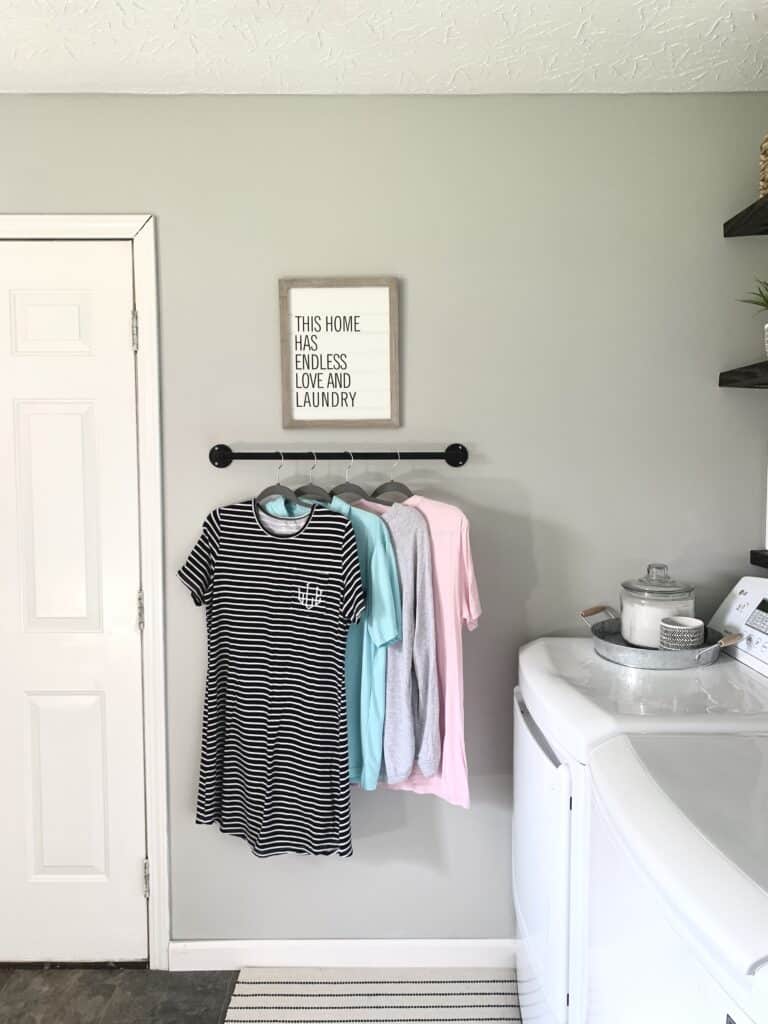 One thing we definitely needed in our laundry room was a drying bar. But I wanted it to look rustic and fit in with the farmhouse laundry room decor.
Luckily, I found a super cute bar at Hobby Lobby for less than $20 dollars!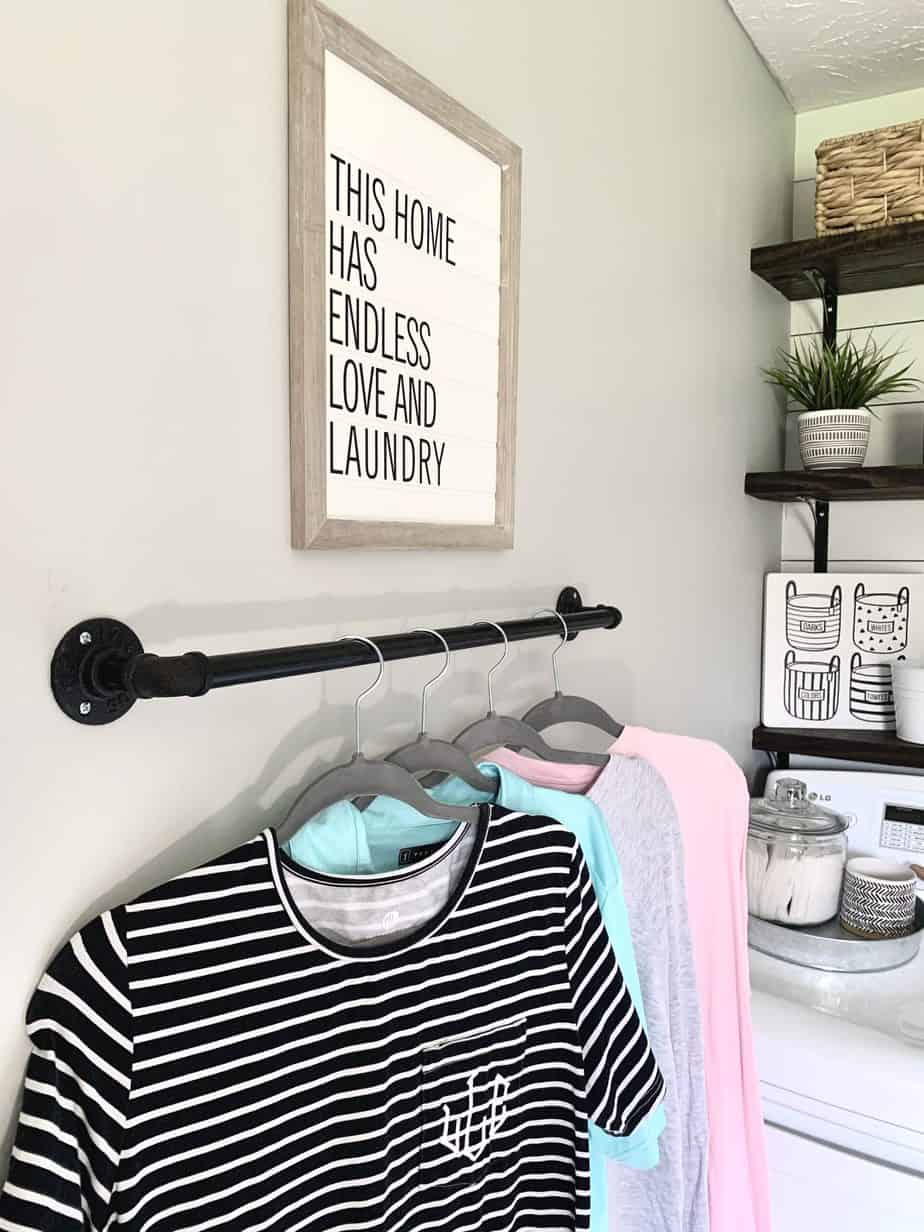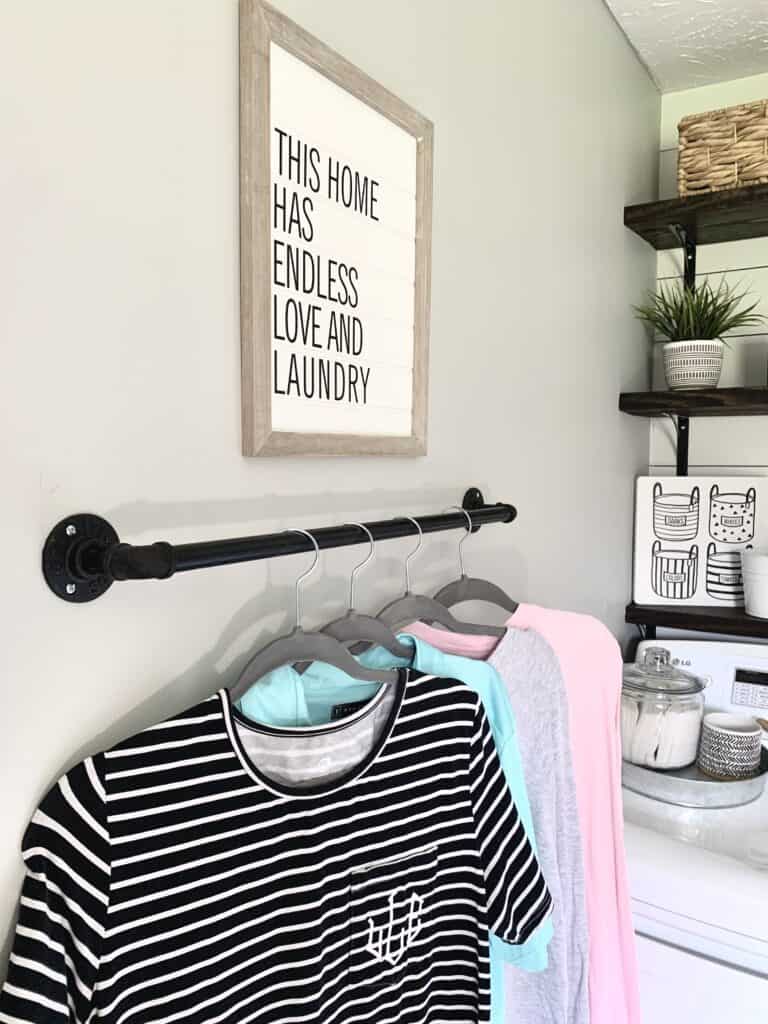 I don't think it is actually intended for clothes to hang on, because the bar itself is not super strong. So I don't hang a ton of clothes on here at one time. Usually just 5-8 shirts or pants.
We hung it right next to our dryer so it is super simple to hang our clothes up after they come out of the washer or dryer!
Inside Our Laundry Room Cabinets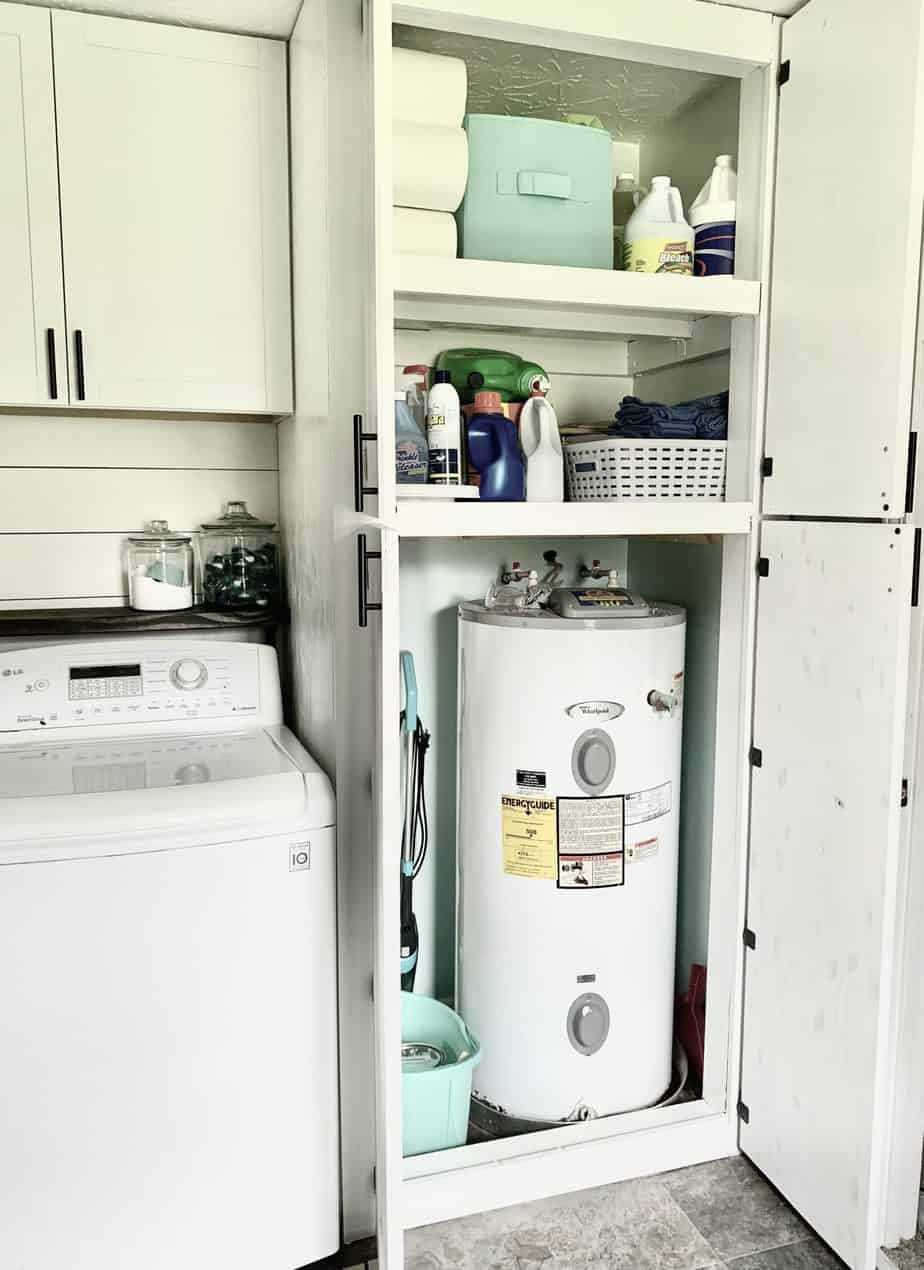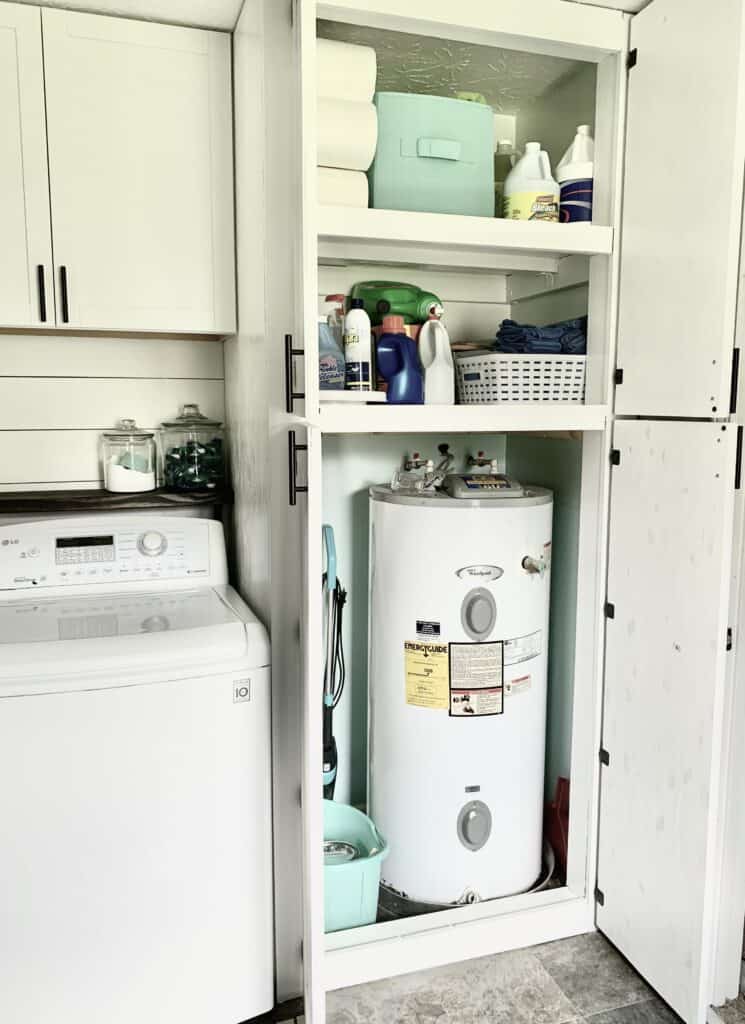 The whole point of our laundry room remodel was to add more storage, and the cabinet my husband built definitely delivers!
The bottom of the cabinet is used to hide our hot water tank. But there is also room beside the hot water tank to store our broom, swiffer, vacuum and mop.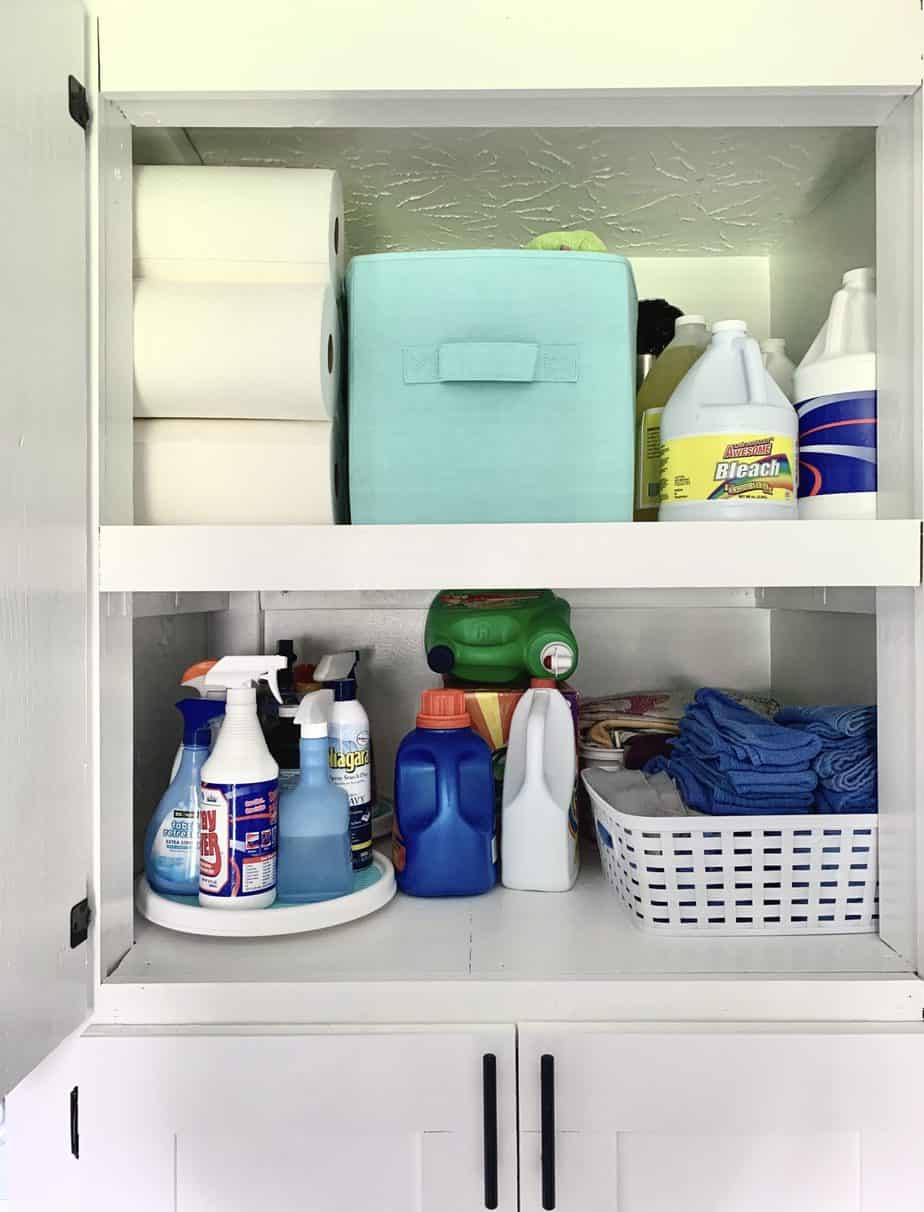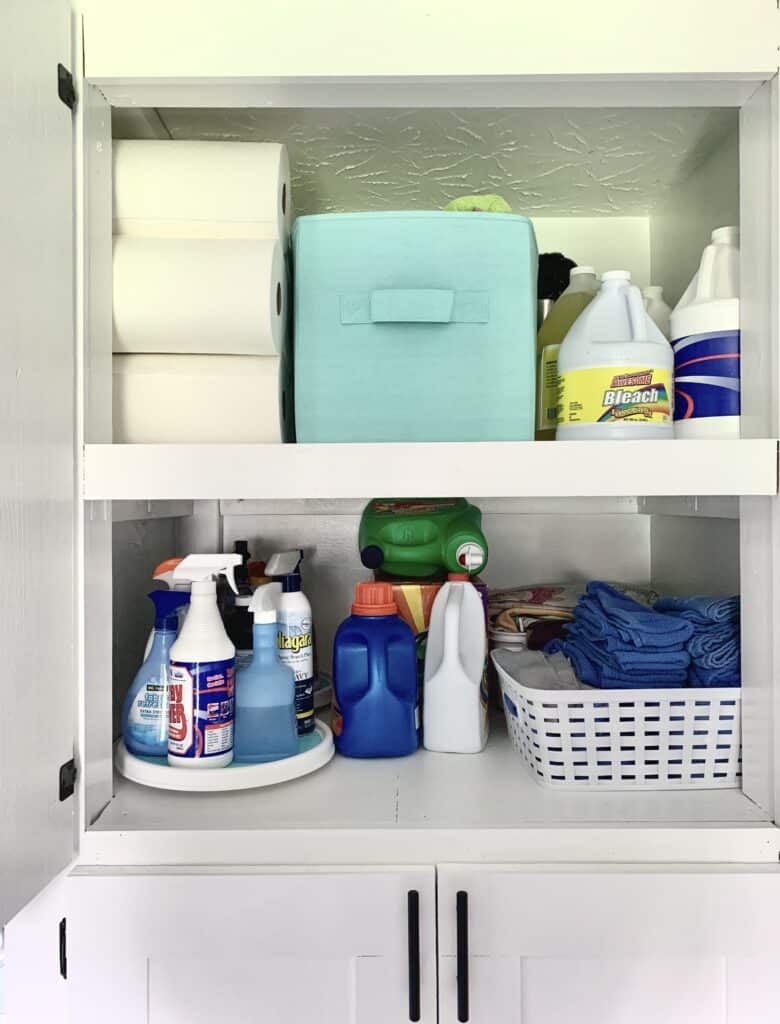 On the shelves above our hot water tank, we store a lot of stuff! And to be completely honest, this is the hardest part of my laundry room to organize and keep organized.
On the bottom shelf, I use these turntables to store cleaning products that I use pretty frequently.
I also use white plastic baskets to store cleaning towels and older rags.
On the top, I use a large cube organizer bin to store beach towels.
In the cabinet over our washer, I use Ikea Storage Bins to organize our stain removers, vacuum spare parts, extra sponges, and our Scentsy melts.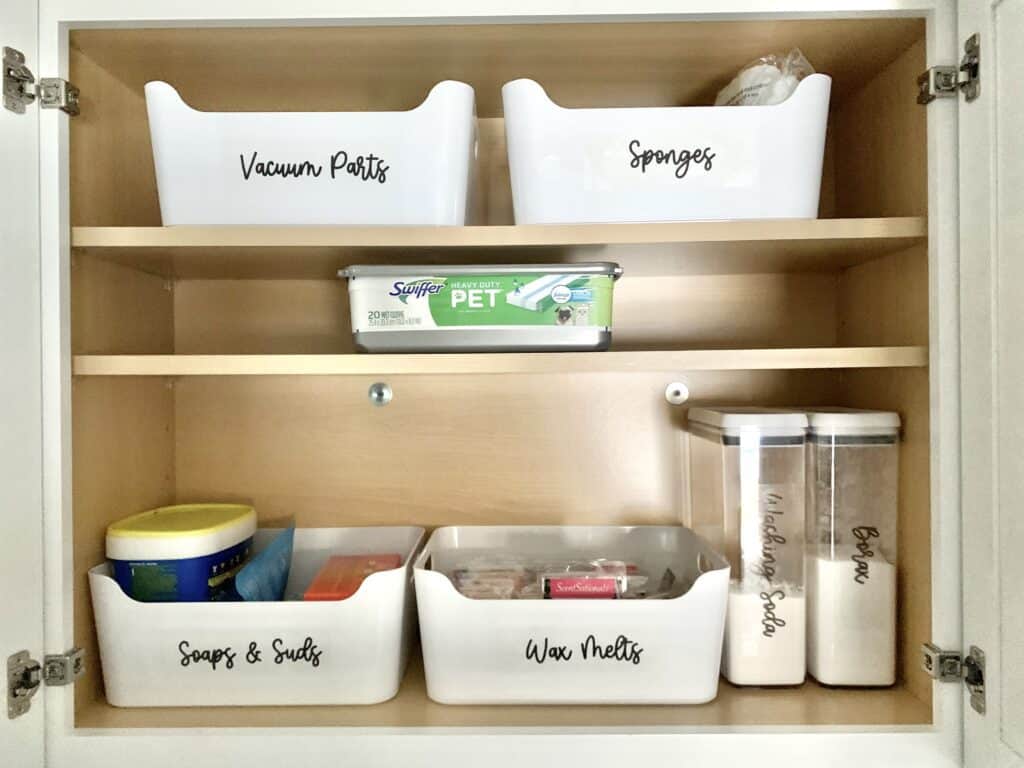 Then in these Better Homes & Gardens containers, I store our borax and washing soda.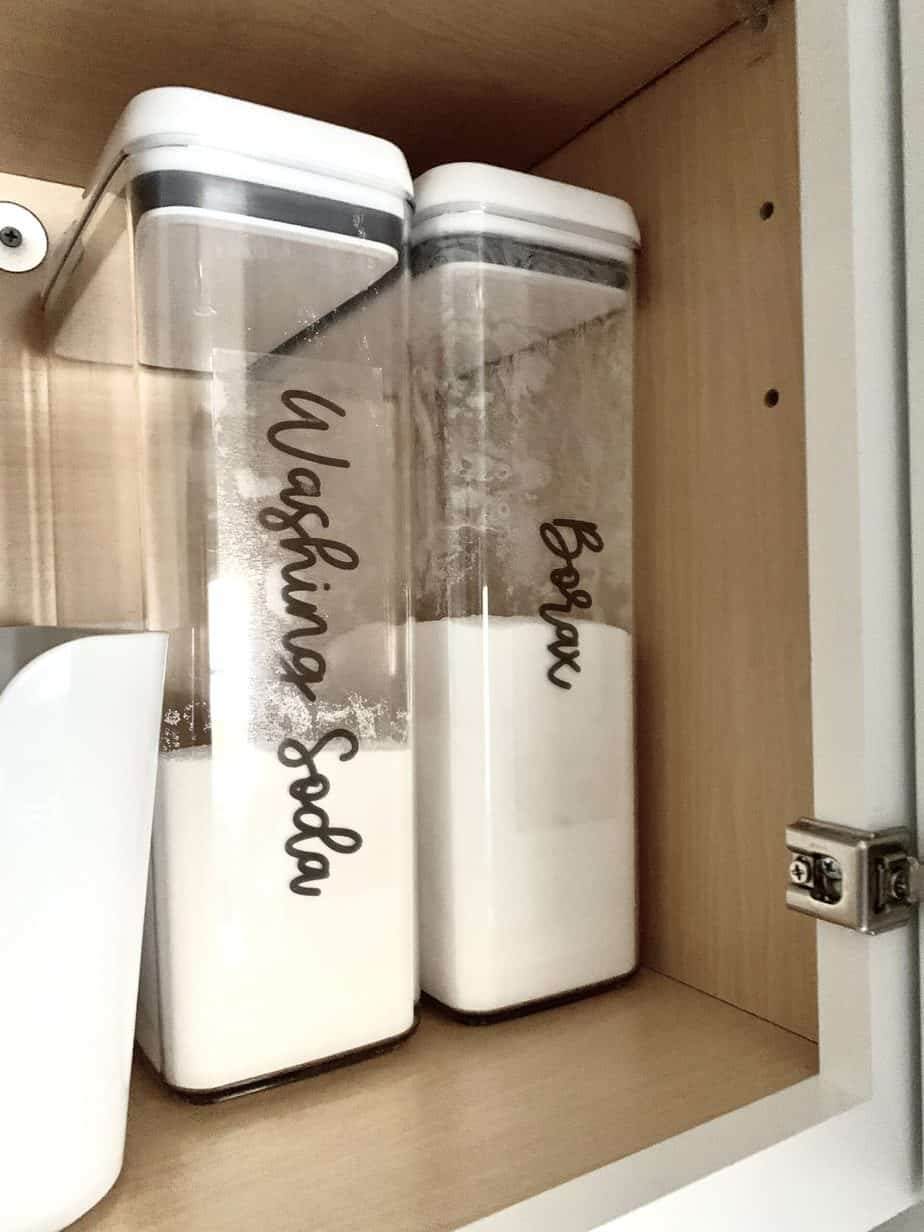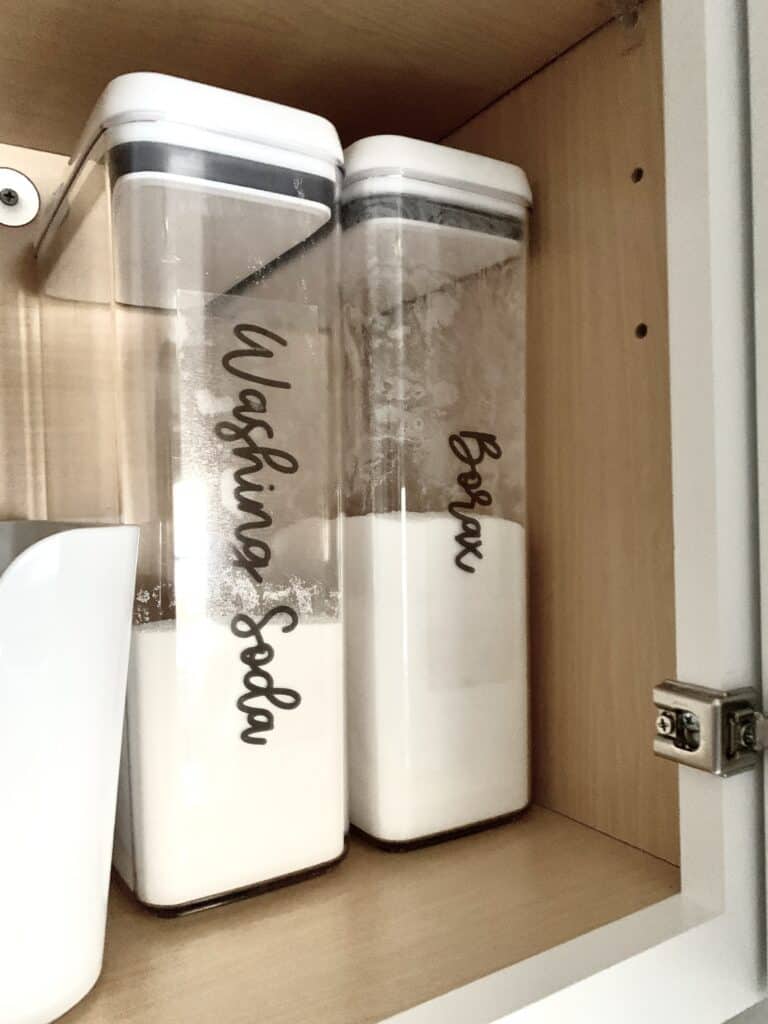 Decorating our Laundry Room
Decorating our laundry room was of course my favorite part!
There is not a lot of decor that we used in our laundry room, but I want to go ahead and answer the questions I anticipate you might have.
The paint color that we used on the white walls and cabinet is Pure White by Sherman Williams.
And the paint on the gray walls is Stone Isle by Sherman Williams.
For the shiplap accent wall, we used a faux shiplap method. I have a tutorial coming soon, but you basically make faux shiplap lines on your wall with an oil-based sharpie.
This method gets a lot of grief that it looks fake, but honestly it looks so good and everyone that has seen my laundry room didn't even realize it wasn't real! We have to point it out every time.
The signs that we used in our laundry room all came from Hobby Lobby in 2020.
Shop Our Laundry Room Remodel
I love our laundry room remodel and I'm hoping that it inspires something that you can do in your own home!
Here are all of the products that we used in our laundry room plus products we think would go really well with a farmhouse laundry room.

Save Our Farmhouse Laundry Room
Love our farmhouse laundry room and want to do something similar?
Save for later!