This Post May Contain Affiliate Links. We earn a commission if you click this link and make a purchase at no additional cost to you.
Can you believe Christmas is just around the corner? I know it's only November and we haven't even celebrated Thanksgiving yet, but in order to have a stress free Christmas, I'm starting early! Christmas is always a really stressful time of the year! Between all the gifts you have to buy, parties to attend, cookies to make, and movies to watch, it can seem like you have a never ending to do list. Christmas can be stressful, but it doesn't have to be if you get organized ahead of time.
Check out these 5 tips to have an organized Christmas!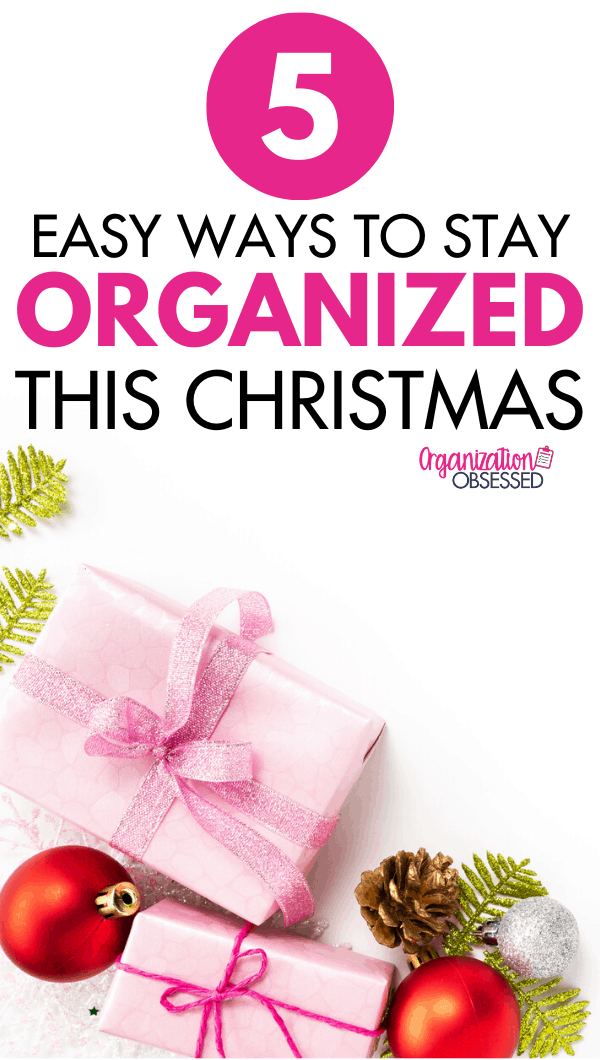 1. Create a Designated Gift Area
In our family, we have a running joke each year. Whose gift is going to be lost? It really never fails. One year my grandma lost a monogrammed sweatshirt that I was so excited about (we still haven't found it)! Last year my Aunt lost our little boys Carhart Overalls and just now found them a few weeks ago. And my dad ALWAYS loses my husband Christmas gift in his garage. Is this a problem your family has too?
It can be really easy to lose a gift when you have so many packages and gifts coming in during the holidays. This year, to avoid losing anyone's gifts, create a designated place to store them until you place them under the tree! You could use a storage tote to keep smaller gifts in or store them on a free shelf in a closet. I always store all the smaller gifts in our hall closet. The key is to keep everything you can together and in one place!
2. Use a Christmas Planner
I come from a divorced family so my Christmas's are crazy busy! Having divorced parents and a set of in-laws means we have three Christmas parties to attend, three families to buy for, three families to budget for. Plus work Christmas parties, friends and extended family Christmas parties, events at Church and still managing to make Christmas special for my Husband and little boy.
To say it is overwhelming is an understatement! So to have an organized Christmas and try to eliminate as much stress as possible, I use a Christmas Planner. It has seriously saved my sanity through the busy Holiday Season.
If you think a Christmas Planner would help eliminate the stress of the holidays and have an organized Christmas like me, grab yours here.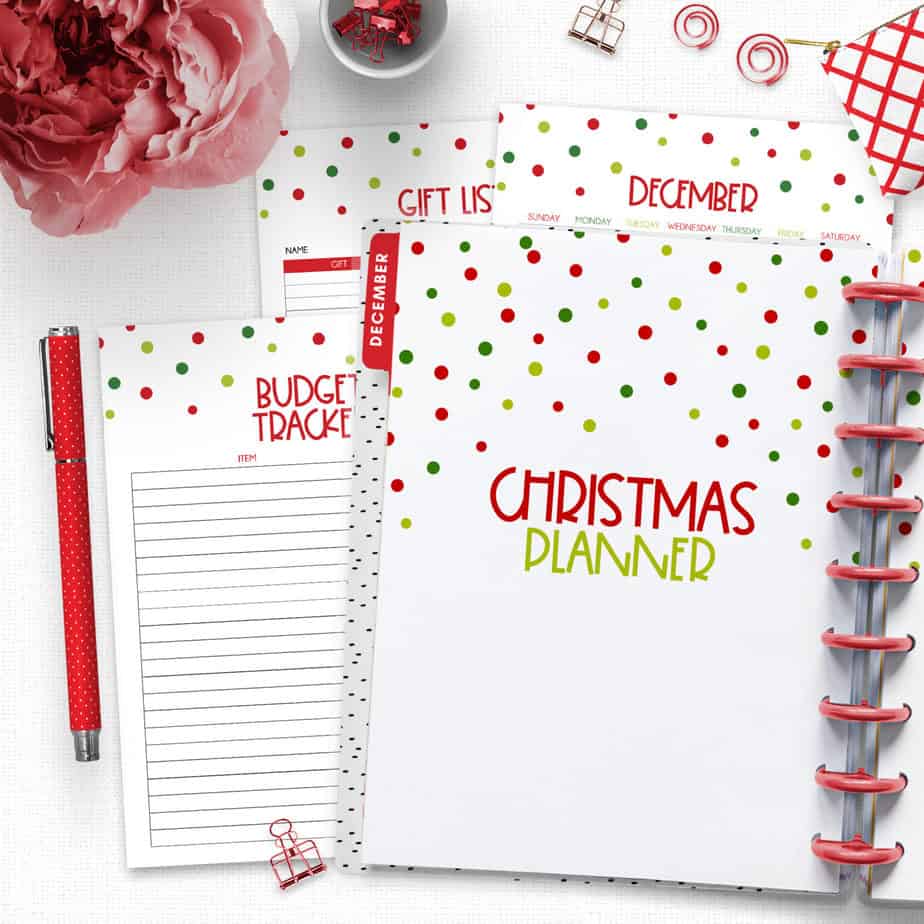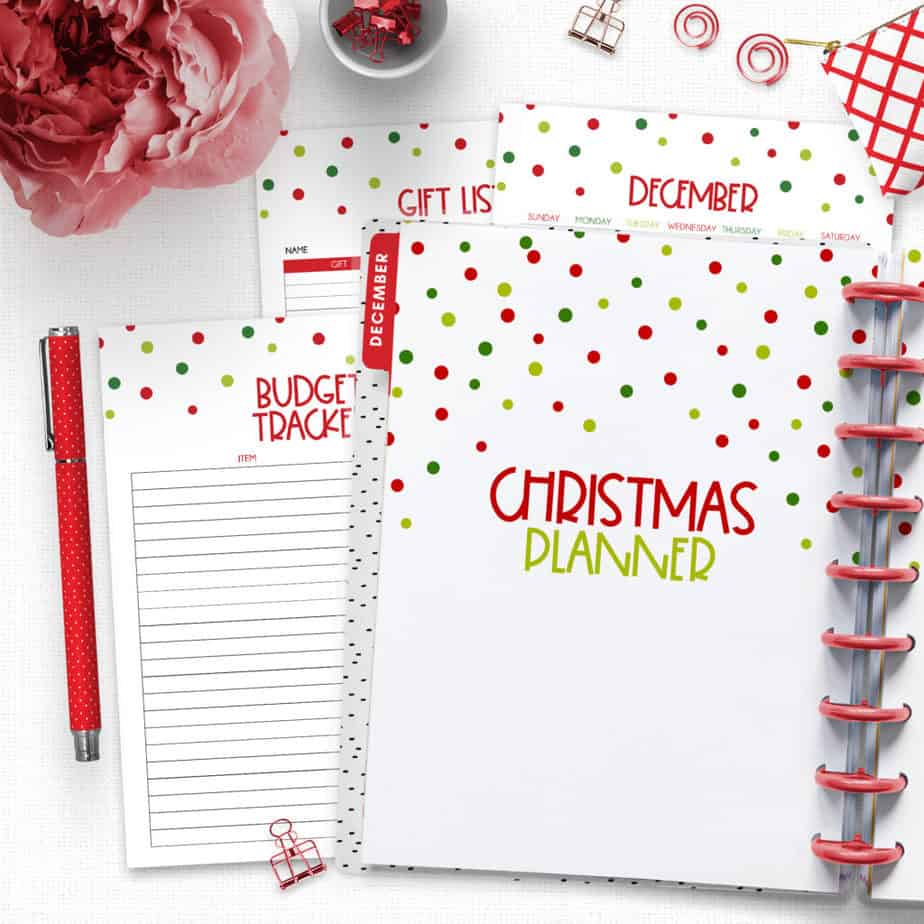 3. Set a Budget
Setting a Christmas Budget is oh so important!! I can't even begin to explain the stress that has come from the years of going over budget and racking up credit card debt by buying too many Christmas presents. It is so easy to do, because, of course, you want to give good gifts. But is it really worth it to go into debt?
To avoid getting yourself into financial trouble this year, set a budget and stick to it! In our family, I try to spend $20 dollars on extended family members, and $50 on close family members like our parents and siblings.
You can easily create a Christmas budget on just a regular sheet of paper (or use the one in this Christmas Planner)! Write out who you need to buy for, the amount you want to spend, and then go look for gifts within that price range! And don't forget to allot a few extra dollars for tax and shipping when you set your Christmas Budget!
4. Organize Your Decorations
One of the easiest ways to have an organized Christmas is to make sure your Christmas decorations are organized! It will make it so much easier to decorate your home when you know where all your decorations are! And it will make it so much easier to put everything away after Christmas if your decorations have a designated space! Tote boxes are perfect to store and organize Christmas decorations in. Plus around the holidays you can get red or green totes to help color coat your decorations.
We keep our Christmas Tree and Ornaments in Green Tote Boxes. Did you know they make tote boxes large enough to fit your Christmas tree that you can find at Lowes or Home Depot? Having one has been a total game changer for us! It makes it easy to store the tree and keep it in perfect condition each year! No more dealing with a cardboard box falling apart. If a tote won't work for you, they also make large bags for Christmas trees!
I also recommend labeling your boxes. This could be as simple as just writing on the box with a Sharpie or printing out your own labels!
5. START NOW
Lastly, but most important! The best thing you can do to have an organized Christmas is to start as early as you can! It really is never to early to start Christmas shopping or getting things ready. I try to start Christmas Shopping in July when stores have their winter clearance items marked way down! Stores like JCPennys have their Nike items on sale for less than what you can get them at Christmas and they make perfect gifts for the guys in your life!
Now is also the time to start decluttering and cleaning! You don't want to be missing your favorite Hallmark movie in December because you have to clean out your kids toys to make room for new toys. If you know you are going to have to make room for new things around the house, start decluttering now!
You can sell your kids toys, to have money for new ones! Or sell that treadmill you never use and free up space in your home! Having a decluttered home will make it a whole lot easier to clean when you are getting ready for a Christmas party too! Make it easier on yourself and start now!
This Christmas will be your best yet and you will finally be able to relax knowing you are going to have an organized Christmas!