This Post May Contain Affiliate Links. We earn a commission if you click this link and make a purchase at no additional cost to you.
Are you sick of looking at the pile of paperwork cluttering your kitchen or your office? How about constantly in search of this months bills or the birthday invitation you misplaced? If so then this post is for you!
Paper clutter can become really overwhelming depending on how much you have. But once you go through it and create the perfect organization system, dealing with paper in the future will be so much easier!
Check out these 15 brilliant ideas to banish your paper clutter and become an organized genius!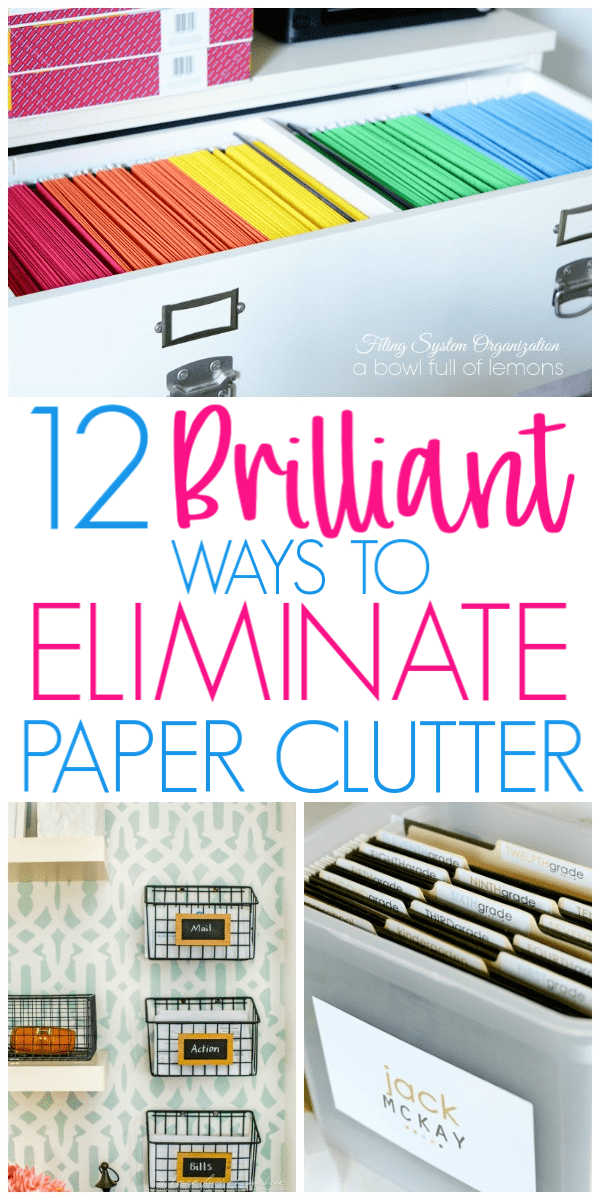 Get Rid of Paper You Don't Need
Have you ever wondered how long you should hold on to paperwork? Clean Mama has come up with a great guide! Check out her free printable to always have on hand!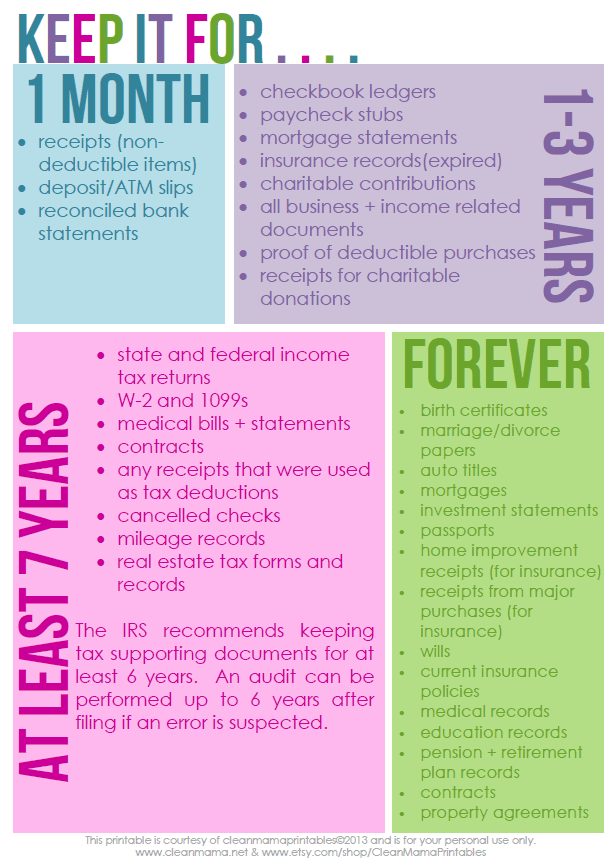 Tip & Credit: Clean Mama
Create A Color Coded Filing System
There are so many filing system options out there! How do you know what is best? Check out how A Bowl Full of Lemons organizes their files! She color codes her filing system, making it easier to find exactly what you need. First, start with a filing cabinet (I love this one.) You will need hanging files and a label maker. Then, go through your paperwork and categorize your filing needs (bills & banking, taxes & income, medical expenses, etc.) Finally, add the filed to your filing cabinet as you see fit!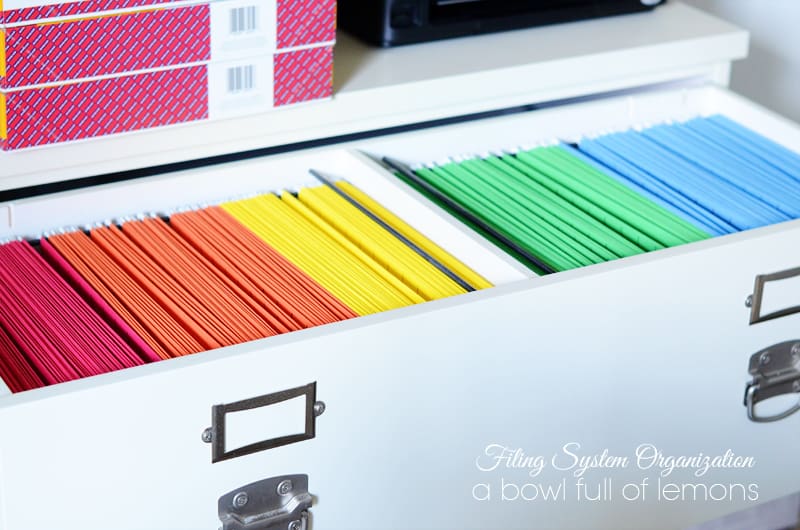 Tip & Credit: A Bowl Full of Lemons
File Pictures in a Photo Box
Even though most of us store our photos digitally now, I bet you have some printed photos laying around the house. Are they scattered in drawers or shoved in a closet? When you had them printed they were meant to bring joy and be placed in a beautiful photo album.
But life caught up with you, right?
Now they are just scattered around your house in paper envelopes, never to be found when you actually want to reminisce? What do you do about this problem? Modern Parents Messy Kids came up with such a great solution! Organize your photos in a Photo Box!
Rescuing your family photos can be a breeze with their tutorial! First, gather all your photos, then sort them in chronologic order, label the included divider cards, and then fill your box! This is such a simple and easy way to tackle your photo clutter!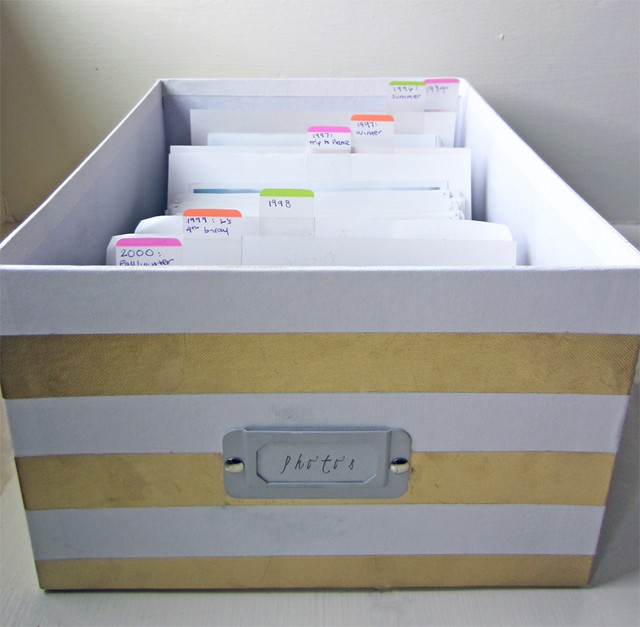 Tip & Credit: Modern Parents Messy Kids
Create a School Paper Storage System
Are your kids always bringing home school paperwork you want to keep but it just keeps piling up and you are not sure what to do with it? Check out how Simply Kierste created these beautiful School Paperwork Storage Systems with a plastic filing tote, hanging file folders, files, and labels. She created her beautiful labels in Picmonkey, see how here!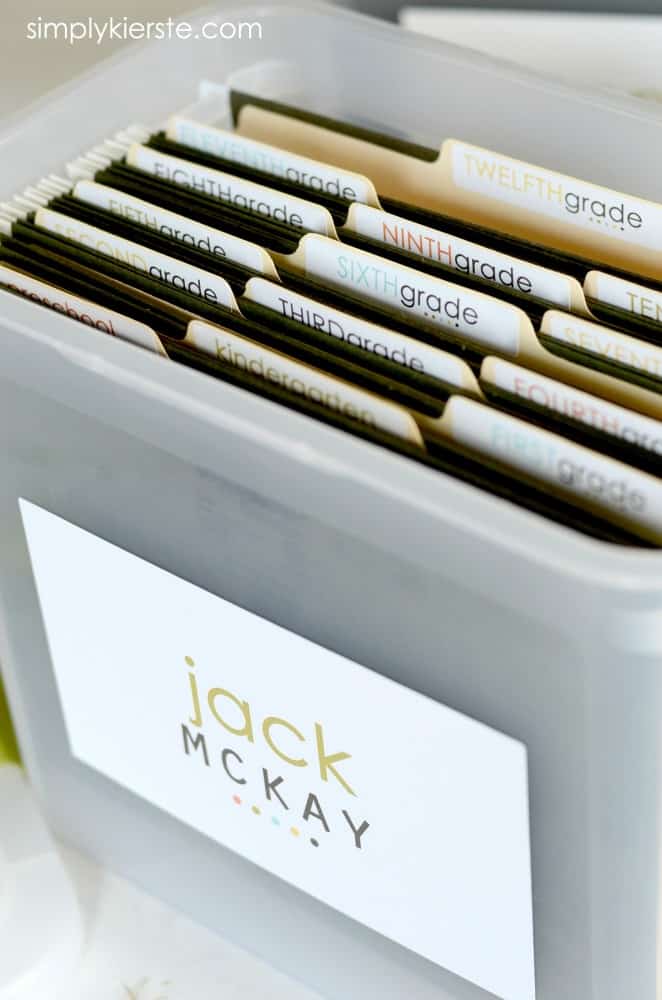 Tip & Credit: Simply Kierste
Create a Command Center
Are you in the need for a command center but don't know where you could put one? How about in a kitchen cabinet? Turn your junk cabinet into a command center with help from Organizing Home Life. See how they created the perfect place to store schedules, bills, pending paperwork, receipts, etc.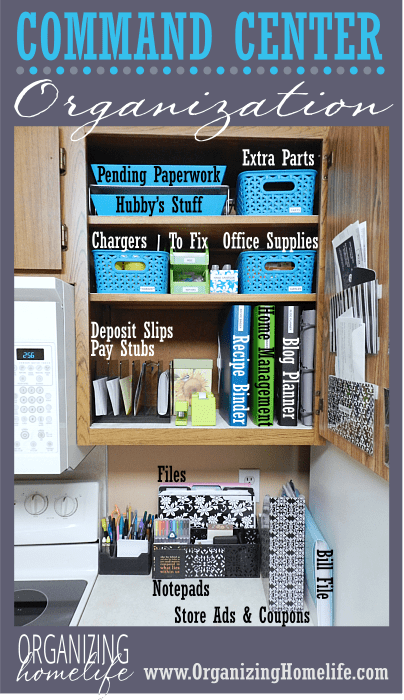 Tip & Credit: Organizing Home Life
Create a Recipe Binder
Do you have a ton of recipes that are cluttering up your kitchen? A simple solution is to create a recipe binder! You can purchase Kalyn Brooke's beautiful recipe binder here! Or create your own with any binder and recipe page pocket holders!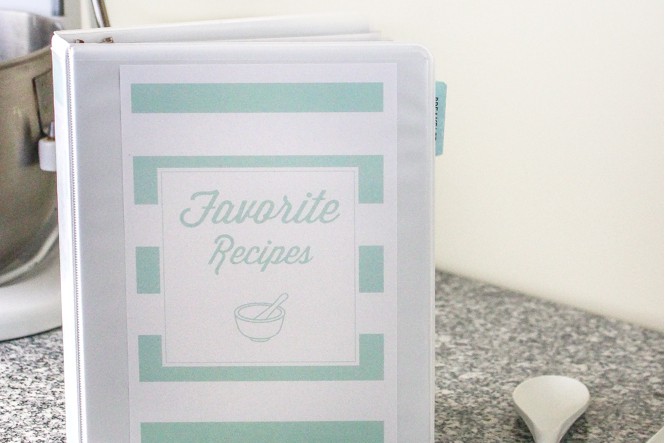 Tip & Image Credit: Kalyn Brooke
Use an Expanding File Folder in Your Car
If you get pulled over is it going to take you 5 minutes sorting through paperwork to find your registration? One place most of us don't think about organizing is our glove box, but it is definitely something you should do right now! Using a small expanding file folder is the perfect way to store all your important documentation. Go through your glovebox and organize your paperwork into categories like registration, insurance, oil change and tire rotation log, etc. Next time you are in a situation where you need that paperwork quickly, you will be glad you did this!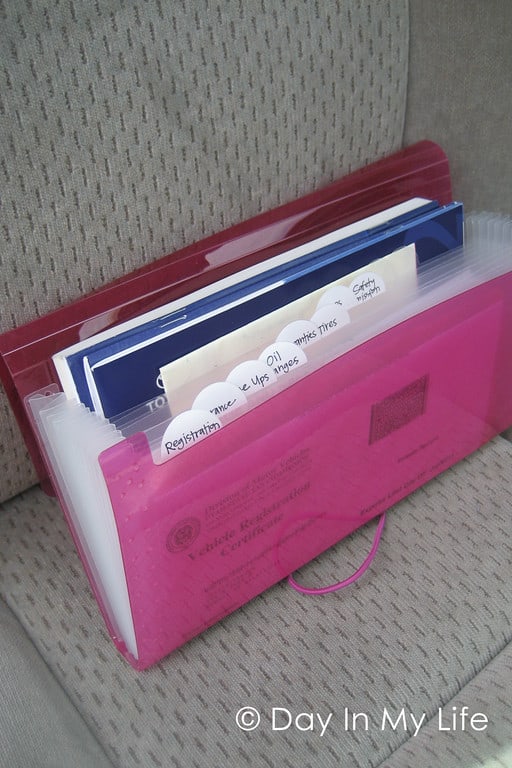 Tip & Credit: Day In My Life
Sort Your Mail in Baskets
It is so tempting to come home from work and throw your mail on the counter, but in the long run it will save you a ton of clutter by organizing it as soon as you walk through the door. See how A House Full of Sunshine created this beautiful nook! Using utility baskets from Kmart and spray paint she created a really cute industrial mail station! Kmart may not have these basket's anymore but here is a really cute mail organizer from Amazon that you could use too!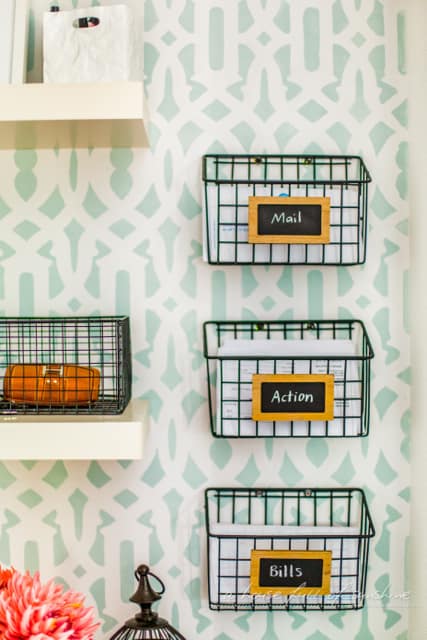 Tip & Credit: A House Full of Sunshine
Create a Receipt Drop Box
I have to admit, my biggest paper problem is receipts. They typically line the bottom of my purse. But check out this really cool way to organize your receipts until you are ready to throw them away! You can make your own box with an empty tissue box and add a label! Store this in your car or your office. Such a handy tip from All In All.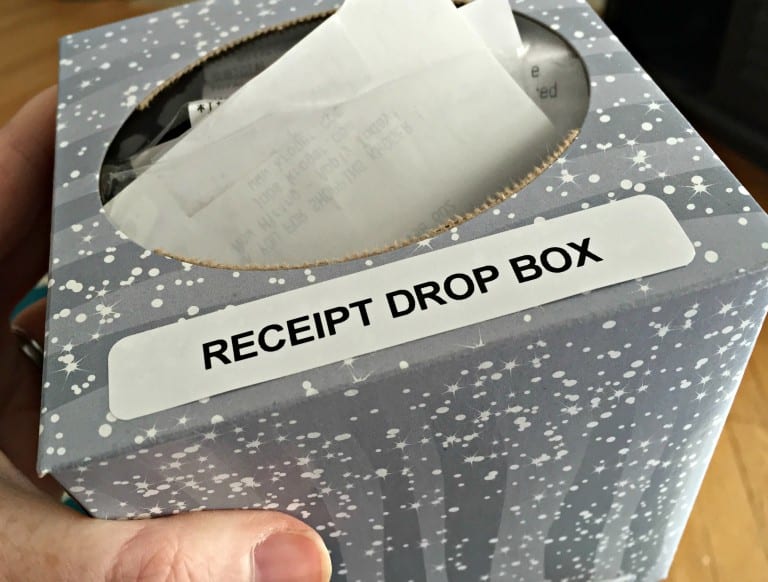 Tip & Credit: All In All
Use 3 Ring Binders
3 Ring Binders are a great way to organize paper you have laying around your home that you want to keep. Create a binder specifically for recipes, kid's artwork, addresses & phone numbers, etc.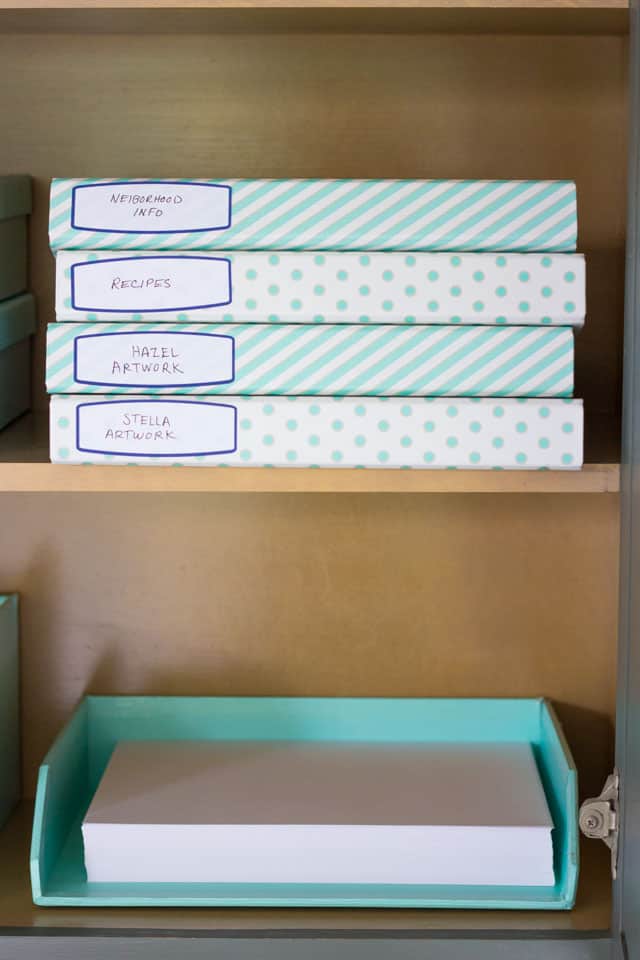 Tip & Credit: Design Improvised
Create a Mini Command Center on Your Fridge
Is there paperwork you need to able to access often? What better way to store it than on the side of your fridge. If you are like me you may spend A LOT of time looking in the fridge or just around your kitchen. Create a mini command center like The Simply Organized Home! Using a magnetic pencil cup and file box you can organize your Happy Planner or bills that need to be paid, neatly right on your fridge!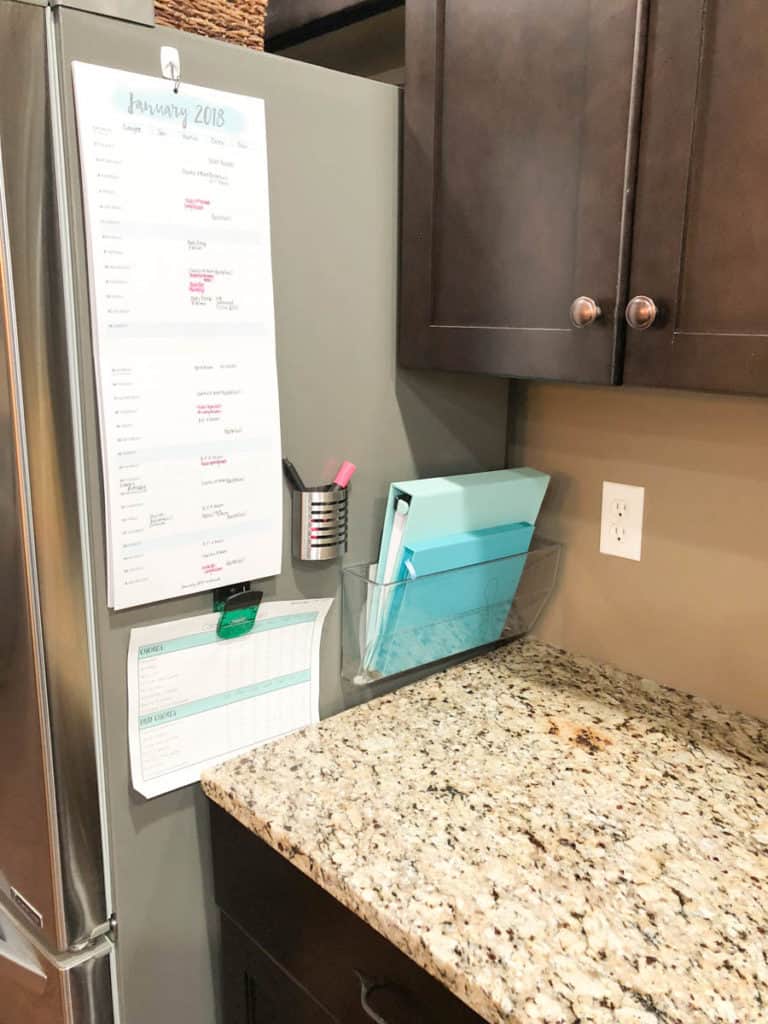 Tip & Credit: The Simply Organized Home
Go Paperless
The end all to paper clutter is to just go paperless right? But how? Paper clutter is so prevalent in all of our lives that we may not know where to begin. This is where I guide you to Donnie at Just A Girl and Her Blog. He has created an amazing and thorough post on exactly how to go paperless and the best way to do it. Check it out!
So, are you excited to tackle your paper clutter? Comment below and let us know how you eliminate paper!