This Post May Contain Affiliate Links. We earn a commission if you click this link and make a purchase at no additional cost to you.
The pantry is one of the most used areas of the home. From storing our day to day food to keeping those baking supplies that we need less often, the pantry needs our attention. The more clutter free and organized that our pantry is the more efficient we will be in the kitchen. We have shared kitchen organization tips with you before, but today we focus on the pantry and bring you 15 pantry organization ideas. Check them out and Pin your favorites!
Mason Jar Storage Bags
These are so cute, aren't they?! If you don't have enough space to keep actual mason jars in your pantry, then this option is perfect. They are cute, but still have enough space for you to store your essential spices (and other small bits) in them.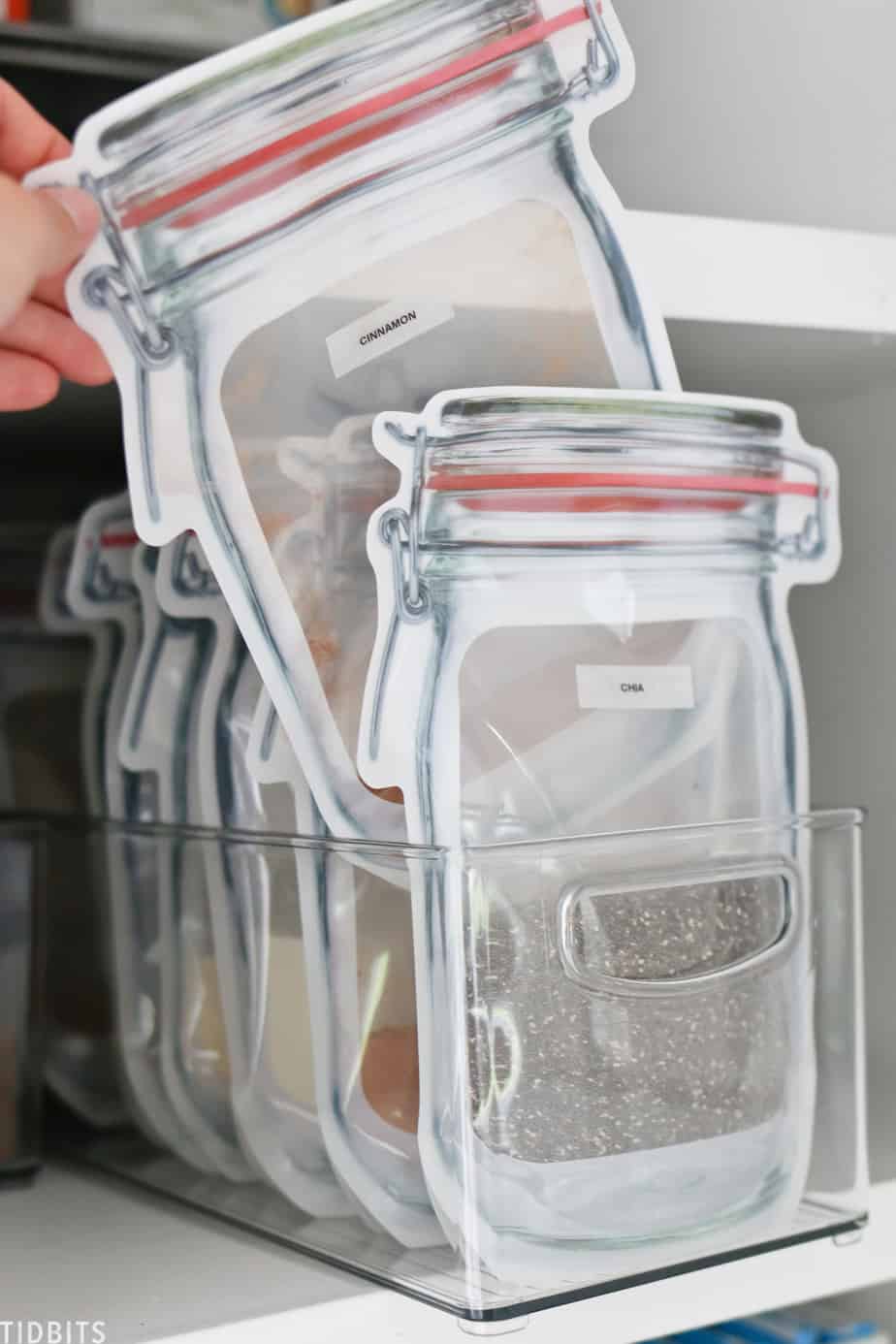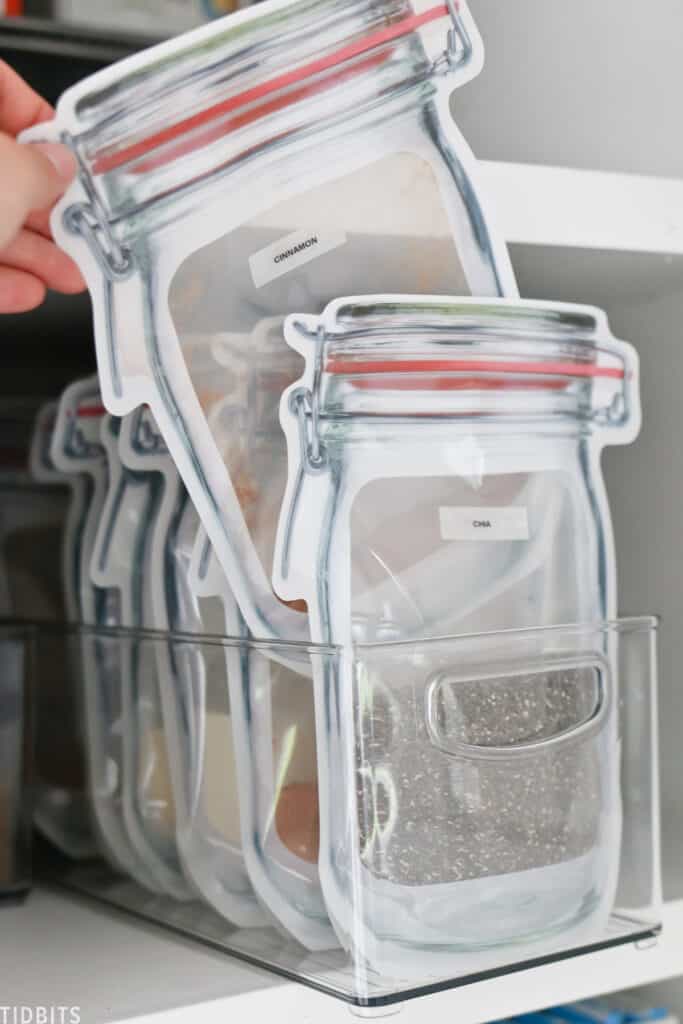 Tip & Image Credit: Tidbits
Magazine Holder for Canned Goods
There are many containers we can use to organize the pantry, but these magazine holders are perfect to hold 16oz and 28oz cans. Not only are they great for the width of the cans, but being able to stack up cans and fill them to the top makes a better use of space.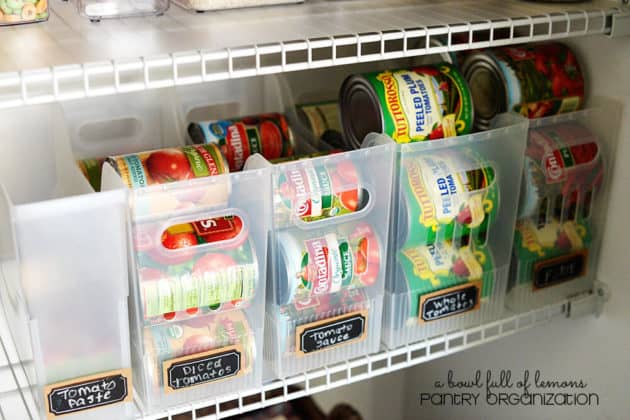 Tip & Image Credit: A Bowl Full of Lemons
Use Clear Containers
I love using clear containers in my pantry to ensure that I know what I have and how much of it I have. These Sistema Containers are a great investment. They're pratical yet cute and also have a seal that keeps food fresh, so you not only keep your pantry oganized but you don't waste money!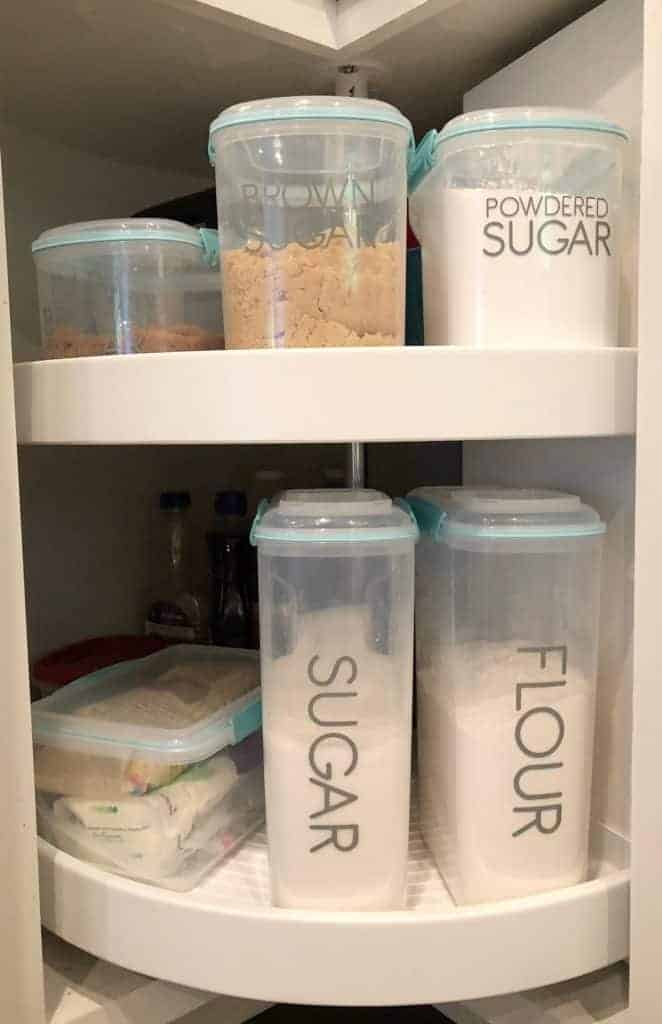 Tip & Image Credit: Organzation Obsessed
Keep a Snack Box
If your kids are always rummaging through the pantry in search of snacks then getting a basket to keep snacks handy is a good idea. I happen to like that I have more control of the snacks that I make available. It's also convenient for their little hands to have what they need at their level.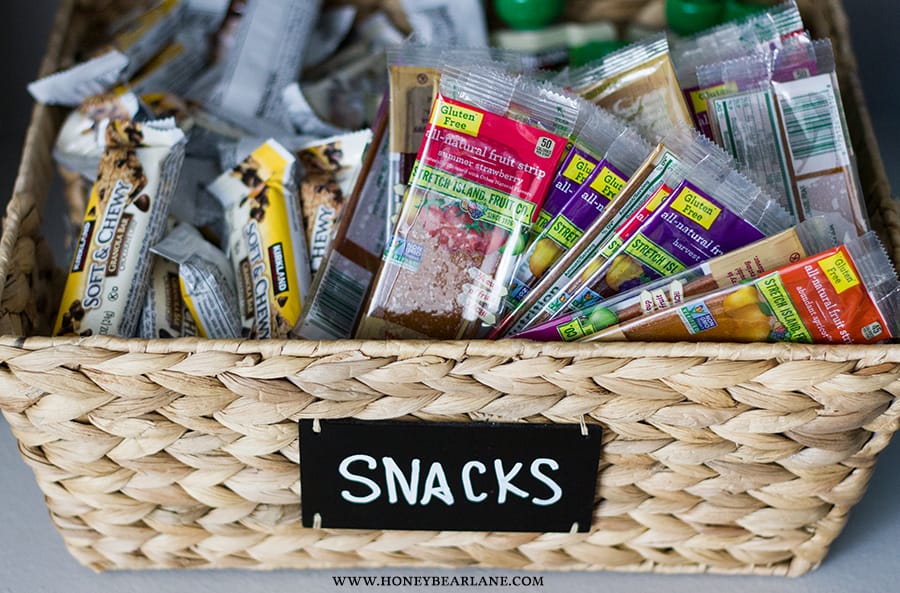 Tip & Image Credit: Honeybear Lane
Keep Baskets High and Low
Make use of the awkward space at the top and at the bottom of the pantry by adding baskets. These baskets can be filled with small appliances that you don't use that often or even snacks that you're hiding from the kids. Whatever you don't want to be or need to be to hand can be stored here and when you do need it, just pull out the basket and you are set!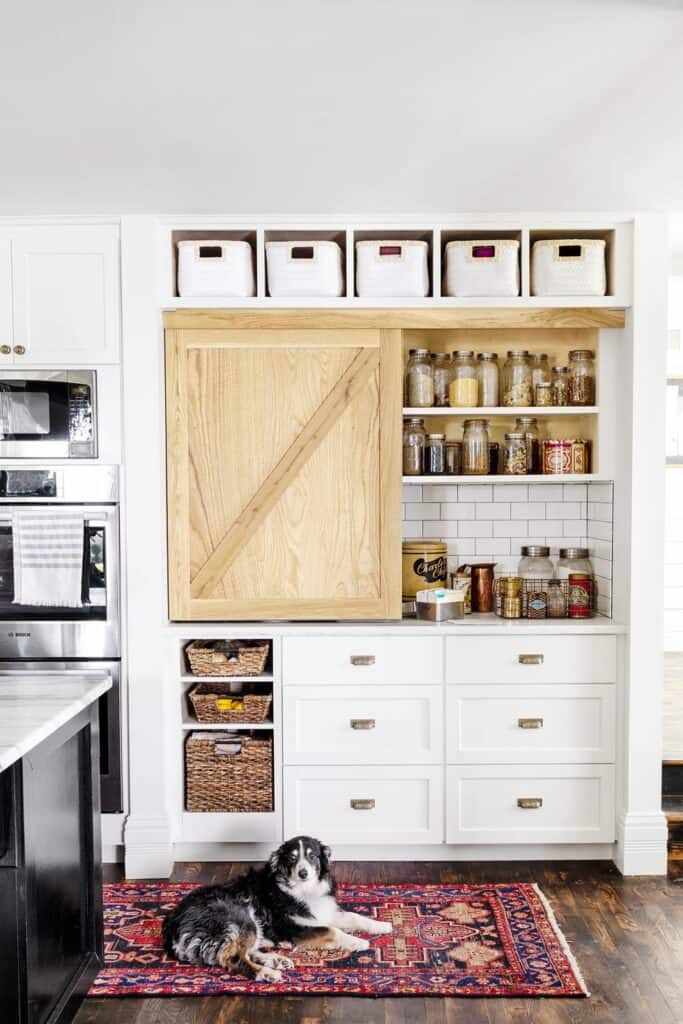 Tip & Image Credit: Good Housekeeping
Stash your Trash Can and Recycling Bin
Keep your garabage can and recycling bin out of the kitchen by putting them in the pantry. Not only are the cans unsightly but they sometimes there's really nowhere to put them! Keep them out of the way but accessible by putting them in the pantry. Another idea is to add a little label and make it easier for everyone in the home to help with the recycling.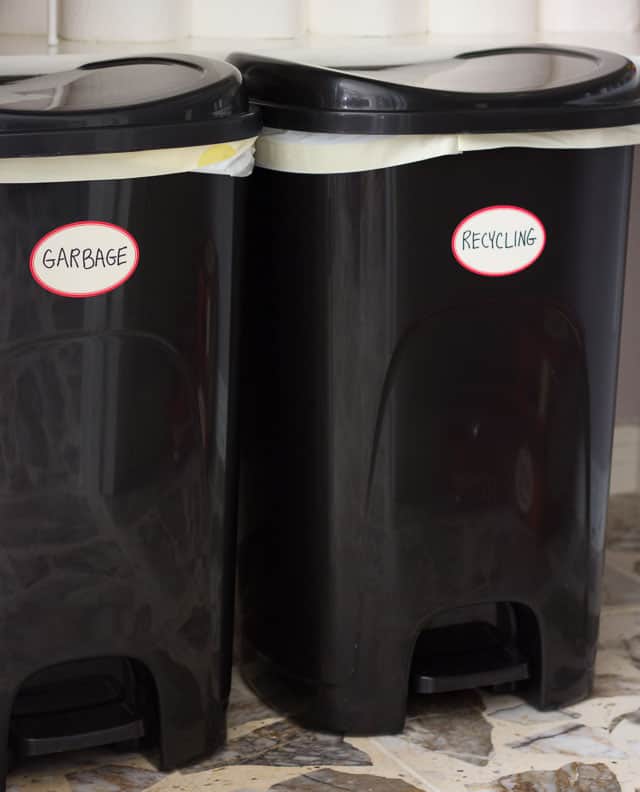 Tip & Image Credit: Design Improvised
Use Rolling Hampers
Rolling hampers don't only have to be for the laundry room. This is actually a great idea for the pantry as well. They can be neatly tucked in and tucked away at the bottom of your pantry and can hold anything from your mixer to rolls of napkins.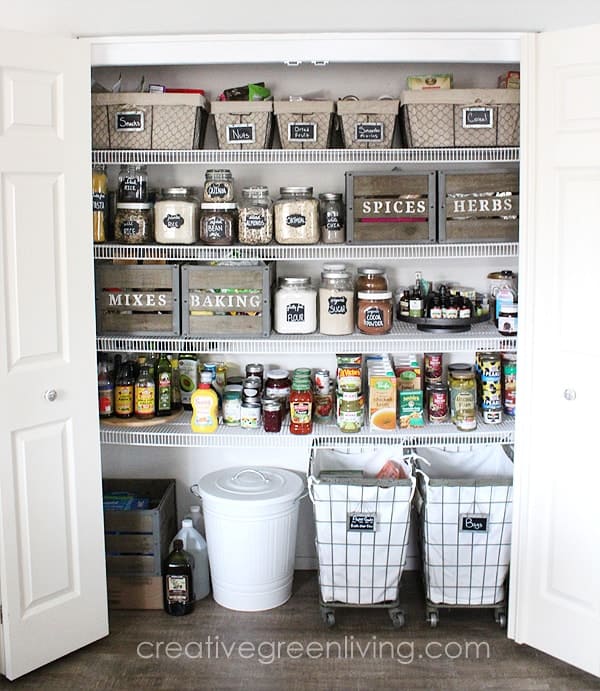 Tip & Image Credit: Creative Green Living
Add Drawers
Make use of awkward shelving space by adding drawers. The IKEA Komplement drawers are the perfect option. They are deep enough to keep things properly in place and roll out. You can't beat being able to group like items together and always have things at a glance.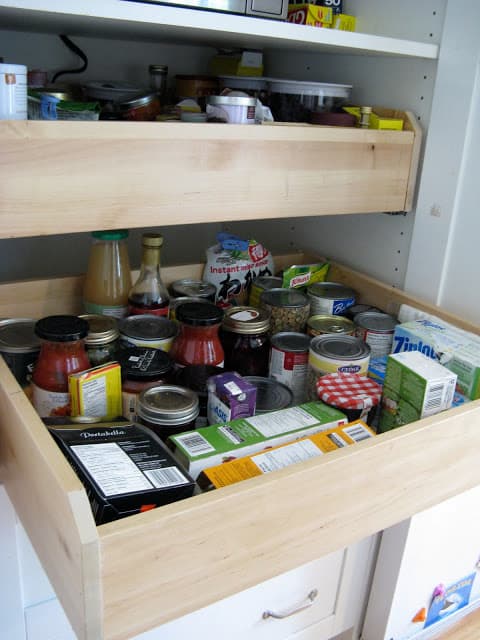 Tip & Image Credit: Ikea Hackers
Mount Pot Lids on the Door
Adding lids to the inside of the door is a great way to add more functionality to your pantry. Sure, you can keep lids organized in a cupboard, but how many of us actually want to be bending down to fumble with them? You can DIY the holder or opt for Command Hooks and a rod, for example.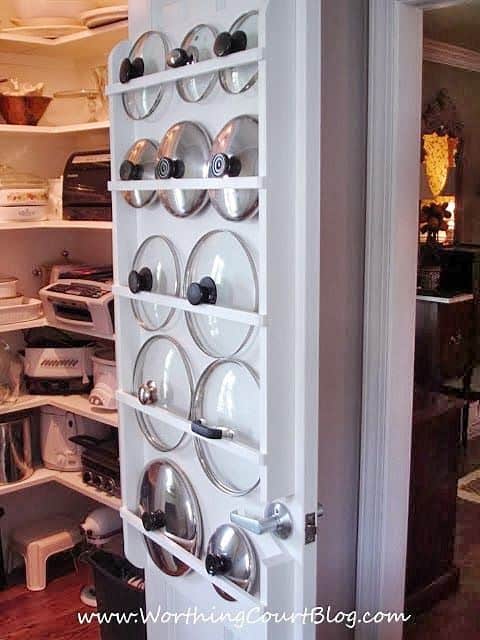 Tip & Image Credit: Worthing Court
Keep Packets in Order
From Kool Aid packets to seasoning mixes we all have these little packets of food that end up disorganized and sometimes even end up spilling their contents all over the place. Keep them in their place, and upright by using these clear containers to have them all stay in their place.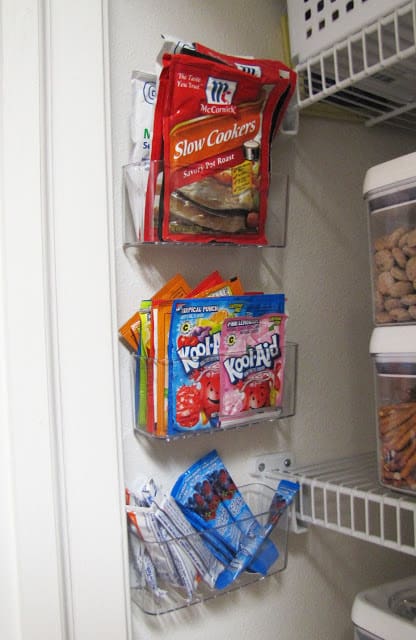 Tip & Image Credit: Make Bake Celebrate
Add a Lazy Susan
A Lazy Susan is one of the best organizational secrets you can use. They are versatile and fit in many nooks and crannys. This is especially helpful for the pantry as bits always find their way to the dark corners of the pantry, don't they? Keep half eaten bags of chips out of the corners and on a lazy Susan instead.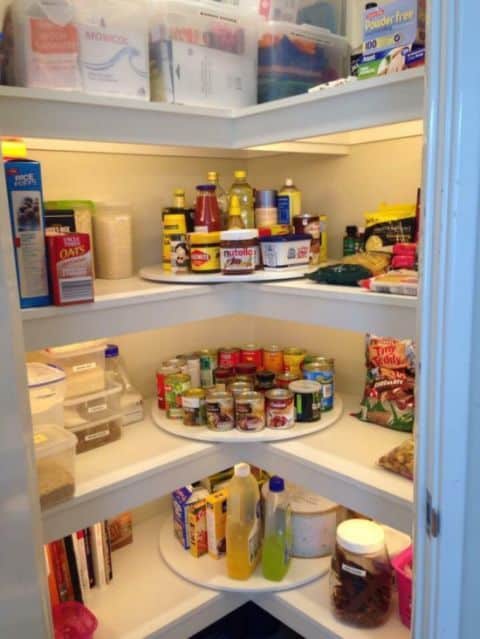 Tip & Image Credit: The Whoot
Add a DIY Chip Rack
Any household with little kids will know the nightmare of keeping snacks from either: a) being eaten all in one go, or b) half opened bags. Making the change from big bags to individual size bags is one of my favorite pantry organization ideas. And to keep those bags organized create a DIY chip rack. Use a thin plank, and add some clips to clip on the bags.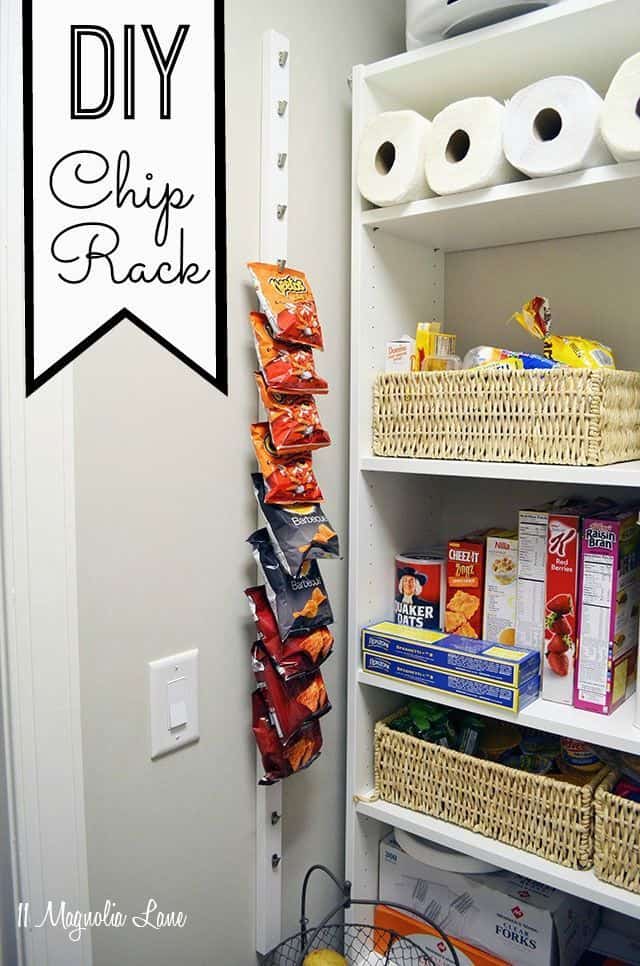 Tip & Image Credit: 11 Magnolia Lane
Recycle Pant Hangers
We all have these hanging around, I'm sure. These litle hangers that usually come with pants are quite pesky to hang them in your closet, but you can repurpose them in the pantry. Use them to clip on larger chip bags and not only does it help keep the bag closed, but you can also hang it on a Command Hook or underneath a wire shelf, for example.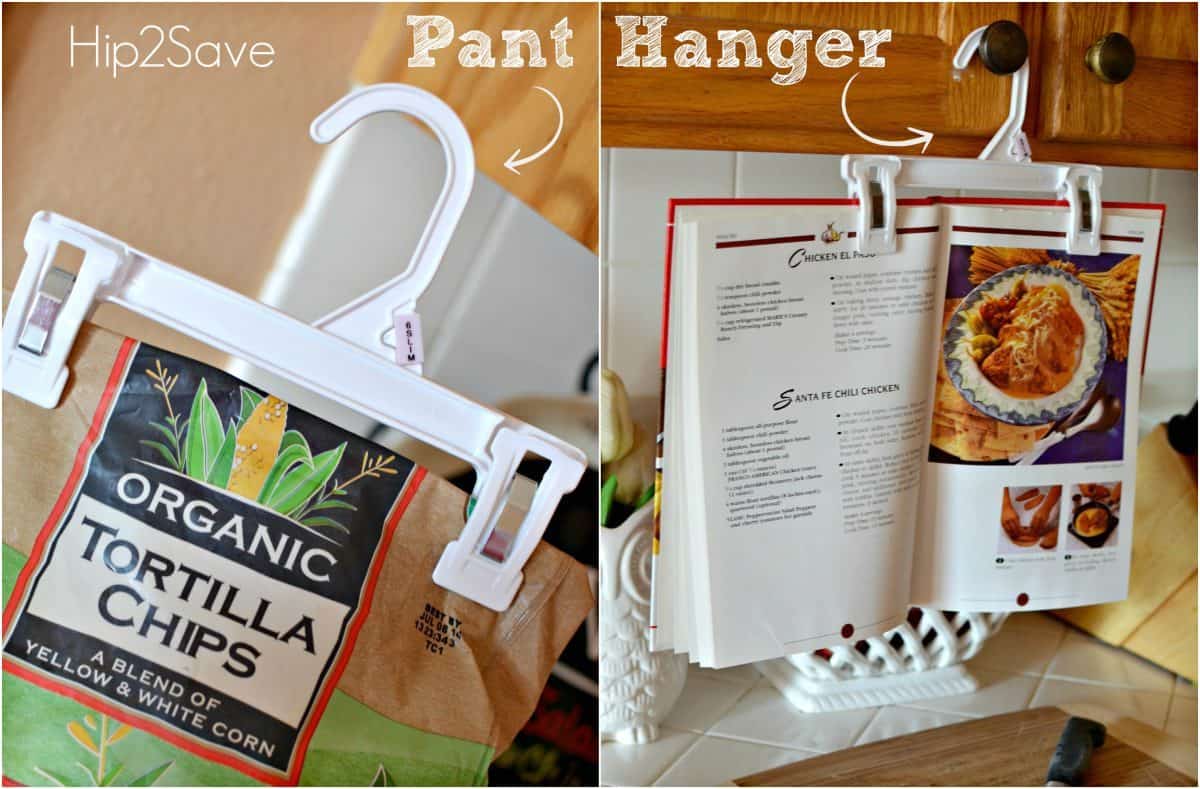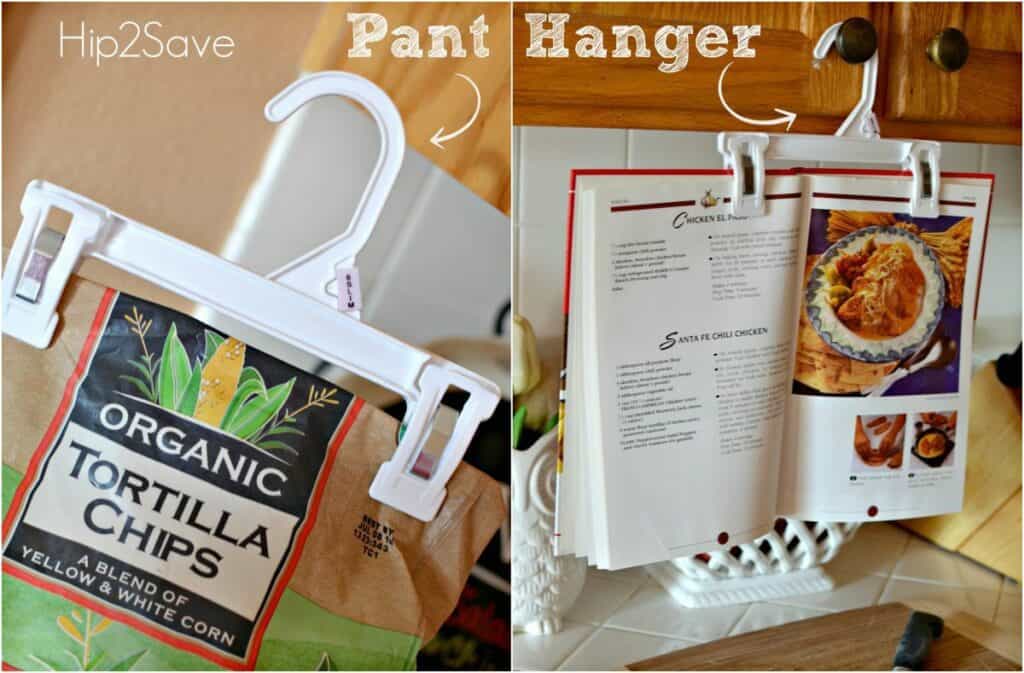 Tip & Image Credit: Hip2Save
Use a Shoe Racks
A shoe rack is such a versatile item and perfect for any room of your house. Sure, you can use them for closet organization but as pantry organization ideas they are also a hit. Especially, if you have a small pantry or a small kitchen overall. Keep your spices, baking soda, and other most used kitchen items ready to use but out of the way.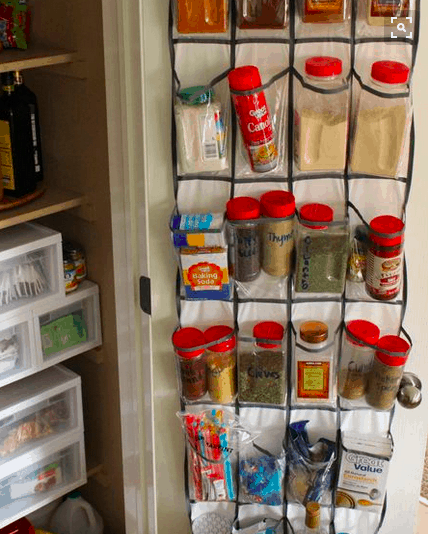 Tip & Image Credit: Pretty Providence
Use Empty Space
The empty space between your door frame and the shelf is perfect for hanging these little wire baskets that are actually desk organizers! A bonus is that you can spray paint them whatever colour you please. They are affordable, small enough to fit in the space but sturdy enough to hold spices and other small bits.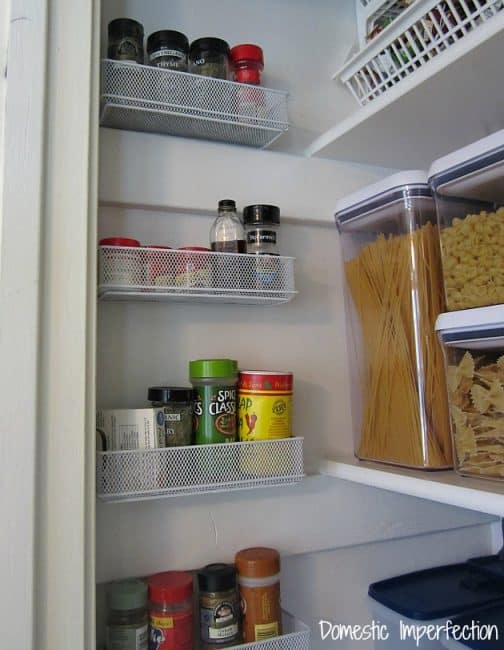 Tip & Image Credit: Domestic Imperfection