This Post May Contain Affiliate Links. We earn a commission if you click this link and make a purchase at no additional cost to you.
I've never met a Command Hook I didn't like. Sounds silly, I know, but they are one of the most versatile home organization items I have ever used. There are so many ways to organize with Command Hooks, and in this post we want to share with you 13 ways to organize with Command Hooks. Whether you're a renter and looking for renter friendly options or just want to keep the holes to a minimum, this post is for you!
Book Slings
This lovely idea used Command Hooks to create 2 book slings for a baby's room. This is perfect if you're just planning out a room and not sure if you want to make any permanent holes in the wall. These bigger hooks hold 7lbs each, so this is perfect for some bedtime books.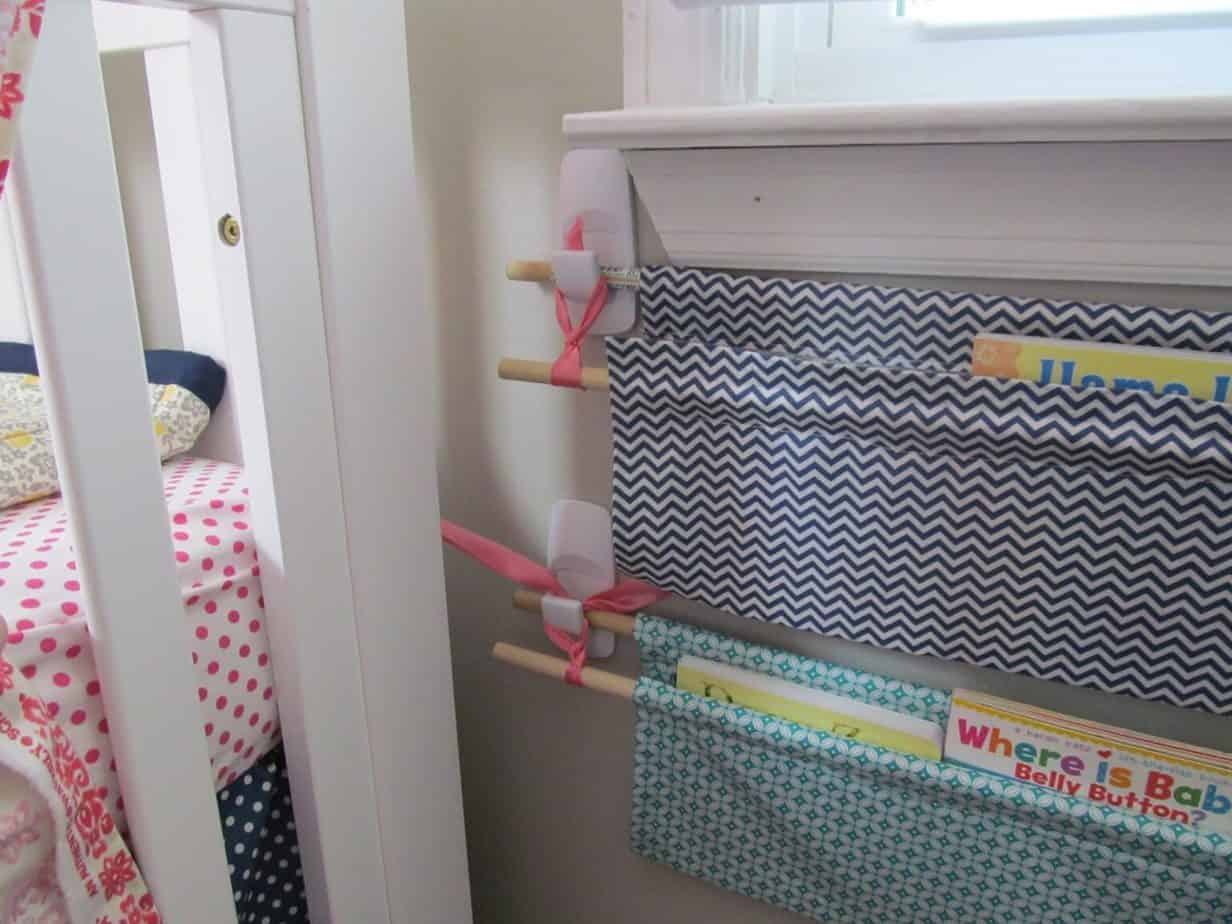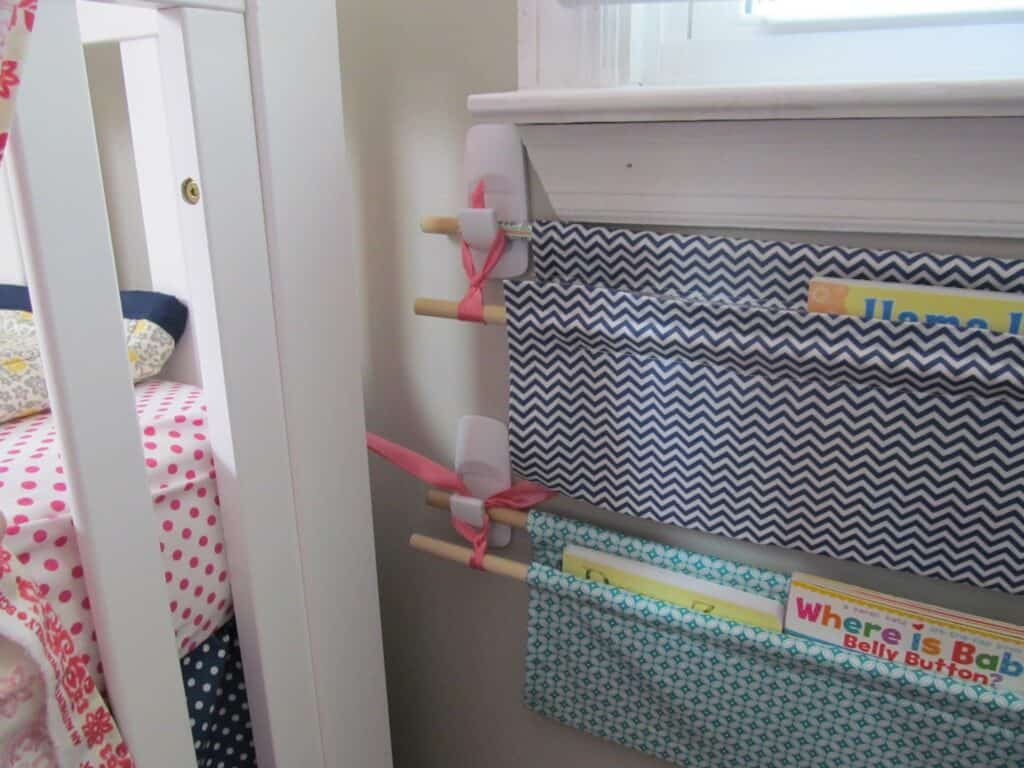 Tip & Image Credit: Projects at the Picketts
Mount Your Tablet
How many of us have been in the kitchen looking up a recipe and just don't know where to set the tablet? Yes, I know it's happened to me! This hack is a fantastic way to use Command Hooks. Take 3 hooks and place them as per the image below, and voila! You now have an affordable and non-permanent solution to your cooking needs. Don't spend much time in the kitchen? This can be done anywhere, so use your imagination.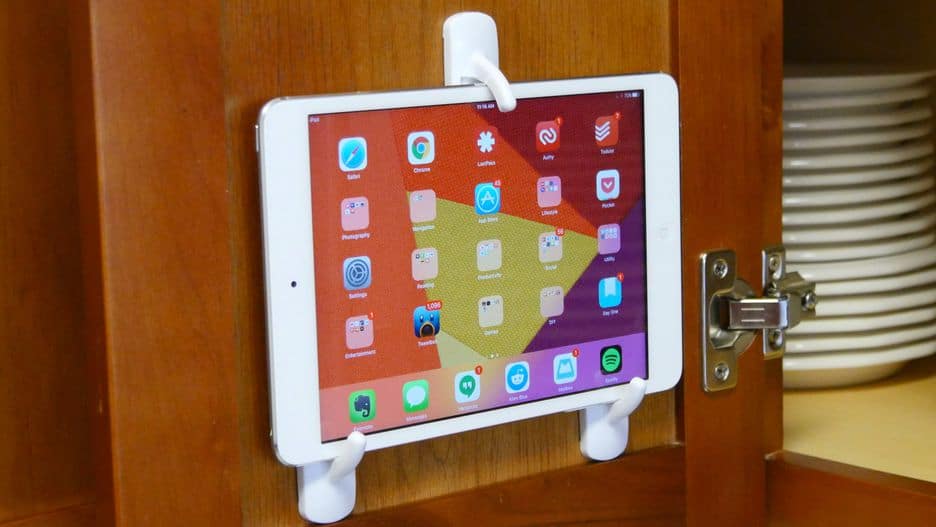 Tip & Image Credit: cnet
Unique Towel Hangers
Command Hooks now come in all sorts of colors, and if you can't find the shade you want you can create it with some spray paint. The point is, no matter what your decor style you can create a unique towel hanger for your bathroom by using a Command Hook, a ribbon, and a towel. This is so cute and will be unique to your home.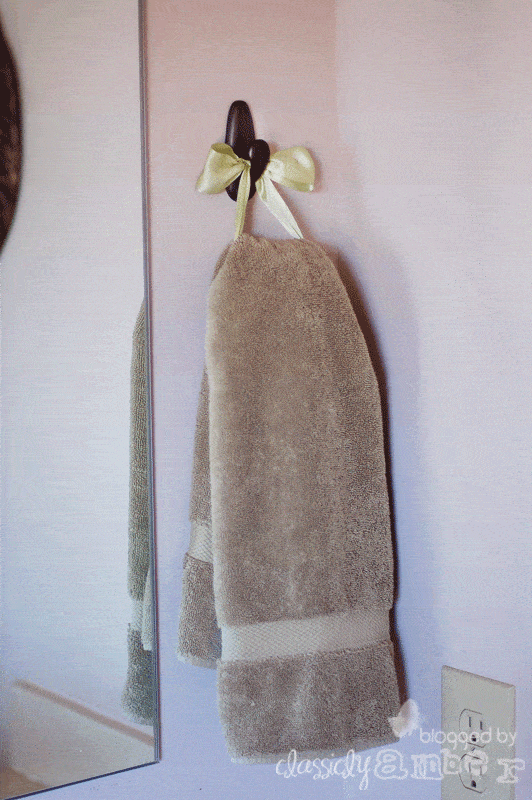 Tip & Image Credit: Classicly Amber
Keep Trash Bags in Place
Trash cans aren't pretty, but it's even less pretty to have the trash bag slip into the bin itself. Keep things oganized by using a hook to keep the trash bag from ever slipping about. Take a small Command Hook and that's it. All it takes is one small hook, and things will be as they should.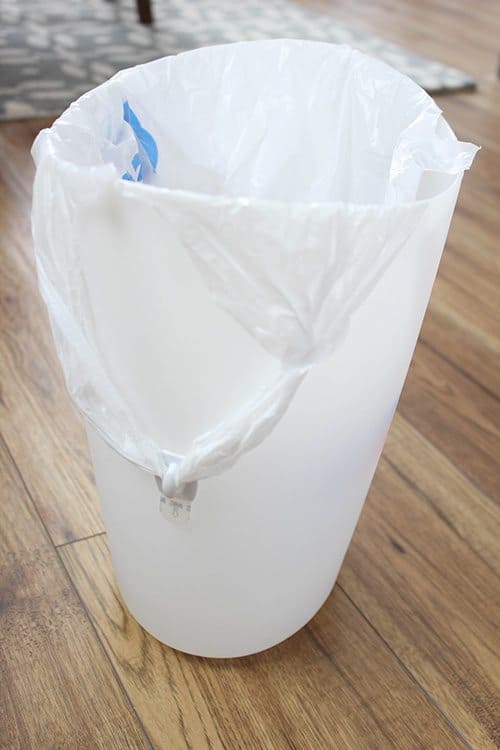 Tip & Image Credit: Creekline House
Organize Your Bags
Keep your most used handbags ready to go by hanging them on Command Hooks inside a coat closet, for example. This way they are accessible and keep their shape. We shared this tip before on Organization Obsessed, so if you're looking for ways to organize your closet check out the post.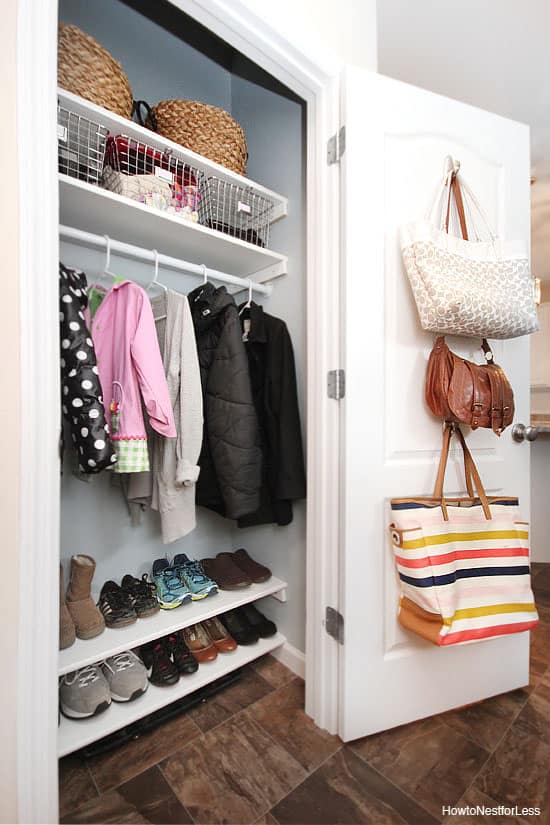 Tip & Image Credit: How to Nest for Less
Use them in the Pantry
Keeping the pantry organized is easy, especially if you take advantage of using Command Hooks. Make use of the vertical space inside your pantry or kitchen cupboard by clipping a hook and hanging all of your seasoning packets.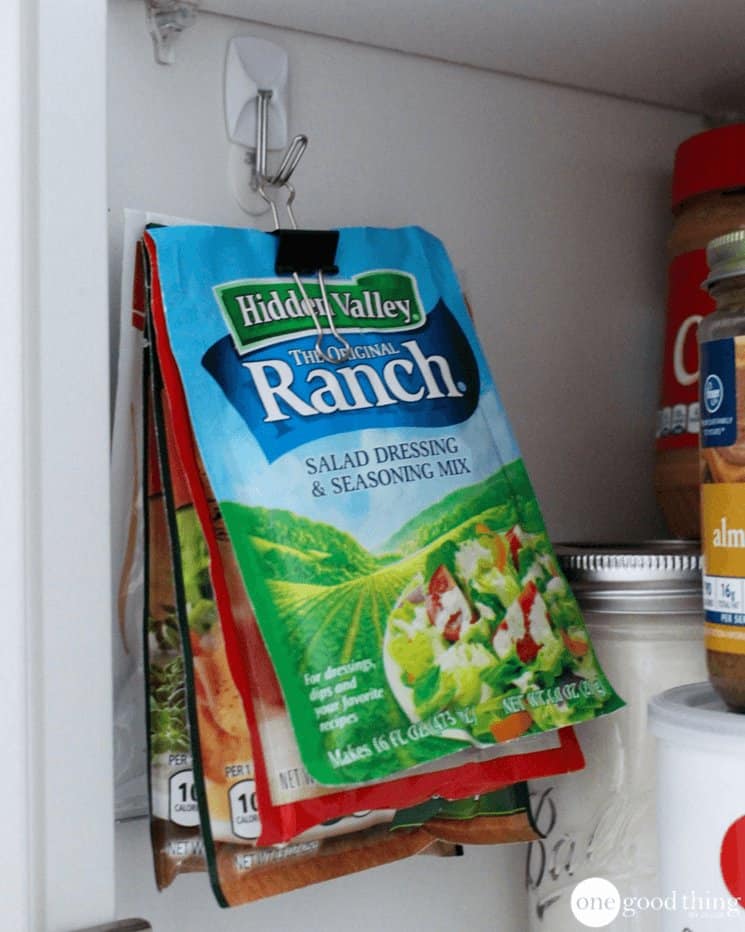 Tip & Image Credit: One Good Thing by Jillee
Display Kitchenware on Them
When we think of Command Hooks we think of practical solutions. Consider using them to display some of your favourite mugs, for example. This gorgeous herb garden is displayed using some lovely mugs and Command Hooks! It doesn't break the bank, and it organizes your kitchen while making use of wall space.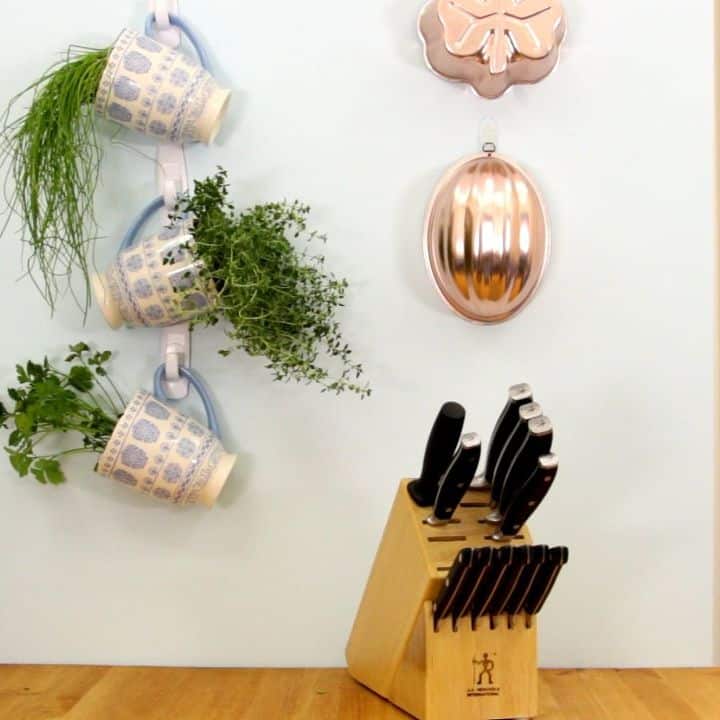 Tip & Image Credit: Home Talk
Organize the Little Things
It's easy to organize the little kitchen utensils, like measuring cups, in places where they are out of sight. Sure, I love organizing using baskets and tubs, but if you have a small kitchen then this idea is a perfect way to have everything be in its place. Who said organized means out of sight? Grab what you need from the hook and put it back when you're done. Simple!
Tip & Image Credit: Home Talk
Organize Your Cleaning Supplies
Keep the space under the sink organized by using hooks to hang your cleaning supplies. From the gloves you use when cleaning the kitchen to the dish brush, keep things out of the way and clear the sink clutter. Not only are they out of the way and leave you more space in your sink and on the counters, but they will also drip dry making them more hygienic.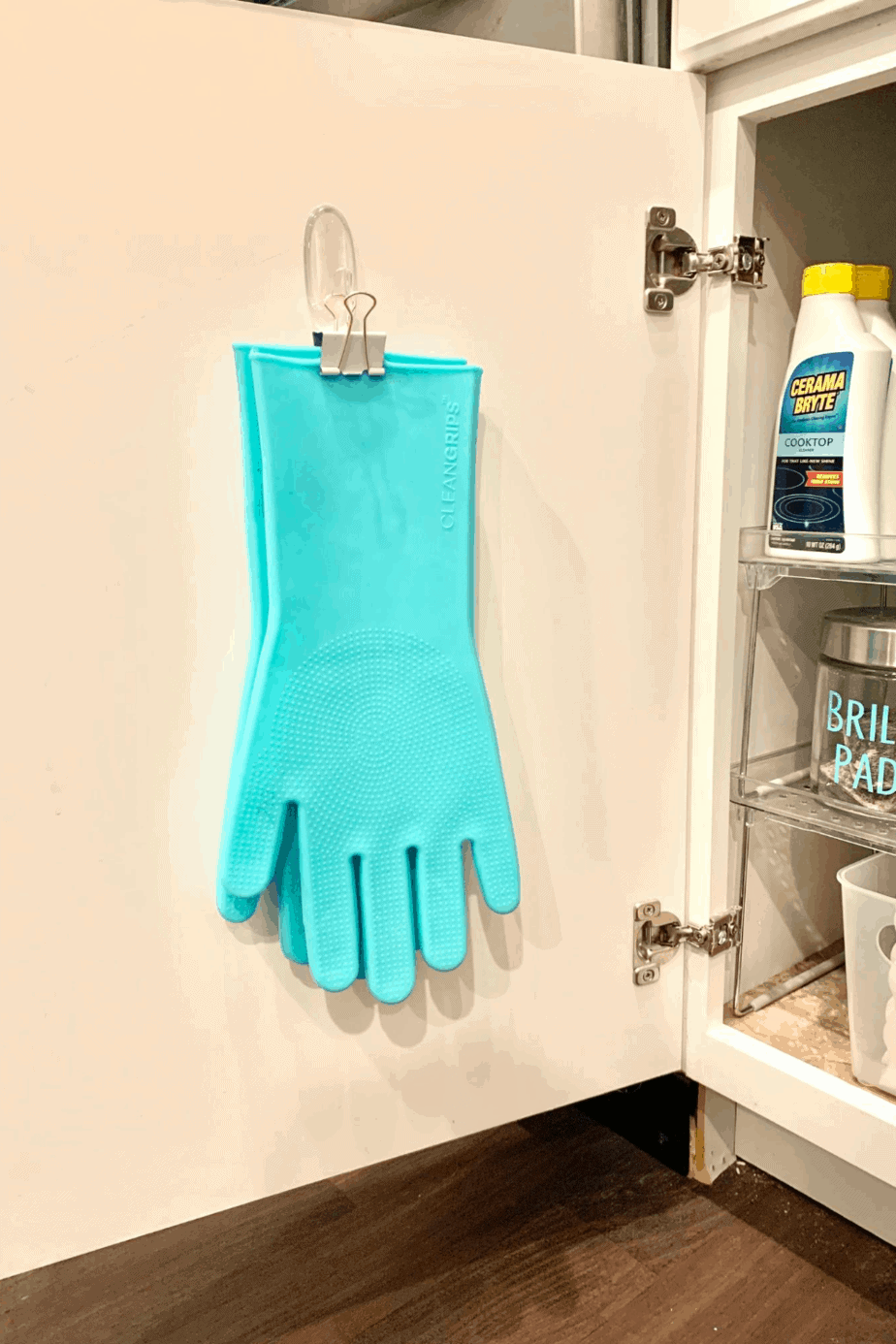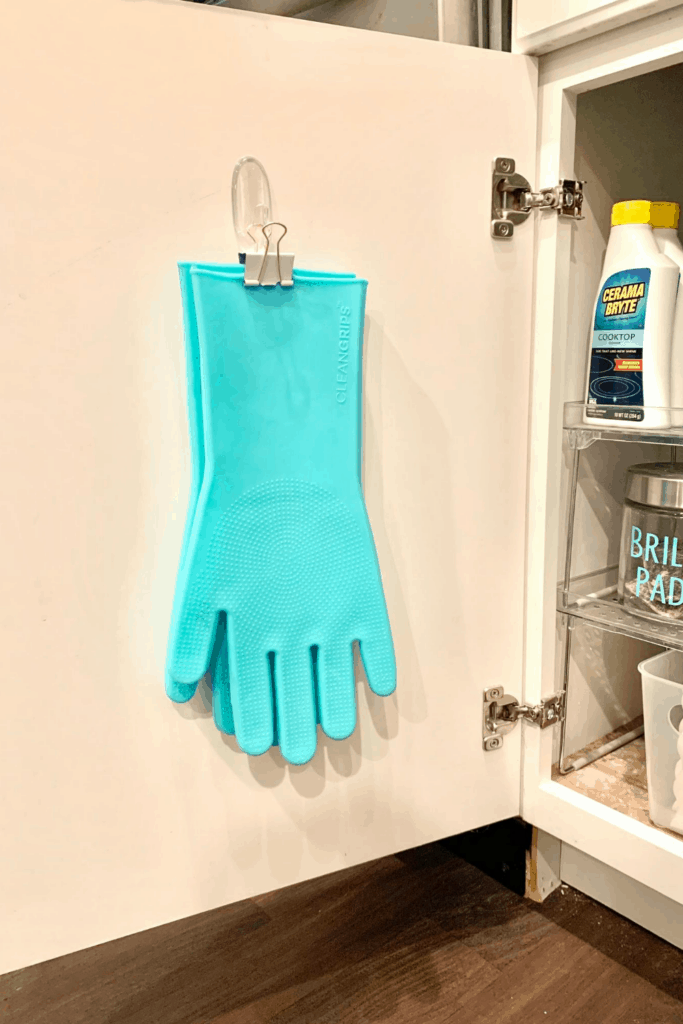 Tip & Image Credit: A Bowl Full of Lemons
Tie & Belt Organization
Organize the closet with this affordable hack! Take a cooling rack, yes a cooling rack in the closet! Use a couple of Command Hooks to hang it and then hang scarves, ties, belts, etc. The list goes on. It's all about making the best of the space that you have to play with.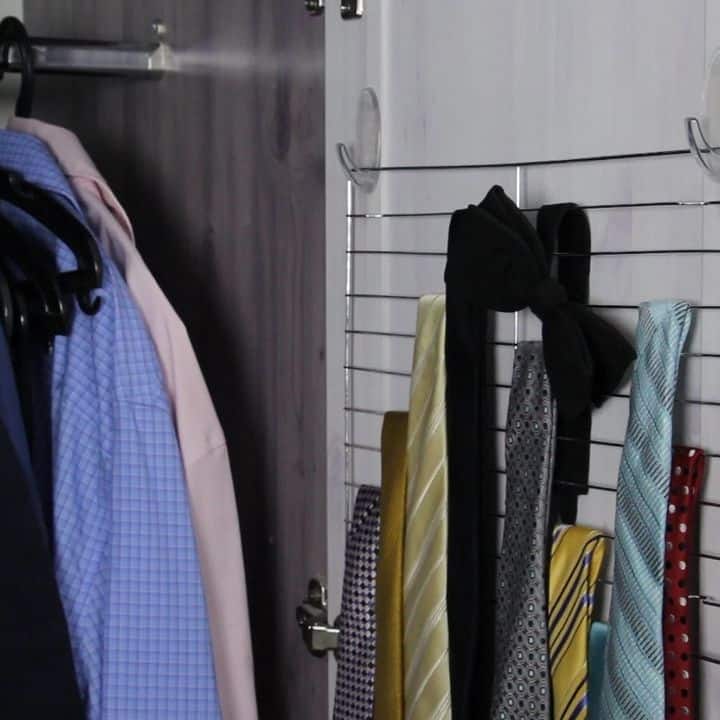 Tip & Image Credit: Home Talk
Shower Caddy Organization
The shower can be one of the most disorganized places in the home. There tend to be bottles everywhere! Shampoo, conditioner, body wash, bubble bath, and the list goes on. If you share your bathroom with anyone then this idea is perfect. Take a shower caddy, a Command Hook, and separate each caddy based on family member.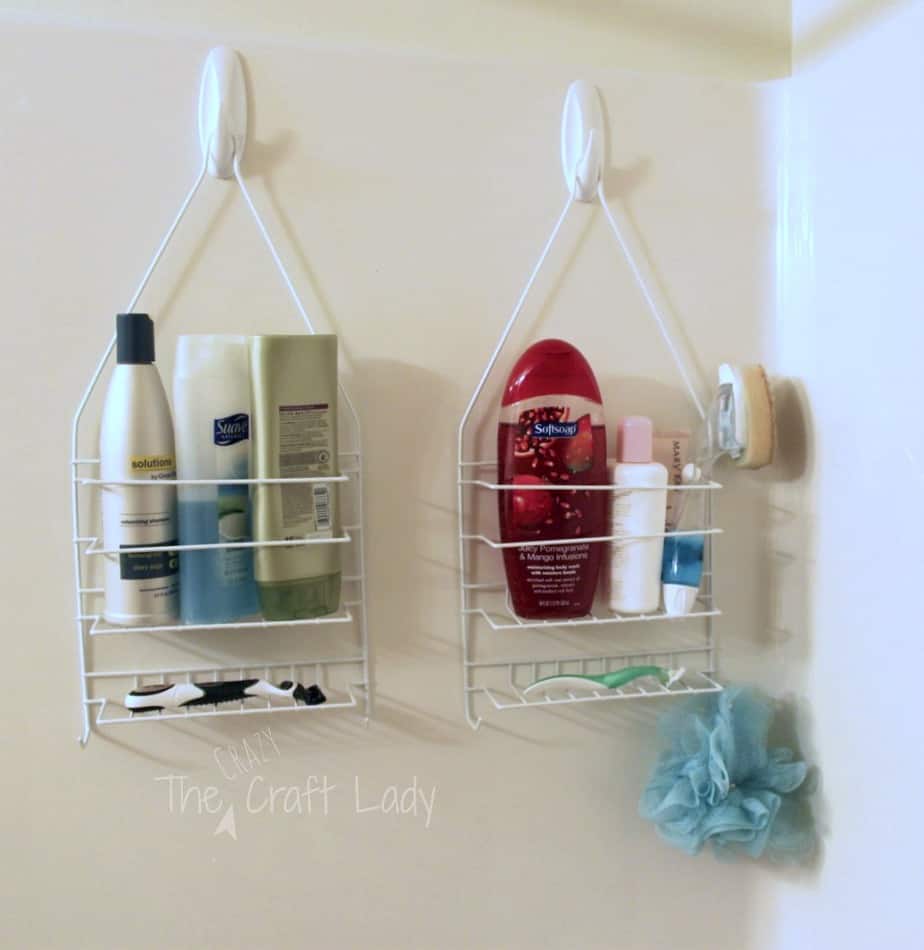 Tip & Image Credit: The Crazy Craft Lady
Key Organization
Keeping the keys organized is one of the biggest issues most households deal with. Instead of fishing for them in pockets and wondering where it is you left them create your own key holder by using a bit of crown molding and some small Command Hooks. The best thing is that you can use any other wood design or anything else really!

Tip & Image Credit: Two Twenty One
Display and Organize Heels
Who said that your heels have to be hiding in the closet? Make use of wall space, either in your closet or your bedroom and display your favorite heels! This hack is actually straight from 3M – the makers of the Command Hook, so if it's good enough for them I'd say it's good enough for us!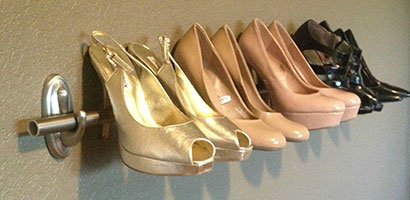 Tip & Image Credit: 3M
The running theme when you organize with Command Hooks is that you can make the most use of vertical space. This is a great and affordable way to keep your house streamlined and everything in its place.