This Post May Contain Affiliate Links. We earn a commission if you click this link and make a purchase at no additional cost to you.
Finding ways to organize on a budget isn't always as difficult as one may think. Sure, we may be inundated with pricy options but for every pricy option, there is always a budget friendly hack! For this post we have collated 16 ways to organize on a budget. From our tried and tested kitchen organization ideas to budget friendly bedroom organization we have you covered.
Cookie Sheet Organizers
You can't deny that there's always that one kitchen cupboard that is a right mess! In my case it's my baking pans that are never really as organized as I want them to be. This simple solution is also an affordable one and one you must try if you're an avid baker! Check out your local dollar store for these extremely affordable baking pan organizers and get that cabinet in tip top shape.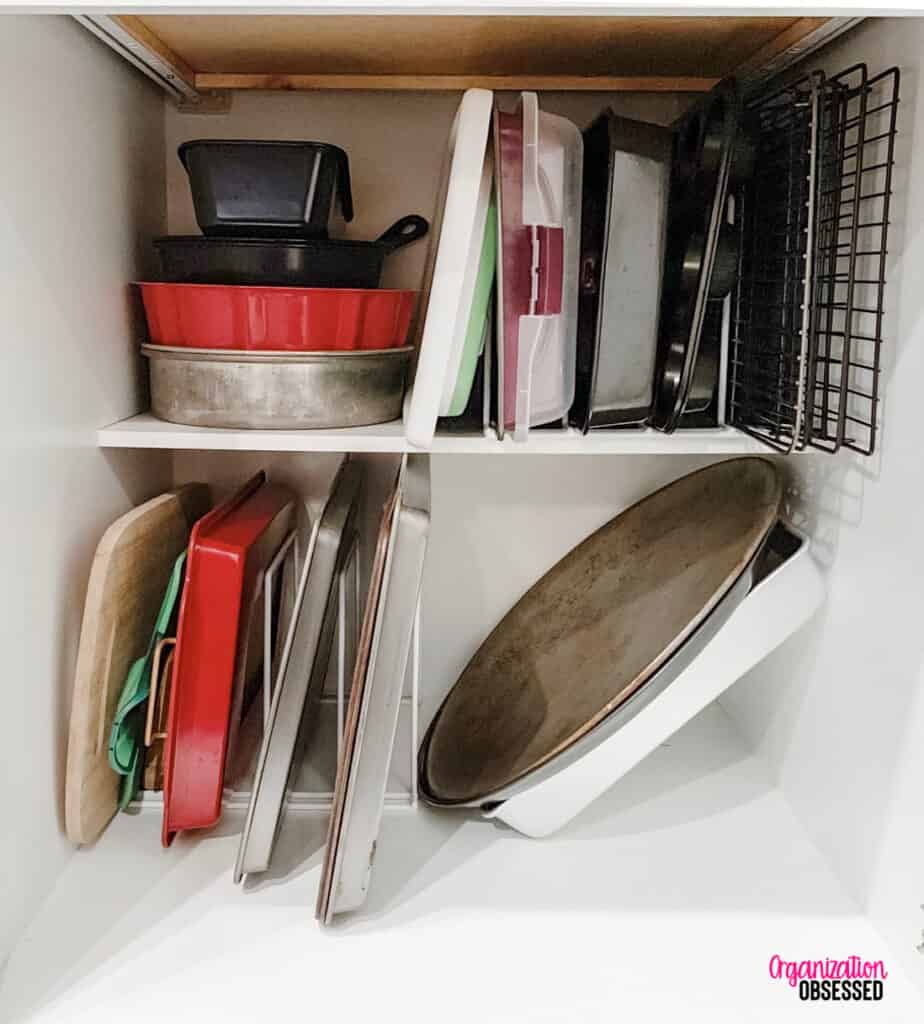 Tip & Image Credit: Organization Obsessed
Organize a Small Pantry
If you want to organize a small pantry then why not do so by using these affordable plastic baskets. The best thing about them, aside from the low price, is that you can usually find them in a variety of colours. This can ensure that you can not only keep things organized based on size but also giving a cohesive look based on color coordination.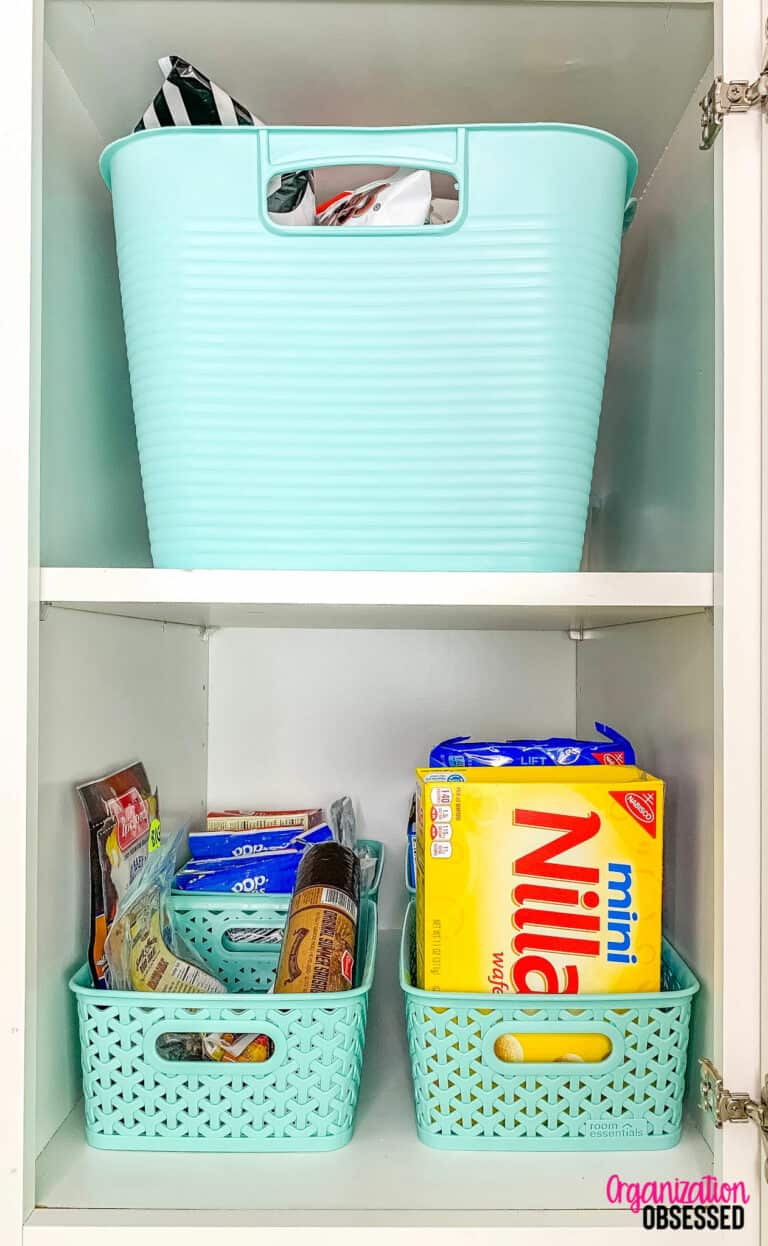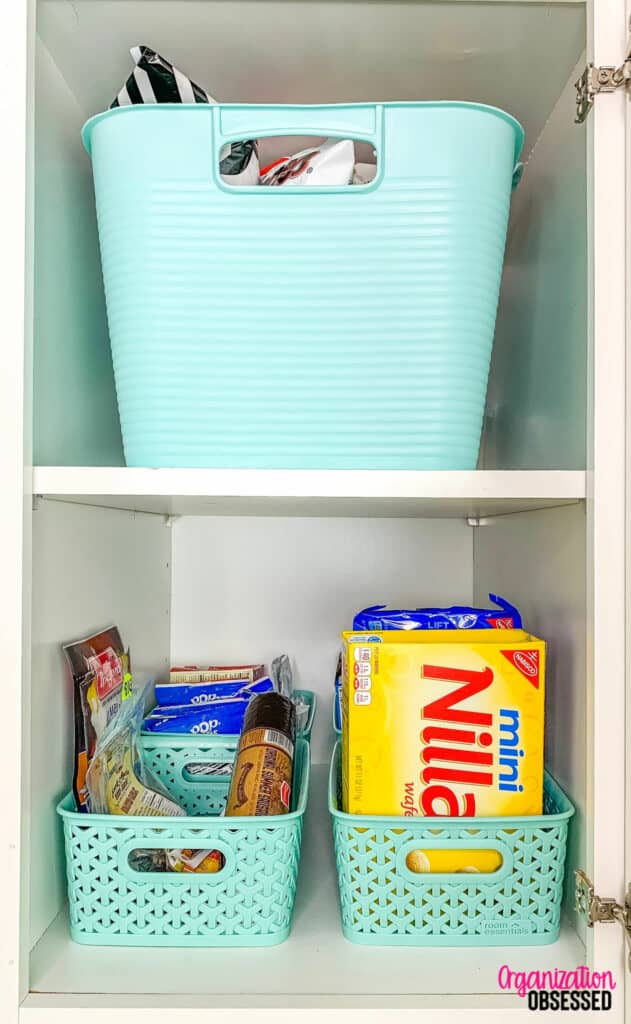 Tip & Image Credit: Organization Obsessed
Use File Racks
You don't have to use items for their intended purposes, that's half the fun of organizing your home, isn't it? Let your creativity run free and keep more dollars in your wallet by repurposing affordable items. You can pick up some magazine or file racks and use them for organizing different parts of your home – from the closet to the bathroom. This idea uses file racks as washcloth organizers for a kids bathroom, neat isn't it?! And not to mention, cheap!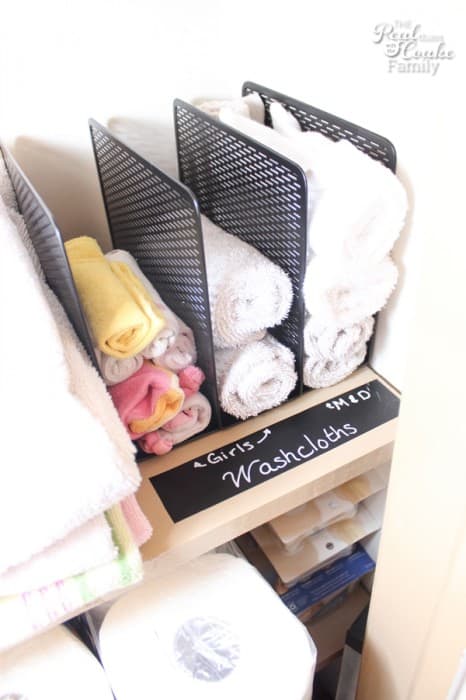 Tip & Image Credit: Real Creative Real Organized
Keep K Cups Organized
Are you a K Cup addict? Then I am sure you've seen so many ways and ideas to keep them organized. The thing is, they're not always affordable ideas. You can't get more budget friendly than using a cutlery organizer! Get your hands on your favourite colour, design, and material to make it truly yours. Not only will they be organized but they will be bang on budget, too!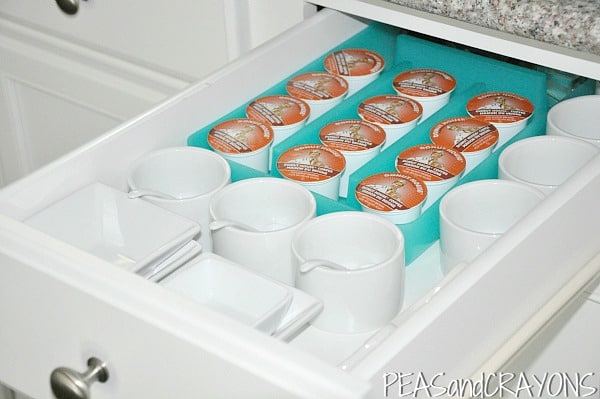 Tip & Image Credit: Peas and Crayons
Repurposed Cereal Container
Our cars are an extension of our homes. We spend so much time taking the kids here and there, running errands, eating in our cars, and relying on them overall. Focus on keeping your car tidy and organized but forget all of the expensive car organizational tools. A simple $1 cereal dispenser can be transformed into a car trash can. This means that you can keep your car clean and organized and your kids can get used to doing so too!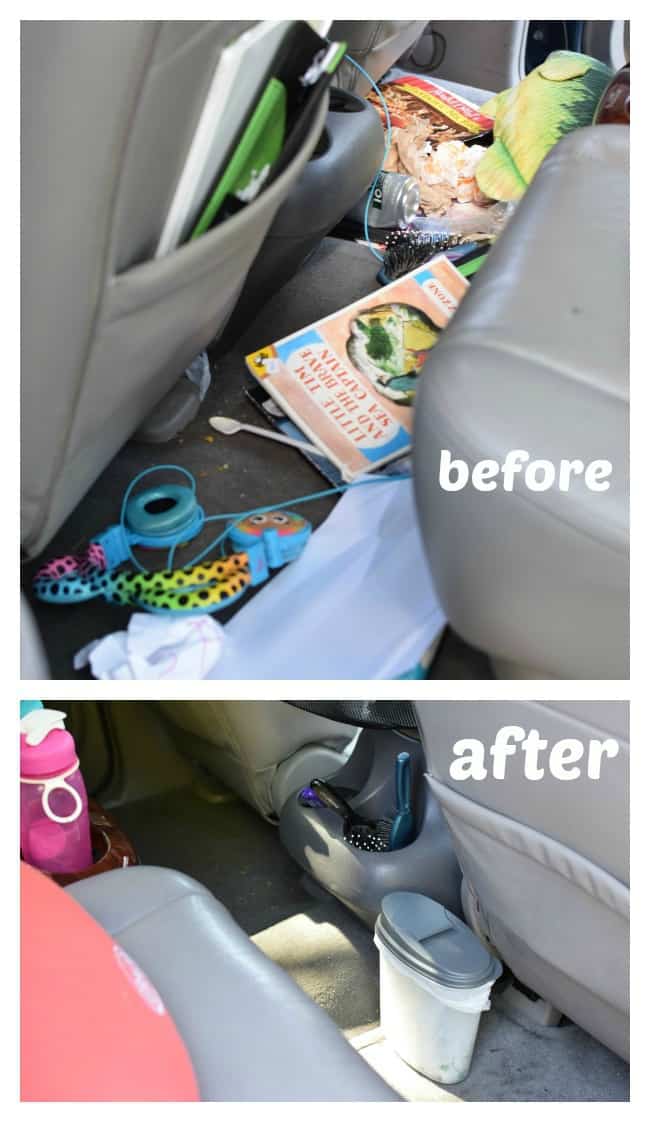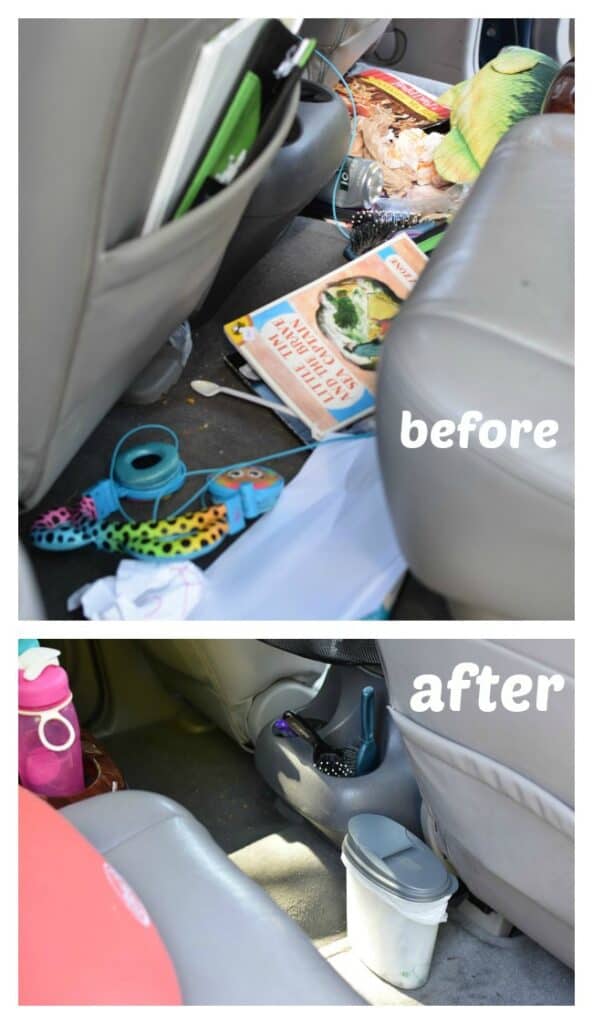 Tip & Image Credit: A Bird and a Bean
Cookie Sheet Command Center
Yes, I know this may sound strange. But if you're looking to have a fun and cute DIY adorn your kitchen then this is it. Create a cute command center that goes with your decor by investing only $1 on a cookie sheet and making it your own with fabric, craft paper, and so much more. Check out the tutorial below!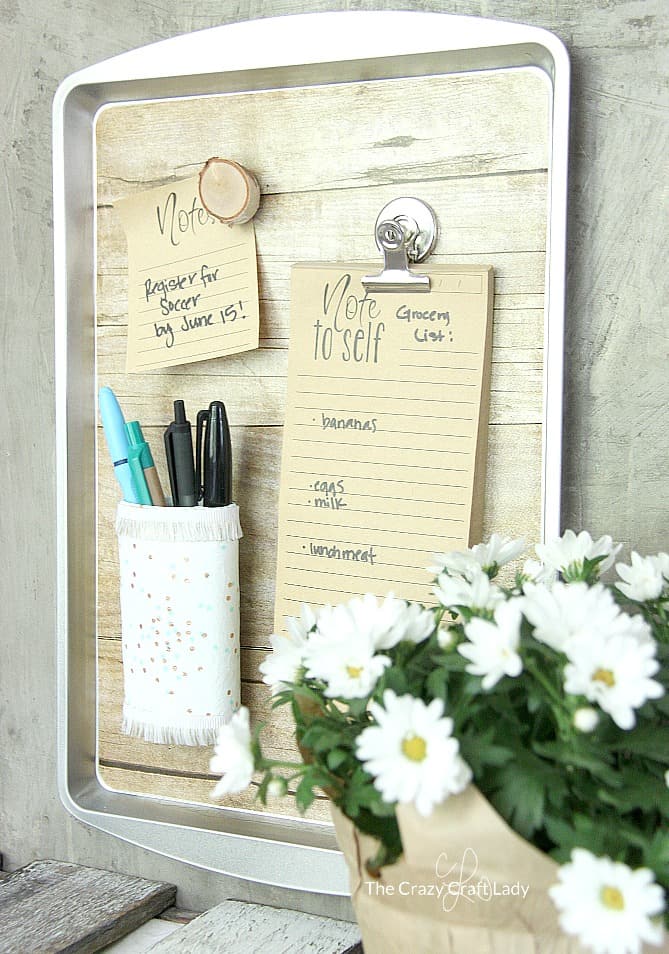 Tip & Image Credit: The Crazy Craft Lady
Napkin Holder to Desk Organizer
This transformation on a budget is so cute, and the best part is that you can involve the kids in it. Turn a basic napkin holder into a personalized desk organizer. You can keep the kids homework in it, their coloring books. or even forgo making it for the kids and make one for yourself. Bonus tip: use a napkin holder like this one for your favourite makeup pallette!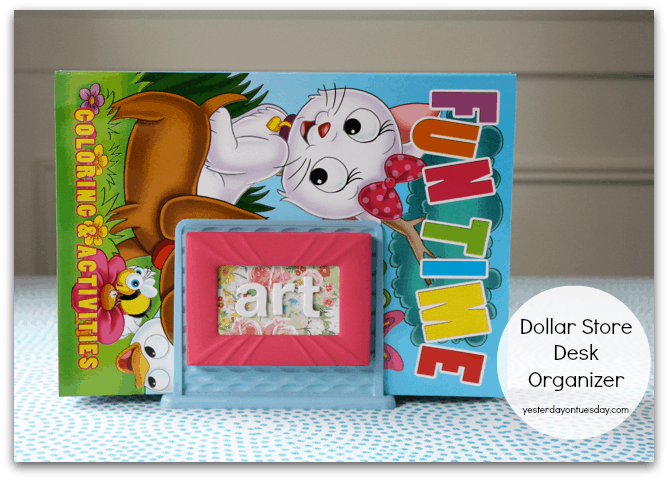 Tip & Image Credit: Yesterday on Tuesday
Shower Caddy Under the Sink Organizer
Tip & Image Credit: 320 Sycamore
Soap box as organizers
Soap boxes may not be very used now a days considering how many of us use liquid soap, but if you have any lying around you can still put them to good use. From using them to store beads and other kids crafts to playing cards you can keep your kids room organized. If you have more than one child then color coordinate them to their favourite colors!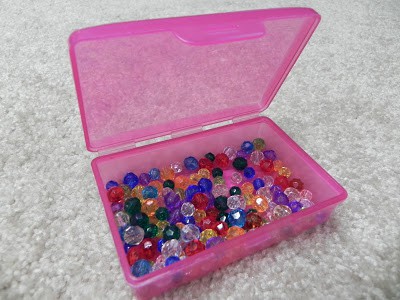 Tip & Image Credit: Shady Tree Diary
Magazine Rack
Use a magazine rack to keep your kids daily artwork and school projects tidy. This is a perfect way for the kids to take responsibility and empty their backpacks daily. This is a great idea for a command center or even a mud room. As always though, the idea can be adapted to suit your own home. Keep your doggie toys and leads in the magazine rack, for example. Modify it to suit your needs.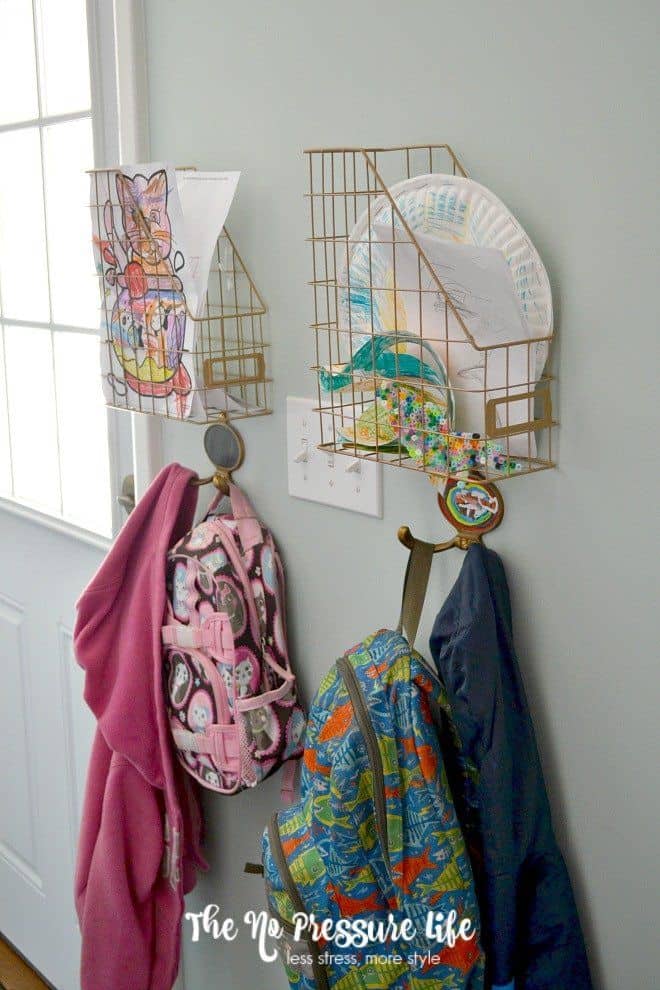 Tip & Image Credit: The No Pressure Life
Mason Jar Tissue Dispenser
Clear the box clutter and ditch the cardboard tissue boxes in favor of a cute mason jar! Part of organization is also streamlining your home to have less waste along with less clutter. Taking a small mason jar and jazzing it up is not only cuter but also takes up less space – it's a win-win!
Tip & Image Credit: iHeart Organizing
Organize Puzzles in Pouches
Another brilliant way to organize on the cheap is to use pencil pouches to organize your kids puzzles. This idea is a really good one because they sell these pouches in so many styles and sizes. You can keep them in a basket, a drawer, or even a binder. Wherever you store them you're bound to see how much space you truly are saving!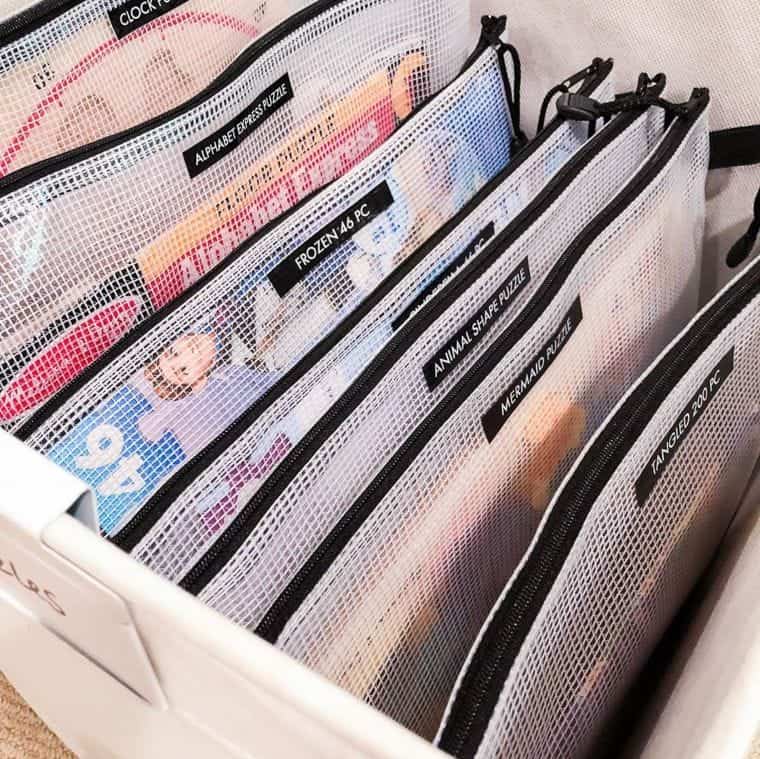 Tip & Image Credit: House of Turk
Ikea Frame to Toy Display
We couldn't talk about how to organize on a budget without an IKEA feature, right?! Well, take the IKEA Ribba frame and turn this $19.99 frame into a toy display that looks like it cost way more than that! This is perfect for kids collectibles, and is a great way to use vertical space.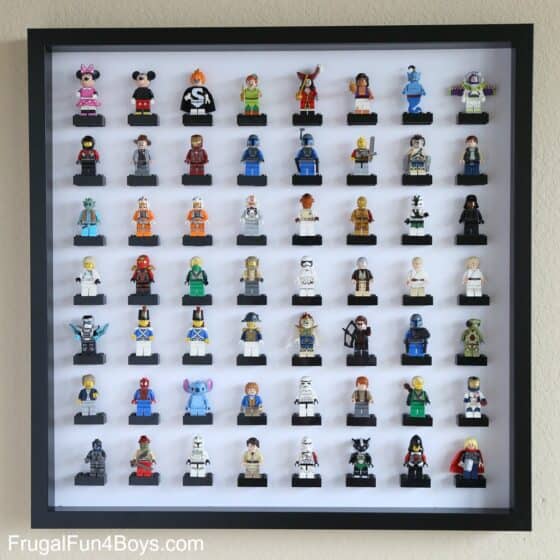 Tip & Image Credit: Frugal Fun 4 Boys
There you go! We hope that these tips for you to organize on a budget help. Remember, you can always adapt things to your home and your needs.
Looking for more ways to organize? Check out these tips from some of my friends and favorite organizers! Read the best Home Organization Tips From Professional Organizers here!