This Post May Contain Affiliate Links. We earn a commission if you click this link and make a purchase at no additional cost to you.
When looking for the best kitchen organizing products to buy for your kitchen, it is hard to know what to get when there are so many options available. You want your kitchen to be organized and functional, but what are the best products to buy, and where is the best place to get them?
These are all questions that everyone has asked themselves at one point or another! So to make it super simple for you, we created a list of some of our favorite kitchen organizers that we use in our own kitchen. These kitchen organizing products are budget-friendly and can be used in any kitchen!
The Best Kitchen Organizing Products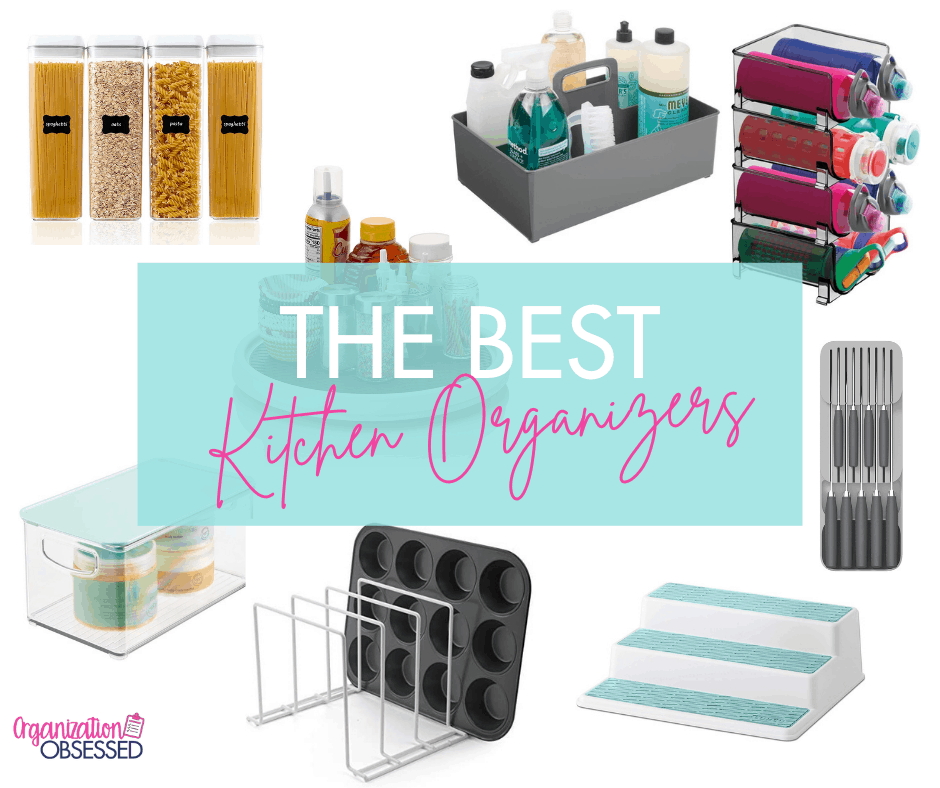 Pantry Organizers
Keeping your pantry neat and organized can be tough with food always coming in and out. That's why we recommend these pantry organizers to keep your pantry organized easier and longer!
An over the door storage rack is a great way to add extra storage to your pantry when your shelf space is lacking. But most importantly, the secret to keeping your pantry organized is to use bins and baskets to categorize your food. Keeping like items together in small bins makes it super easy to pull things out and put them away.
Plus it makes knowing what you need from the grocery store a breeze.
Spices Organizers
Organizing your spices, especially if you have a lot of them can be tricky but using some of these awesome spice organizers makes the process so much easier and it looks great!
Use a spice organizer that mounts to your wall or cabinet doors to free up shelf space. Or tuck away your spices neatly in your drawer with a spice drawer organizer.
Refrigerator Organizers
You probably never thought to organize your fridge, right? But the problem with a refrigerator is that food is always getting shuffled around and pushed to the back. Because of this, it makes it really easy for you to forget what you have and for food to go bad without you ever using it.
There is a great way to solve this problem though and it is with refrigerator storage bins!
Refrigerator storage bins are used to corral your food together and keep your refrigerator organized.
You should be using storage bins for foods like string cheese, yogurts, condiments, sauces, bags of cheese, butter, etc.
Freezer Organizers
I hate freezers! Whether you have a standing freezer or a drawer freezer, they are not made to easily organize food. And while there is no perfect way to organize a freezer since they are all made differently, using storage bins help! We use storage bins in our freezer to keep popsicles together, frozen vegetables together and small packages of meat together.
Under The Sink Kitchen Organizer
Under your kitchen sink can easily become a mess with spray bottles, cleaners, dish soaps, etc. But using organizers can help you make the most of your space and keep it tidy!
Neatly store cleaning supplies and kitchen cleaners with organizers like a cleaning caddy, stackable storage bins, or even a shelf designed to fit under kitchen sinks.
Cookware Organizers
Is your cookware always a mess? Check out these cookware organizers.
Use a bakeware organizer rack to stack and organize your baking sheets and a pot lids organizer for your pot lids.
And a skillet or pan organizer is a must to keep those pans organized.
Silverware & Utensil Organizers
Silverware organizers are a staple in every kitchen, but how do you store your knives and your utensils?
We use a knife drawer organizer and love it! It is so much better than the knife block that you sit on your bar. And to keep our utensils like spoons, spatulas, rolling pins, etc organized we use drawer dividers. Drawer dividers are a great way to take a drawer and split it up into smaller sections. Making it super simple to organize the best way for you!
Storage Containers & Organizers
Neatly organize and store your food storage container lids with a food container/lid organizer. Save space in your cabinet and have quick access to your containers and all your different lid sizes with this organizer!
Kitchen Storage Organizers
There are a lot of things you have to store and organize in your kitchen besides food and cookware. So what do you do with things like wraps and foils, water bottles and cups, etc?
Well to wrap up this list of the best kitchen organizing products, we are finishing with some of our favorite kitchen organizers to organize "everything else."
These kitchen organizers can be used almost anywhere in your kitchen and be used to organize multiple ways!
Where To Buy The Best Kitchen Organizing Products
All the kitchen organizing products we have listed here are from Amazon because we LOVE Amazon! They have a lot of products that you cannot find in stores like Walmart or Target like acrylic storage bins, canned food organizers, or water bottle racks. So when it comes to buying kitchen organizing products, we highly recommend Amazon. But they are not the only store we recommend!
Another favorite place of mine to shop for kitchen organizers is Tj Maxx and Home Goods. They always have unique storage bins that you can't find everywhere.
And lastly, we of course recommend the Container Store if you have one near you! You can find EVERYTHING to organize your kitchen at the Container Store.