This Post May Contain Affiliate Links. We earn a commission if you click this link and make a purchase at no additional cost to you.
Baby's room should be cozy and organized, even if it is a small space! If you're looking for baby storage ideas for small spaces to make your baby's room more functional, take a look at this list! These Amazon products can make the process of creating a comfortable nursery much less overwhelming.
For new parents, working with a small space to create a baby's nursery can be a challenge. But if you purchase the right products to help you make great use of the space, you will certainly fall in love with your baby's room!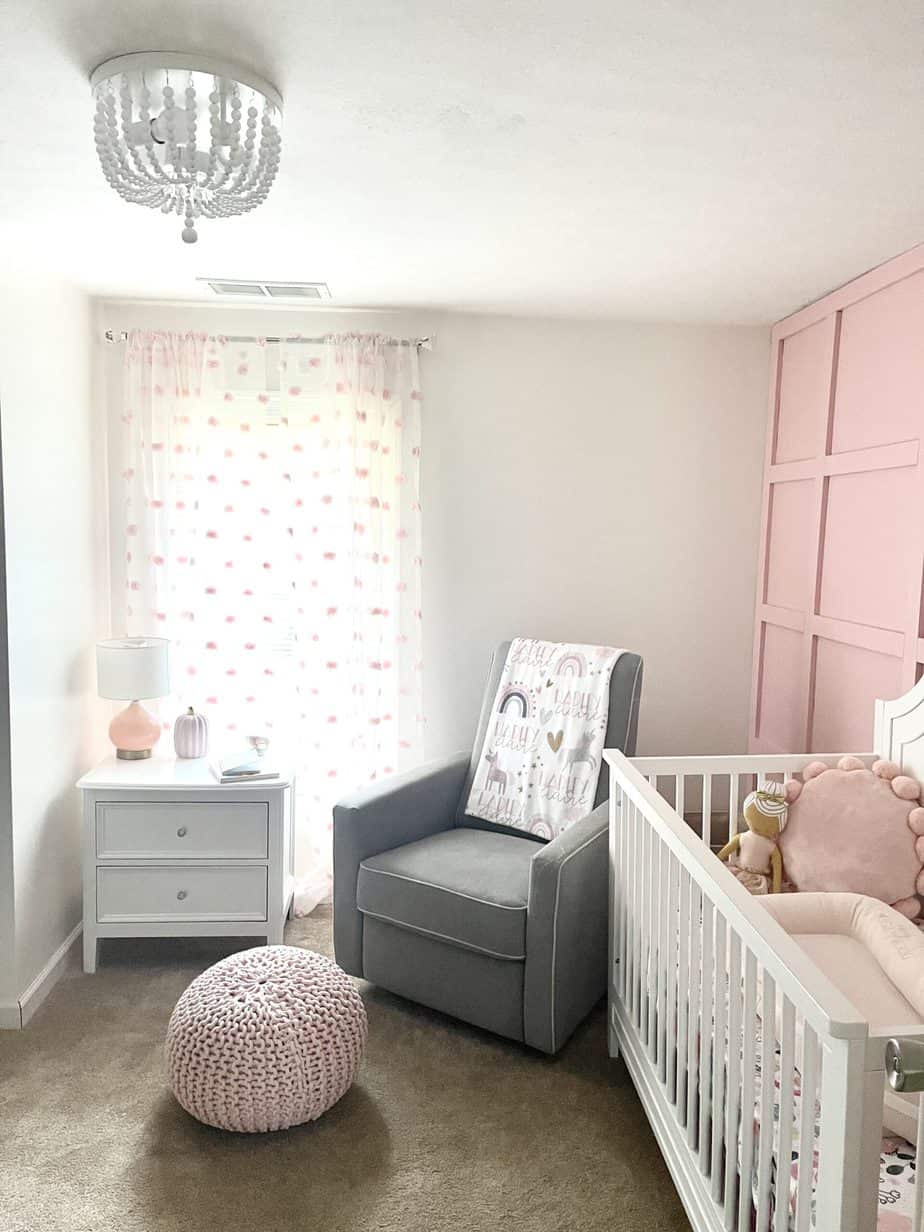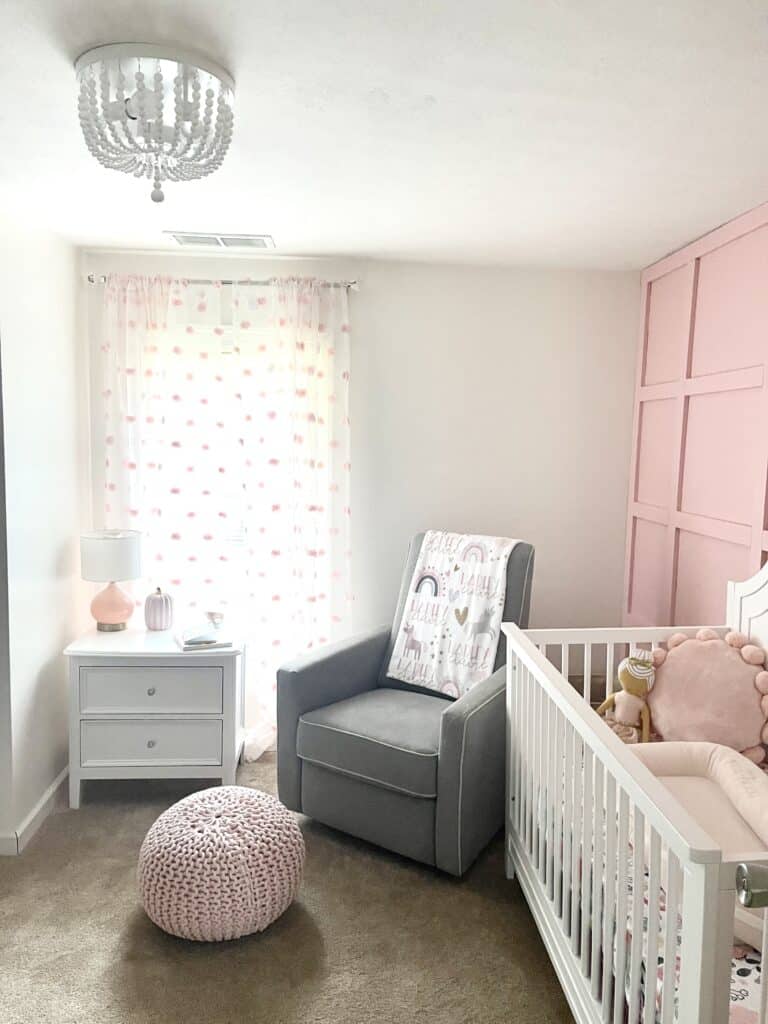 How to Make the Most of Out of Small Square Footage
Pick a color palette that will make the nursery look airy and bright
Select furniture that is cute yet functional
Install wall ledges for extra space!
Purchase organizers and dividers to help you find the baby's essentials more easily
If you don't have room for much stuff, limit the options in you baby registry and stick to the absolute baby essentials
13 Baby Storage Ideas for Small Spaces
The following ideas contain affiliate links to Amazon products. If you make a purchase through my recommendations, I will receive a small commission at no additional cost to you.
1) Use Colors to Make the Room Feel Bigger
Color palettes can really make a difference in how we perceive the space of a room. Whites, grays, and pastel colors can make a small space feel bigger. This gray-colored nursery with creamy white furniture is very soothing!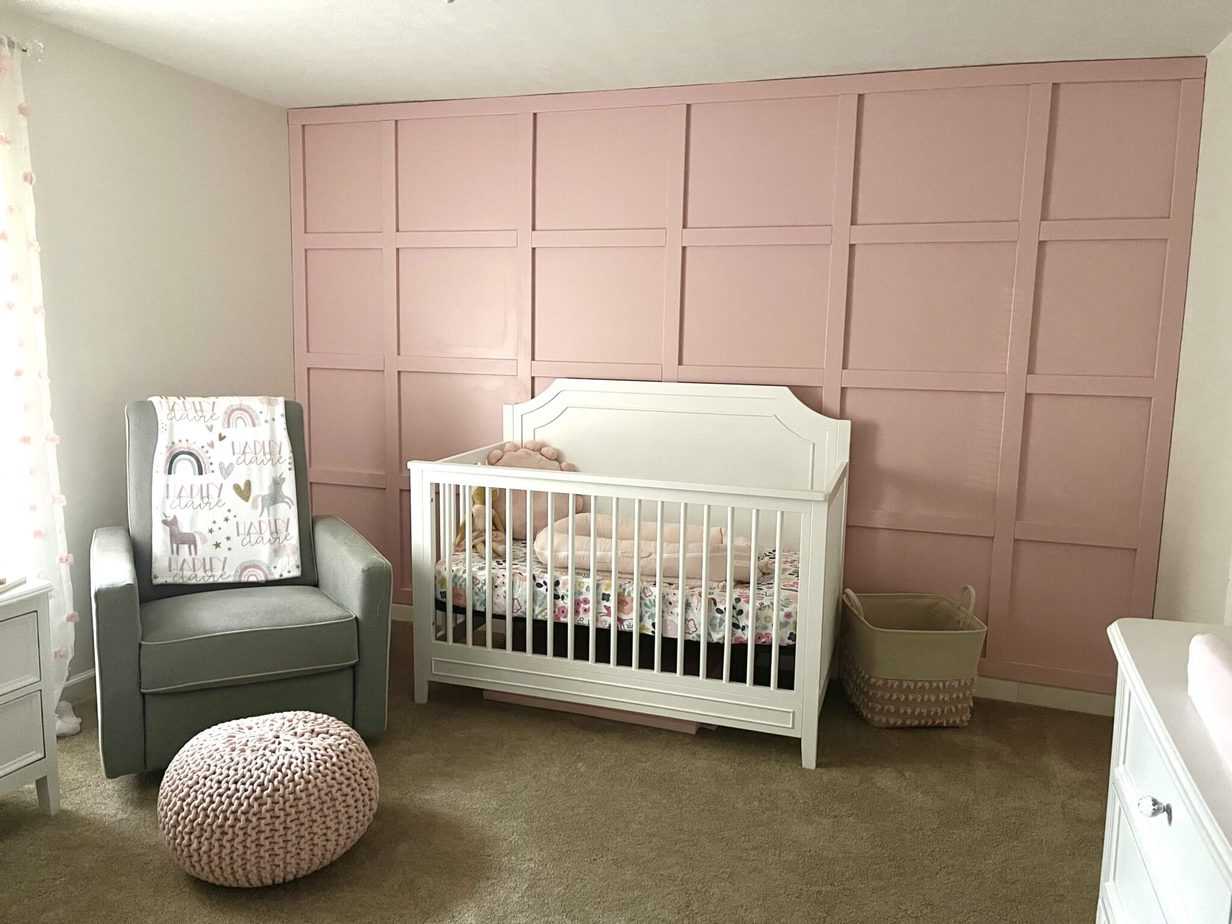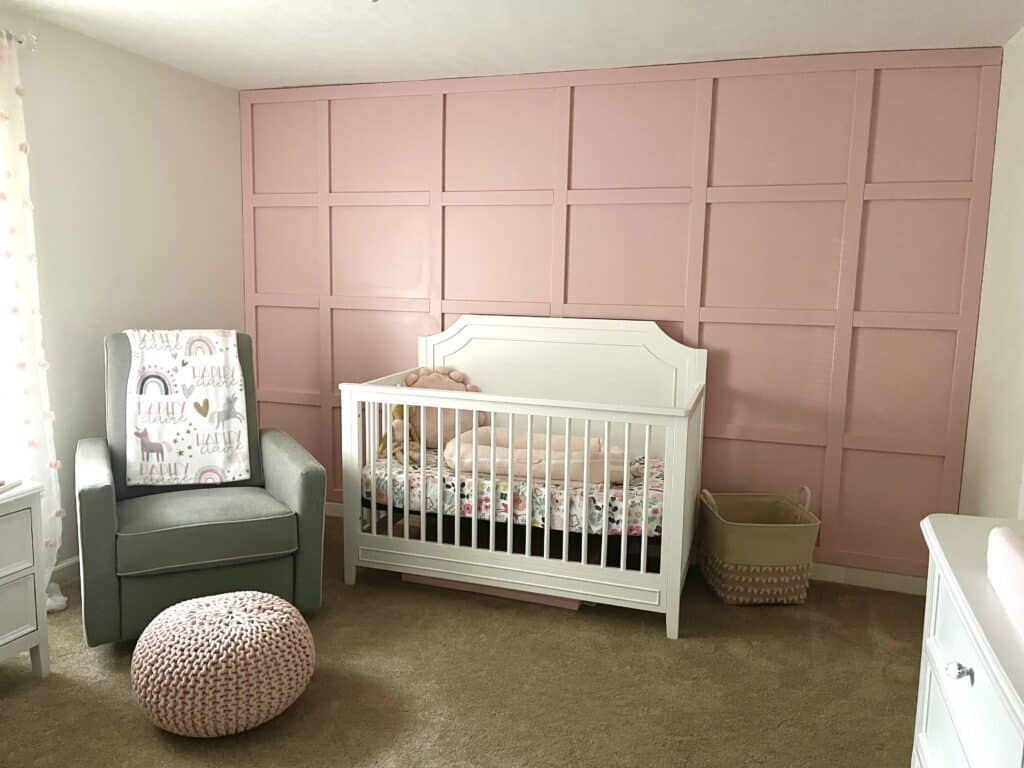 Here are a few color suggestions that'll make your small nursery feel cozy:
Cream, ivory, or vanilla
Pastel green
Lavender
Pastel pink, blush
Gray or blue-gray
Earth tones
If you'd like to see a little pop of color in the nursery, you can create an accent wall that adds depth and style to the space.
2) Purchase a Mini Crib
Cribs come in all shapes and sizes but it makes the most sense to purchase a mini crib. Small furniture can certainly give you enough room to work with.
3) Purchase a Multi-Functional Dresser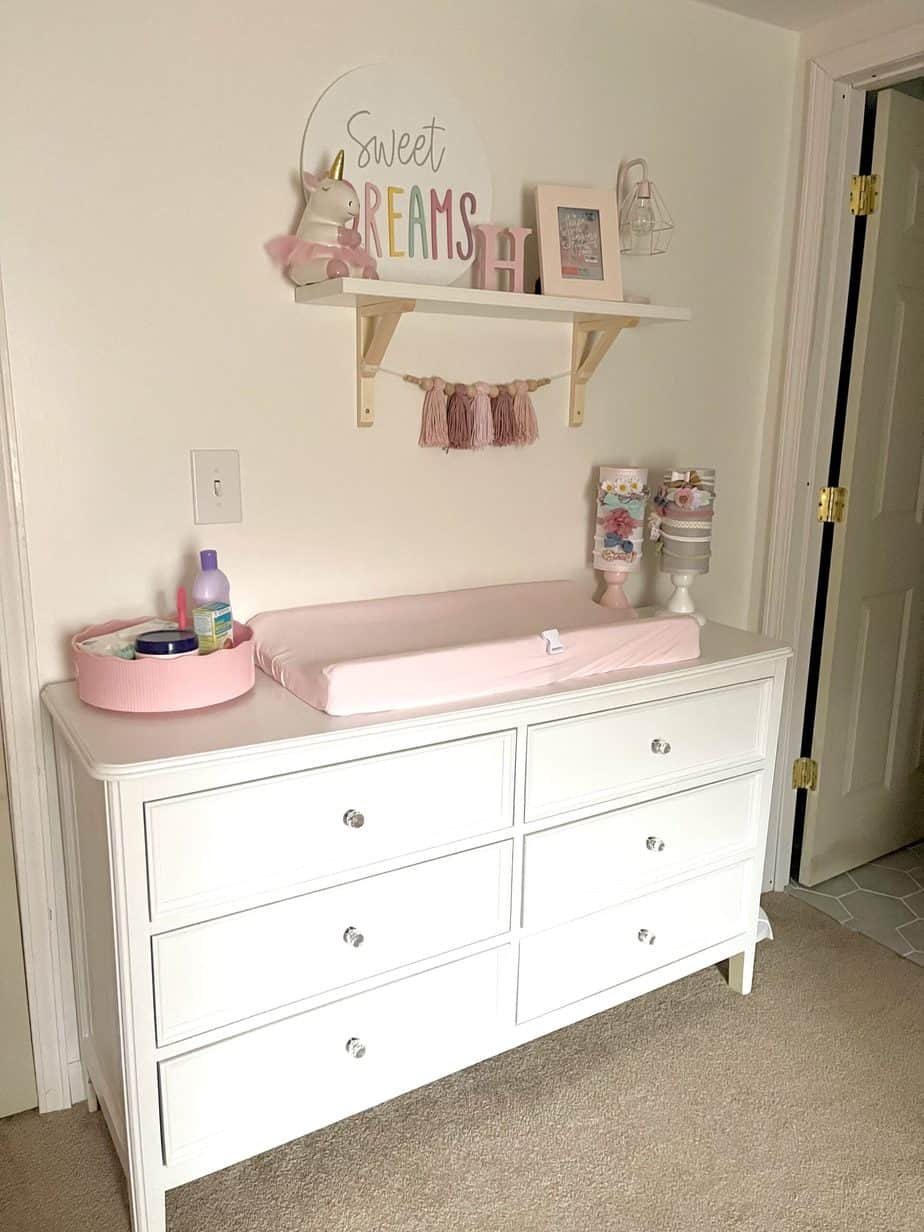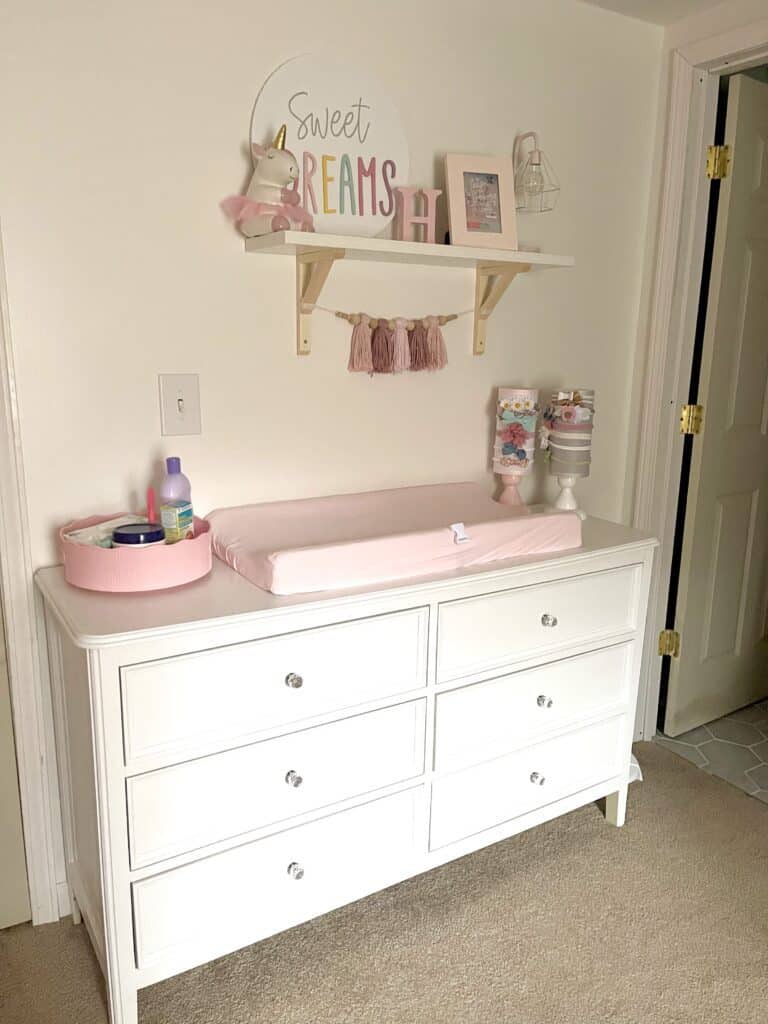 Gone are the days of the traditional changing table. Dressers are made for more than storing the baby's clothes.
You can leave an open space on top of the dresser for a changing pad when you need it. So the dresser can work as a changing station as well as storage for baby clothes.
4) Drawer Organizers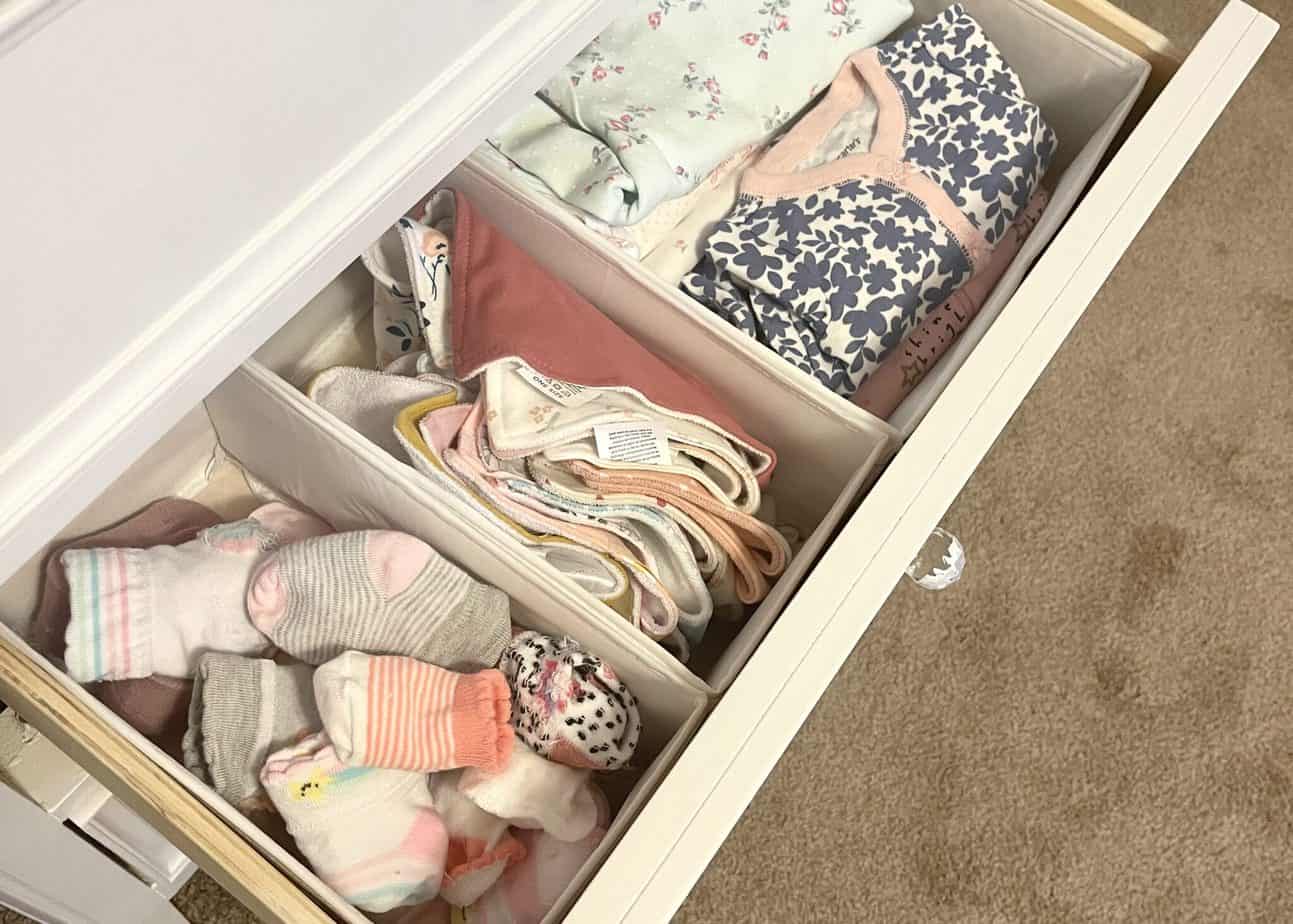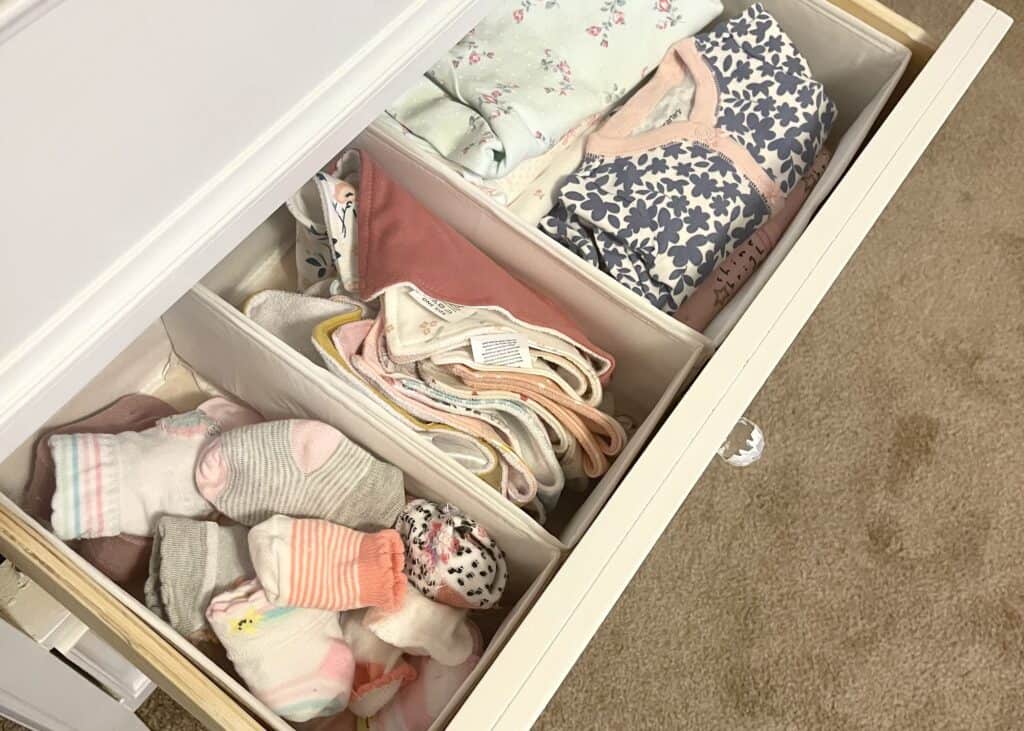 Within the nursery dresser, you can add drawer organizers to make it feel like you have extra room by separating onesies, shirts, pants, and socks.
5) Hanging Organizers
Another key way to add additional space to your nursery is with hanging organizers! A hanging door organizer can go on the back of the closet door (if you're deciding to keep the closet doors).
6) Create a DIY Diaper Storage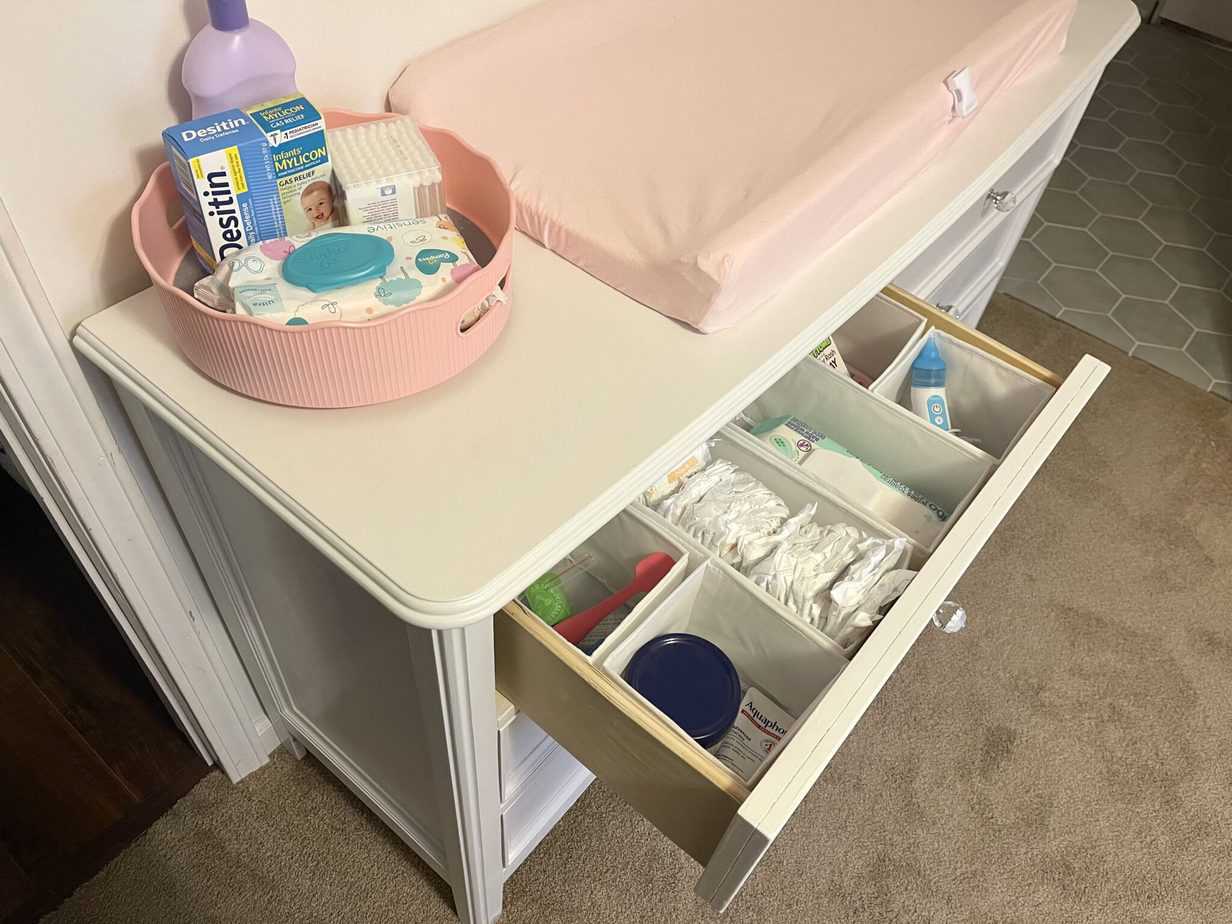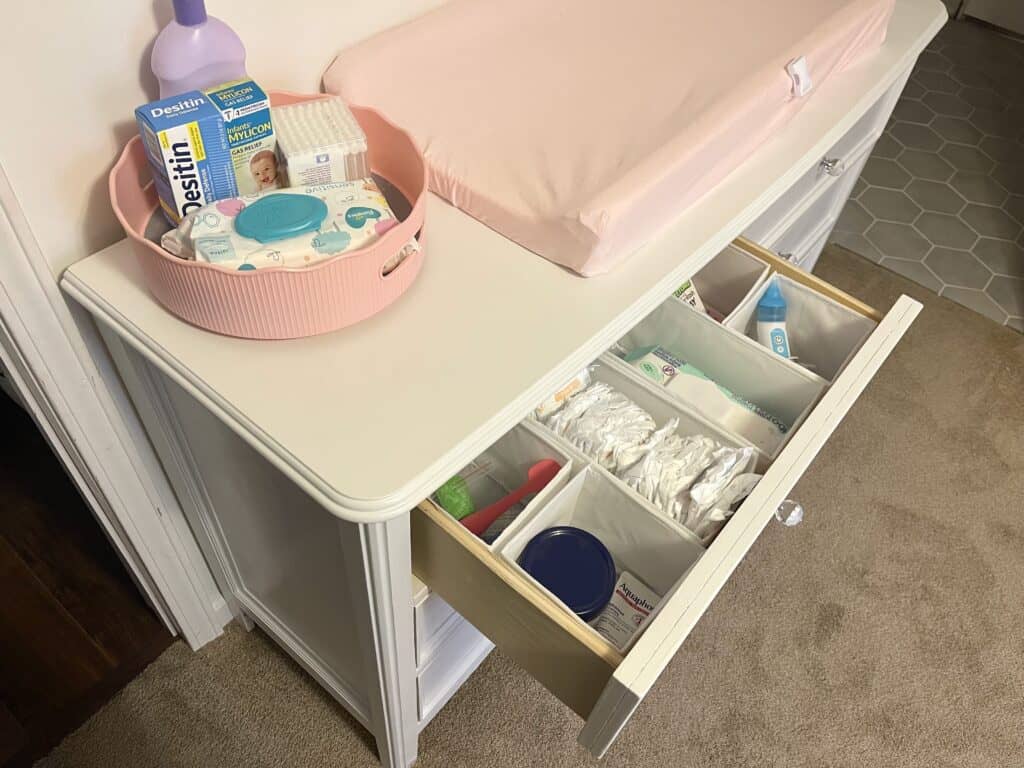 You can place a cute diaper caddy on the floor next to the dresser or crib. Or you can use a rolling cart to create a DIY diaper changing station! Here are some things you can store in the rolling cart to make your life a whole lot easier:
diapers
burp cloths
baby wipes
rash cream
baby powder
changing pad covers
diaper pail
hand sanitizer
baby lotion
7) Use Baskets to Declutter
One of the easiest ways to keep a small nursery tidy (or any space for that matter) is to purchase some storage baskets.
They can help a small space feel less cluttered and give the room a cohesive look. You won't regret this purchase!
8) Under Crib Storage
When you're working with a small space, it's important to utilize every last square inch of space.
If you have a lot of baby clothes, extra diapers, or books to store, take advantage of the space that's under the crib! These storage containers are a perfect size, even for mini cribs.
9) Utilize the Wall Space
Ledge shelves are pretty easy to install and they give you more open space to place children's books.
You can use something like this set to display some baby toys and wall art, or you can use this set to display some children's books!
Here are some other things you can hang on the wall to open up the space:
Baby's newborn photos
Bow organizers which are especially cute for a girl's nursery!
10) Remove Closet Doors
When you're working with a small room, the closet doors can make the nursery feel cramped. Removing the doors can give you the opportunity to place your dresser or storage bins within the closet area, which gives you easy access.
Related: 14 Closet Organization Ideas
11) Small Closet Storage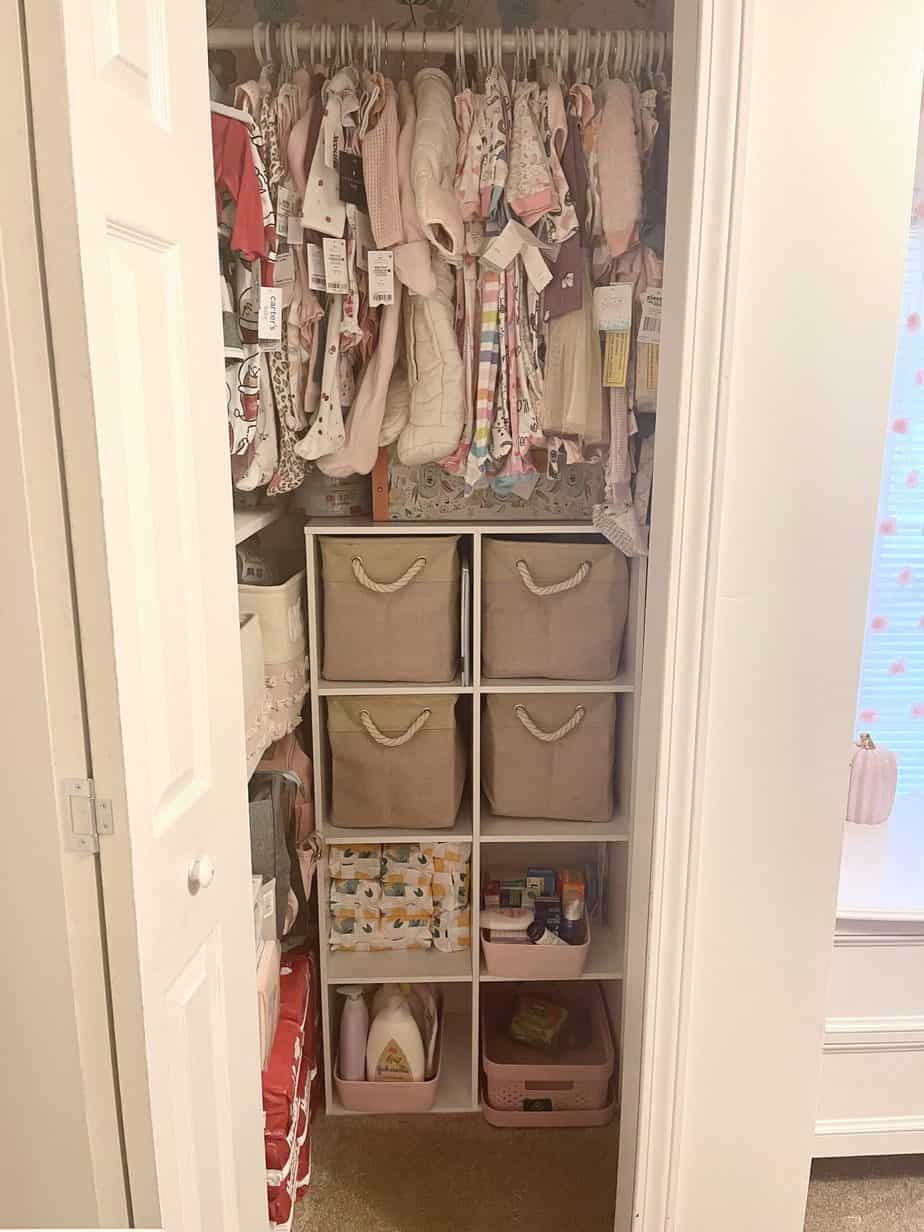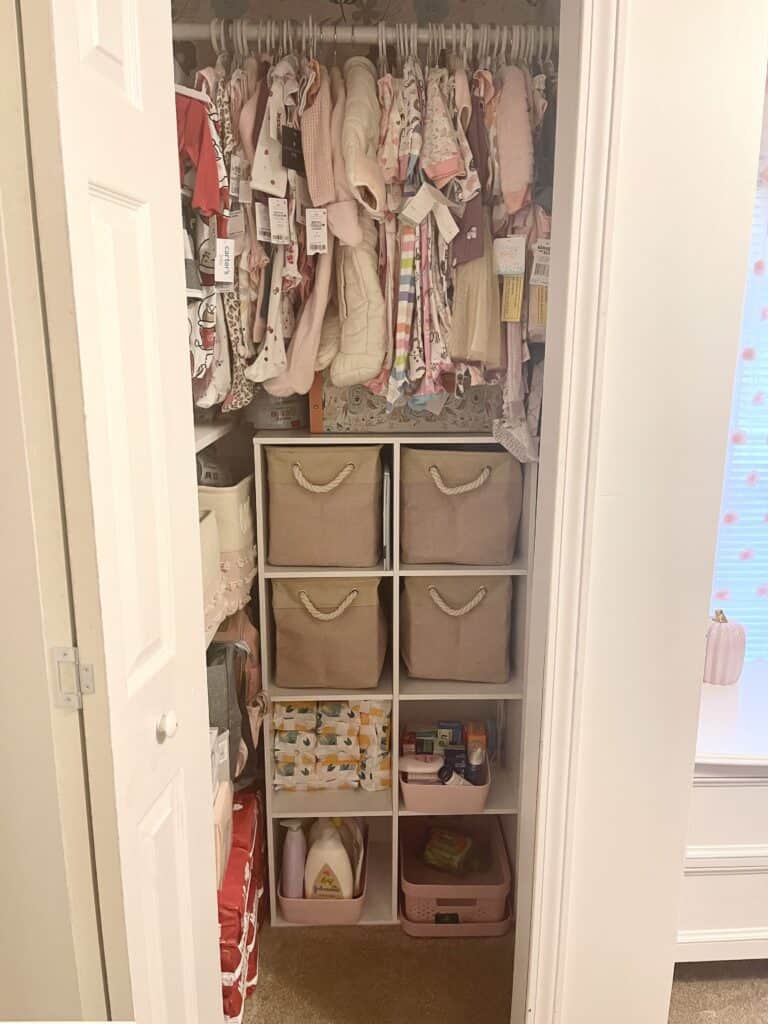 If removing the closet doors isn't an option, here is another idea for you. Small closets can be tricky to work with. You can purchase door hanger storage to hang on the backside of the closet door.
You can also purchase a storage organizer that has room to fit baskets or bins. Use these size dividers to separate the baby's clothes by different months.
12) Toy Storage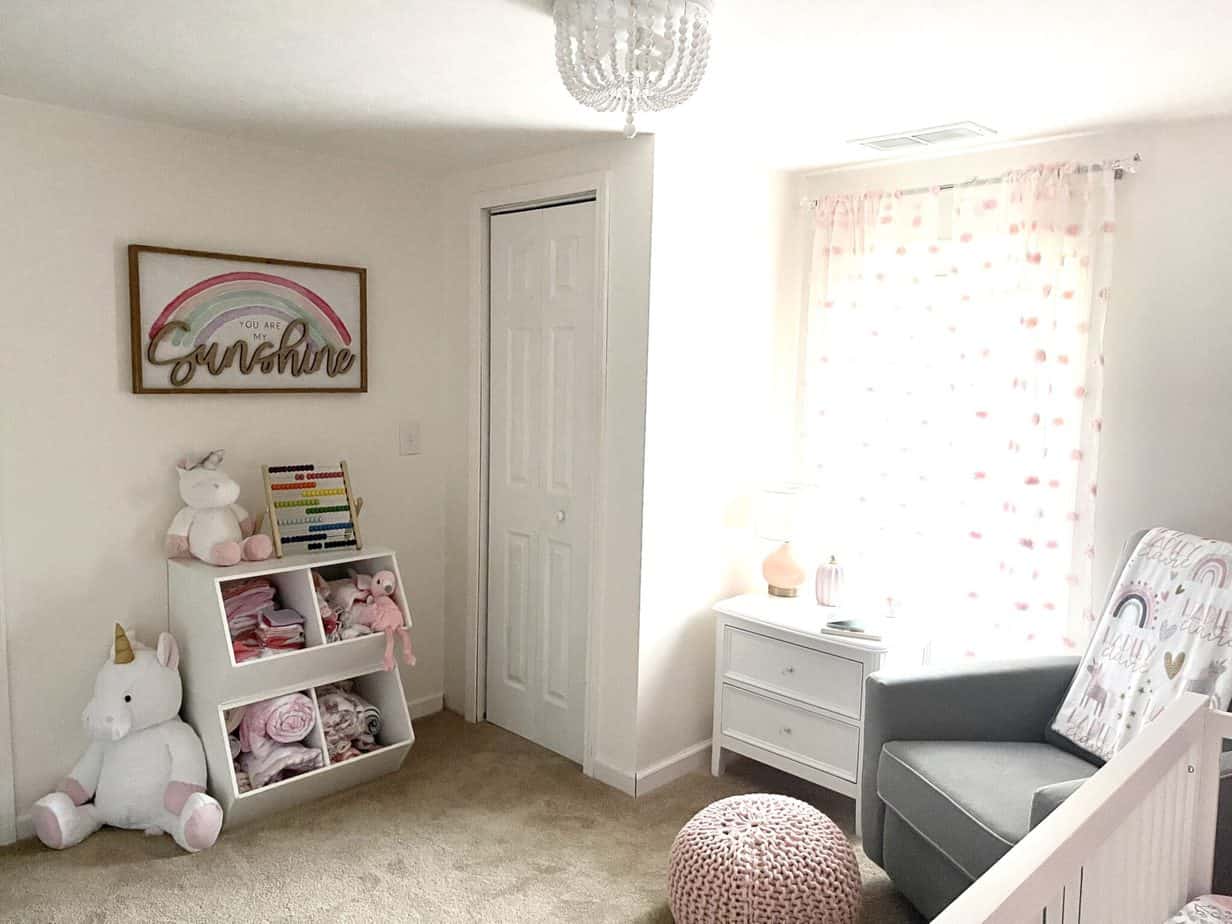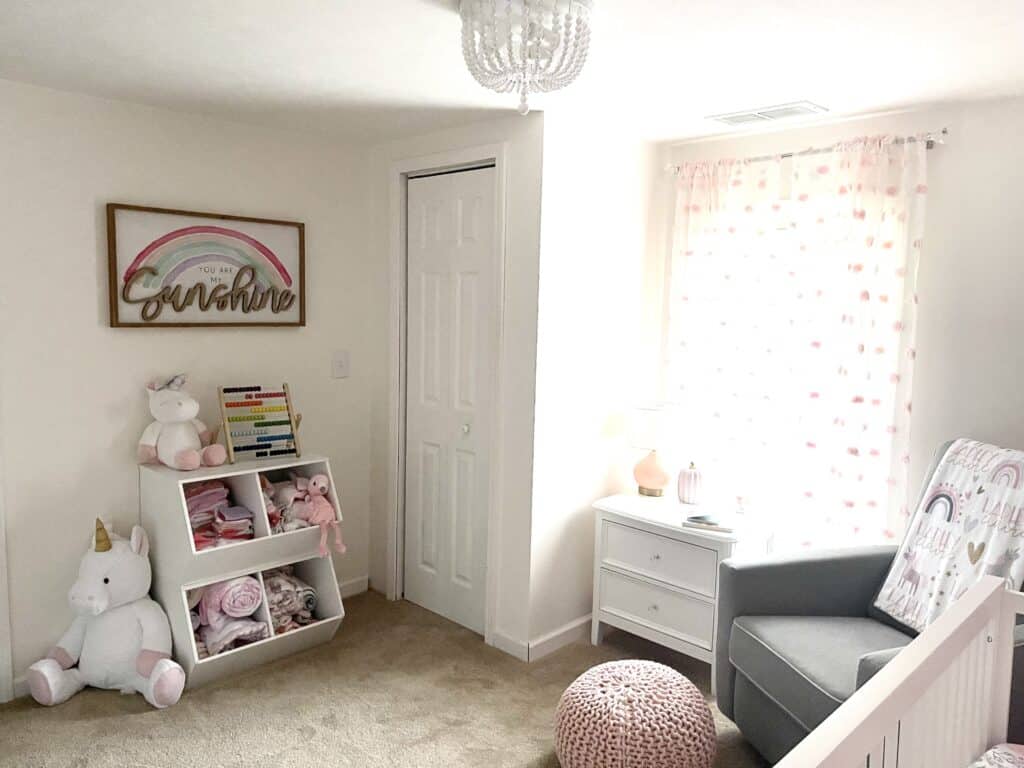 As the baby gets more and more toys from loved ones, it can be tough to find a place to store them all.
Toy storage organizers like this are stylish and can easily match the crib and dresser. You can buy one or two to use as side tables, and purchase more and stack them!
Related: Toy Storage Ideas to Remove Clutter
13) Small Corner Space
If you have a small space you're working with, then another great place to make good use of the nursery is with one or two of the small corners.
Save one corner of the nursery for a rocking chair! Then decorate the area with an ottoman, a decorative pillow, a side table, and a floor lamp. You can also buy corner shelves to place above the rocking chair.
Storage Solutions for a Small Nursery
The nursery will be a special place for both you and baby to bond. With these storage hacks, you can make the best use of the space! Head to our shop page for more nursery ideas and baby essentials.