This Post May Contain Affiliate Links. We earn a commission if you click this link and make a purchase at no additional cost to you.
Are your kitchen countertops the catch all for clutter or never seem to be clean? We use our kitchens so much that it seems like they always have clutter on the countertops. But there easy ways to combat the kitchen countertop clutter problem and we have rounded up 12 of the best ideas we could find! These ideas will help you organize your kitchen countertop and keep them free of clutter!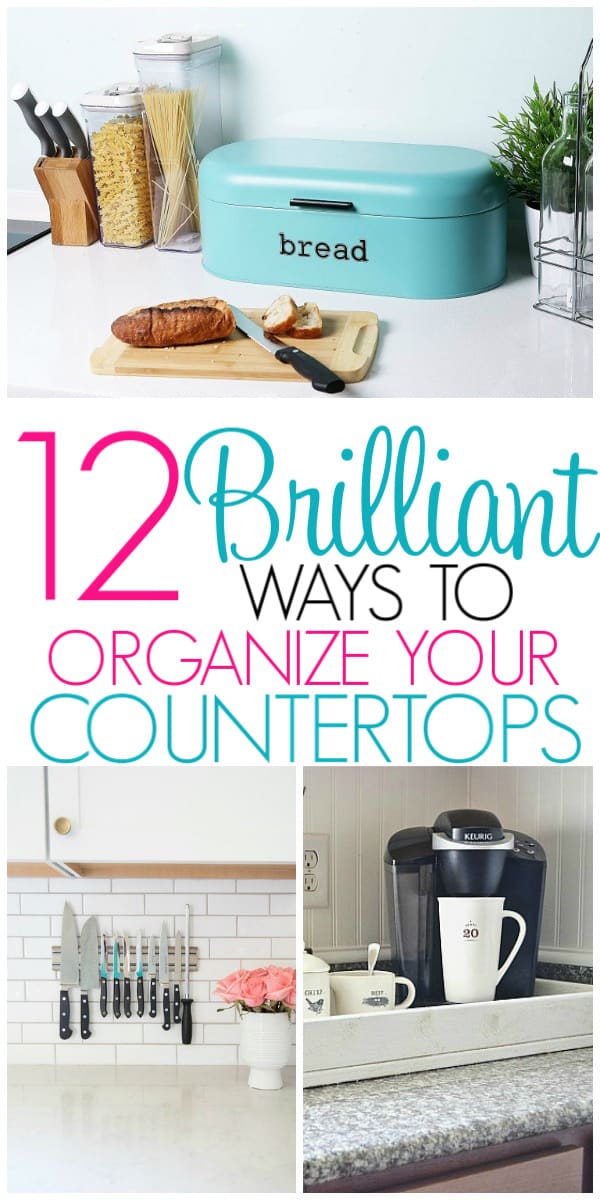 Organize Cook Books In A Basket
If you're one that loves to cook and has a ton of book books, but nowhere to store them, or they are taking up too much room just shoved in a corner, why not use a basket? Baskets are a perfect way to organize your cookbooks and keep them corralled in one place.
It eliminates clutter on your countertops and gives you a set amount of space for your cookbooks. Plus it is a great way to decorate with them as well! What better way to organize your kitchen countertops.
Use a Mail Organizer For Paper Clutter
Is there piles of paper on your kitchen countertops, cluttering it up and giving you less room to work? A great way to store important paperwork in your kitchen is to keep it in a mail organizer. Using one keeps all your important paperwork organized and easy to find. Just make sure you go through it often and throw out any paper you don't need or file it away!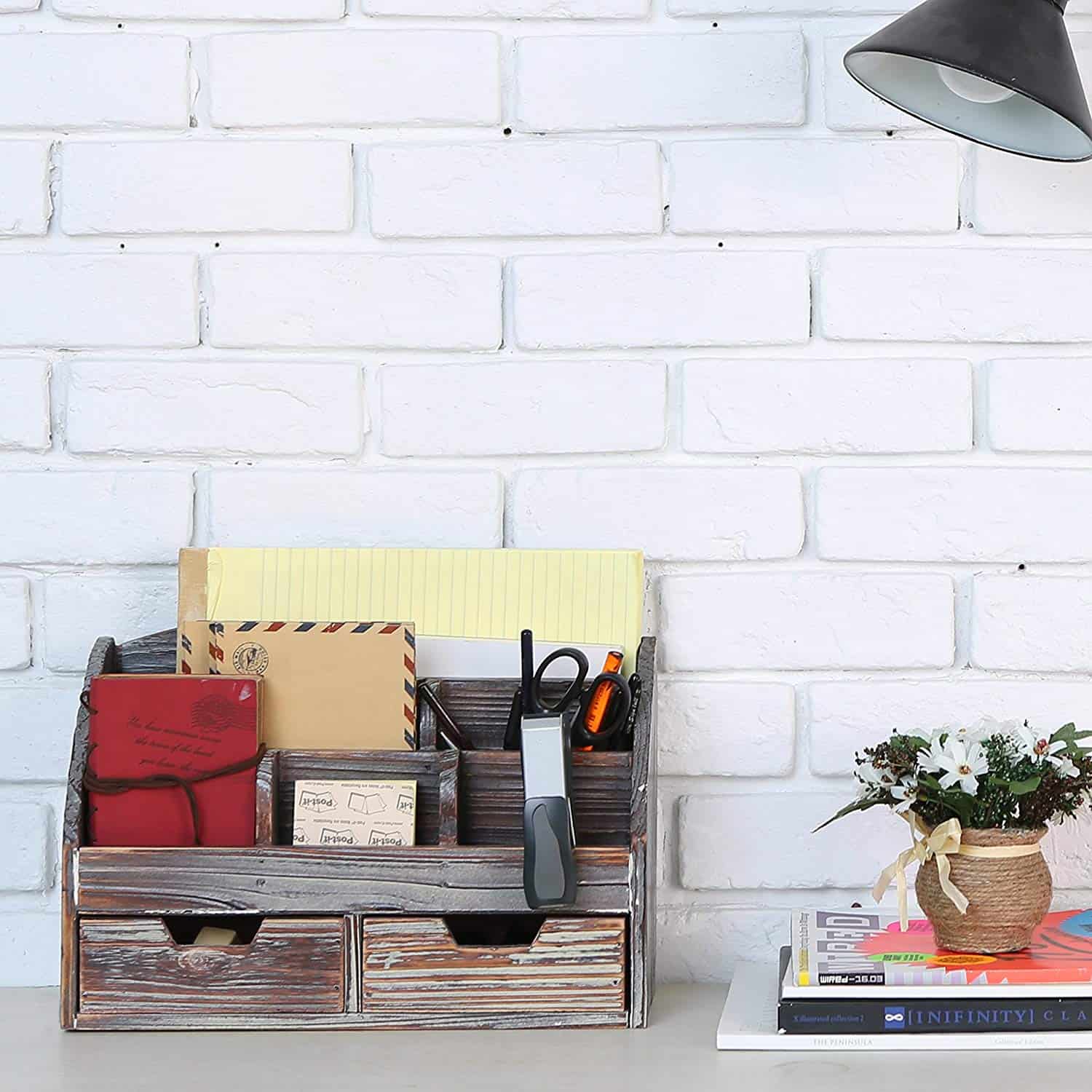 Store Soap On A Cake Stand
Soaps by the kitchen sink can definitely be visually unappealing. Plus it seems like no matter how you try to make them neat and tidy, someone comes behind you and moves them and before you know it, they are scattered all over your sink. That is why using a cake stand to keep your kitchen soaps looking neat and tidy is a brilliant idea!
I personally love this mini cake stand to store soaps on! It's so cute and is plenty big enough to hold hand soap and dish soap!
Add Extra Storage
Sometimes having kitchen countertop clutter is just a matter of not having enough space. And the best way to cure that is to make more space!
A great way to add more space to your kitchen and have an extra space for your kitchen appliances and utensils is to use a metal shelving unit. A small one like the one below would help you get a few things off your kitchen countertops and give you more space to cook!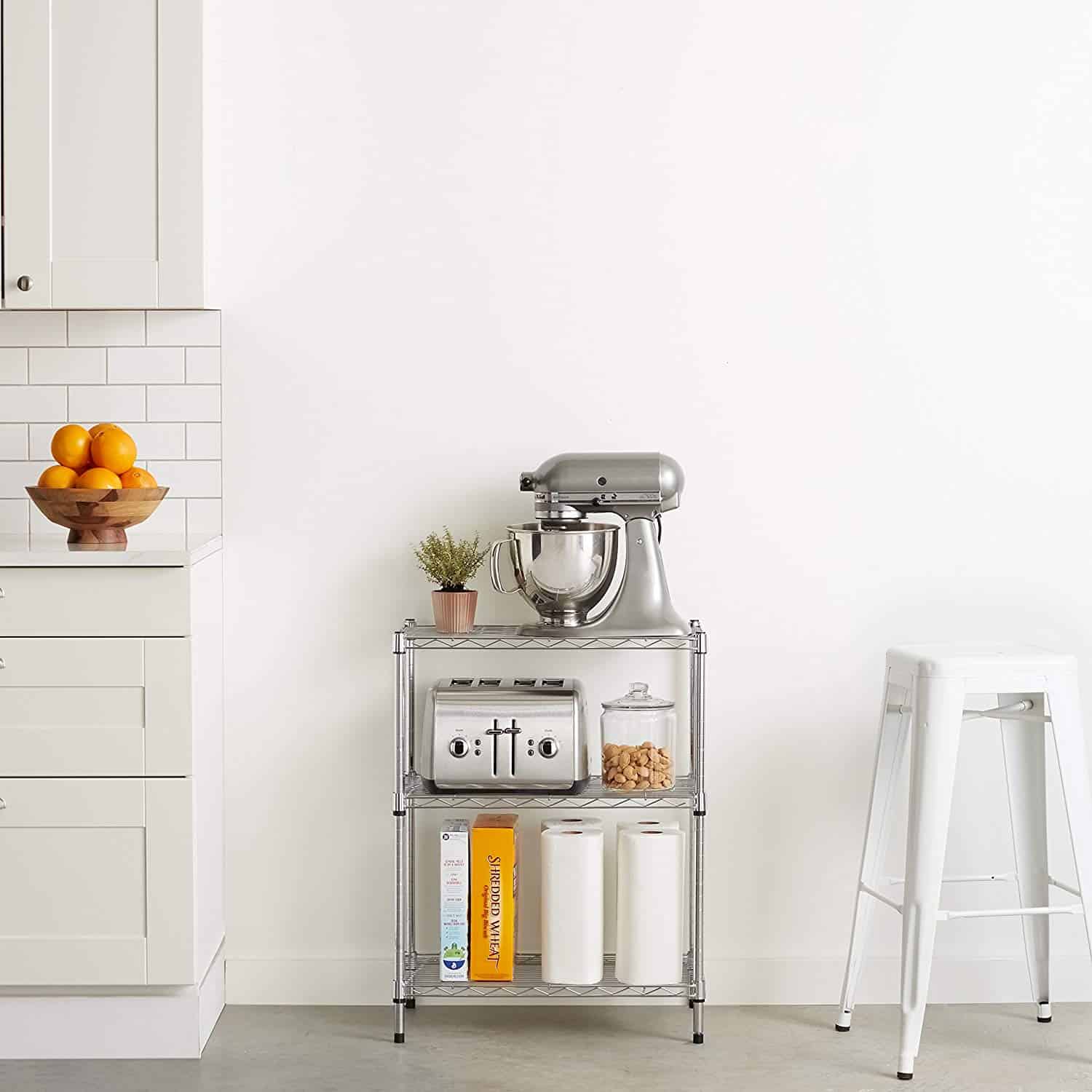 Mount A Magazine Rack
If you have an island or an end to a kitchen cabinet that you can mount a large metal magazine rack on you are in luck! This is a brilliant way to eliminate kitchen countertop clutter! Instead of storing paper plates, napkins or dish towels on your countertop, store them in a magazine rack! This magazine rack is really similar and would be perfect! 
Use A Utensil Crock
If your utensils are overflowing in your drawers, store them in a utensil crock instead! This aqua one is super cute but also comes in lots of colors! It will help keep your utensils organized and your kitchen countertop and drawers clutter free!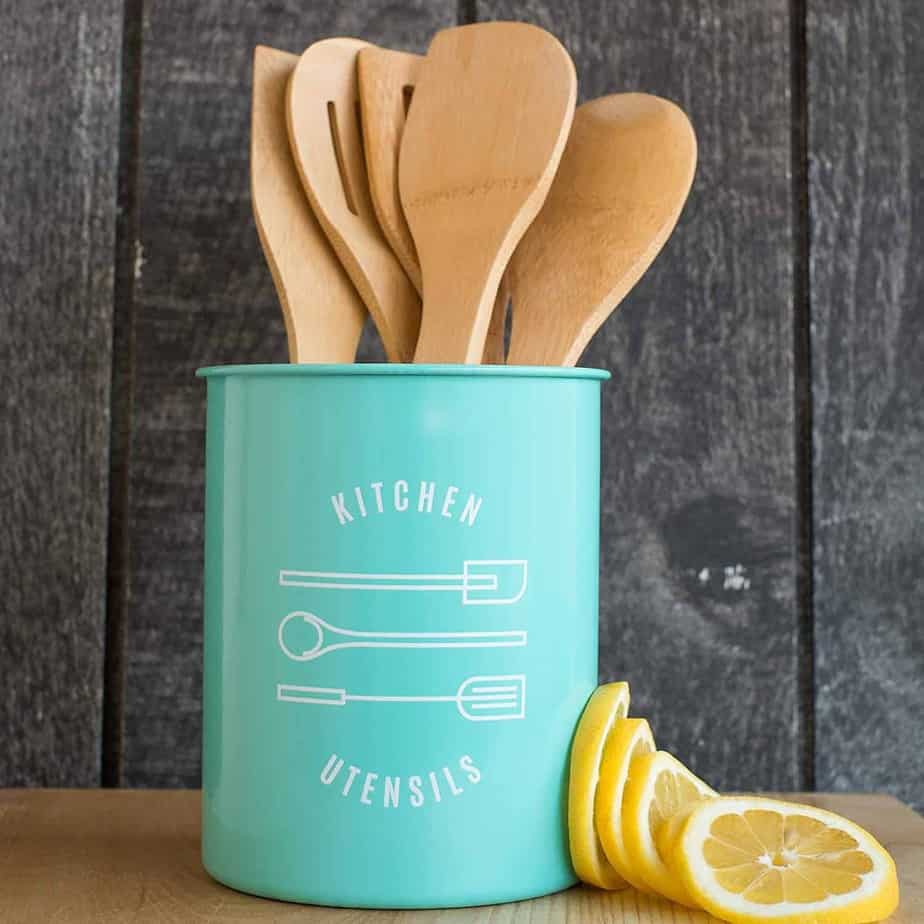 Organize Coffee On A Tray
I absolutely love this idea! If you feel like you never have enough counter space to work on, put our coffee maker on a tray. Then when you are not using it and need extra room, you can just pick up and move it elsewhere! This serving tray would hold a smaller coffee maker and a few coffee cups! 
Store Knives On A Magnetic Knife Stripe
Knife blocks are ugly and take up a lot of counter space! If you agree and are ready to ditch the knife block, trade it in for a magnetic knife holder! Just attached it to the wall under your cabinets and then store your knives or metal utensils on it! It free's up counter space and is a great way to stay organized!
Keep Bread in a Bread Box
Do you keep your bread on your countertop? Why not keep it in a bread box instead? Using a breadbox to organize your kitchen countertops keeps all your loaves of bread in one place and out of site!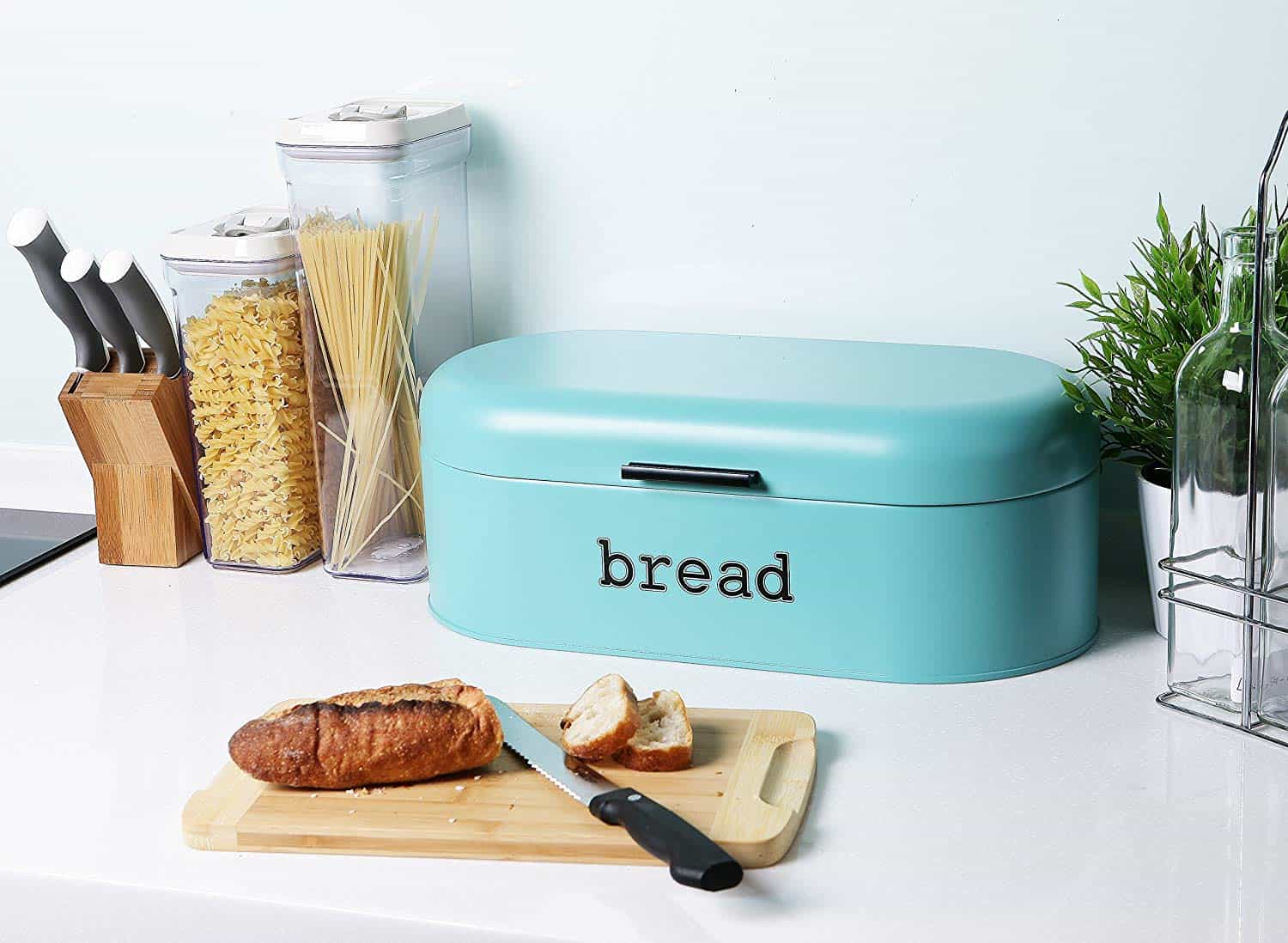 Organize With Trays
Trays are becoming a really popular way to decorate as well as organize your kitchen these days. You can store so many things on them, like cutting boards, cooking oils, spices, etc! And by using a tray, you can corral all of your smaller items that stay on your countertops into one place. We really like this one for a farmhouse look or this gorgeous silver tray! 
Hang Utensils On Towel Bars
Towel bars are a great way to organize literally your whole house! Especially your kitchen! You can hang anything off them and they are a great way to store cooking utensils, scissors,  coffee cups, dish towels, etc! The possibilities are endless and there are so many ways to declutter your kitchen countertops when you hang your kitchen needs on a towel bar! 
Combine Your Organizers to Save Space
I love this spice rack and paper towel holder! What better way to keep your kitchen organized and clutter free than to use a multipurpose organizer! This would be perfect to sit by your stove and have easy access to your spices and paper towels.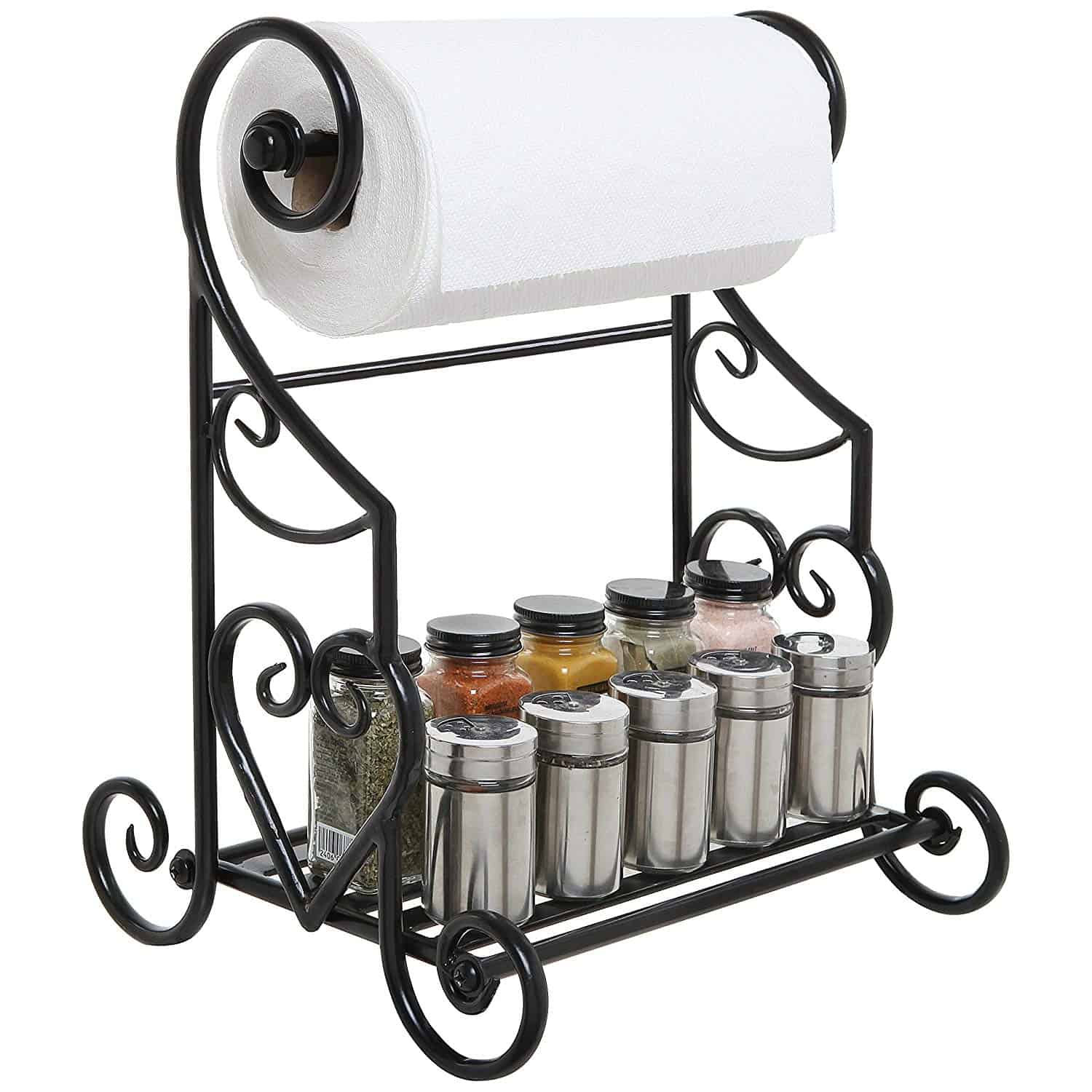 There are so many ways to organize kitchen countertops and keep them clutter free! Let me know what brilliant ideas you have below!