This Post May Contain Affiliate Links. We earn a commission if you click this link and make a purchase at no additional cost to you.
When it comes to cleaning our homes we all have bad cleaning habits. You may not even realize that some of the things you are doing are bad cleaning habits but once you realize it, it is really important to break those habits. These bad habits are making it harder on you to keep your home clean.
So what are these bad cleaning habits and how can you break them? Find out below!
Leaving Dirty Dishes In The Sink
Have you ever shamefully looked at your sink full of dirty dishes and realized your cereal bowl is still in the sink from Sunday morning and is now Wednesday? Guilty as charged. When I sat out a goal to start keeping my house cleaner this was the first challenge I tackled. I was terrible about leaving dishes in the sink (like most people are.) After cooking dinner the last thing you want to do is all those dishes, right? But I can assure you the longer you wait the worse it gets. For one it is an eyesore! Your kitchen could be spotless but if you have a sink full of dishes your kitchen still looks dirty. And the worst part about this bad habit, it causes bacteria to start breeding in your sink and awful odors to pop up. That is the last thing you want growing in your kitchen and no one wants to walk into their home and be hit by the smell of rotting cereal milk. This is a habit you want to break now! Start by grabbing these 5 things you need to make doing dishes easier!
You May Also Like: How To Clean Your Kitchen Sink Like A Pro
Using To Much Dish Soap
Have you ever heard the Dawn Commercial say "A drop of dawn and the grease is gone?" That jingle rings in my head everytime is squirt a big glob of dish soap onto a dish sponge. This is such a bad cleaning habit. By using too much dish soap we waste money! A drop of dish soap really does go a long way. It is better to start with a little bit of soap and add more as you go than to start with a lot of soap and continually wash the excess down the drain. If you struggle with using too much dish soap this dispenser will be your best friend! It controls how much soap is dispensed and it is hands-free!
The same goes for laundry detergent. Using too much laundry detergent can actually cause your washer to not function as well. When you use too much detergent not all of it gets washed away during the wash cycle. The excess laundry detergent builds up in your washer taking years off its life and costing you more money in the long run! Look at what the laundry detergent packaging recommends and then use a little bit less!
Not Cleaning Out Your Refridgerator
When was the last time you cleaned out your refrigerator? Is last weeks take out still sitting in the fridge, shoved to the back? It may sound innocent enough and who really has time to clean out their fridge on a weekly basis, but it is really important to keep your refrigerator clean! Old food grows mold and bacteria and can quickly spread to your new groceries. Every time you get new groceries go through your refrigerator and see what you can toss. Then quickly wipe down the shelves before you fill the fridge again.
Using Harsh Chemicals
Store bought are heavily advertised these days. But have you ever stopped to see what kind of chemicals are in these cleaners and what it could be doing to your families health? For example, using a store bought disinfectant is convenient but they often contain chemicals that can be harmful. A good alternative is to make your own household cleaners! There are so many homemade cleaners you can make with ingredients like hydrogen peroxide and vinegar. Download this list of homemade cleaners you can make yourself with safe products you already have laying around your home!
You May Also Like: 10 Vinegar Cleaning Hacks
Cleaning With Dirty Cleaning Tools
It may sound odd that you need to clean something that cleans for you but our appliances get dirty too! Dishwashers, washing machines, and vacuum cleaners all need to be cleaned frequently so they can do their job! If your washing machine is full of build up it is not going to effectively clean your clothes, or if your vacuum hasn't been emptied it is not going to be able to vacuum efficiently. Take the time to clean the cleaning tools around your house regularly and remember to empty the vacuum after every few uses!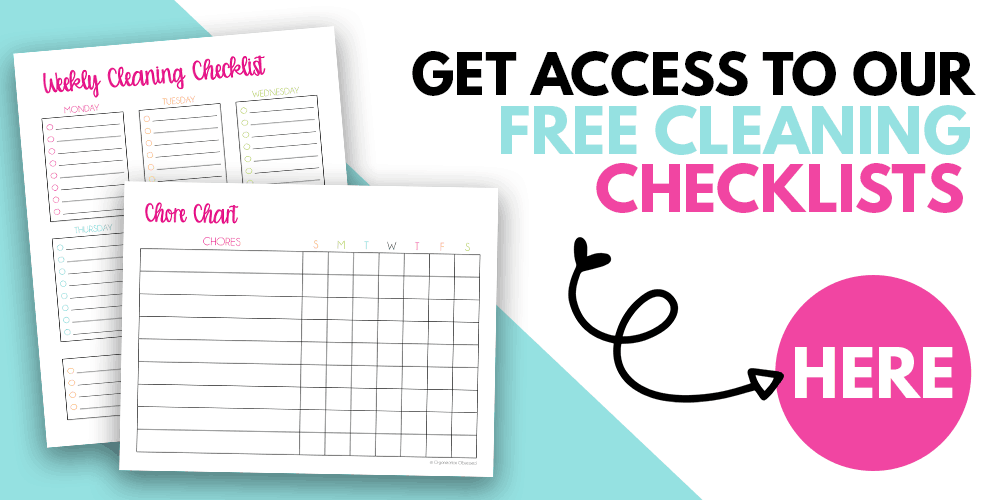 Storing Cleaning Products Incorrectly
Would you know where your all-purpose cleaner was right now if you needed it? Most of us spend half of our scheduled cleaning time looking for the cleaning products we need and are wasting our time! I get so aggravated when everytime I need Windex I cannot find it. It always seems to be on the opposite side of the house or not where I thought I left it last. This is a bad habit that we can all change super quickly! Go through each room and see what cleaning supplies you use for each. Like your bathroom cleaning supplies. Instead of just placing them under the sink, store them in a cleaning caddy. You can do this for your laundry room, kitchen, bathrooms, etc and have a cleaning caddy for each room.
Dusting Last
When you are cleaning, are you vacuuming before you dust? This is a bad cleaning habit to have. When you dust last, dust particles are flying around and landing on the floor that you just vacuumed. Instead, dust first and then let vacuuming be the last thing you do.
Not Making The Bed
If you walk into a room and everything else is clean but the bed is not made doesn't it instantly look dirty? Start every morning by making your bed and turn it into a habit. When your bed is made it opens your eyes to the other clutter that you may be blind to around your bedroom.
Leaving Wet Towels On The Floor
Do your wet towels end up in a pile on the floor? This causes mildew and bacteria to grow on your floors and your towels. Instead, hang them up and use them again. Or hang them to dry and then throw in a laundry basket. By hanging your towels to dry you will keep them smelling fresh and feeling new longer. A great way to implement this is to install a hook rack in your bathroom. This is the exact one that we use. After each shower, we will hang our towels up and then throw them in the laundry basket once they are dry!
Not Opening Your Shower Curtains
Have you noticed that after a while mildew starts to grow on your shower curtain? While this is bound to happen eventually, when you leave the shower curtain bunched up mildew grows even faster. Instead of leaving the shower curtain bunched up, pull it closed. This will keep mildew from growing fast and make your shower curtain last even longer.
Accumulating Paper Clutter
Paper clutter is everyone's worse enemy. Between junk mail and all the receipts we get, paper seems to always be cluttering my purse and countertops. And if you have kids then the paper clutter triples! But fortunately, this is an easy habit to break! Designate a place for all your paper clutter to land each day and then go through it once a week and throw away anything you don't need. A mail organizer or a command center is a great place to store your paper clutter.
You May Also Like: 12 Genius Ways To Banish Paper Clutter
Wearing Shoes In The House
Taking your shoes off when you come into your home is really important. For one it keeps your floors from becoming dirty faster and it keeps germs from spreading throughout your house. Think of everywhere you went today. You wouldn't want to track that dirt where your kid's crawl or you walk barefooted would you? To make it easier to store your shoes when you come into your house put a shoe storage rack by your door or go all out and install a hall tree.
So what are some bad cleaning habits you need to break? Comment below!