This Post May Contain Affiliate Links.
Organizing your freezer can either be totally easy for you or a big project, depending on the amount of food you keep on hand. In our freezer, we keep a lot of food. We have a pullout drawer freezer by Frigidaire. While I do believe it holds more than a vertical freezer, it is also very hard to organize.
So today I am going to show you how I minimize the amount of space packaging takes up and how to gain more room in your freezer!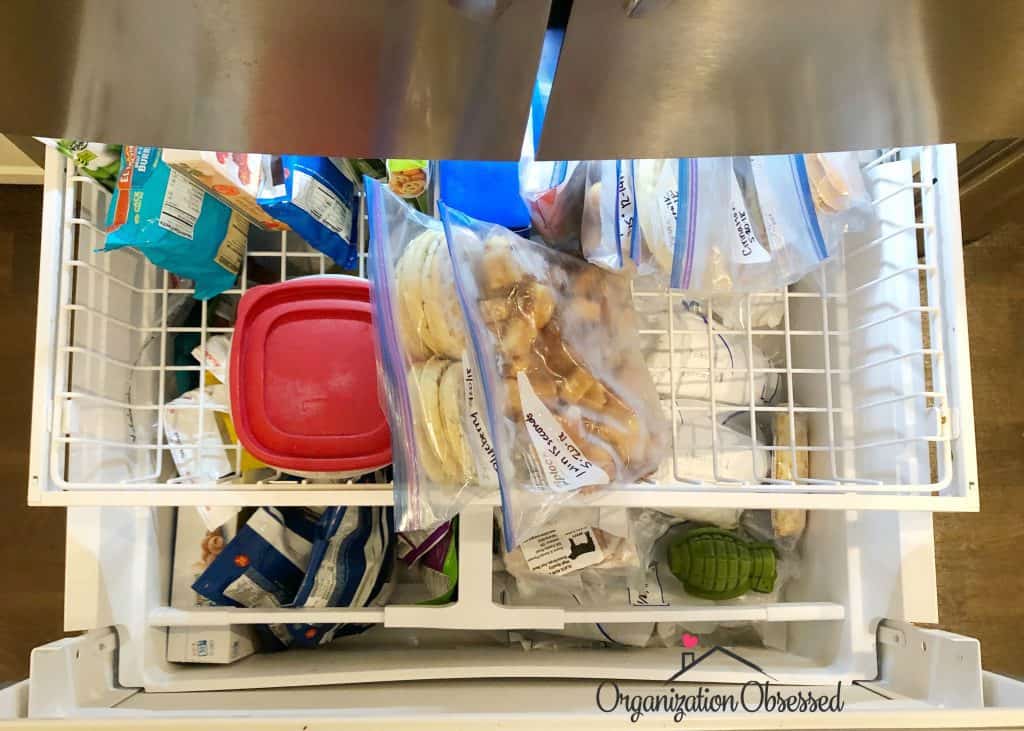 To gain extra space in our freezer, I remove food from the cardboard packaging and store them in freezer bags. I do this for things such as waffles, pancakes, corndogs, etc. Anything that comes in a cardboard box and has multiple servings I put in freezer bags. It saves so much room!
We also keep like foods together. The breakfast foods for our little guy, like pancakes, waffles, and french toast are stored in bags and on the top drawer of the freezer. On the opposite side of the drawer, we keep frozen vegetables together.
In the drawers below, we keep frozen deer meat on one side and then the rest of our frozen food on the other.
Steps For You To Take
Follow these steps to declutter, clean and organize your freezer.
Declutter
Clear off a space on your counter where you can place all your freezer food.
Then start unloading your freezer.
As you remove the food, decide where it is still good and if you should keep it.
Is the food expired?
Is the food freezer burnt?
Are you going to actually eat it?
Throw away any food that is no longer good.
Clean
Once you remove everything from your freezer, you may find that it is a bit dirty.
Start by vacuuming out any dirt.
Then take a hot wet cleaning cloth and wipe away any grime or spills.
Organize
First, decide if you want to use containers to organize your freezer. If you have a vertical freezer, I think it's a great idea!  You can keep like items in the same bins like vegetables or frozen breakfast.
If you decide to not use containers, combine like food items together.
Keep your frozen vegetables together, frozen chicken together, frozen snacks together, etc.
Place your food back in your freezer with the food grouped together.
Place items that you use the most on top or in easy to reach areas.
Want to use containers? We love these!