This Post May Contain Affiliate Links. We earn a commission if you click this link and make a purchase at no additional cost to you.
The laundry room can easily become the most unorganized and dirty rooms in our homes. Why? Because we use them all the time! Dirty clothes in and out. Dust balls coming from the dryer, and drops of laundry detergent all over our shelves and appliances. Plus laundry is not an easy task! I think most of us could agree that we would love to not have to do laundry! It takes up so much time! So how can you make doing laundry a little easier?
By having an organized laundry room!
If you can easily find that stain remover that you only use every once in a while, or get to the light bulbs without having to pull everything out of your cabinets, then managing laundry and keeping your home organized gets a lot easier.
In our laundry room, we have three cabinets over our washer and dryer. The first holds our laundry detergent, fabric softener, and stain removers.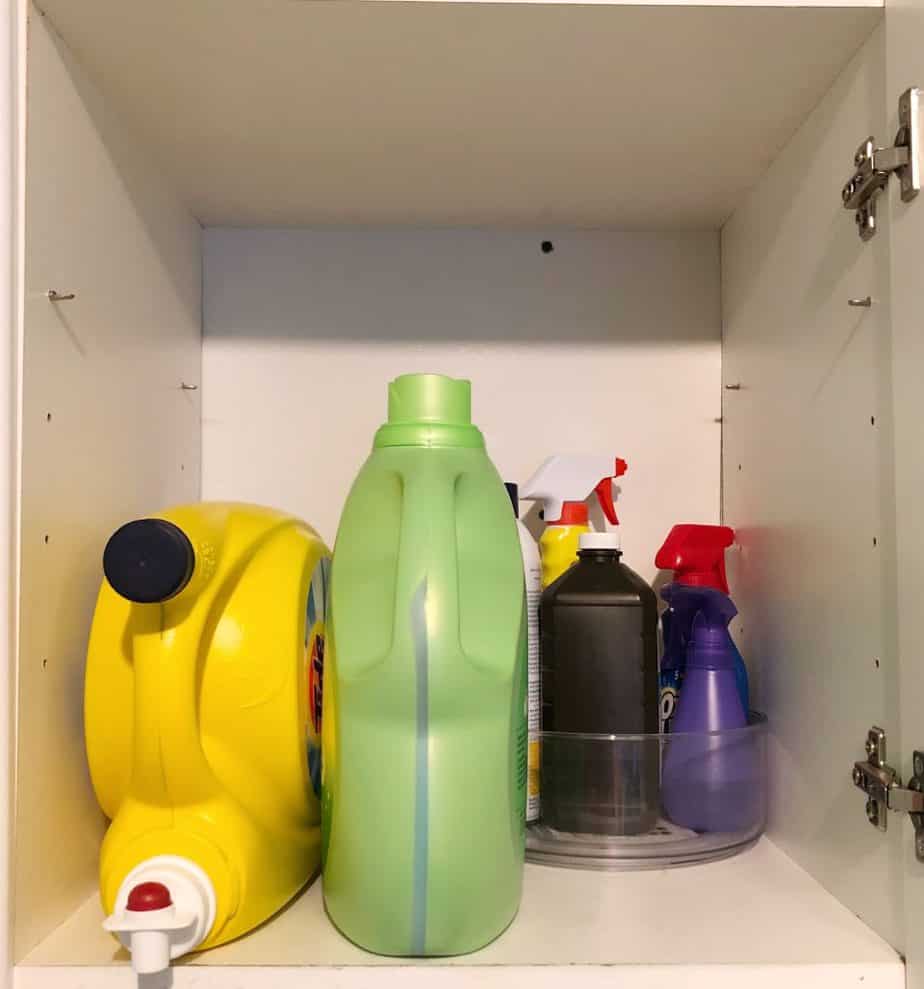 Behind the laundry detergent that we use daily, we keep our stain removers, wrinkle releaser and spray starch in an acrylic lazy susan. Keeping our stain removers and other laundry product stored like this makes it so easy to keep the cabinet organized. All of our laundry products are kept together and the lazy susan can easily be turned so we can reach what we need!
The second cabinet holds Scentsy wax cubes in a storage cube, light bulbs, Swiffer Pads and carpet deodorizer. The fabric storage cubes make it easy to pull down from the cabinet and grab exactly what we need! And then just put the storage cube back!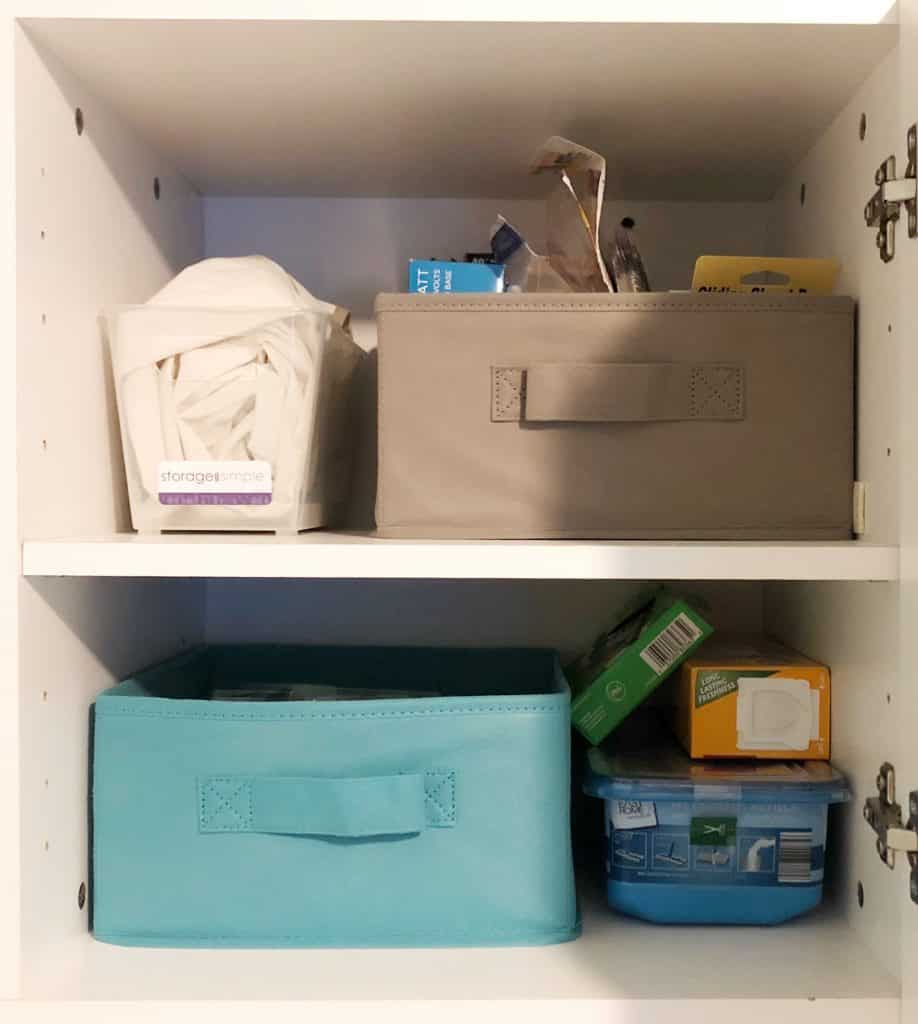 In the last cabinet we use a large fabric storage cube to hold our cleaning cloths. I love these cleaning cloths! They are technically surgical cloths but they hold up so well and are great for cleaning any surface!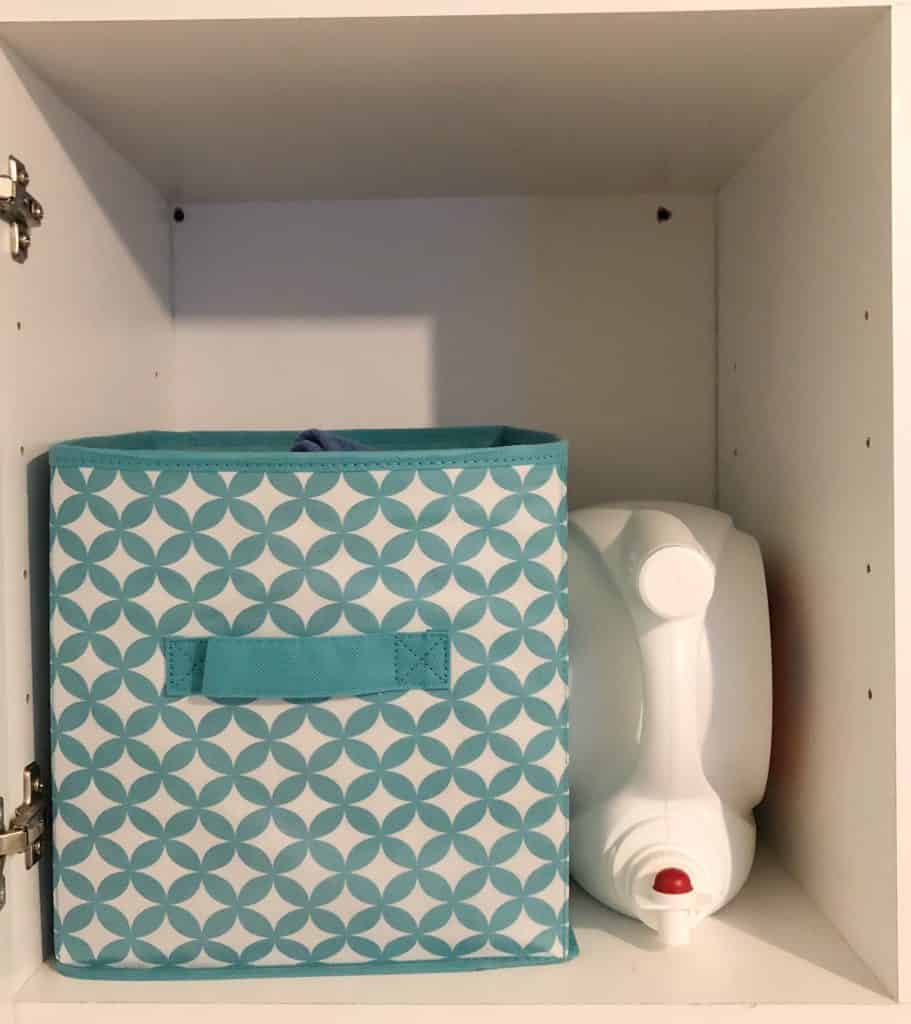 Now Its Your Turn!
Steps For You To Take:
Declutter
Start with one section of your laundry room and start decluttering.
Throw away any trash or empty bottles.
Throw away any lint balls.
Repeat this process until you have gotten rid of everything in your laundry room that is trash or doesnt belong there
Clean
Wipe down all your cabinets and shelves with a cleaning cloth.
Sweep floors and dust shelves.
Organize
First, decide if you need any baskets or bins to organize your laundry room.
Do you need baskets to store light bulbs or random household necessities?
Could you use a lazy susan to corral your cleaning products?
Do your laundry baskets work well in your laundry room or do they take up too much space?
Decide what you need and on a layout that works best to organize your laundry room.
Once you have everything you need, start putting things back.
Keep items that you use most often on lower shelves that are easier to reach.
Corrall items that you have multiples of in baskets and bins.
Need Laundry Room Organizers? These are the best!