This Post May Contain Affiliate Links. We earn a commission if you click this link and make a purchase at no additional cost to you.
My hall closet it the catch all for everything I don't have room for elsewhere. That's what hall closets are for right? But for a very very long time, this hall closet was a complete disaster. Everything was just shoved in it with no organization at all. But a while back I came across these plastic containers at Walmart and knew they would be perfect to organize my hall closet and contain everything that was previously just thrown on a shelf.
Before Organizing The Hall Closet


To start, I pulled everything out of the closet and started decluttering. There was a lot that I threw away. Things we hadn't used in years or no longer needed.
Once everything was decluttered I started organizing the plastic containers. I combined things like craft supplies, holiday flags, party supplies, and knik knacks into separate plastic containers. Then using a large plastic container, I placed all of our board games in it. We were previously storing them on a shelf and they took up way too much room!
We also corralled all of our lightbulbs into a large basket, where they were previously just scattered around on shelves.
For all the holiday decorations that were previously on the floor, I used pant hangers to hang them up on the shelf and keep them tucked away.
Then on the top shelves, we keep kitchen appliances that we use once or twice a year like our deep fryer.
I love how this closet turned out! It may not be picture perfect! But it is organized and I know where everything is! Plus I can finally put my vacuum in the closet where it belongs!
After Organizing The Hall Closet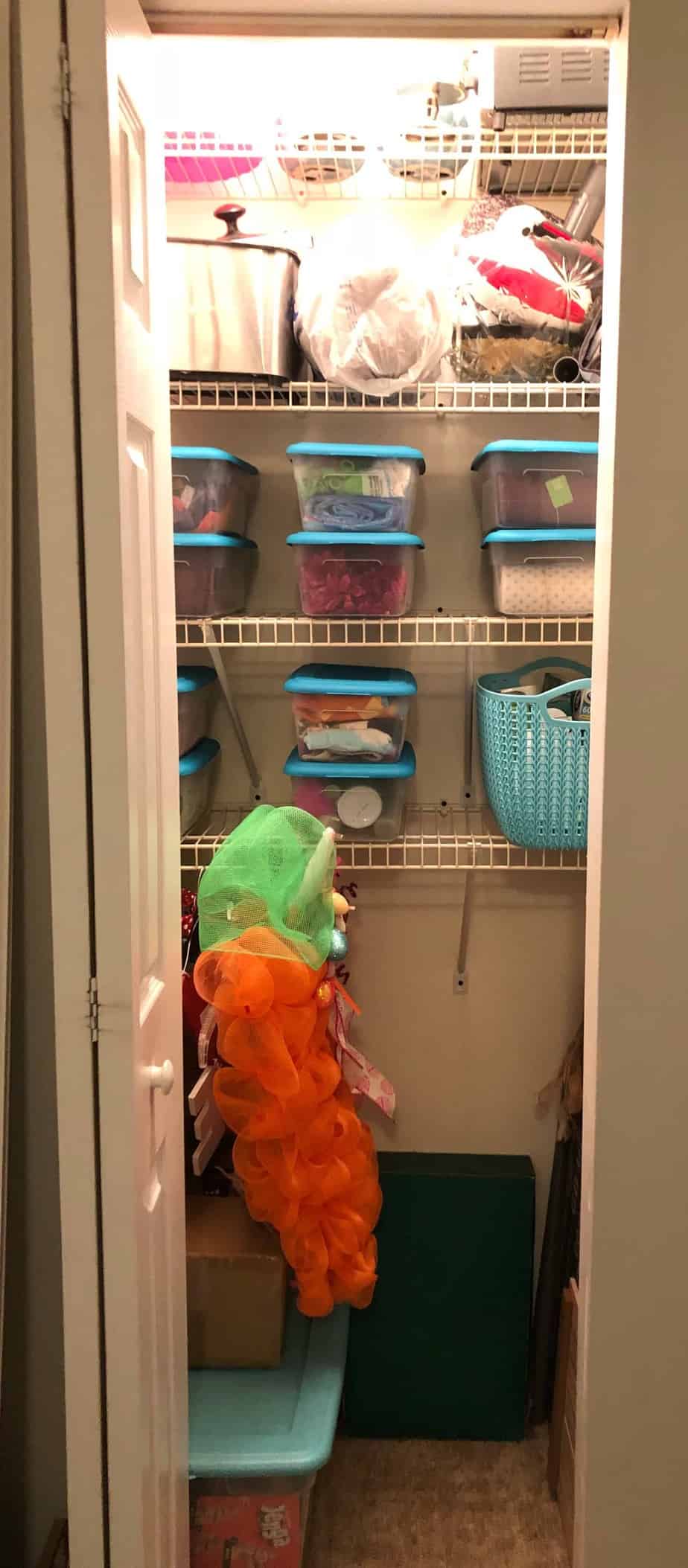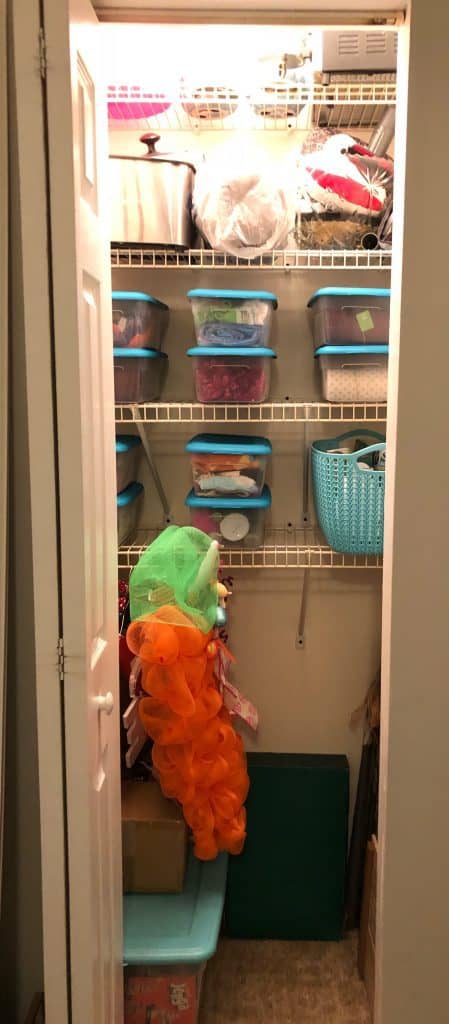 Steps For You To Take
Tackle your hall closet by following these steps
Declutter
Pull everything out of your closet. Seriously everything!
Look through all your things and decide what you really need and what you haven't used in years and probably never will. You'd be surprised what you may have buried in the back of your closet.
Throw away, sell, or donate anything that you no longer want or use.
Throw away trash.
Clean
Once your closet is empty, vacuum the floors and dust off the shelves.
Organize
When you start to place things back in your closet, I highly recommend using bins or baskets to keep small items organized.
Put like items together.
Put items that you use the most in reaching distance.
Use labels to label your baskets and bins to help you better organize and make sure things get back in their correct spot.
We love these storage bins to help organize your closets!