This Post May Contain Affiliate Links.
It is day 9 of the Organize It Challenge and today we are talking about how to organize your bathroom vanity top and makeup! (Tomorrow we will talk about the rest of the bathroom.)
For the longest time, I struggled with the best way to organize my bathroom vanity. My bathroom vanity drawers are very shallow and do not hold large hair styling bottles without laying them on their side. They also wouldn't hold my hair dryer. Having 6 drawers in a vanity is great but not being able to store some of my basic bathroom needs was frustrating, so I had to get creative.
How To Organize Your Bathroom Vanity and Makeup – Day 9
In my bathroom drawers, I use Mainstays bins and Dollar Tree bins to organize makeup my makeup. I keep the makeup I use most frequently in the top two drawers. And the makeup that I use less frequently in the lower drawers.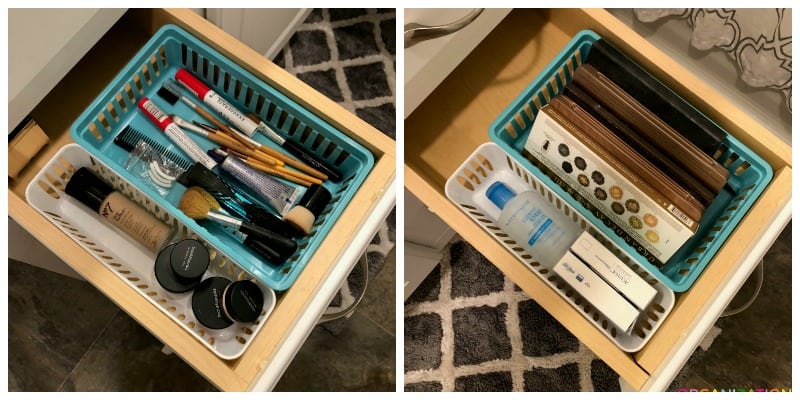 Then on my vanity top, I use this Hair Styling Tool Organizer. This little organizer is my absolute favorite organizing system in my whole house! Since my drawers are so shallow, hair styling tools and products were always just scattered all over my vanity top, making it look really messy. I would sometimes group the bottles together in the corner but they would never stay neat and organized. I also tried to store hair styling products in the large opening under my sink, but it was frustrating to pull them in and out every single day.
This hair styling tool organizer solved all my problems! It holds my two curling wands, a straightener, and my hairdryer, as well as all the styling products I use every day! It keeps my most used products corralled together and the rest of my vanity clear of clutter!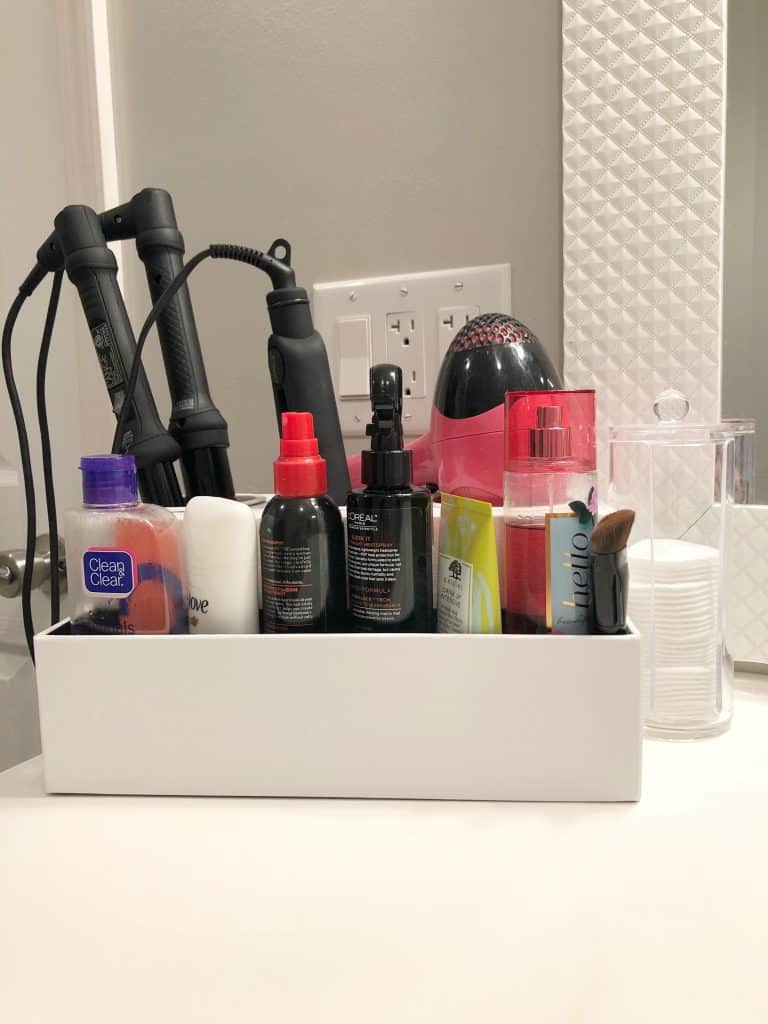 Lastly, I use cotton rounds to clean my face each morning and night. I use this cotton round holder to keep the cotton rounds organized and stored neatly in one place. I absolutely love this little organizer! I found mine at TJ Maxx but you can also find this one here for the same price as TJ Maxx!
Steps For You To Take
Follow these steps to organize your bathroom vanity and makeup!
Declutter
Start with your drawers, one at a time depending on how many makeup drawers you have.
Go through your makeup and see if there is any makeup that needs to be thrown away because it is old or empty.
You should also throw away or give away any makeup that you don't like. You're not going to use it so why hold on to it?
Next, sort through everything that you keep on your vanity top. Is there anything that would be better stored somewhere else?
Lastly, throw away any trash on your vanity like cotton swabs.
Clean
Once all the makeup is removed from your drawers or however you store your makeup, it is time to clean it!
Take a wet cleaning cloth with soap and water and wash the inside of your drawer as well as your containers. To get tough makeup stains out you may need to use a little elbow grease or your favorite all purpose spray.
You may also need to vacuum to remove dust or hair.
Wipe down your vanity top. Be sure to remove all hair, dust, and makeup. I use soft scrub to remove all the makeup and eyeliner from my white vanity top.
Organize
Once you have discarded all the excess and unnecessary makeup, place the makeup back into your drawer or however you store it. I like to keep compacts and containers together, eyeliners and mascaras together, brushes together, etc.
On my vanity top, I keep all my hair products and facial products organized in a hair tool organizer.
Replace everything on your vanity top, keeping most used items together or corralled in an organizer.
Need a good makeup or hair styling tool organizer? I recommend these!