This Post May Contain Affiliate Links.
Organizing on a budget can seem like an impossible task when you see all the organizing products stores have to offer. Most people think if they want to organize their home they need to go out and buy new baskets, bins, and storage systems. While it is nice to have new baskets and bins, in reality, you can organize your home for little to nothing! Check out these 5 tips for organizing on a budget!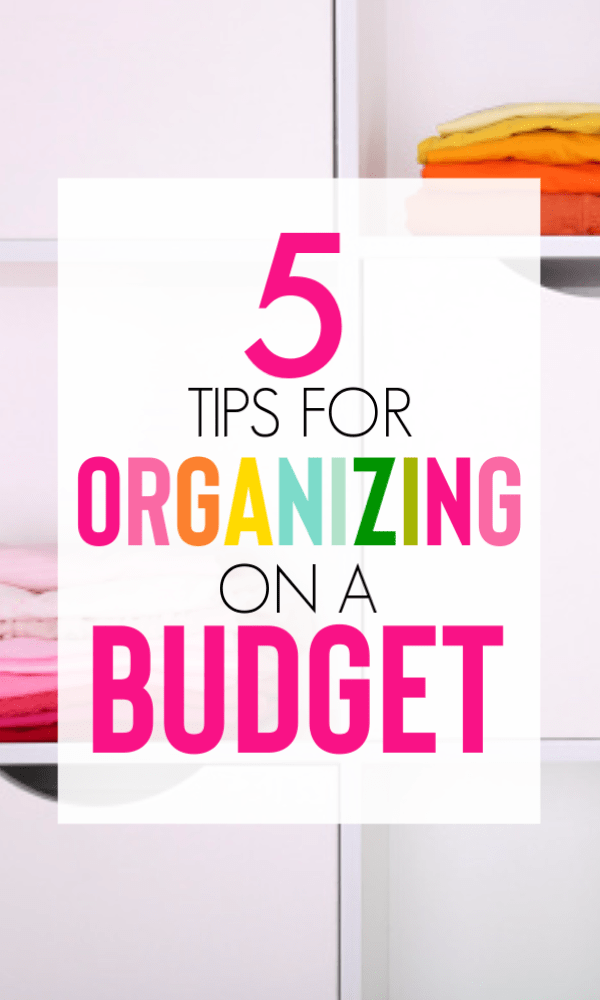 Declutter
The first step to organizing is always to declutter. If you can't find anything, your drawers are overflowing and your home is in desperate need of an organizing spree, the first step you need to take is to declutter and sort through everything you have. Chances are you could get rid of quite a few things that are causing your home to be disorganized and cluttered.
If your tv stand is disorganized and filled with DVD's, look through them and pick out the ones you never watch. If you're anything like me, there are probably a few you haven't watched in years. Box them up and donate them or sell them. If you haven't watched the moving in 1-2 years, you probably won't miss it.
Do the same thing in all cluttered areas of your home. Before you can be organized and stay organized, you must get rid of the clutter that is getting in your way!
A good place to start is with this free list of 100 items you can throw away today! Following this list will cut down on the abundance of items in your home that need organized.
Use What You Have
Take a quick look around your home and think about what you have and how you can use it. You can use mason jars to organize school supplies, office supplies, or makeup brushes. Use coffee creamer bottles to store snacks for your kids, or use metal cans to create your own utensil holder!
What about organizing systems you have bought in the past and no longer use. Can you use your old lid organizer to organize purses or wallets? Or repurpose baskets you no longer use?
We used to use small cube storage bins to organize my son's clothes when he was an infant. Now that he is older and we no longer need them to organize his clothes, we use them in our camper to organize paper plates and napkins and in our laundry room to organize wax cubes!
Another great idea is to use an old shoe organizer to store cleaning supplies. Or use cardboard boxes and upcycle them into baskets!
There are so many things that you have laying around your home that you could repurpose! Try and think outside the box! My favorite upcycle in our home is how my husband uses my old styling utensil organizer to store tools like screwdrivers and hammers. What was once something I was just going to throw out is now useful to him and a great way to stay organized!
Shop At Dollar Stores
Dollar Stores have amazing deals on organizing items! My favorite dollar store is the Dollar Tree. Everything is a dollar and they have a whole aisle of storage bins and containers. By shopping at dollar stores you can find great deals on storage bins for under your kitchen sink, under your bathroom sink, in your closets, etc!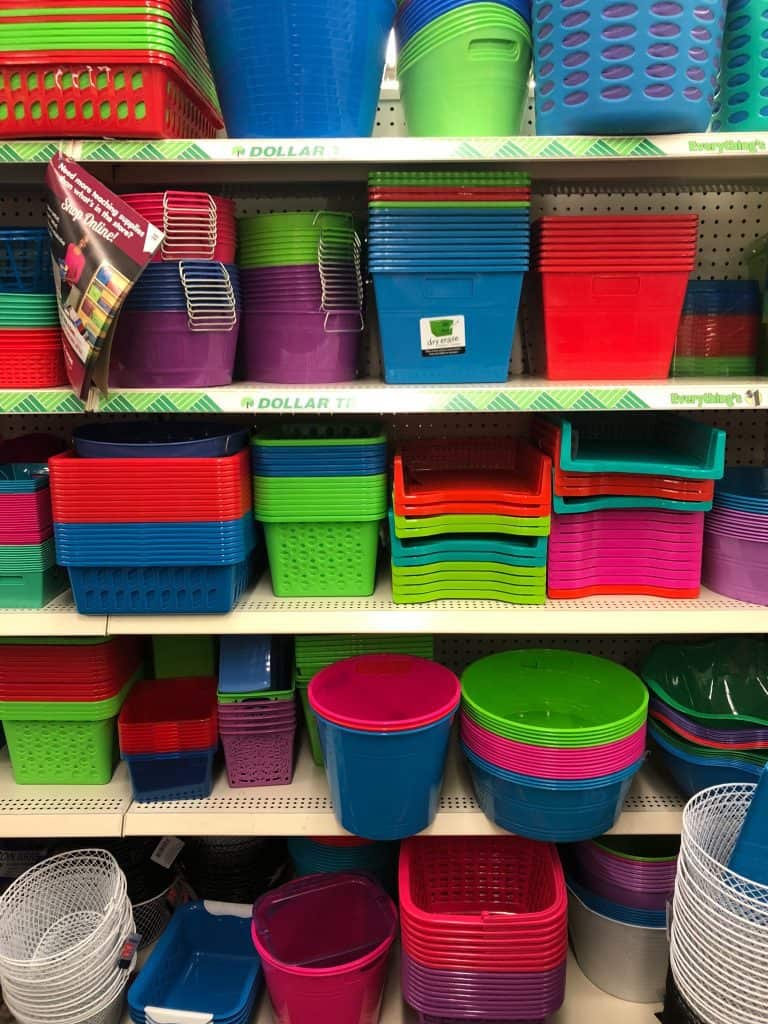 We used storage trays from the dollar store to organize our bathroom drawers. Organizing 6 bathroom drawers only cost $6 dollars! And it has stayed organized and clean by using storage trays. Organizing on a budget is very possible when shopping at dollar stores!
Shop Discount Stores
Tj Maxx, Marshalls, and Home Goods are my FAVORITE places to find items to organize my home. I always head to Tj Maxx first whenever I need something to organize my home. They have high end storage containers like OXO Containers and Sistema Containers for less than $10 dollars. They also have laundry baskets, bathroom organizers, office organizers, and bedroom organizers for incredibly cheap prices!
When looking for a way to organize my baking goods I went straight to Tj Maxx and found six Sistema Containers and paid less than $40 dollars for all of them.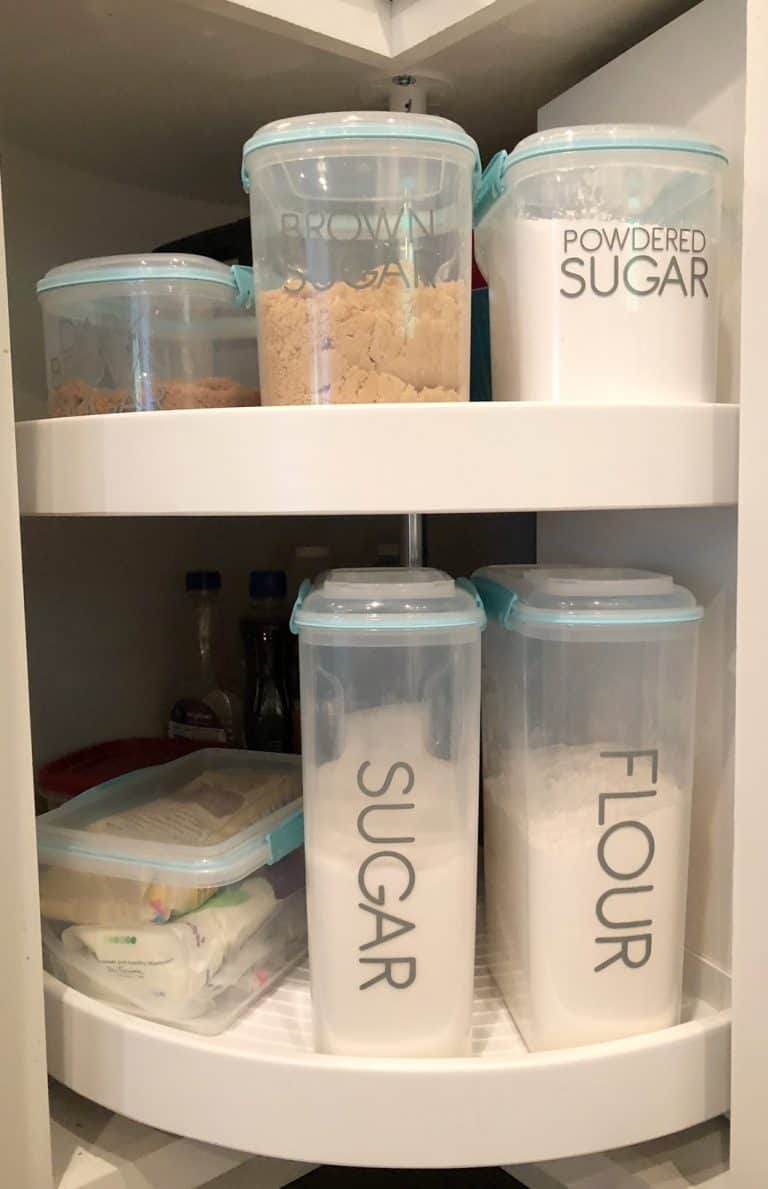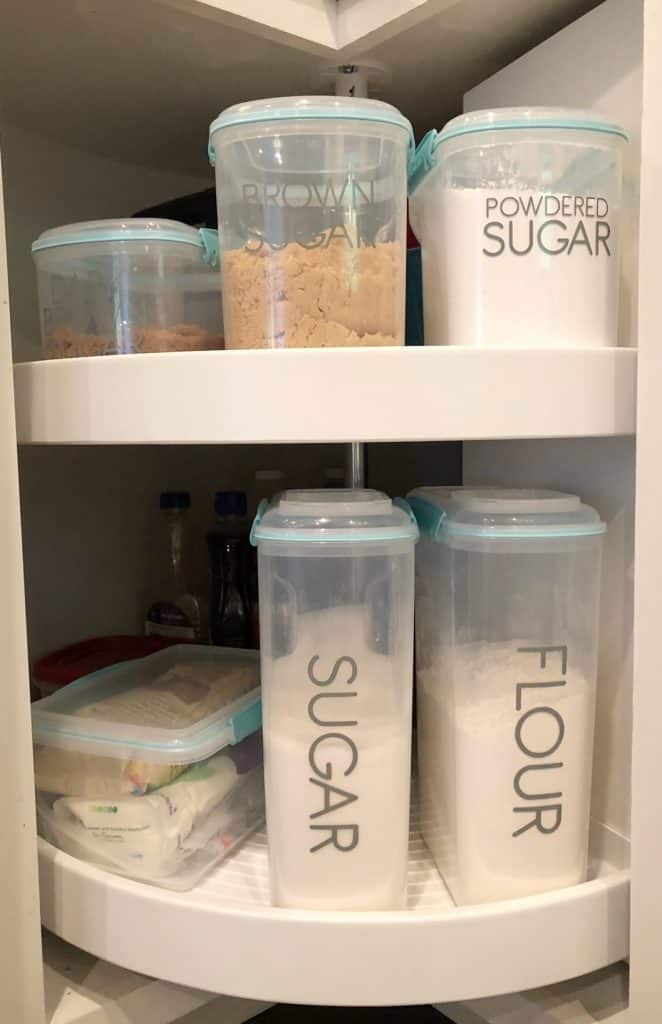 Label Everything
When everything has a place, your home is much more likely to stay organized. A great way to help your family as well as yourself to stay organized is to label everything! When something has a designated space, and that space is labeled, you are much more likely to put it back where it belongs, then just tossing it somewhere for the time being.
I recently took on the project of creating an organized space under our kitchen sink. We store cleaning items under the kitchen sink and before I started labeling the baskets, cleaners would just get tossed in any basket. It was so chaotic and disorganized! However, once I created a designated basket to hold all of our cleaners and labeled the basket, our cleaners always make it back where they are supposed to go!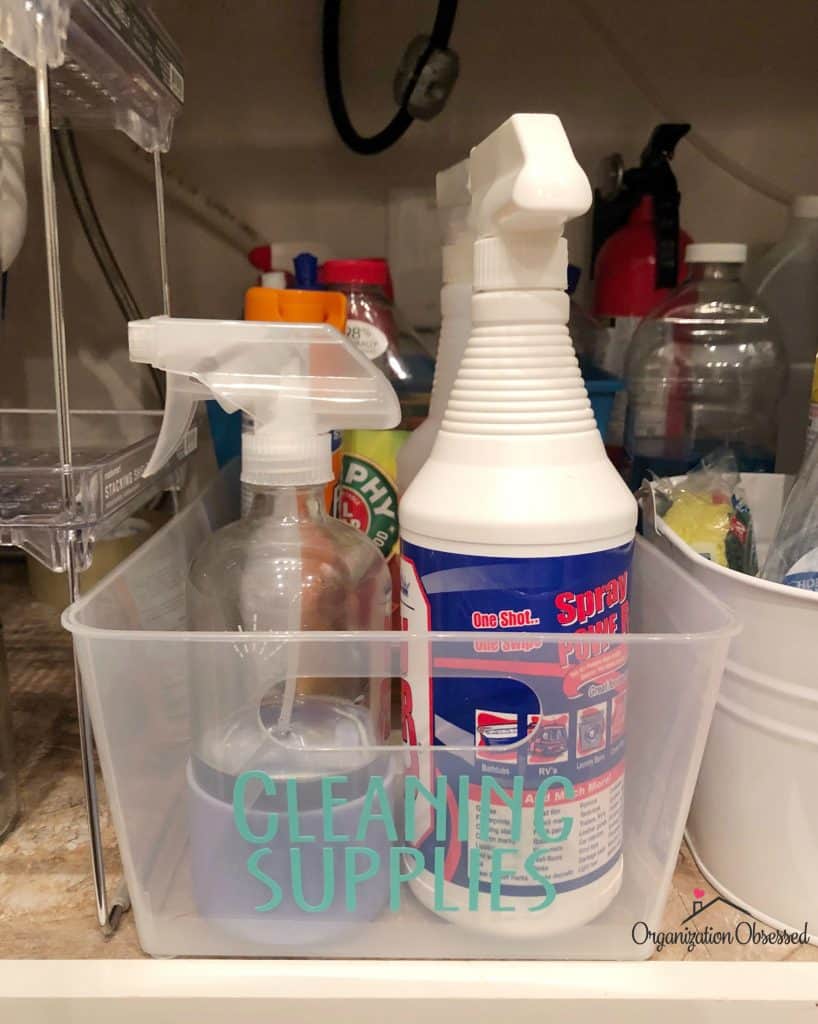 There are a few different ways you can add labels to your home. My favorite way is to make labels using a Silhouette Cameo. You can also buy cute chalkboard labels, use Avery labels and edit their downloadable templates, or buy labels that you can hang on baskets or bins. Or you can go all out and get a label maker. 
How do you organize your home on a budget? Comment below and let me know!