This Post May Contain Affiliate Links. We earn a commission if you click this link and make a purchase at no additional cost to you.
It's the most wonderful time of the year! Okay, maybe that's Christmas. But in my opinion, fall is absolutely the best time of the year! I love everything that comes with it. Bonfires, pumpkin spice, fall home decor, boots, and fall festivals! It is all so much fun and I absolutely love to decorate my home with fall decorations! This year I was on the hunt for some new fall throw pillows for my couch and hall tree. I found some amazing deals on cheap fall throw pillows so I had to share them with you! These fall throw pillows will make your house so cute and festive, and for less than $10 dollars they are an amazing deal!
Okay first things first, these are fall pillow covers, which means that they are only a cover for a pillow. It is not a regular pillow that includes stuffing. So you can either put the cover on an 18 x 18 pillow you already have or get a pillow insert. Grab a pillow insert here!
A pillow insert is by far the smartest way to go because you can change up your pillows all year round for really cheap!
Are you ready to see these super cheap fall throw pillows? Check them out!
Cheap Fall Throw Pillows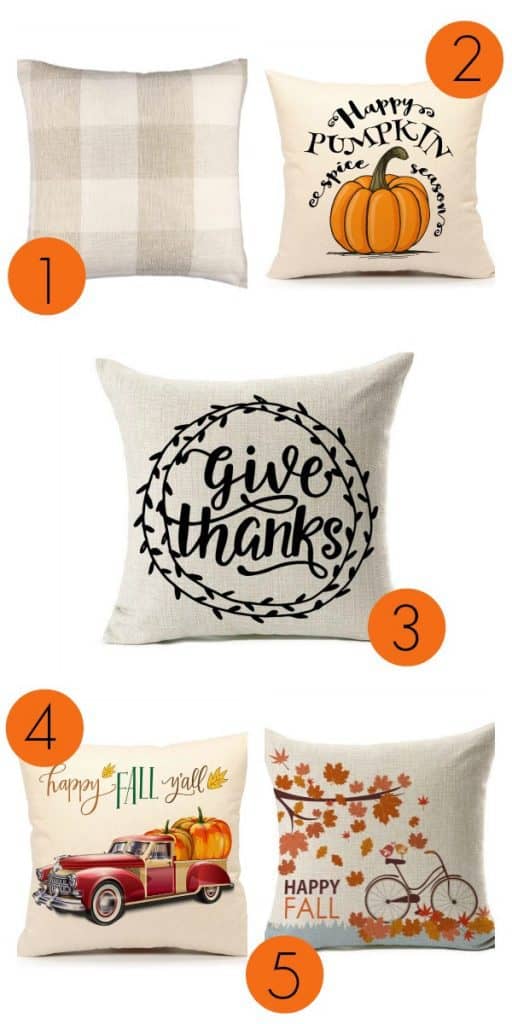 1. This tan buffalo plaid pillow is seriously the cutest accent to any fall decor! Pair it with an orange throw and place it in a chair and you will have the cutest fall decor!
2. Happy Pumpkin Spice Season! Grab this adorable pillow if you love pumpkin spice!
3. This pillow is one of my favorites. We all have plenty to give thanks for and it is perfect for fall, all the way into Thanksgiving. Grab this cheap fall pillow cover here!
4. Happy Fall Ya'll! I love this one and the truck is so cute! Would be adorable in your farmhouse!
5. I love how this pillow cover has a bicycle! It is so adorable! Grab yours here for less than $10!
More Cheap Fall Throw Pillows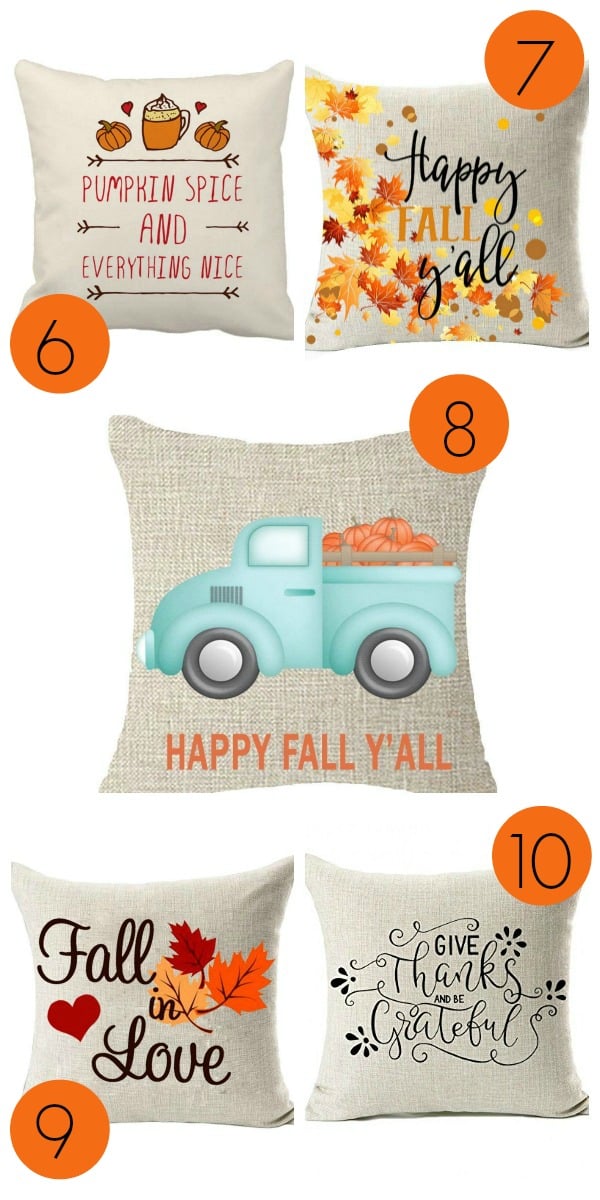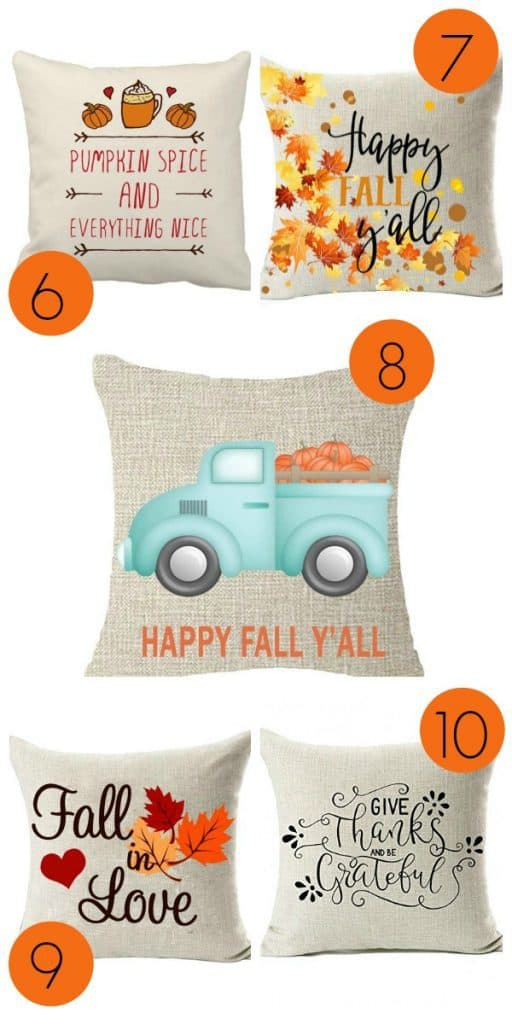 6. Pumpkin spice and everything nice is the slogan for fall! Grab this adorable pillow to make your home super cute!
7. I love this Happy Fall Ya'll pillow. The script is so adorable and would look so cute on a front porch!
8. Oh my goodness this aqua truck pillow makes me so happy! I love it. It matched my house and will so good on my couch! I am grabbing this one! Do you love it too?
9. Grab this Fall in love pillow because who doesn't love fall!
10. This give thanks and be grateful pillow would be such a cute accent piece in a recliner or accent chair. It is so simple and elegant!
Cheap Fall Pillow Covers You'll Love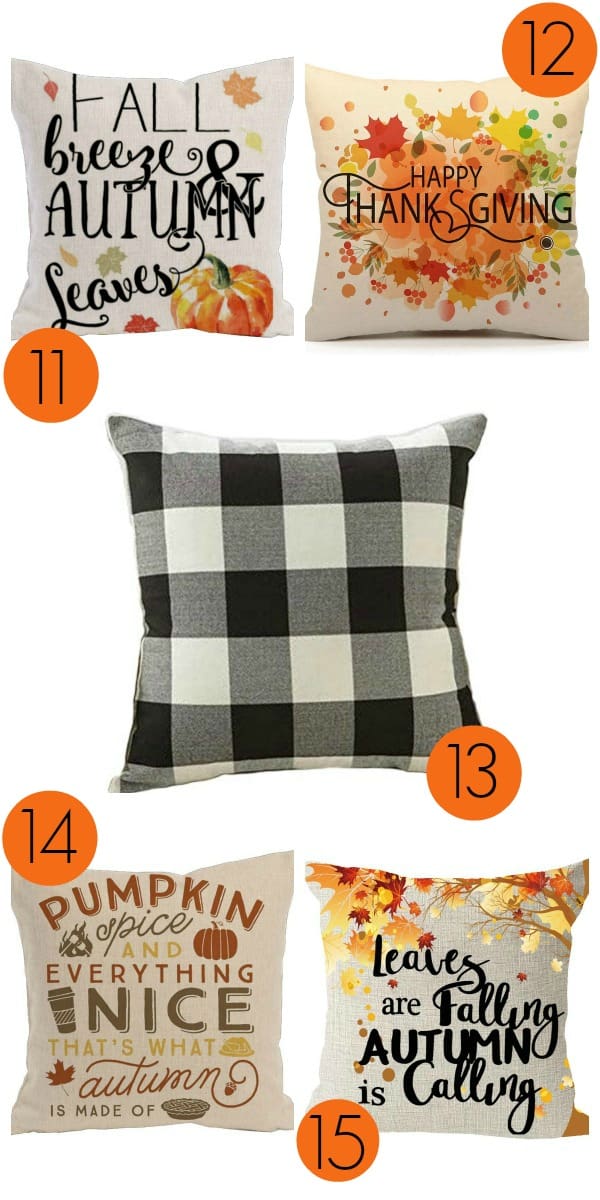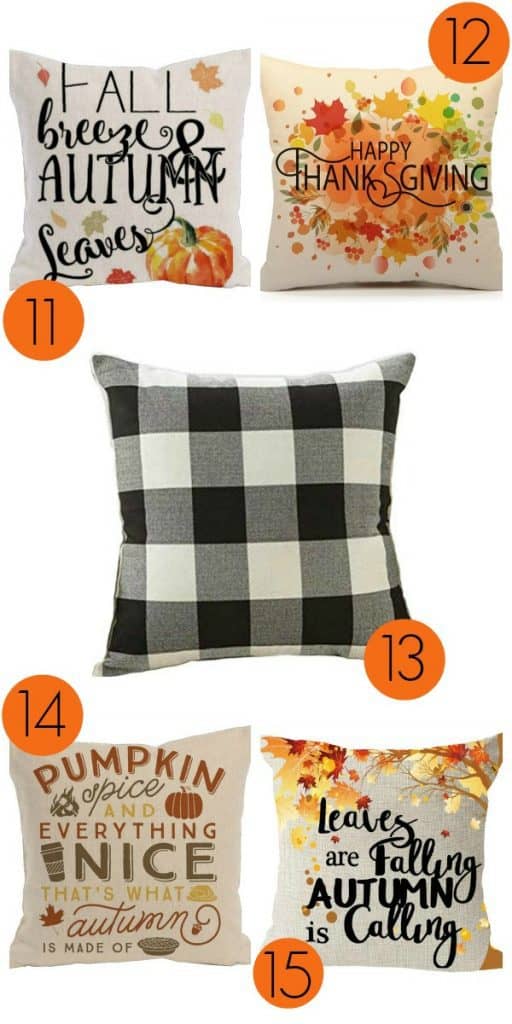 11. Fall breeze and autumn leaves! This would be super cute to decorate with no matter where you put it.
12. This Happy Thanksgiving pillow will be super cute to decorate with in November! Place it on your couch, in an accent chair or in a decorative basket!
13. Buffalo plaid is the best plaid! I love buffalo plaid and wish I could decorate my whole house with it! Unfortunately, it would not match at all but if it matches your house this buffalo plaid pillow is a great deal for less than $10 bucks!
14. I love the saying on this pillow. Pumpkins spice and everything nice! Grab yours here! 
15. Last but not least! Leave are falling and Autumn is Calling! This pillow is super cute and would great on a front porch!
Okay, aren't these cheap fall throw pillow covers seriously the cutest! I am ordering #3, #5, and #8. Which ones do you love? Comment below and let me know!
Don't forget to repin for later!