This Post May Contain Affiliate Links. We earn a commission if you click this link and make a purchase at no additional cost to you.
These days there are so many great organizers out there that you can buy. They are so nice to have but they can be really expensive! So what do you do if you want to get organized but you don't have a lot of money to spend? Use Mason Jars! Mason Jars are a great way to organize your home because they come in multiple sizes and they are inexpensive! There are so many brilliant ways to organize with mason jars! Check out these mason jar organization ideas!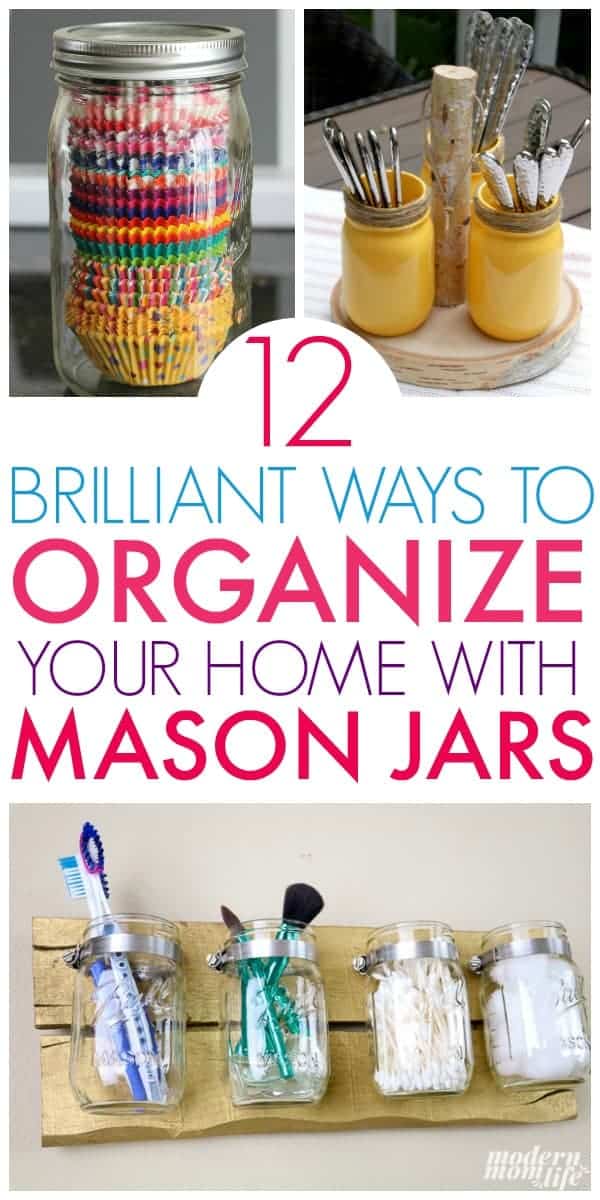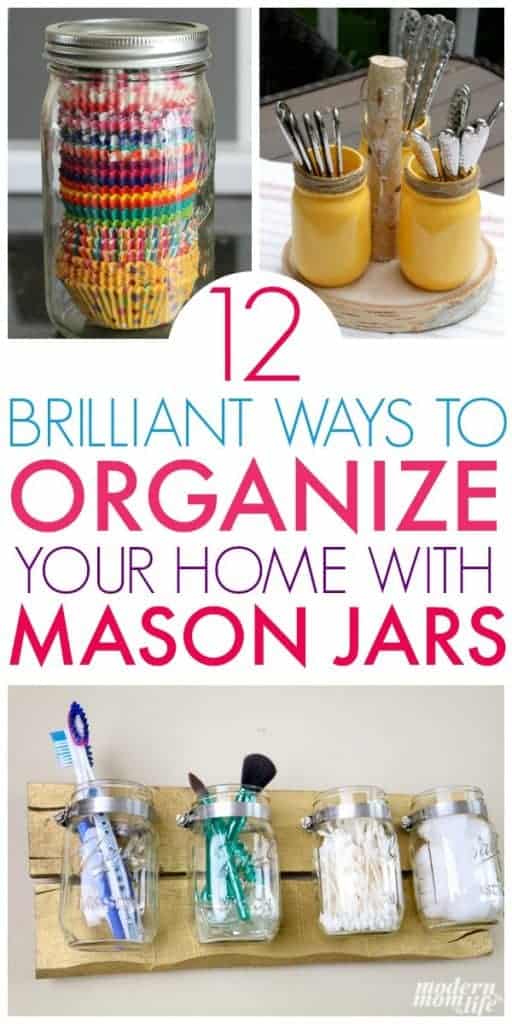 Organize Your Spices
4 Ounce mason jars are perfect to organize your spices. You can paint the lids and label each spice to give your cabinet a uniform look. Store them in a drawer to make them easy to find and access!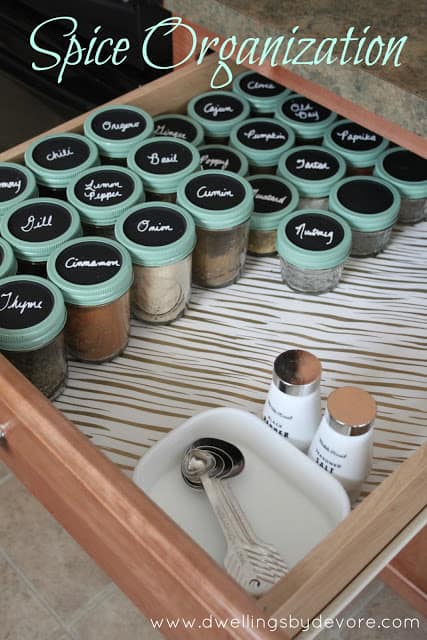 Tip & Image Credit: Dwellings By Devore 
Organize Your Ingredients
This brilliant idea is from Mrs. Meyers! You can organize your baking and cooking ingredients with flip top mason jars. These mason jars and labels are a great way to keep all your baking ingredients organized and fresh! Plus having a clear visual of the ingredients you have on hand makes it easy to plan out your grocery shopping list each week!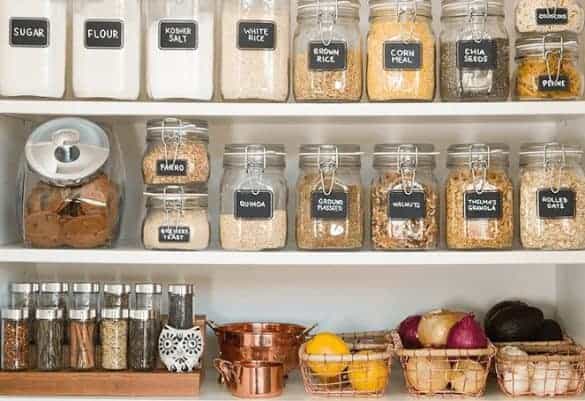 Tip & Image Credit: Mrs. Meyers
Organize Cooking Utensils
Our drawers can get so cluttered with cooking utensils. There are so many different types of utensils we need and before long they make our drawers look like a tornado blew through. So instead of storing your cooking utensils in a drawer, you can use mason jars! This is a great hack to clear out your kitchen drawers and keep your cooking tools organized! You can find these mason jar utensil holder here or paint a set yourself!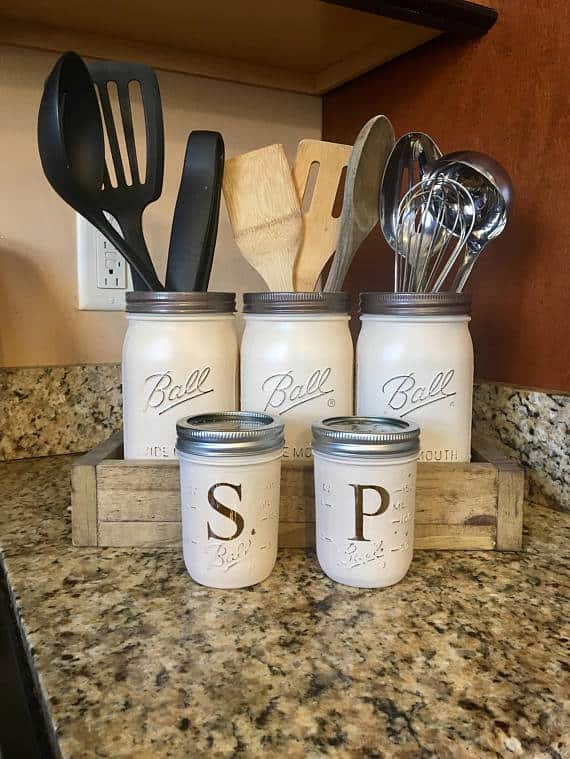 Tip & Image Credit: D and E Customs 
DIY Mason Jar Utensil Caddy
You can create this adorable utensil caddy using mason jars! It would be perfect for summer get togethers or dinner on the patio! Check out the tutorial here from HGTV!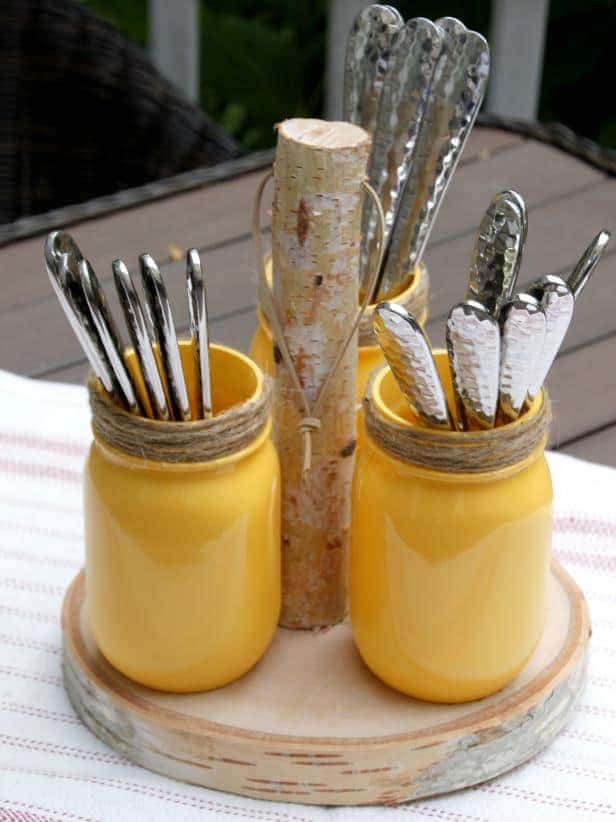 Tip & Image Credit: HGTV
Mason Jar Craft Organizers
If your craft room needs to be organized, why not try out mason jars? They are cheap and can be painted to look super cute like these from Craftaholics Anonymous! They can hold your washi tape, sewing supplies, ribbon, bows, etc! There are so many ways you could organize with mason jars in your craft room!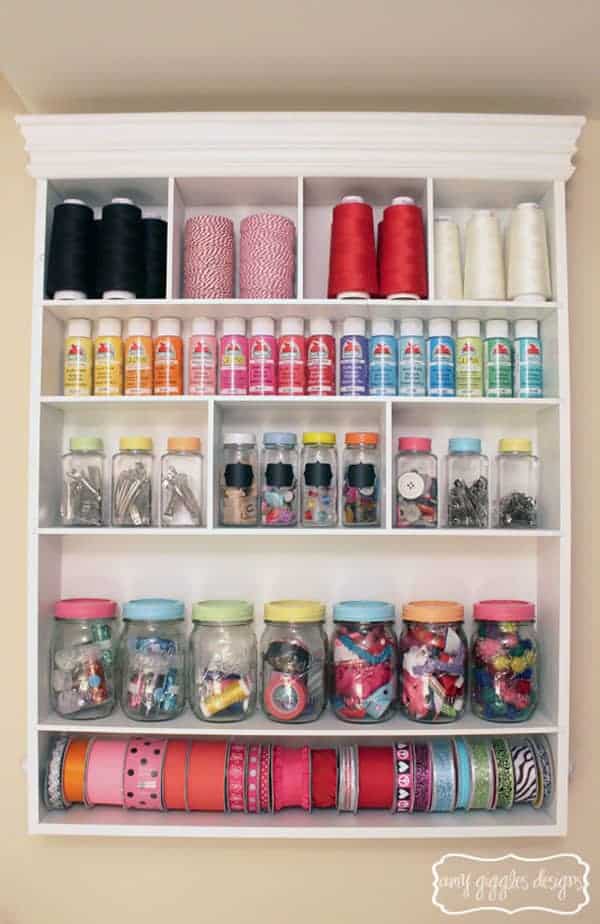 Tip & Image Credit: Craftaholics Anonymous
Organize Pens, Pencils & Markers
If you want to get really creative and create a cute and cheap desk organizer, glue mason jars together! This is such a cute way to use the mason jars we all love and keep your desk organized! Check out It's Over Flowing's tutorial to make this desk organizer yourself!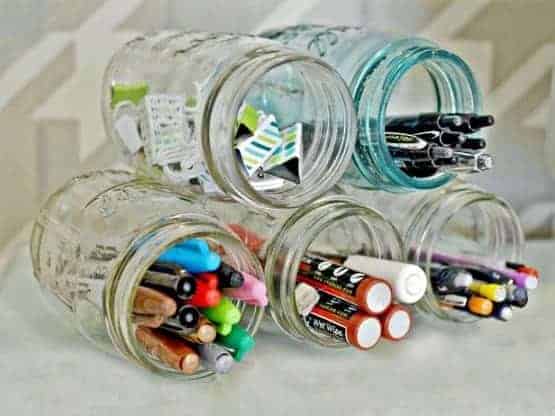 Tip & Image Credit: It's Over Flowing
Excess Paint Storage
Have you ever had a project where you used a gallon of paint but still had some paint left over? You hate to throw it away but don't have the spare room for gallons of paint to just sit around! Jenn from I Heart Organizing has the perfect solution! Store your excess paint in mason jars! Check out her tutorial here on how she made the labels for her mason jars.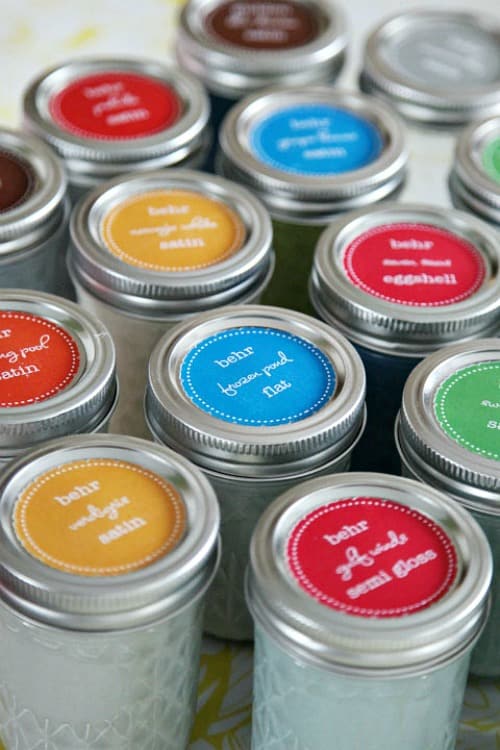 Tip & Image Credit: I Heart Organizing
DIY Bathroom Mason Jar Organizer
Love to decorate with mason jars? Then this bathroom hack is for you! You can create this DIY mason jar organizer to help organize your bathroom. Check out the tutorial here from Modern Mom Life!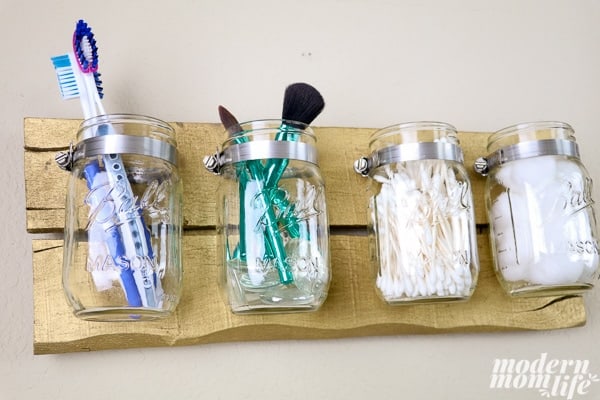 Tip & Image Credit: Modern Mom Life 
Bathroom Storage
These mason jar organizers are gorgeous and so simple to do! They would look amazing in any bathroom! Liz Marie shows you exactly how to make them here!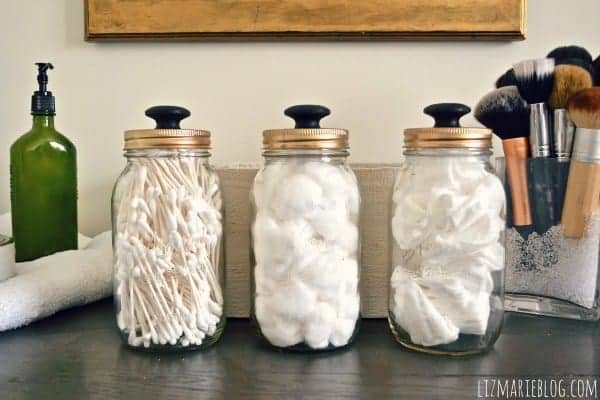 Tip & Image Credit: Liz Marie Blog
Bathroom Organizer
Want to organize with mason jars in your bathroom but prefer something a little more decorative? Check out these mason jars from A Cultivated Nest! She shows you exactly how to paint these mason jar organizers. You can paint them whatever color you wish to match your bathroom! This is a super cute idea!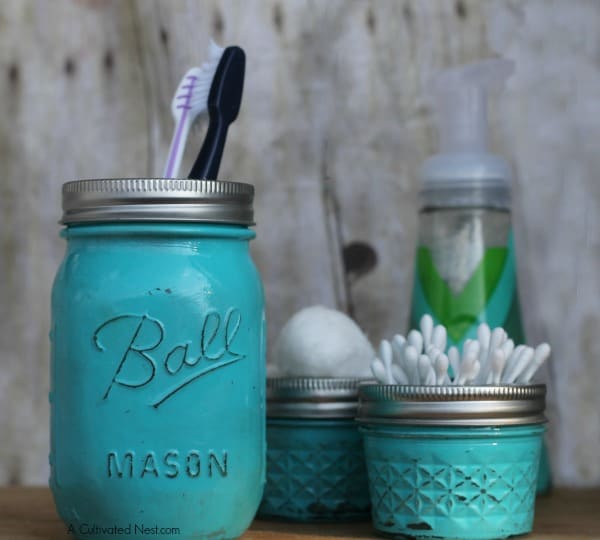 Tip & Image Credit: A Cultivated Nest 
Mason Jar Match Holder
Store your matches in a mason jar instead of the box they come in. This will keep them safe from getting wet and also keep them from falling out all over the place. Simply put your matches in the mason jar and glue the sandpaper to the lid!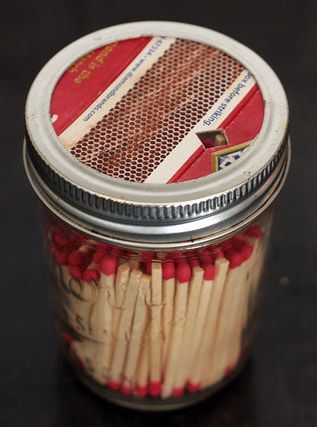 Tip & Image Credit:  Smart School House
Mason Jar Cupcake Holder
I have mentioned this cupcake holder many times on my blog because it is just such a good idea to keep your cupcake holders organized!  I bet if you looked in your cabinets right now you could find multiple containers of cupcake holders. And I bet you always forget you have them and go buy more every time you bake cupcakes! Organizing your cupcake holders with a mason jar solves the problem of where are they and do I have any? This idea is brilliant and one that you definitely should try!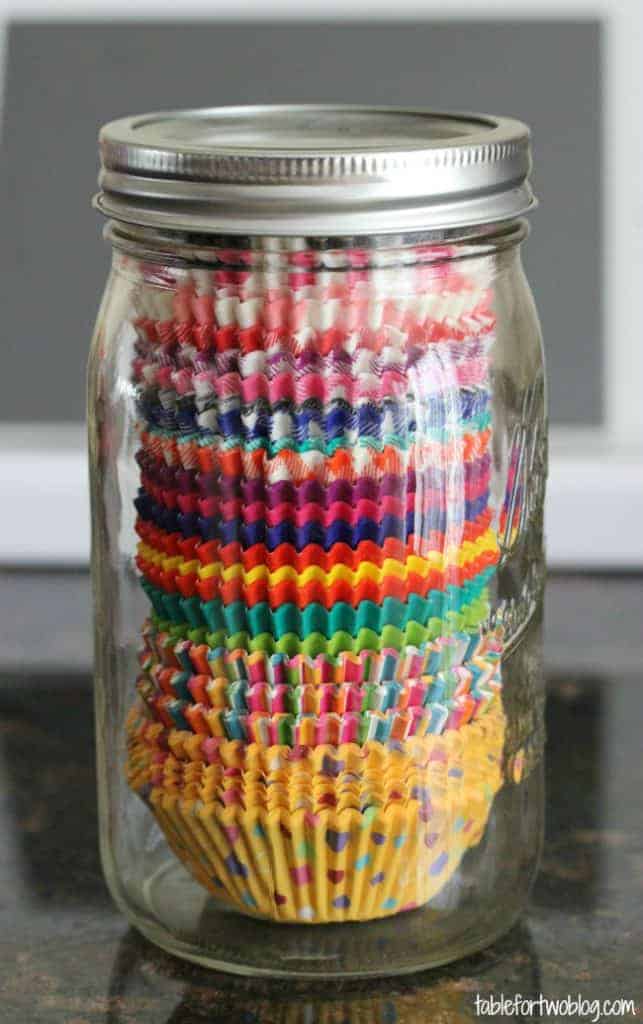 Tip and Image Credit: Table For Two
Did you find some great ideas? Comment below and let me know how you organize your home with mason jars!