This Post May Contain Affiliate Links. We earn a commission if you click this link and make a purchase at no additional cost to you.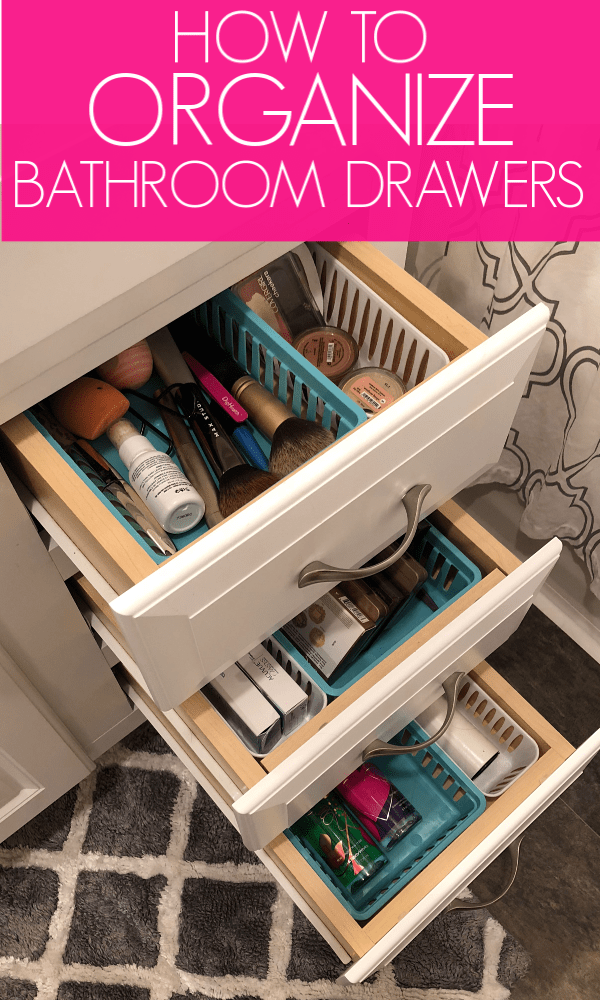 Bathroom drawers were one of the things I have always struggled to keep organized. Mostly because I couldn't find the right storage containers to do so. In our bathroom, we have short, shallow drawers. I love our vanity but unfortunately, these drawers are a bummer. They do not hold any of my hair styling tools and because they are so short most storage containers won't fit. However, I recently ran across these mini storage trays from Mainstays at Walmart. I knew they would work perfectly to organize our bathroom drawers! Check out how to organize bathroom drawers for only $6 dollars!
How To Organize Bathroom Drawers
When I found the mini storage trays at Walmart I was really hoping I could place two in our drawers horizontally. The storage trays were 2 for $1 dollar so I grabbed 4 sets of trays. Unfortunately, they were just a tad too wide so I had to place the storage trays in our drawers vertically. To fill the extra space I added another small storage tray from the Dollar Tree. You can find these in the kitchen section. They are three for $1 dollar!
How to Organize Bathroom Drawers: Step 1
The first step to organize your bathroom drawers is to remove everything from them. As you are removing your toiletries and accessories, take inventory of what you have. Are you holding onto a styling product or makeup you haven't used in a while or just don't like? If you know you probably won't use it, throw it away. This step is important!
The more junk you have the less organized your bathroom drawers will be. Only hold on to things you use! Once your drawers are empty, wipe away any makeup or dirt. You may need to use a vacuum to remove hair or dirt from the crevices of your drawers!
How to Organize Bathroom Drawers: Step 2
Next, arrange your storage containers to fill your drawers. You may need to play around with placing them horizontally or vertically. Due to the size of your drawer, you may not be able to arrange storage trays just like I did. Or you may be able to use more containers than I could. (Lucky You!)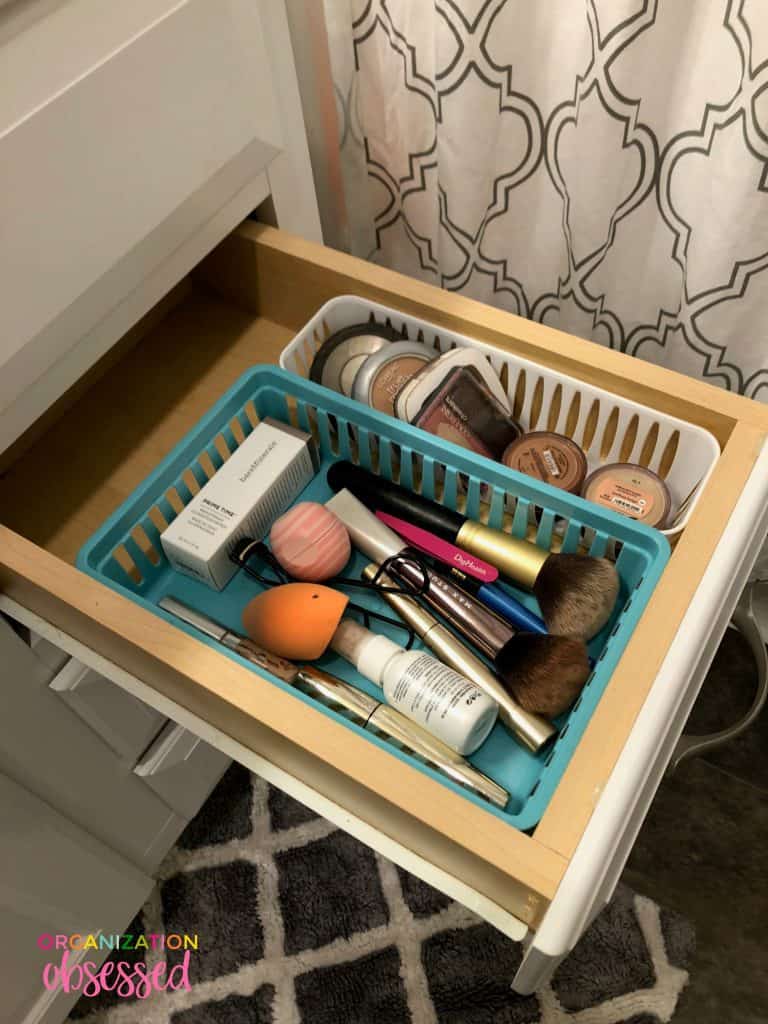 How to Organize Bathroom Drawers: Step 3
Once you have filled your drawers with storage containers, now comes the fun part! Start filling back up your drawers. On the top drawers, fill the containers with things you use most frequently. This may be your makeup, contact lens, hair brushes and combs, etc! Keep like items together. Have all your make up in one drawer, hair accessories in another, lotions and perfumes in another, etc!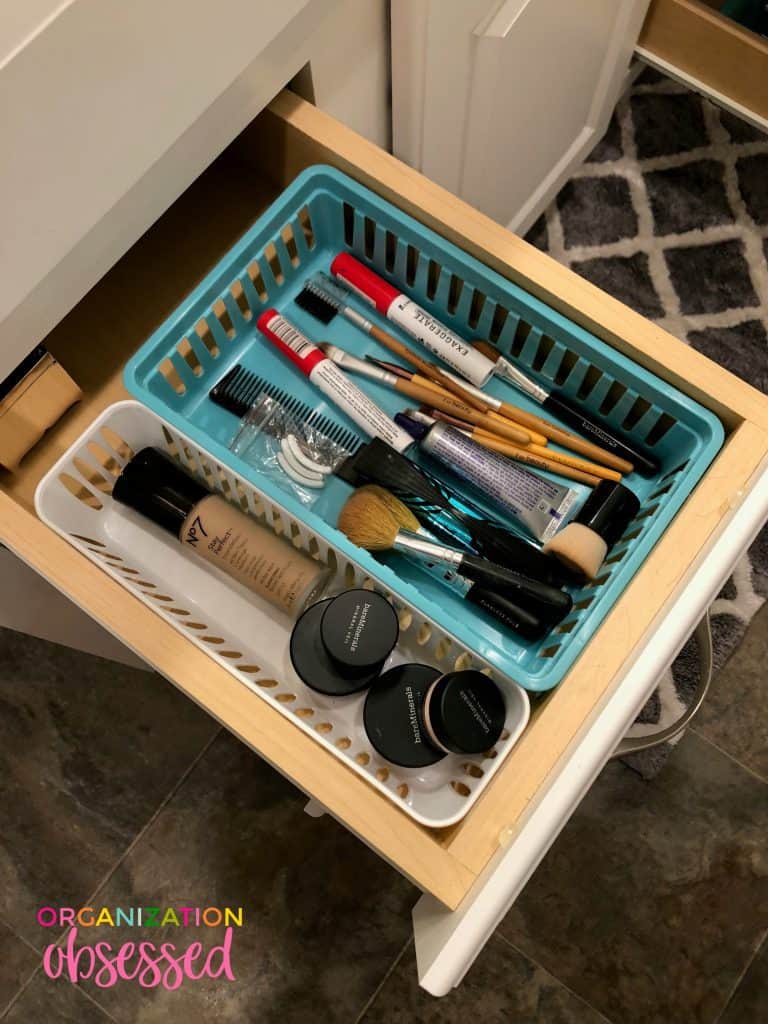 I used my top two drawers to hold my makeup. One drawer to hold the makeup I use daily and one to hold makeup I use sometimes. I rarely go all out on makeup so I don't have a lot of it, but if you do an acrylic organizer would be perfect! In the next drawer down I store my eyeshadow pallets and contacts. The mini storage tray was big enough to hold four Naked Palette and a Smashbox Palette.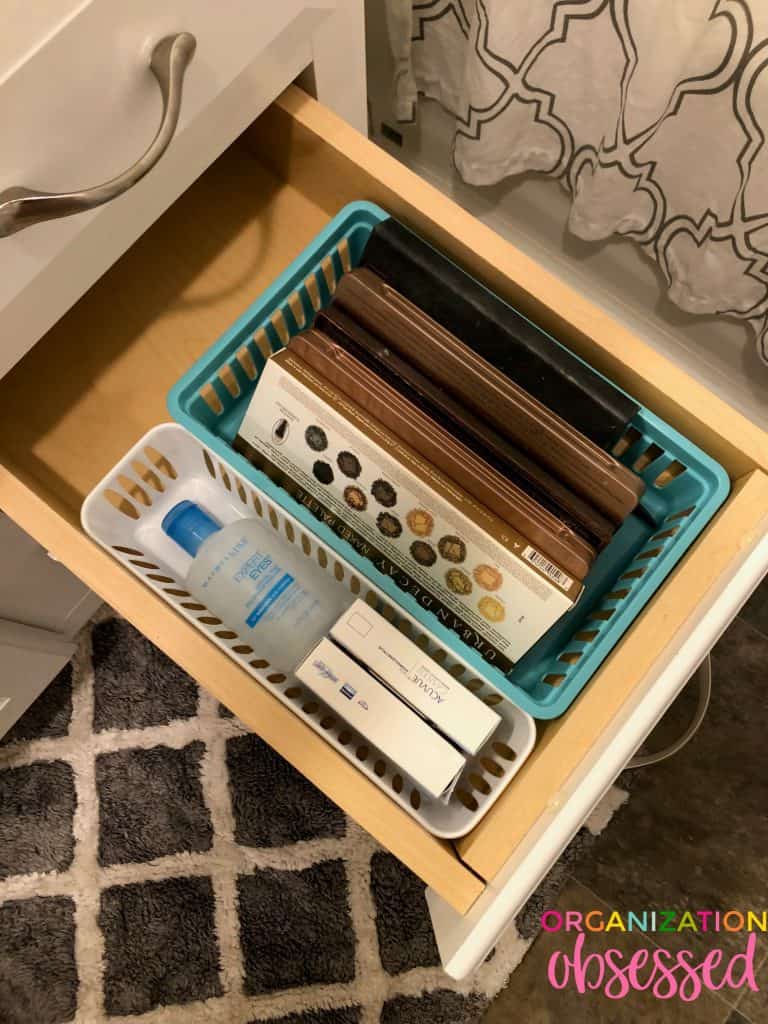 I used another drawer to store nail polish and foot care accessories. The Dollar Tree storage containers are wide enough to store my Pedifoot, nail polish, and nail tools. The Mainstays storage tray holds a handheld mirror, hair ties, and a bottle of perfume. Behind the storage trays, I have a bottle of nail polish remover and dry shampoo!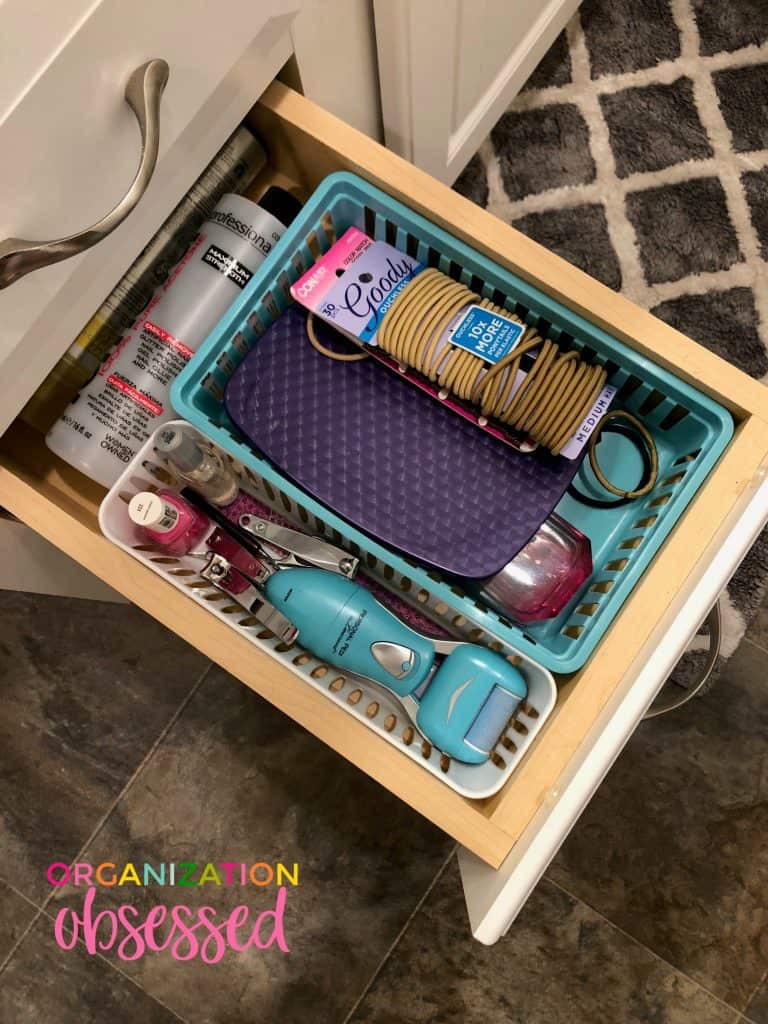 So far this method has kept my bathroom drawers really organized! I am happy with it them! Comment below and let me know how you organize your bathroom drawers!