This Post May Contain Affiliate Links. We earn a commission if you click this link and make a purchase at no additional cost to you.
My laundry room becomes a mess FAST! Doesn't yours? Clothes get piled on the floor, mismatched socks fall between the washer and dryer and lint balls fill the corners. It is one of those rooms most of us try to ignore, right? So how can we tackle our laundry room and turn it into an organized space we actually like to be in?
Check out these 10 Laundry Room Hacks That Will Make Your Life So Much Easier!
Use Robe Hooks To Hang an Ironing Board
It used to drive me crazy when we would open the laundry room door and hear the ironing board bang against it. Not only was it annoying, it was tearing up the door. So how did we fix this problem and you can too? Mount 2 robe hooks to the wall to hang the ironing board on! Not only does it make your laundry room look classy, it also creates a designated space to store the ironing board.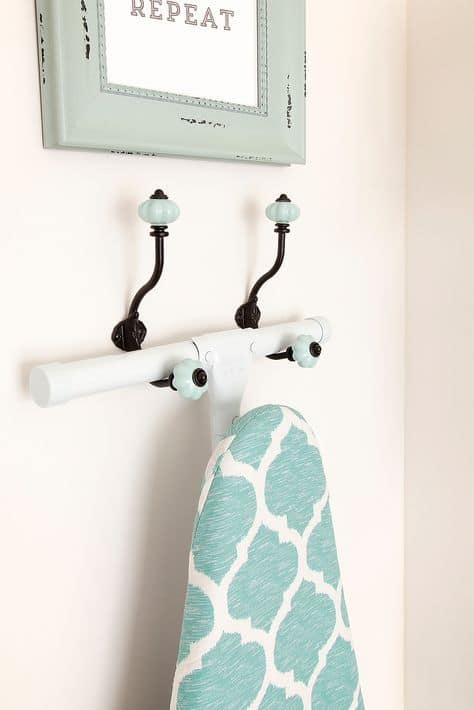 Image & Tutorial: Home Depot
Use a Detergent Drip Catcher
Whoever created these is a genius! Dripping laundry detergents can make such a mess all over your cabinets or washer. Save the mess and cleanup by grabbing a few of these Tidy Cup Laundry Gadgets!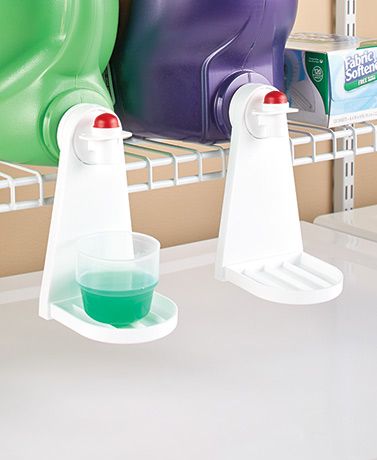 Image Credit: Amazon
Store Detergents In Glass Dispensers
Make your laundry room look professionally organized by storing detergent and fabric softeners in glass dispensers and adding a pretty label! Don't you love this idea?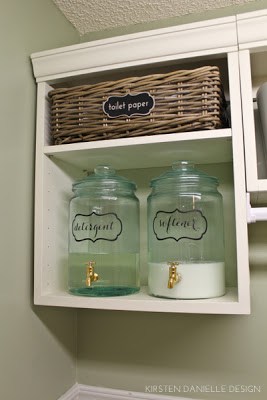 Image Credit: Kirsten Danielle Design
Use An Old Crib Spring For A Drying Rack
Do you have an old crib spring laying around the house? Or what about a ring ladder? Hang the crib spring from the ceiling and use it as a drying rack! You can spray paint it to match your laundry room colors. Such a great idea and functional for a small laundry room! Check out this tutorial here!

Image Credit: A Diamond In The Stuff
Use Slatwall and Hooks to Create an Organized Space
This is such a good idea from My Uncommon Slice of Suburbia! They used a piece of Slatwall and attached hooks to hang brooms, swiffer's, and baskets! You could do this too with Slatwall and few hooks!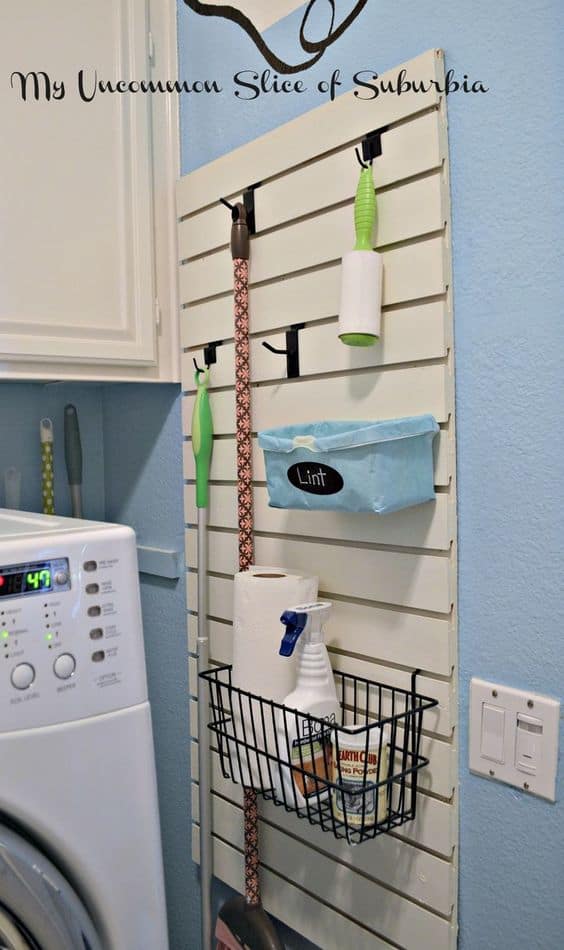 Tip & Image Credit: My Uncommon Slice of Suburbia
Build a Laundry Basket Organizer
I am so dreamy eyed over this laundry basket sorter! I wish I had room for it in my laundry room. Ashley at Make It – Love It and her husband built this laundry basket organizer for their laundry room with MDF board, 2×4's and a little bit of handy work! Their baskets are the Sterilite Laundry Baskets that you can get in a 6 pack! Check out Ashley's tutorial here!

Tip & Image Credit: Make It – Love It
Install A Hanging Basket Rack
Use the dead space on the back of your laundry room door and install a hanging basket rack. You can store extra toilet paper, paper towels, soaps, detergents, etc! It is a great way to obtain extra storage and take up minimal space.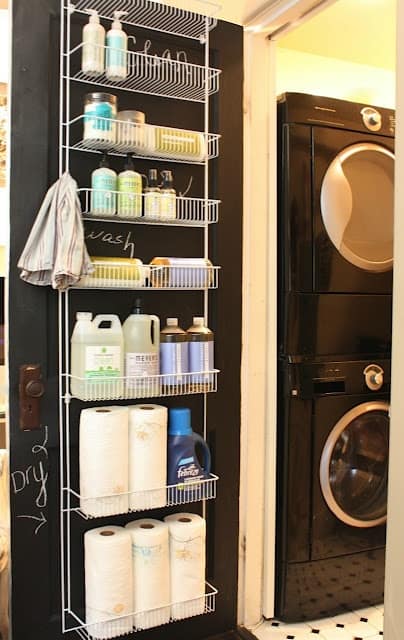 Tip & Image Credit: My Sweet Savannah Blog
Make Your Own Lint Bin
Oh, the lint! If doing laundry wasn't already such a pain, add in the constant cleaning of the lint catcher. What do you do with it? How about creating your own lint bin! check out how Melissa at Polished Habitat used a Brochure Holder to create her own lint bin! Find the tutorial here!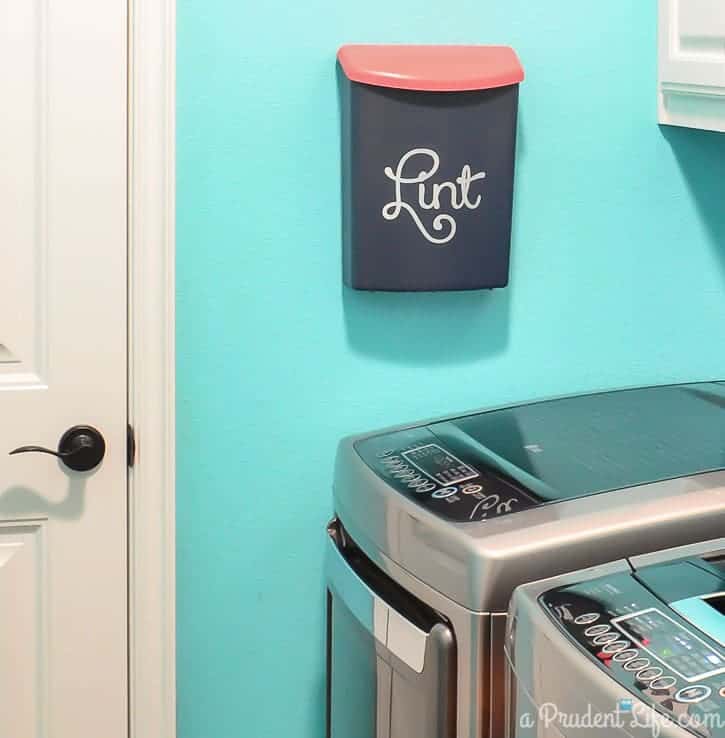 Tip & Image Credit: Polished Habitat
Store Tide Pods in a Candy Jar
Spruce up your Tide Pod holder and store them in a candy jar. This is a great way to organize your laundry room as well as giving it a custom organized look! You can also store powder laundry detergent in a candy jar as well!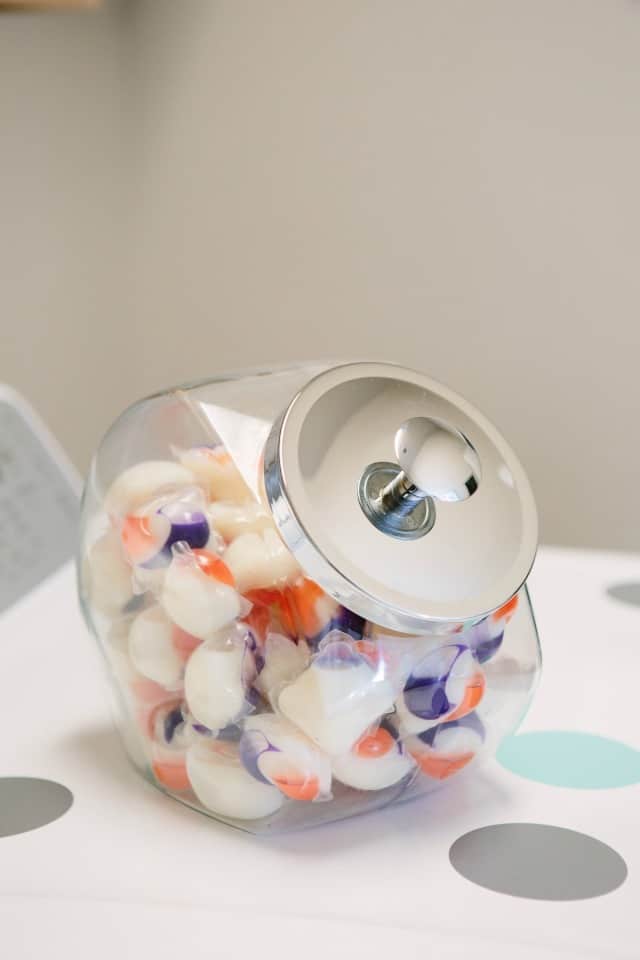 Image & Tip Credit: Design Improvised
(Due to issues with children consuming Tide Pods, please use this tip in a safe manner, and at your own risk)
Build A Rolling Landry Basket Sorter
There are so many different ways to build a laundry basket sorter. You can build a permanent one like Ashley did above or you can make a rolling laundry sorter! Hoosier Homemade has a tutorial on how to build this exact laundry sorter! Check it out right here!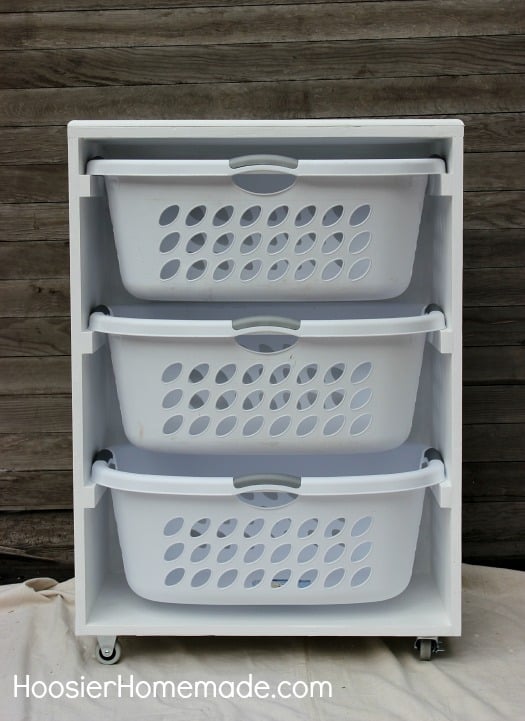 Image and tip credit: Hoosier Homemade
So how do you organize your laundry room? Comment below and share your tips with us!
You May Also Like:
18 Magic Eraser Hacks That Will Blow Your Mind
12 Brilliant Ways To Organize Your Bathroom