This Post May Contain Affiliate Links. We earn a commission if you click this link and make a purchase at no additional cost to you.
Most of us have some sort of office these days. Whether you actually work at home or have a job away from home, you more than likely have a desk somewhere. So what does that desk look like for you? Is it a cluttered mess?
Nothing will halt your productivity more than a cluttered workspace!
So are you wondering where do you begin to organize your desk? First, start by taking everything off your desk and out of the desk drawers. Sort through everything you have. Do you really need all of those paperclips? Or what about the receipts you have been hoarding for months? Throw away anything that is no longer necessary for your productivity.
Once you have decided what to keep, it is time to decide on what kind of organization systems you want to put in place.
Check out these BEAUTIFUL desk organization ideas! You can implement each one of these ideas with just a little bit of time and the right tools.
Organize Your Paperwork in File Folders
Turn your office up a notch by giving your basic file folders a makeover! Melissa from Polished Habitat took basic file folders from Amazon and used a little bit of creativity to create a beautiful workspace. She used her Silhouette Cameo to create these super cute labels for each of her file folders. The front of each folder has a different design so she can change up her space often. You can find her tutorial here!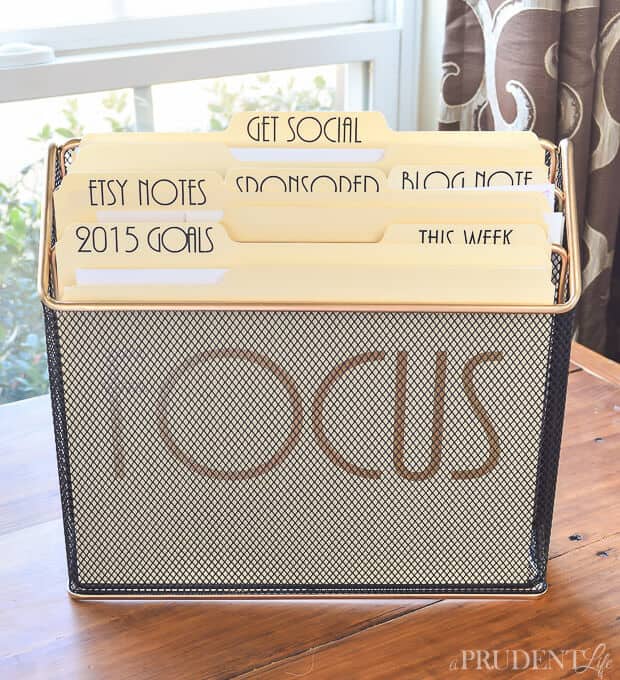 Tip & Image Credit: Polished Habitat
Use a Desktop Organizer
Clean and Scentsible has created a beautiful office space and uses a desktop organizer to organize her planners and important paperwork to keep on hand. This desktop organizer has unfortunately been discontinued but you can find a similar one here on Amazon. I love how she used beautiful notebooks and planners to make your her have a touch of decor as well as being functional and productive.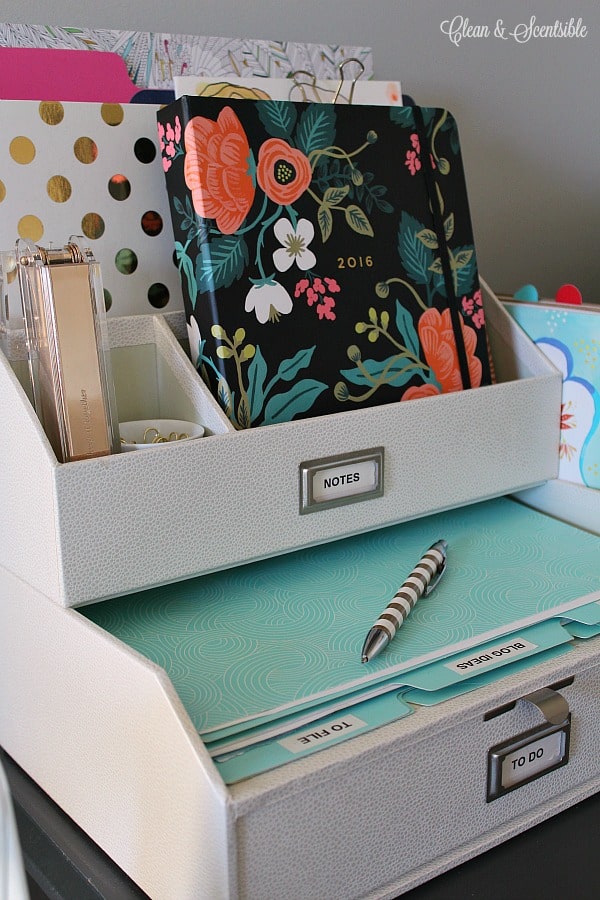 Tip & Image Credit: Clean & Scentsible
Clear Containers for Everything
Do you have beautiful pens or a mountain of pretty washi tape? Why not use it to decorate your desk and keep it organized at the same time? Using clear storage containers you can organize anything on your desk. From pens to paper clips, there are so many different size containers you can use.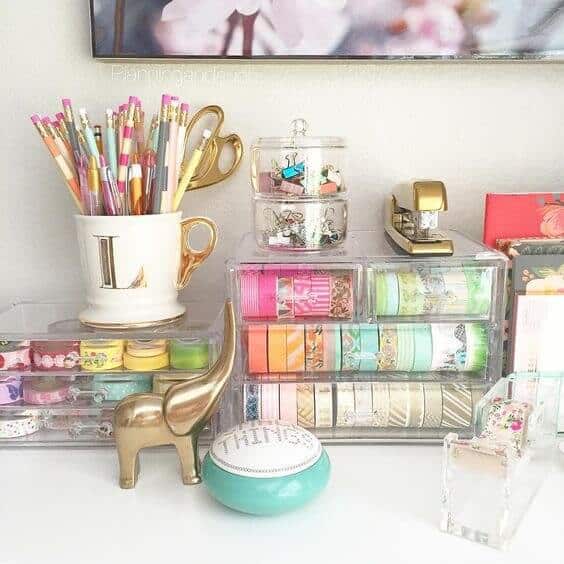 Tip & Image Credit: PeachPom
Build Your Own Drawer Dividers
Do your drawers need dividers but you don't want to spend a fortune? Why not build your own! Diane from In My Own Style built her own drawer dividers with hobby boards from Lowes! Check out her tutorial here! I love how shes created a compartment for each of her office accessories.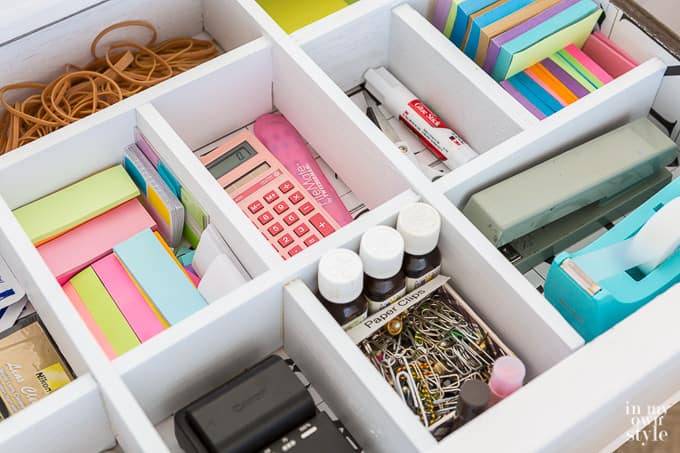 Tip & Image Credit: In My Own Style
Style Your Desk Trays
Oh, these desk trays are so so pretty! Destiny from Just Destiny Mag has a great tutorial on how to take letter holders from the Container store and add card stock and vinyl labels from a cutting machine.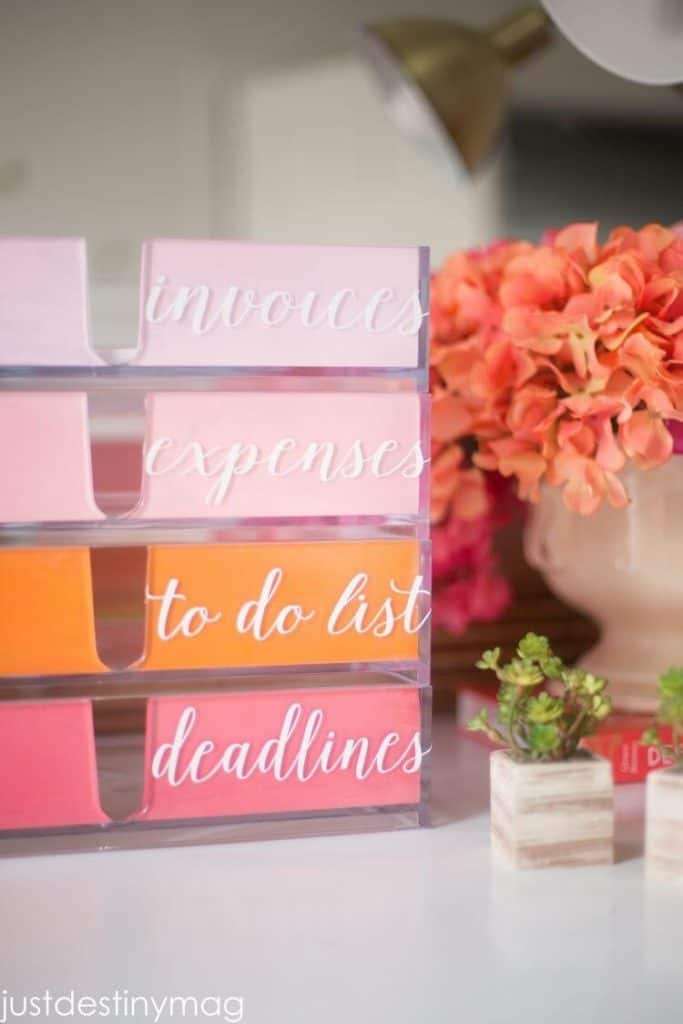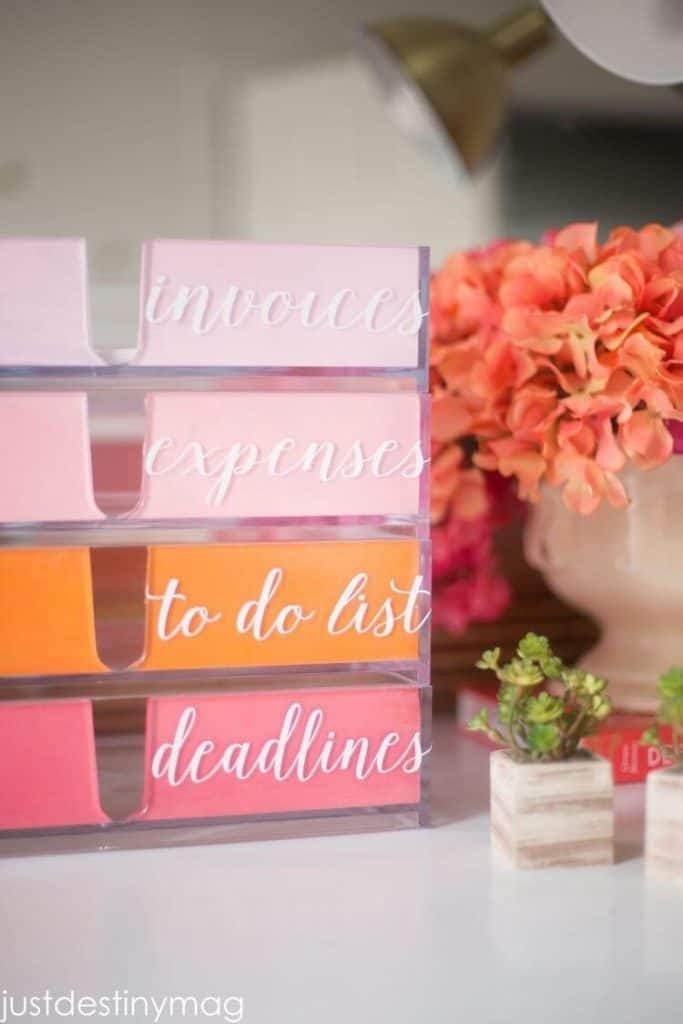 Clipboard Wall Art
Give your desk a little bit of decor with this super cute clipboard wall art idea. This is a great way to store your clipboards as well as make your office really pretty!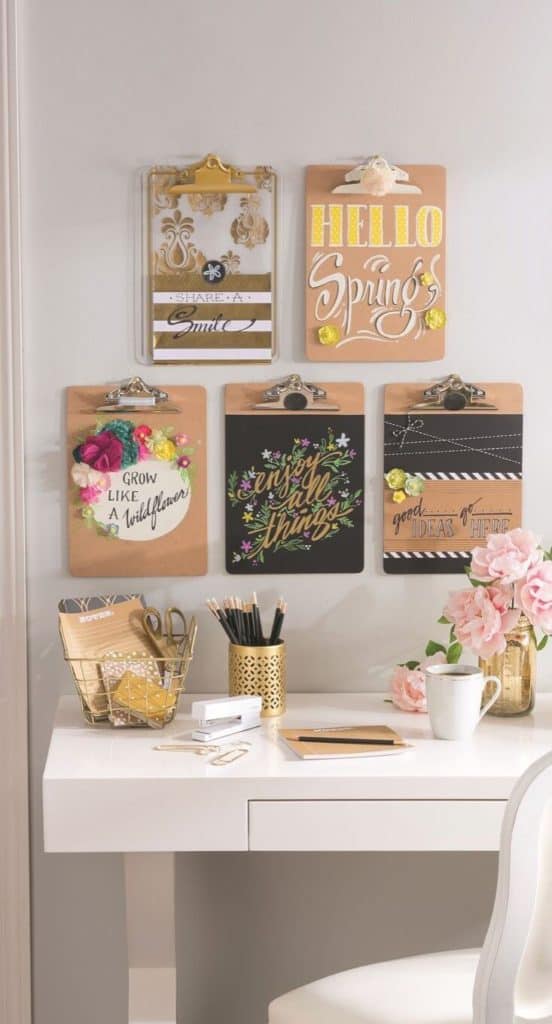 Tip & Image Credit: Joann
DIY Charging Station
Is your desk cluttered with chargers and cords? This is a cheap and easy way to hide the clutter that comes along with electronics. Using a shoebox and scrapbook paper you can create a charging station to match your office space. Find the tutorial here from One Good Thing By Jillee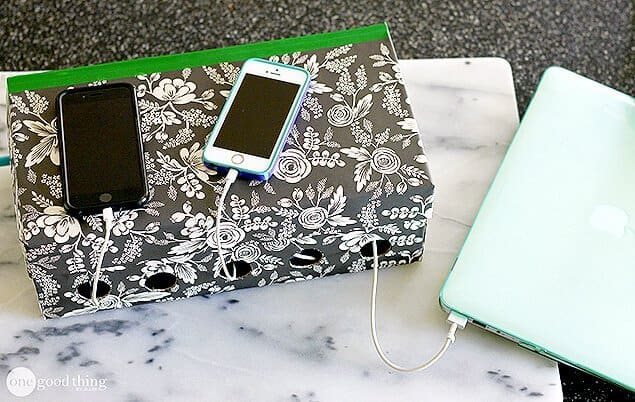 Tip & Image Credit: One Good Thing By Jillee
DIY Mason Jar Utensil Holders
These mason jar desk accessory holders are perfect to house your pens, pencils, scissors, etc! Using craft paper, twine, and chalkboard tags you can create these mason jars to match any space!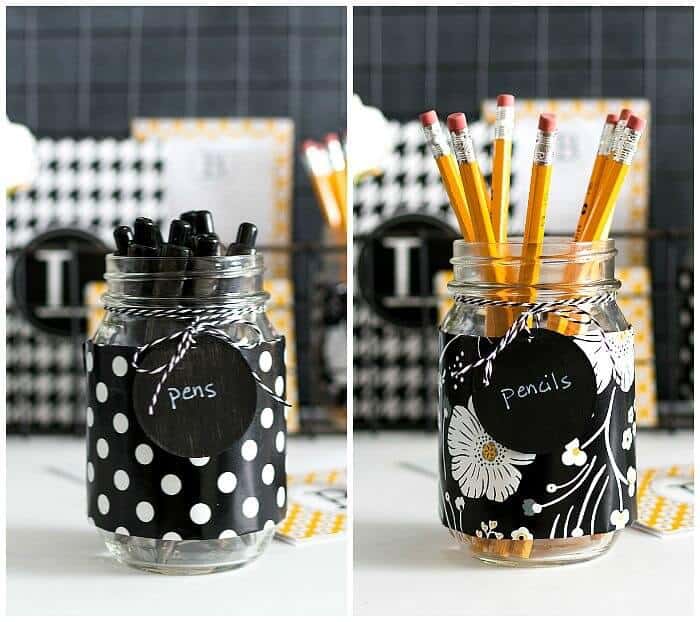 Tip & Image Credit: Mason Jar Crafts Love
Create a Mason Jar Organizer
If you want to get really creative and create a cute and cheap desk organizer, glue mason jars together! This is such a cute way to use the mason jars we all love and keep your desk organized! Check out It's Over Flowing's tutorial to make this desk organizer yourself!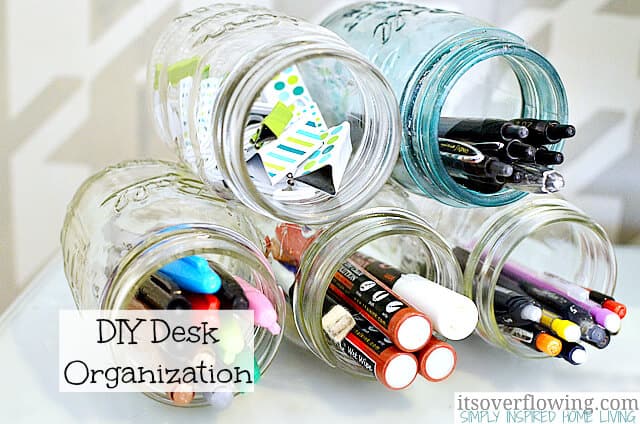 Tip & Image Credit: It's Over Flowing
Organize The Small Supplies In a Tackle Box
It is easy to lose small desk supplies when you don't have a designated area to store them. Productive and Pretty came up with such a smart idea! Store small supplies in a tackle box! They come in various sizes with tons of small compartments. Using a tackle box is the perfect way to store your paper clips, binder clips, thumb tacks, etc!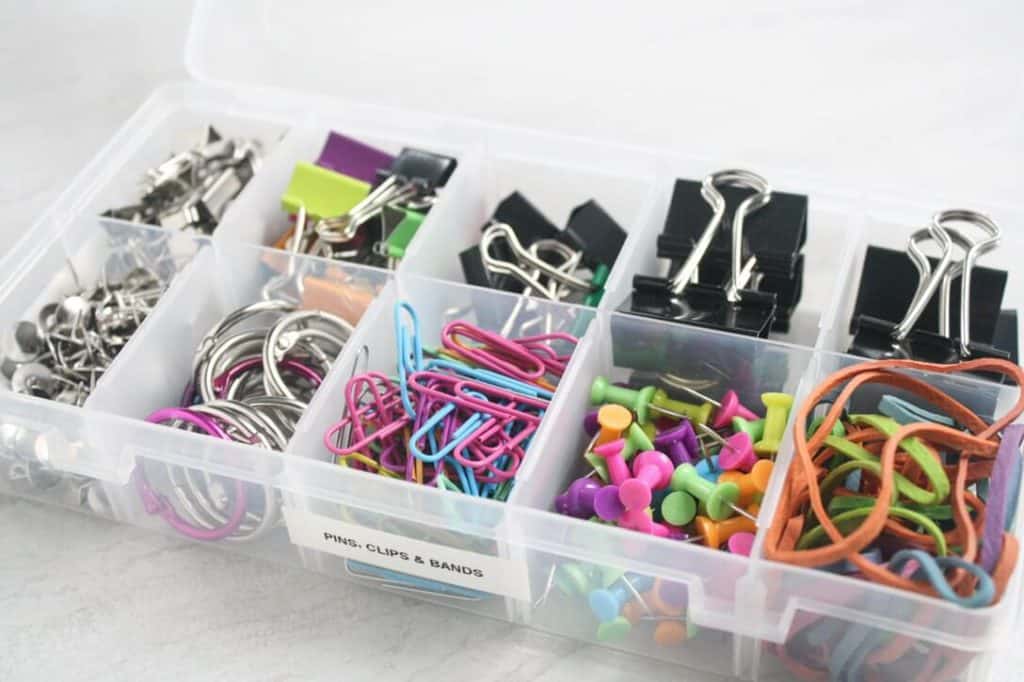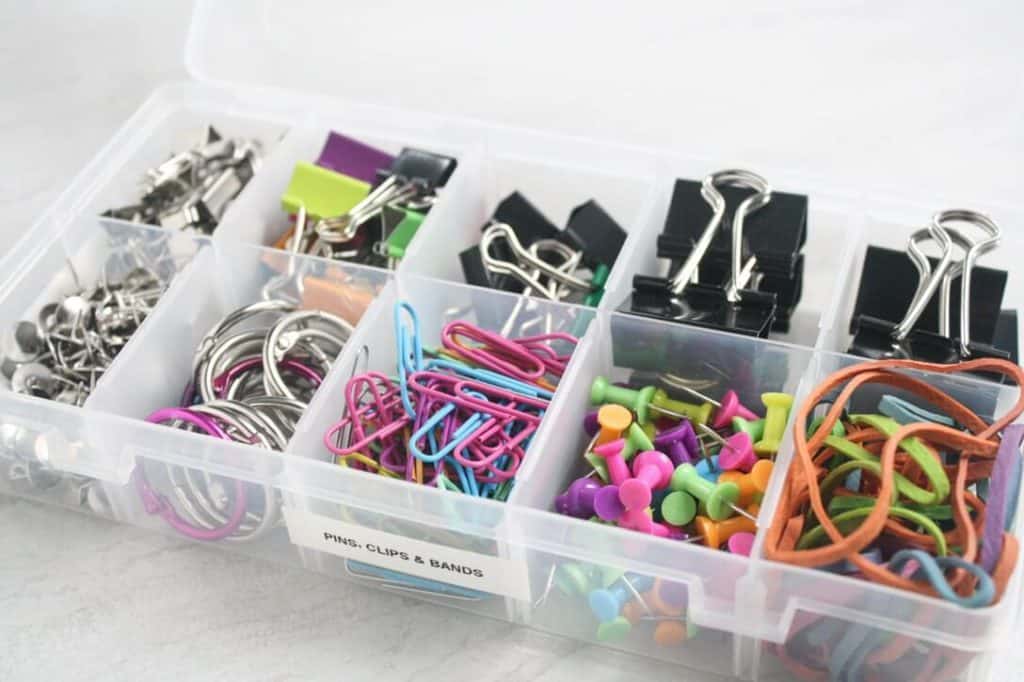 Tip & Image Credit: Productive & Pretty
Transform Your Desk Drawers With Plastic Organizers
Wouldn't a desk drawer like this make you feel like you could rock any day? See how Jen from I Heart Organizing created a beautiful desk drawer organizing system with a hanging drawer organizing tray and drawer organizers. This is such an easy and cheap way to organized one of the most cluttered areas in our desks.

Tip & Image Credit: I Heart Organizing
Create a Custom File Holder
Do you use files on your desk but find them ugly and boring? Check out how Homemade by Carmona created a personalized filing system. Using an acrylic file holder and hanging file folders.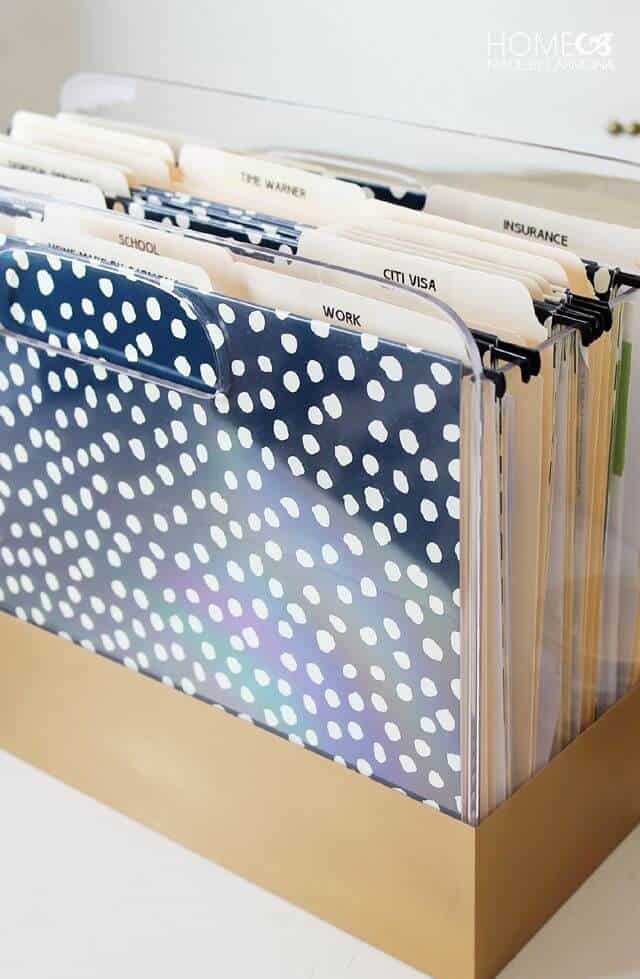 Tip & Image Credit: Homemade By Carmona
Organize Your Cords
Keep your cords organized by clipping binder clips to the edge of your desk and resting the cords inside the handles! This is such a brilliant idea!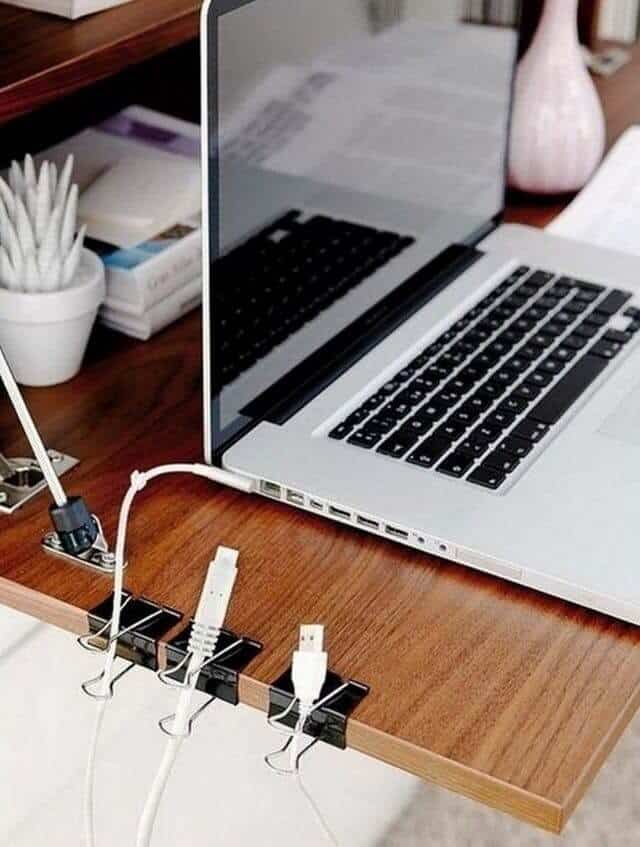 Tip & Image Credit: Lifehack
Organize The Cords Under Your Desk
Let's move under your desk. We have all seen the horrific scene right? A bunch of tangled cords and you are not sure which one is the printer and which is the laptop. It can be a mess! Check out how The Chic Site created the perfect system to know which cord is which. She used washi tape to label each cord. Such a pretty and smart way to keep your desk organized!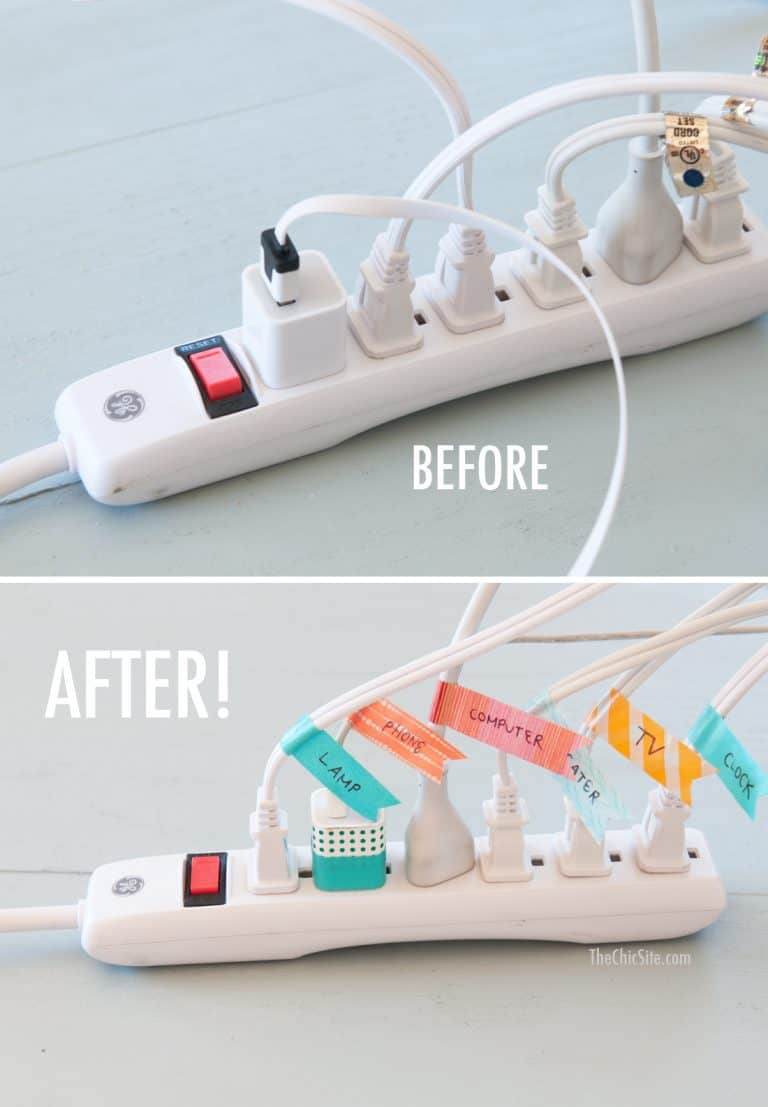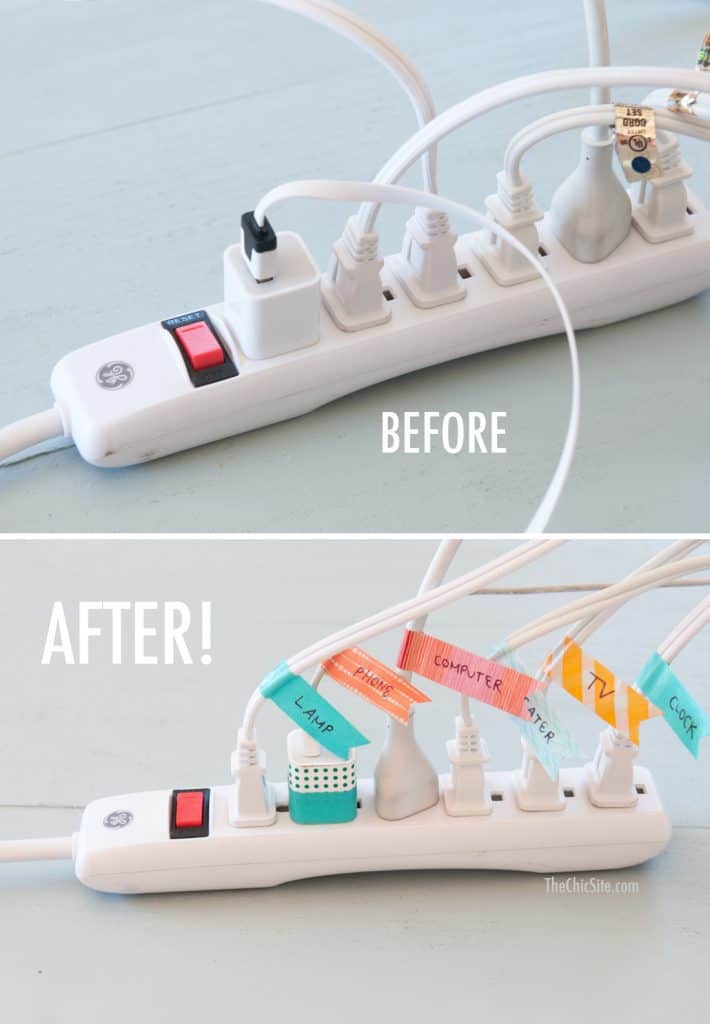 Tip & Image Credit: The Chic Site
What organization systems do you use in your desk? Comment below and let us know!
You May Also Like:
12 Genius Ways To Banish Paper Clutter
35 Brilliant House Cleaning Hacks You Need To Know Right Now