This Post May Contain Affiliate Links. We earn a commission if you click this link and make a purchase at no additional cost to you.
We are wrapping up week 2 of the Organize It Challenge! Today we are finishing up organizing the bathroom! Today I am actually going to show you both of the bathrooms in our house! Our bathrooms are just your basic bathroom, however, one has lot's of storage and the other one has hardly any storage! So today I am going to show you how I keep those bathrooms organized.
Let's start off in my bathroom.
Just like how I organize makeup, I also organize the rest of my bathroom drawers with Mainstays organizing trays. Then in the large cabinet in the center, I use a storage basket to keep my towels organized and in place. I used to just stack them in the cabinet, but they would fall into the drawers. Using a basket is working a lot better! Beside the basket, I use another Mainstays organizing tray to hold an extra curling iron and straightener. Then on top of that is a makeup bag I use every once in a while.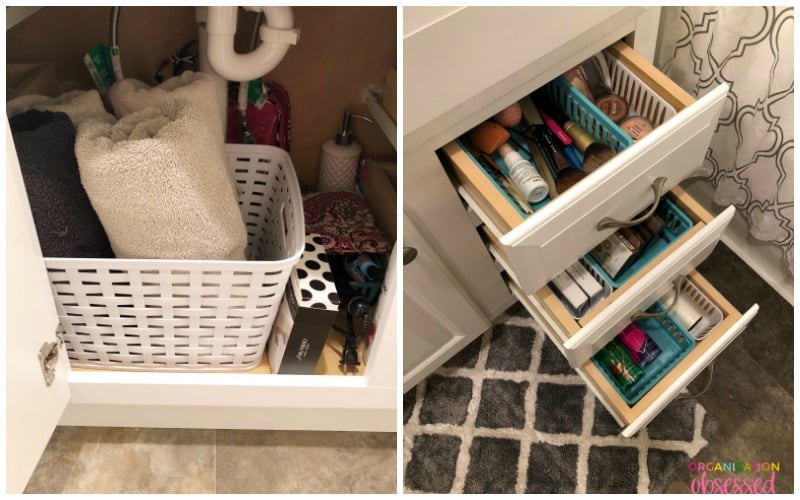 In our hall bathroom, we have a lot more storage! Under the sink, there is a large basket that holds toilet paper. Beside it, we have another basket that holds our bathroom cleaning supplies.  In the vanity drawers, we use deep clear storage containers to store toiletries. Then in a large cabinet, we keep hand towels, bath towels, extra toiletries, and medications we sometimes use. All of these containers came from Big Lots!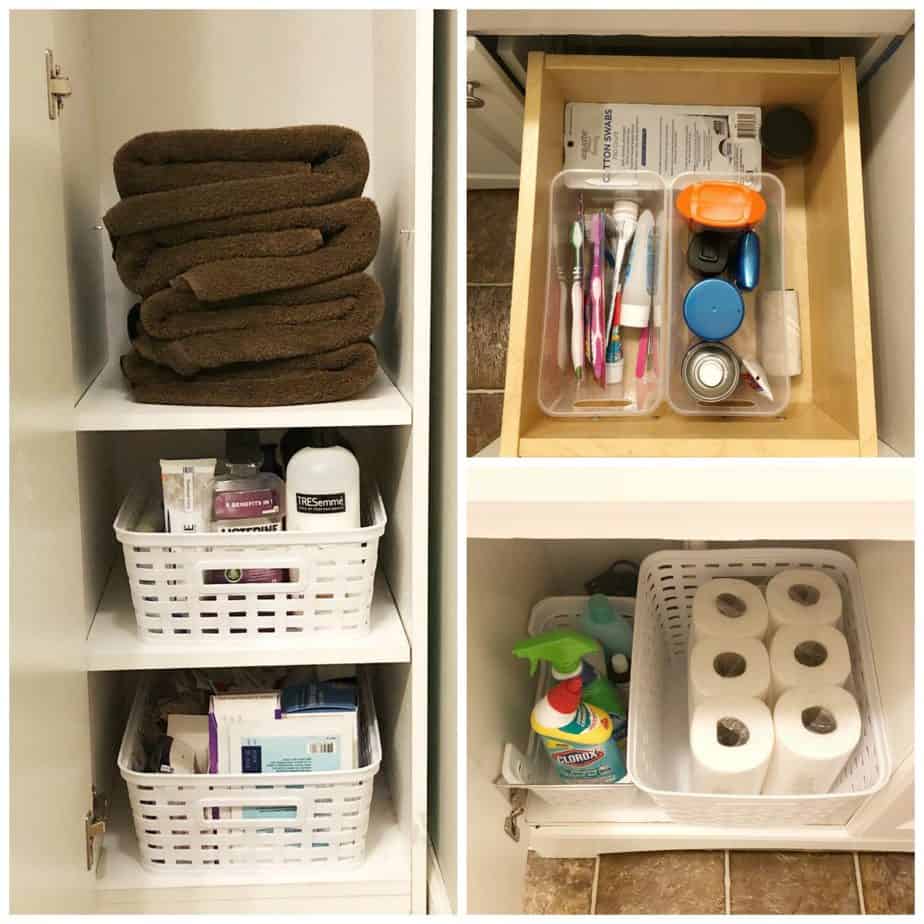 Now it's your turn!
Steps For You To Take
Follow these steps to declutter, clean & organize your bathroom. To make it easier only focus on one bathroom at a time.
Declutter
Starting with a drawer or the large section of your cabinet.
Remove everything in the cabinet or drawers.
Throw away any empty bottles, old toiletries, or items you no longer use.
Clean
Wipe your cabinet openings and drawers out with a wet cleaning cloth.
You may also need to use a vacuum to remove any dirt.
Organize
Now start putting your toiletries and bathroom needs back in your drawers.
I highly recommend using organizers! You can find budget friendly organizers at the Dollar Store, Amazon, Walmart or Target!
When you start to put thing's back, group like items together. Keep your nail polish together, extra toothbrushes and toothpaste together, deodorants together, etc!
Put the items you use the most often in the top drawers and easily accessible.
Looking for Bathroom Organizers? Check out these!