This Post May Contain Affiliate Links.
Are your dresser drawers a complete disaster? Or maybe just a little messy? Today we are going to tackle your dresser drawers and get them decluttered and organized! I am going to show you my drawers that tend to get the messiest and how I fold clothes to combat cluttered and unorganized drawers. Below you will see my t-shirts, tank tops, and shorts.
Let's start with organizing t-shirts!
I keep all of my t-shirts in one dresser drawer. To keep them organized, I keep them all folded the same exact way. Fold them in half lengthwise, then fold over the sleeves. Next fold the shirt in half and then half again. That's it! It is super easy! When placing the t-shirts in my drawer, I put the fold down to keep the shirt from unfolding and so you can see what the t-shirt says.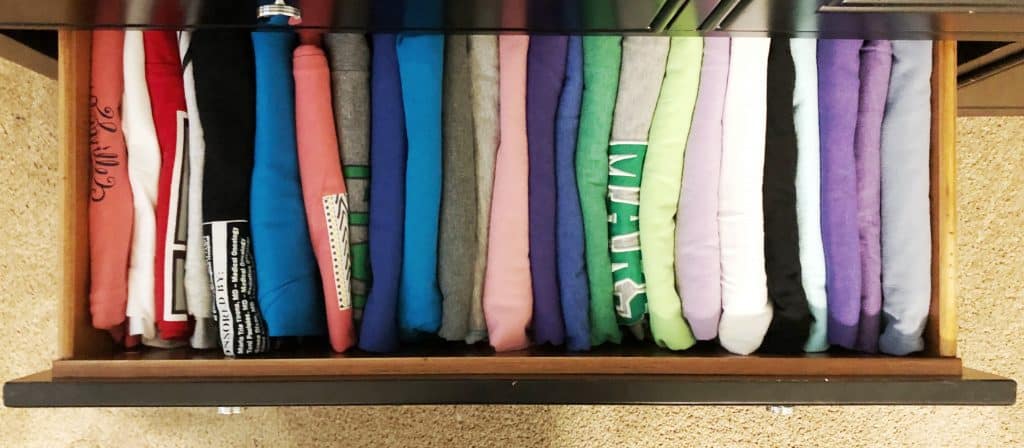 Moving on to Organizing tank tops!
What you see is actually a new method I am using and I love it! I use the same method of folding tank tops as I do t-shirts. Fold in half lengthwise, then fold in half, and then half again.
I used to fold my tank tops like stores do. However, when I tried to pull a tank top from the bottom of the stack, the rest of the tank tops above would unfold and become messy. This method works so much better! I can see which tank top I am looking for and pull out a tank top without messing up the whole stack.
This method works great for me because I have a lot of tank tops and it fills my whole drawer. If you do not have enough tank tops to fill your drawer, you could use a drawer organizer to hold them in place!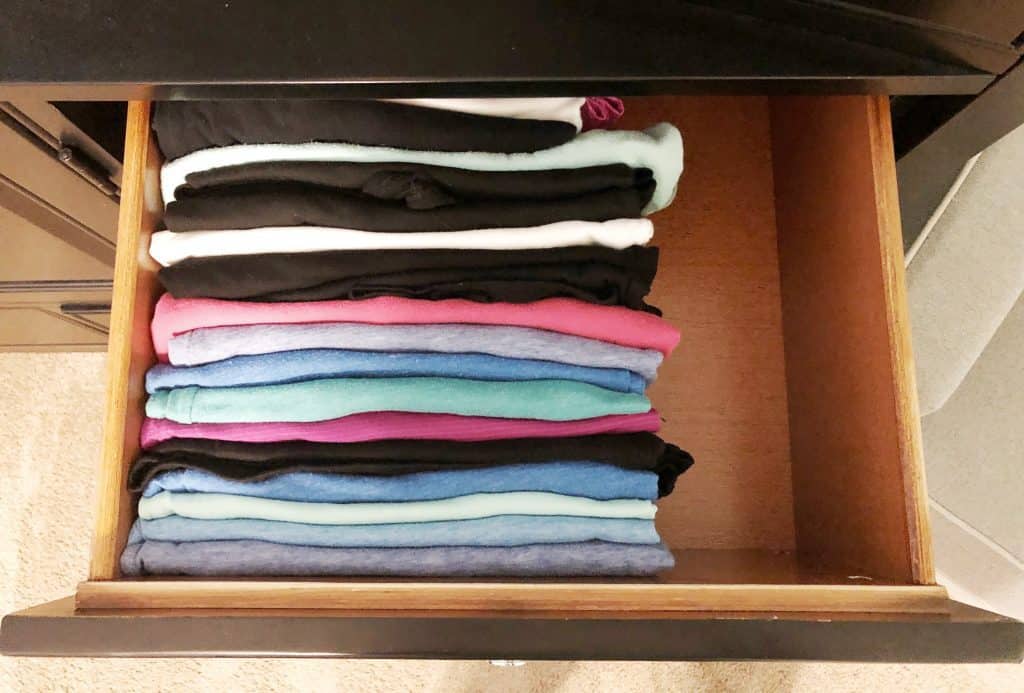 How To Organize Shorts
I keep my dressy shorts and gym shorts in the same large dresser drawer. To keep them organized, I fold them in half and then stack them on top of each other.
I keep shorts that I wear the most on top and the ones I wear the least on the bottom. Folding this way is not my favorite method but it is hard to fold shorts any other way since they are typically very thin. The key is when you pull out a pair of shorts, straight up the rest of the pile each time.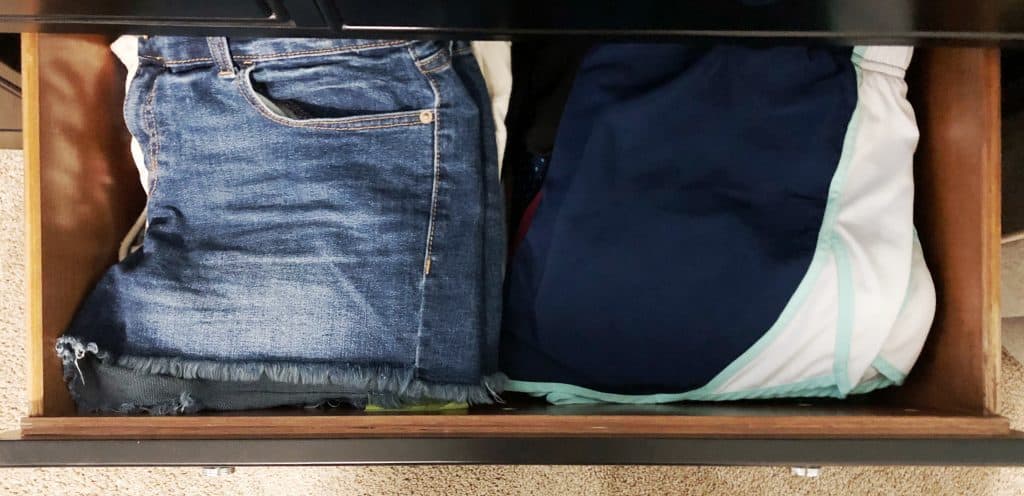 Steps for you to take:
Follow these steps to declutter, clean & organize your dresser drawers!
Declutter
Pick a drawer and remove all of the clothing in it.
Go through your clothes and see what you can declutter and get rid of.
Are there a few pieces of clothing you haven't worn in a long time?
Are there clothes that are damaged?
Throw out or donate any clothing you no longer wear and can get rid of.
Be realistic with yourself. You may be holding on to that t-shirt that you can no longer fit into, hoping one day you will. But when that day comes, will you really want to wear that t-shirt or will you want to buy new clothes?
Clean
Clean out any dirt in your dresser drawer.
A vacuum would be great for this!
Organize
Before replacing your clothes, fold them all uniformly.
Depending on how you lay out your drawers, I recommend putting clothes you wear most often in the front or on top.
If you choose to use drawer organizers, place them in your drawers and then fill them with your clothes.
Repeat these steps for each dresser drawer!
If you need drawer organizers, I recommend these!