This Post May Contain Affiliate Links. We earn a commission if you click this link and make a purchase at no additional cost to you.
Are you looking for a good way to organize your scarfs or a way to keep your pens and pencils organized? Look no further! We have rounded up some out of the box and brilliant ways to organize your home with a towel bar! These towel bar organization hacks will get your gears turning and give you a ton of great ideas to get your home organized fast and super cheap!
Check them out!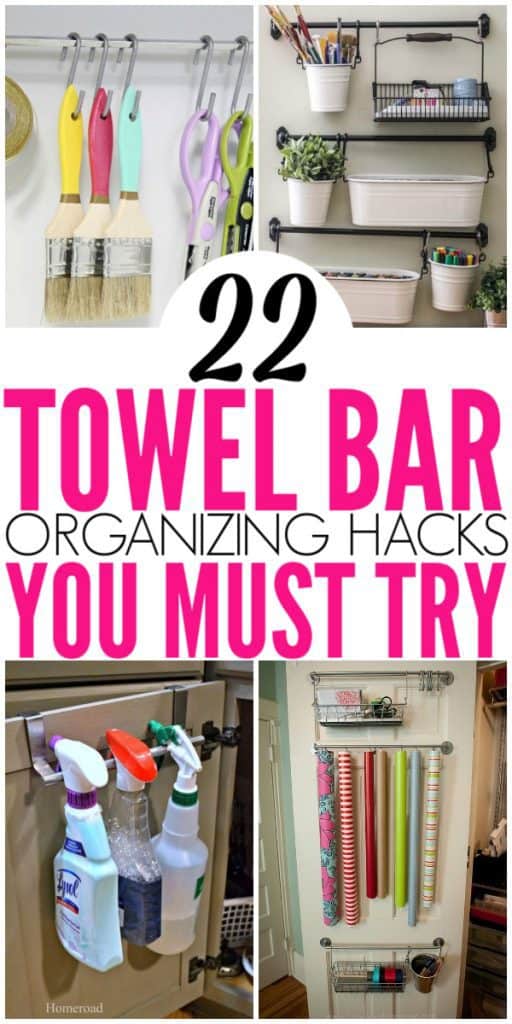 DIY Scarf Rack
This DIY scarf rack is such a great idea to keep your scarfs organized and visible. Mount one or two towel rods onto a bare wall in your closet or even the back of your closet door. Then loop your scarfs over the towel bar to keep them organized!
Gift Wrap Organizer
Digging your wrapping paper out of the back of a closet makes wrapping gifts a whole lot less fun! So instead of storing your wrapping paper in the back of a closet, why not use the back of the closet door? This is a brilliant organizing hack!
Towel Organization
Sometimes you should use a towel bar for just that, holding towels! But this hack is brilliant. Mount a towel bar to the fake drawer under your kitchen sink to make drying your hands convenient and you'll always have a towel handy!
Kitchen Utensil Organizer
Need more places to store your kitchen utensils? Organize them by hanging them on a towel rack in baskets or bins!
Desk Organizer
This towel bar organizer for your desk is a brilliant way to add extra storage when you're lacking drawer space! Plus it adds a decorative touch! The black towel bar with white baskets definitely gives off the farmhouse look everyone is going for!
Shop The Look
Dog Food Storage & Accessories
This is such a brilliant hack to keep your four legged friends organized! Hang a towel bar above your dog or cats food bowl and then use S hooks to hold a basket. It's a perfect way to store their leash, treats, and toys!
Organize Craft Supplies
If you're a crafter, then you know that craft supplies take up a ton of space! If you need more space to store your craft supplies, you could try hanging them with hooks on a towel bar. This is such an easy hack and if you have cute and colorful supplies it makes this hack even more fun!
You could put a towel bar like this on the side of your desk, hang it on a wall or even on the back of your door!
Cleaning Supplies Organization
Are the cleaning supplies under your sink disorganized and cluttered? Use a door hanger towel bar to make keep your cleaning supplies organized and easy to reach. This is a great way to store the cleaning supplies you use on a daily basis!
Coffee Bar Cup Holder
Do you love to enjoy a cup of coffee in the morning but hate how those coffee cups take up so much room in your cabinets? Store them right by your coffee maker instead with a towel rack! Using a towel rack and S hooks you can recreate this brilliant idea! You can even add this basket to the towel bar to hold your K cups!
Craft Paint Storage
This wall is a craft lovers dream! And such a brilliant way to organize and store your craft paint! With just a few towel bars and dowel rods, you can create this brilliant organizer in your own craft room!
Under The Kitchen Cabinets Storage
My parents have these Ikea organizers in their kitchen and love them. I think they are a great way to add extra storage to a small kitchen. If you have an Ikea close you can head over there to check out their FINTORP series or grab a towel bar and S hooks to make one yourself!
Pot Lid Organizer
Pot lids can be a total pain to organize. While I prefer to use a pot lid organizer like this, you can also use a towel rack to organize your pot lids! It's a brilliant way to keep them organized if you have the extra wall space to hang them!
Extra Bathroom Storage
Couldn't we all use a little extra bathroom storage? If you're looking for a cheap and easy way to add extra bathroom, storage hanging baskets from a towel bar is a great hack!
Entry Way Storage
No built-in cubbies? No problem! Create your own entryway storage system by using towel bars! You can easily hang coats, backpacks, or organize mail with towel bars and hooks!
Fruit Storage
I love this storage hack! Hang a towel bar on the end of your island with a hanging basket to store fruits or plants! You could store absolutely anything in baskets like this!
Laundry Rack
If you don't have a place to hang clothes to dry in your laundry room, why not use a towel bar? You could hang it under a cabinet or a shelf! This is such a perfect way to gain extra space to organize clothes!
Cutting Board Storage
Are your cutting board taking up too much room in your cabinets? If they have a handle on them, you can hang them on a towel bar for storage! It looks super cute and is a great way to free up space in your cabinets or drawers.
DIY Charging Station
Just like using a towel bar and a hanging basket to store and organize fruit, you could also use the basket to make your own DIY charging station! Hang a towel bar on your kitchen island or over a plug in your home where you like to charge your phone. Then use the basket to house your chargers! Such a brilliant idea!
Kitchen Utensil Organizer
If you don't have enough drawer space to hold all of your kitchen utensils, why not use the dead space behind your stove? You could use a towel bar to hold all your spoons and ladles and even pots and pans. We could all use extra places to store kitchen items, why not try this hack!
Organize Garden Tools
Don't just toss your garden tools into a bucket in your shed. Instead, hang them up to keep them organized! You can quickly and easily keep your small gardening tools organized by hanging them on a towel bar with S hooks. And if you get a sturdy enough towel bar you could even hang up your hose! Just think of how organized your garden tools could be with this simple hack!
Organize Writing Utensils
Is your desk drawers or homework station a mess with pens, pencils, and markers scattered all over the place? Why not organize and store them on a towel bar instead? Just grab a towel bar, S hooks and a few baskets with handles to store all your writing utensil in! This would be perfect at your kitchen desk or your kid's homework stations!
Jewelry Organizer
Is your jewelry overflowing your jewelry box or just scattered around your dresser? Do you necklaces tend to get tangled because you don't have a good way to store them? Then you need to try this brilliant jewelry storage hack! Hang towel bars on the back of your door and empty space on your wall and hang up your necklaces with S hooks!
Ready to start organizing? Grab a Towel Bar Organizer Here!