This Post May Contain Affiliate Links. We earn a commission if you click this link and make a purchase at no additional cost to you.
Who would have ever thought you could use a magazine holder for anything other than magazines? But to our surprise, there are so many ways to use magazine holders to organize your home! Seriously! Pantry storage, toiletry storage, hiding your wireless router…even organizing your freezer. The things you can do with these are endless!
Magazine organizers are very inexpensive. You can find them at your dollar store, Ikea, Walmart and of course Amazon. You may even have some laying around you can repurpose!
Check out all the ways you can organize your home below!
Planner Sticker Storage
I love using a happy planner and getting all of their stickers to decorate my planners. But after a while of accumulating sticker books, I wasn't sure of the best way to organize them. Until I found these Magazine Holders from Office Depot. They are the perfect size to keep planner stickers in!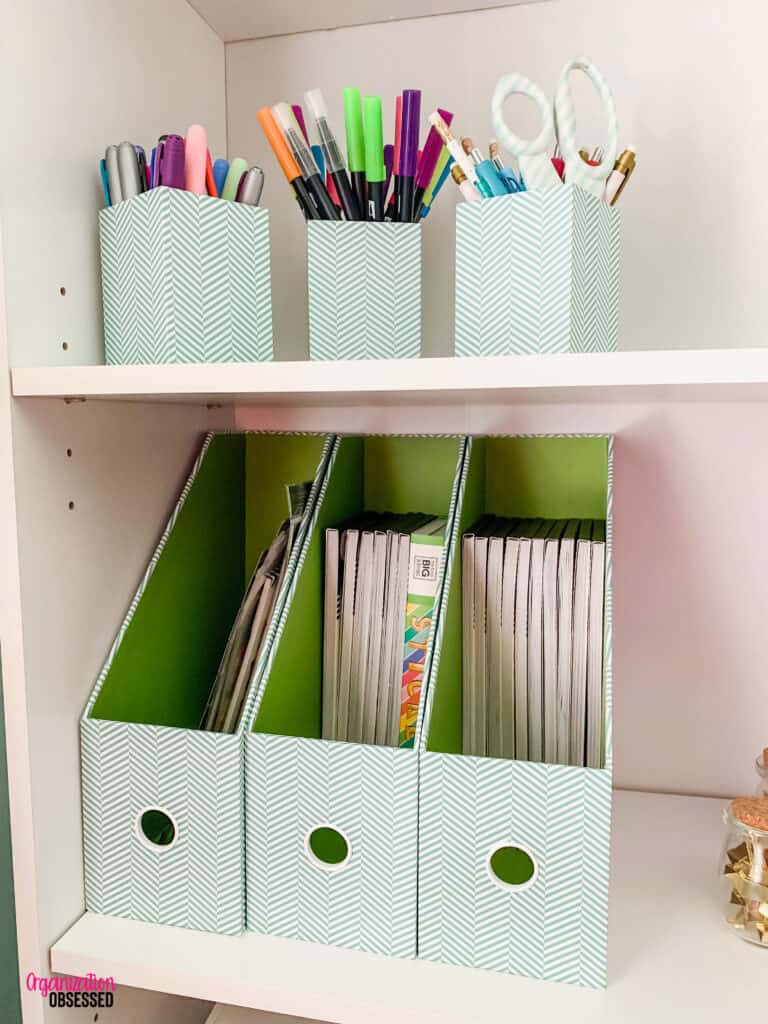 See how I organize the rest of my planner supplies here!
Gift Bag Storage
This hack makes me swoon! I love wrapping gifts. Being able to make the perfect gift a little more exciting with pretty wrapping paper is so much fun. However, gift bags and wrapping paper can easily get lost in closets or under beds. Or you may be throwing them away because you don't have a place to store them. A simple solution is a wall mounted magazine holder! You can easily mount this in a closet or utility room to store all your gift wrapping accessories!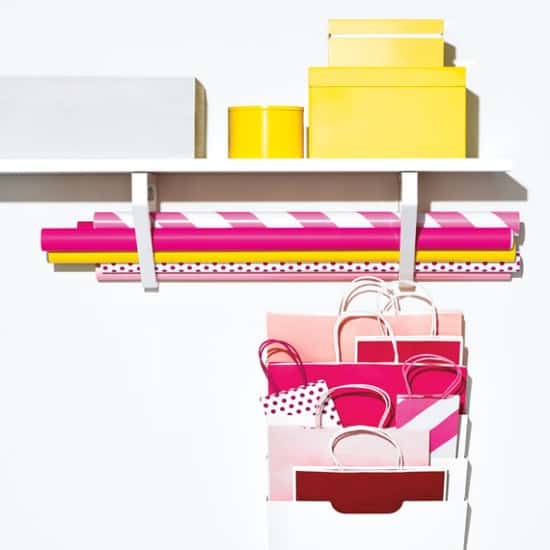 Image courtesy of Martha Stewart
Gift Wrap Accessories Organization Station
Typically when you have gift bags you also have bows! Check out how Jen uses magazine holders to organizes her bows and tissue paper! This is such an easy way to keep your bows and paper in good condition and ready to wrap a present!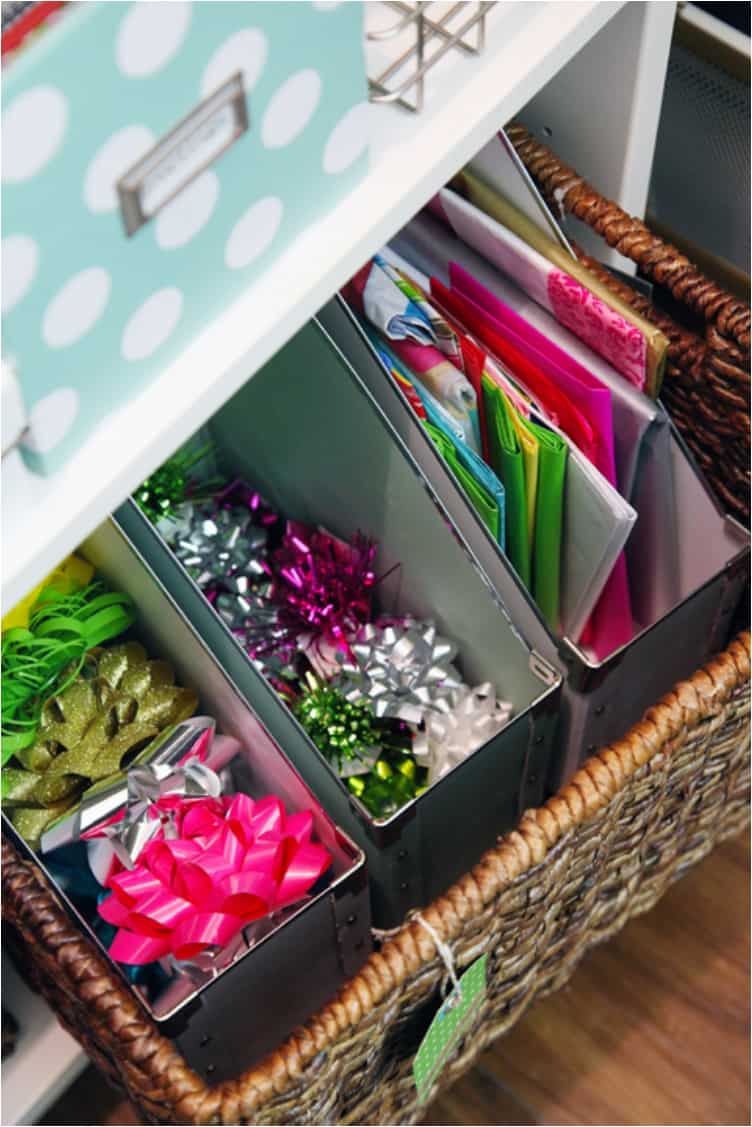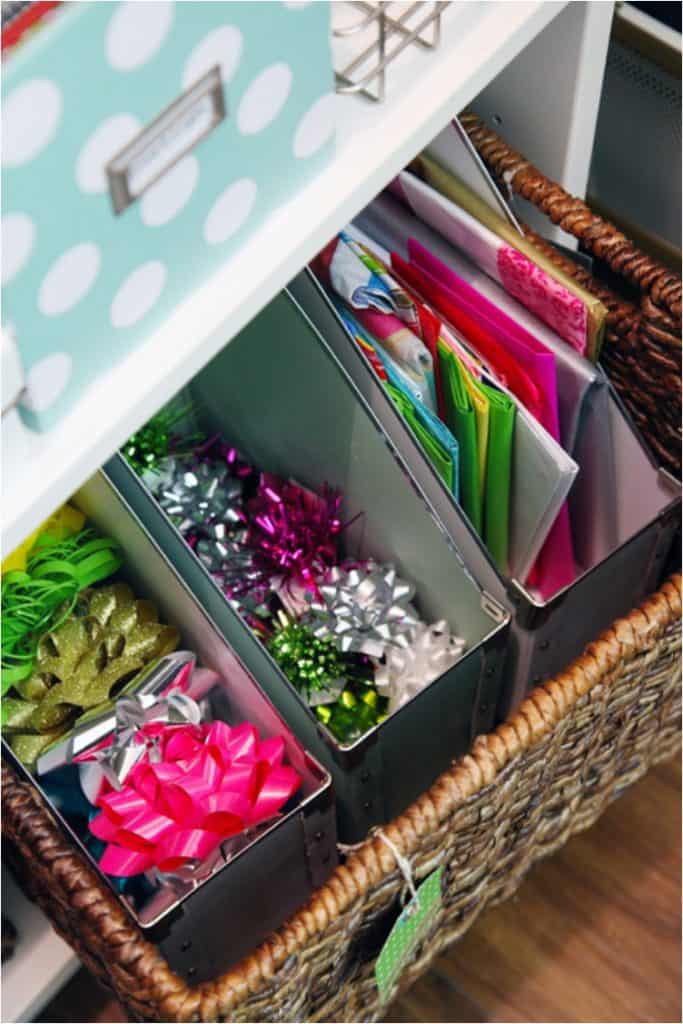 Image courtesy of iheartorganizing
Store Coffee Pods and K-Cups
My husband is a coffee nut! No joke we have 4 different coffee makers on our countertop He says they all serve a different purpose (I say they just take up a lot of room). With his four coffee pots comes a lot of coffee bags and k-cups. My simple hack to this is to store them in magazine holders! You can keep them on the countertop or in a cabinet. It takes up so much less room than the boxes they come in and with the right magazine holder you can make it super cute! I highly recommend a metal holder so you can see what is in it without dumping them all out.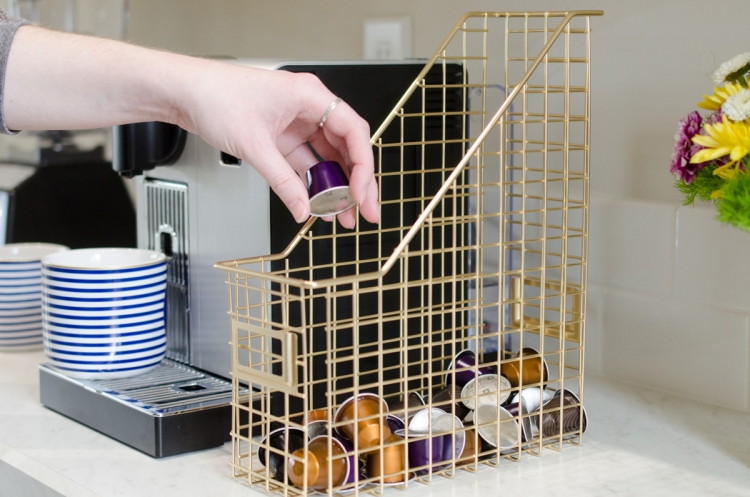 Image courtesy of thekrazycouponlady
Clever And Easy Toilet Paper Storage
Is your bathroom lacking extra storage? Keep toilet paper stacked up and organized by the toilet with a magazine rack!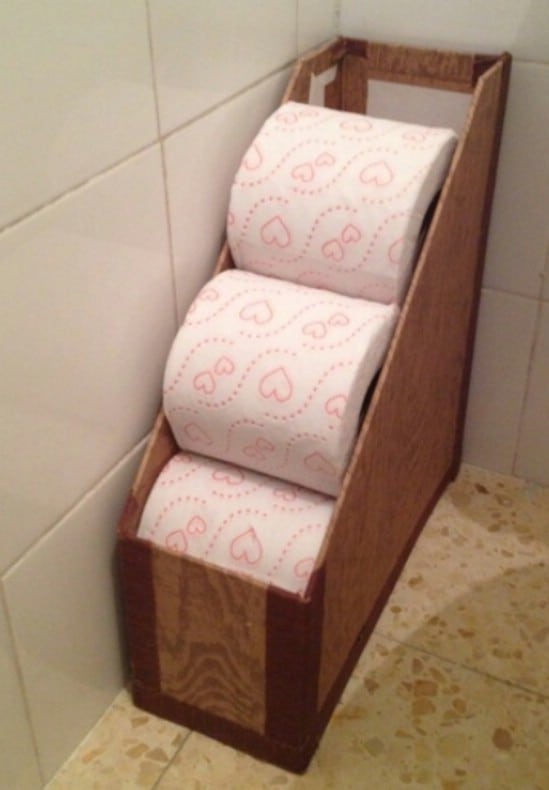 Corner Wall Shelf Storage
Did you know you can turn a wooden magazine rack in to a shelf? It is perfect for hanging right inside the door. You can store your keys, mail, etc. in it! This would also be perfect in a bathroom to store makeup, nail polish or perfumes!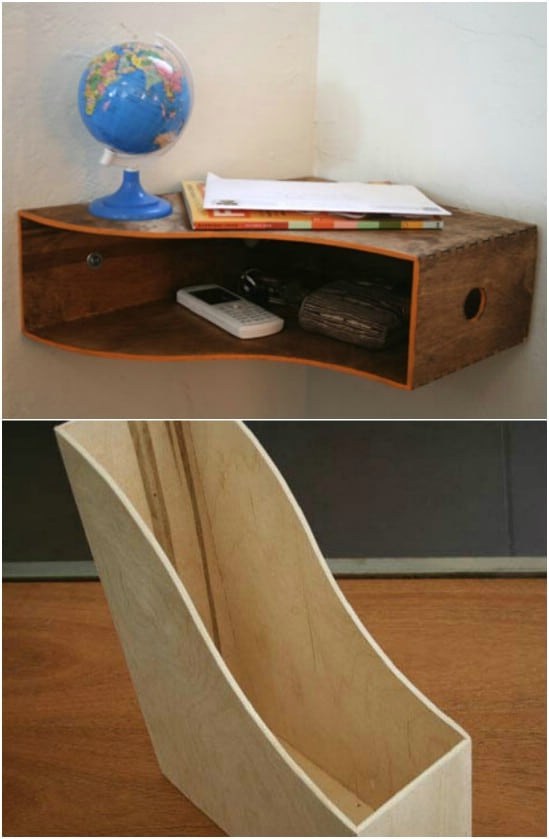 Image Courtesy of designsponge
Store Foil, Cling Wrap, Wax Paper, Etc.
A magazine holder is the perfect height to store foil, cling wrap, etc. You can mount them to a cabinet door or store on a shelf in your pantry!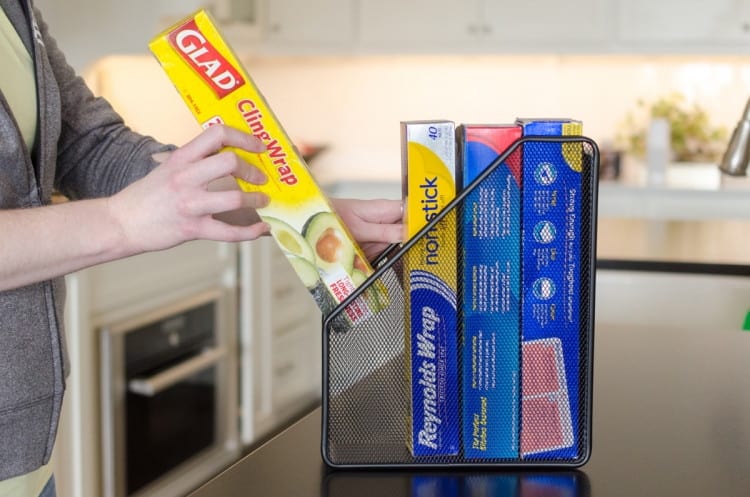 Image courtesy of thekrazycouponlady
Kitchen Drawer Organizer
I don't know about you but my spice packets seem to disappear in a drawer. They always seem to be hidden under a pot holder or plastic bag. Using a magazine rack is a perfect solution to this. If your drawers are deep enough they will lay flat and you can store all your spice packets in one place.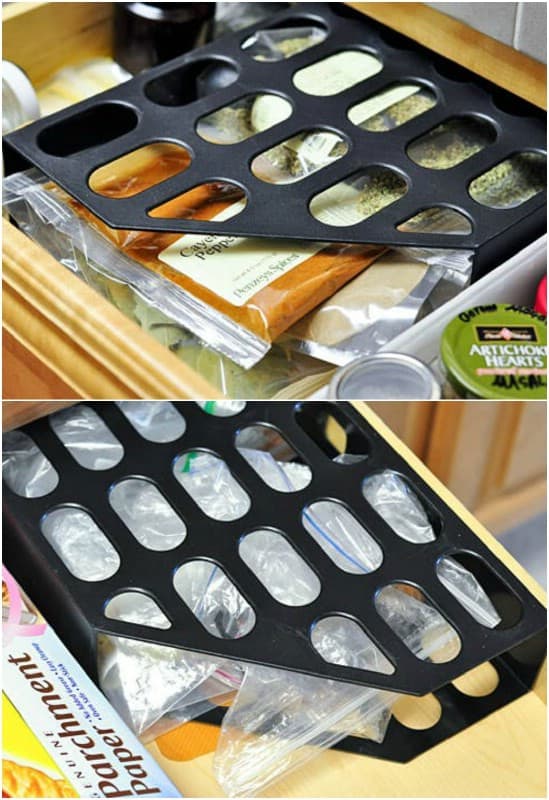 Image Courtesy of thekitchn
DIY Coffee Table
Are you the type that likes to build unique things? Who would have thought you could make a table with wooden magazine organizers. Check out this tutorial on how to make an awesome table!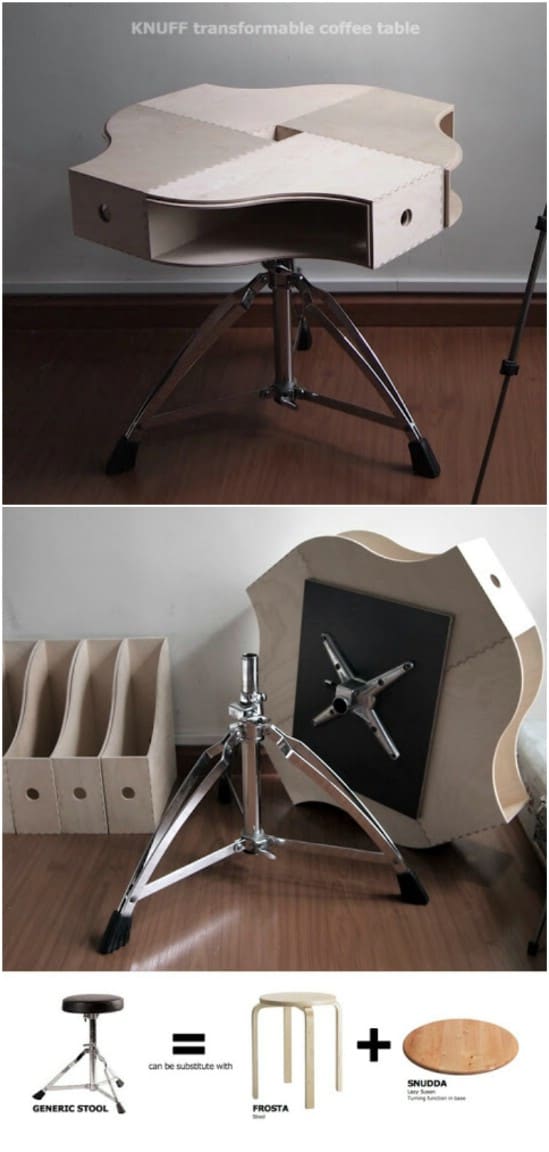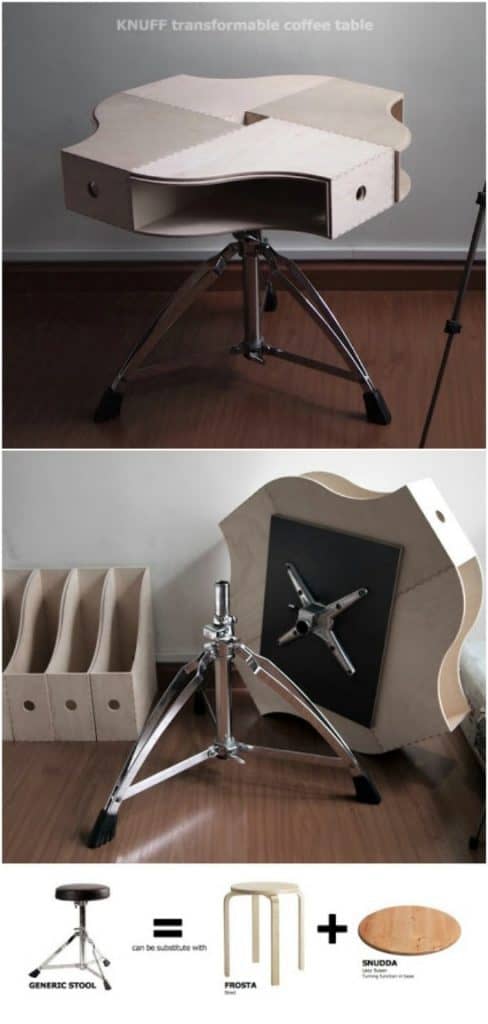 Image Courtesy of ikeahackers
Store Ballet Flats
I have a lot of ballet flats. It's a problem (so my husband says.) They typically end up in the bottom of my closet. Using a magazine holder is such a better storage solution than just on the floor. Each rack could easily hold 2 or 3 pairs of shoes!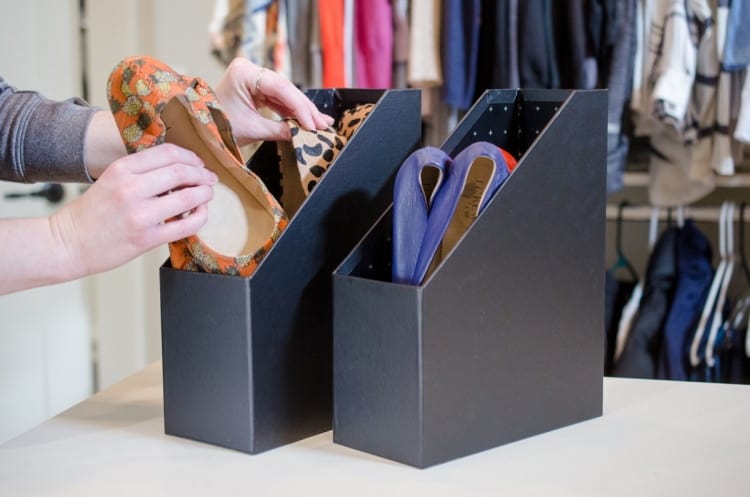 Image courtesy of thekrazycouponlady
Flip Flop Storage
My husband says I have a flip flop problem too. A couple of these magazine holders along the bottom of a closet is the perfect solution to scattered shoes!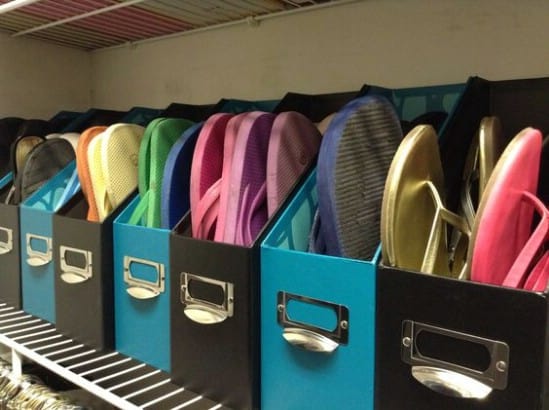 Yarn Organizer
Knitting is not my craft of choice but I could imagine that knitters have a ton of yarn! An awesome storage solution is to organize them by color in magazine holders. You could easily mount them to a wall or sit them on shelves in a closet.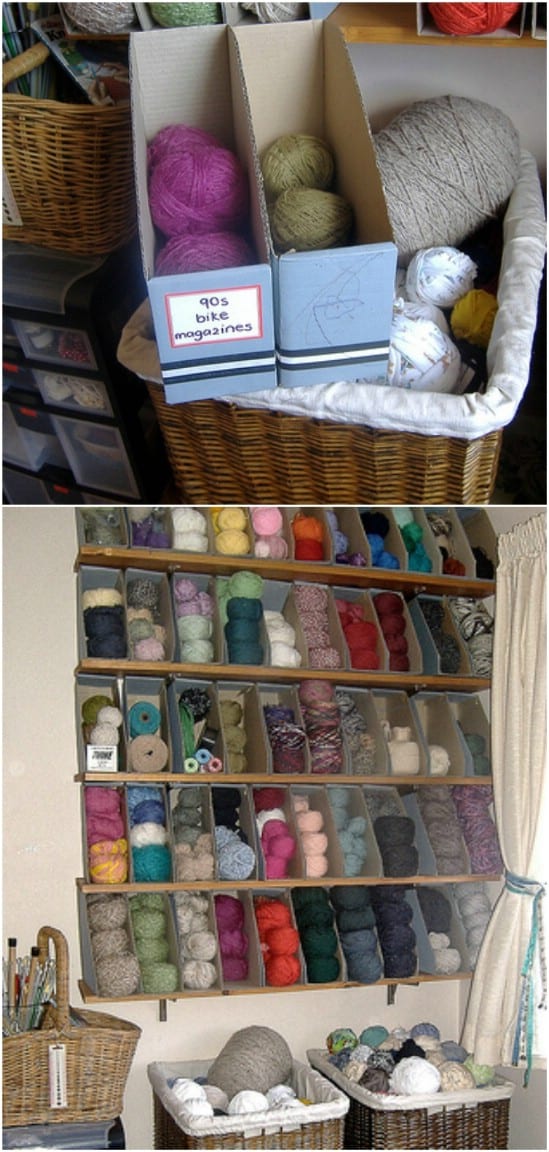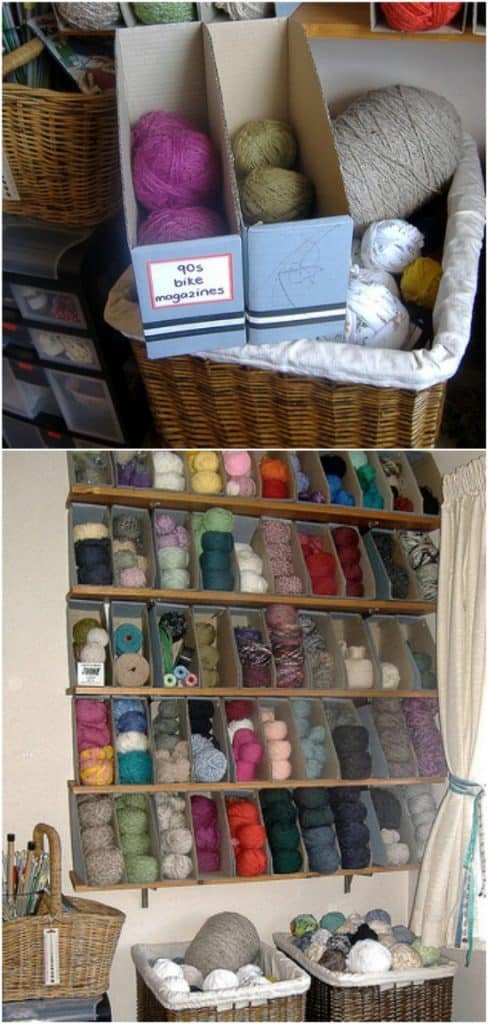 Image Courtesy of laughingpurplegoldfish
Curling Iron Organizer
Every girl topically has a ton of hair accessories! Curling irons, straighteners (one if each in every size and color?) It is very easy to let them clutter up your vanity top or drawers. Clean up your bathroom by storing them in pretty magazine holders! I personally love this vintage floral one from Amazon.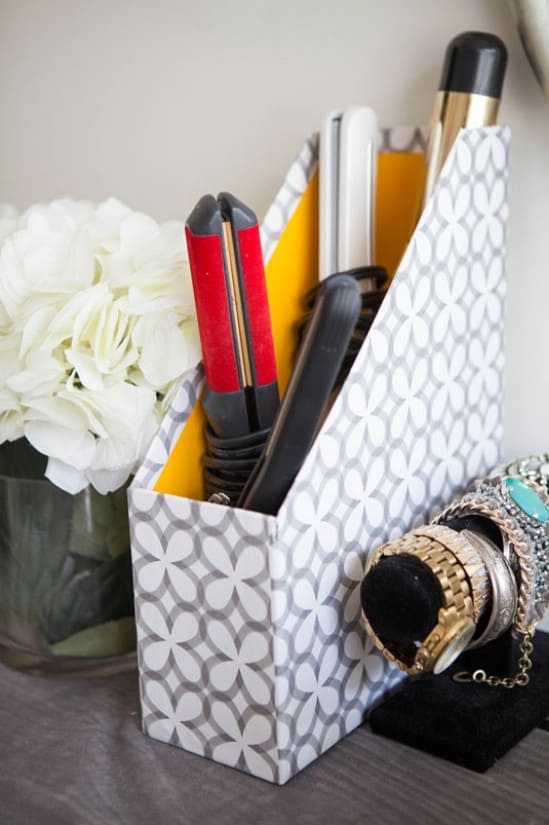 Image courtesy of Cosmopolitan
Cutting Board Organizer
Are your cutting boards constantly falling over in your cabinet or taking up too much room? Mount a magazine rack to the cabinet door to create extra storage! You can find this exact one here.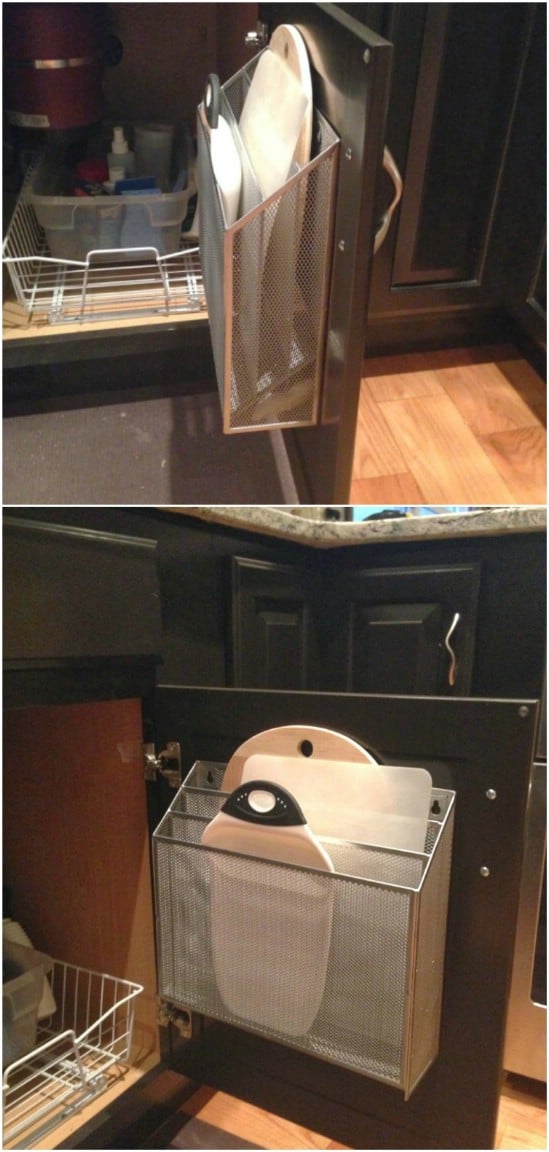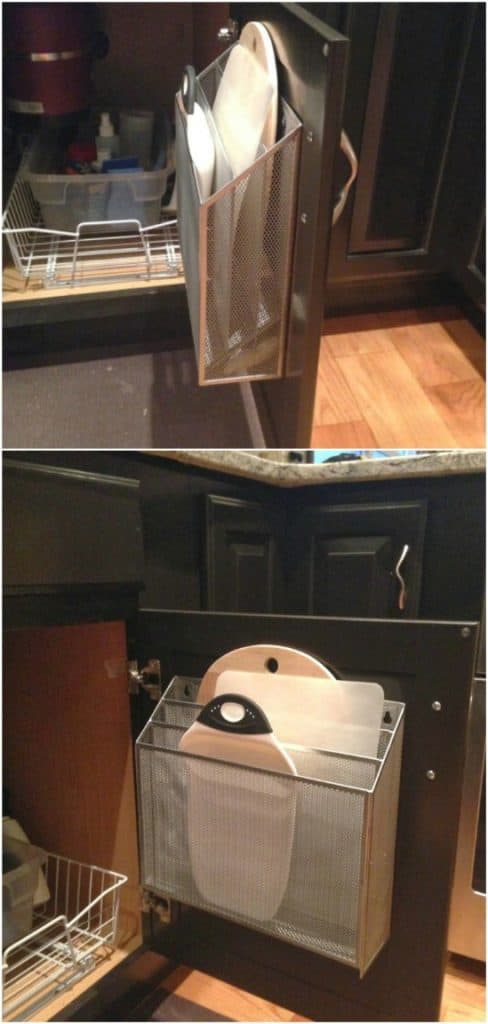 Image courtesy of smartaleckstudio
Extra storage in the freezer
If you're anything like me your freezer is probably full and maybe a little unorganized. Popsicle's tend to get scattered all throughout it and bags of frozen veggies can easily get buried. Depending on the layout of your freezer you can stand wire magazine holders up or lay them flat to organize your food.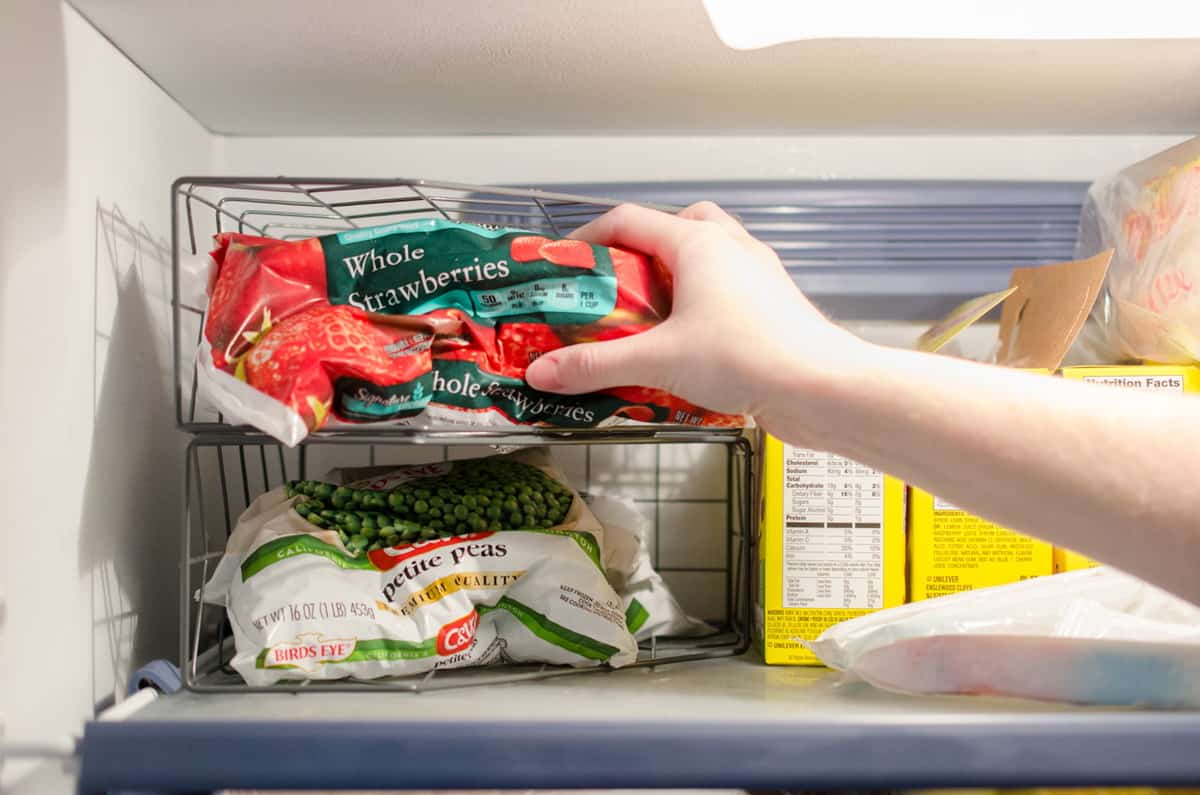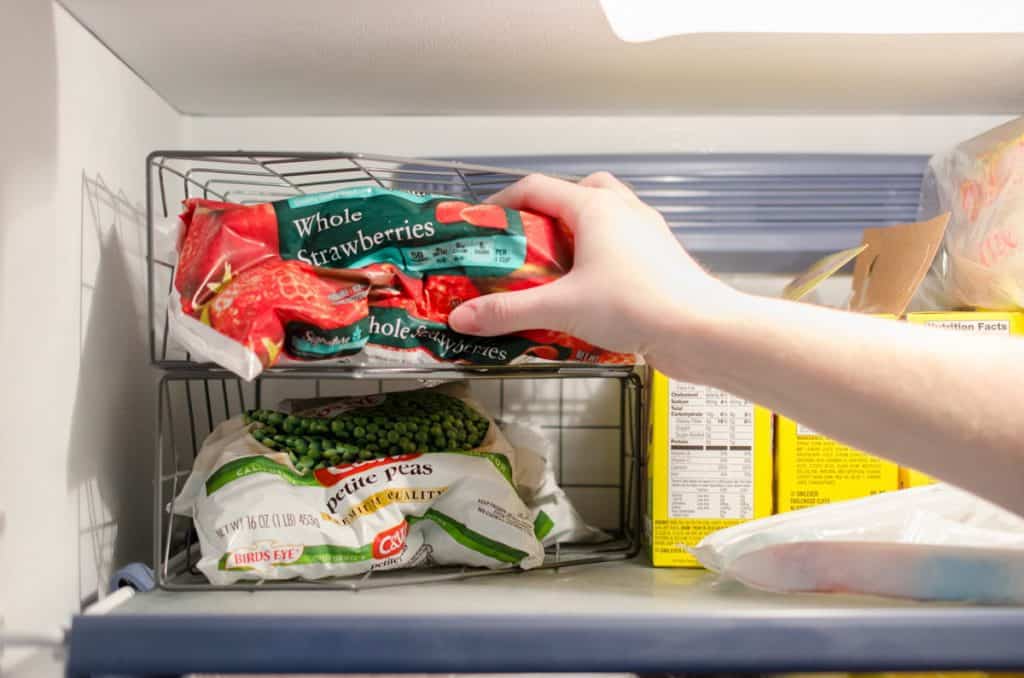 Image courtesy of thekrazycouponlady
Stack and Organize Water Bottles
Water bottles can easily take up a whole kitchen cabinet shelf when you stand them up. Use magazine holders to lay them flat and stack them on top of each other! You will be able to free up some much needed shelf space!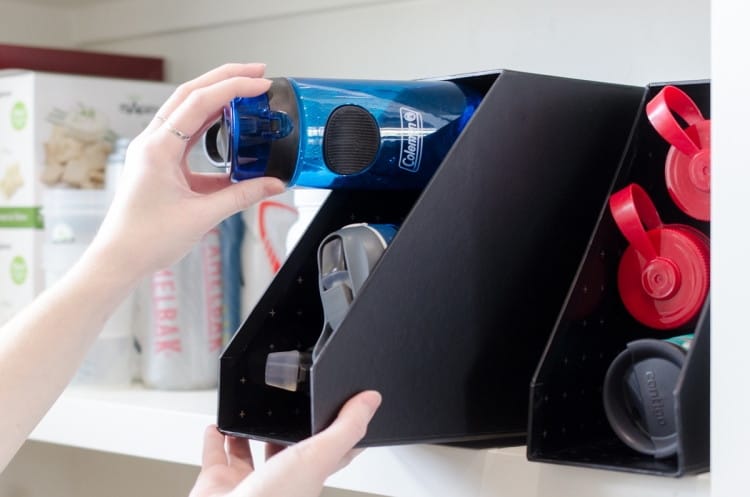 Image courtesy of thekrazycouponlady
Pantry Organizers
This is one of my favorite uses for a magazine holder! We keep a lot of canned goods and they take up a lot of room in the cabinets. Using a magazine rack to stack them is genius! You can even organize the cans by the type of food and have a complete organizing system!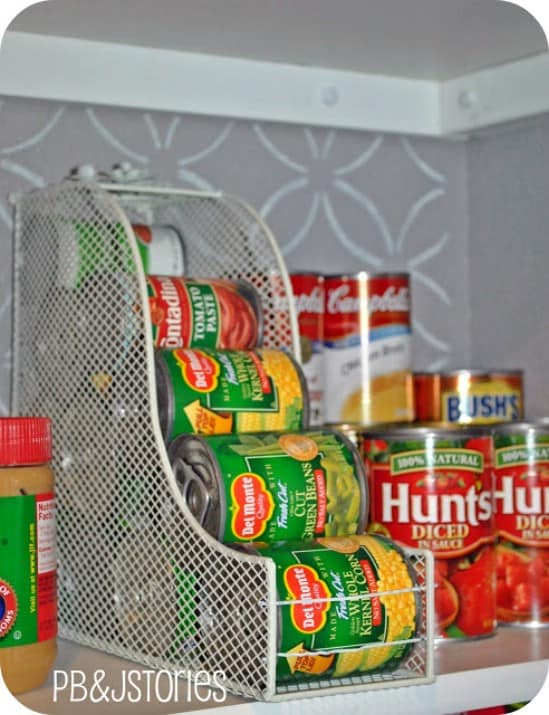 Image courtesy of pbjstories
Repurposed a Magazine Into a Towel Holder
Do you have one of these laying around your house? I remember my grandma had one when I was a kid! I really wish she still had it and I could give it a makeover! This is such a cute way to organize towels. You could paint it any color! I would personally paint it aqua.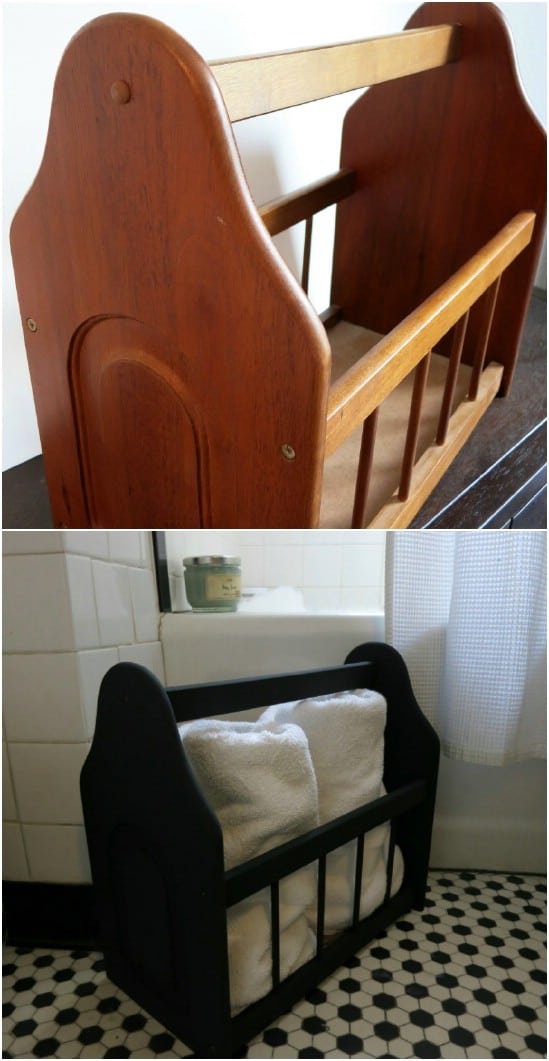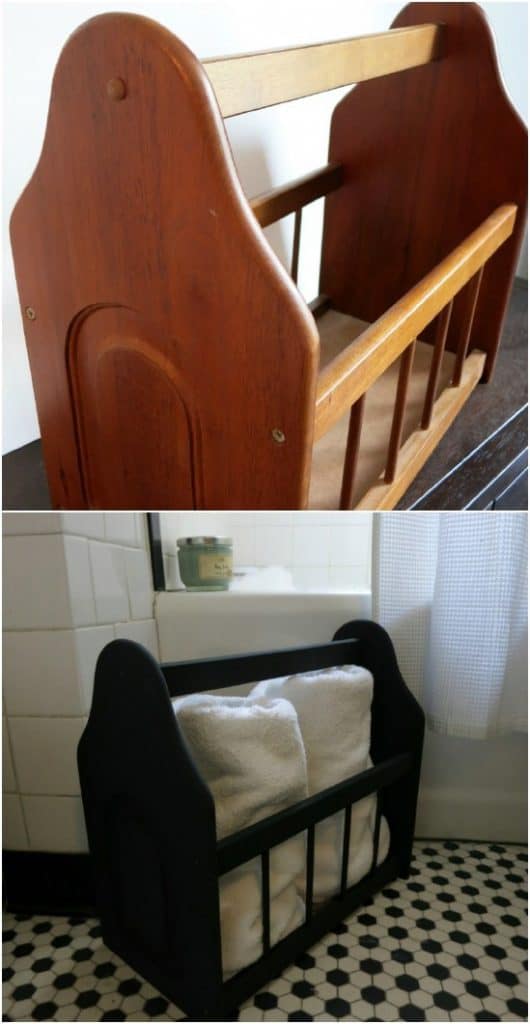 Image courtesy of 2beesinapod
DIY Easy Charging Station
We all have so many electronics and so many cords! Wouldn't it be nice to have a designated charging station? You can use a multi-file magazine rack to do just that! Just turn it up on its side and drill out little holes in the bottom for your cords. They typically have these decorative magazine racks at TJ Maxx and Marshalls!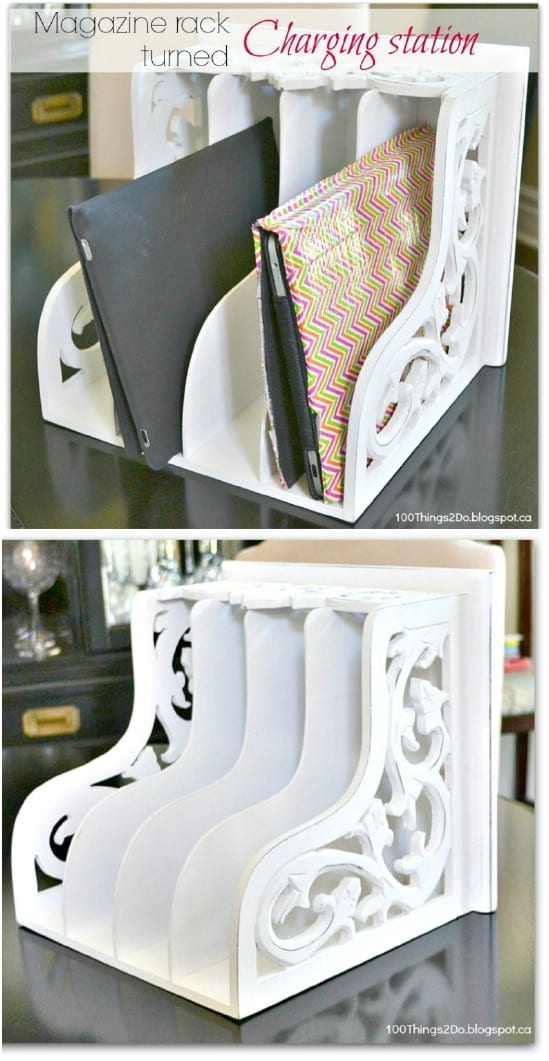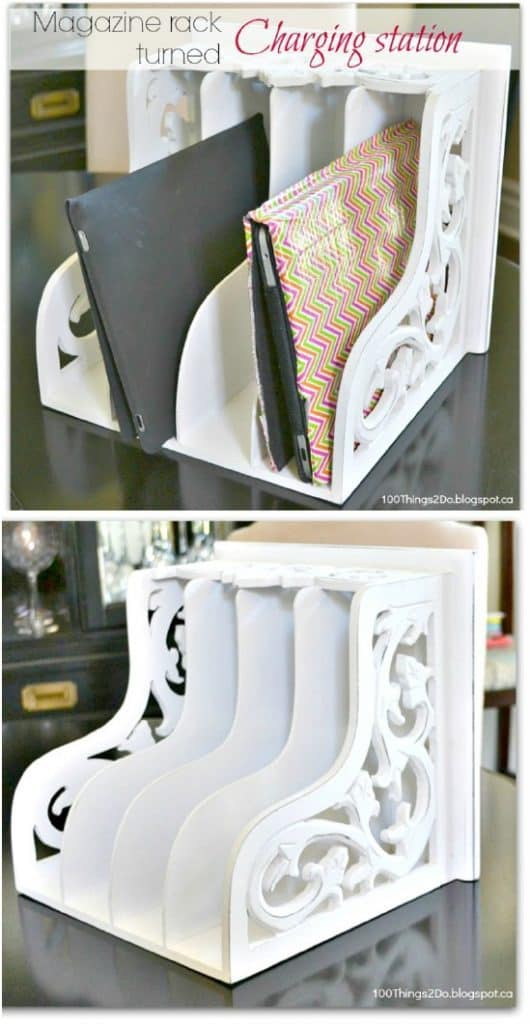 Image courtesy of 100things2do
Tupperware Lid Storage
Tupperware lids and I don't get along. They are usually scattered all over the place or falling out of the cabinet. This is a perfect solution! Use a wall mounted magazine rack and mount it to your cabinet door! If you don't want to put holes in your cabinet you could even use heavy duty command hooks to mount it.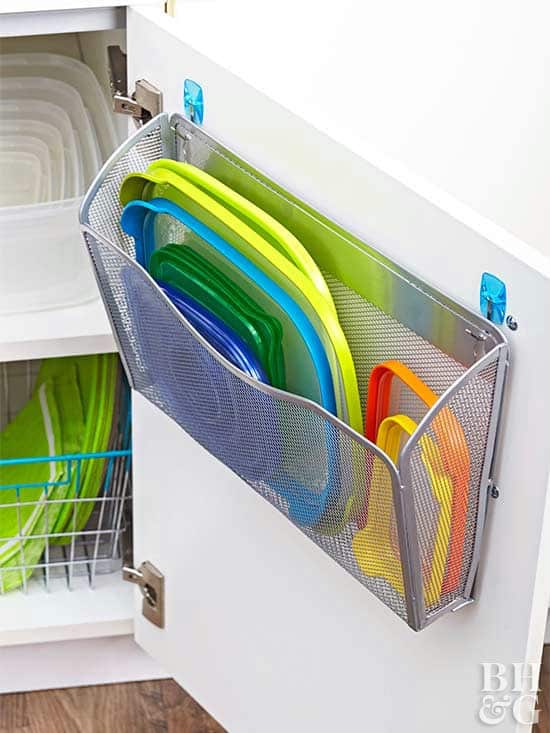 Image courtesy of bhg
Baking Pan Holder
This is such a cute way to organize pans! Especially if you are into farmhouse decor.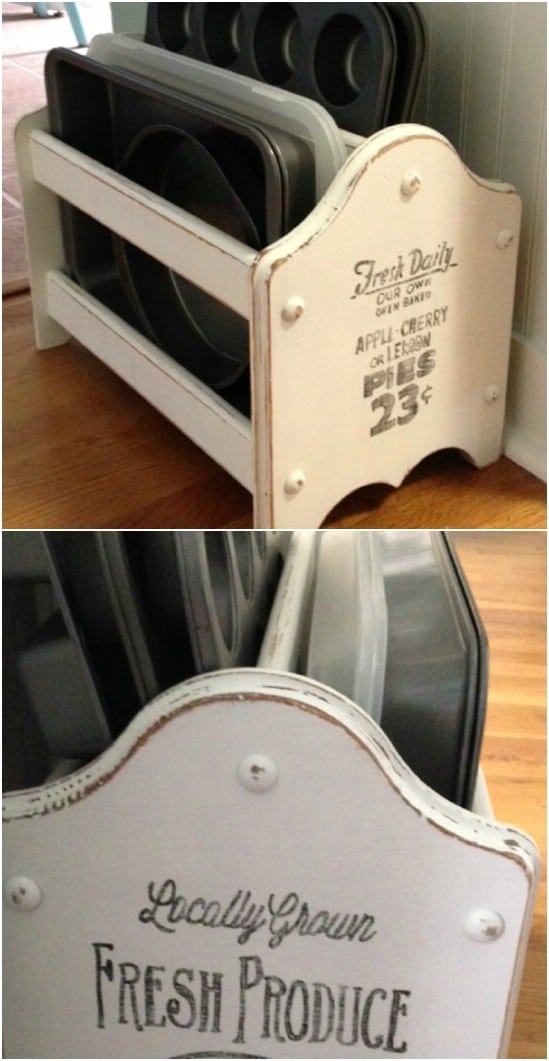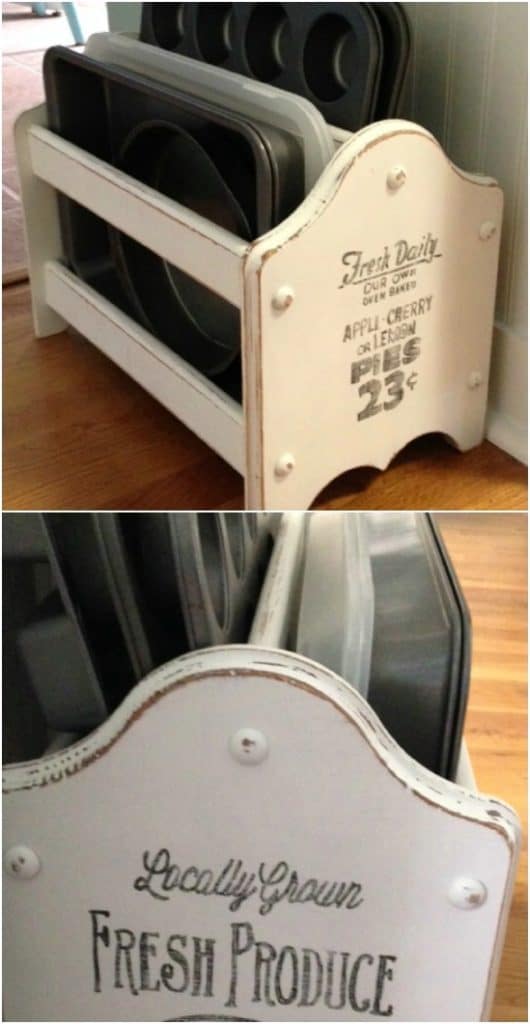 Image courtesy of cookiescraftsandchaos
Wash Cloth Storage
Do your washcloths get jumbled up in a drawer or on a shelf? Mine do too! Check out how you can roll them up and store them in a magazine holder! This is such a better way to store washcloths and makes it look like a designer organized your linen closet!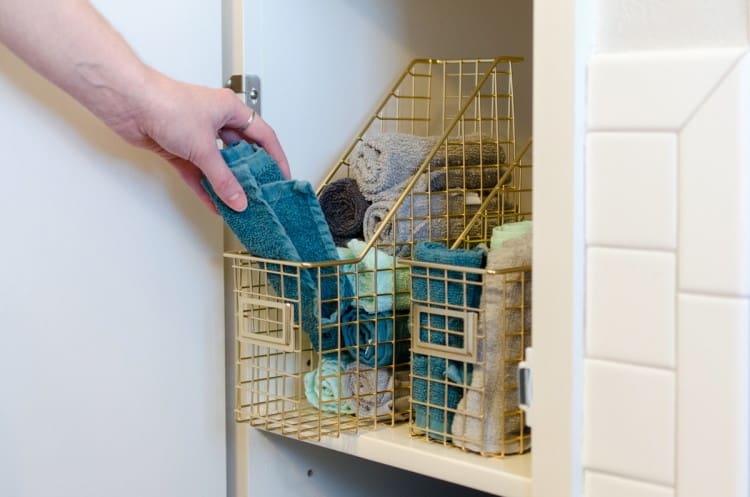 Easy Wireless Router Hider
Technology is great but it is also very ugly! No one likes to look at an ugly router sitting a tv stand or end table. Hide it by putting it in a pretty magazine holder that matches your interior!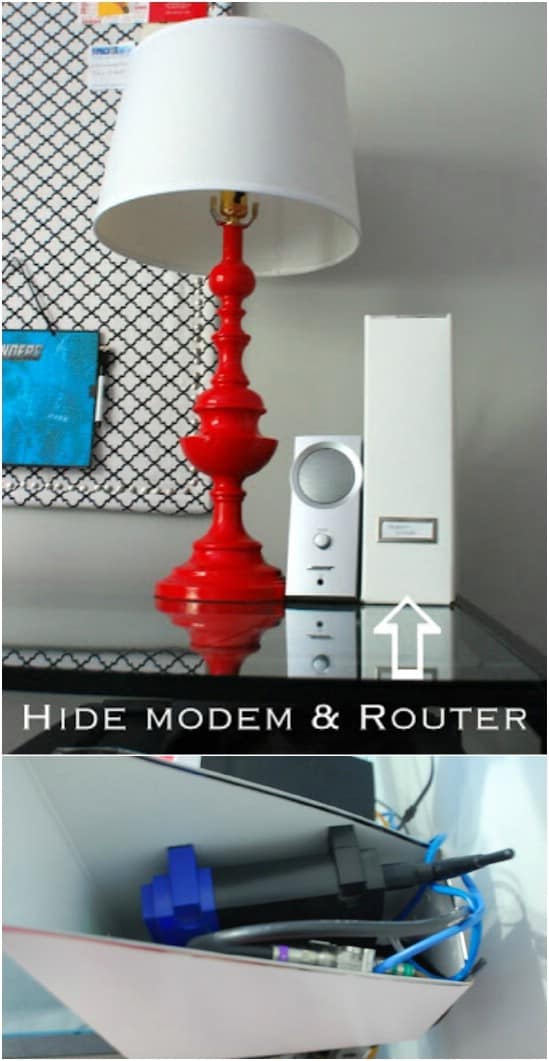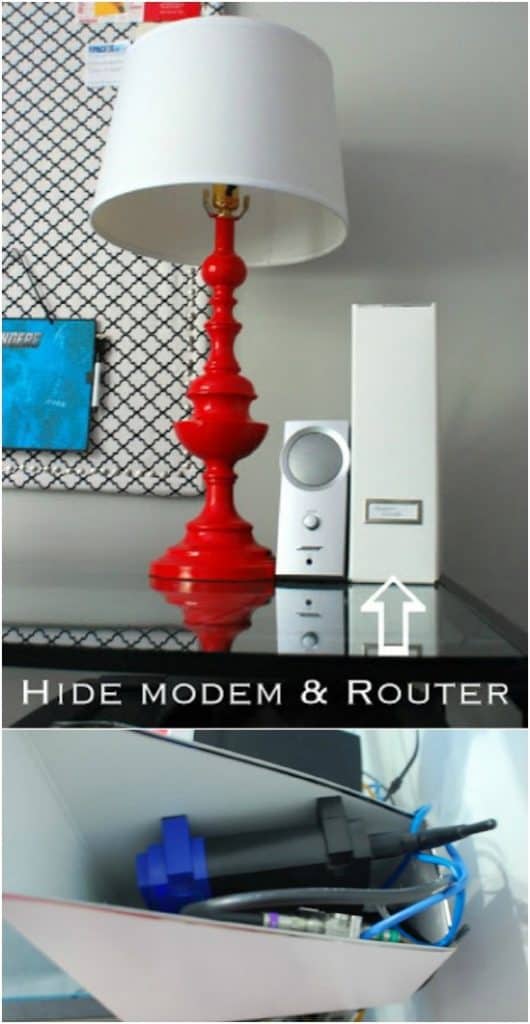 Image courtesy of designocd
Fresh Fruit and Produce Storage
This is more of a mail organizer than a magazine rack but they work the same! Easily store fruits and veggies in them and mount to your wall! It is a great way to organize and decorate at the same time!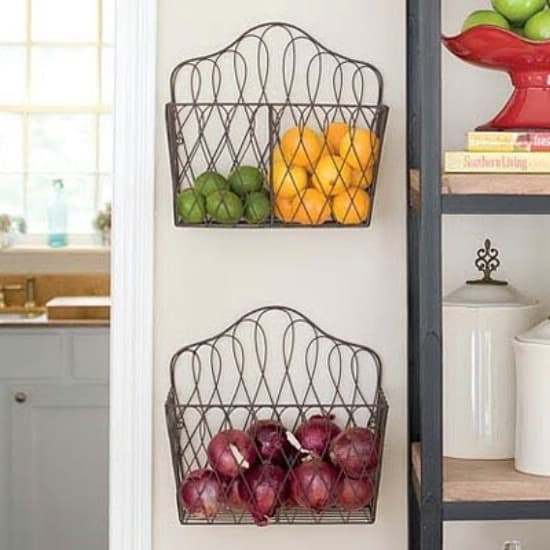 Image courtesy of homedit
Eye Shadow Palette Storage
I love my eyeshadow pallets! What about you? Organize them with a letter organizer! Check out this really pretty metal one from Amazon!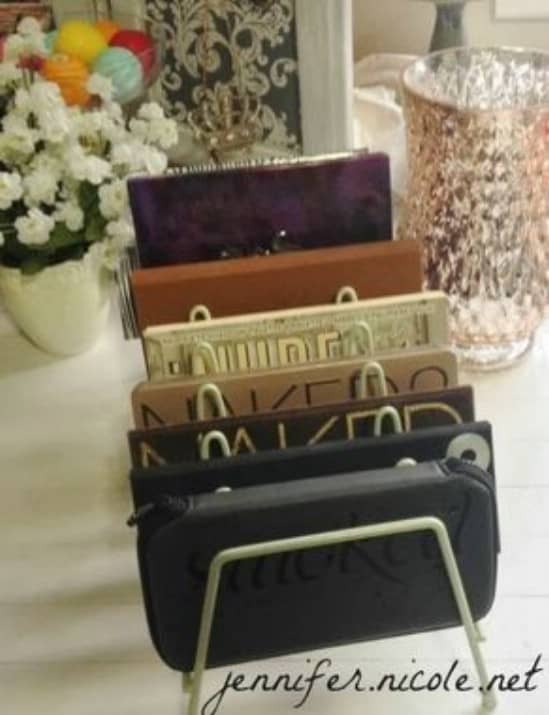 Image Courtesy of cafemom
Easy DIY Purse Storage
Do you have a lot of wallet purses? Organize them with magazine holders! It is a great way to store them and makes it easy to see exactly what you have!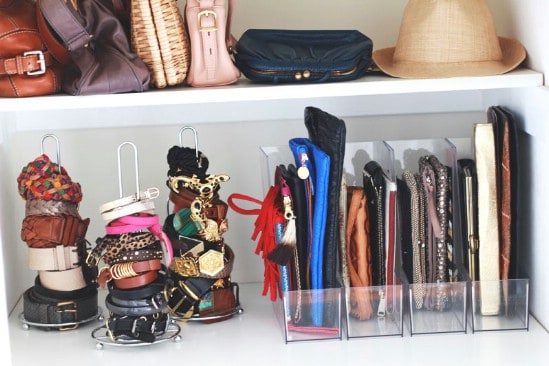 Image courtesy of perpetuallychic
Boxed Food Organizers
Does your spaghetti take up a too much room in your pantry? Stack it up and organize it with a magazine rack!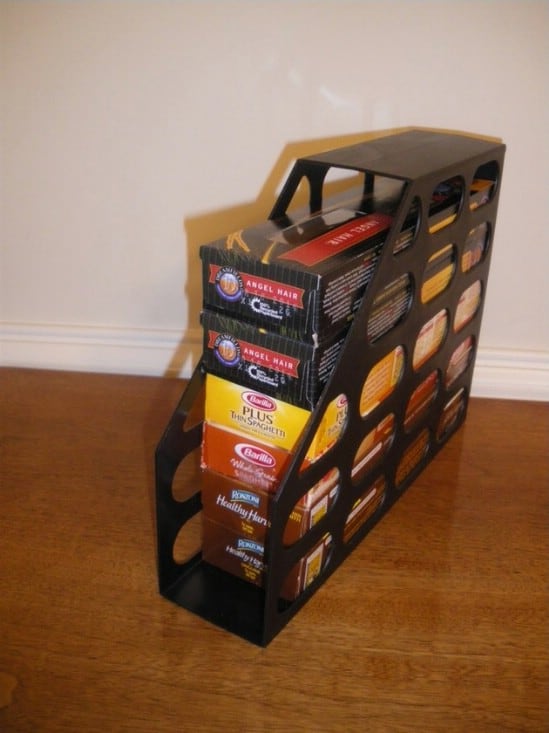 Pantry Perishable Organizer
Potatoes typically end up in the bottom of the pantry in a bag. It is not very organized or visually appealing! Organizing them in a magazine rack takes up less space and reminds you to clear them out before they go bad.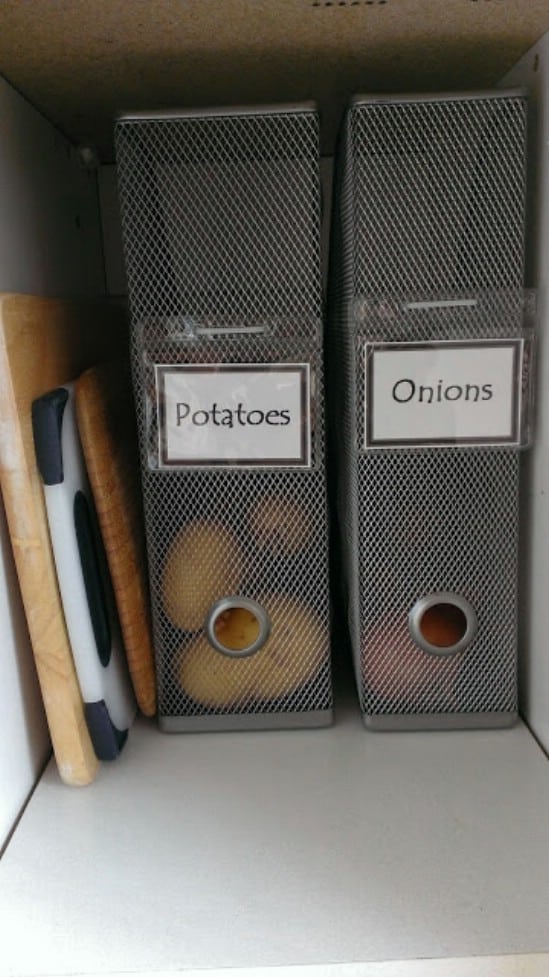 Image courtesy of mimiscraftyworld
Cute DIY Mail Station
Check out how The Organized House Wife made her own mailing station!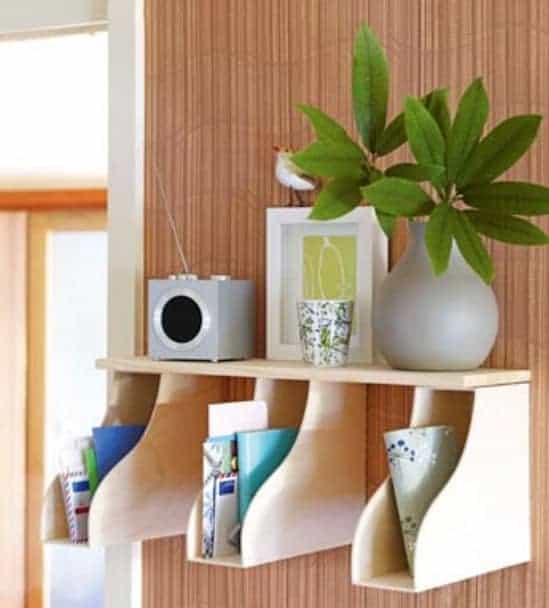 Image courtesy of theorganisedhousewife
Toy Organizers
Do Lego's and Hot Wheels scatter your toy room? Do they end up at the bottom of your kid's toy box never to be seen again? Organize them on a shelf with magazine holders! It keeps all the toys together and organized!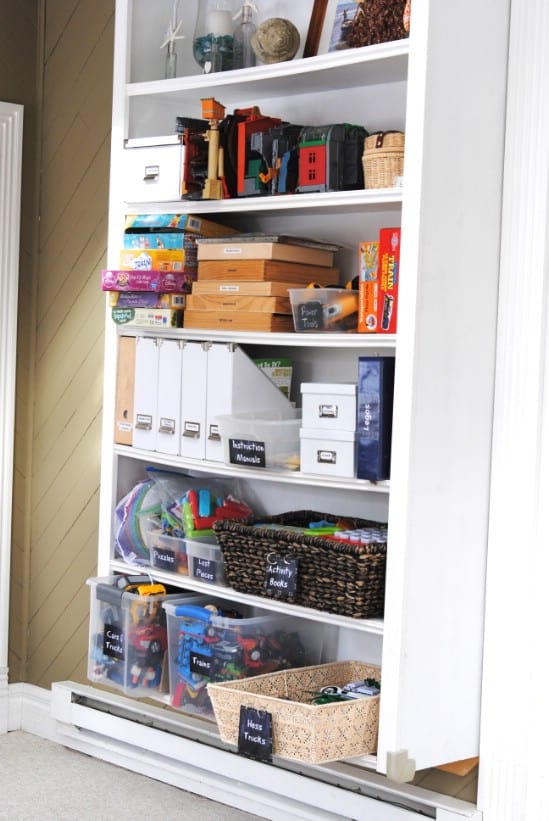 Image Courtesy of makinglemonadeblog

Ready To Get Organized? Grab a Magazine Holder!