This Post May Contain Affiliate Links. We earn a commission if you click this link and make a purchase at no additional cost to you.
Have you ever wondered why you need to be organized? Why can't we just all live in clutter and never worry about all the junk that surrounds us? Because clutter leads to unhappiness! When you come home to a dirty home does it make you happy? Probably not! I know it makes me a really grumpy mom and I cannot sit down and relax until everything is in its place and clean.
If you are reading this I would bet that you are probably like me! And you don't want to spend all of your time cleaning and organizing, right? Me either! That is why I have found these 15 hacks that will make you look like an organization genius!
Just by doing a few of these hacks you will be able to maintain a home that is organized and everything will have its own place.
Check them out and let me know how you were able to make your home look like it was professionally organized!
Organize With A Rolling Cart
I personally use a rolling cart to organize my son's bath toys and towels, but they can be used so many different ways! Use it for a bedside table, a diaper changing station, a craft cart. The possibilities are endless! You can find one here!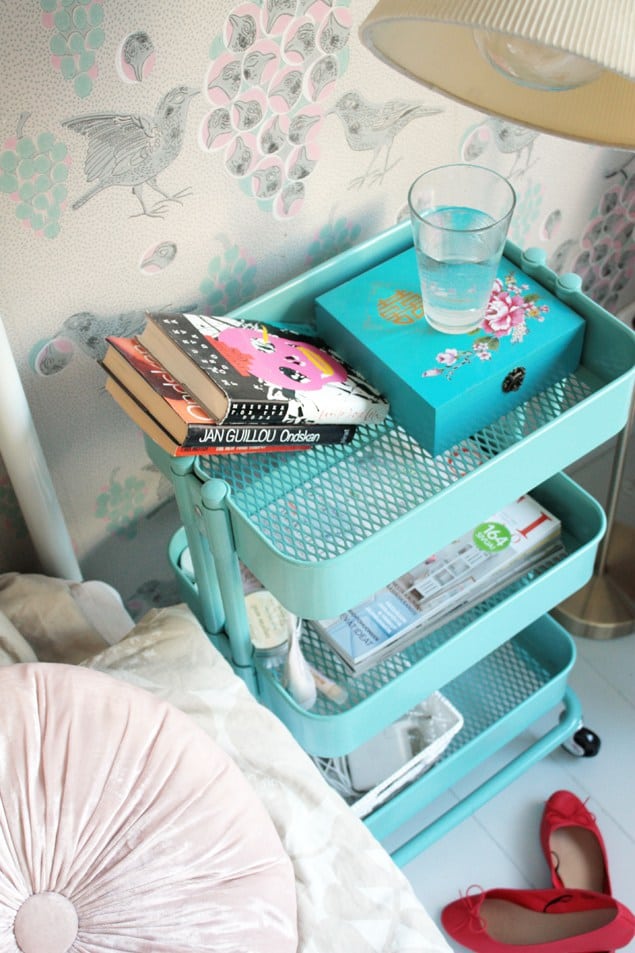 Tip & Image Credit: Freelancer's Fashion
Kitchen Island Organizer
If you have an island or a bare cabinet this is the perfect way to add extra storage! Using a wire basket you can store almost anything! Keep your mail in it, paper plates, dish towels. etc! You can find a similar wire basket here!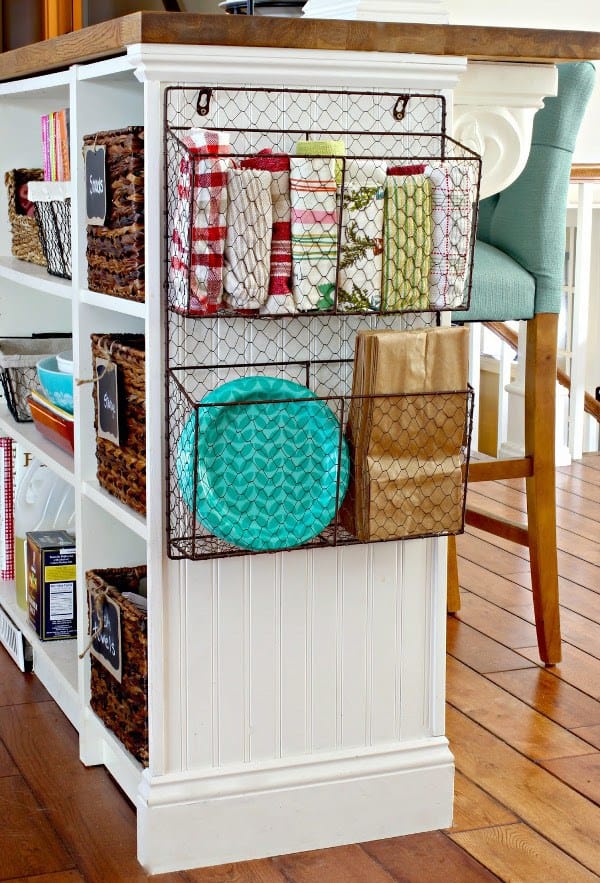 Tip & Image Credit: Golden Boys and Me
Organize Your Wrapping Paper
Between Christmas and birthdays, it is pretty easy to accumulate a lot of wrapping paper. And you don't want to throw away all the paper you have left after wrapping a gift, so how can you store it? Check out how The Chic Site organized wrapping paper! Using a dress bag you can store a ton of wrapping paper and then hang it in a closet out of sight and off the ground!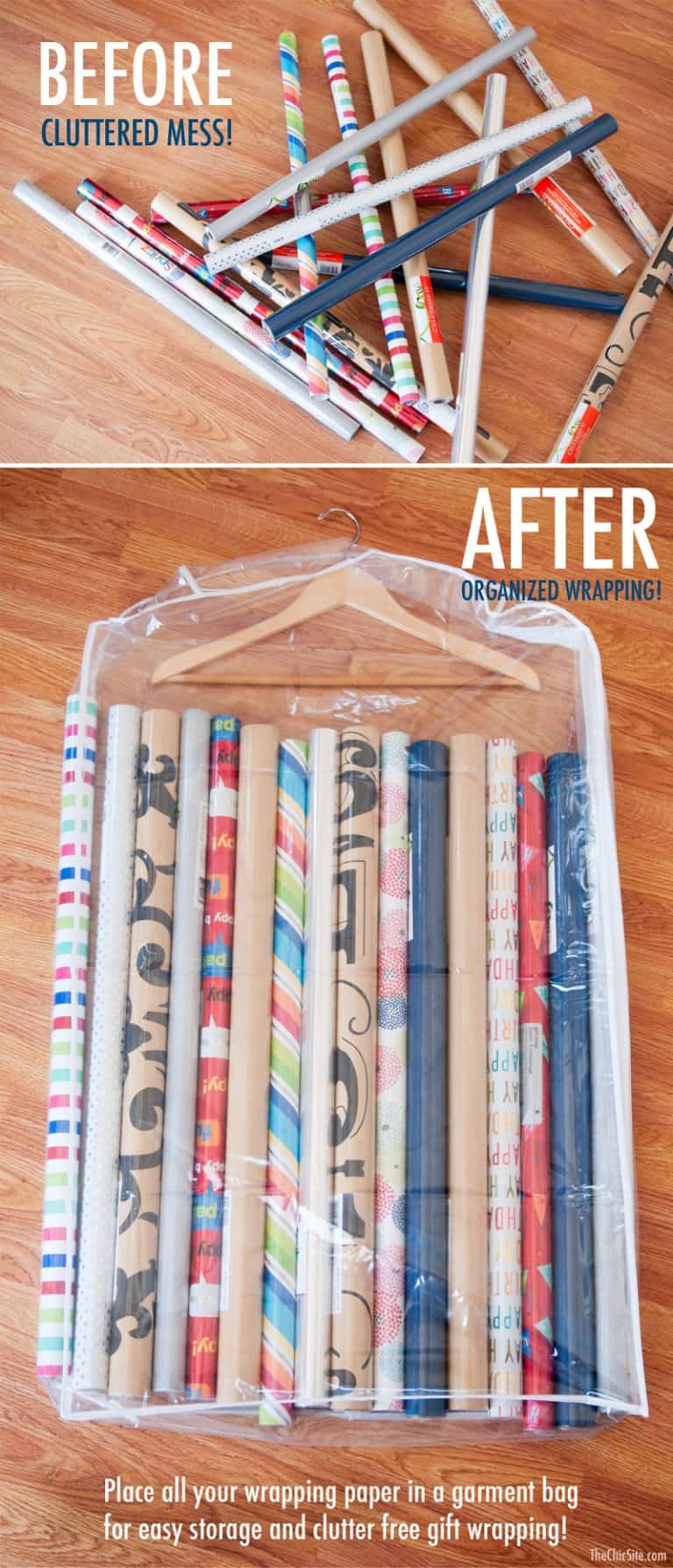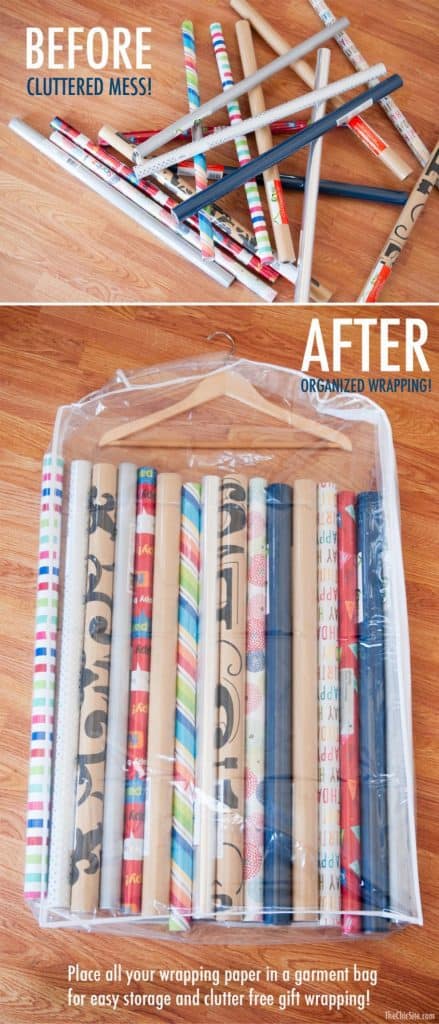 Tip & Image Credit: The Chic Site
Store Makeup In Ice Cube Trays
This is a great way to keep all your eyeshadows or powdered makeup organized. Using ice cube trays you can organize and store your makeup like a professional! You probably even have a few of these laying around your home! If not you can find them here!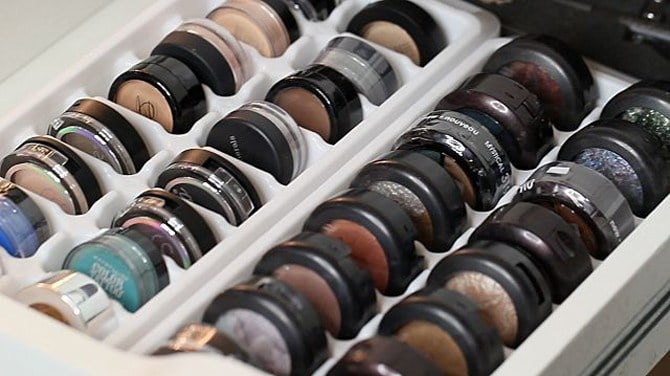 Tip & Image Credit: Brit + Co
Curling Iron Organizer
Every girl topically has a ton of hair accessories! Curling irons, straighteners (one if each in every size and color?) It is very easy to let them clutter up your vanity top or drawers. Clean up your bathroom by storing them in pretty magazine holders! I personally love this vintage floral one from Amazon.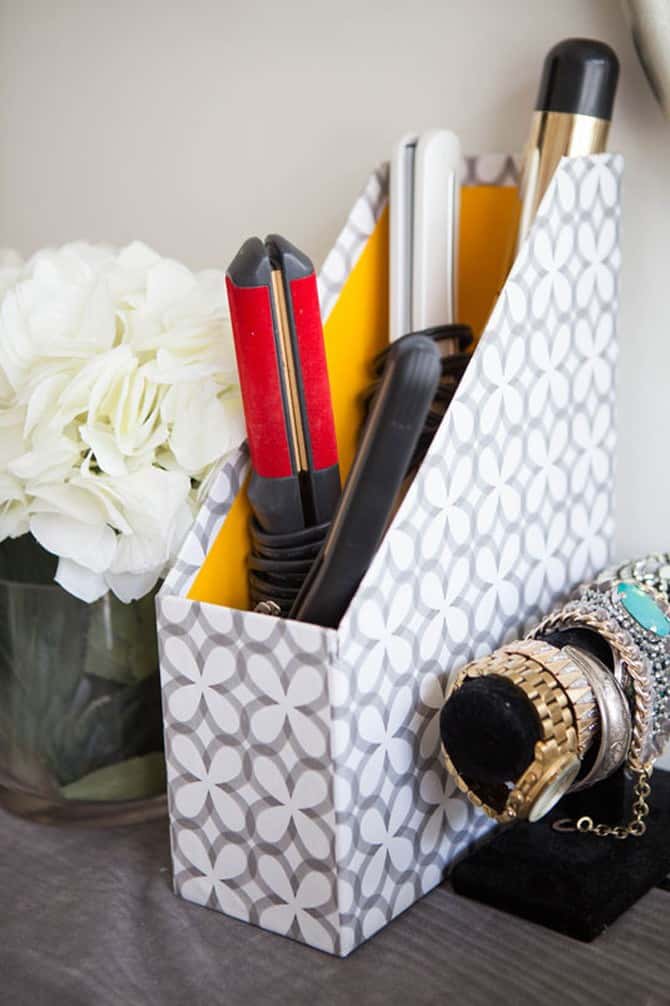 Tip & Image Credit: Cosmopolitan
Drawer Organizers
If you have a baby then you know how difficult it is to keep onesies and small clothing organized. You fold it but then before you know it your drawers are a mess because those little shirts are just too hard to keep organized. However, this is the perfect hack to organize your baby's clothes. This is exactly what we do for my son's onesies and pants. Just roll them up and place vertically. You can use these drawer organizers to keep everything in its place! You can even do this with your adult clothing!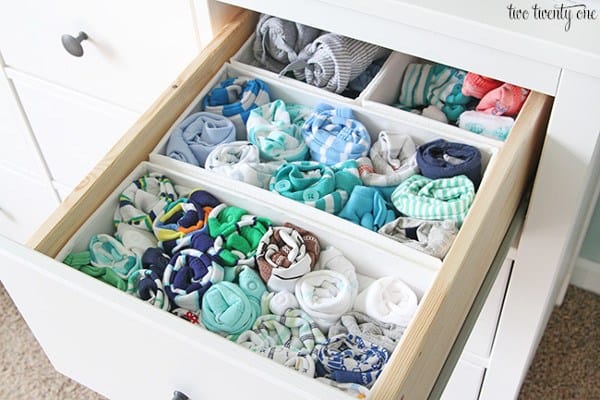 Tip & Image Credit: Two Twenty One
Scarf Hanger Organizer
Are you a scarf person? I will admit I have wayyyy too many. So how can you organize your scarfs the easy way? Well, you can make it super simple and just wrap them around a hanger! How brilliant, right? Or you can use a scarf organizer like this one!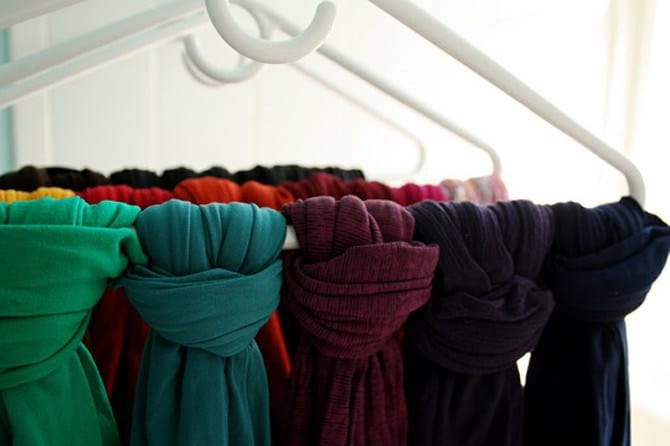 Tip & Image Credit: Chrysalide
Store Batteries In A Tackle Box
Lose batteries tend to clutter up a junk drawer, right? So why not store them in a tackle box and keep them all organized. This way you know where all your batteries are and what you have on hand! Here is a storage box made just for batteries!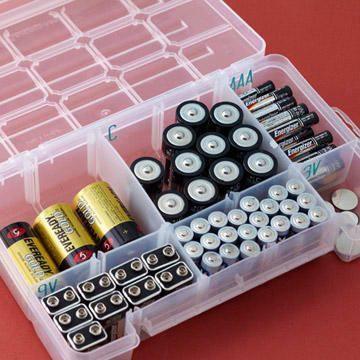 Keep Sheets Inside Pillow Cases
Linen closets can get so disorganized. That is why this hack is so brilliant! Fold your sheets and pillowcases and then slip them into the matching pillowcase. Doing this will ensure your sheet set is all together and neatly organized!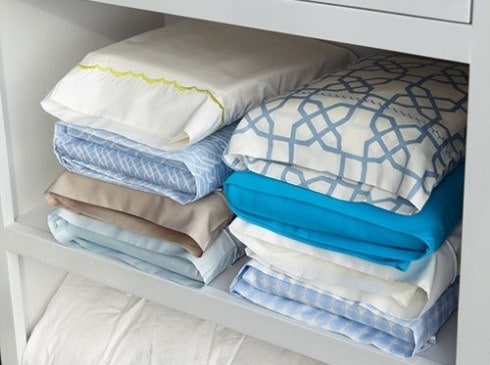 Tip & Image Credit: Home Goods
Store Cupcake Liners in a Mason Jar
This is such a great idea for the ones who love to bake! Cupcake liners tend to get buried in a cabinet never to be seen again until you have to go dig them out. Create the perfect place to store all your cupcake liners and keep them in a mason jar!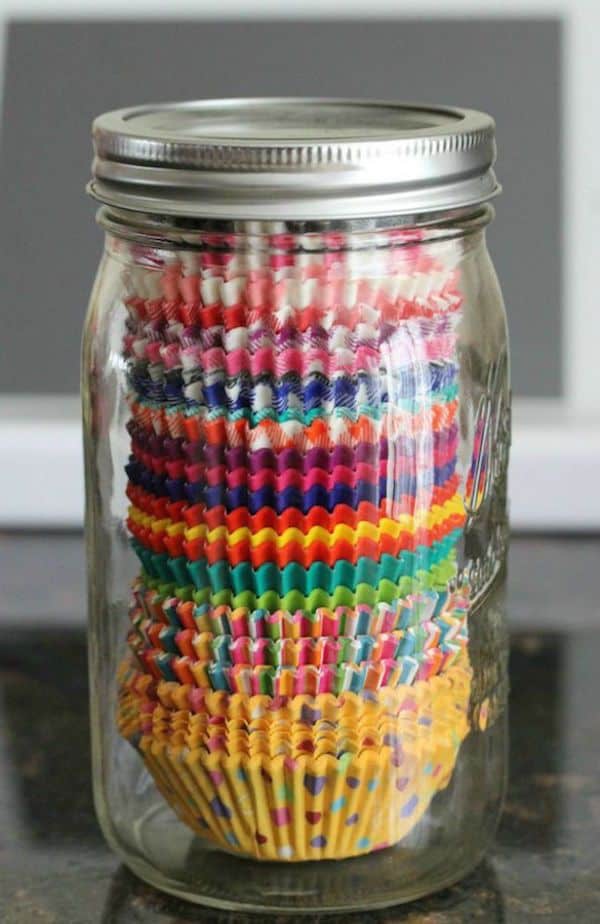 Tip & Image Credit: Table For Two
Use A Water Bottle Rack
Water bottles used to clutter my cabinet until I found these stackable water bottle organizers! They are the coolest gadgets for organizing! You can find them here! They will take your cabinets from a disaster to a perfectly organized space!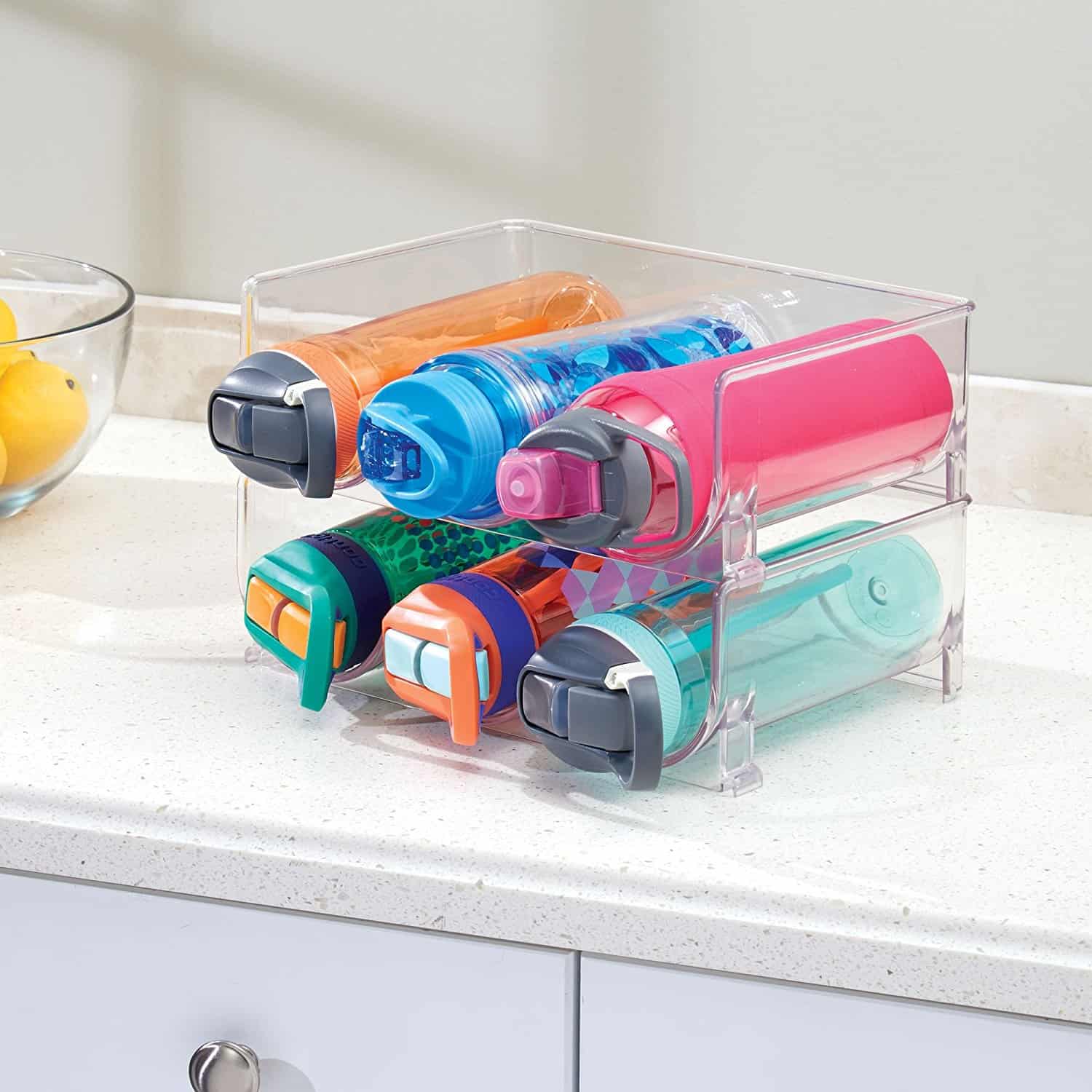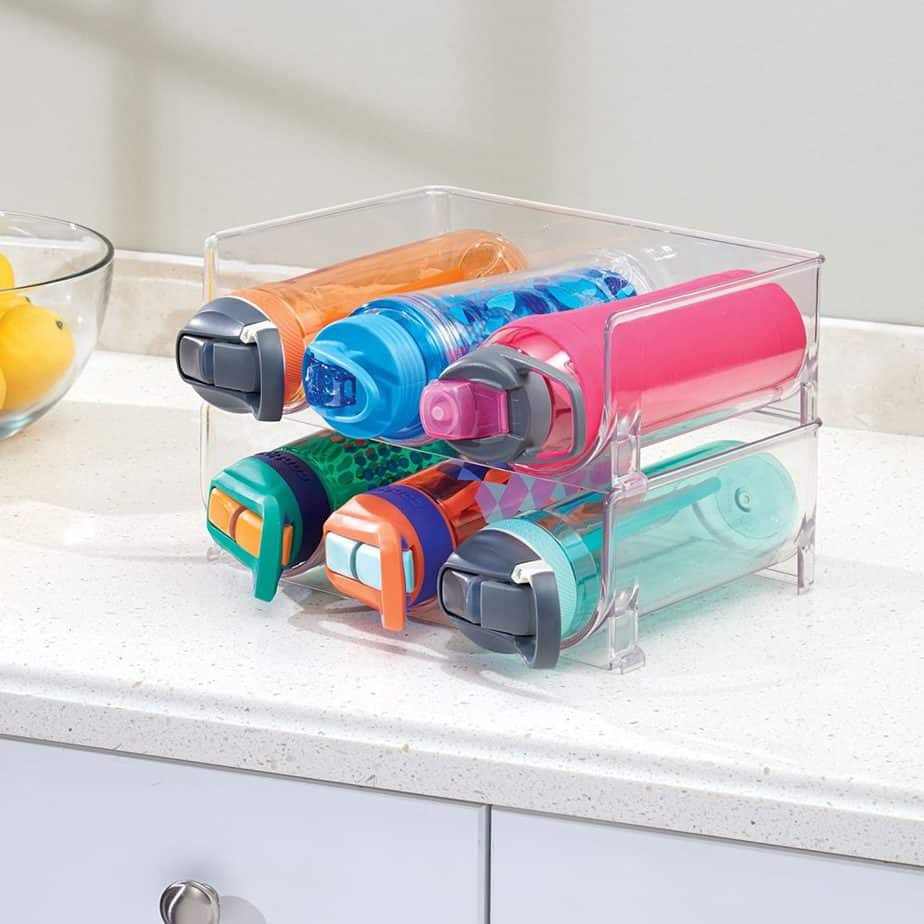 Add An Extra Shelf To Your Vanity
You know that faux piece of wood at the top of your vanity? Well, it is just wasted space waiting to be used by you! You can pop off the cover, add hinges and mount a shelf inside the vanity! This will give you even more storage for things like hair accessories, toilet paper, etc. You can find the tutorial on how to do this at Gray House Studio!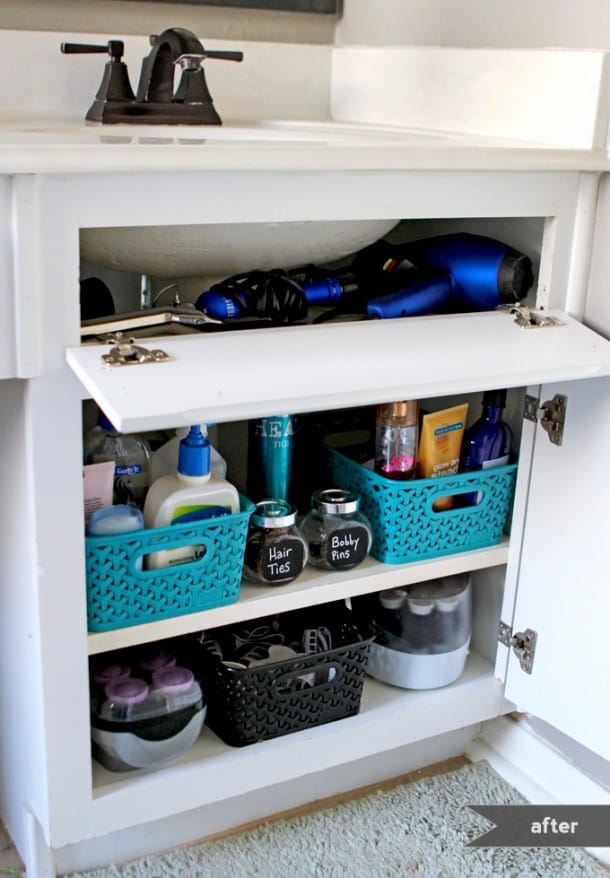 Tip & Image Credit: Gray House Studio
Create Your Own Cleaning Command Center
Are you cleaning products scattered all throughout your house? If so this is the perfect tip for you! In a mudroom or laundry room, you can create your own cleaning command center. Using shelves and a broom holder you can create a command center just like this. See how Jackie did it here!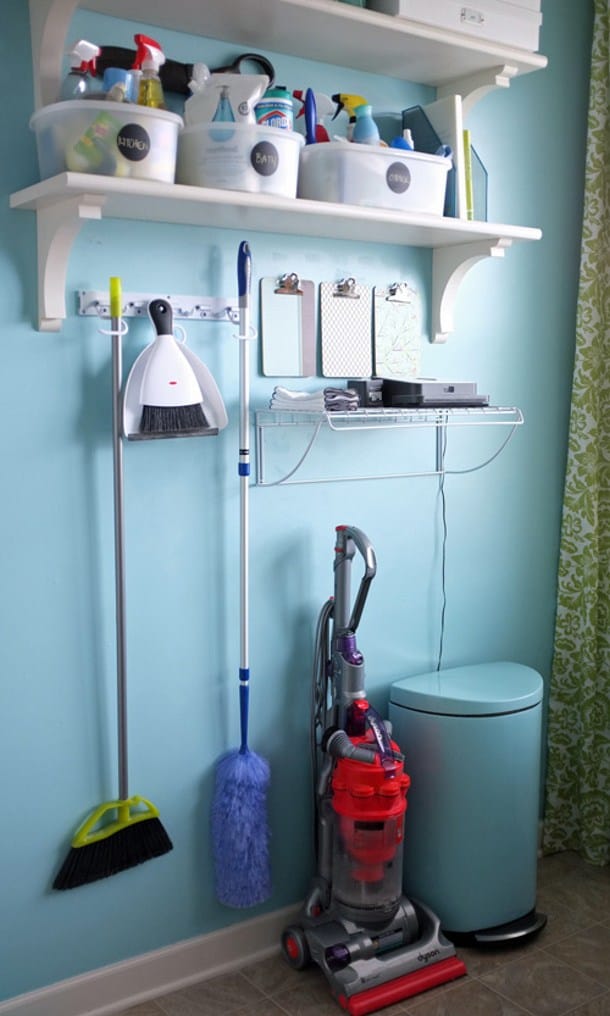 Tip & Image Credit: School Of Decorating
Grocery Bag Storage
Are you grocery bags cluttering up your cabinets? Do you keep just shove the grocery bags in a bag? My grandma does this and it drives me crazy! You can't even find anything under the sink because there are bags of grocery bags everywhere! If you have this problem too you can remedy it with this cheap hack! Roll your grocery bags up real small and then store them in a Lysol Wipes Container! How simple and easy!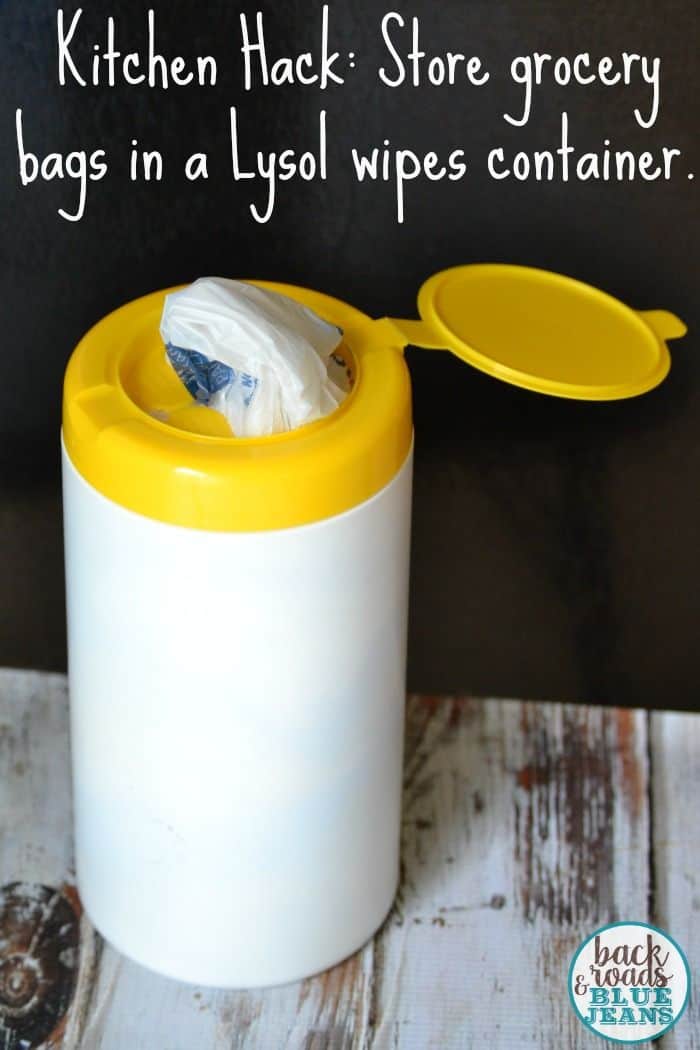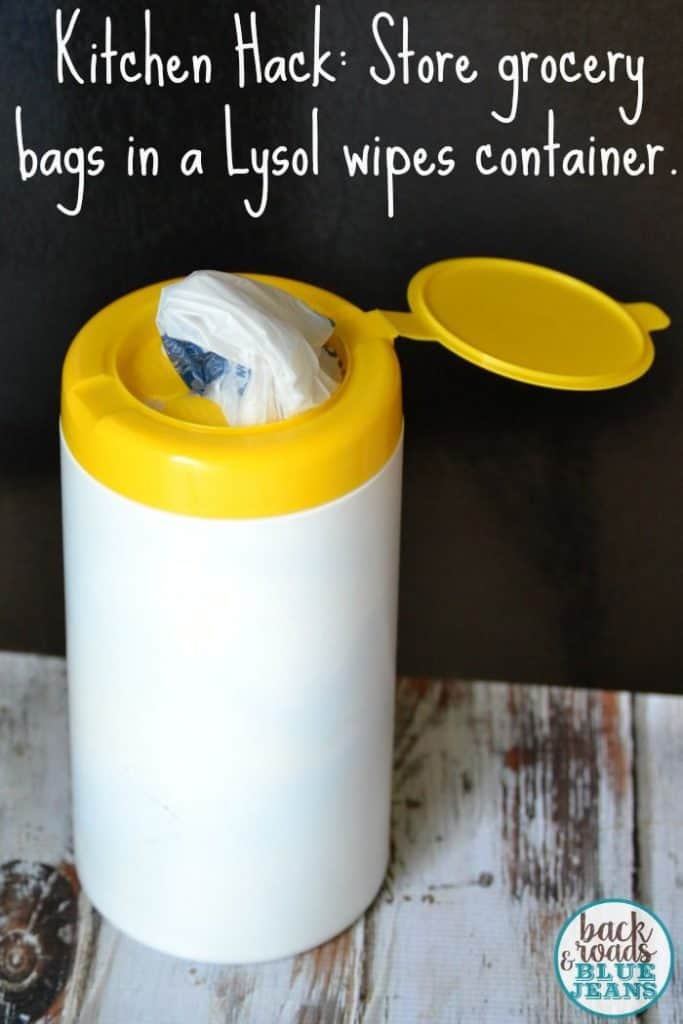 Tip & Image Credit: Glue Sticks & Gum Drops
Organized Your Measuring Spoons
If your measuring spoons and cups are littering your drawers and you can never find the right one this is the perfect organizing hack for you! Using hooks and these decals from Etsy you can do this yourself in your kitchen cabinet!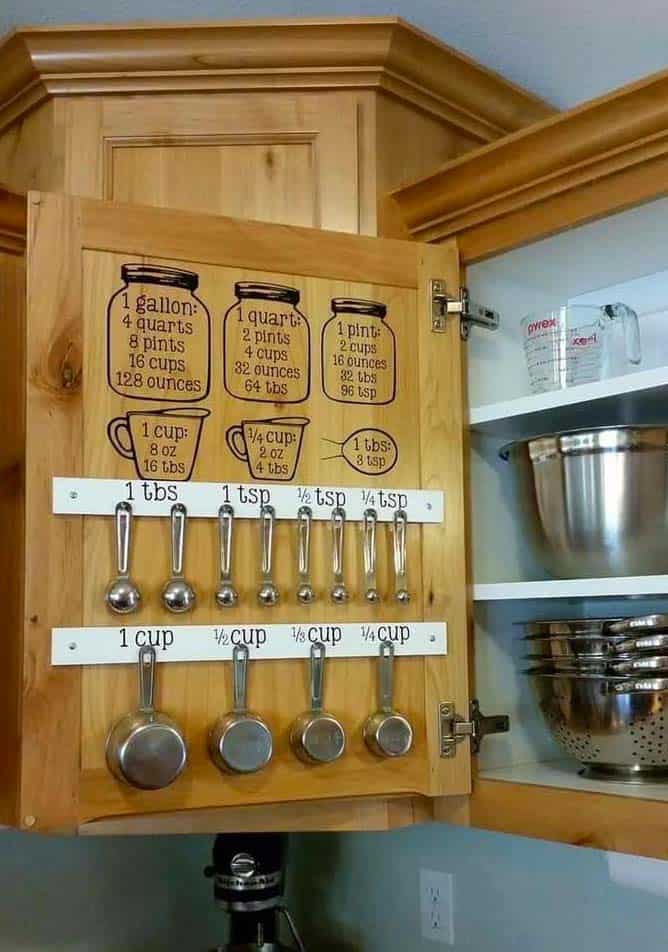 Tip & Image Credit: LatigoLace
You May Also Like: