This Post May Contain Affiliate Links. We earn a commission if you click this link and make a purchase at no additional cost to you.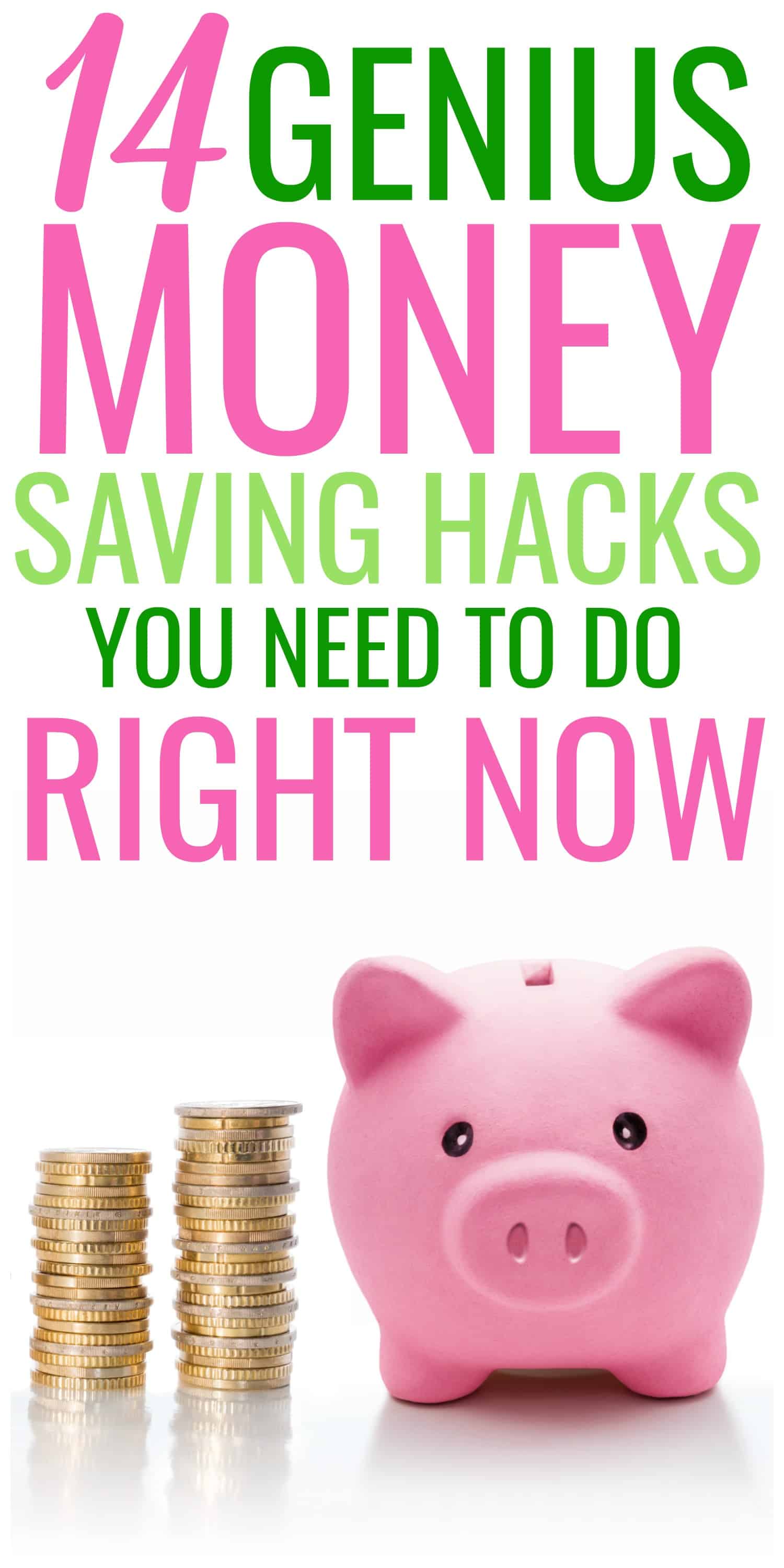 Are you looking for tips to start living frugally and save more money? You have come to the right place! We have found 14 Genius Money Saving Hacks for you! From meal planning to saving spare change, there are so many mind blowing ideas!
Keep scrolling to find great ways to save more money!
Meal Plan 
Planning out your meals each week is a great way to save money. Having a plan instead of blindly deciding what to eat saves you from spending more money on a quick meal. Melanie from Simple Made Pretty has a great meal planning strategy and a great printable to go along with it! You have to go check it out!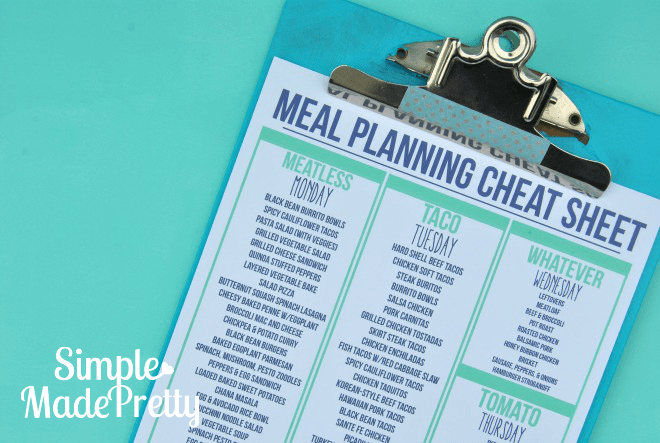 Image Credit: Simple Made Pretty
Eat More Meals At Home
According to the BLS, the average household spends $3008.00 eating out each year. That is a huge number that could easily be reduced. Instead of grabbing a coffee and breakfast on the go each morning, start making breakfast at home. We start our morning frying a few eggs or warming up a sausage biscuit and running out the door with a Starbucks coffee we made with our espresso maker.  Eating breakfast and dinner at home each month can save you an average of $250.00. Yes $250 a month! Imagine what you could do with that extra money! 
Use a Cash Envelope System
If you know anything about a budget, you have probably heard about the envelope system. The envelope system is a great way to save money and budget where your money is going! It works by budgeting out a set amount of money to spend in one category, let's say groceries. Whenever you go to the store to buy groceries, the only money you are allowed to spend is what is in your envelope. You cannot cheat and use your debit card. Therefore if you only have a certain amount of money to spend you will be more cautious about what you are buying and avoid overspending. Kumiko at the Budget Mom has a great tutorial to set up your envelope system!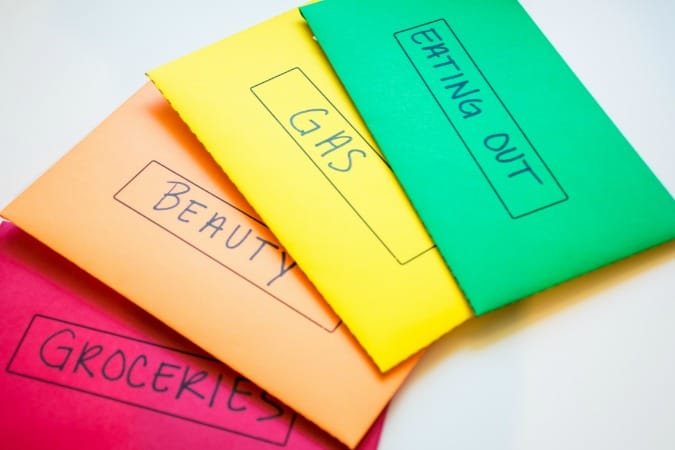 Image Credit: Budget Mom 
Save Spare Change
When using cash, most of the time you will get change back with every purchase. A great way to build up extra savings is to save your change instead of using it. Every time you make a purchase put your excess change in a jar. Make it a jar with a narrow neck so you aren't tempted to use it after you have put it in your jar. You can even get a change jar that counts the change for you! If you fill up a 2 liter with dimes, that should add up to almost $700 dollars! Just imagine if you were saving more than just dimes, how much money you could put back!
Use Cash Back Programs
Did you know you can earn cash back for free just by shopping online? My favorite cash back program is Ebates. Just in the past year, I have made $266.42 in free cash back from Ebates! The great thing about Ebates is that they have a browser extension that reminds you everytime you are about to make a purchase to add your cash back.
Another great cash back program is ibotta! They give cash back on grocery and household items! Ibotta is so easy to use! Just add the items you purchased and then scan your receipt! Once your purchase is confirmed Ibotta will send you free money!! You've got to check these apps out!
Start The $5 Dollar Savings Plan
How often do you come across a $5 bill? If you use cash you probably have them in your possession most of the time. Start the $5 Dollar Savings Plan by putting aside any $5 dollar bill you come across. Each time you get a $5 bill put it in a jar, a box, or even a cute piggy bank. Kelsey at Keeping Up With Kelsey saved $200 dollars in five months! How much do you think you could save?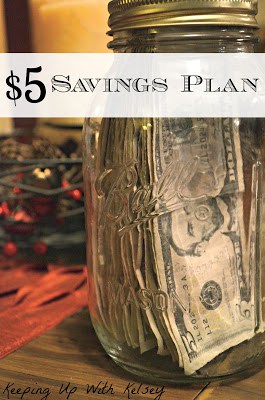 Image credit:  Keeping Up With Kelsey
Use Facebook to Get Coupons & Deals
Are there brands that you love and purchase all their products? Did you know if you follow them on facebook they sometimes offer coupons and deals that are exclusive to their Facebook subscribers? Go check out your favorite brands now and see what they are offering on their facebook page!
Get Free Stuff With Coupons
Do you like getting things free? Then you will love this savings hack! College Life Made Easy has a list of 24 items that are always free with coupons! This includes things like candy, makeup, magazines, movie tickets, etc. You have got to check out this list!
Stockpile Sale Items
A great way to save money is to start buying in bulk! When deals are 30-50% off you can save a ton of money by stockpiling. The key is to buy enough until the product goes on sale again. That way you will never have to pay full price ever again. Just think if you purchased laundry detergent in bulk when it is 30% off how much money you will save! Living Well Spend Less has some more great ideas on how to save on food and cut your grocery bill in half!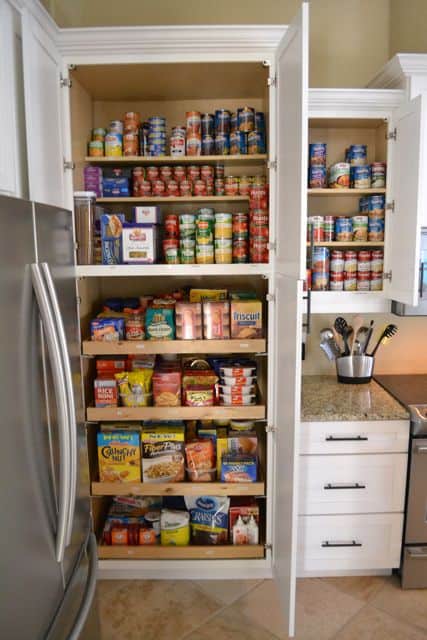 Image Credit Living Well Spend Less
Sell Old Books For Cash
Remember those college textbooks you bought that are accumulating dust on a bookshelf? Why not sell them on Amazon or Ebay! Clearing out the clutter and selling old textbooks and novels are a great way to earn a little extra cash! There is also a site called Bookscouter that help you sell your books to buyback vendors!
Purchase Dollar Store Goods
Why spend a fortune at Walmart or Target when you can purchase cleaning supplies, medicines, food, and toiletries at the Dollar Store! My favorite Dollar Store items are ziplock baggies, glass cleaner, and Totally Awesome Cleaner. What are your favorite Dollar Store finds? Check out The Krazy Coupon Lady's post on 13 things you should always buy at the dollar store.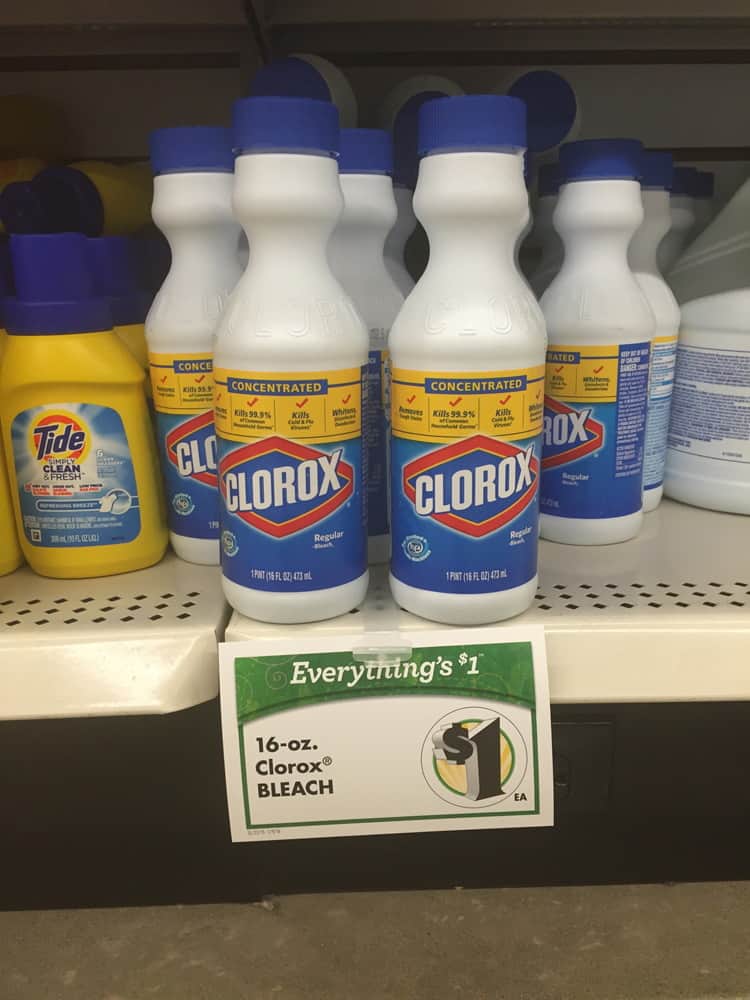 Image credit The Krazy Coupon Lady
Buy Out Of Season Items
Did you know there is a certain time of year when products are the cheapest? Like for instance, the canned foods are always on sale in February and August is the best time to buy office furniture. The Budget Diet has created this awesome guide on the best time to buy anything throughout the year. Check it out!
Make Your Own Household Products
Did you know you can make your own household cleaners with just a few ingredients? With just vinegar, water & baking soda you can make a toilet bowl cleaner, stainless steel cleaner,  floor cleaner, etc!
Download our free printable PDF: 7 Homemade Cleaning Products For Ever Room!
Keep Track Of Your Expenses Using Budget Printables
It seems so basic but writing down what you are spending is the best way to save money. If you write down that you spent $5 dollars at Starbucks every day this week it is easier to see where you are wasting money and how you can improve your spending. A budget planner like the Happy Planner Spend Well Planner is a great budget planner.
What ways do you save money? Comment below and share!
You may also like:
10 Things I Quit Buying to Save Money
12 Dollar Store Organizing Hacks You Must Do Right Now 
30 Clever Ways To Organize With Magazine Holders