This Post May Contain Affiliate Links. We earn a commission if you click this link and make a purchase at no additional cost to you.
Does your bedroom tend to get cluttered with clothes? Are your closets bursting at the seams?
For most people, their bedroom can become one of the most cluttered rooms in the house simply because it is so easy to shut the door and hide it away.
Do you want a solution?
Below you will find 20 Amazing Organization Hacks That Will Transform Your Bedroom!
Save time, space and money by implementing some of these DIY Bedroom Organizing Hacks!
Hide The Cords
When you think about ways to organize your bedroom, you may only think about clothes, shoes, blankets, etc. But what about the other things in your room causing clutter. Like cords!
We all have lots of devices on our nightstands and the cords tangled everywhere make an organized bedroom look terrible. But they can be easily hidden in just a few minutes with cable clips.
Check out how to hide your cords here!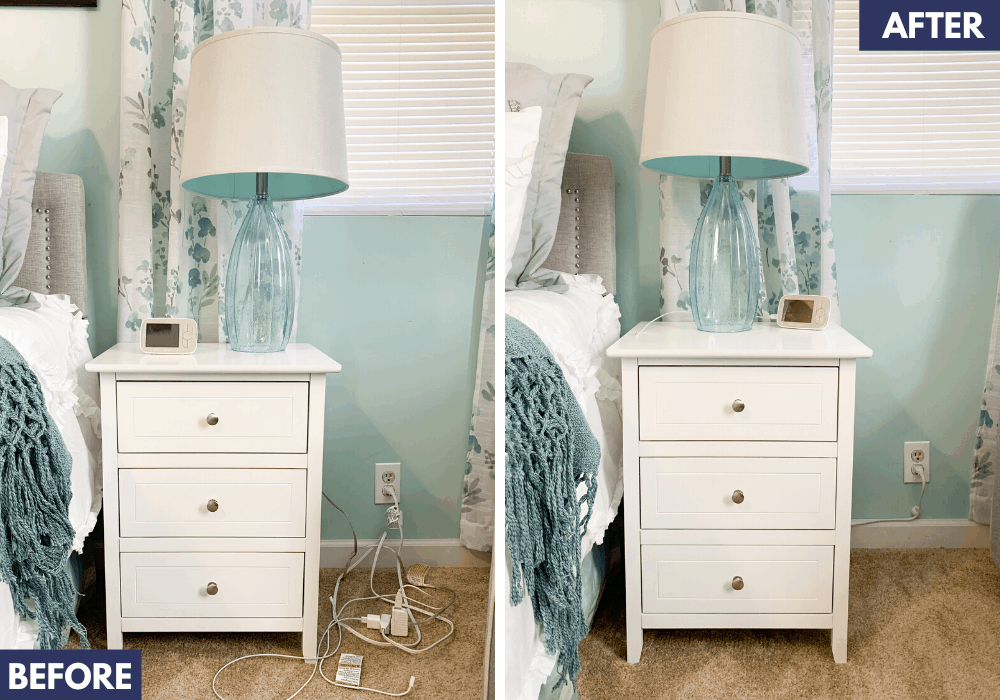 Use a Cart For a Night Stand
Have you ever thought about using a rolling cart for a nightstand? These carts are perfect for extra storage and are a cute addition to any space!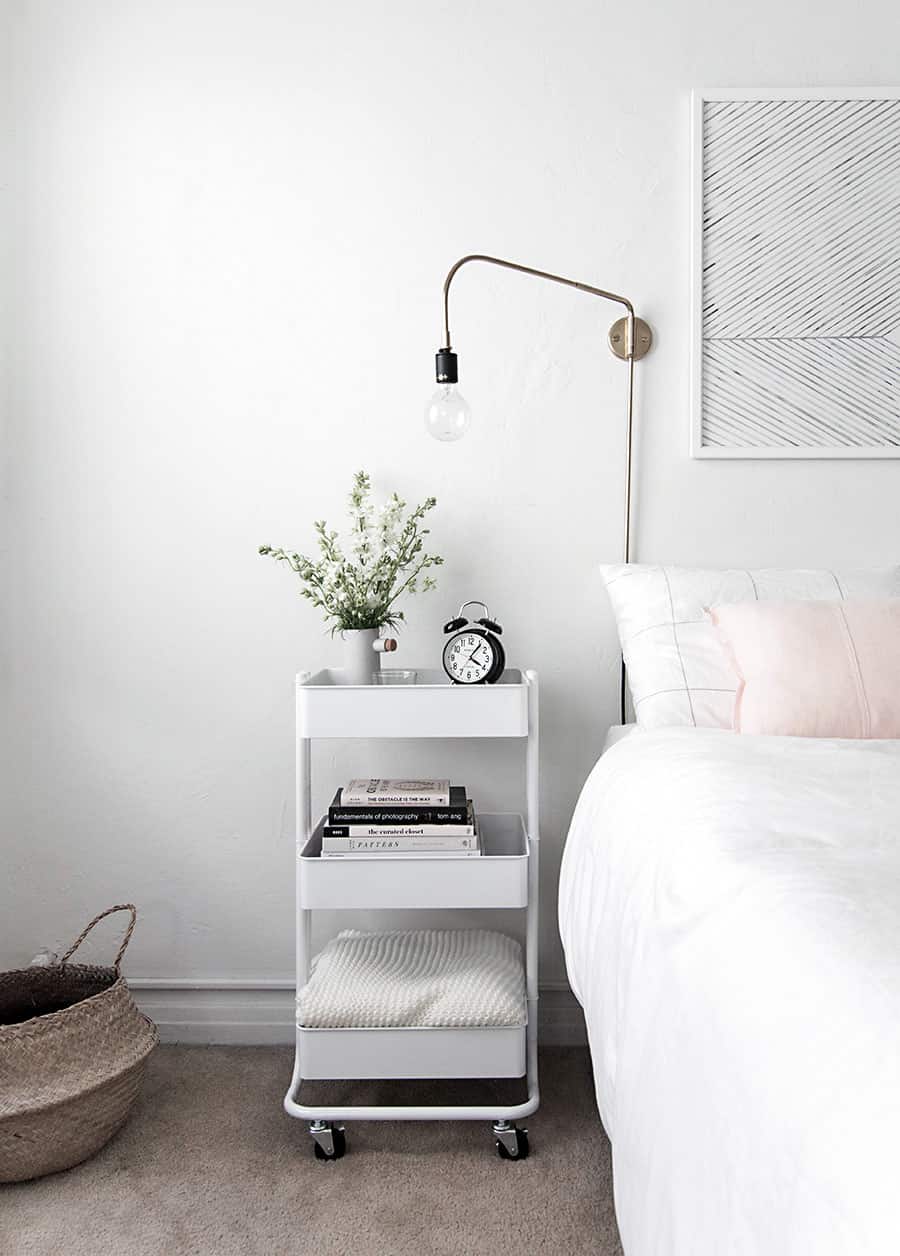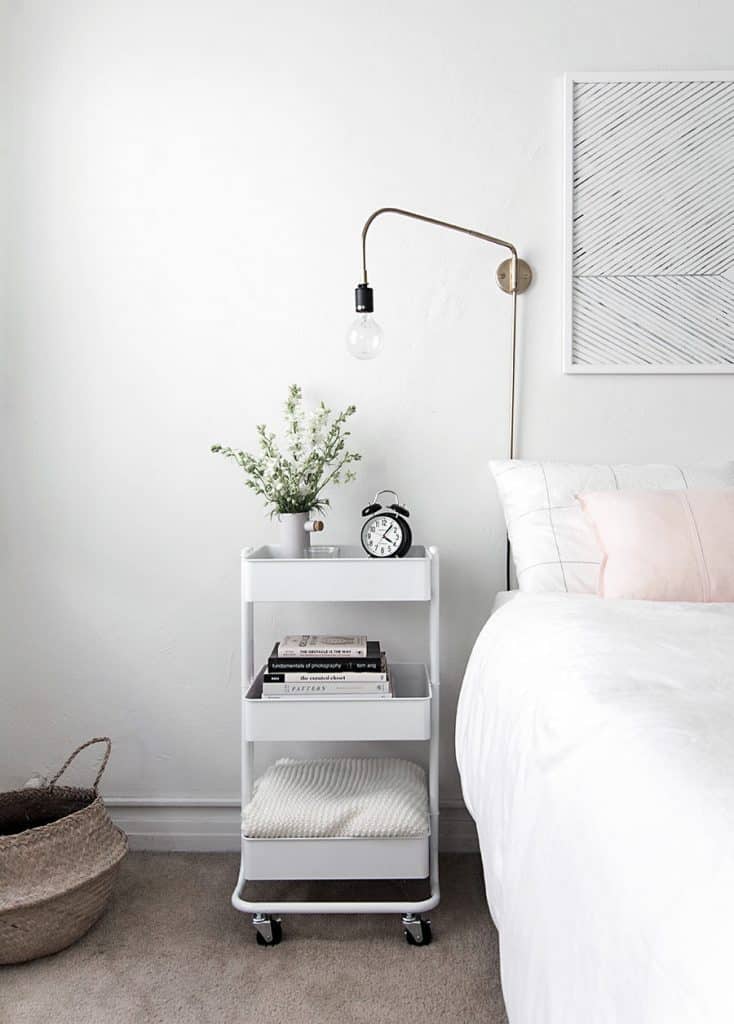 Image Credit to homeyohmy
Turn a Gift Box Into a Charging Station
Cords can quickly clutter your side tables and make it unsightly. Looking for a solution? Use a pretty gift box that you can hide the cords in and keep your table clutter free. Use a surge protector inside the box and cut holes for each cord.
Image Credit to Mom Tails
Hang Your Laundry Basket
Hanging your laundry basket can save some much-needed floor space! Plus it's an easy way to keep your dirty clothes off the floor and out of sight. There are lots of options for door hanger laundry baskets, but you want to make sure you get one that is strong, waterproof and with double reinforcement hooks, like this one!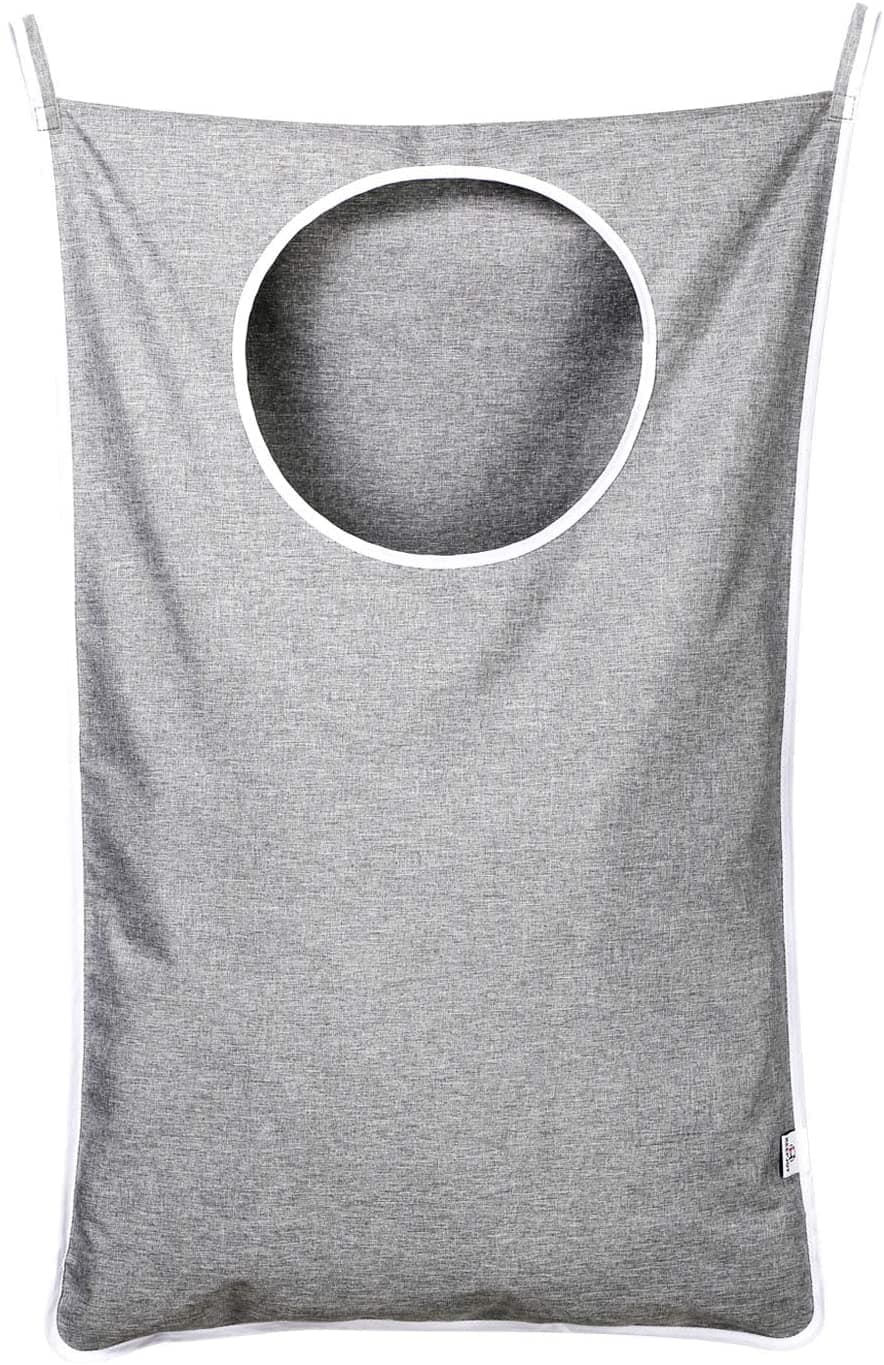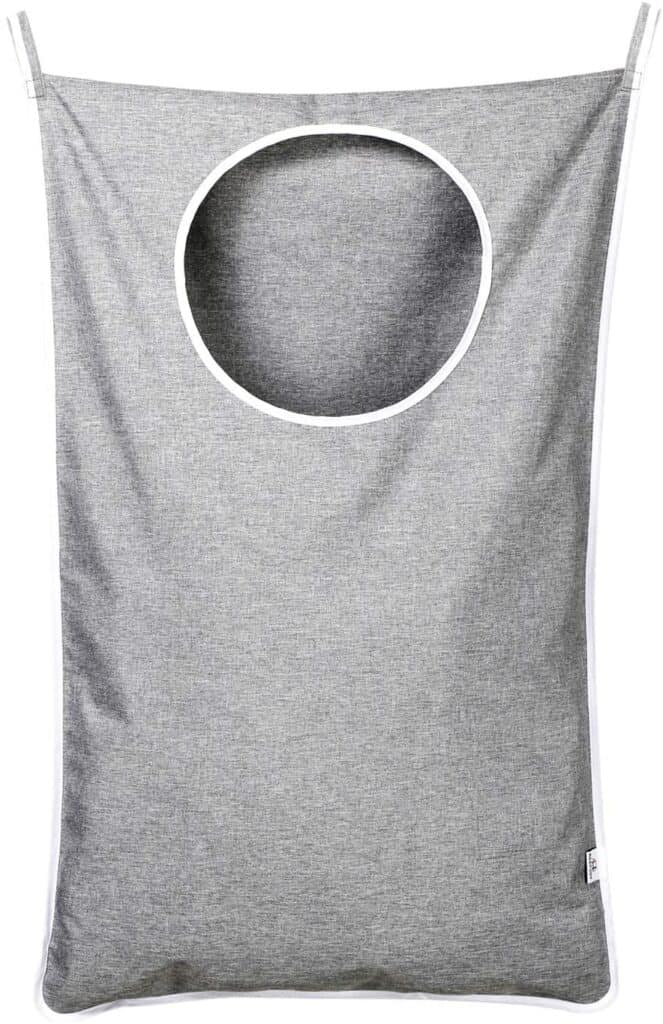 Use an Inexpensive Drawer Cart For Sandals and Other Items
Instead of letting your sandals scatter the bottom of your closet, store them in a drawer cart! It is a simple and cheap solution to organize your closet.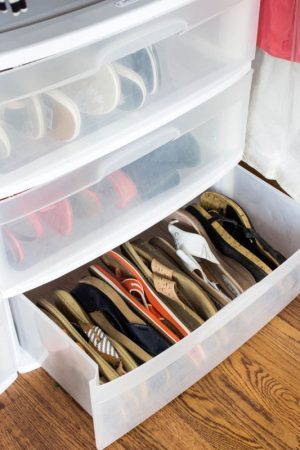 Image Credit to On Sutton Place
Turn an Old Book Shelf Into An Under Bed Storage Trundle
This idea is genius! You can find an old bookshelf or buy a new one and turn it into an under bed trundle! Just add wheels and handles.

Image Credit to DIY Fun Ideas
Create Extra Space In The Closet By hanging Totes
Do you have a few utility totes laying around your home? Get them out of storage and use them for storage!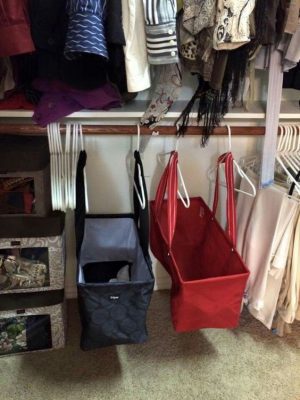 Image Credit to Pinterest
Store Bras and Camis on an Accessory Hook
Do you have a whole drawer dedicated to camis that you need for something else? Save some space and hang them all together on an accessory hook. It will give you extra storage and make it easier to see all your camis in one place. This hack can also be used for bras, scarfs or belts!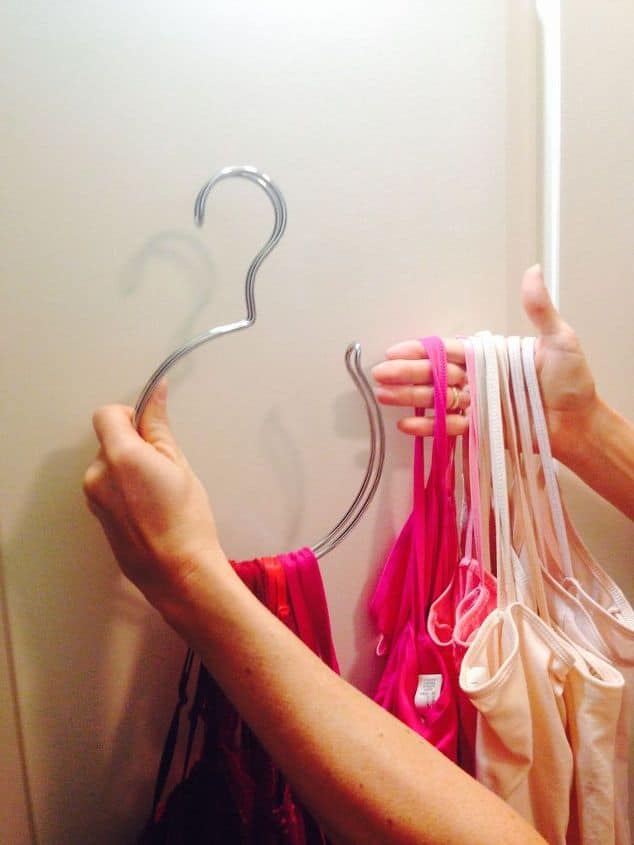 Image Credit to Home Talk
WANT MORE TIPS? YOU'LL LOVE THIS POST: 8 WAYS TO SIMPLIFY & ORGANIZE YOUR MASTER BEDROOM
Use Closet Maid Systems to Maximize Your Closet
Closet Maid makes amazing systems to perfectly organize your closet. They have so many options and accessories to maximize every space in your closet.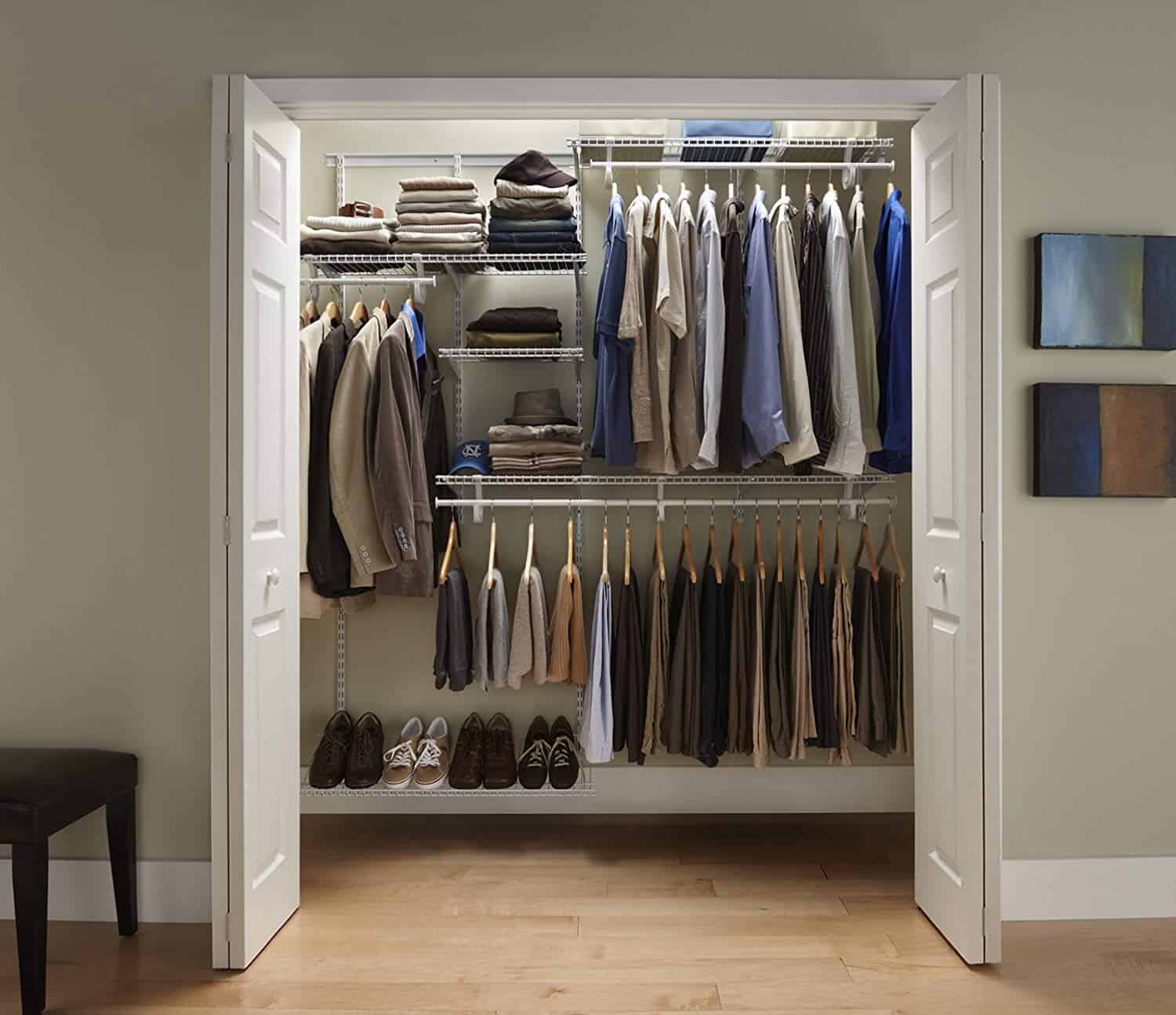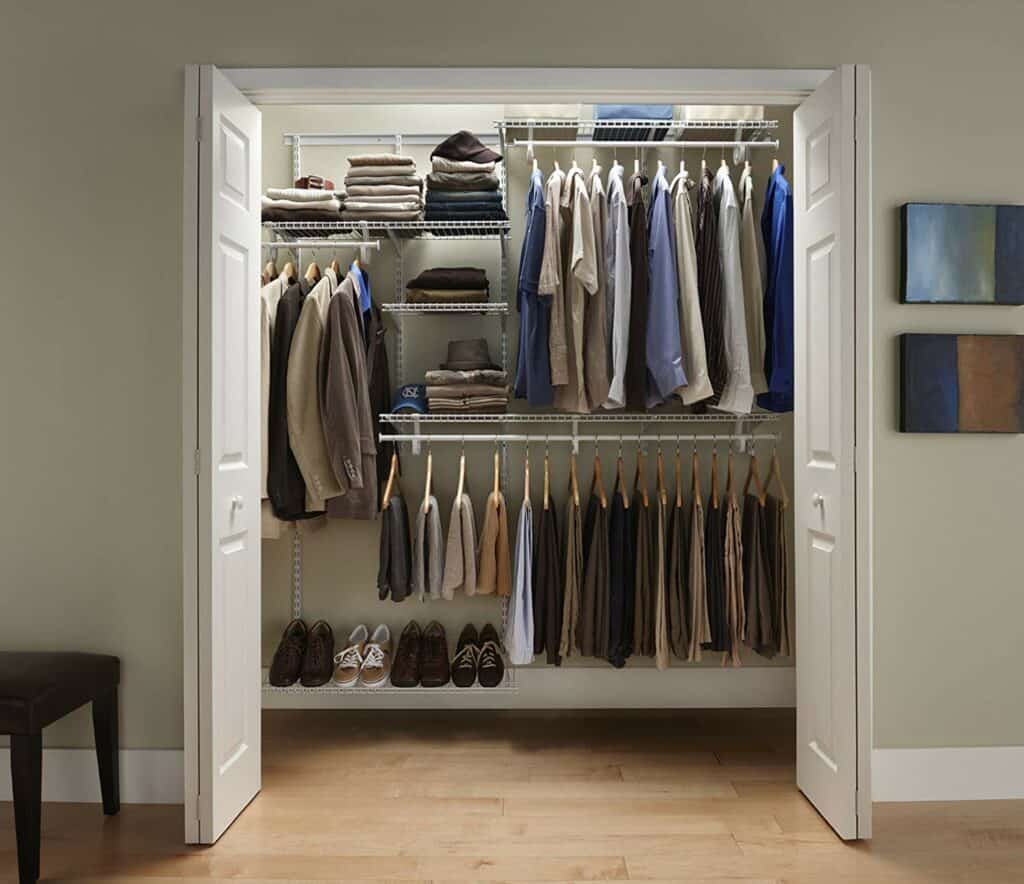 Image Credit to Amazon
Install a Floating Shelf for a Night Stand
If you are really low on space, try using a floating shelf as a nightstand. It will save you a ton of space and give you a sleek, modern look!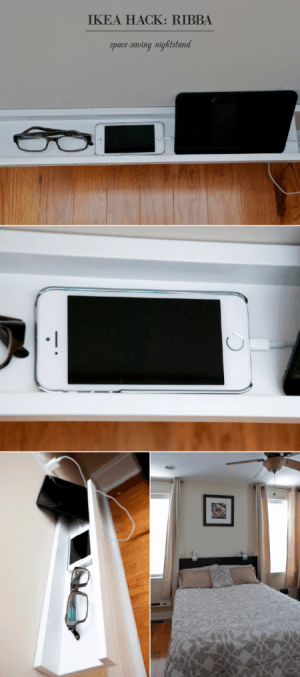 Image Credit to Make Space
Use Bed Risers to Raise Your Bed and Have Extra Space For Storage
Looking for extra storage in your bedroom? Grab a set of bed risers to lift your bed from the floor and provide extra space!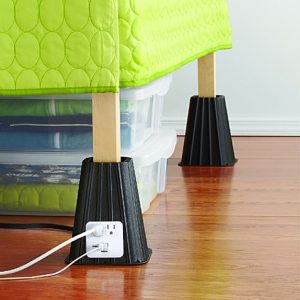 Image Credit to Amazon
Use an Over The Door Organizer to Store Toiletries, Shoes, handbags, etc.
Adding storage to the back of a door is a great way to utilize dead space. Using an Over The Door Basket Rack you can organize shoes, accessories, lotions, etc!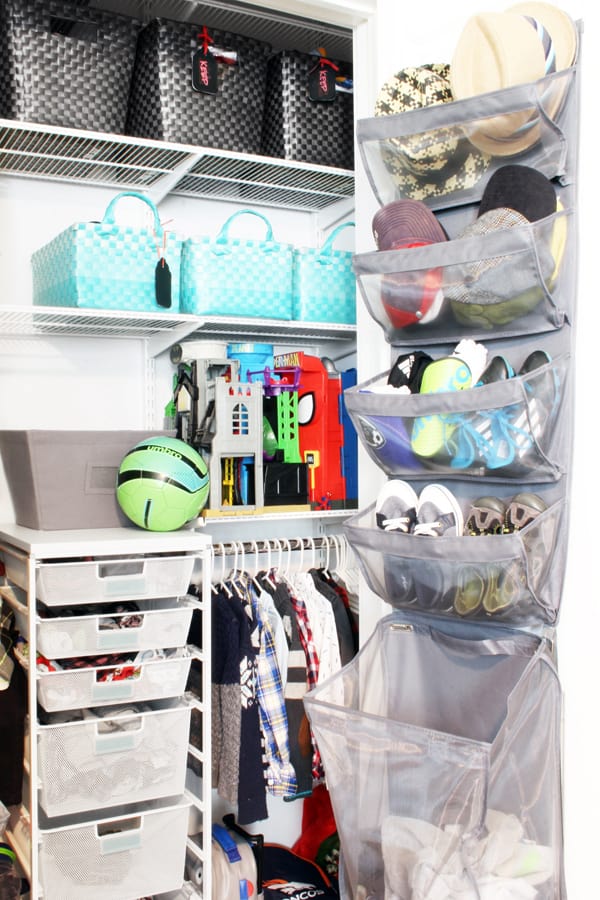 Image Credit to Blue I Style Blog
Use Accessory Trays in Drawers for More Storage
Acrylic Drawer Organizers are a great way to organize jewellery, ties, belts, etc. It is the perfect accessory to organize any room.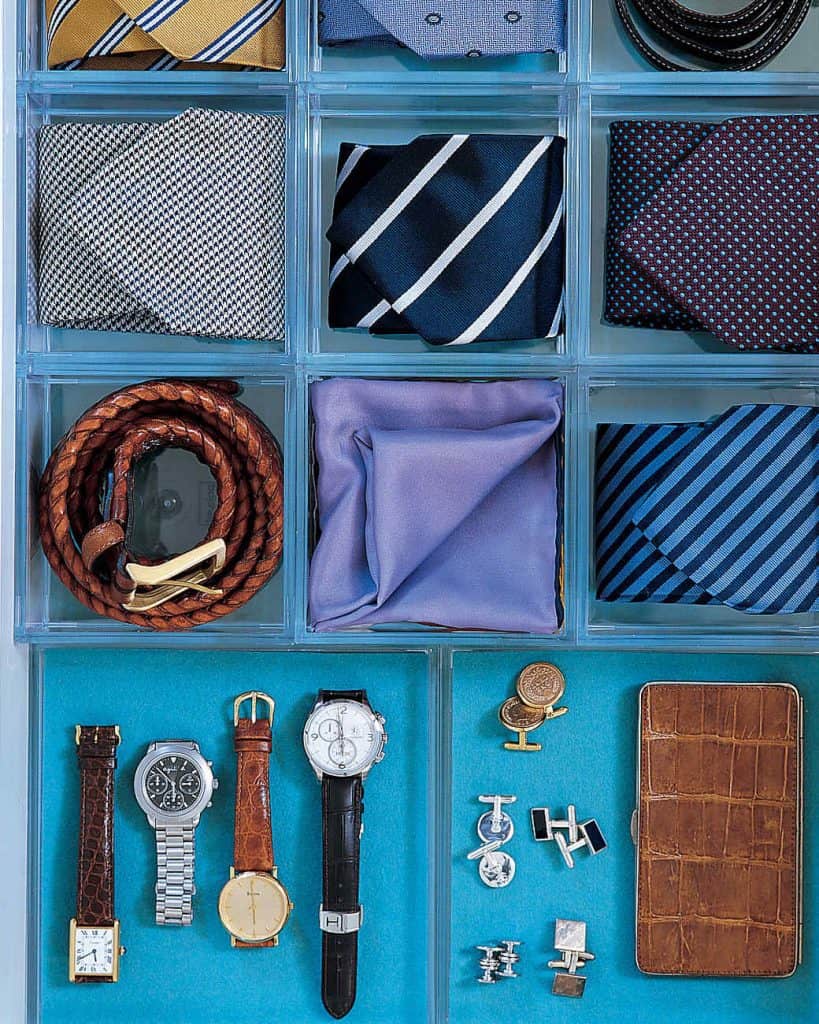 Install a Pegboard on Your Bedroom Wall
Do you have a desk in your bedroom but still need extra storage? A pegboard is a great addition for extra storage! Pegboards are not just for the garage. They have so many cute accessories for pegboards that you can make your space look incredible.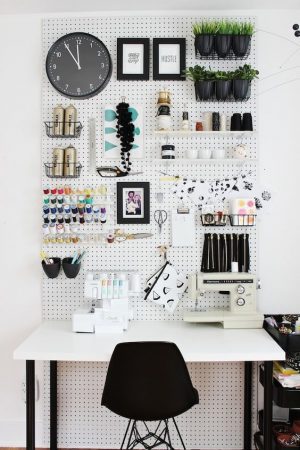 Image Credit to Caitlin Bacher
Use a Shoe Organizer to Store Small Items
Do you need a place to store extra accessories? Using a shoe organizer on the back of a door will give you so much extra space. Plus they are super cheap!
Image Credit to Organization Junkie
Turn a Bookshelf Into a Storage Bench
This is one of my favorite organization hacks. I have a bookshelf bench just like this in my home that we use in my son's playroom. You can do this in any room of your home where you need extra storage, not just your bedroom. But it would make a super cute window seat or footboard in a bedroom!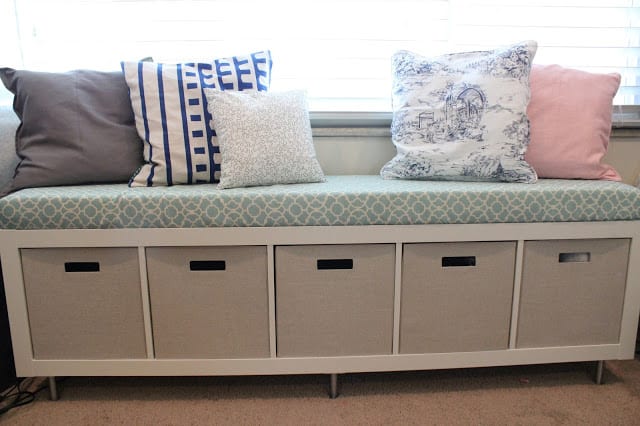 Image Credit to Mommy Vignettes
Install a Vanity to Free Up Bathroom Space and Create Extra Storage
Is your bathroom too small or you have to share it with multiple people? Using a Makeup Vanity in your bedroom you can create the perfect organized space to get ready in. We love this makeup vanity because it not only has a ton of room for all your makeup, but it also has a place to organize your jewelry on the back of the doors. You can find it here!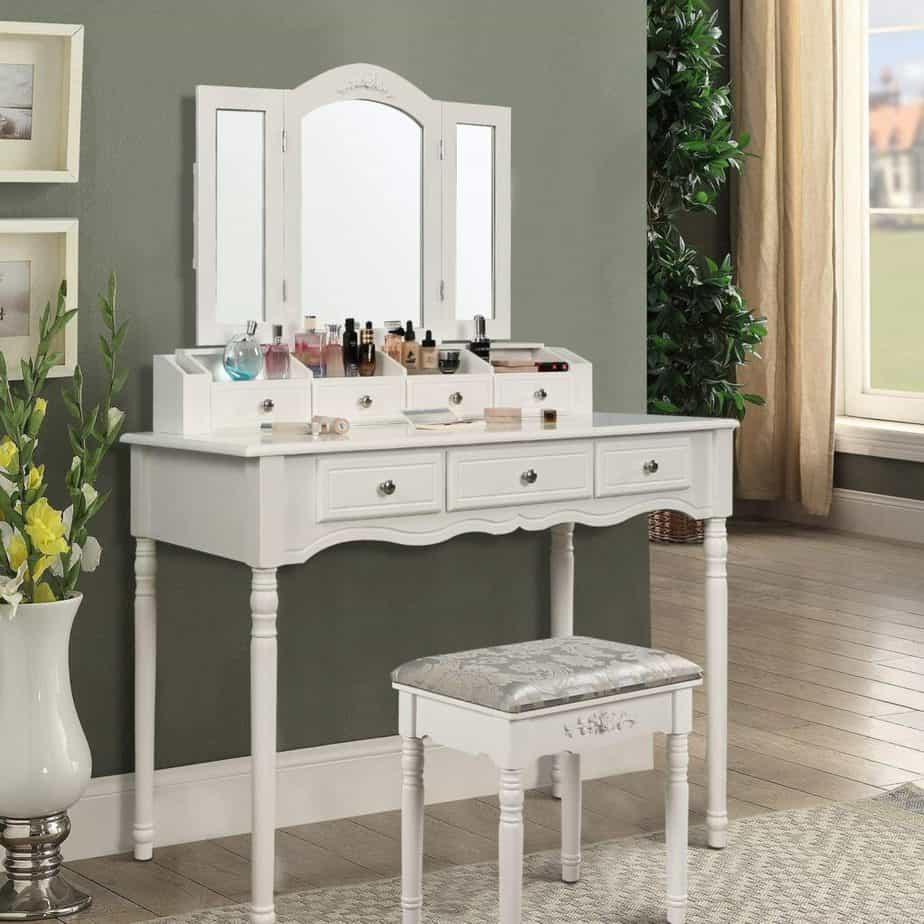 Use Cardboard to Make Drawer Dividers
A drawer with dividers is a great way to organize but dividers can get expensive if you are doing multiple drawers. To save money you can make them yourself with cardboard or foam core board and then wrap it in contact paper.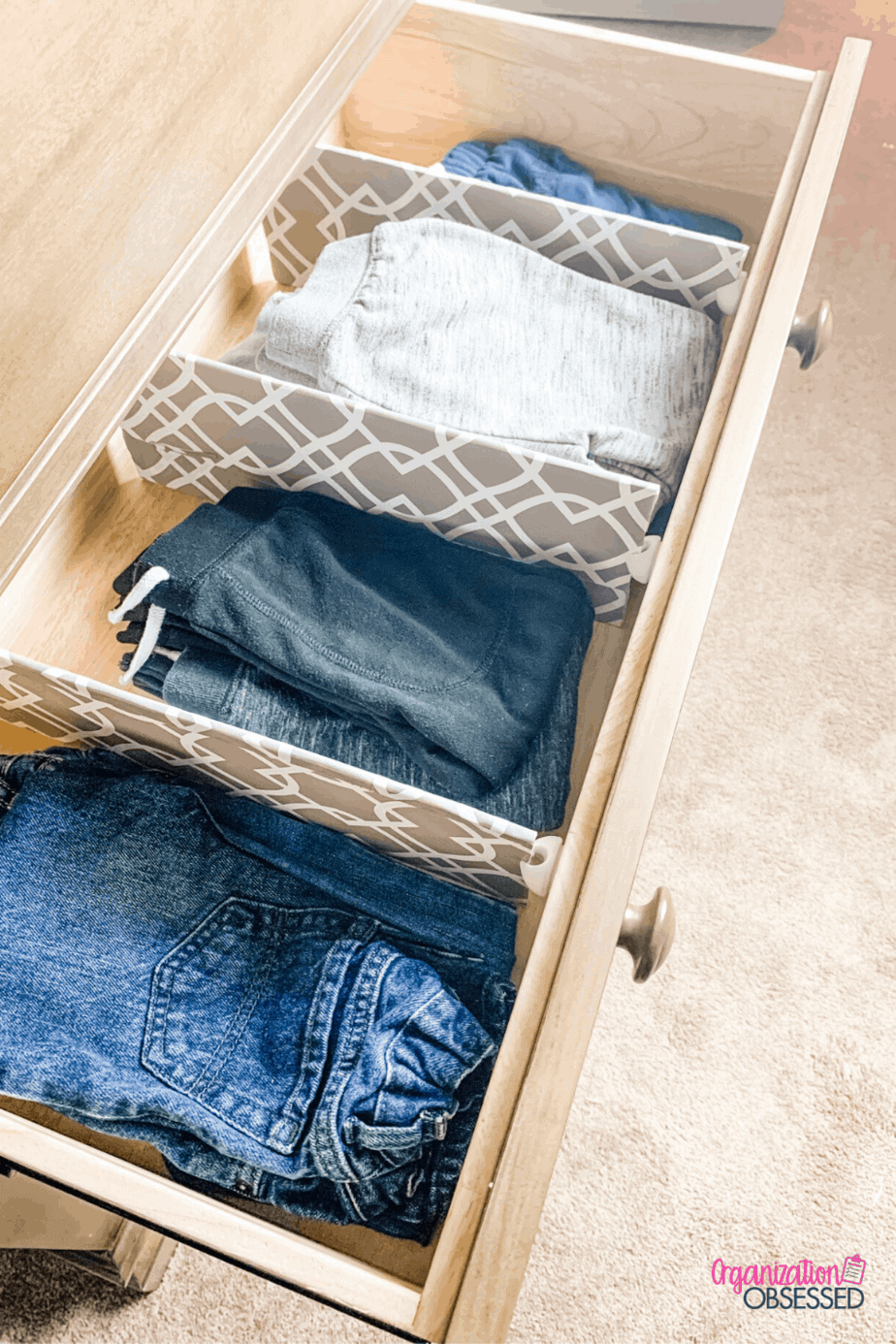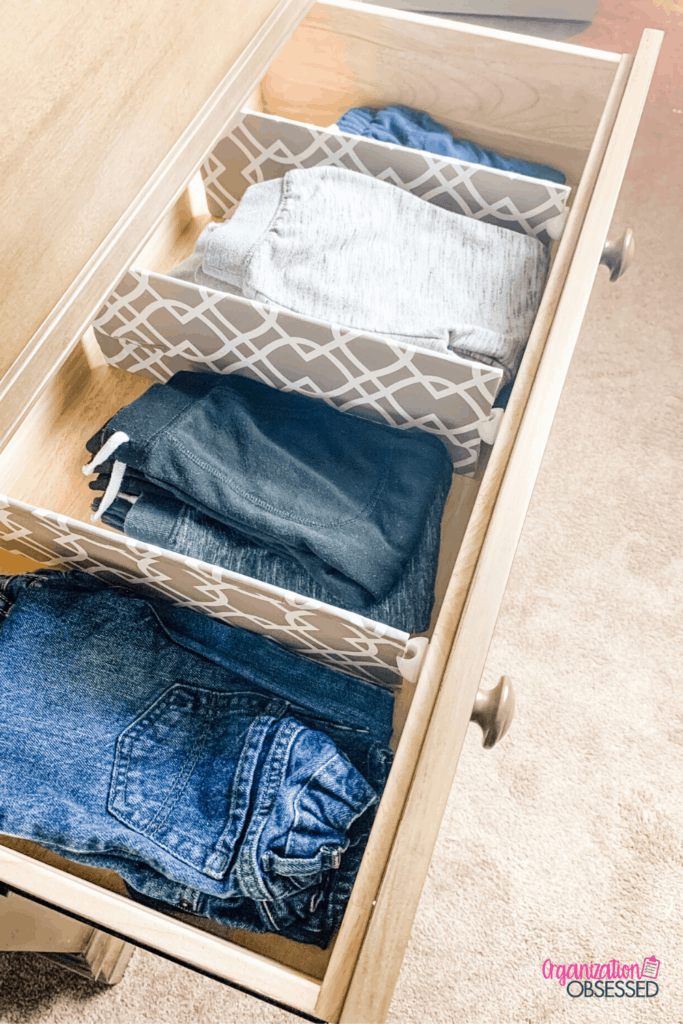 Use a Bedside Organizer to Store Electronics
Need a place to store your phone at night? Try a bedside caddy. They slip under your mattress and hang off the side, giving you ample room to store your electronics!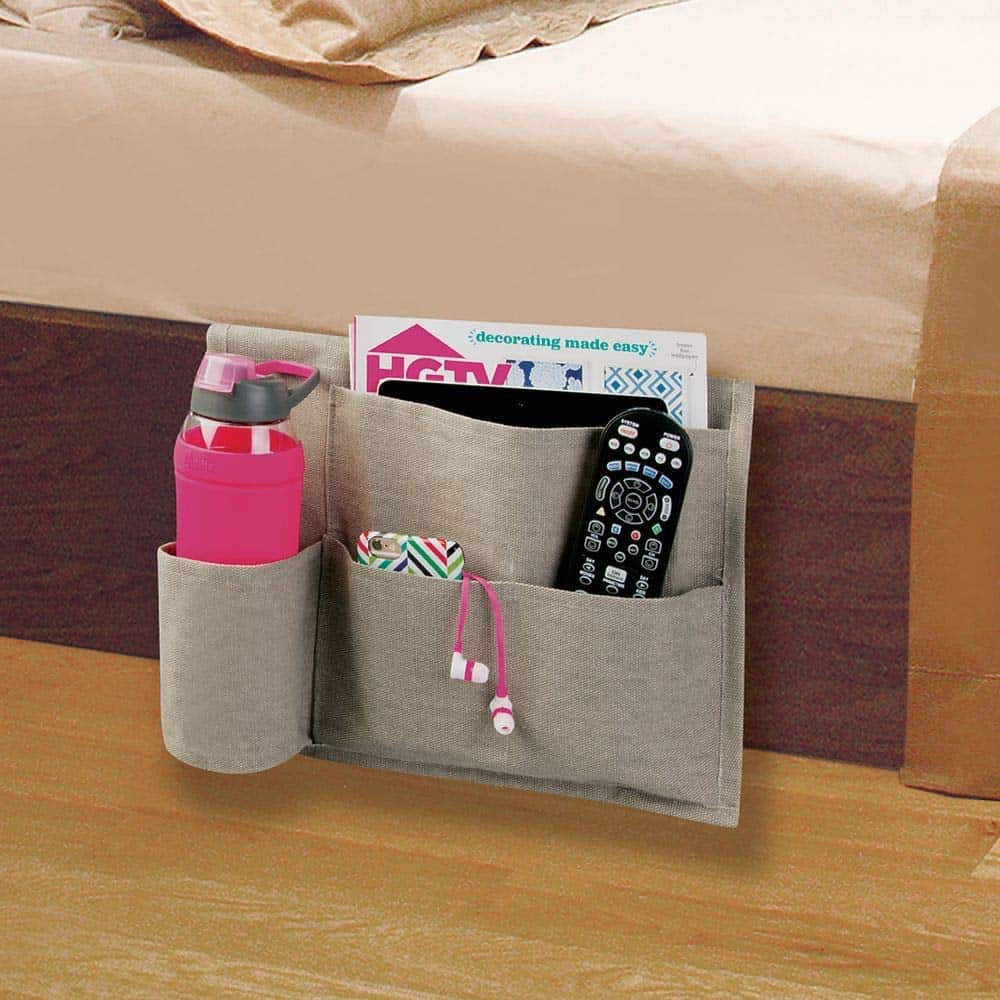 Install Tension Rods to Organize Shoes
If you have a small nook in your bedroom or closet you can use tension rods to organize your heels! What a neat idea.
Image Credit to A Loyal Love
Use S-Hooks to hang pants or bags
Pants can easily take up a lot of space in drawers. Save some room and hang them up with S hooks!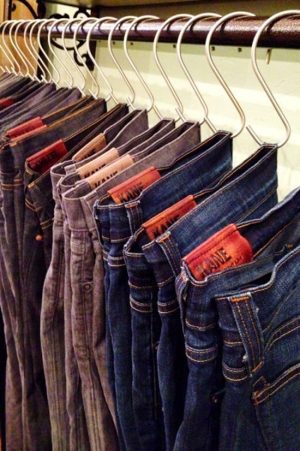 Image Credit to Simply Spaced
You May Also Like: 8 Ways To Simplify & Organize Your Master Bedroom Or 10 Amazon Finds To Organize Your Small Bedroom.