This Post May Contain Affiliate Links. We earn a commission if you click this link and make a purchase at no additional cost to you.
No matter what I do it seems like there are always toys scattered everywhere. Do you ever feel like this? I think most Moms do. We clean and pick up toys constantly only to do it all over again the next day. It is a frustrating cycle, right? So how can you make the endless cycle of a messy playroom a little easier to organize and maintain?
By implementing just a few organizational strategies and hacks, your kid's playroom will be organized in no time. And stay that way!
Check out all the ways to organize your playroom!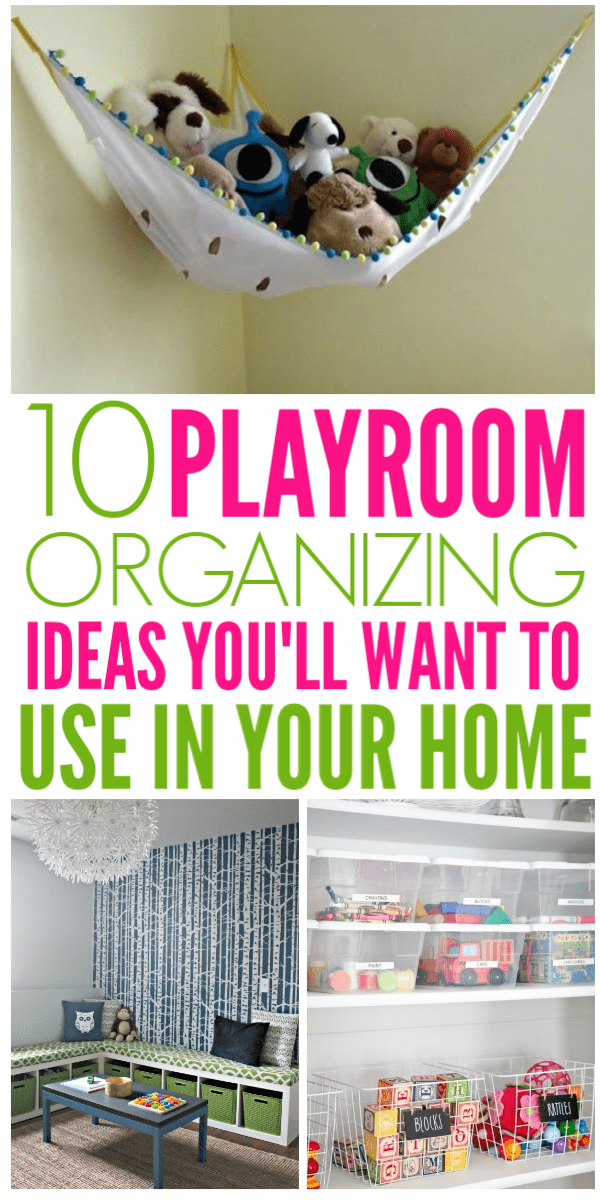 Use a Cubby Storage System
Using a cubby storage system is the perfect way to organize your kid's toys! You can hide all of their toys in cube storage bins, eliminating the mess and visual clutter. You can even get creative and add the alphabet to your cube organizers with heat transfer vinyl!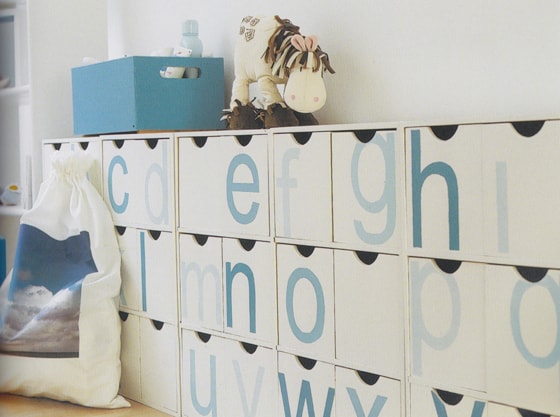 Tip & Image Credit:  "Small Rooms for Kids" by Kleine Kinderzimmer
Store Small Toys In Old Jars
Do you have a few pickle jars cluttering your cabinets? You can repurpose them into toy jars to store cars, legos, or any small toys. Check out Charlene's tutorial on how she took an old jar and turned it into this really cute Hot Wheels storage container! You just take an old jar, spray paint the lid, and then glue your favorite car to the top! So simple!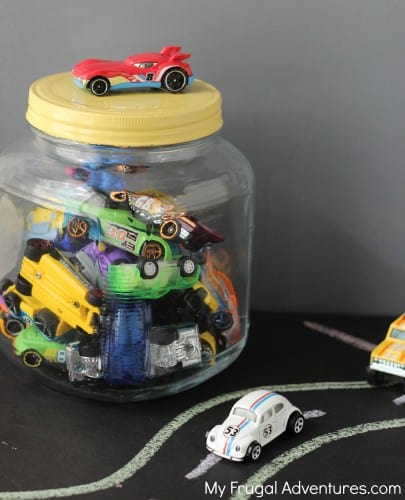 Tip & Image Credit: My Frugal Adventures
Create a Bench Storage System
If you are looking for a way to incorporate a table, seating, and storage into your playroom, you have come to the right place! Jennifer at I Heart Organizing created the perfect playroom for her kids! By laying a bookshelf on its side, she created the perfect bench! Isn't it so pretty?
You can do this too in your playroom!
Take a bookshelf/cube organizer and lay it on its side. Grab a few of your favorite storage bins like these. Now, find your favorite fabric to match and use upholstery foam to make your own cushion!
Wondering how Jenn made these cushions? Find her tutorial here!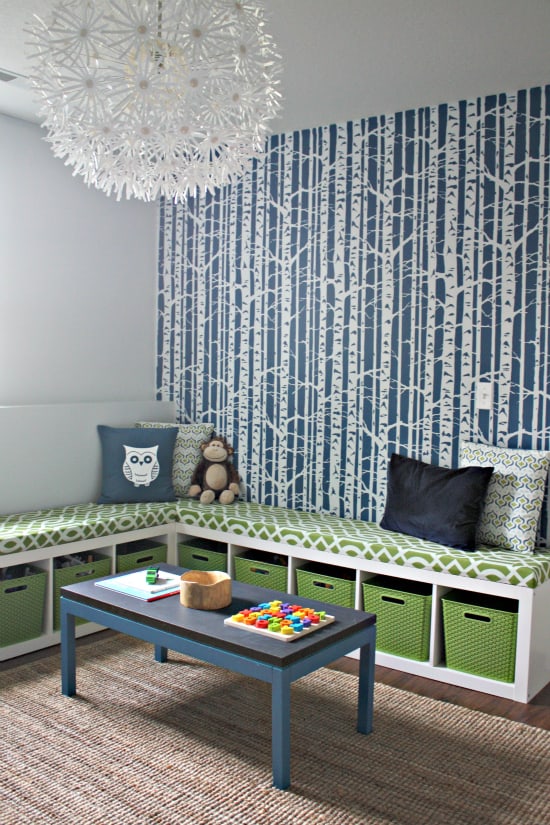 Tip & Image Credit: I Heart Organizing 
DIY Stuffed Animal Hammock
Do your kids have so many stuffed animals that you just don't know what to do with them all? If your storage bins are full and their bed cannot hold anymore, try storing them in a hammock! You can find a hammock on Amazon! Or if you are crafty, check out how Christie made her own! You can find her tutorial here!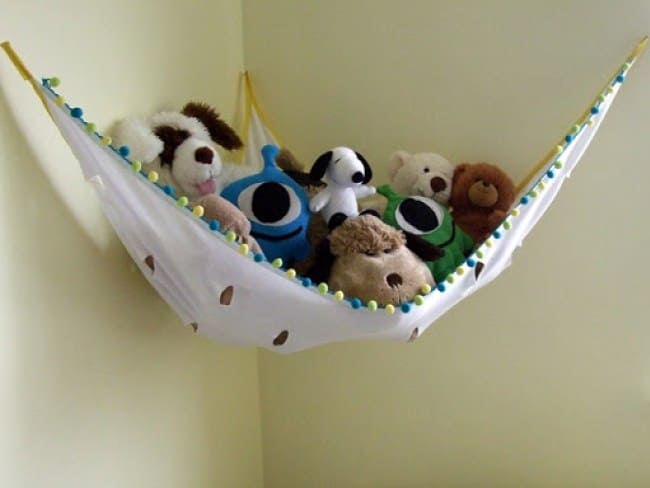 Tutorial & Image Credit: Lemon Squeezy Home

Store Stuffed Animals In A Shoe Rack
If a toy hammock will not work for you, what about storing stuffed animals and small toys in an over the door shoe storage system. This is the perfect way to gain extra storage without taking up extra space!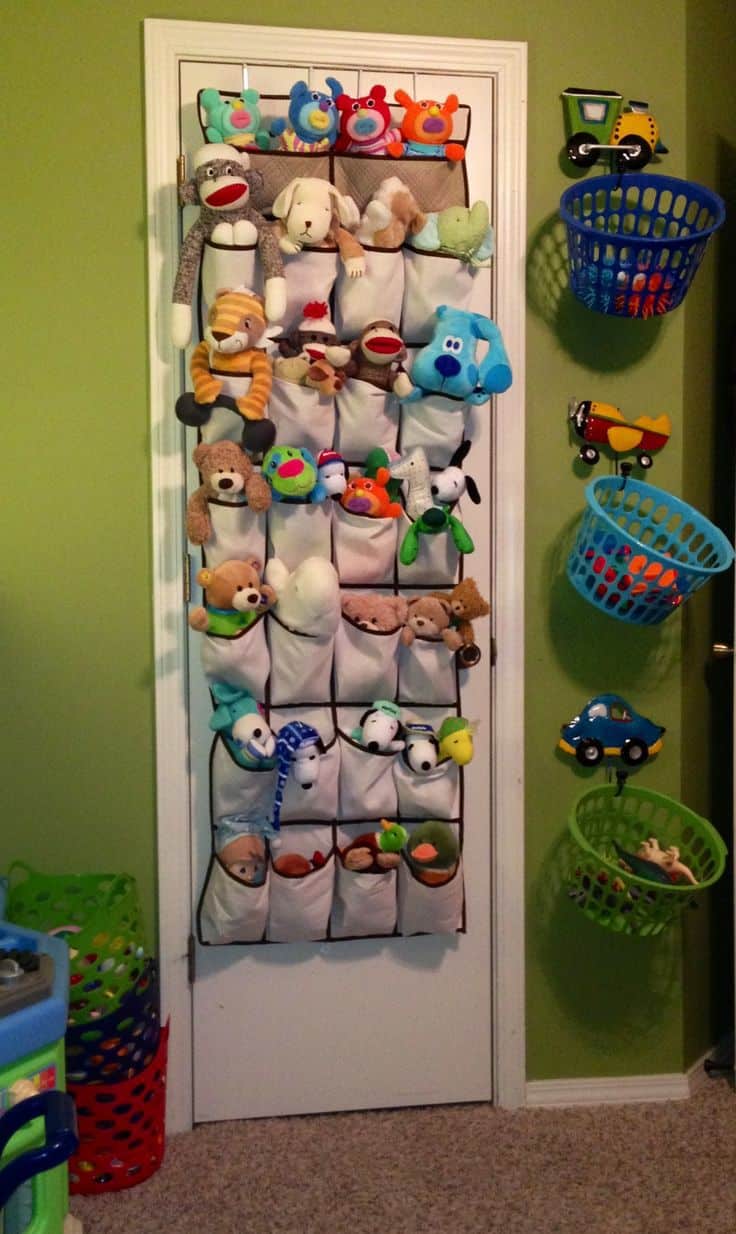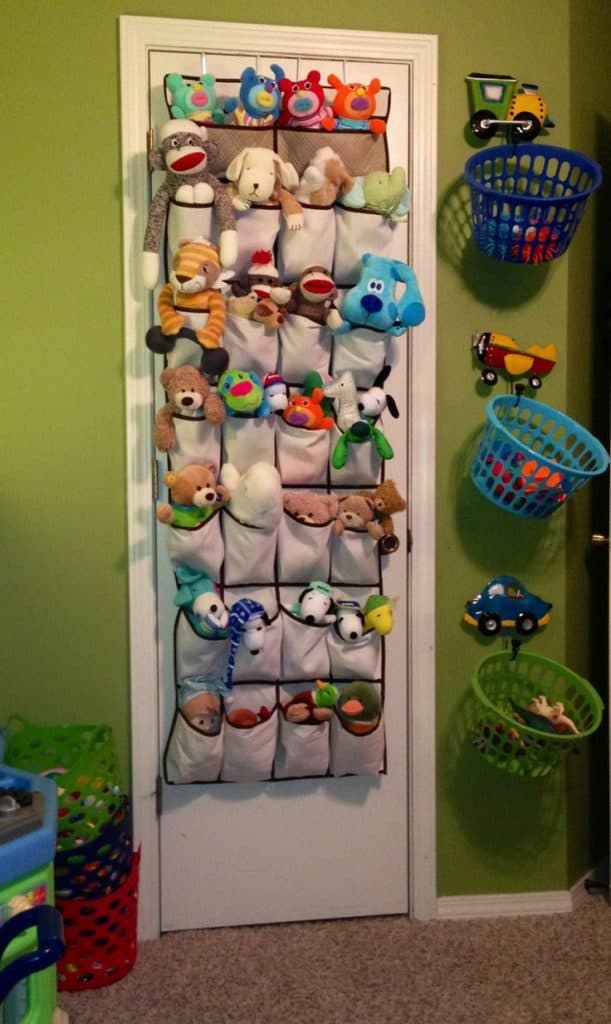 Tip & Image Credit: Morning Chores
Organize Your Board Games
Are your boardgames taking up too much shelf space? This used to be our problem too! Why not gain some extra storage space and store your boardgames in a hanging closet organizer? This is the perfect hack to gain extra space and keep all your boardgames together!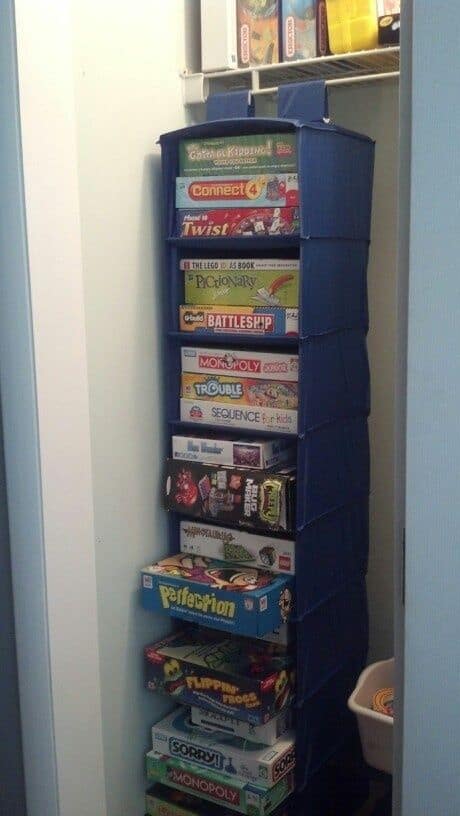 Storage Bins To Store Everything
If you are looking for a "one place stores all" storage system for your kid's toys, this is the perfect idea! Using a Cube Organizer and multiple sized basket and bins, you can store board games, legos, books, cars, etc! Having a large storage system like this will store all of your kids smaller toys in one place!
Tip & Image Credit: An Inviting Home
Use A Wood Box for Book Storage
Do your kids love to read? That's great! But if you have a ton of books how do you properly organize and store them? Have you ever seen one of these wooden crates while walking the isle of Target or Walmart? You can cut them in half to turn them into bookshelves! Just paint, add wall hanging brackets and hang!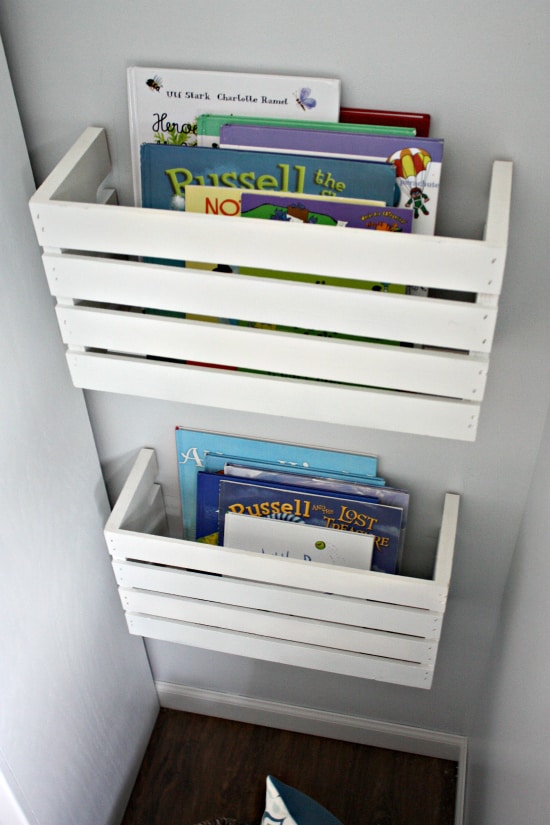 Tip & Image Credit: I Heart Organizing
Canvas Bags For Toy Storage
Do you have a few canvas totes laying around that you can repurpose? You can use canvas totes and hooks on the back of your playroom door to organize and store stuffed animals, toys, etc! This is such a cheap and easy hack!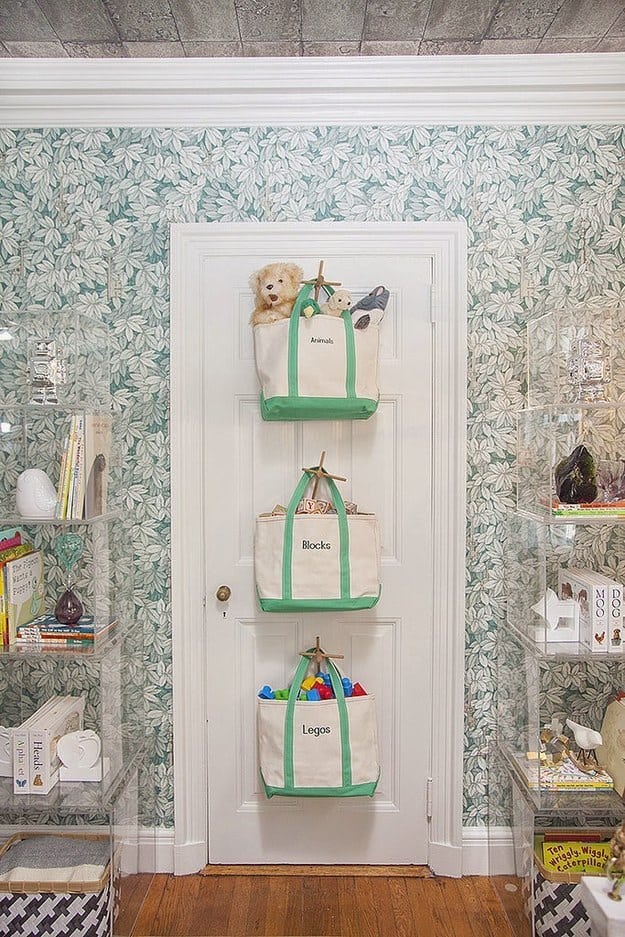 Tip & Image Credit: Play Chic Interiors
Small Toy Storage
Kids tend to have toys in every shape and size. So how do you organize their craft supplies and small toys? You can use plastic storage containers and wire baskets! Display these on a bookshelf or hide them in a closet for the perfect way to organize small toys.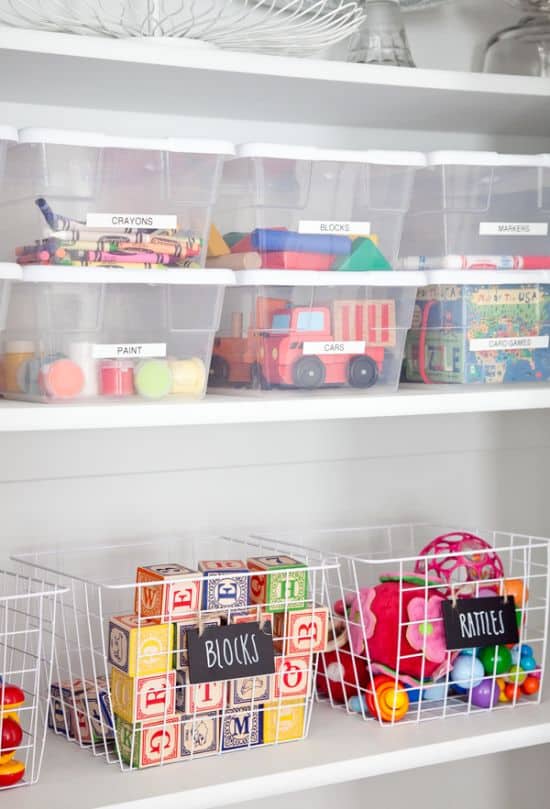 Tip & Image Credit: Boxwood Clippings
You May Also Like:
10 Laundry Room Hacks That Will Make Your Life So Much Easier
18 Genius Kitchen Organizing Ideas From The Dollar Store