This Post May Contain Affiliate Links.
Staying organized under the kitchen sink is something a lot of us struggle with. In my house, it is the catch all for cleaning products. dishwasher tabs, disinfectant, and trash bags. But we also store household cleaners like carpet cleaner, multisurface cleaner, carpet deodorizer, etc.
For a long time, I was just using bins from the dollar store to hold all of our cleaning products. It was a cheap way to store cleaning products, but the problem was, it wasn't keeping them organized. Cleaners would just get thrown into any bin because there were no labels or real system in place. I finally broke over and installed quality organization systems and now under my kitchen sink is always organized and stays relatively clean!
Organizing Under The Kitchen Sink – Day 6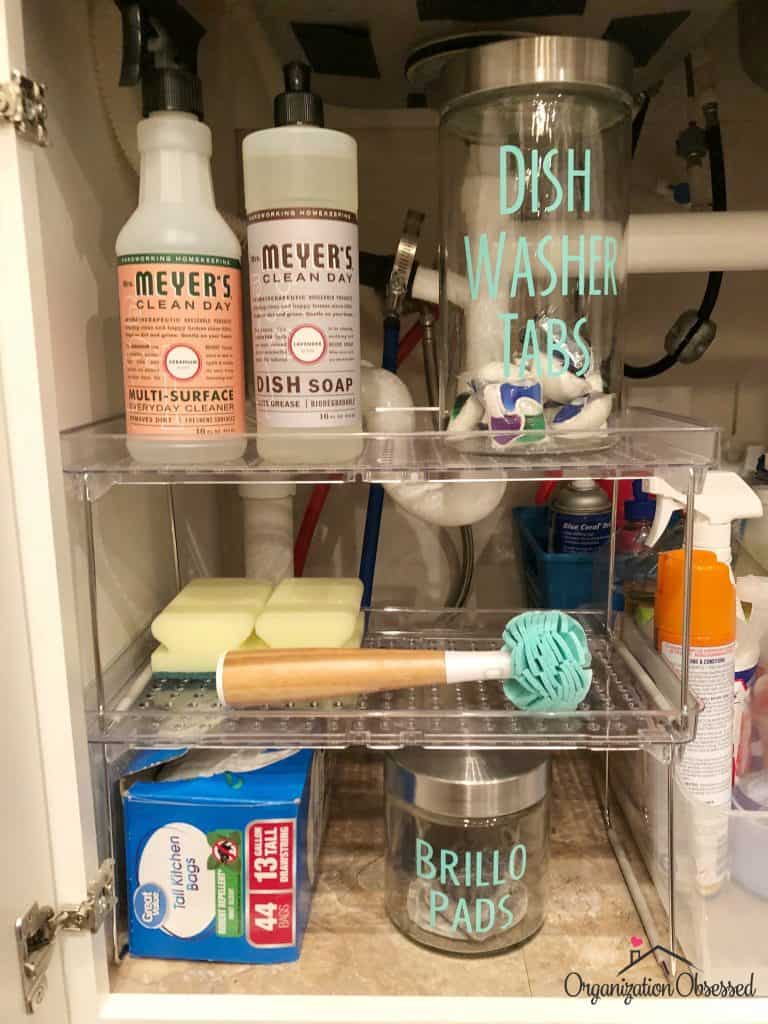 To organize under the kitchen sink, I used a combination of stacking shelves and storage bins. This shelf stacking shelf came from Big Lots but you can also find similar ones here! Using stacking shelves under your kitchen sink is a brilliant way to gain extra storage space vertically that would otherwise be wasted!
On the shelf, I store dishwasher tabs and my favorite Mrs. Meyers dish soap and multisurface spray. And then we also store extra dish sponges and Mr. Clean Magic erasers on the second shelf. On the bottom, I store brillo pads and trash bags!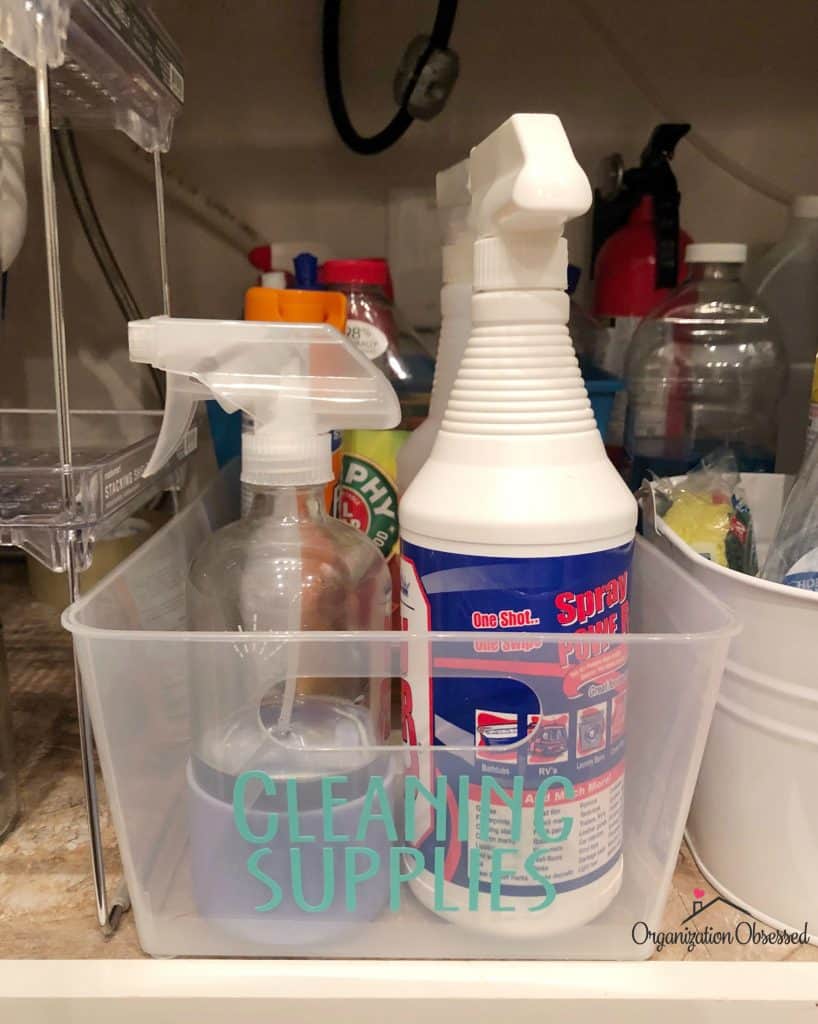 In a long clear storage bin, I store the rest of the cleaning products we use frequently! This is where I store vinegar, Pledge, Crown Spray Power, Murphy's Oil, etc! I also have another cleaning bin with a handle that can be carried around. In it I store cleaning products I use all over our house, like Windex or Awesome.
I first installed this organization system in May and it has stayed organized and neat for 4 months now without having to remove everything and reorganize again! I am so happy with this system, and if you follow the same steps, I know you can keep under your kitchen sink organized too!
Steps For You To Take:
Now it's your turn to declutter, clean, and organize under your kitchen sink. Follow the following steps:
Declutter
First, take everything out from under the kitchen sink.
As you are removing your things, take inventory of what you have and decide what can be kept and what needs to be thrown away.
Can some cleaners be consolidated?
Do you need to keep that excess can of paint?
Do you need to replace your scrub brushes?
Throw away any old bottles or things you will no longer use. Be mindful of how you discard some cleaners due to the chemicals. 
Clean
Once everything is removed from your cabinet clean all the surfaces.
You may also want to install contact paper or tile like I did here to keep the bottom of your cabinet protected.
This is also a good time to clean any dirt on your pipes and check that there are no leaks and everything is sealed properly.
Organize
It's time to put everything back. If you have decided to use an organization system like shelves or bins, arrange them under your kitchen sink first.
Next, start putting your items back. Place cleaners and scrub brushes that you use most frequently in the front and keep like items together.
Put your trash bags where they are easily reached.
Put frequently used cleaning products in a cleaning caddy or easily accessible bin!
Need an Under The Sink Organizer? I recommend these!