This Post May Contain Affiliate Links. We earn a commission if you click this link and make a purchase at no additional cost to you.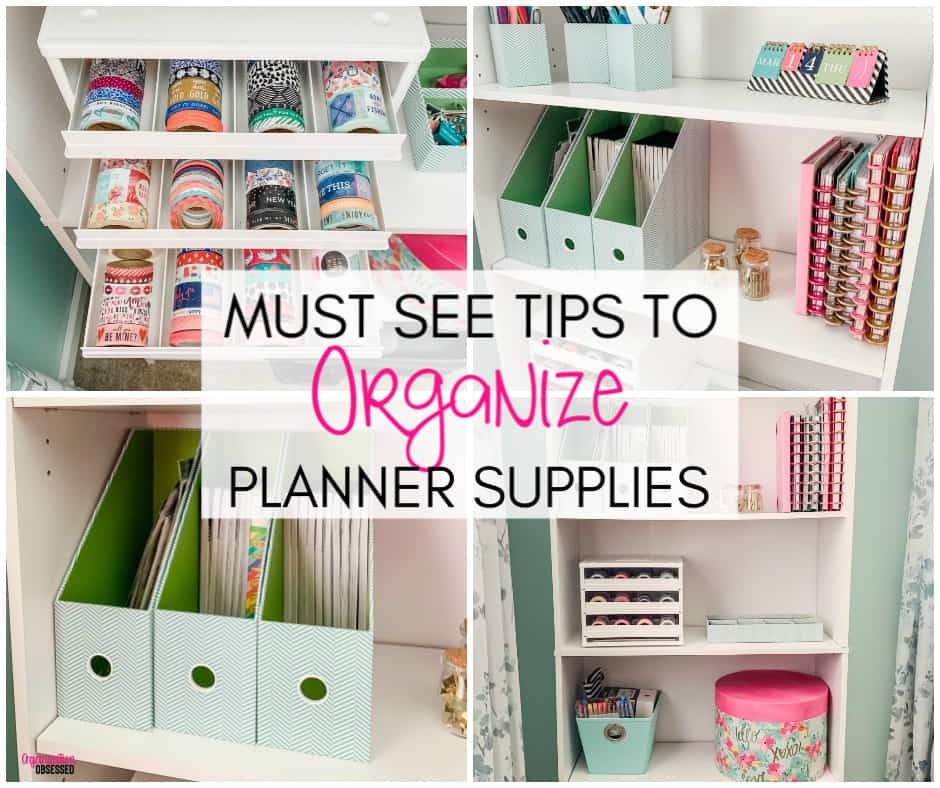 I am a planner addict! But it is a problem I am not embarrassed to admit! I have always loved planners since I was a little girl. But ever since I was introduced to the Happy Planner, that obsession has been taken to a whole new level! While I used to just be a basic planner and pen kind of girl, now I have to have all the things! Planner stickers, pens, washi tape, dividers, folders. The list goes on and on. But the problem was after I accumulated all of these planner supplies, I needed a way to organize them! So after a little trial and error, I am loving how I organize planner supplies! Check out my planner supplies organizer shelf below!
Organizing Planner Supplies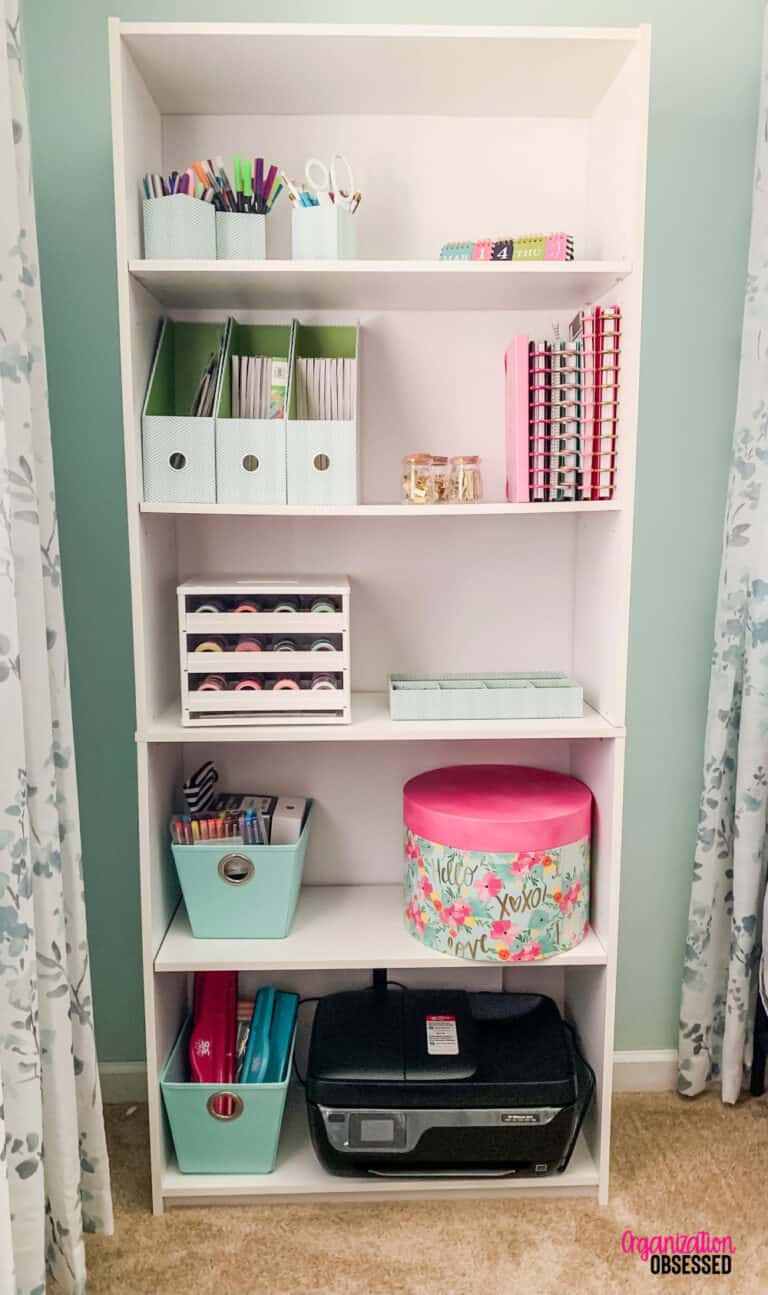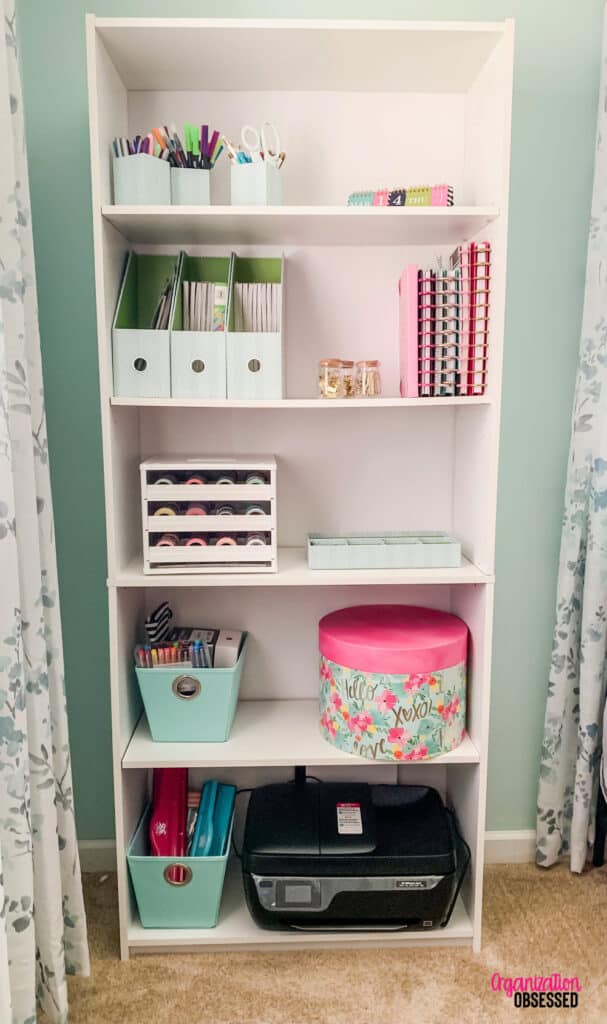 If you use a Happy Planner or have seen any of their product line, you probably know that they have so many cute accessories! They have everything you can imagine to match each of their planner lines. Pens, extra paper, covers, stickers, etc! So when I decided on using The Mom Planner for my 2019 planner I wanted all the stuff to match. My hubby and Mother in Law ended up getting me a ton of planner supplies for Christmas so of course, being obsessed with organizing, I had to come up with a great way to organize all my planner supplies. I decided to use a white bookcase to organize and showcase all of my planners!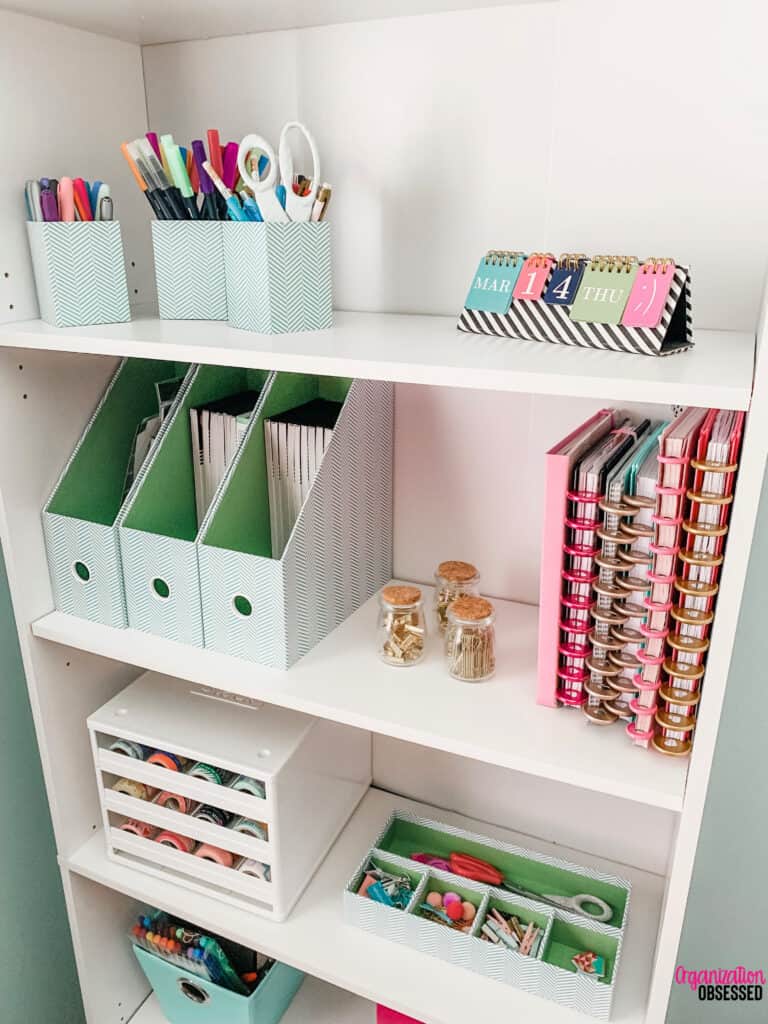 The bookshelf I use is the Mainstays 5 Shelf Bookcase and was only $25 dollars at Walmart. It was perfect for this project since it was cheap, and fit perfectly in our bedroom corner. Then to organize all my planner supplies, I used the See Jane Work desk accessories line from Office Depot.
Organizing Planner Pens
To organize all my planner pens, I used the See Jane Work Pen Holders. They hold a ton of pins and are super cute in the blue chevron pattern.
While they don't hold all of my pens, they do hold my favorites:
– Papermate InkJoy Retractable Pen
-Happy Planner Fine Point Pens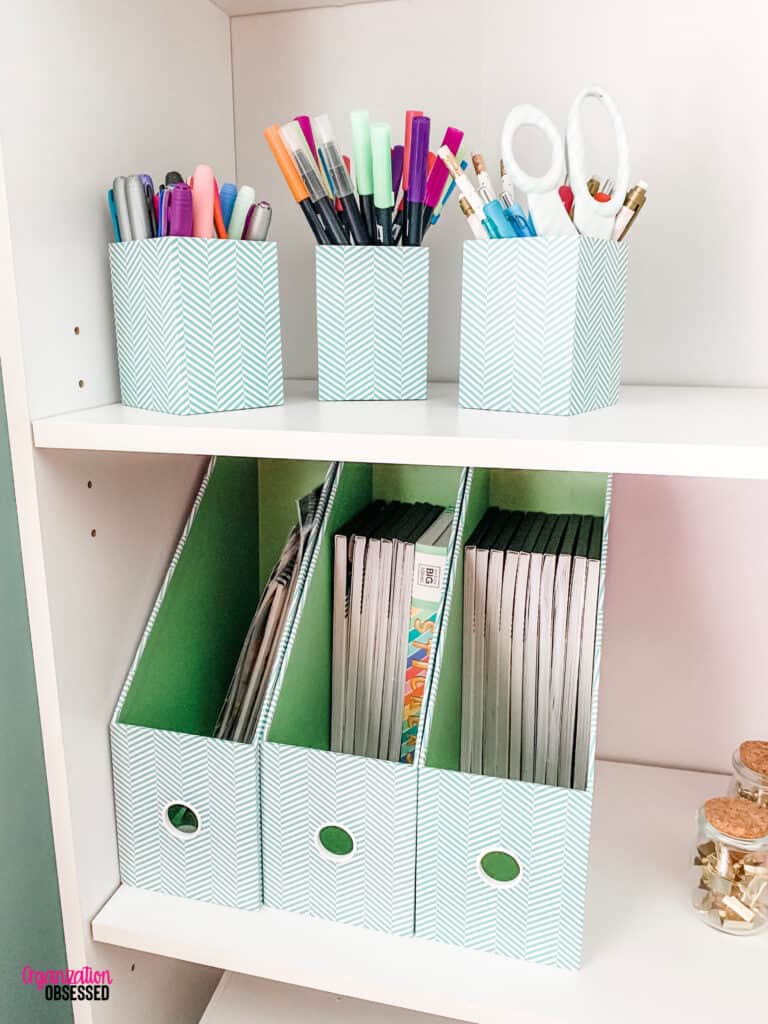 Organizing Planner Stickers
To keep all of my Happy Planner Planner Stickers organized, I store them in See Jane Work Magazine Holders. They fit perfectly and make it so easy to grab the sticker book I am looking for and then put it back away easily. Plus they hold quite a few sticker books! I think at one point I had over 30,000 stickers and they were all being stored in these magazine holders! If you need a way to easily store and organize your planner stickers, magazine holders are perfect for the job!
You May Also Like: 30 Clever Ways to Organize With Magazine Holders
Organizing Washi Tape
Washi Tape is a planner girl's best friend and oh my goodness I have so much of it that I don't think I will ever use it all! I typically buy multipacks of it from Hobby Lobby or Michael, but I just recently found that Amazon has some super cute sets!
But to keep all my washi tape organized, I use the CraftStack Washi Tape Organizer from Michaels! Unfortunately, to no longer have it, but Amazon has some great alternatives for less than $20. There are some great options you can find here.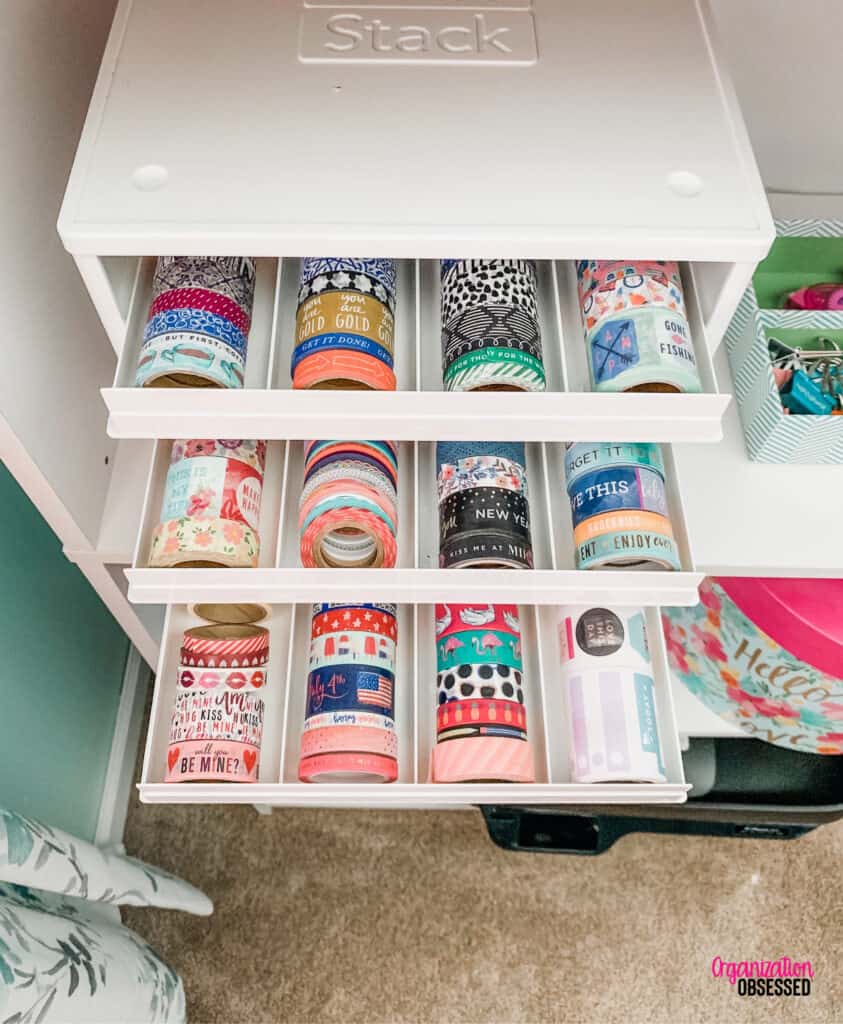 Organizing Planner Punches and Everything Else
Using the Happy Planner also means having things like arc punches, paperclips, dividers, planner pins, etc. To organize all the "extras" I use small fabric baskets. These baskets came from Office Depot and are also part of the See Jane Work Line. They are a little small, but they are sturdy and perfect to hold my Happy Planner Arc Punch.
They also hold another box of pens and a small Happy Planner Pen Pouch and then a few random things.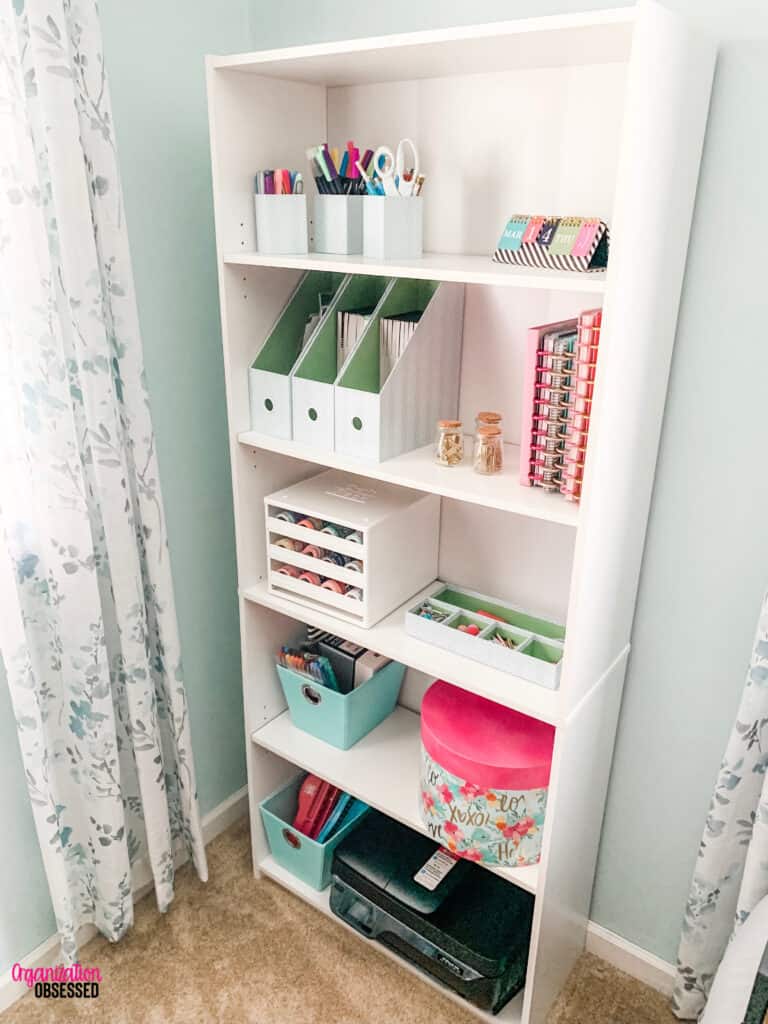 For small items like paperclips, magnet bookmarks, and other small planner accessories, I store them in the See Jane Work organizer tray. It is the perfect size to hold little items!
I love how this shelf turned out and how it helps me organize all of my planner supplies!
How do you organize your planner supplies? Comment below!