This Post May Contain Affiliate Links. We earn a commission if you click this link and make a purchase at no additional cost to you.
Are you curious about the Happy Planner? Wondering what all the hype is about? Well, you have come to the right place! We are about to break down exactly what the Happy Planner is all about!
Here you will find why the Happy Planner is the best planner for creatives or those who want more control over their planner, everything you need to get started with the Happy Planner, and how it can help you organize your life!
Let the fun begin!
What is a Happy Planner?
The Happy Planner is created by Me and My Big Ideas and was released in 2015. It has quickly become one a wildly successful planner line, and with good reason! The Happy Planner is your basic planner with calendar pages and daily planning, but it is not your boring basic planner! The planners are beautiful and vibrant with so many bold colors! And they come in many different styles and sizes to chose from.
But what makes them so special and different from other planners, is that they let you be creative! Included in the Happy Planner line are thousands of stickers to choose from, matching washi tapes, different color disks, folders, dividers, bookmarks, paperclips, etc.
The planner will become more than just a daily planner for you but a creative outlet to have fun and be organized!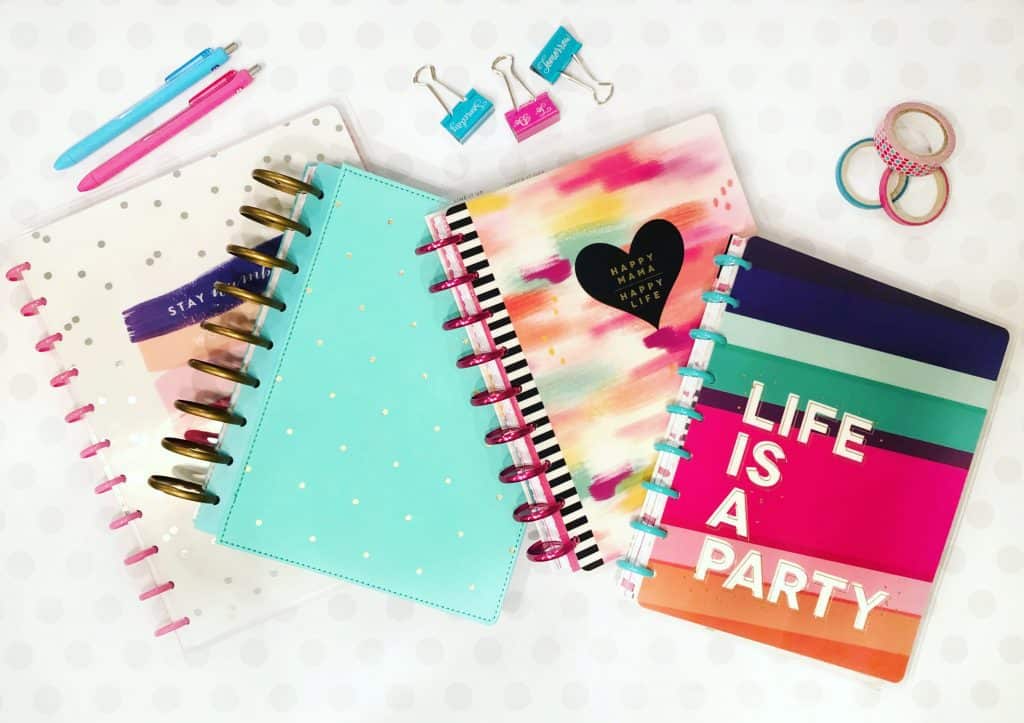 What's Inside The Happy Planner?
The Happy Planners comes with:
A thick laminated front and back cover.
12-18 month spreads with monthly and daily planning pages.
They include tab dividers that you can customize yourself or purchase pre-labeled.
Colorful grid layouts to match the design of your cover and divider tabs.
Space for birthdays, notes, meal plans, monthly goals, to do's, etc.
Rings that can easily be removed for extra personalization.
What Sizes Do Happy Planners Come In?
The Mini Happy Planner is 5.125″ x 7.5″ with a paper size of 4.5″ x 7″.
The Classic Happy Planner is 7.75″ x 9.75″ with a paper size of 7″ x 9.25″.
The Big Happy Planner is 9″ x 11.25″ with a paper size of 8.5″ x 11″.
Where Can I Buy The Happy Planner?
While you can purchase any Happy Planner at Me and My Big Ideas, my favorite place to purchase the Happy Planner is at Michaels. They by far have the best selection of Happy Planners and accessories and have discounts on them up to 40%!
However, you can also purchase them at other craft stores like Hobby Lobby and Joann Fabric.
Amazon also has a great selection of accessories, however, they do not have a huge selection of the planners themselves.
These are my favorite accessories you can find on Amazon!
What you will need to use the Happy Planner
The great thing about the Happy Planner is that you can go as basic or extravagant as you like with it! If you like just a basic beautiful planner to keep track of your schedule and keep you organized, the Happy Planner is perfect and all you need to get started! It is beautiful, clean, and will make you excited to plan!
And if you are a creative that loves stickers, doodling, and a planner that is custom to your needs, the Happy Planner is for you!! There are so many add-ons you can get with they Happy Planner!
You can get matching accessories like:
Stickers
They have stickers to match every occasion in life. From payday stickers to hair and nail appointments, they have a sticker to match just about everything you could plan on a daily basis!
Etsy is also a great place to find planner stickers! You can find a ton of them here!
Folders
I love having a folder in my planner to hold extra stickers, receipts, notes, etc! There are so many ways you could use the folders to stay organized!
Extensions
Want to keep track of your budget or your daily fitness routines? Look no farther than the happy planner extension packs! They have extensions to extend your calendar 6 months, plan out your fitness routine, keep track of bills, and keep track of notes and to do lists!
Extra Rings
Feeling a little creative? Switch up the color of your discs! A lot of the planners come with gold or rose gold rings but you can also get them in an array of colors! The pink is my favorite, but they also just came out with a new teal that I am swooning over!
The rings also come in multiple sizes. They have mini rings and classic rings. The mini rings are great for a small planner to keep in your purse. I also use them for my Happy Planner Notebooks. 
Hole Punches
Having an arc hole punch is a must have if you want to add any printables to your Happy Planner. Happy Planner makes it's own arc hole punches that will punch your paper exactly how it needs to be to fit on the rings.
The Blue Punch is for The Classic Planner and the Pink Punch is for the Big Planner!
And More
The Happy Planner line has so many accessories! More than I could really ever show you here. But a trip to Michaels will have you in planner heaven trying to decide on which accessories to take home with you.
How Much Will It Cost Me To Use A Happy Planner?
I will be completely honest with you, Happy Planners can get very expensive if you go all out with stickers, extensions, hole punches, etc. However, compared to other life planners out there, I will say the basic planner is very inexpensive.
You can grab the Classic Basic planner at any craft store for around $29.99 full price. However, you will definitely want to buy them at a store like Hobby Lobby or Michaels that offers 40% off.
I recently grabbed my 2019 Classic Happy Planner, 1657 stickers, 3 bookmarks, and the Happy Planner stencil at Michaels for less than $40 dollars.
Why You Should Use A Happy Planner
So that was a ton of information, right! But the real question is, why should you use the Happy Planner?
I can only give you my own opinion and I can tell you that the Happy Planner is the best planner I have ever used! 
Why?
Because it has OPTIONS! I love to have options and hate to be stuck with the same design and pages for the whole entire year! The Happy planners are so bold and vibrant that each month has a different design! I love that one month is polka dot and the next is stripes, and the next is confetti. Each month you get something new and fun!
And the accessories, make it so much fun to plan and get creative with my days!
But my absolute favorite part of using the Happy Planner is that I can add my own printable designs. In my own Happy Planner, I use a weekly meal planner, monthly budget, and weekly to-do lists.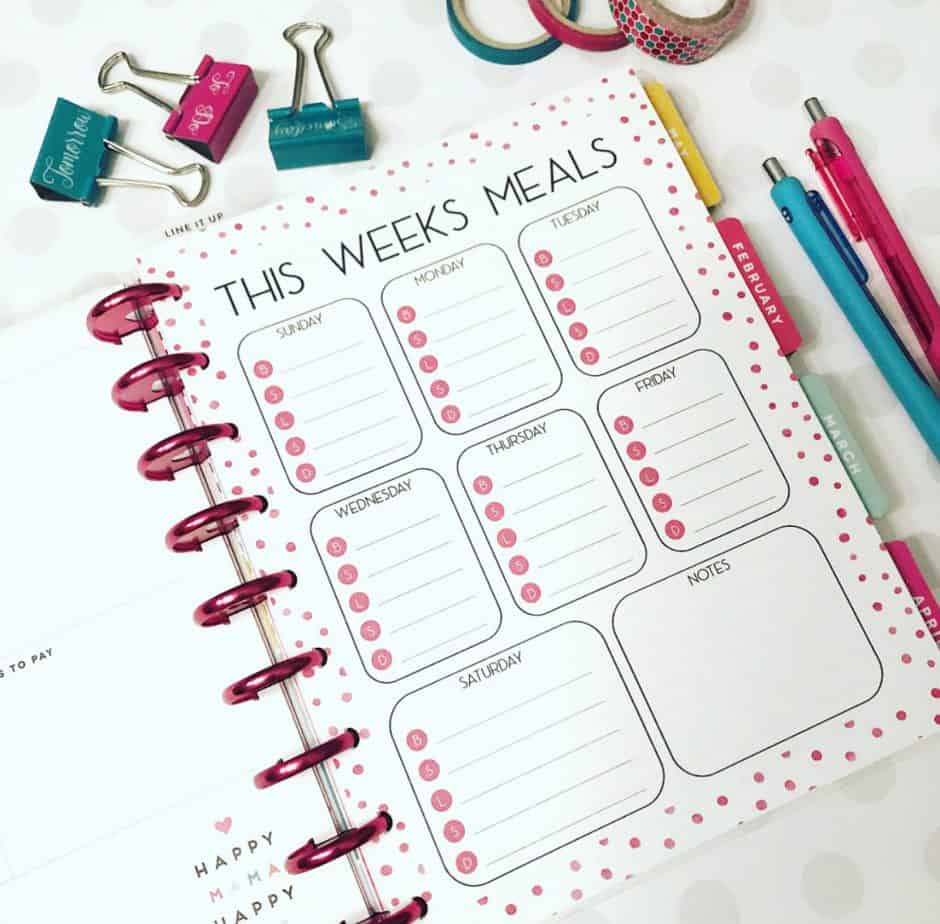 Having the Happy Planner hole punch makes it possible to add absolutely anything I want to the planner!
It lets me plan my:
Weekly Schedule
Daily Schedule
Weekly Meal Plans
Grocery List
Chores
Keep Track of Birthdays, Holidays and Events
Plan My Next Project
Password keeper
What other planner lets you do all of that?!
Are you ready to join the Planner Obsessed Club and use the Happy Planner? Check out these 2019 Planners!