This Post May Contain Affiliate Links. We earn a commission if you click this link and make a purchase at no additional cost to you.
If you live in a small house, have small rooms, or just don't have a lot of extra space, then you know it can be hard to organize small spaces! My house is relatively small and there are some places I find hard to organize! Like not having enough drawer space in our bathrooms or not enough cabinet space in the kitchen! But that doesn't make organizing small spaces impossible! It just means you need to get a little creative! So check out these ideas we have rounded up for organizing small spaces! Hopefully, they will give you some creative ideas for organizing small spaces in your home!
Cabinet Door Organizers
In my kitchen, we don't have as many drawers as I would like, and I always struggled on how to keep our oven mitts organized and easy to access. We used to keep them in a drawer by the stove, but they were always causing the drawer to not close easily. Plus, I really needed the drawer space to store our other kitchen necessities. So we tried this creative idea of using a cabinet door hanger basket to keep our oven mitts in! It has worked out perfectly!
We hang them on the cabinet door right next to our stove and simply open the door and grab the oven mitt we need! Then when we are done, it's so easy to just toss the oven mitt right back into the basket! Want to try this yourself? Grab a cabinet door basket organizer here!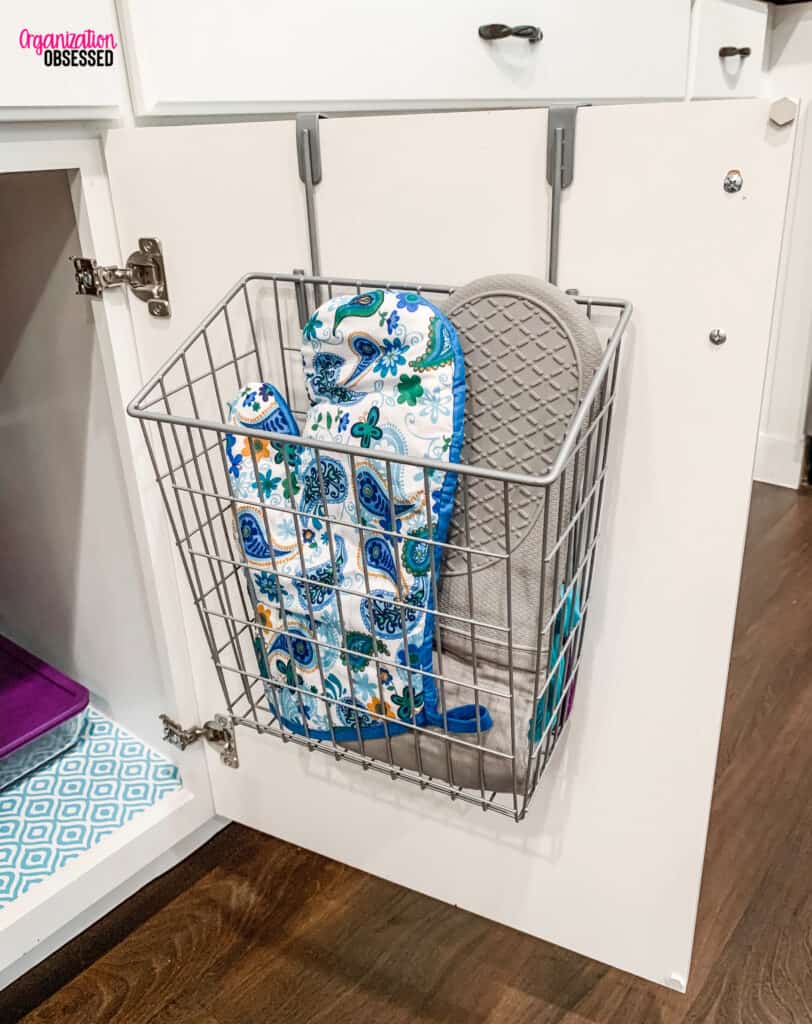 Want to see more of my kitchen? Check out the tour of our organized kitchen here!
Extra Bathroom Shelves
If you have a small bathroom, then you probably don't have enough drawer space or cabinet space! And organizing small spaces is almost impossible when you don't have enough storage space to use! So why not add more? Add a few small shelves to your walls next to your vanity to give you more space for your makeup, hair products, etc!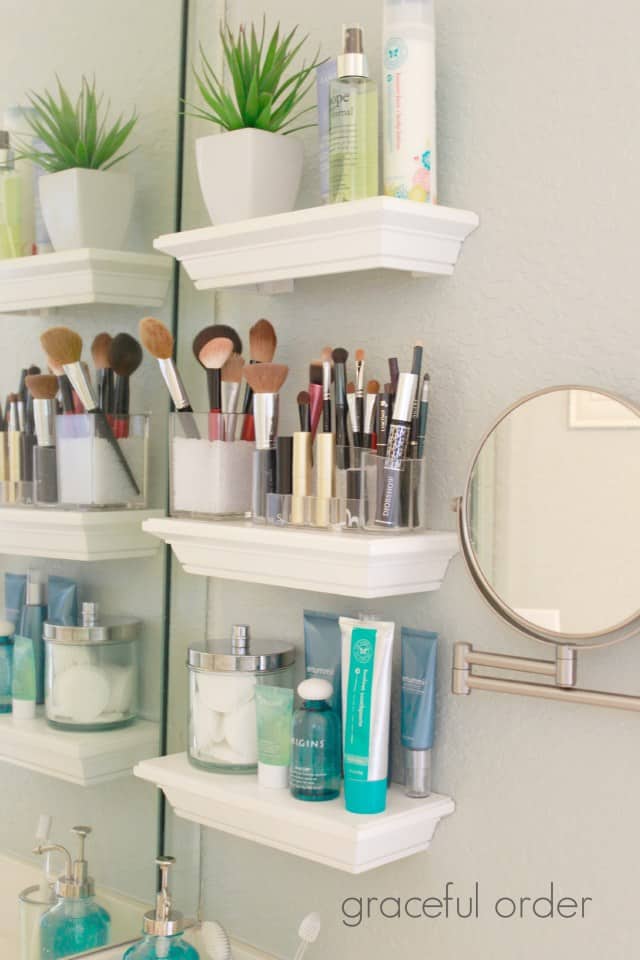 Tip & Image Credit: Graceful order
Use Multipurpose Organizers
A great way to get creative when organizing small spaces is to use multipurpose organizers! This bathroom organizer is one of my favorite organizers in our home! I use it in my bathroom to hold all of my curling irons, straightener, and hairdryer. And then it also holds some of my beauty products as well! I keep everything that I use on a daily basis. This bathroom organizer has made it so much easier to grab what I need, put it right back and to keep my bathroom vanity clean and organized! Grab one for yourself here!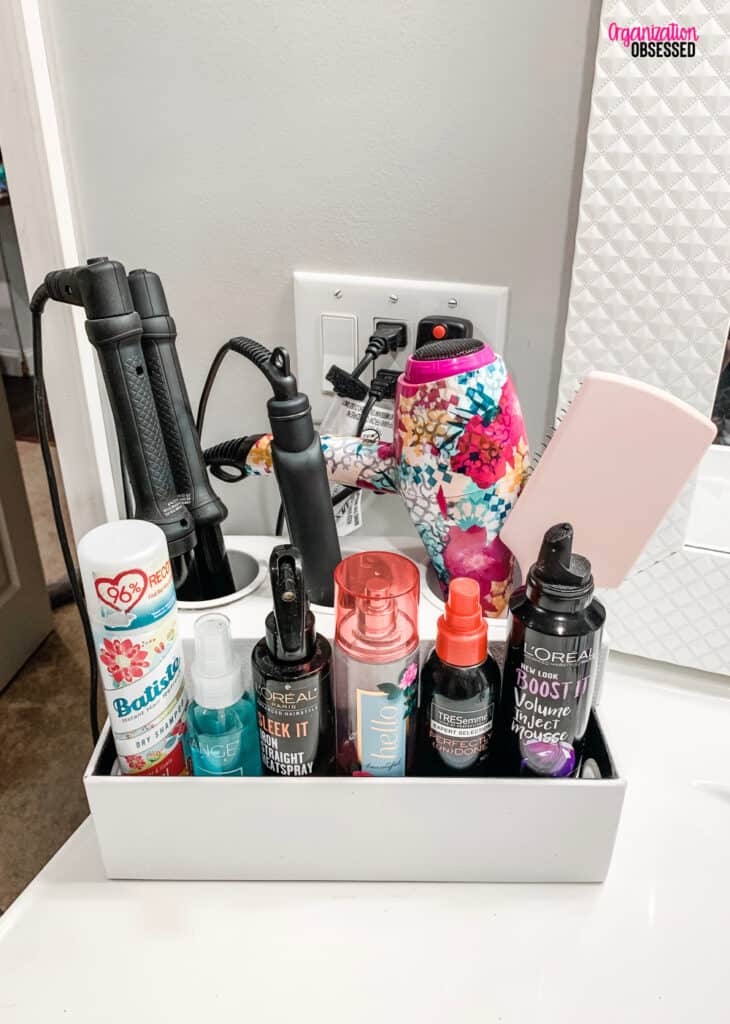 Use Closet Space for Furniture
If you have a small bedroom and no space for a dresser, why not put it in the closet? Putting a dresser in the closet makes it easy to keep all your clothes in one place and gain more space in your bedroom!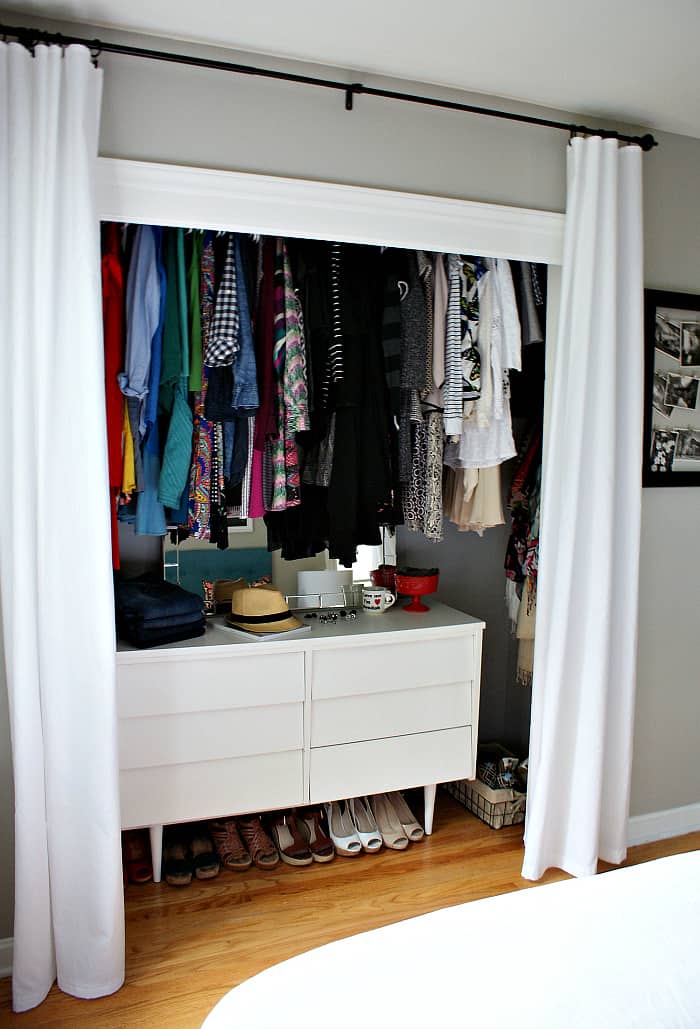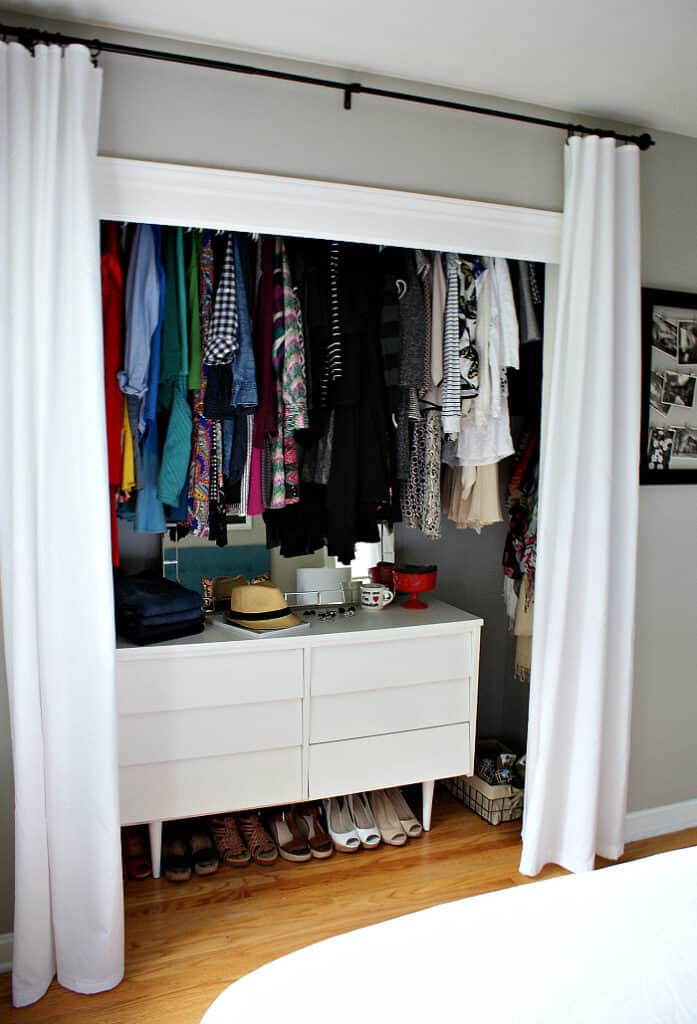 Tip & Image Credit: Urban Acreage
Storage Ottomans
Storage ottomans are one of my favorite ways to use "secret" storage space around your house. We use one in our living room to store board games and family photos! But you could also use them in your entryway to store shoes, one at the end of your bed to store extra blankets and pillows, or put one in your kid's bedroom to organize their toys! There are so many ways you can add storage to small spaces by using storage ottomans!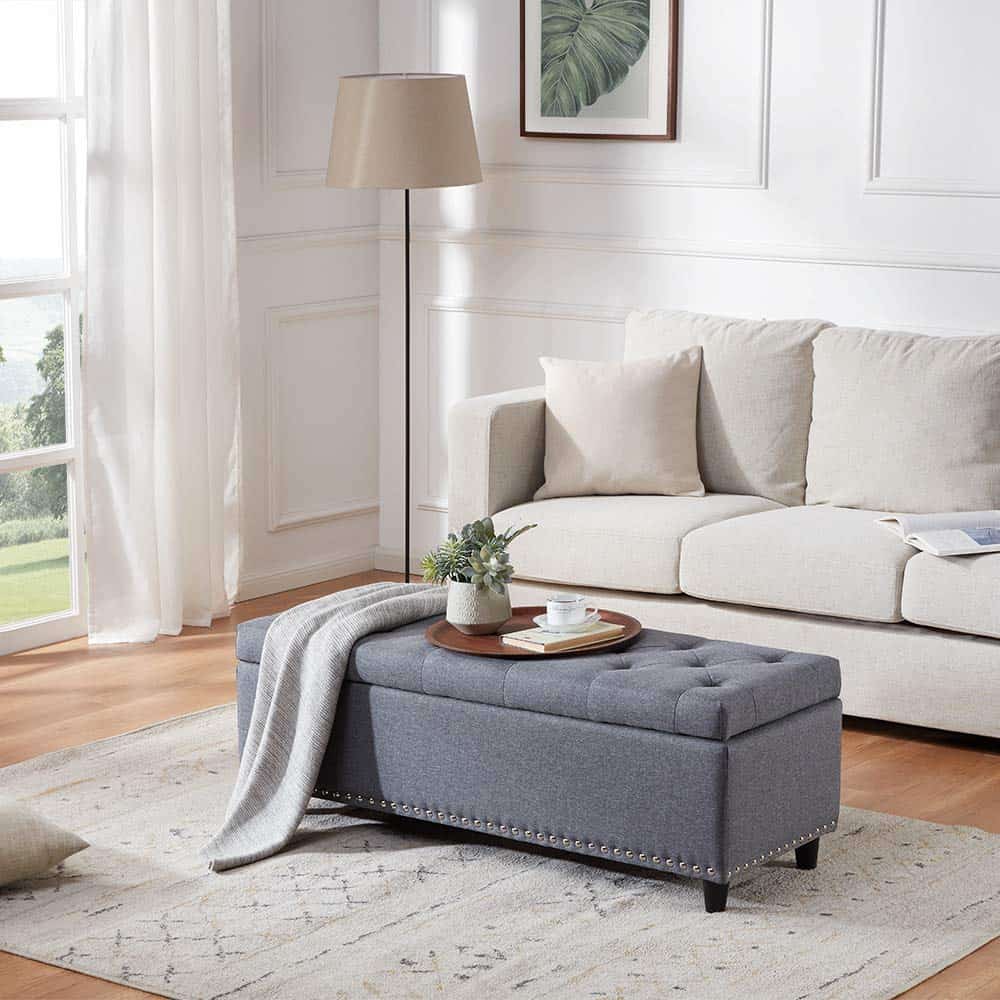 DIY Sofa Table
Does your couch take up so much room in your small living room that you have no place for an end table? Why not build your own sofa table for behind your couch? Always Never Done has a great tutorial on how to make your own sofa table. Check it out here!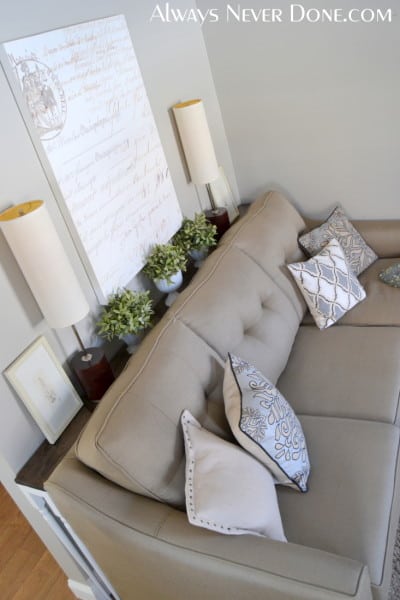 Tip & Image Credit: Always Never Done
Hang Your Laundry Baskets
No room in your bathroom or bedroom for a laundry basket? Then hang it on the door! A hanging laundry basket is a great way to keep dirty clothes off the floor and keep a laundry basket in each room! It also makes it super easy to add storage to small spaces in your home! Grab one here!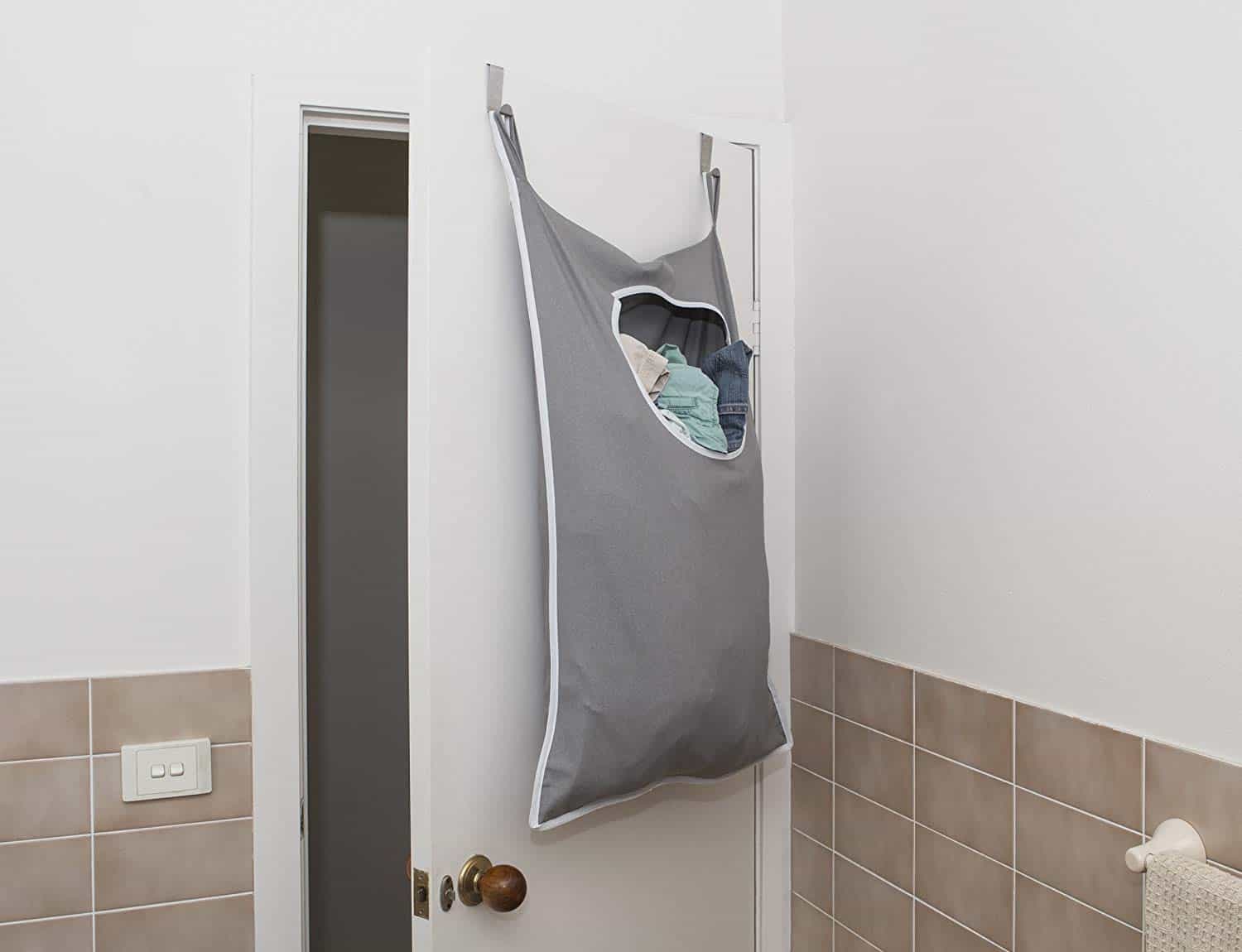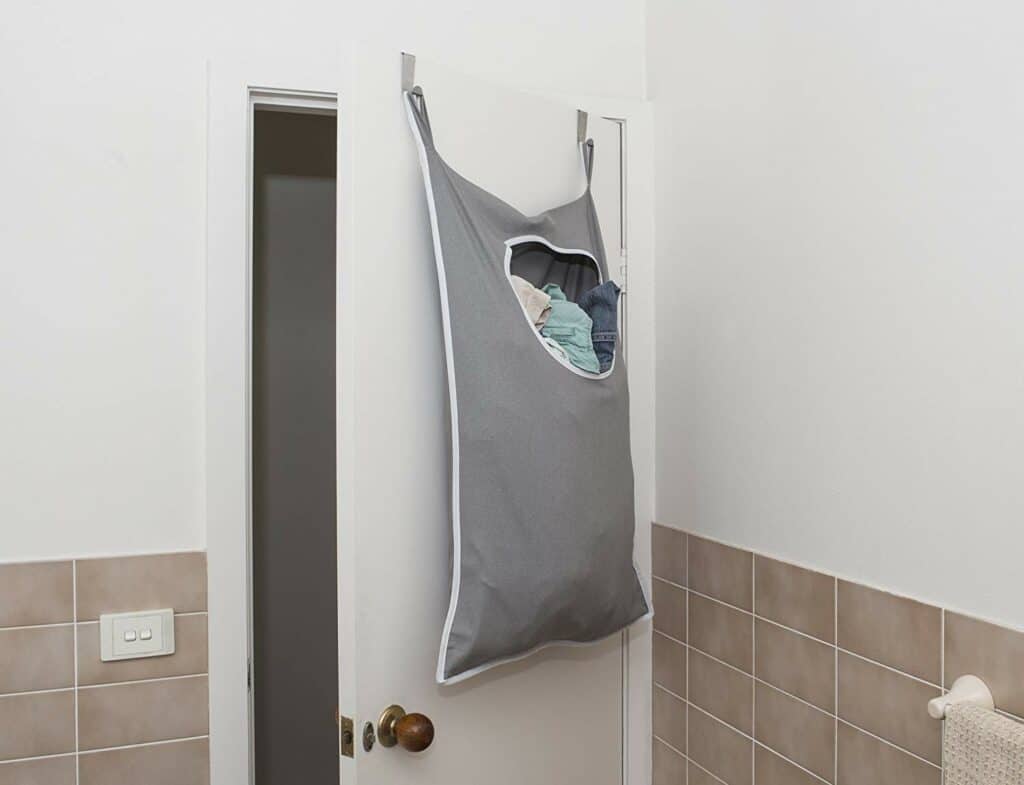 Over The Door Shelf for Towels
Small bathrooms can be hard to organize. Sometimes there's just not enough space! So how do you store your towels when your vanity isn't big enough or you don't have a cabinet? Build a shelf over the door! Check out this tutorial from The 2 Seasons to find out how to build a towel shelf over your bathroom door!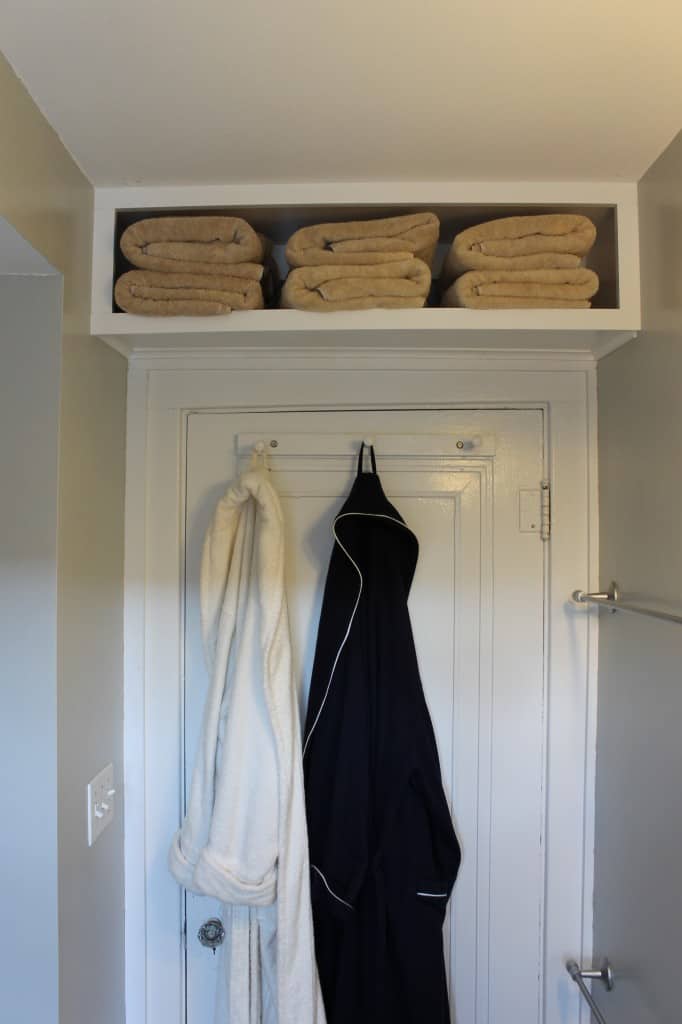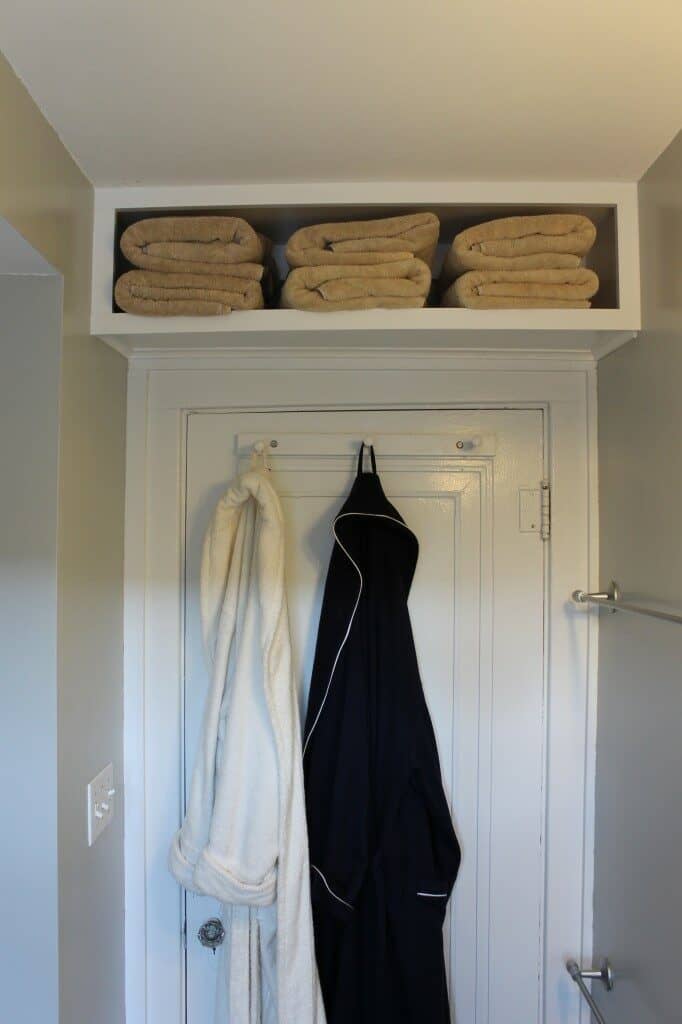 Tip & Image Credit: The 2 Seasons
Over the Door
Using dead space like the back of a door is a great idea for organizing small spaces! It lets you add storage to places that you otherwise wouldn't be using! You can add a door organizer to your bathroom to store toiletries! Your laundry room to store extra detergents. Or even you kids rooms to organize books and toys! Grab one here!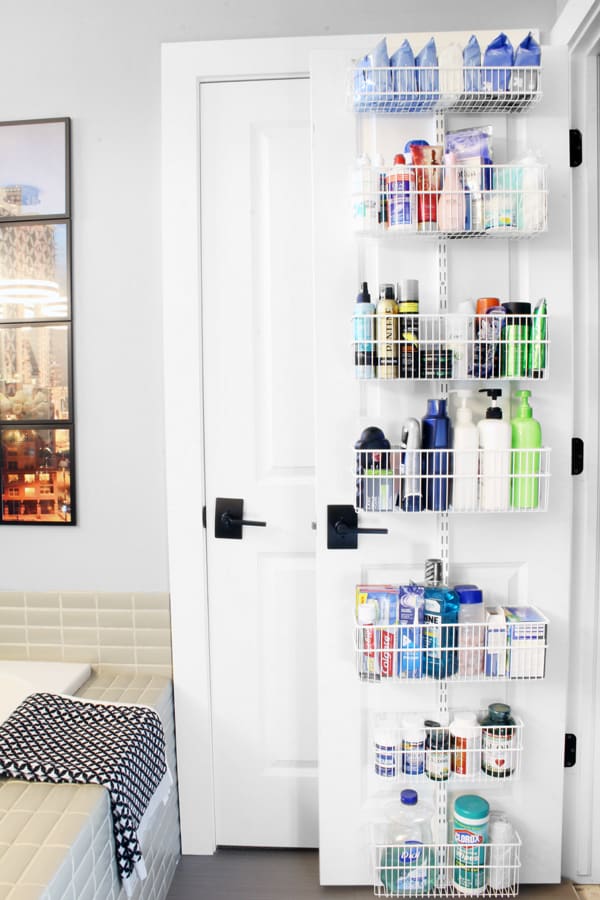 Tip & Image Credit: Blue I Style Blog
Use Pantry Dead Space
Doesn't it feel like you never have enough room in your pantry? Well, why not add some extra shelves to the dead space in your pantry? Adding small shelves to the sides of your pantry can add a ton of storage spaces for small items like spices, ranch packets, Koolaid mixes, etc! The possibilities are endless! Grab a set of small shelves here to add to the dead space in your pantry!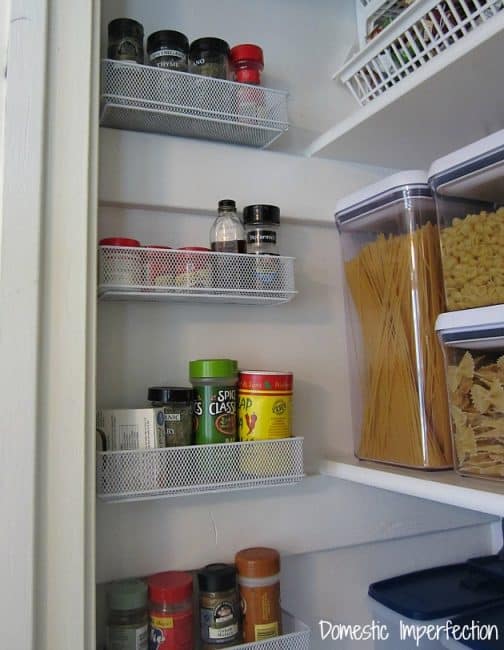 Tip & Image Credit: Domestic Imperfection
Use Extra Space By The Fridge
I think this is such a cool idea and wish I had a space to do it in my kitchen! If you don't have enough room in your kitchen or a pantry to store canned food, create your own rolling canned food organizer! Read the tutorial on how to build your own here!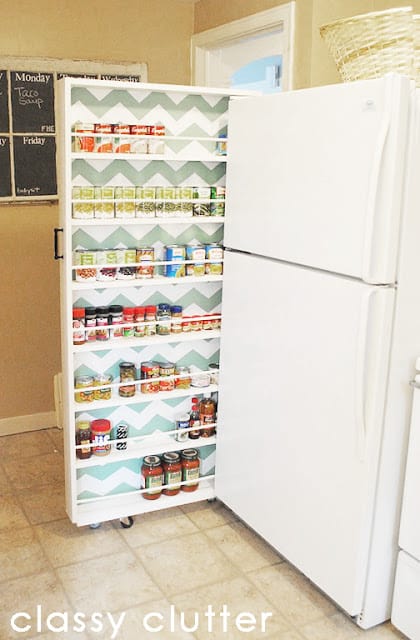 Tip & Image Credit: how to build your own here!
DIY Pull Down Murphy desk
If you have a small house or no room for an office, then you need to build your own murphy desk! This is such a brilliant idea for organizing small spaces! Make a desk that folds down when you need and easily folds right back up when you don't! Find out how to make your own here!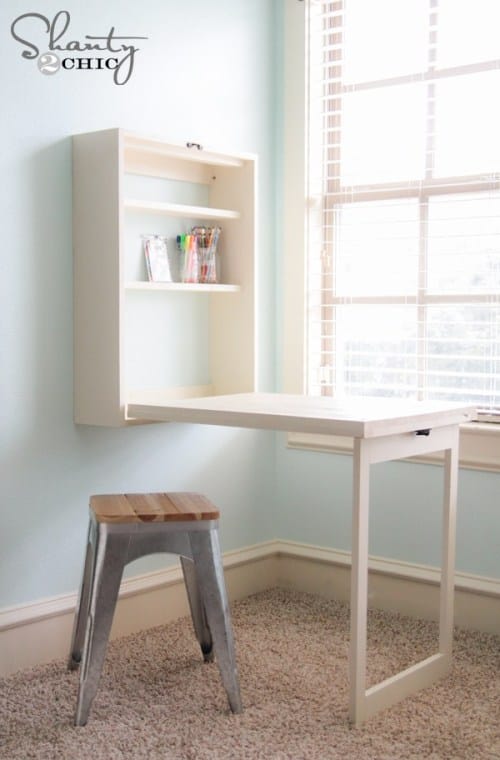 Tip & Image Credit: Shanty 2 Chic
Consolidate Clothing
Hanging all of your pants separately can take up a lot of room in your closet. And if you have a small closet, then you could be wasting space. Instead of hanging all your pants or jeans separately, use a pant hanger to put them all together and save a ton of space! Consolidating your clothing and hanging them all together make it super easy to organize a small closet! Grab a 2 pack of pant hangers here!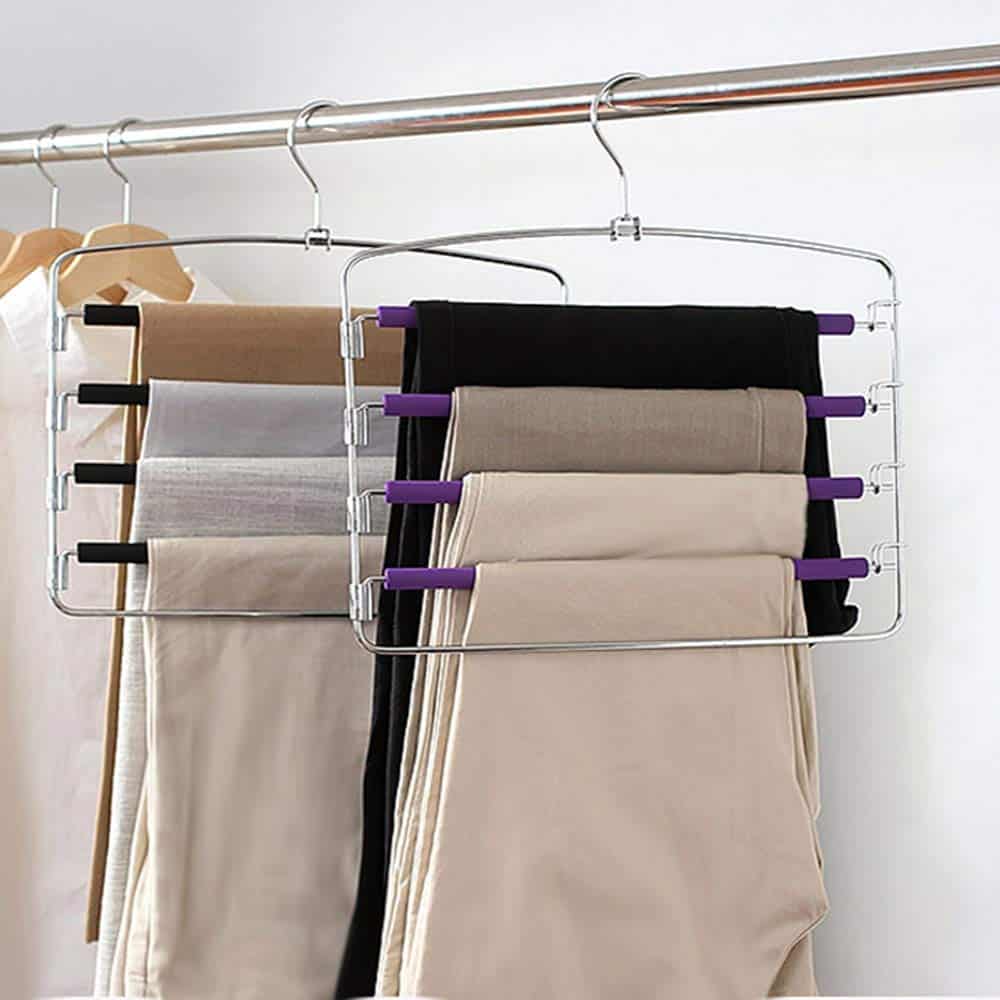 Did you find some creative ideas to start organizing your small spaces? Comment below to let us know how you organize small spaces around your house! And don't forget to save this pin for later!