This Post May Contain Affiliate Links. We earn a commission if you click this link and make a purchase at no additional cost to you.
Welcome to Day 1 of the 30 Day Organize It Challenge! I am so ecstatic that you're here! This challenge is more than just a challenge to organize your home. Throughout this process we are going to go through how to declutter, clean, and organize areas of your home and that you have trouble maintaining.
But first things first:
I want you to know that in this challenge we are not striving for perfection, but functional and easy systems! I absolutely in no way claim to be perfect, nor do I have a perfect home! My goal is to create functional and easy ways to keep my home organized and make Mom life a little less hectic.
So if you are looking for realistic systems for your home, then you have come to the right place!
Are you ready?
Pantry and Food Storage Organization
Let's begin day 1 with your pantry and food storage organization.
I, unfortunately, do not have a walk in pantry (yes it's like the worst thing ever!) so I am going to show you the three ways I store food and keep it organized.
Large Cabinet Pantry
In our large cabinet pantry, we store chips, cookies, dry goods, candy, cereal, etc. Most of the time this pantry is a mess. Because it is so long and narrow it is really hard to keep it organized.
To fight the clutter, I try to group like items on each shelf. The top shelf is designated for my husband's chips. He has an addiction so we have a lot!
Chips are almost impossible to keep organized so we just group them together on one shelf and keep the open bags and older bags towards the front.
The rest of the shelves are for snacks for my little boy and a few random snacks for my husband and I.
Foods that we frequently buy or always have on hand, I keep in storage containers to cut down on space and cardboard. Or foods that I know my little boy won't eat quickly, I keep in storage containers to keep them fresh.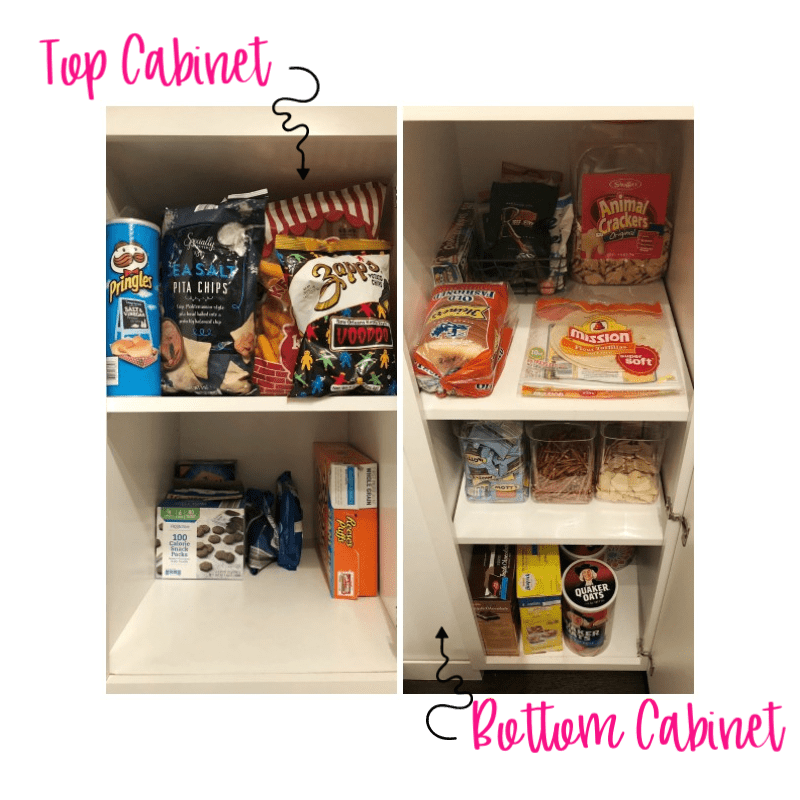 Kitchen Cabinet
We keep canned goods, unopened condiments, dry goods, and pasta's in a cabinet next to our stove. I don't use many baskets in this cabinet because we typically don't have the same type of food in here each week. I also only have a few types of each canned good so I don't feel that can dispensers would be beneficial to us. Instead, I organize the food by type.
Each category of food is grouped together. All of our pasta's are grouped together, soups together, sauces together, etc. Then anything that I cannot stack, I place one in front of the other.
I use a Kitchen Bin to store honey and syrup so it does not get my shelves sticky or damage them.
On the top shelf, I store medicines that we use frequently like pain reliever and cold medicine. The other basket holds packets like taco seasoning, ranch packet, Koolaid, and a box of tea.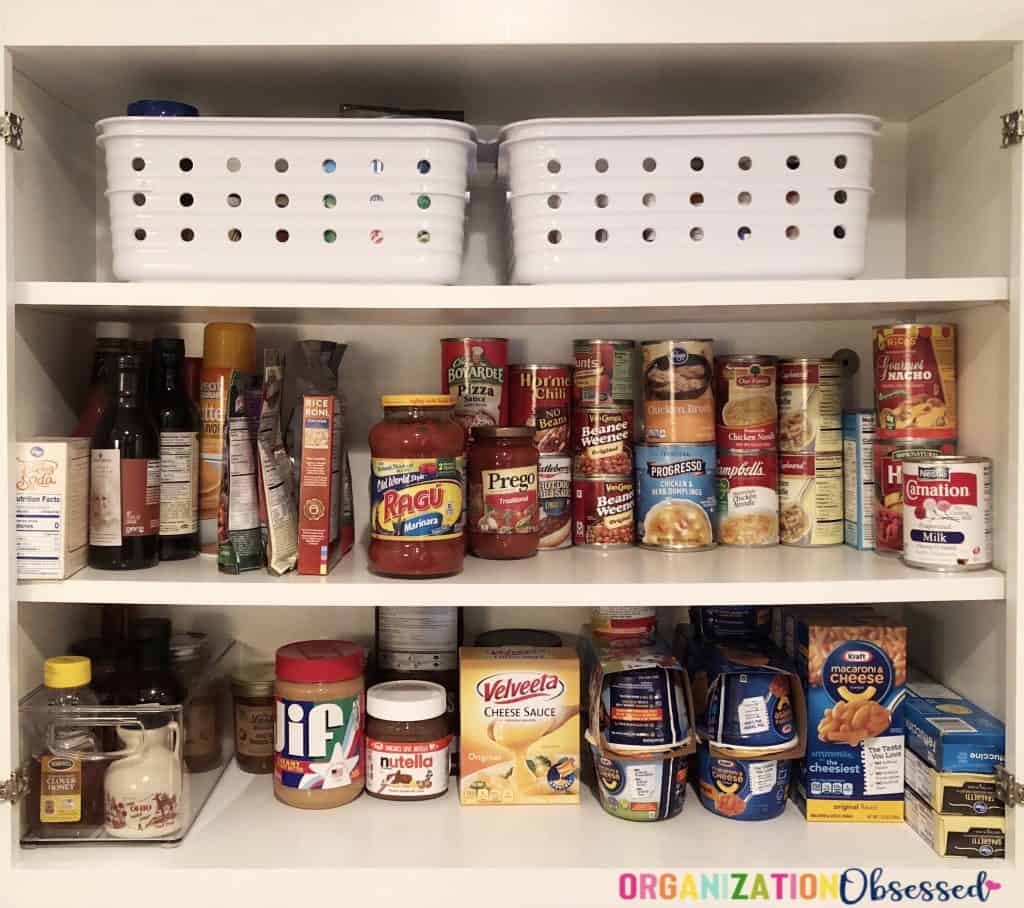 Lazy Susan
In my lazy susan, I store baking ingredients. We store flour, sugar, brown sugar, and confectioner sugar in Sistema Containers. I love these containers. They are so functional and have a good seal to keep food fresh.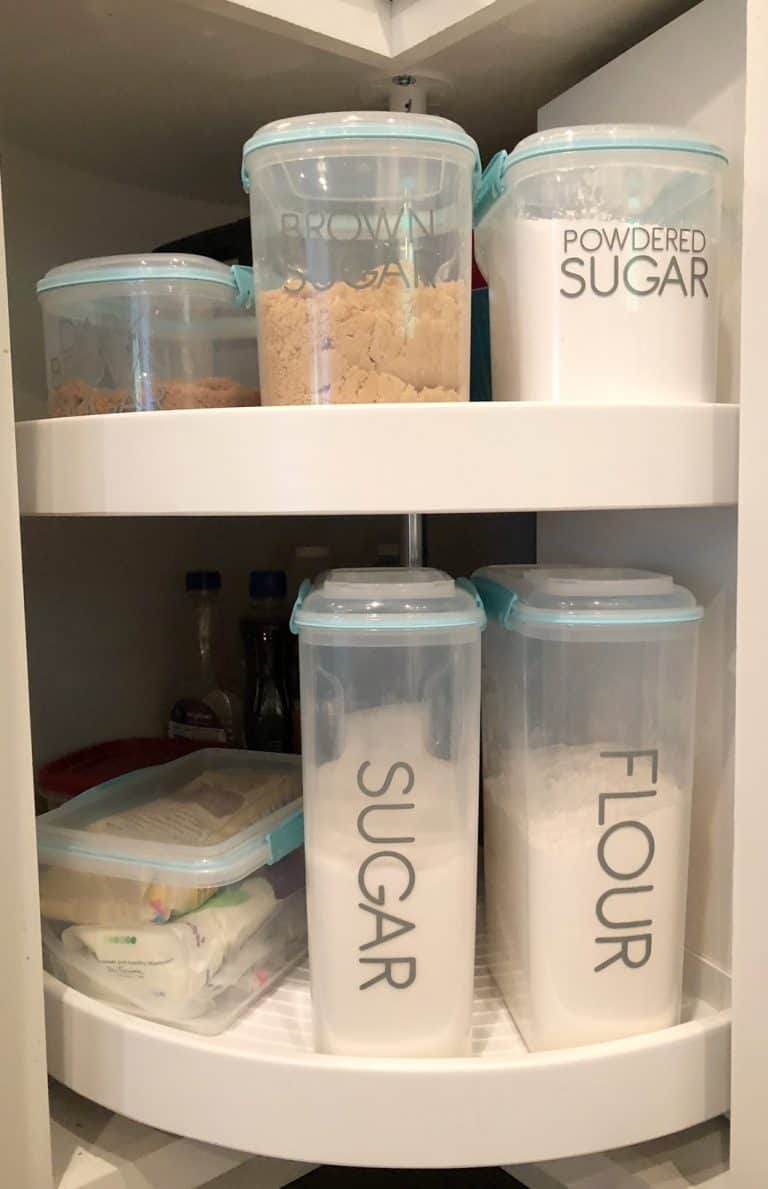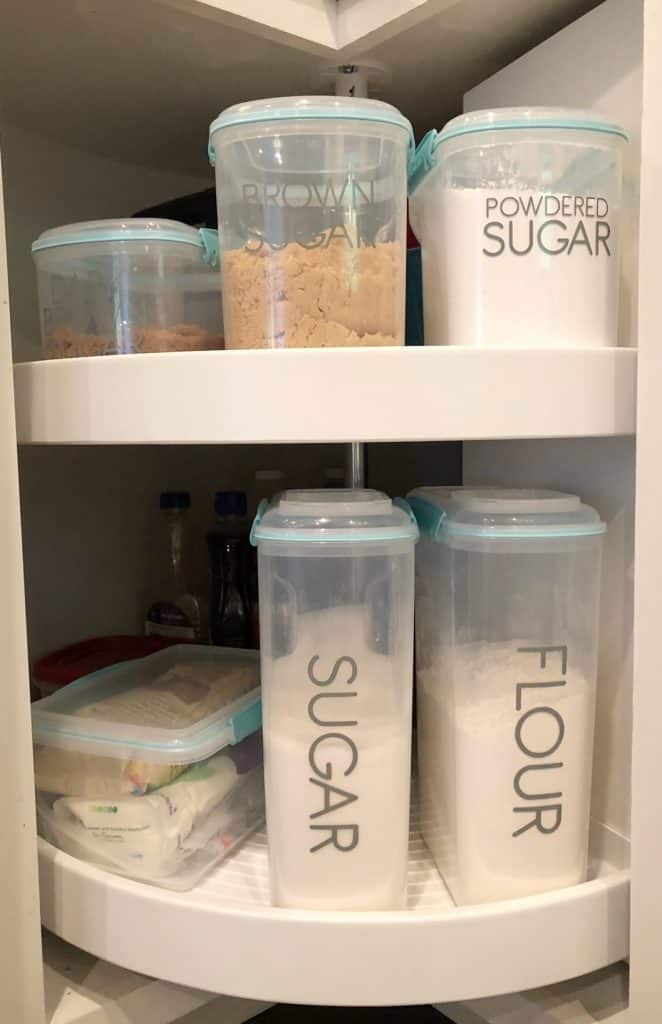 Those are the three ways I store and organize food in our home! Now it's your turn!
Steps For You To Take:
Now it's your turn to declutter, clean, and organize your food storage areas. Follow the following steps:
Declutter
Clear off a large space on your countertop or table.
Remove all the food from your pantry and cabinets. If you store anything else in those areas remove it too.
As you remove the food, examine the expiration date, how long you've had it and if it is still good.
Throw away any food that is expired or you just know you are not going to eat.
Place the food you want to keep on the space you cleared off.
Clean
Grab a bucket of warm water with a squirt of dish soap and a cleaning cloth.
Wipe down all the shelves in your pantry or cabinets, removing all dirt and grime. (You may need to use a vacuum to remove dirt from the corners of your shelves.)
Take a dry cleaning cloth and wipe the shelves dry.
Organize
It's time to put your food back!
Group foods together by types. For example, put your soups together, pasta sauces together, chips together, cookies together, etc!
If you have foods that you typically buy week to week for yourself or your kids, consider using bins or storage containers to cut down on cardboard boxes and gain extra space. We buy Motts Berrys frequently, but those cardboard boxes take up so much space. Instead, I store them in a canister. I can typically get 4 boxes of Motts Berry's in one canister.
You may also consider storing other food in food storage containers. Pasta's, cereals, and chips are great items to store in food storage containers. Because of the way they are packaged, it is hard to keep them sealed and from going bad. Using food storage containers that have an airtight seal will keep your food good much longer. I do this with pretzels!
Another way to make Mom life easier is to store lunch supplies in storage bins. You can easily grab your kids snacks for lunch quickly or they can pack them themselves!
If you do choose to use food storage containers and storage bins, I highly recommend these. They are inexpensive and perfect for food storage and organization!