This Post May Contain Affiliate Links. We earn a commission if you click this link and make a purchase at no additional cost to you.
Organizing Spices can be tricky. It has been something we have always struggled with in my home. We keep spices in the small cabinet over our microwave. For a long time, I was just putting the spices in the cabinet and tried to keep the ones we used the most towards the front. However, after a few weeks, they would get jumbled up again and we could never find the ones we needed. Or if I needed one that we rarely used, I would have to take all of my spices out to find the one I needed at the back of the cabinet. It really didn't work for us!
While trying to find the best way to organize our spices I tried a few methods. First I bought this really popular spice rack. I really wanted to love it and I think it would be great to keep our spices organized, however, our cabinet wasn't tall enough for the storage system to work.
The next method I tried, and the one I am showing you today, has worked out really well for us!
Tips for Organizing Spices
First off let me start by saying we have a lot of spices. Besides the usual spices you need to cook with, we have a lot of rubs for meats. So you may or may not need as many baskets as I used.
To organize our spices, I found three baskets that fit well in our cabinet. Then I pulled all of my spices out of the cabinet and organized them by: use all the time, use sometimes, and rarely use. Then I placed each category of spices in a basket!
Anything that wouldn't fit in a basket went along the back wall of the cabinet or on the sides.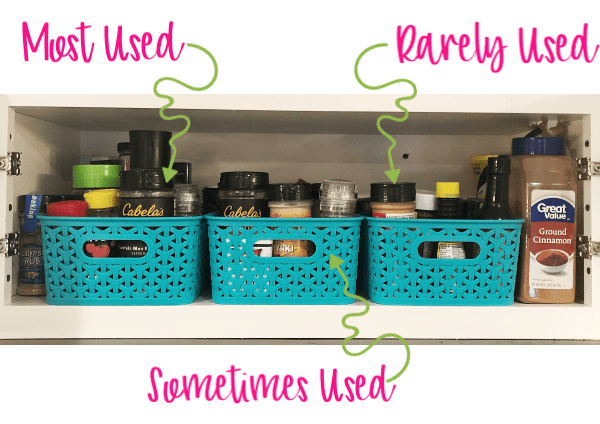 I love this method of organizing spices because it keeps the cabinet nice and neat all of the time. It is also easy to access the spices I need because I know exactly where they are! No more shuffling around all of the spices to find what is in the very back of the cabinet.
The only downfall is that you can only see the tops of the spices when you pull out the basket. If you do not know what the spice bottle looks like, it takes a few seconds to look around in the basket and find what you need.
Spice Organizers You May Like: