This Post May Contain Affiliate Links. We earn a commission if you click this link and make a purchase at no additional cost to you.
Summertime is here which means spending more time in the backyard! Spending time outside with your family is one of the best ways you can use your time, but it can be stressful if your backyard is a mess! Plus toys and tools littering the backyard can put a damper on your fun. But it doesn't have to! Check out these 14 Backyard Storage Ideas for an Organized Backyard! Spend a few hours getting your backyard organized and you will enjoy it all summer long!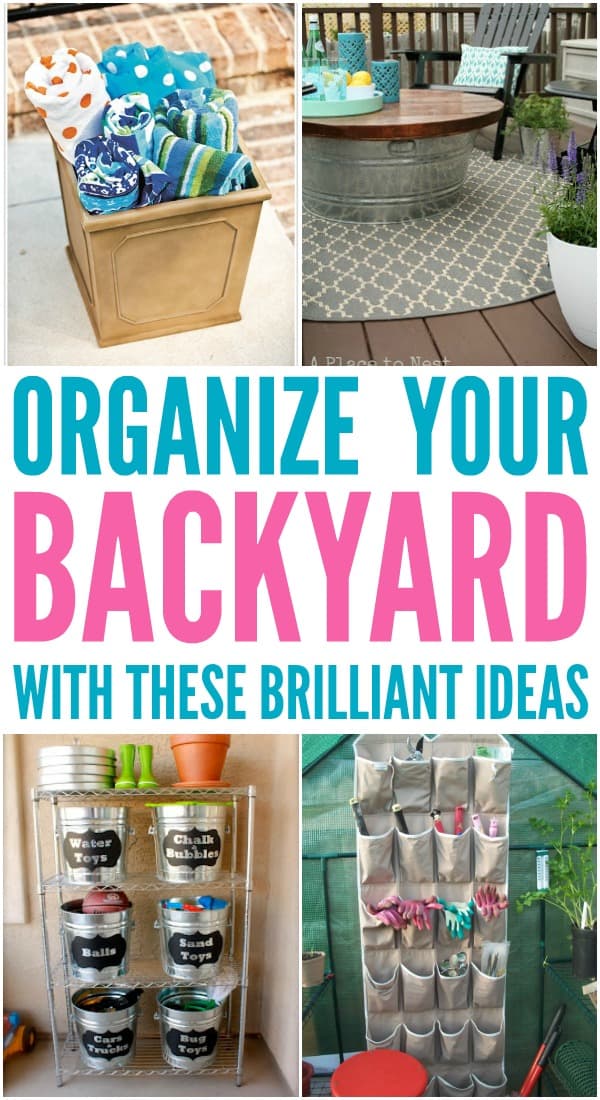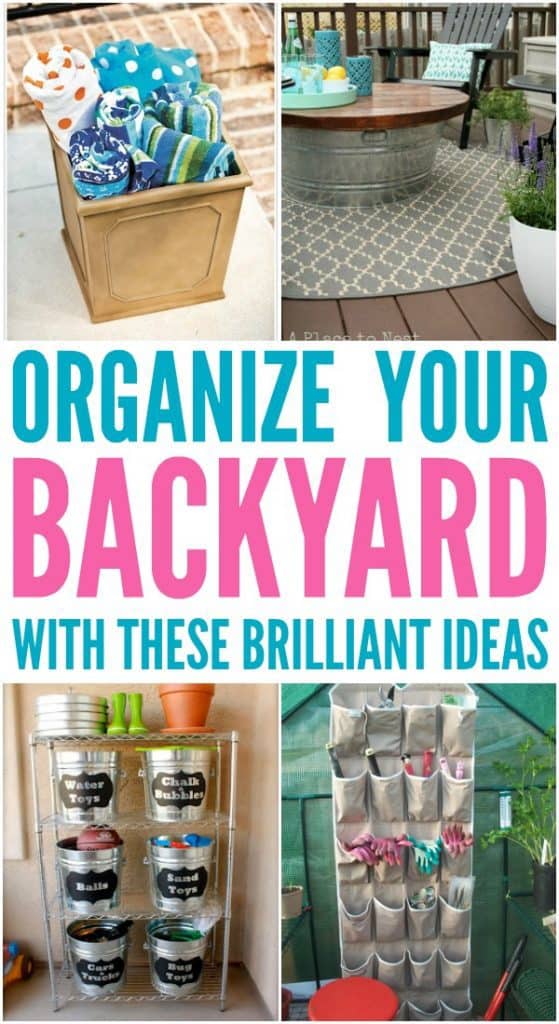 Storage Bench
A storage bench is a great way to keep your backyard organized. If you plan to spend any time in your backyard you are going to want seating and what better way to add storage than a storage bench! This bench is classic and will look amazing in your backyard! It is a great place to store outdoor cushions, kids shovels and buckets, or gardening tools! You can find this one on Amazon for less than $160!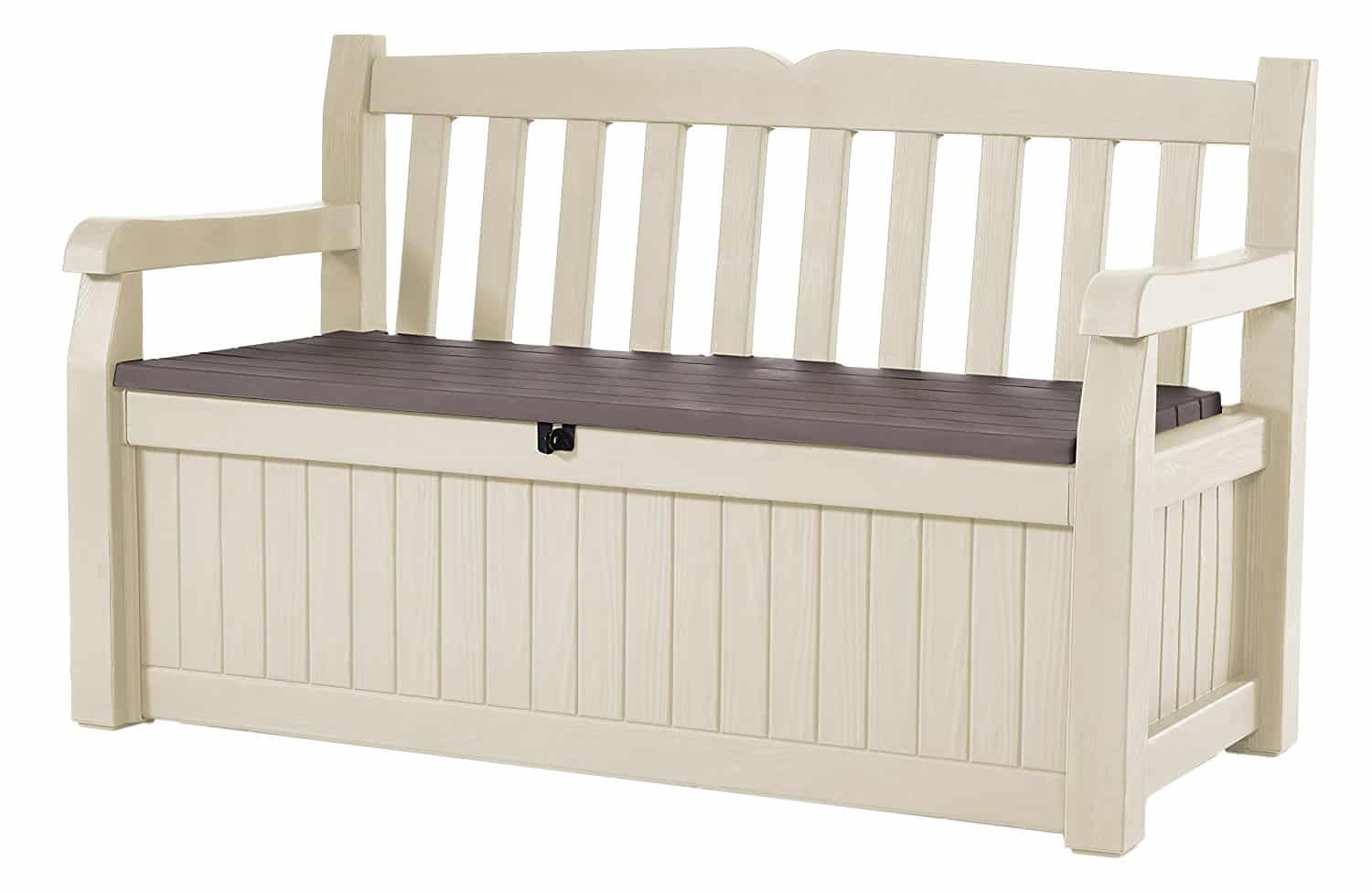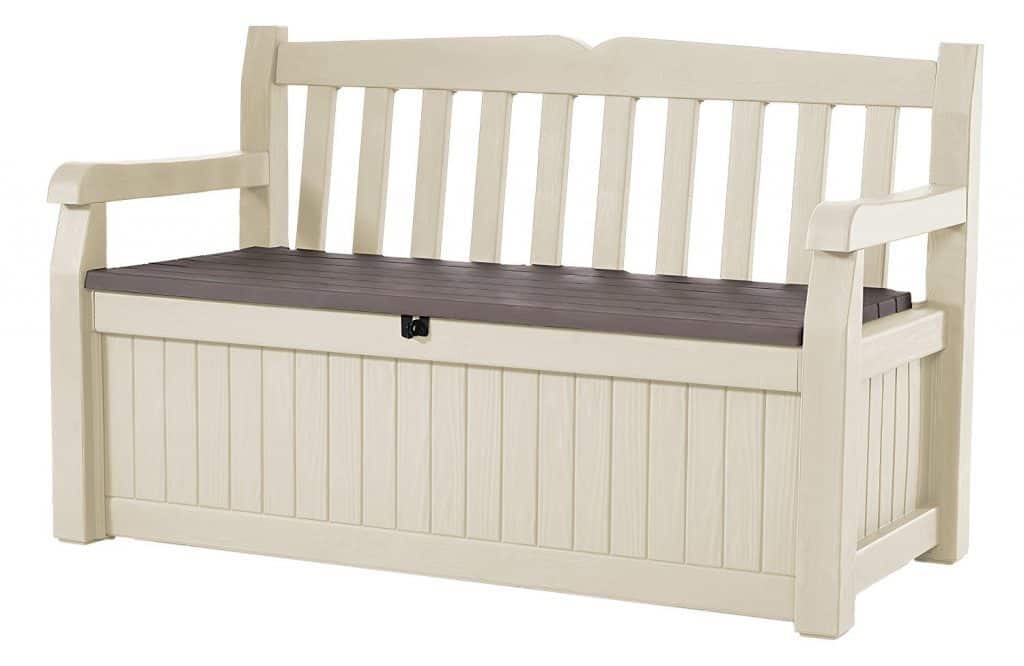 Found on Amazon
Use A Planter For Storage
Using a planter is a great hack to add extra storage around your backyard. You can use a planter to store beach towels, flip flops, or even fill it with ice to keep your drinks cold! Pick up a planter at your local hardware store or find one here!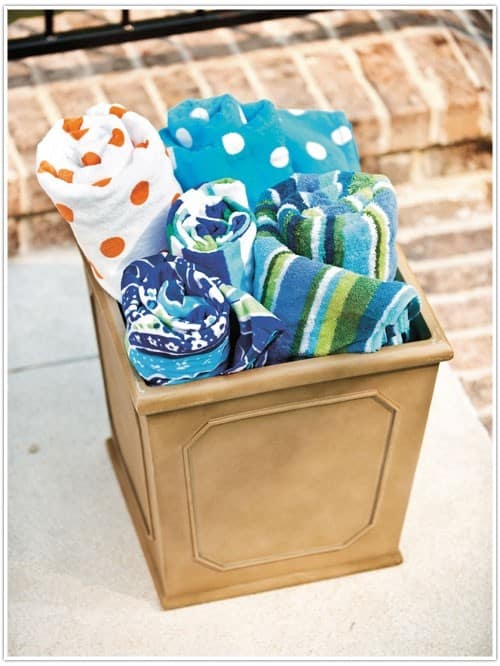 Tip & Image Credit: Ballard Designs
DIY Garden Tool Storage Pallet
Get thrifty and organize your gardening tools with this hack! Using a pallet you can organize and store your tools, hose, pots and more! Check out how Our Little Acre did it here!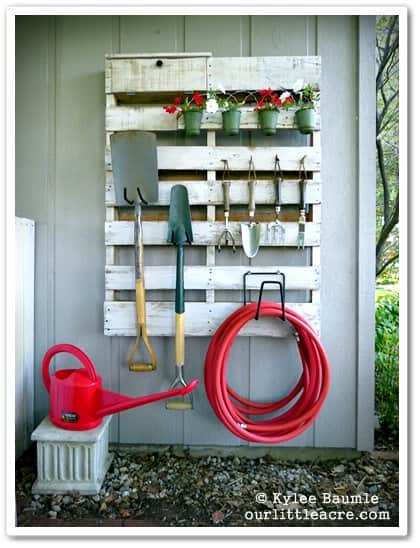 Tip & Inspiration: Our Little Acre
Create a Garage for Kids Cars
Have Little Tike Cars taken over your lawn? Yeah, mine too. However, Sara from Momendeavors had this amazing idea that I cannot wait to build in our backyard! Using PVC, tin roofing and a few tools she created this super cute toy garage. You could easily do this in just a few hours and create an organized backyard! Check out Sara's tutorial here!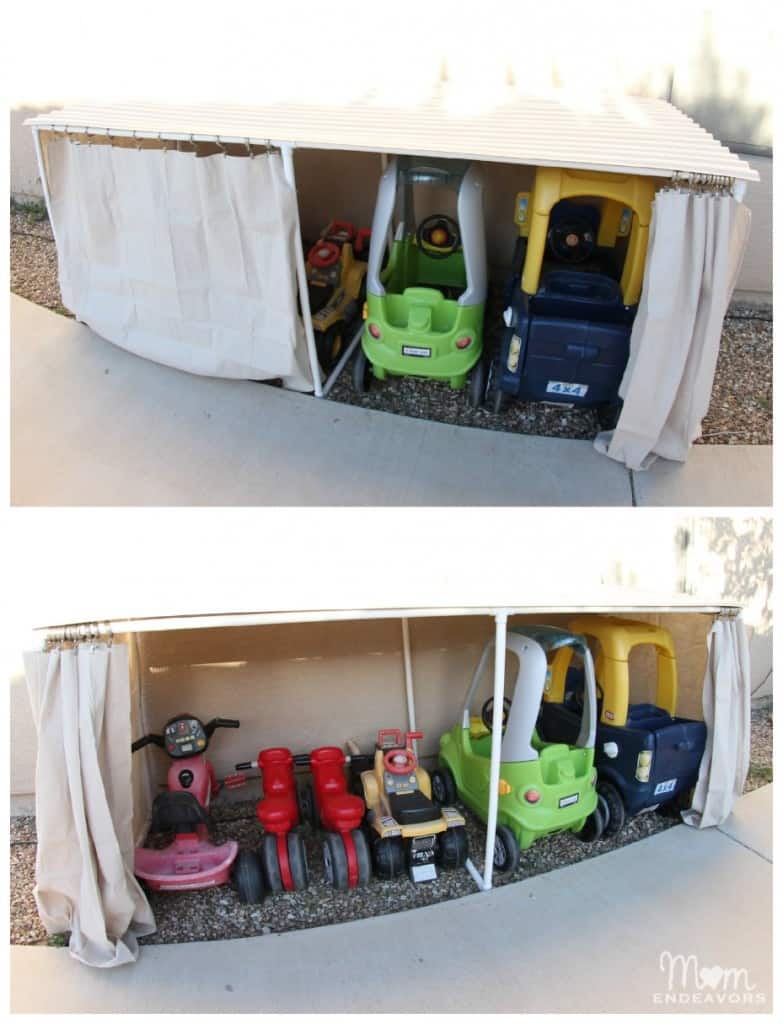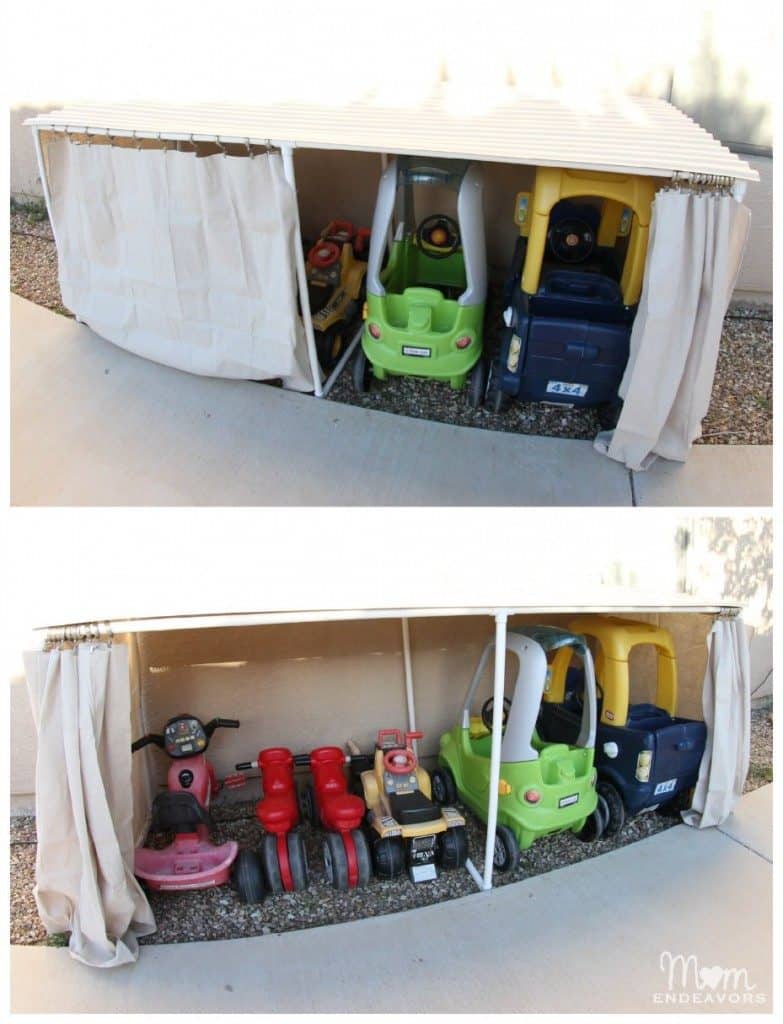 Tip & Image Credit: Momendeavors
DIY Outdoor Bench
Looking for a cheap and easy way to create outdoor seating? Then this bench is just for you! You can make this bench using cinder blocks, 4×4 post, and patio cushions.  This is a really easy DIY project and would look great around a fire pit or use it for bench seating around a table!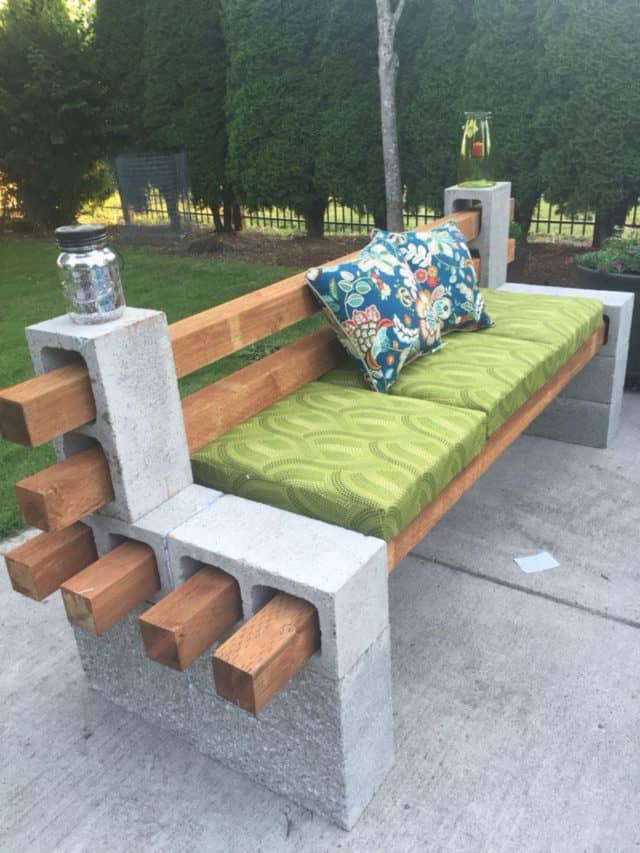 Tip & Inspiration: Goods Home Design
Bike Storage Garage
If you don't have a space to store your bikes what about creating your own bike garage? This bike garage is made by Treesaurus out of London, UK. So if you are not local to them but you are handy then you could make this yourself! Check out their site here!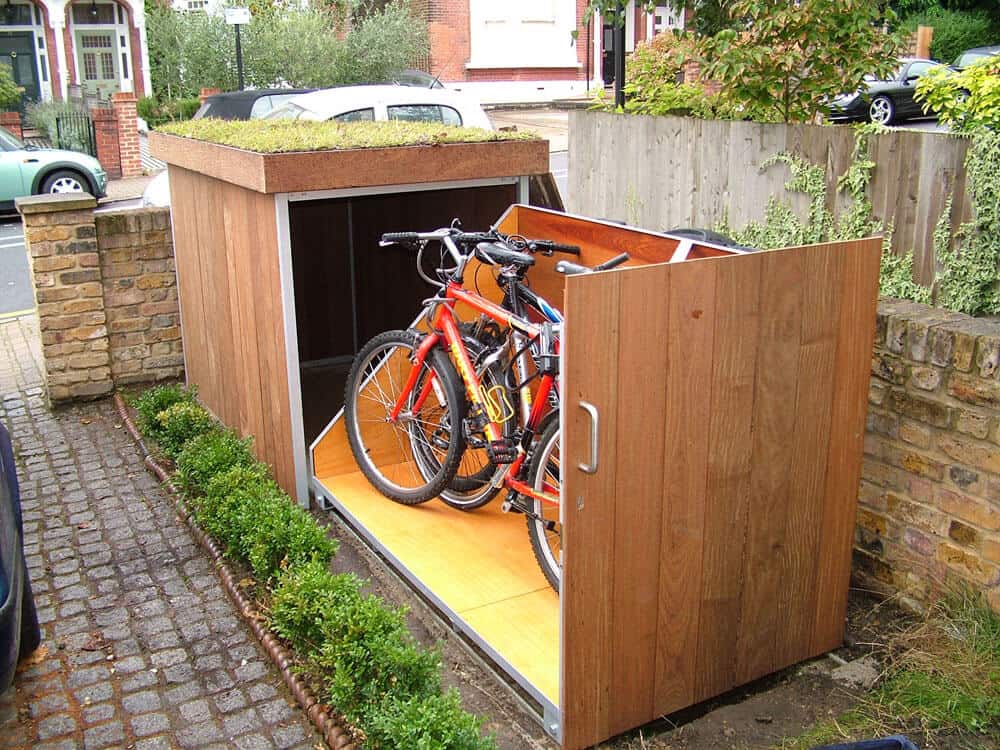 Tip & Inspiration: Treesaurus
DIY Outdoor Tool Storage Shed
This is the cutest idea and would look great in your garden! A Cultivated Nest made this with old doors and windows! With a little bit of handy work, anyone could do this and it would create an adorable and shabby chic way to store your gardening tools! 
Inspiration from A Cultivated Nest 
Toy Storage Buckets
Are your kid's toys cluttering your backyard or garage? Clean up the yard and have a designated space for your kid's small tools by creating a designated bucket for them! Using buckets and cutting out labels with a cutting machine you can make a bucket for any toys your kids have! Balls, bubbles, trucks, cars, etc! Then organize them all on a wire shelf and your good to go! The hardest part will be getting your kids to put the toys back where they go…Sigh.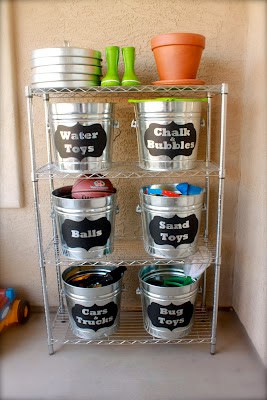 Tip & Image Credit: Domestic Charm
Rustic Hose Storage
Add a little character and farmhouse charm to your backyard by storing your hose in a large steel tub.  This is a great way to keep your hose off the ground and much easier than wrapping it around a hook!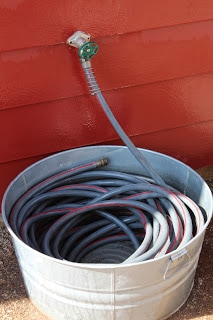 Tip & Image Credit: Red Farm House
Ball Storage
Store your basketballs, footballs, etc in your garage or shed by making a DIY ball cage from bungee cords. Designed To Dwell created this system in their garage by using 2x4s and bungee cords. Check out their tutorial!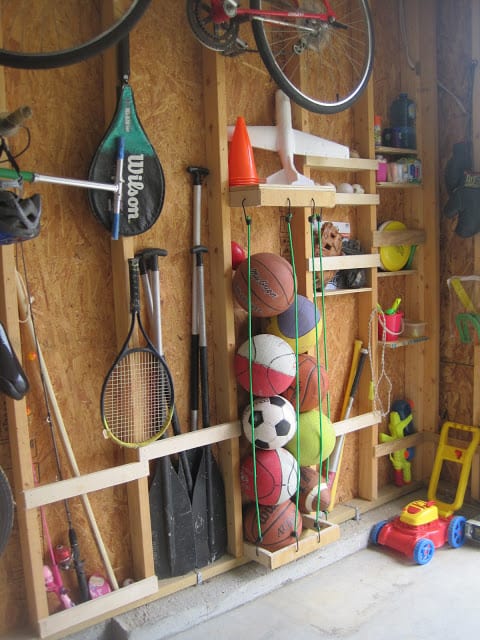 Tip & Image Credit: Designed To Dwell 
DIY Outdoor Coffee Table
I love this outdoor hack! Melissa from A Place To Nest created this outdoor coffee table with a large galvanized bucket, plywood, and some 2x6s. You could easily do this with just a few power tools! Check out the tutorial here. She attached the bucket to the top of the table but you could leave them as two separate parts and use the bucket for storage!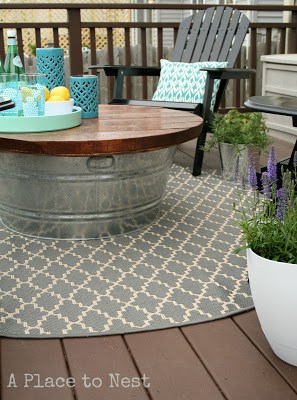 Tip & Image Credit: A Place To Nest
DIY Foot Wash Station
Do your kids track dirt in the house after a long day of playing in the backyard? Save yourself from cleaning by creating this DIY Foot Wash Station. Check out HGTV's tutorial on how to make it!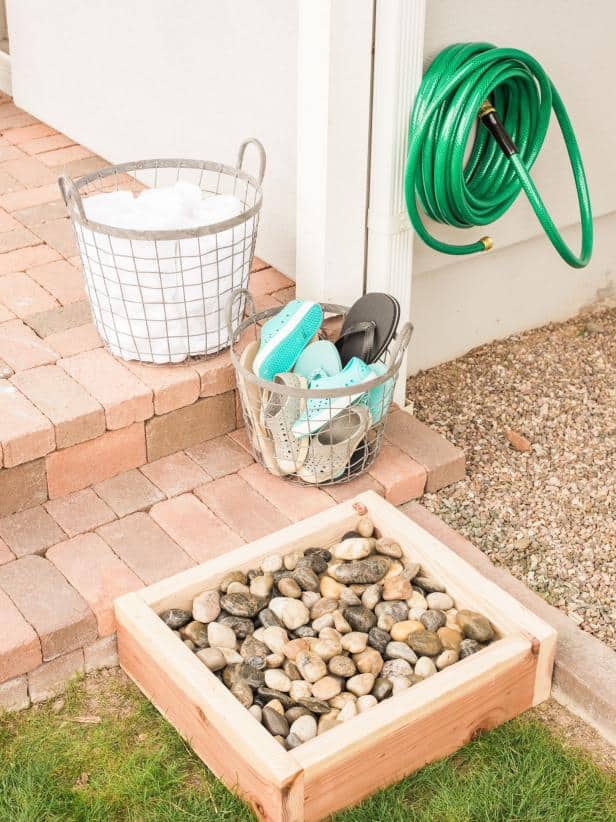 Tip & Inspiration: HGTV
Garden Tool Storage
Don't throw out that old shoe organizer just yet! Angela from The Coupon Project had a brilliant idea! She used a shoe organizer to organize all her small garden tools. You can store pruning shears, shovels, gloves, seed packages, or anything small enough to fit in the pockets! This is a great way to keep your tools off the ground and organized!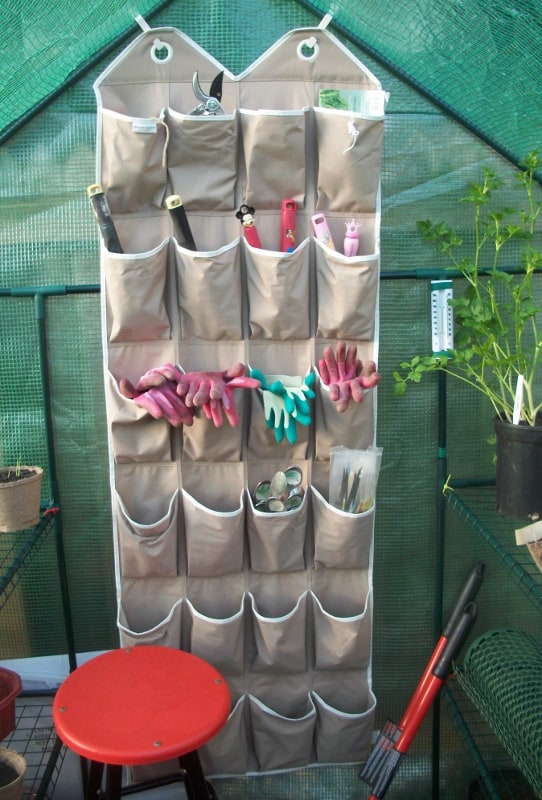 Tips & Inspiration: The Coupon Project 
Trash Can Enclosure
Hide your ugly trash cans with a screen enclosure. This is perfect to hide your trash cans, or even bikes or pool pumps. You can get this for less than $100 dollars! It is the perfect fencing to hide anything ugly in your yard.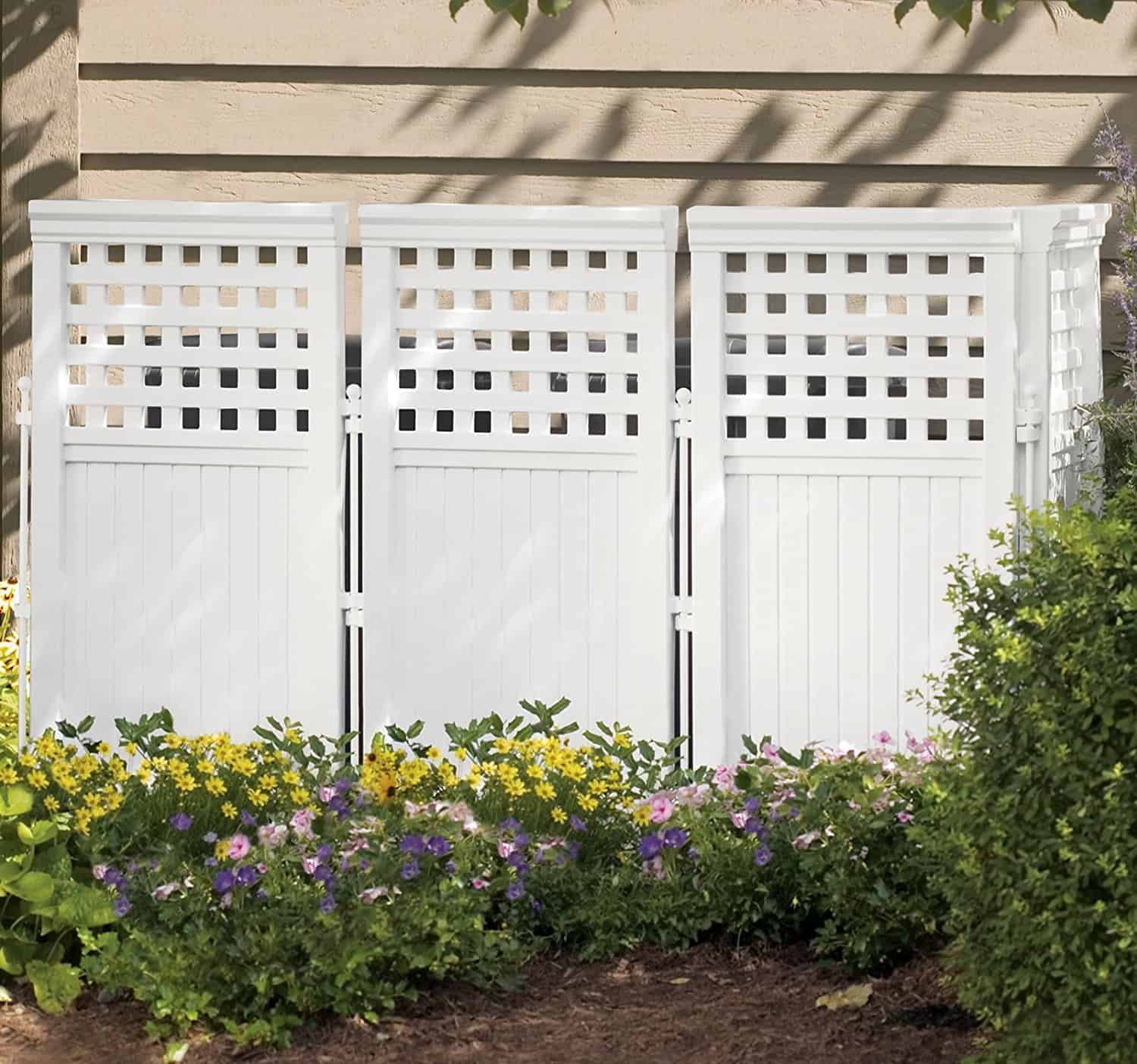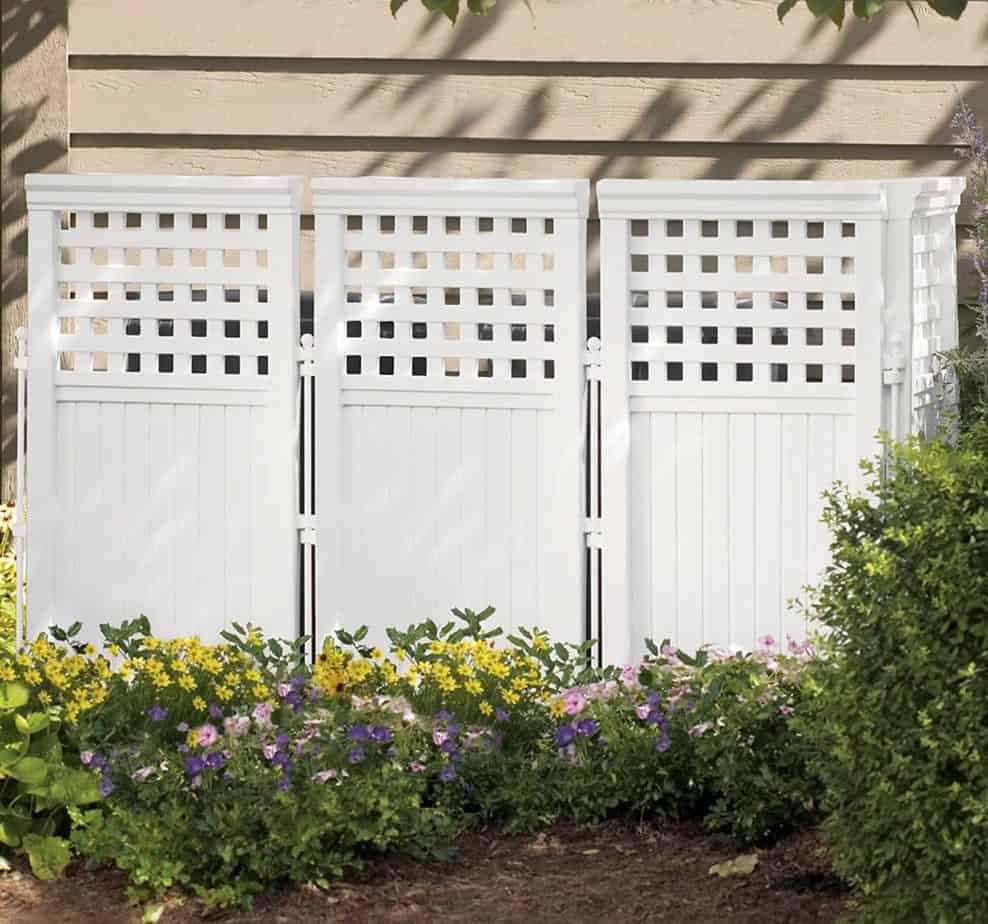 Tip & Image Credit: Amazon
So what do you think about these backyard storage ideas? I bet you are dying to get started organizing your backyard! I know I am!