This Post May Contain Affiliate Links. We earn a commission if you click this link and make a purchase at no additional cost to you.
We know how hard it is to Organize Makeup in a Small Bathroom, so today we have rounded up 8 genius ideas to store and organize your makeup in a small bathroom! You are sure to find a brilliant idea here! From using spice racks or an Ikea cart, there are so many ways to Organize Makeup in a Small Bathroom!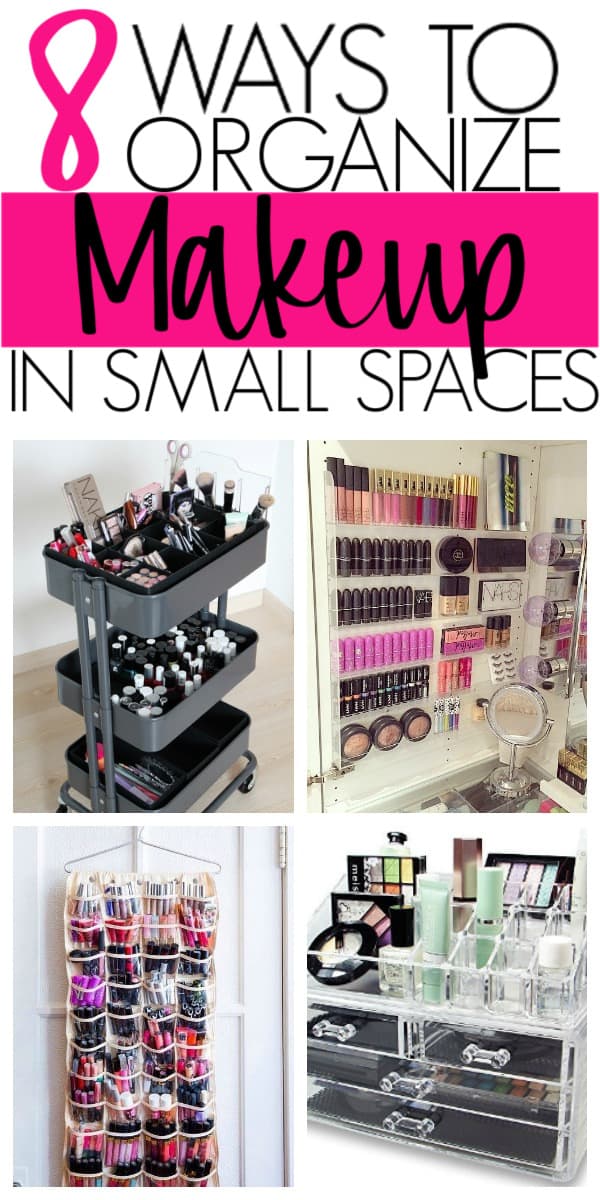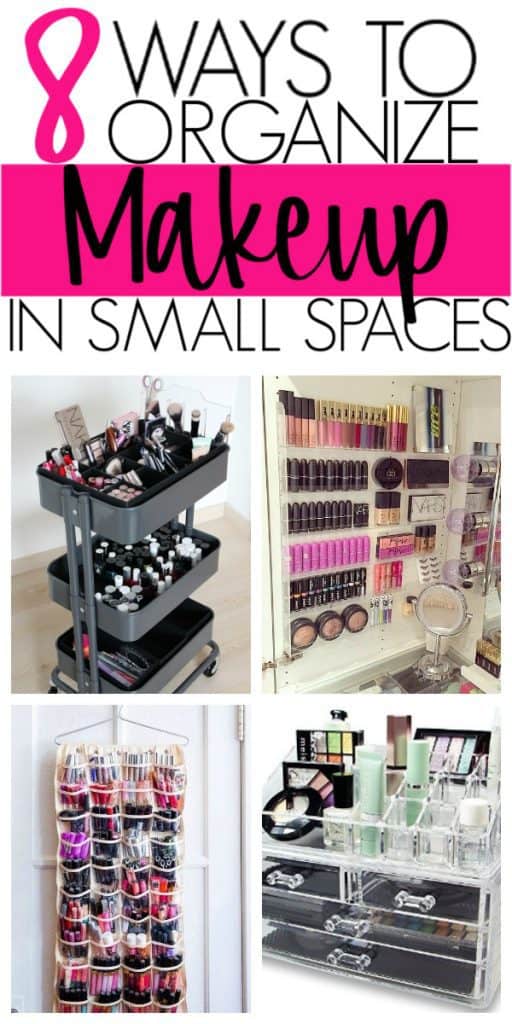 Use wall space
Most of the time we think that we have to use our vanity top or vanity drawers to store and organize makeup, but this brilliant idea from Lisa Pullano shows you that you absolutely do not have to! She used a wall nail polish organizer to store and organize her makeup beautifully! This idea is absolutely brilliant! Grab a nail polish organizer here!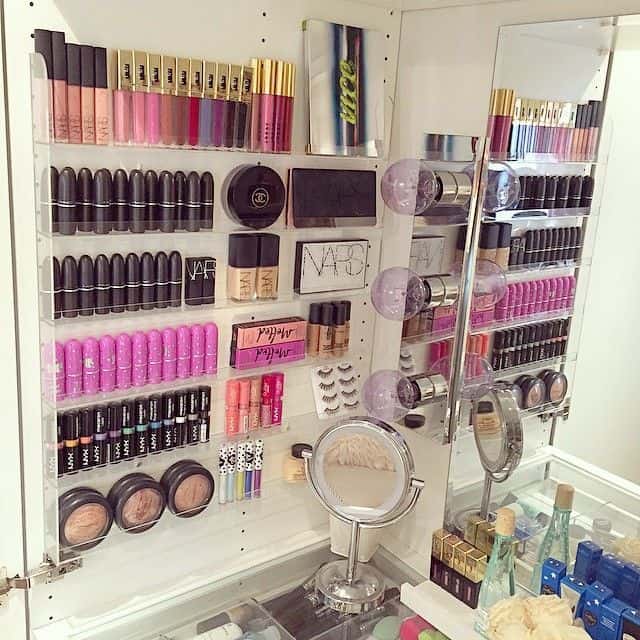 Use a Shoe Organizer
Use the back of your bathroom door to organize your makeup in a shoe organizer! They make shoe organizers in all different sizes and it gives you a ton of room to store all your cosmetics! You could store all of your makeup and toiletries with this simple and effective way to organize a small bathroom! Get this one for less than $10 dollars!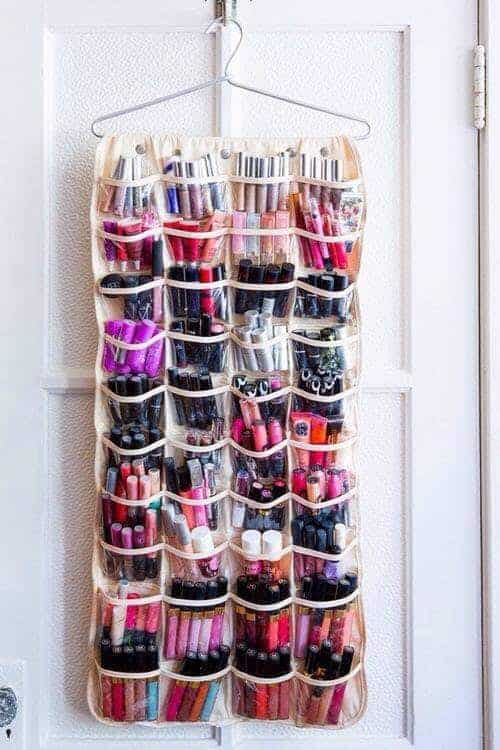 Image Credit: Bustle
Use Vertical Space With An Acrylic Organizer
Keeping your makeup on your vanity in an acrylic organizer is a brilliant way to keep your makeup organized in a small bathroom. There are so many different styles of acrylic organizers you can get for less than $30 dollars.  Personally, I love to use these because they have so many different compartments for mascaras, eyeliners, foundation, brushes, etc! You seriously cannot go wrong! Plus the clean up really well from makeup smudges and dirt.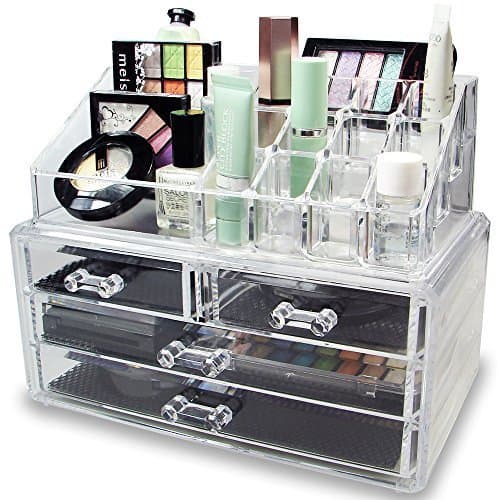 Create a Magnet Makeup Board
This is such a brilliant idea and can be done in so many ways! If you are short on drawer space, organize your makeup on a magnetic board. You can buy a magnet board here or simply make one yourself with a cookie sheet and magnets! Then glue small magnets on all of your cosmetics to secure them to the board!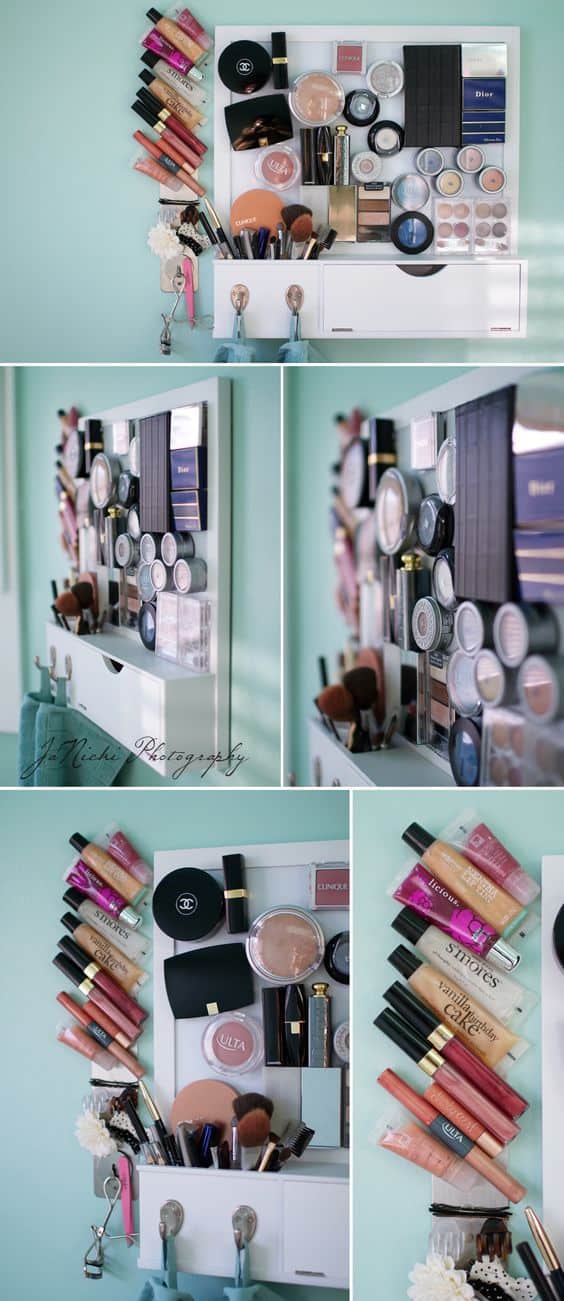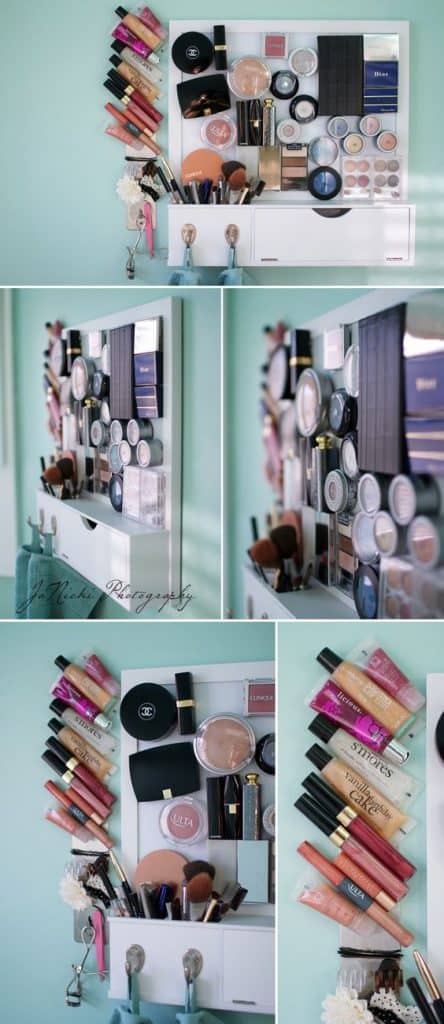 Image Credit: Janicki Photography
Not Enough Drawer Space? Use an Ikea Cart
Ikea carts are so handy to help you organize around your home and a great way to use them is in your bathroom! You can easily add drawer dividers to each level of your IKEA cart to store your makeup and toiletries! And since it is on wheels it is easily movable to get ready with and then hide it away!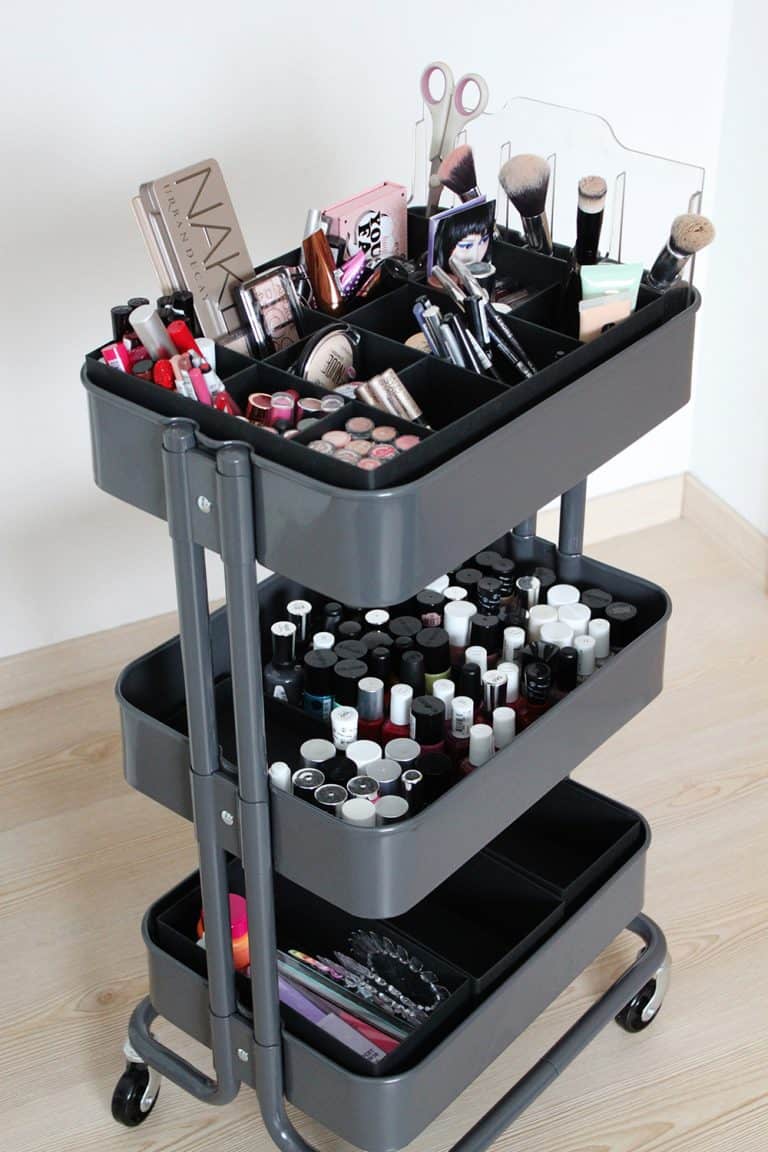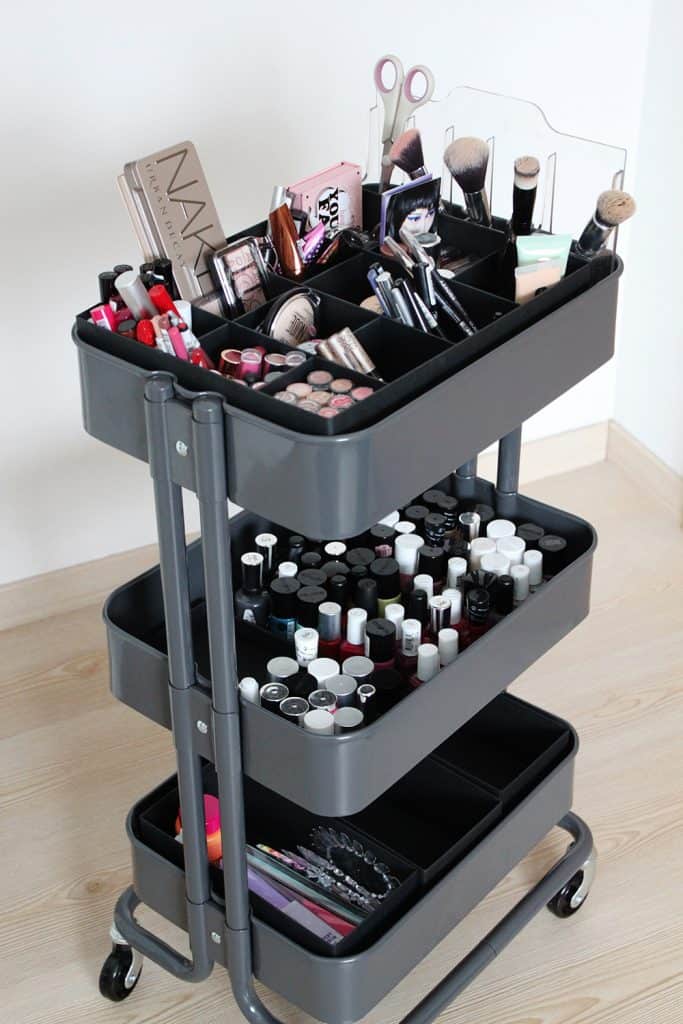 Image Credit: Who Is Mocca
Use Spice Racks To Organize Toiletries
These Ikea spice racks are perfect to mount to your walls and organize toiletries and makeup! Gain extra space on your vanity or free up a drawer by using these instead!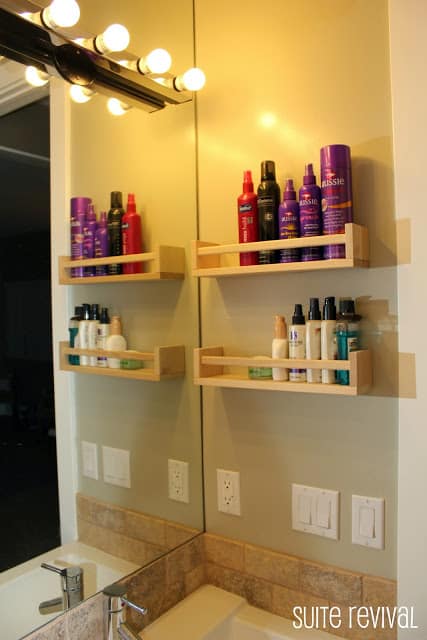 Image Credit: Suite Revival
Use a Beauty Armoire
Just like organize jewelry in an armoire, you can organize makeup too! This beauty armoire has rave reviews on Amazon and is perfect for you if you have a small bathroom or need extra storage for your makeup and accessories! Grab it here while it's still on sale!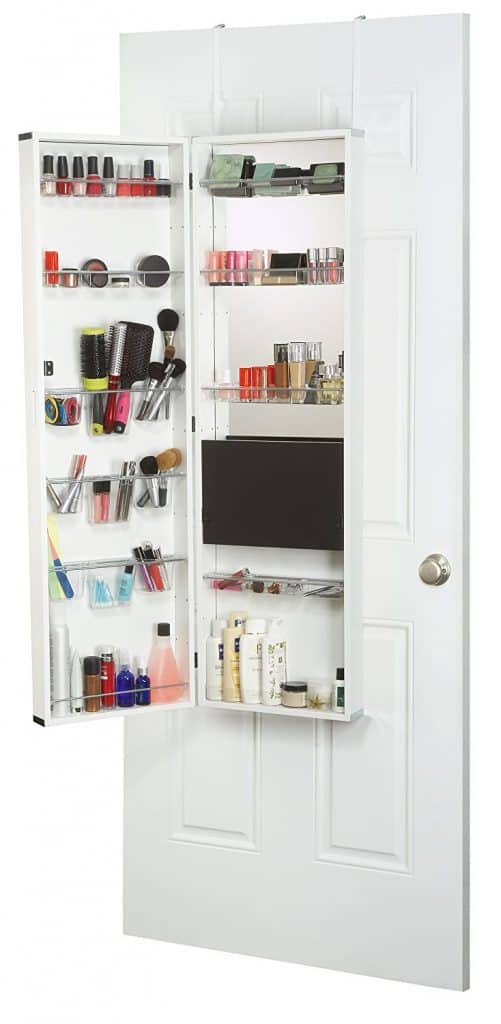 Use Dollar Store Storage Bins
I love to organize my makeup in dollar store storage bins. I actually got these storage bins from the dollar store and from Walmart for $1 dollar. They are perfect for shallow drawers to keep your makeup organized! See exactly how I organize all my bathroom drawers for $6 dollars!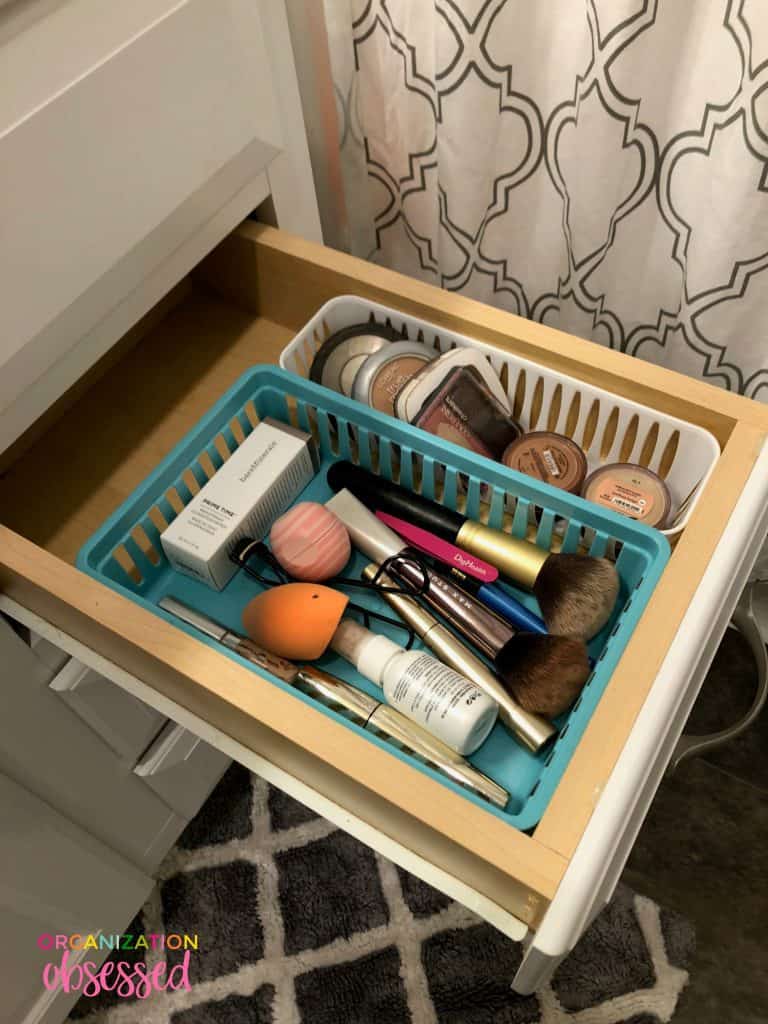 Need a makeup organizer? We Love these!