This Post May Contain Affiliate Links. We earn a commission if you click this link and make a purchase at no additional cost to you.
I never really understood toy clutter until my little guy was about a year old. It was that point in his life where he could start playing with bigger toys that took up a lot more room. And it was also his first birthday and oh my, he got so many toys! That was 9 months ago and we still have unopened toys!
Toy clutter was quickly taking over my home and I knew we had to do something about it fast! We needed a way to store toys where they would be easy to find, but also needed something that could keep toys out of sight or make them at least look presentable.
That was a few months ago and I feel like I finally have a handle on the toy clutter in our house. So to help YOU out and help you eliminate toy clutter, I rounded up a few of our favorite toy organizers that we use, as well as some other really great options!
Check them out below!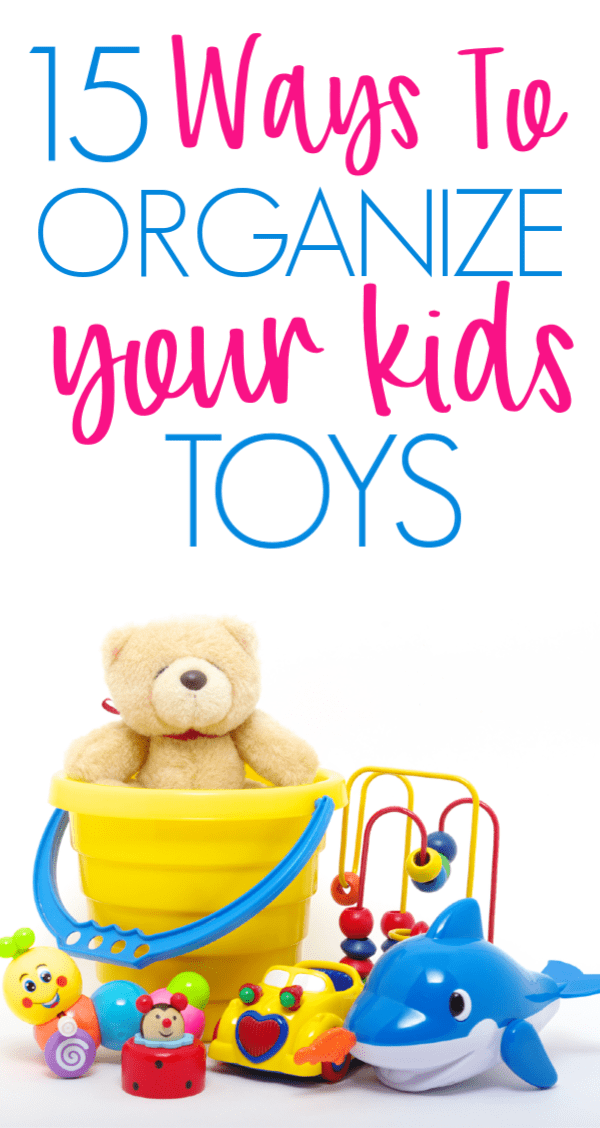 Over The Door Toy Organizer
I love this over the door organizer! I do not have this personally but I plan on ordering the bear design to match our little boy's adventure themed room! This is perfect to store books, stuffed animals, shoes, cars, diapers, etc! I could definitely use this to store our overflowing collection of books. For less than $20 this is a steal! What could you store in this toy organizer?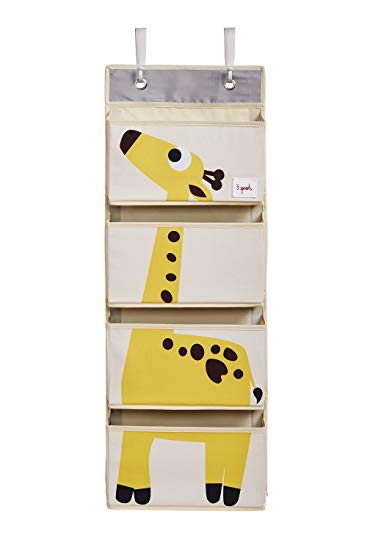 Toy Box
A toy box is a must have for any playroom or kids bedroom to store and organize toys! They are perfect to throw your kids board games, cars, or baby dolls in and then close the lid to hide all the toy clutter!
This Sprout Kids Toy Box is less than $25 dollars and has a ton of character options!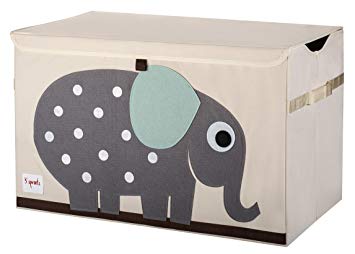 Or if you want to go with a toy chest that is a little sturdier, and bigger,  grab this Kidcraft Wood Toy Box. It comes in a ton of colors and you can get it on sale here!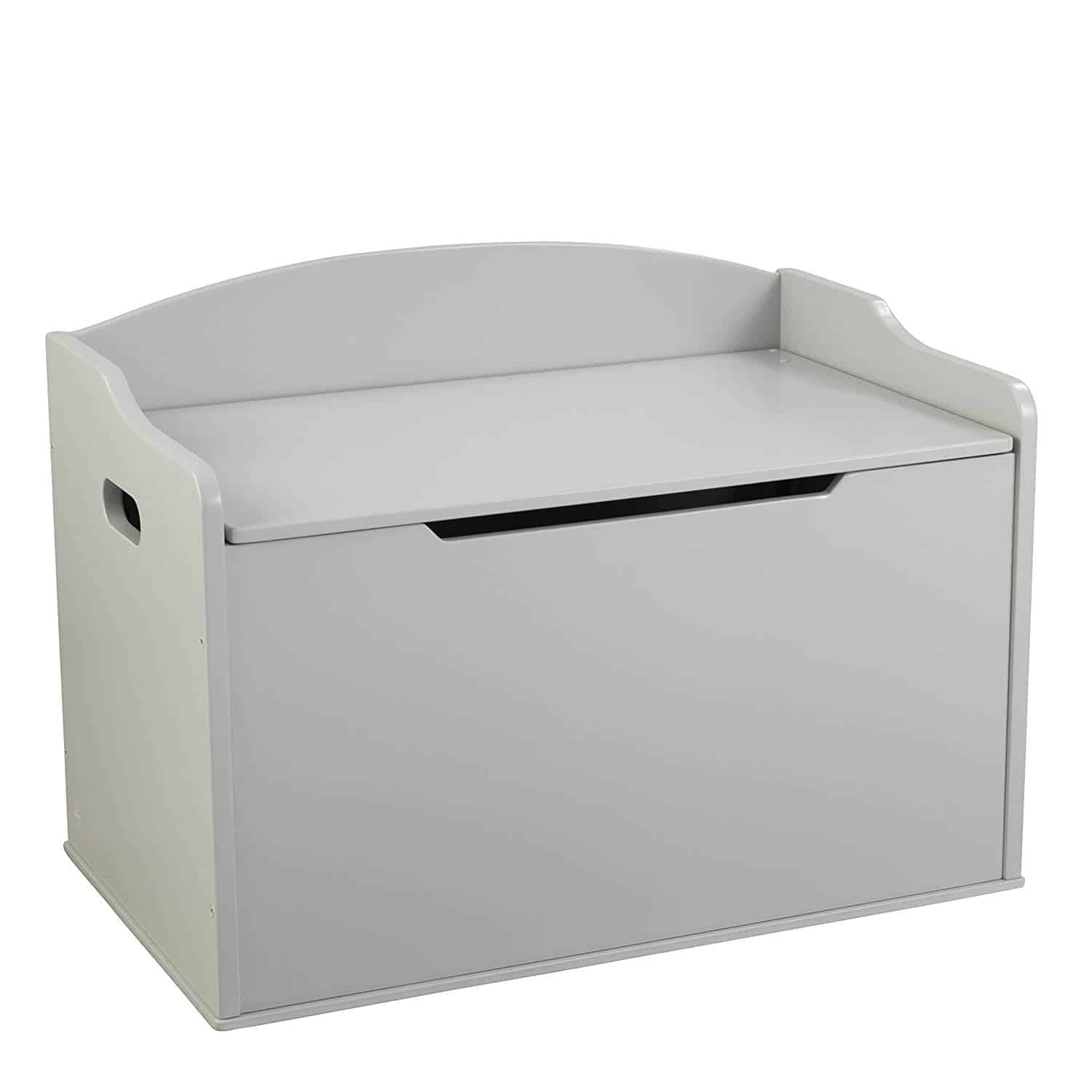 Cube Storage Bin
We have this adorable hedgehog cube storage bin in our little guys' bedroom. We use it to store stuffed animals and it is perfect! It holds about 10 medium sized stuffed animals.  Check out all their other designs here!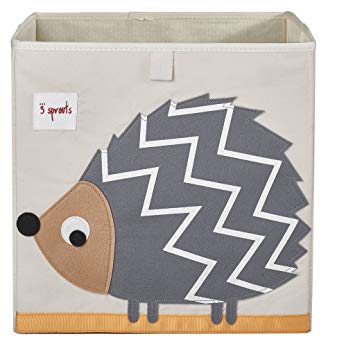 Large Baskets
A large basket can hold a bunch of toys and you can put them pretty much anywhere. You could put these in your living room for a quick way to clean up toys each night. Or put them in your kids rooms to hold toys, stuffed animals, or extra blankets and pillows.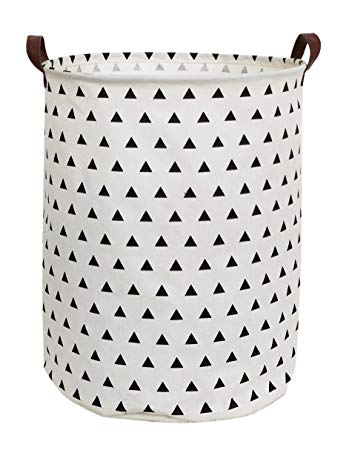 This one is also cute for little boys who love all things trucks, planes, and cars! Grab it here for around $12.

Kids Bookshelf
We had a "bring a book instead of a card" request at my baby shower and we got SO MANY BOOKS! I honestly don't have room to store them all the way we currently do and this bookcase would be so helpful! It doesn't take up a lot of room but would still store about 20 books! See all the options here.

I also love this one that is just solid colors and would be perfect for a boy or a girl!
Large Storage Baskets
We have this basket in the fox pattern and love it! It is very big! We store large stuffed animals in it and extra sheets and blankets. It is about 18″ tall and will hold a ton of toys!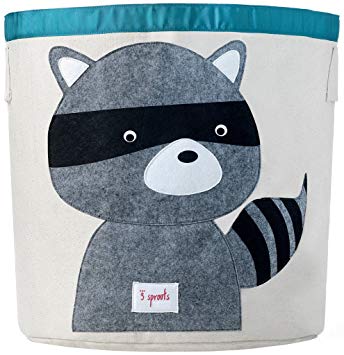 Bookshelf & Cubby Storage
This bookshelf and cubby storage was something I was really wanting when we were furnishing our little boys' room, but unfortunately, it was too big for the space we had. We made it work with these stacking organing organizers and you can see how we did it here. But I would have still rather had this bookshelf! If you have room for it, this is perfect to store tons of books and smaller toys! You could store board games, stuffed animals, cars, baby dolls, etc in the cubby holes!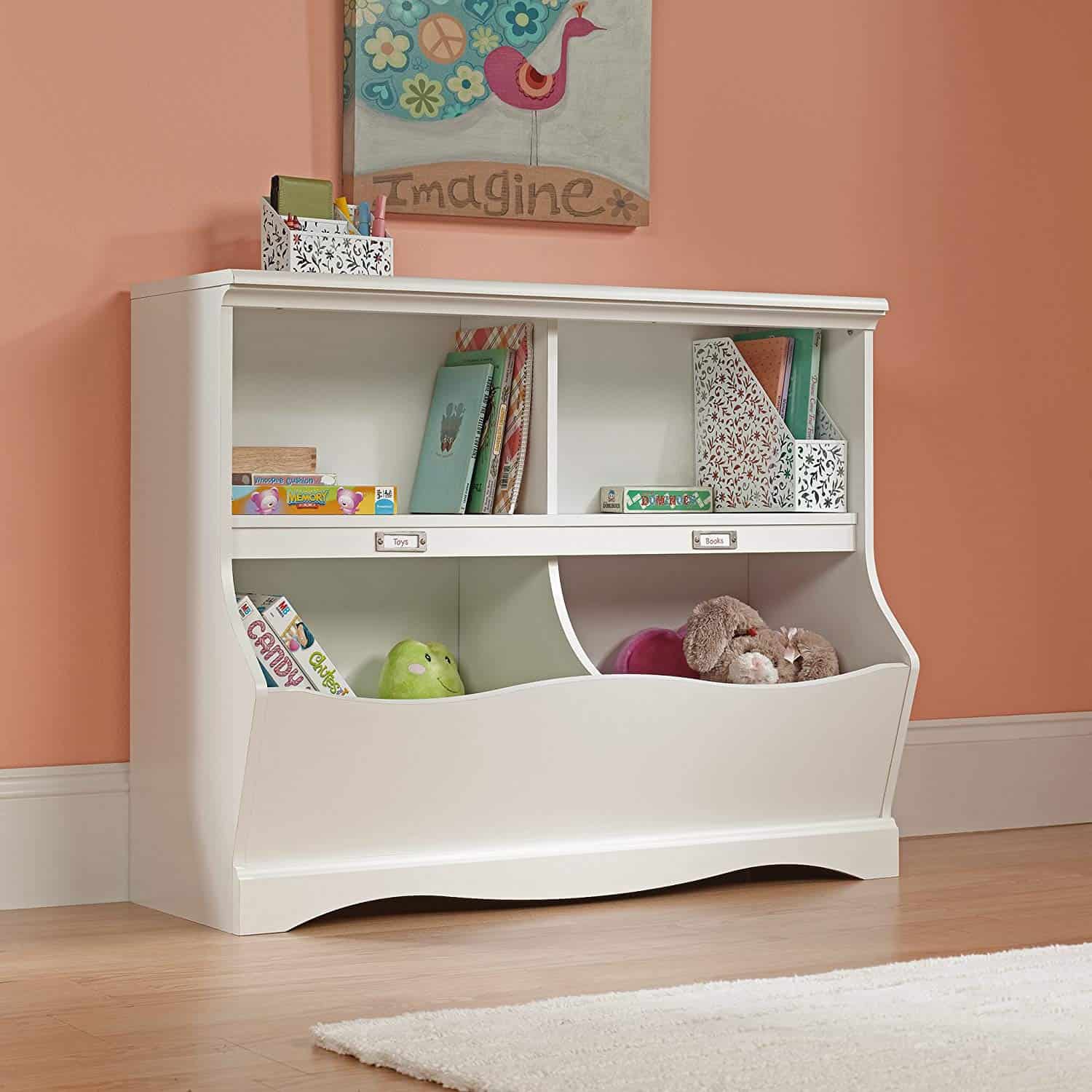 And here is another taller option with even more storage! I love how this one comes with storage bins perfect for the toy storage unit! Grab it on sale here!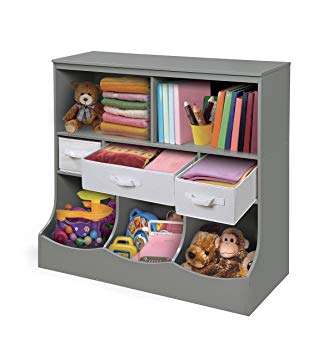 Plastic Bin Organizer
I absolutely love this toy storage organizer and already have it saved for when our little guy gets a little bigger. It holds so many toys! I love how it is modern colors would look good in any toy room or bedroom! The way it's designed makes it easy for your kids to put their toys away and will teach them how to stay organized.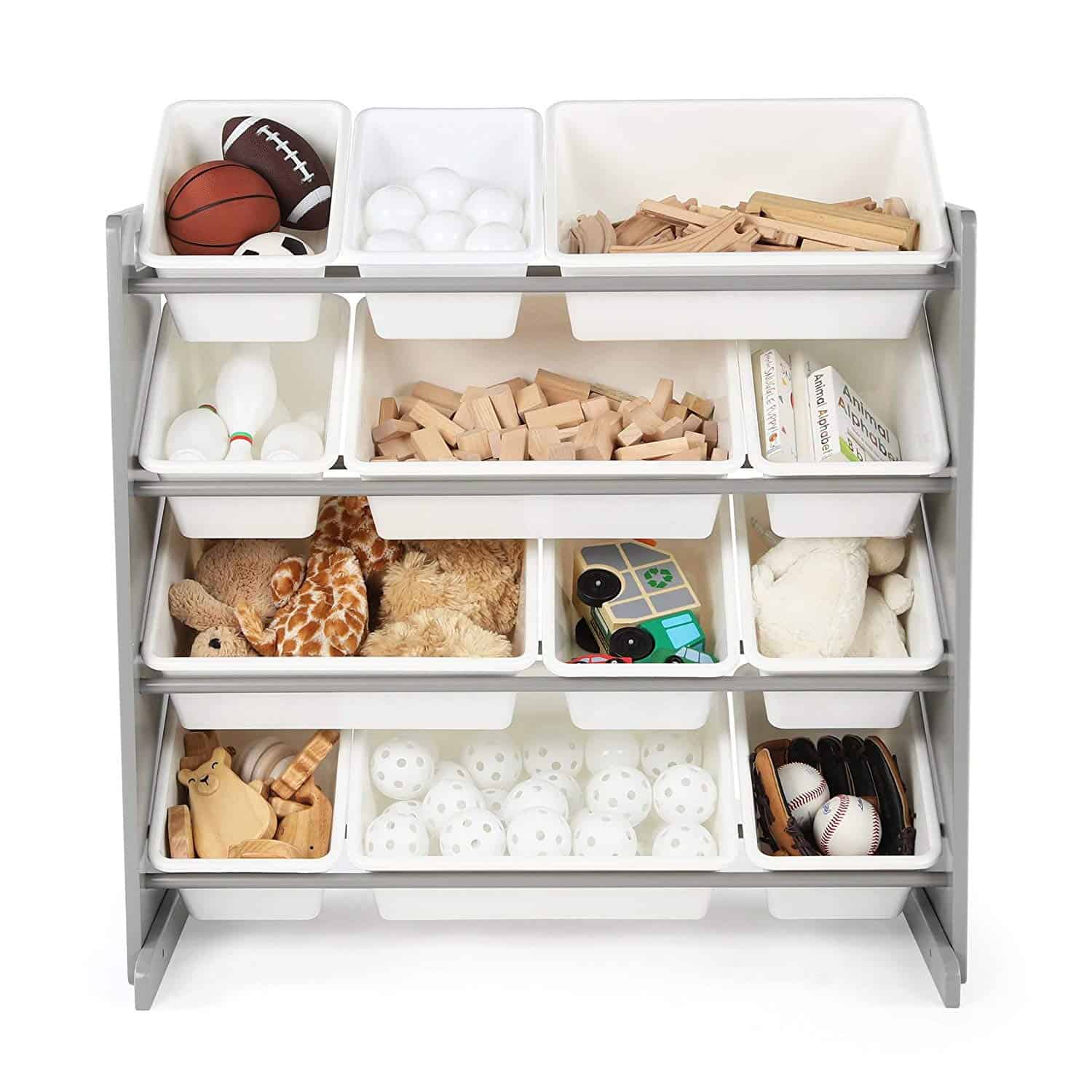 Play Table
Having this play table has completely changed how we store and organize toys in our house! My little boy loves trucks and this table has been the perfect place for him to run his trucks around on.
You can put absolutely anything on this table so we put a few race tracks for him to play with. Then underneath the table, we use a plastic rolling storage container to hold larger trucks, balls and other toys! It also has a medium sized drawer to store more toys in. We filled it with 80+ blocks from the Crayola Building Blocks and they fit perfectly!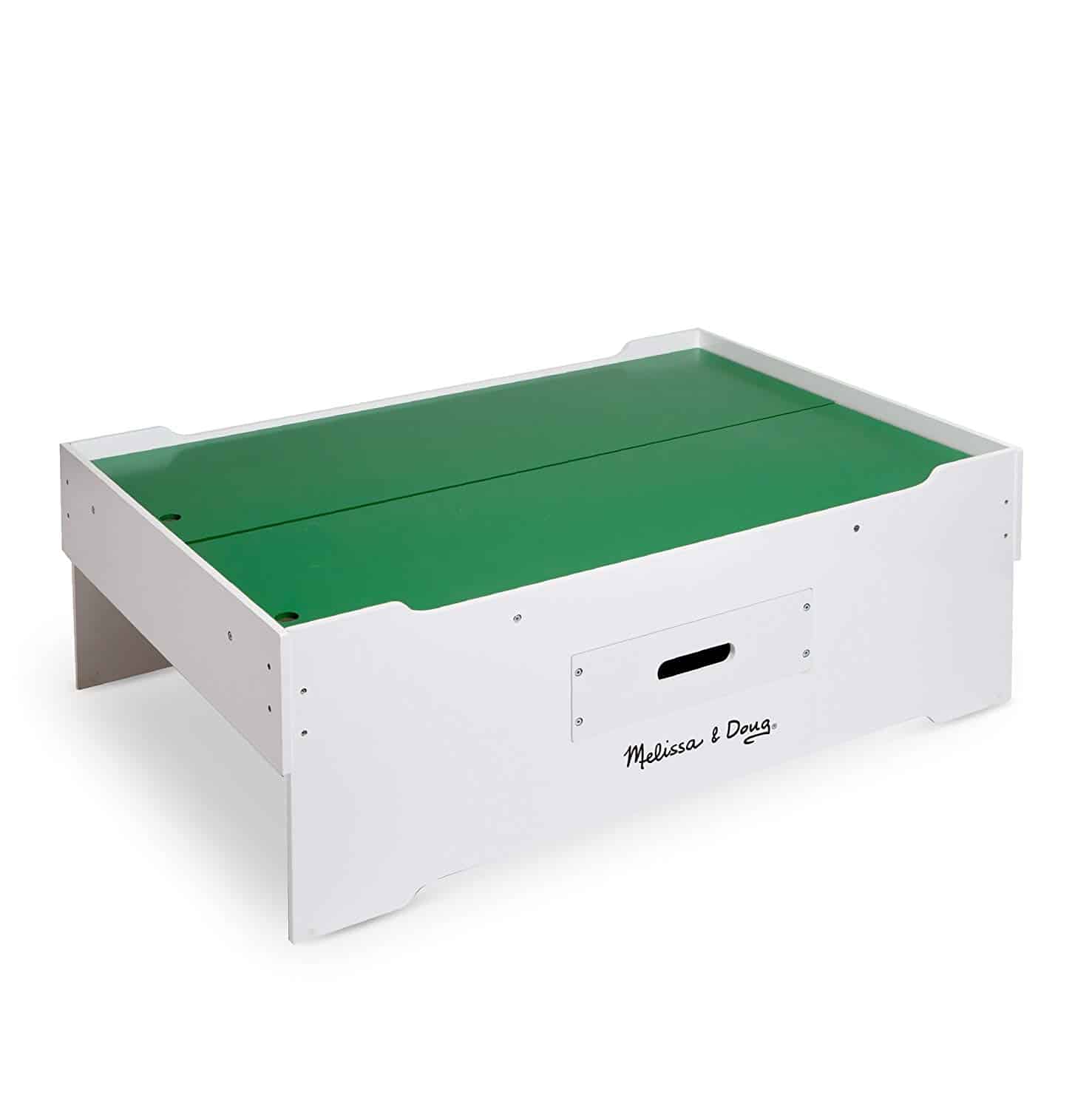 Car Organizer for Toys
It amazes me how many cars and trucks can get lost under car seats and in floorboards. Or how they can just lay there, cluttering up your back seat and making you feel like it went through a tornado of toys. If you completely feel my pain, then you need this car seat organizer in your life!
To be able to keep sippy cups, books, cars, bears, dolls, and snacks all corralled in one place in your car is a dream and this little organizer makes it a possibility! Grab one here!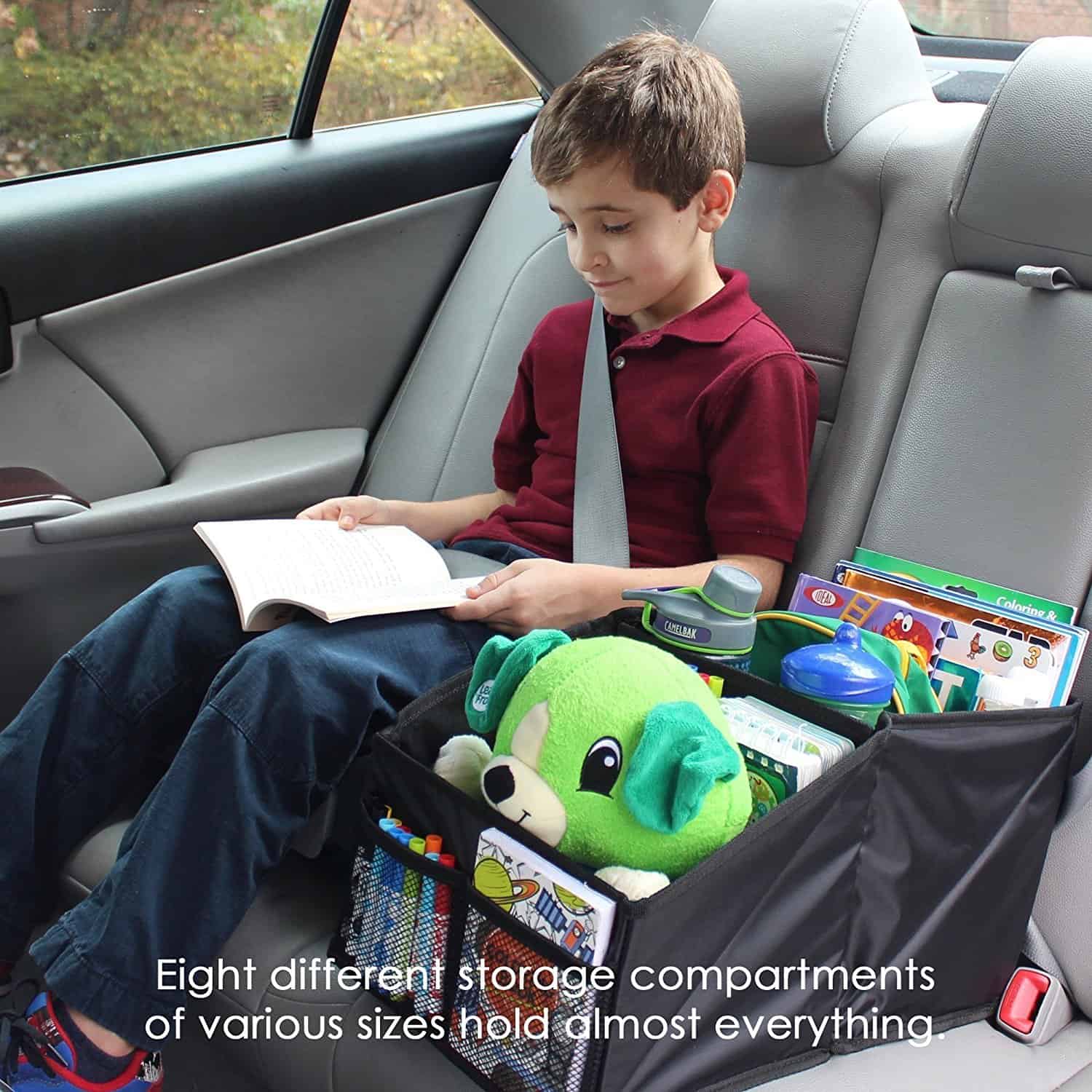 Baskets & Bins For Toy Storage
When it comes to storing toys, you really cannot have enough baskets and bins! We have a ton of baskets and bins to keep toys organized. One for cars and trucks, one for stuffed animals, one for balls, etc!
And when buying storage baskets, collapsible fabric baskets are the best way to go because they can easily be stored away while you're not using them or washed when your toddler spills a whole cup of juice on them 😉 I love these navy ones for a little boys room or playroom or you can find a ton of different options here!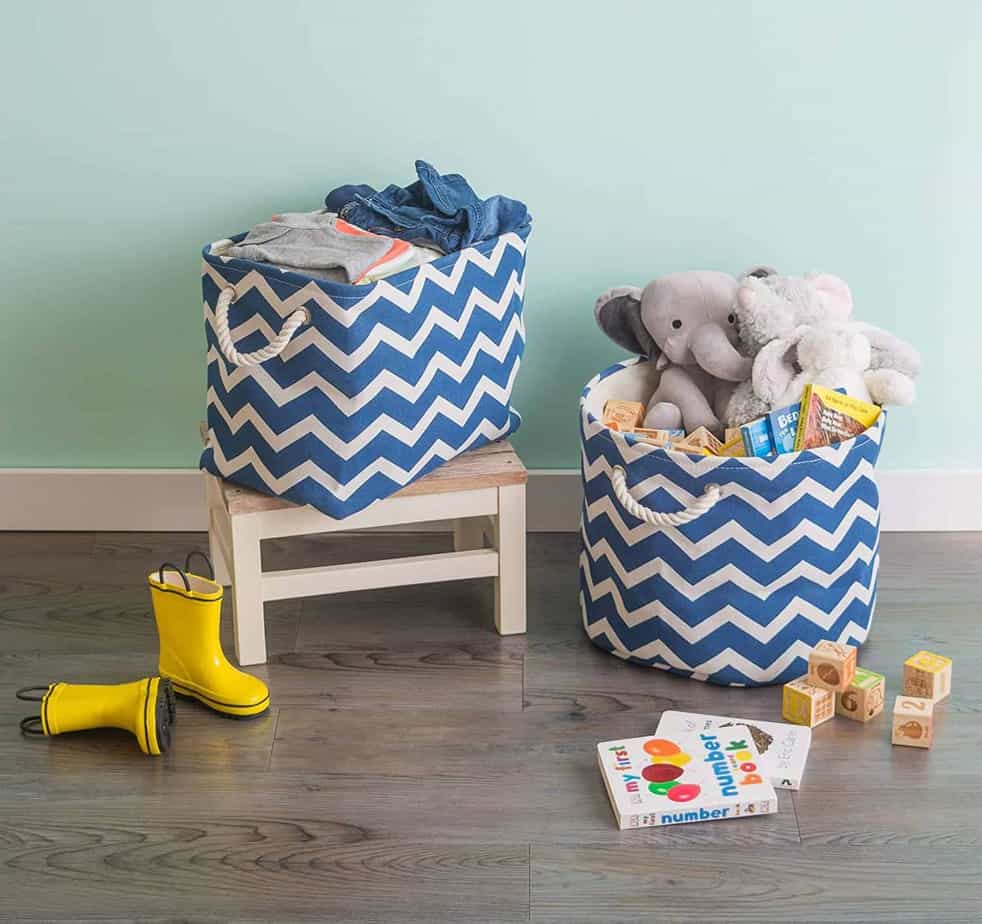 Stuffed Animal Storage
You may have had one of these hanging in your bedroom when you were a kid, but they are still popular today and a great way to store stuffed animals that your kids don't play with all the time.
They are easy to hang up and super cheap and hold a ton of stuffed animals! Hang it over your kids bed or in another corner to hold all of their stuffed animals. Grab a 2 Pack here for Less than $15 Dollars!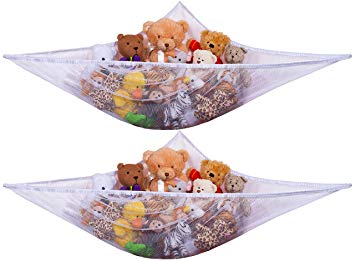 If you're ready to finally get a handle on the toy clutter consuming your home, these ideas are a great way to get started!