This Post May Contain Affiliate Links. We earn a commission if you click this link and make a purchase at no additional cost to you.
Organizing a small pantry cabinet can be difficult. But it gets easier when you use baskets and bins to organize food. Find out how to organize a small pantry cabinet quickly and on a budget.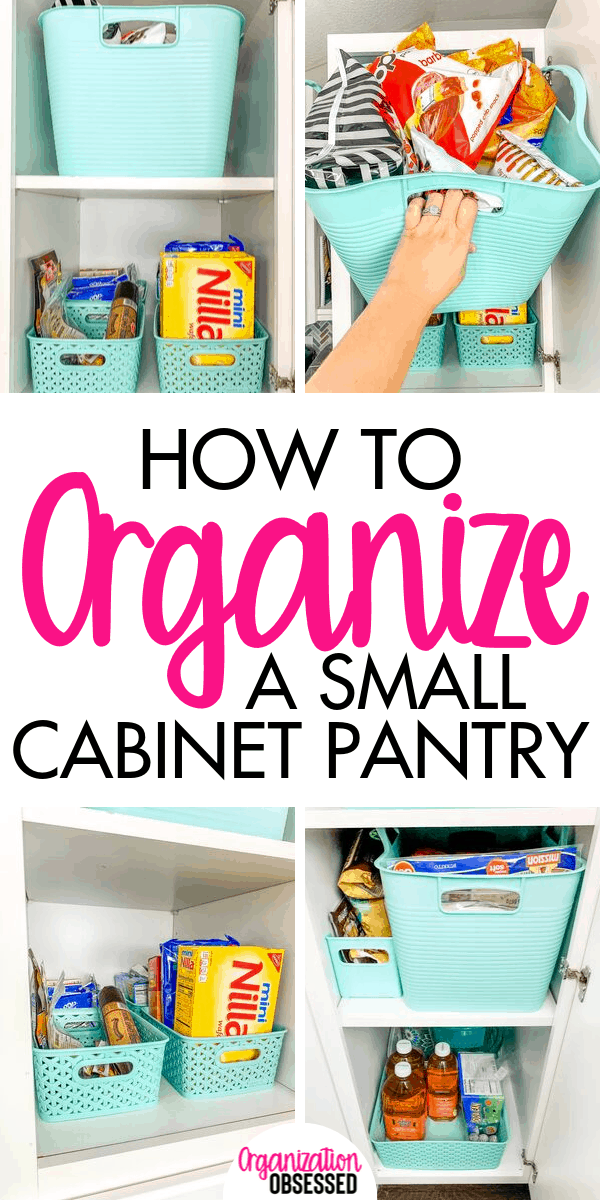 Organizing a Small Pantry Cabinet
Organizing a pantry can be hard when you don't actually have a pantry. A deep pantry cabinet it nice, but let's be honest, they are so hard to keep organized.
For years I have been organizing and reorganizing my small pantry cabinet, trying to figure out the best organizing system to keep the pantry organized for more than a week. And I think I finally found the best pantry organizing system for a deep cabinet pantry!

Organizing a Pantry With Baskets
Before organizing our pantry with baskets, all of our food was just separated on different shelves in our pantry. But that wasn't working. Food would get pushed to the back of our cabinet, forgotten until we cleaned out the pantry again.
We needed a way to be able to see all of our food and not lose any of it in the back of our pantry.
So when we found these Y-Weave Baskets from Target and large bins from Hobby Lobby, I knew they would be the perfect fit for our small cabinet pantry.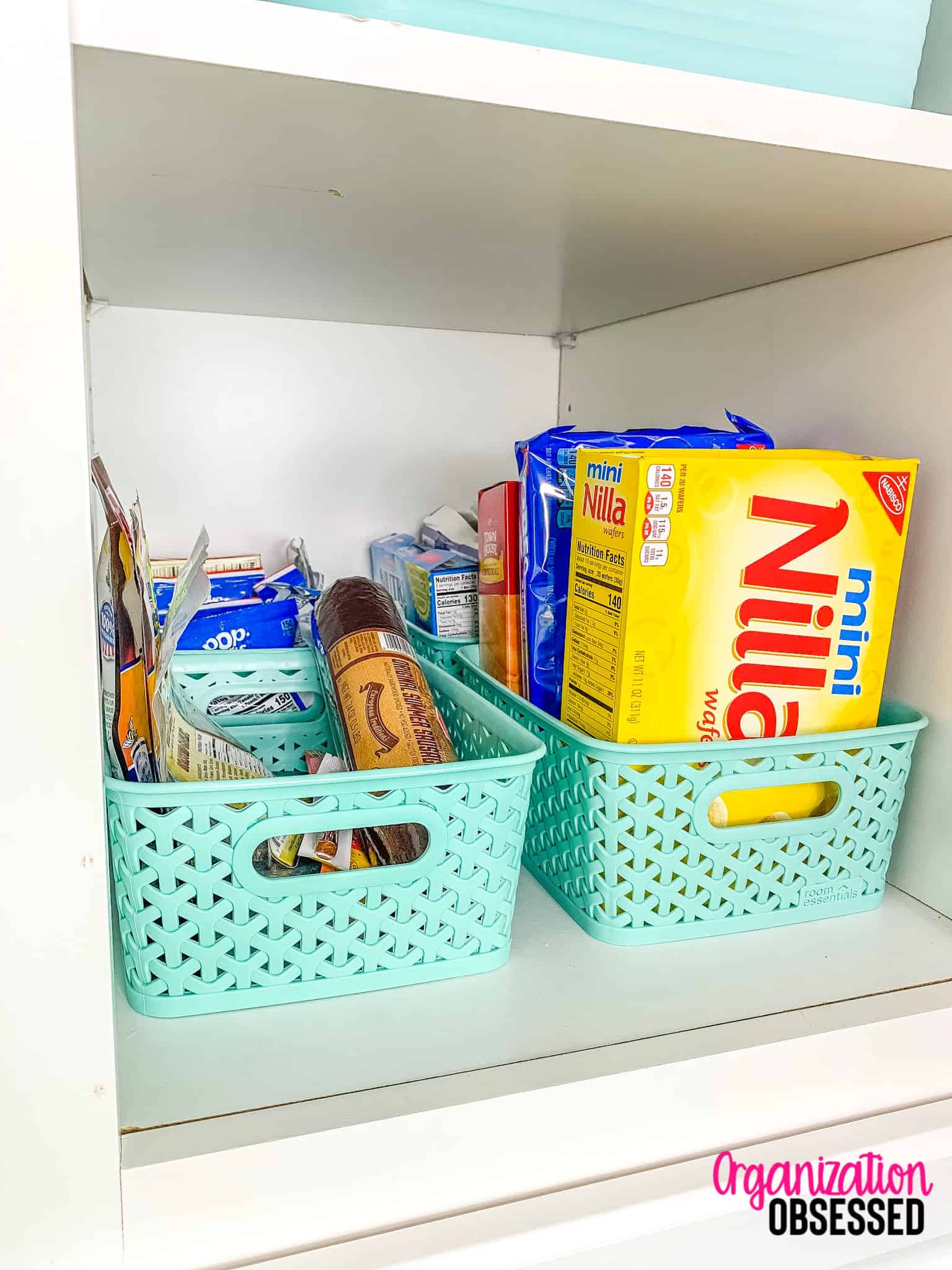 Organizing Food in Baskets
Organizing food in baskets is the easiest way to keep your pantry organized and food corralled in one place.
To keep our food organized, we first sort it by category.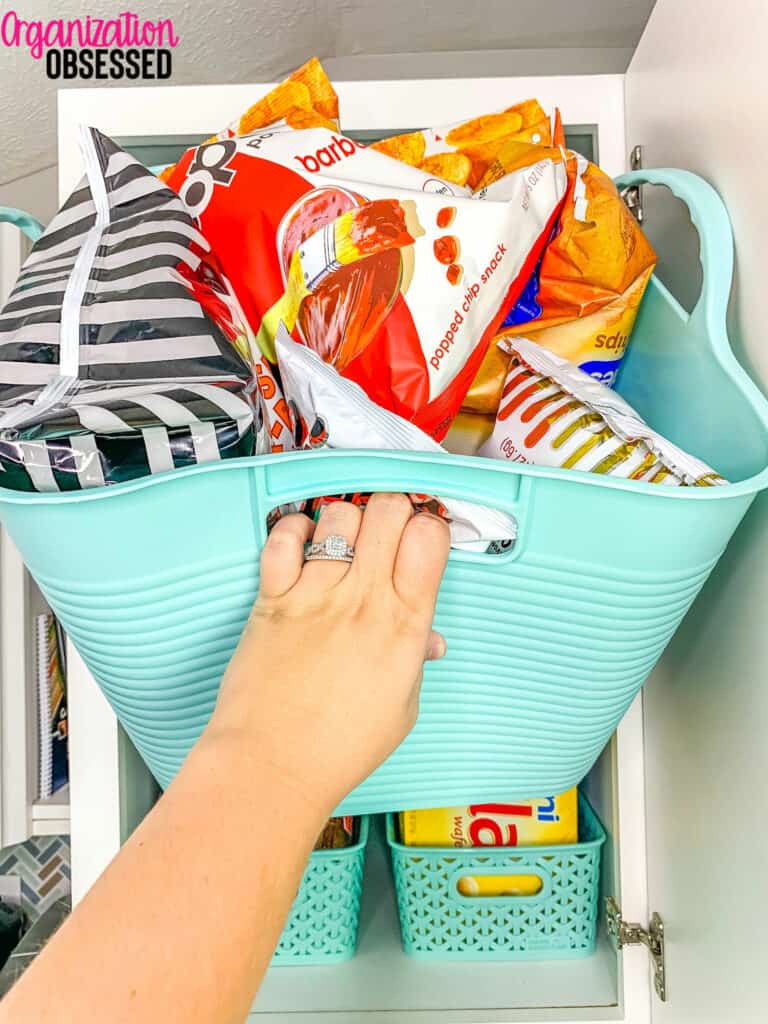 Chips go in the large basket at the very top of our pantry. Having them in this large basket makes it so easy to keep all of our chips together and makes it really easy to see what chips are already opened!
Before bags of opened chips would get lost among the other food in our pantry, so I love how using a large basket keeps all our chips in one place!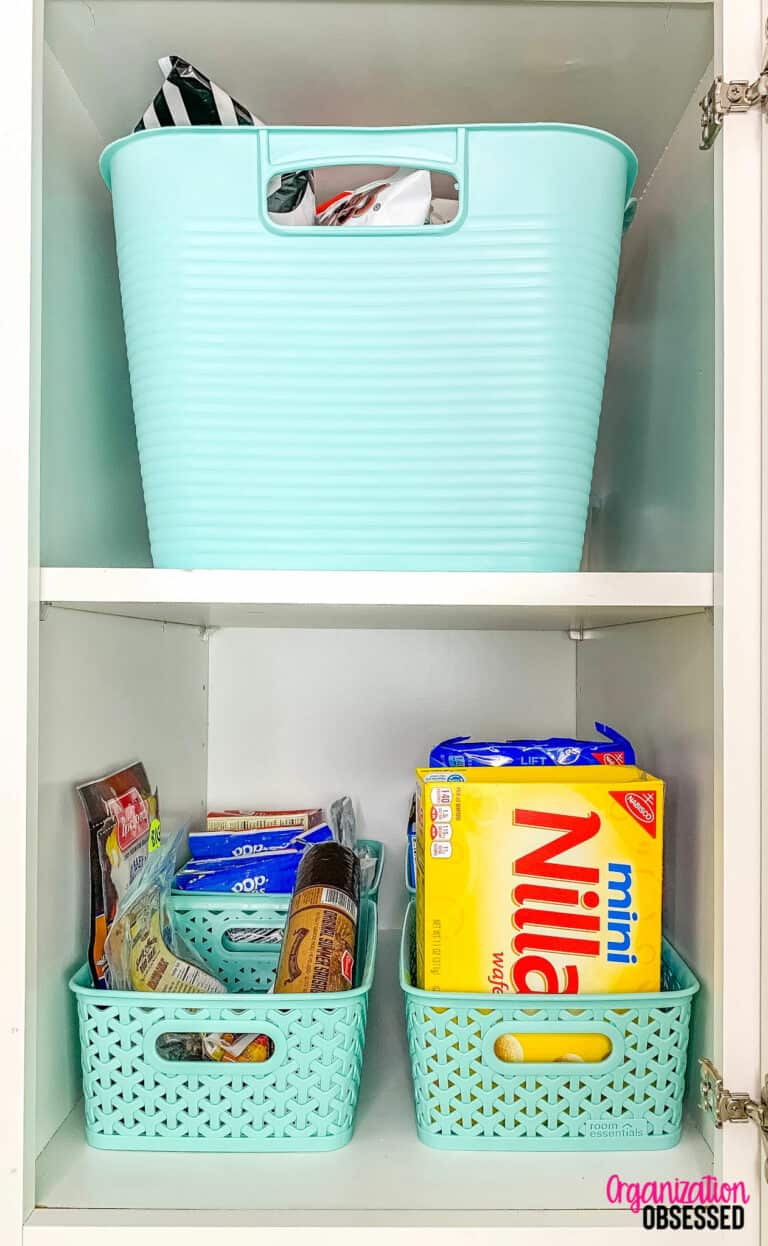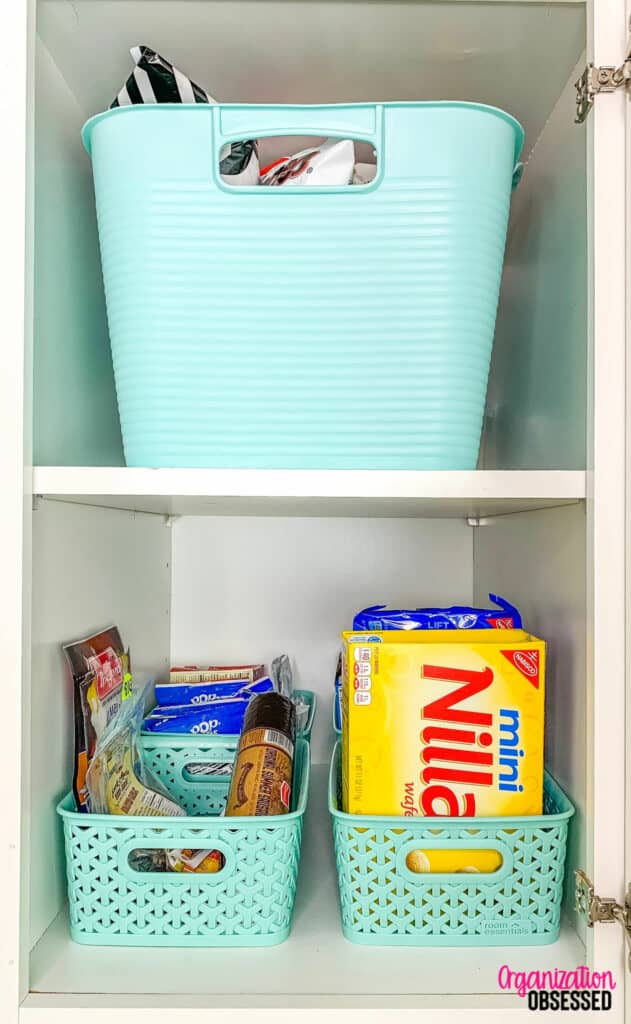 Then on the next shelf down is where we keep most of our snacks.
We use Y-Weave Baskets from Target here. One for each category of snacks that we always have on hand.
We keep beef jerky, summer sausages, and Slim Jims in the basket closest to the front. As well as cookies in the basket right next to it. These are the snacks my family reaches for most often.
Then behind these baskets are our Pop-Tarts and Fruit Snacks.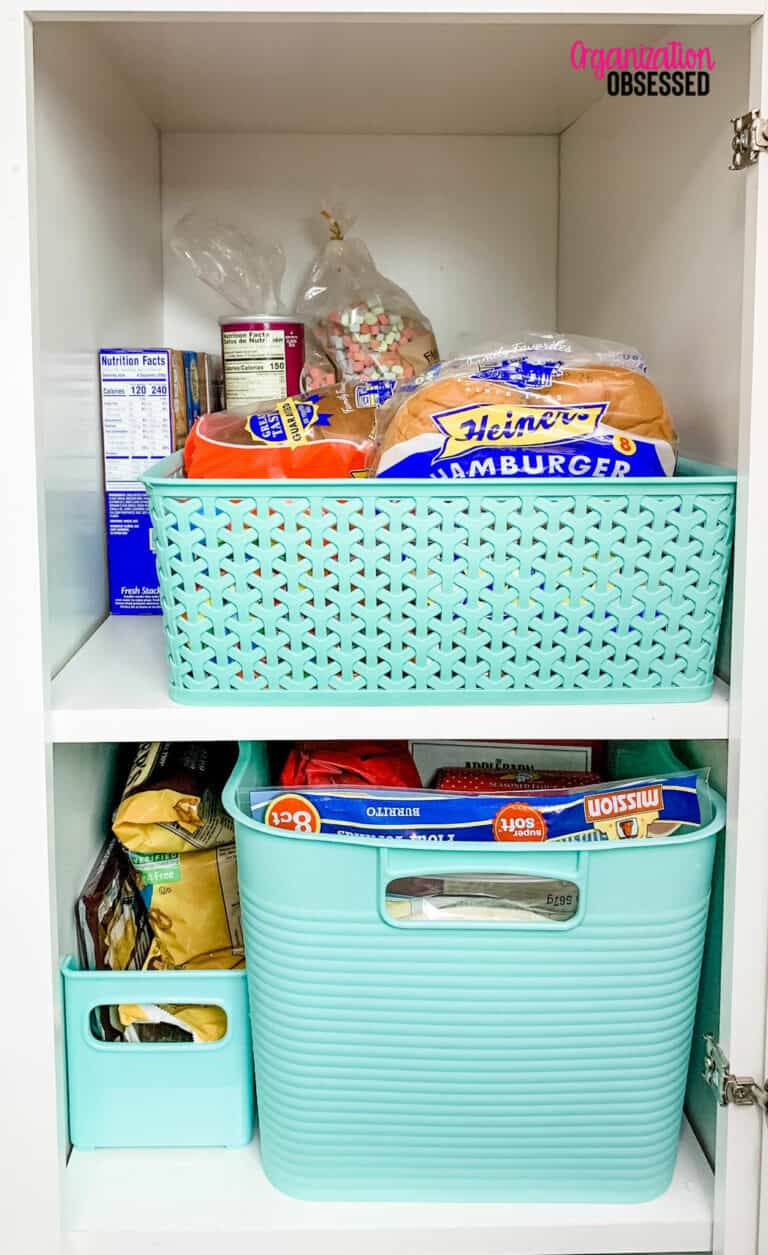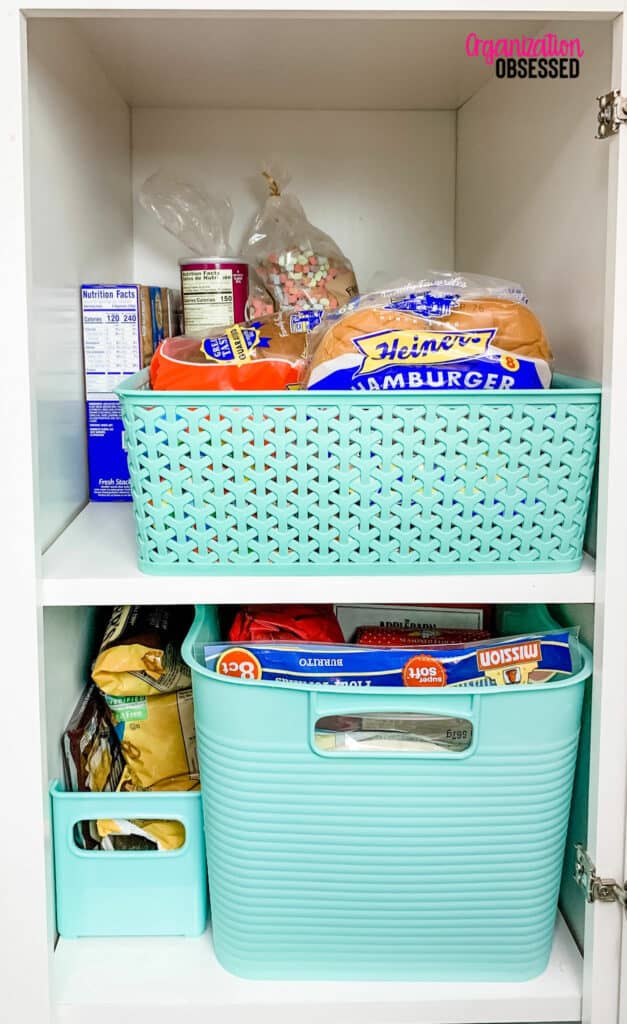 On the next shelf down, in a medium Y-Weave basket, we keep our bread and buns. We keep them where they are easy for our whole family to reach, and in a basket, so there is no risk of our bread getting smashed.
Then behind the bread we keep all of our crackers and graham crackers (we really like bonfire nights & s'mores.)
Organizing Pantry Staples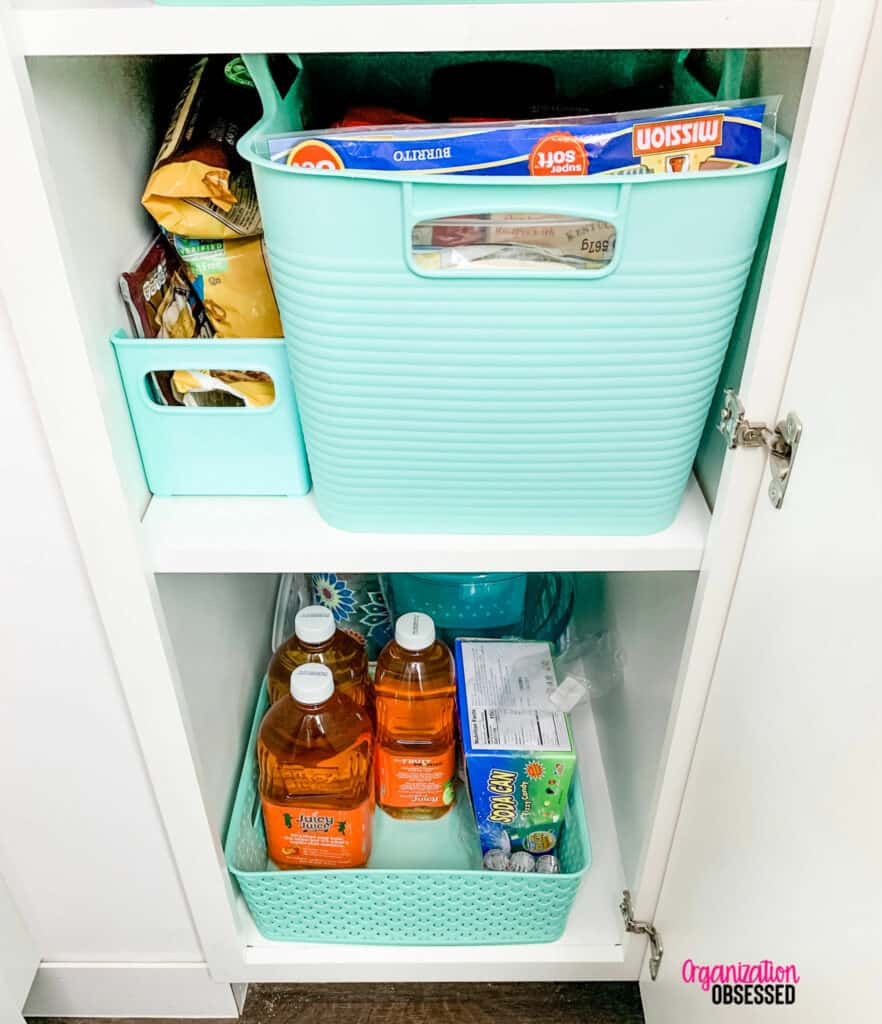 While most of our daily pantry staples are in a different cabinet in our kitchen, we do keep our heavy pantry staples and extras in our small pantry cabinet.
In a large basket, we keep our extra flours, sugars, and baking mixes.
Keeping our extras in a large basket has made it really simple to pull out the basket and see if I have enough sugar to refill our sugar container. Or if I need to grab another box of Bisquick at the store.
Then at the very bottom of our pantry cabinet, we keep extra juice for our little boy in a medium Y- weave basket as well as our large pitchers.
Keeping all of our extra pantry staples organized in one place eliminates the need to dig through your whole pantry just to find a bag of sugar or flour.
Keeping your categories of food together by organizing it in baskets makes it so much easier to keep your small pantry cabinet organized. As well as eliminate time wasted looking for food buried in your pantry and money wasted buying things you already have.
We organized our small pantry cabinet for less than $50 dollars using 2 large baskets, 4 medium Y- Weave Baskets and 4 Small Y- Weave Baskets.
Ready to organize your small pantry cabinet?
Grab some Y-Weave baskets and get started!